If you are planning to or is already selling on Amazon, the one thing that can make or break your business is your inventory and managing it. Inventory management can be one of the biggest hassles for an Amazon seller, especially if you have a broad range of products across multiple manufacturers and multiple Amazon marketplaces. You should be aware of the following inventory issues that you will most definitely face:
Sudden increase in order volumes makes manually managing inventory really inconvenient. Higher volume of orders will mean more complex strategies for fulfillment.
Unexpectedly running out of stocks of certain products before you could replenish them.
Poor performance will gradually result in account suspension by Amazon.
Ultimately, the opportunity costs of mishandled inventory are quite huge. Customers on Amazon expect 100% availability as well as fast delivery.
While you are dealing with fluctuating order volumes, fulfillment issues, or just trying to stock the right amounts of product, what you need is a good inventory management strategy. It will definitely help you to meet your demand, ensure that customers are satisfied, and, subsequently, improve your Amazon seller ratings and account health — all these things mean that you get more business in the long run.
Free Amazon Inventory Management Software Tools of 2021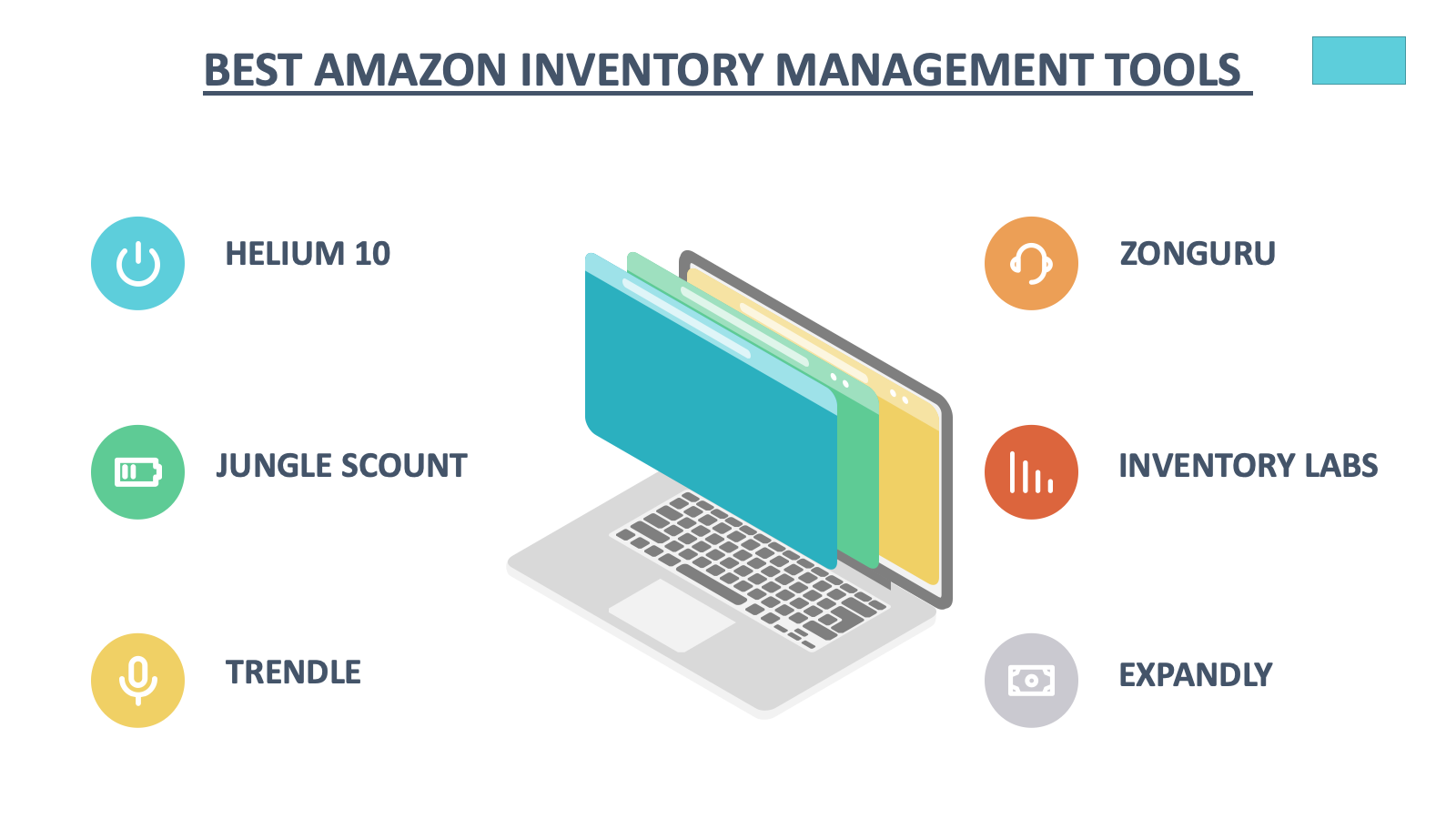 Helium 10
Helium 10 is one of Amazon Sellers' most powerful software tools, which effectively benefits its users to find high-ranking keywords, identify trends, keep track of competitors, and optimize the product listing to increase your sales conversions.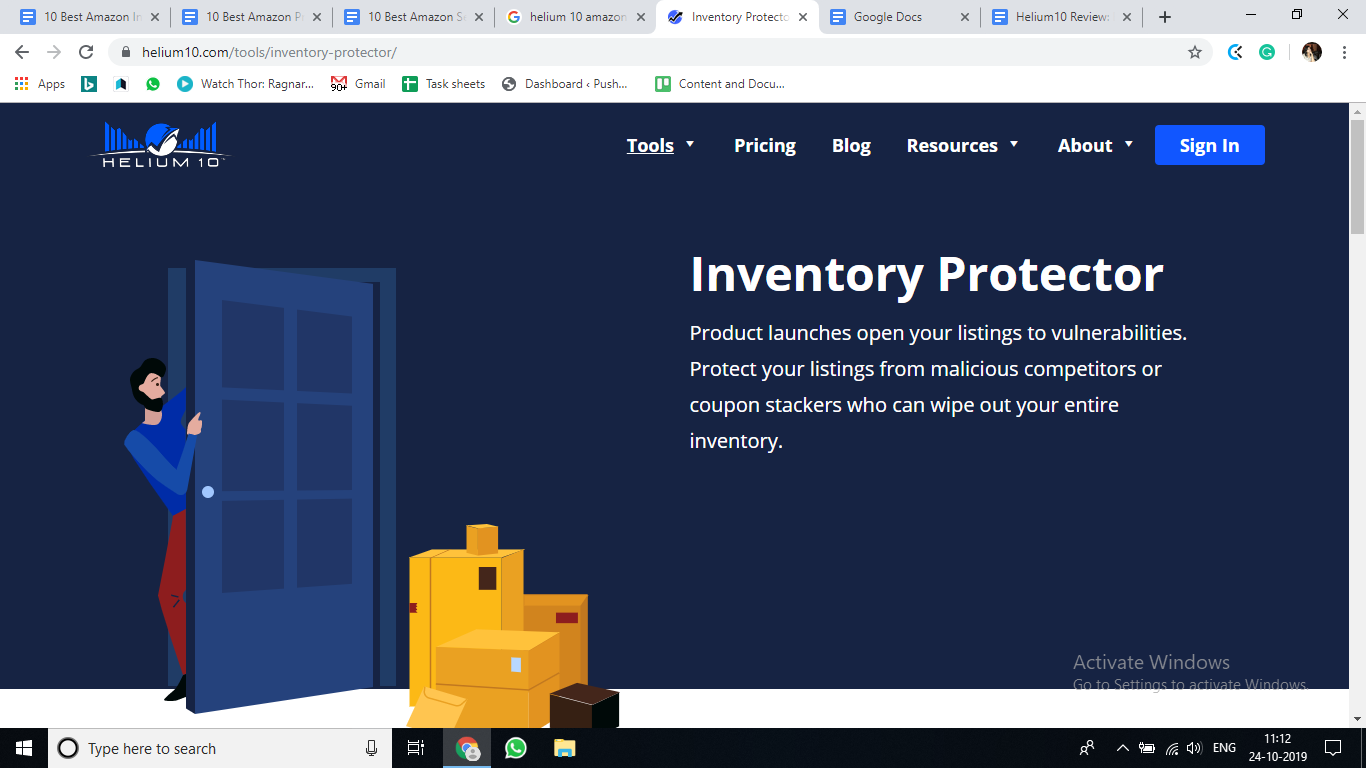 Helium 10 Features
Inventory Level – Check how much stock your competitors have and when they might run out.
Black Box – Black Box provides a database of over 450 million active Amazon products where you can search to increase potential selling opportunities.
Index Checker – This tool generally allows all the sellers to simply figure out which of their backend and frontend keyword terms that are generally indexed by the Amazon and which are not.
Keyword Tracker – This tool allows you to simply keep a log of the changes that you have actually made right in your marketing and optimization efforts.
Alerts – This hijacker alert lets you keep track of anyone barging in your site.
Inventory Protector – The inventory protector tool allows you to set limits on quantities that can be purchased for certain items so that the coupon code abuse or anti-competitive behavior does not affect you adversely. You can use Inventory Protector to make sure no one abuses your coupon codes by automatically restricting the number of coupons a buyer can use per item.
Helium 10 Pricing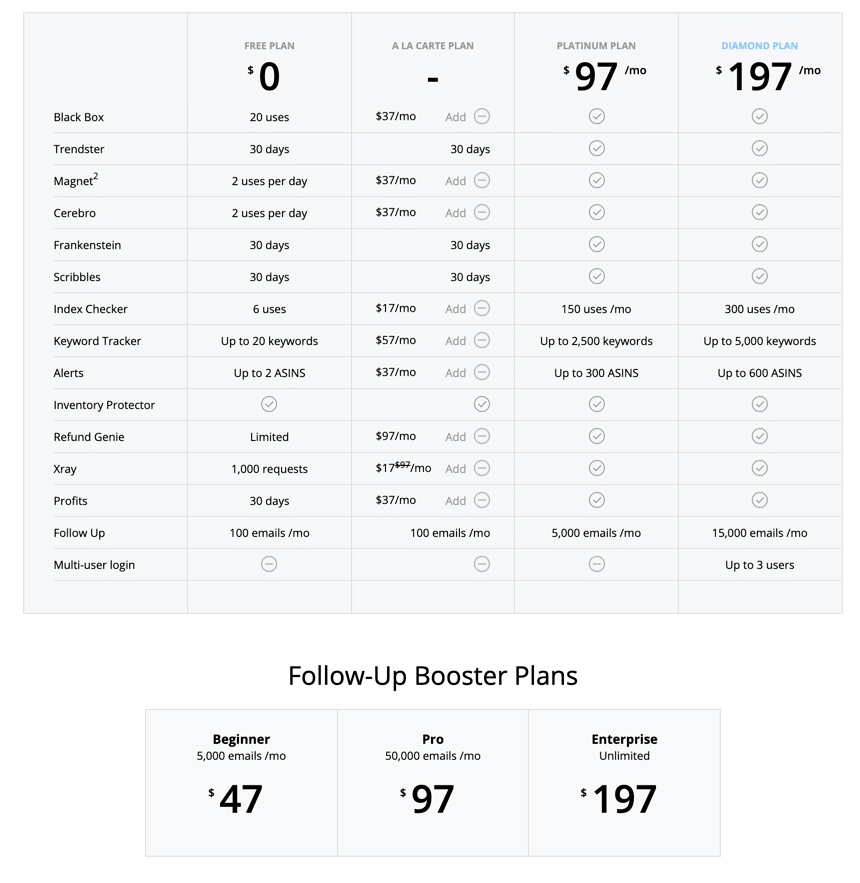 Helium 10 Discount Codes (If Any)
If you are a regular Amazon seller and looking to expand it will be beneficial for you to start with regular plans of Helium 10 as the free plan might not cater to your needs. Hence check here the various Helium 10 discounts and coupons offered to benefit sellers like you.
"ARBITRAGEINFO50"
50% off your first month of Helium 10
"ARBITRAGEINFO10"
10% off every month of Helium 10
ARBITRAGEINFO50 / get 50% off your first month of Helium 10.
ARBITRAGEINFO10 / get 10% off every month.
Sellics
This platform is popular because it ists easy to use Amazon inventory management software, which comes with powerful features. This tool collects all of your stock information in one place and enables you to calculate the ideal reorder dates and receive alerts to replenish stock based on current inventory, production and delivery time, and sales velocity.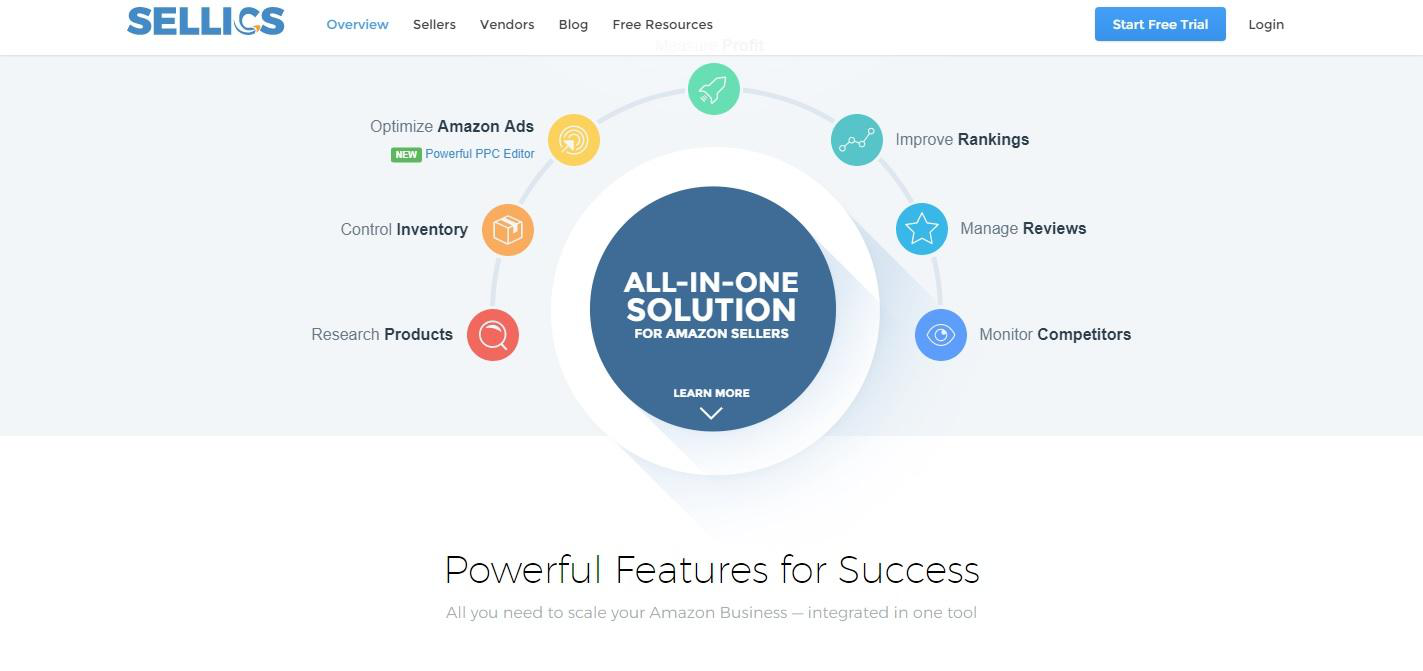 Features:
A user-friendly A/B testing suite
Keyword research, rank tracking and analytics functions, including for your own listings and those of competitors
Listing analytics and optimisation tools
Complete sales data from Amazon including information on your BSR, competitor comparisons, PPC costs and performance, refunds, profits and more
An Amazon Sales Rank Tool that covers sales volumes, sales history, price history, product rank tracking etc.
Pricing: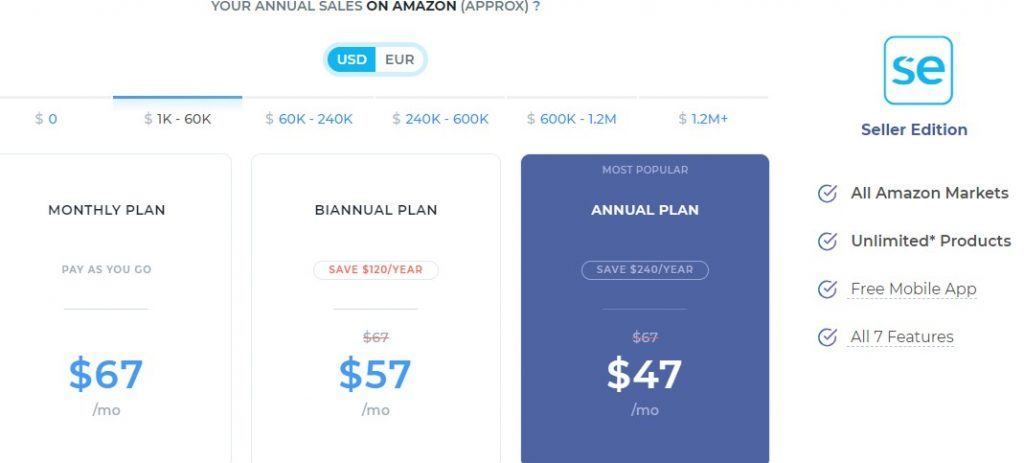 Discount Codes (If Any)
Amzscout
AMZScout is one of the most comprehensive tools that provide you with additional market and product information for your business on Amazon. It has a user-friendly interface and simplistic design. It is more accurate in the U.S. market place when compared to other marketplaces.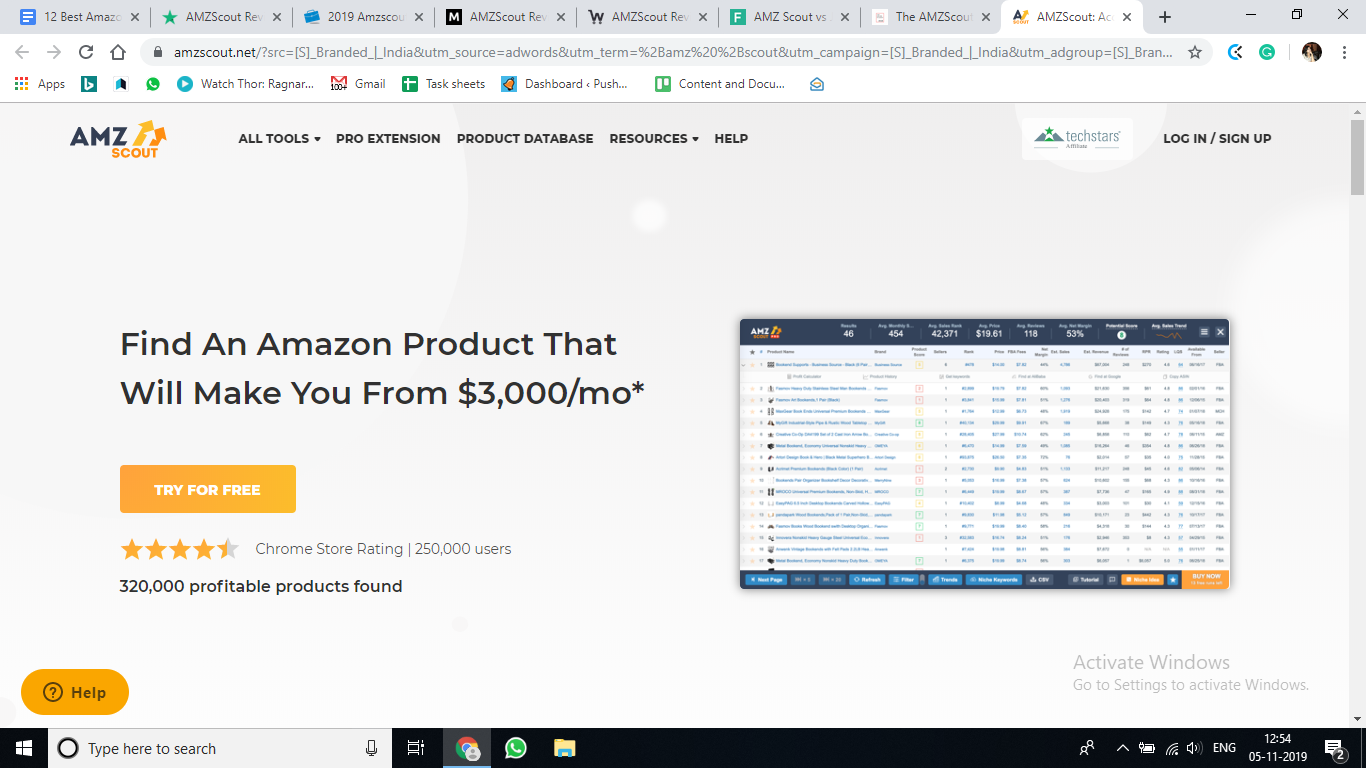 AMZScout Features:
Sales Estimates
Fulfillment Details
Sales Rank
Historical Data
Quality of Product Listing
Revenue Estimates
Profit Calculator
View Trends
Data Export
AMZScout Pricing: It is the cheapest option & very accurate. One month of AMZscout for $44,99 will be cost effective.
Monthly fee: $44,99
Yearly fee: $149
Lifetime fee: $399
Discount Codes (If Any)
Zonguru
ZonGuru has been integrated with all the useful tools and features which sellers require to work effectively. Investment in the right product is all that amazon sellers needs. The insights are provided to the users and the feedback systems are highly automated.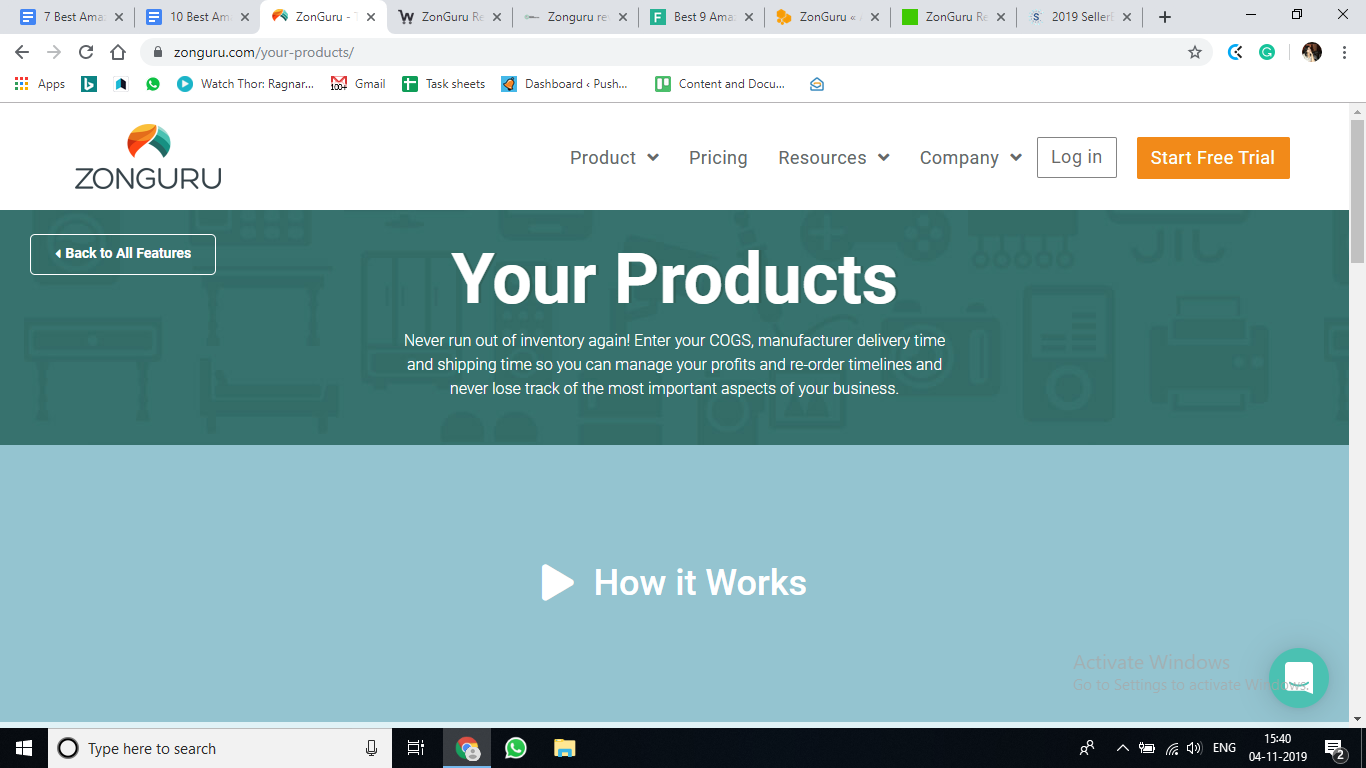 ZonGuru Features:
Business Dashboard – Get hold of all your important Business Metrics instantly and easily in the dashboard. View the most important trends and metrics of Amazon business which is the most crucial aspect. With ZonGuru's Business Dashboard, you can always be aware of how your business is performing.
Product Monitor – Remain in control of your business at all times, Receive instant alerts on any product review or any type of listing hijack and remain in control of your business. It can also keep track of your competitor's listing to understand your competitors better and take measures accordingly.
ZonGuru Pricing
Zonguru offers a pricing model where the prices vary according to the type and volume of the tools you wish to opt for. You can test all of the available features for free before purchasing a plan for a week without requiring a credit ca for the initial trial.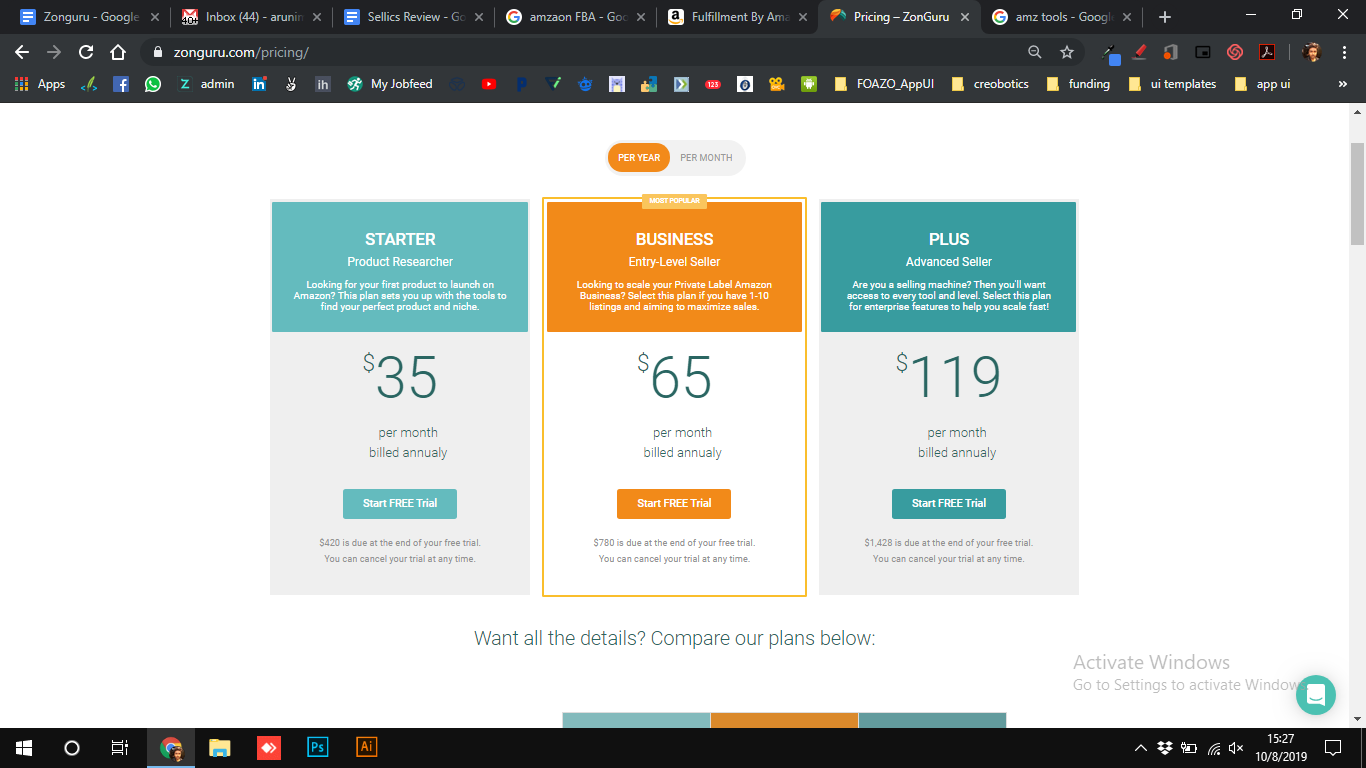 Discount Codes (If Any)
Asinspector
ASINspector is an Amazon market research tool which helps sellers to find popular products. Sourcing features enables sellers to find the cost and availability of products on AliExpress, Alibaba and eBay.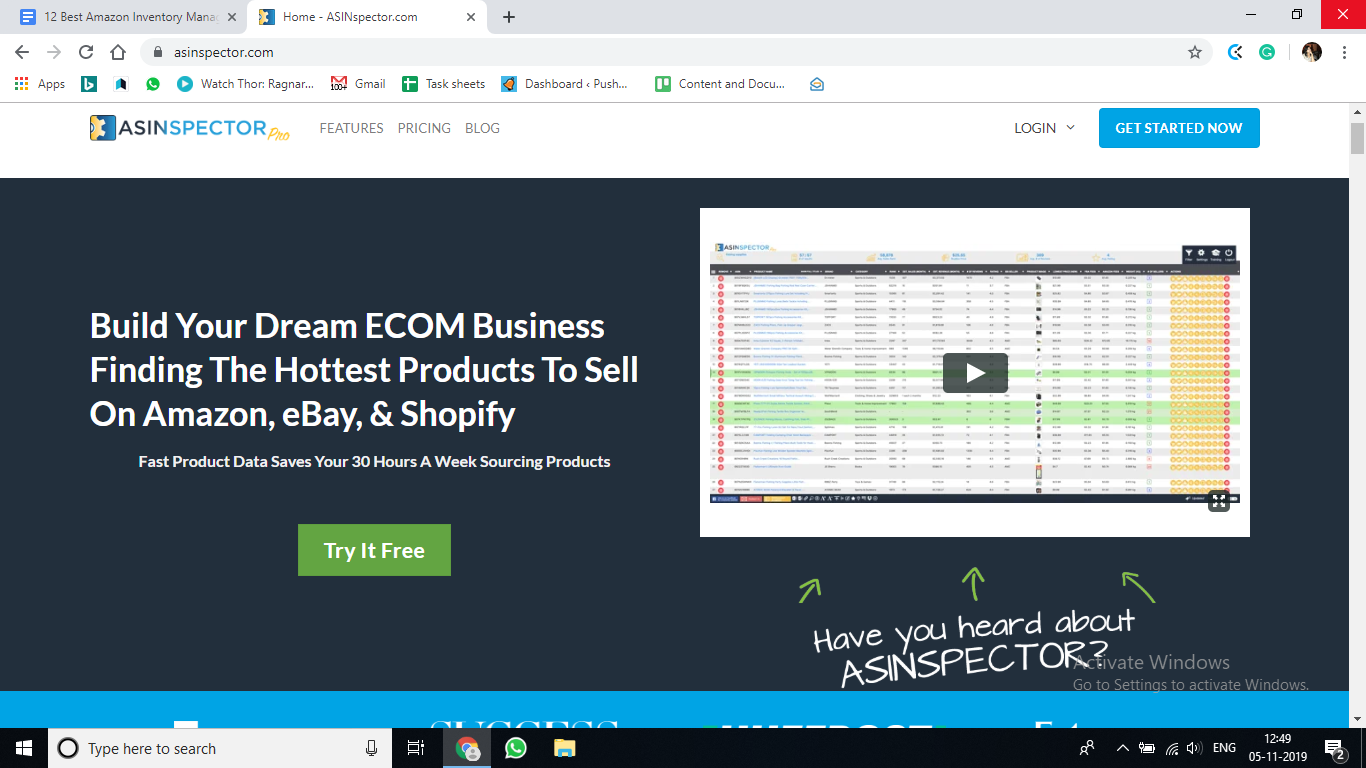 ASINspector Features:
Best Seller Rank
Revenue estimator
Product review statistics
Sales data for third party websites such as Walmart
Favorite searches
Keyword search
Mobile product scanner
Filtering,
ASIN import
Related keywords list builder.
Estimated Monthly Sales & Revenue
Buy Box Seller
Pricing:
ASINspector Pro is free which gives:
Unlimited Data
Instant Sales Estimates
Daily Sales Estimates
Monthly Sales Estimates
Best Seller Rankings
Daily Sales Estimates
Monthly Sales Estimate
There is also an annual plan of $147 to be paid one time and $10 every month for seasoned sellers.
ASINspector Discount Codes (If Any)
Inventory Lab
With the Stratify tool from InventoryLab, you can research products, list your items competitively, keep track of your expenses and better handle your inventory. There also provide comprehensive reports to enable you to see what suppliers, categories and products are most profitableTheirir app is also available on mobile devices, which means you can source your inventory on the go.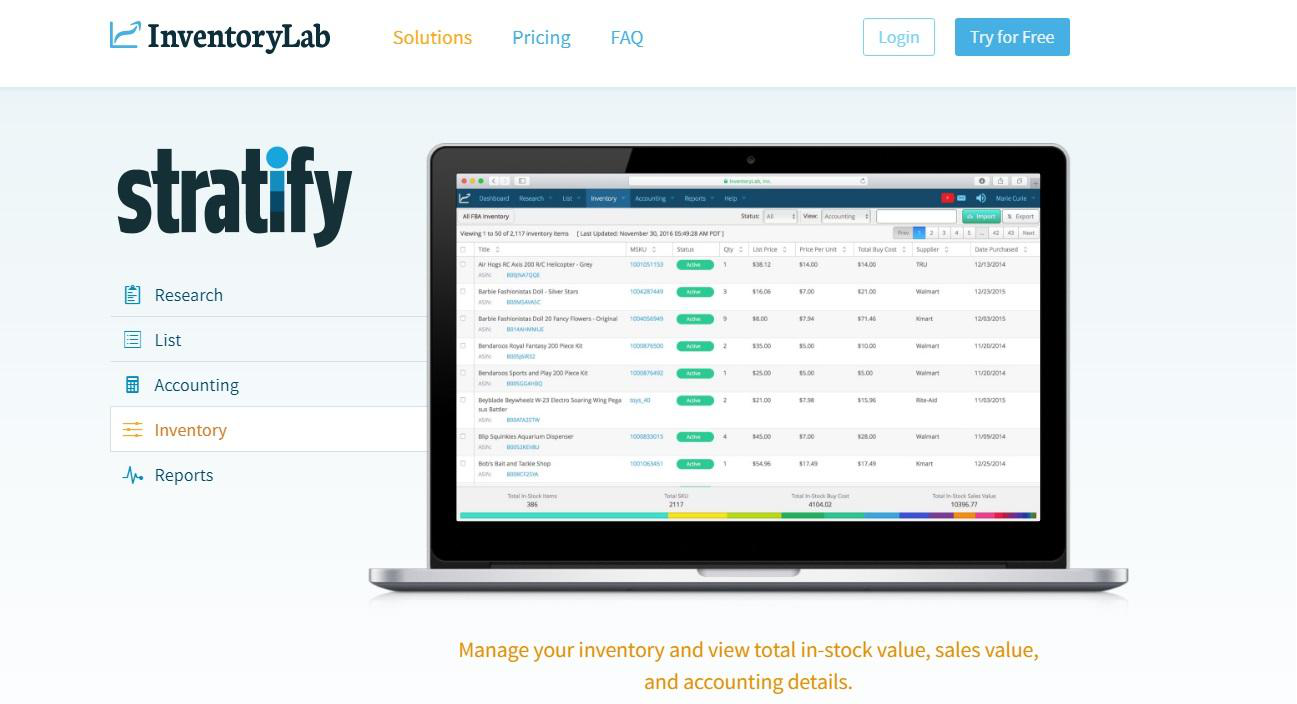 InventoryLab Features
Workflow for creating shipments
Analytics for income and expenses
Real-time monitoring
Reports on
Calculation breakdown.
InventoryLab Pricing
From $49 per month to $490 per year
Trial Length: 14 days
Discount Codes (If Any) : Trial can be extended to 30 days with promo code FB30.
Cashcowpro
CashCowPro's unique Inventory Monitoring feature helps you to track your sales performance and inventory so that you never run out of stock. It prevents stock-outs of your most popular products, especially while sale is going on.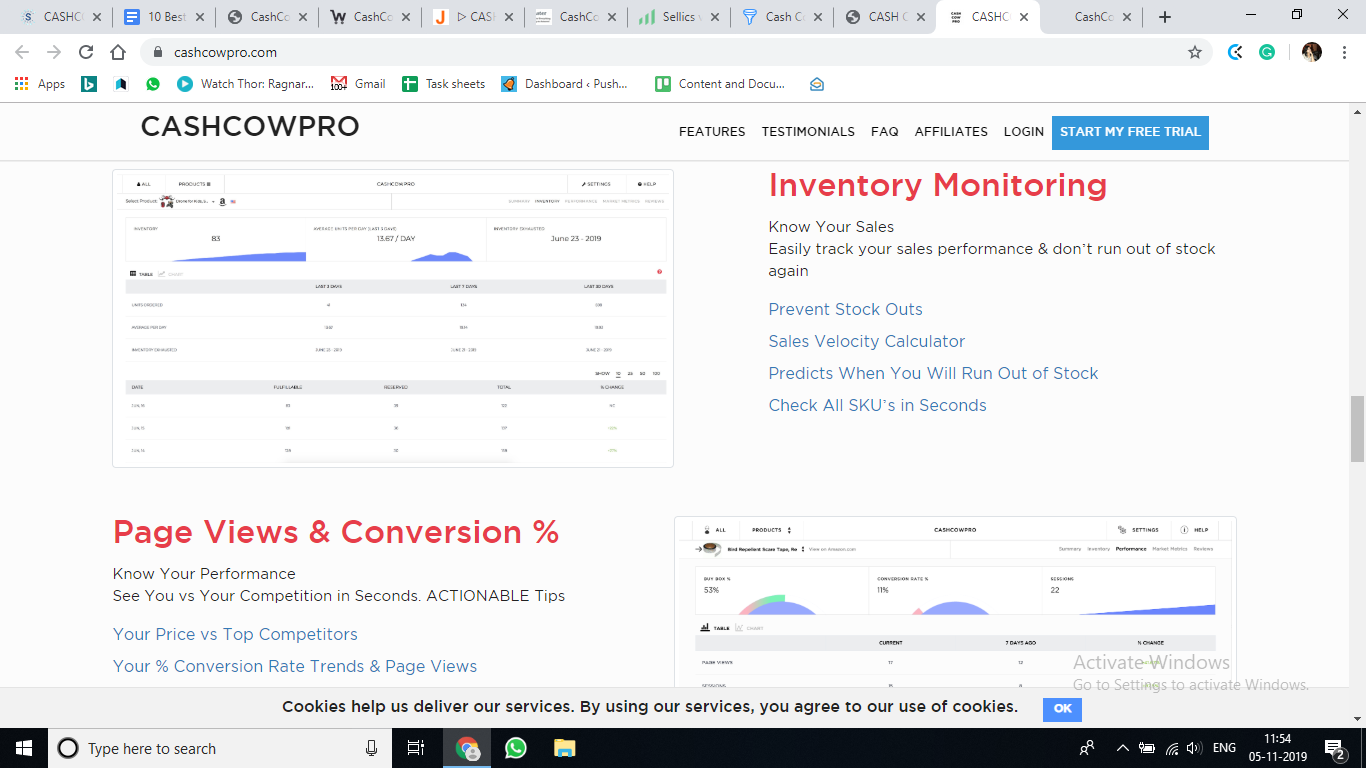 CashCowPro Features:
Inventory monitoring tool helps to:
Prevents stock outs
a sales velocity calculator
Out of stock predictor
Cashcowpro Pricing
Cashcowpro instantly signs up and downloads your data in a day. You get a free trial period of 10days.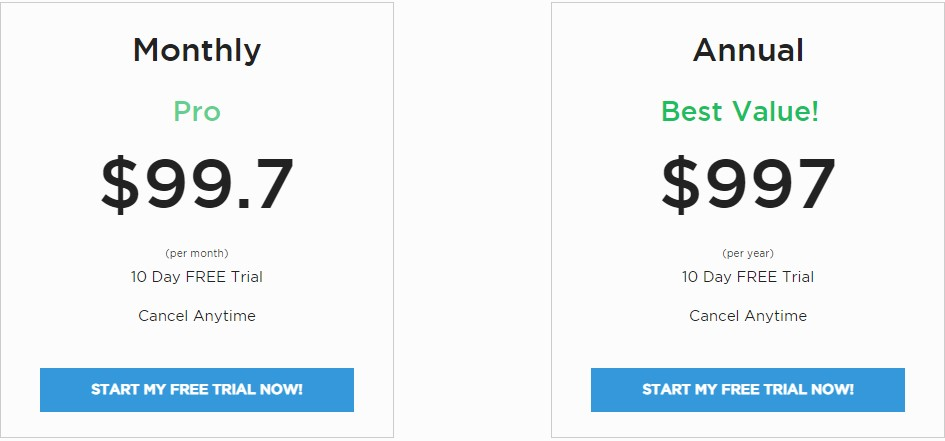 Cashcowpro Discount Codes (If Any)
Trendle
Having a lot of inventory makes it difficult to keep track of all the items. Trendle will inform you when you are running out of certain things to help you restock. This is quite crucial if you need to send your products to Amazon warehouses to use with FBA. Trendle enables you to learn what stock you have available at all times for you to monitor products which are selling and what are not.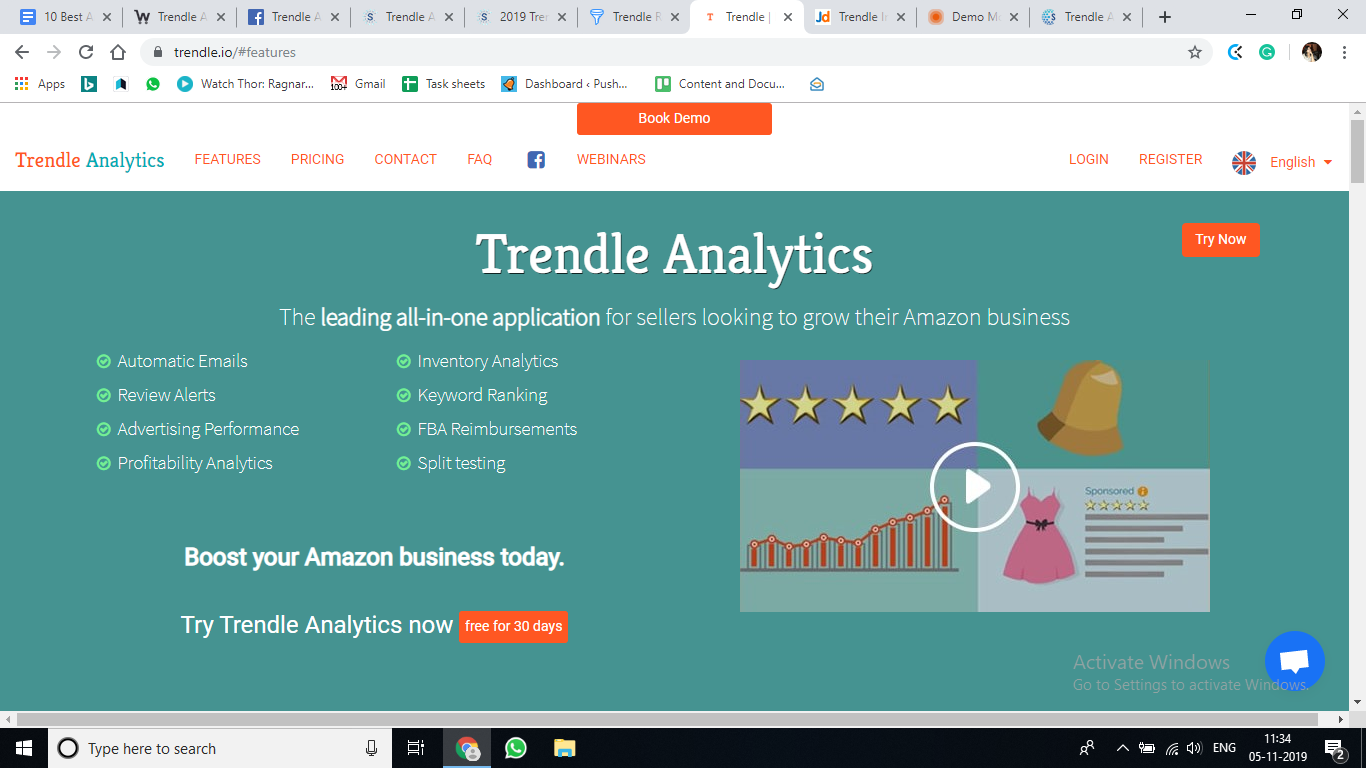 Trendle Features:
Inventory Analytics offers the following features:
Be alerted on slow moving stock as well as on upcoming stock outs
Restock before it's too late
Visually understand where your investment is tied up
Avoid FBA Long Term Storage fees
Trendle Pricing:
There is a free trial trial period of 30 days.
Discount Codes (If Any)
Skubana
Skubana is intelligently-designed, intuitive software that offers a lot of useful features for you at a single platform. Statistics of order aging, incoming stock, low stock levels and fulfillment performance are available for the user to get a comprehensive analysis of the current inventory position. Skubana really makes inventory management simple for you. You can directly import items from your warehouse through Skubana with just a click.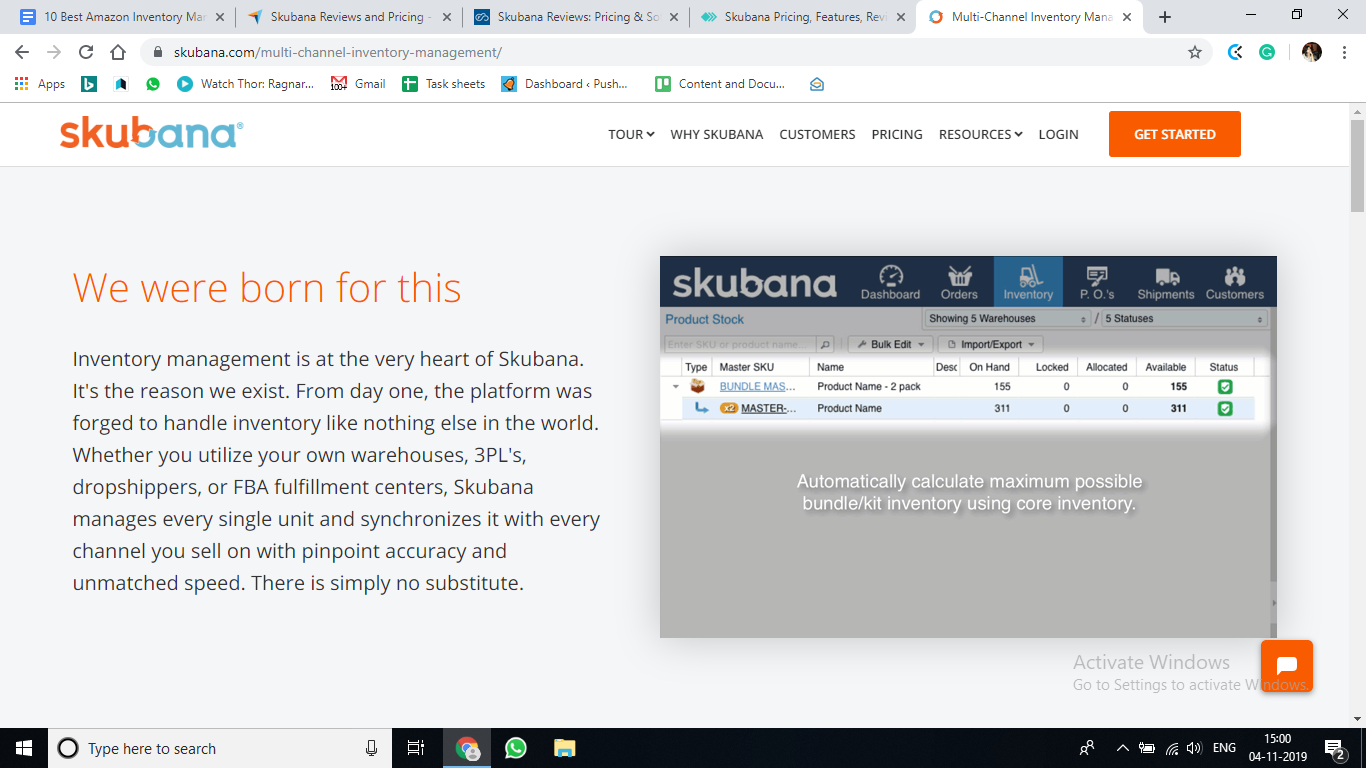 Skubana Features:
Alerts/Notifications
Forecasting
Inventory Optimization
Kitting
Manufacturing Inventory Management
Mobile Access
Multi-Channel Management
Product Identification
Reorder Management
Reporting/Analytics
Retail Inventory Management
Supplier Management
Warehouse Management
Allocation
Barcoding
Cost Tracking
Item Management
Order Management
Procurement Management
Reorder Management
SKU / UPC Codes
Supplier Management
Skubana Pricing
Free Trial is available for 14 days. Pricing plans starts at $1200 per month and is based on a subscription model. Custom pricing specifically designed for individual requirements is also available.
Discount Codes (If Any)
Veeqo
Veeqo is an inventory management platform ideal for retailers selling on multiple Amazon marketplaces and sales channels. You can connect all of your channels to Veeqo and monitor your stock, orders and shipping process in one place. In Veeqo you will be able to edit the pricing for any listing and use the same AISN to list products with different conditions. Ship orders from any sales channel using FBA, or use the SFP integration to ship Prime orders yourself.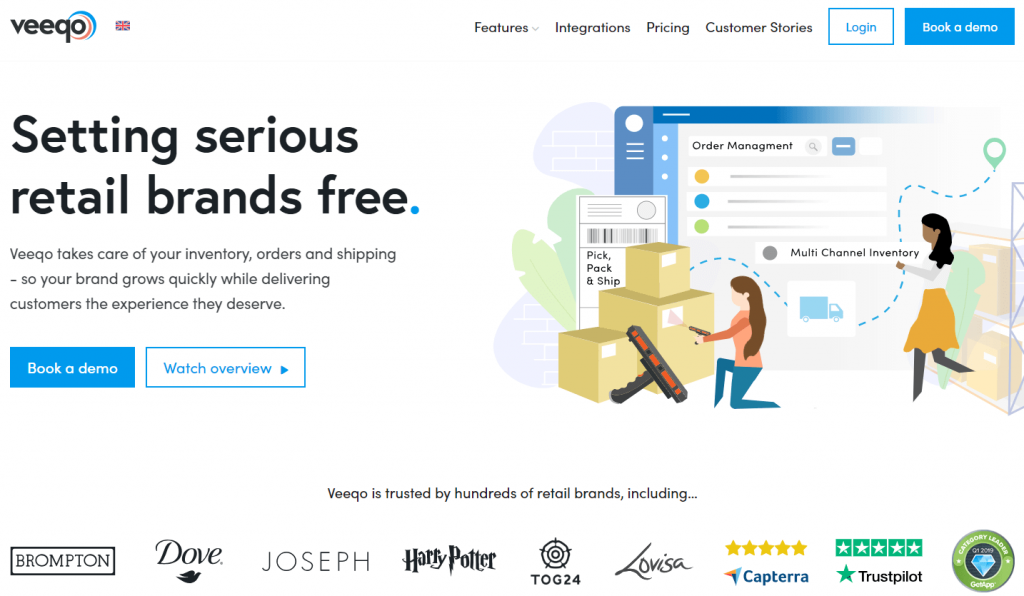 Veeqo Features:
Inventory management: Control inventory, sync inventory in real time across your web store and market places.
Multichannel product listing: Helps retailers sell across multiple marketplaces such as Amazon, Ebay, Etsy etc.
Order management: Sync orders in real time across your webstore and marketplaces.
Shipping integrations: Veeqo lets you ship up to 100 orders and print courier labels with one click.
Discounted shipping rates: Save up to 60% on your shipping cost with Veeqo shipping.
Point of sales: Sell on any device with Veeqo POS (phone, tablets and PCs) and automatically update stock real time in-store or online.
Veeqo Pricing:
Free Trial
Starter
$55/month
Professional
$145/month
Business
$200/month
Premium
$400/month
Plus
$680/month
Discount Codes (If Any)
Expandly
Expandly lets you manage your Amazon inventory, listings, orders, shipping labels, and reporting, along with your other sales channels – all from one central dashboard. You can view your real-time inventory across online marketplaces, quickly update stock levels, bulk print pick lists, and easily integrate Amazon with Xero.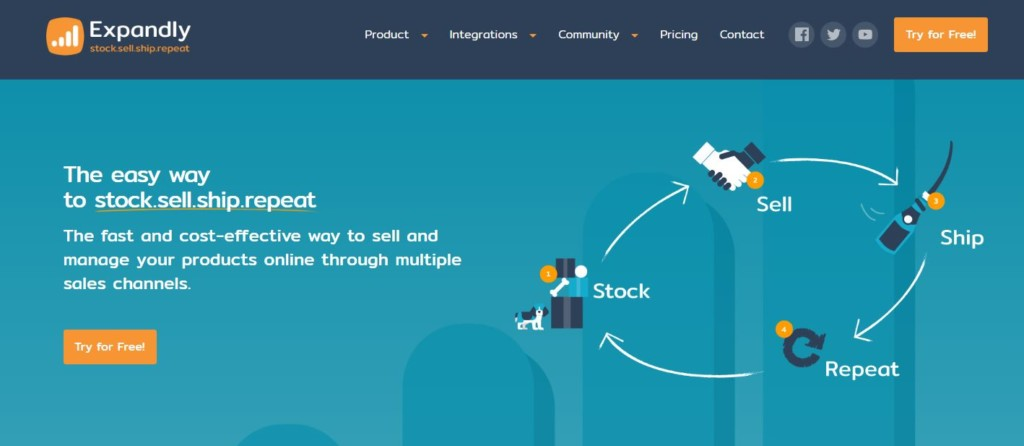 Expandly Features
Individually logging into each platform;
Multiple entries of the same listings;
Losing sight of sales orders;
Ring-fencing stock or, even worse, overselling;
Manually printing shipping labels; or
Complex reporting to figure out what's selling best
Pricing:
Free Trial
Essentials
$55 / month
Standard
$130 / month
Premium
$325 / month
Enterprise
$1950 / month
Discount Codes (If Any)
Stitchlabs
Stitch Labs automates, streamlines, and centralized multichannel operations and inventory into one platform. This provides retailers with the control, visibility, insight and collaboration needed for scaling growth and increasing profitability. It significantly reduces operational risks with automation and allows for improved forecasting and overall planning. The app also provides deeper insights with detailed reports so that you can make better decisions and improve client trust.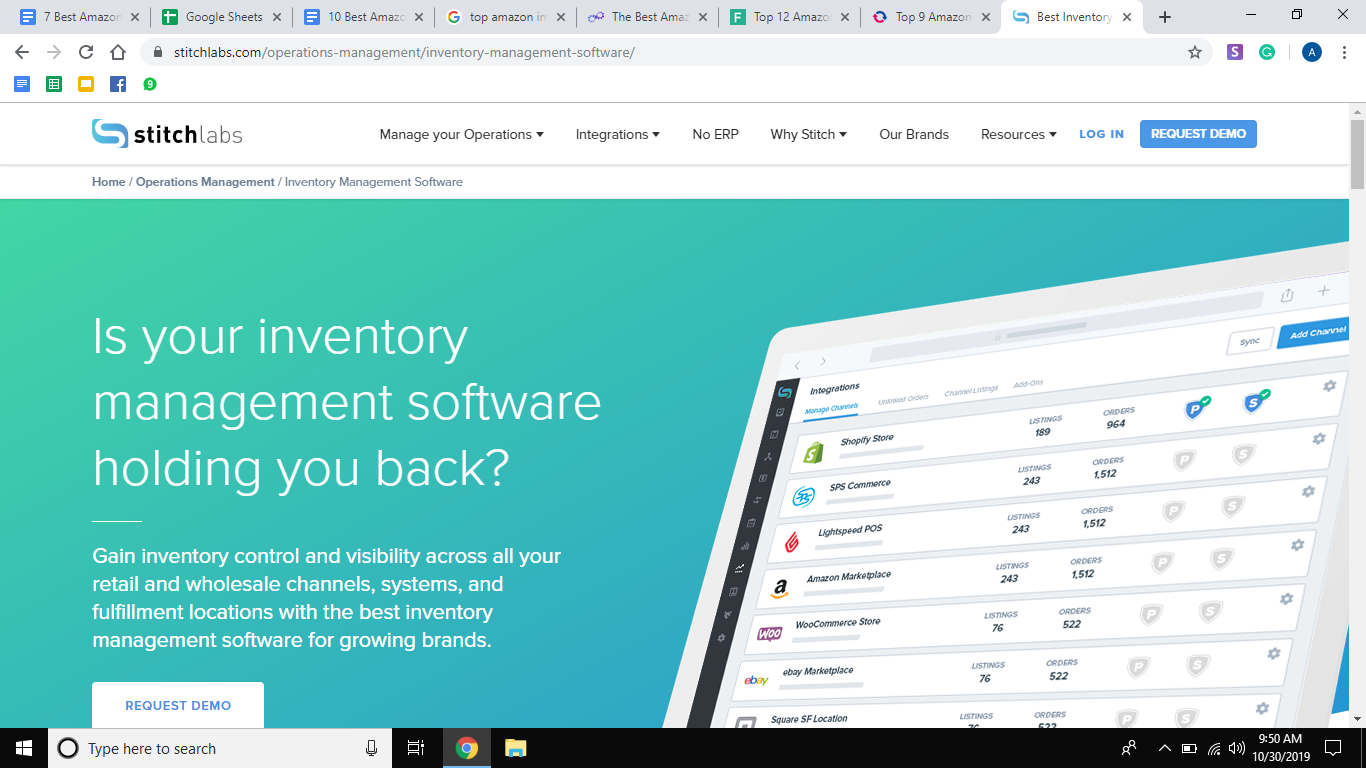 Stitch Features :
Purchase order management – Plan purchase orders, email to vendors, track receipts, and optionally push bills to QuickBooks.
Landed Cost Allocation – Track and distribute landed costs such as freight, import duty, manufacturing, and other charges.
Low-stock alerts – Set reorder points based on units and/or days and receive automated replenishment alerts via email.
Multi-location inventory – View and manage inventory levels across all your warehouses, stores, and 3PLs via a master list.
Multichannel stock sync – Stitch automatically updates your sales channels as you buy, sell, add, or transfer inventory.
Transfer orders – Easily transfer inventory from one location to another, tracking units in transit and inbound by location.
Bundling – Virtually group items together that are sold as one unit—without making an unnecessary inventory bet.
Stocktakes – Plan, perform, and audit stocktakes (cycle counts) with or without a barcode scanner.
Inventory reporting – Detailed retail reporting to view historical stock and financials by location, sales velocity, top performers, and most popular product options.
Cloud-based inventory management – Modern Inventory software without the painful upgrades; accessible no matter where a user or team is based.
Stitch Pricing
Plan starts from $799.00 per month on a subscription basis. From $799 prices move up from there according to your unique business needs.
Discount Codes (If Any)
Conclusion
Effectively managing your inventory has become more important than ever, especially if you're an Amazon seller. In the recent past, Amazon has introduced a month-long-term storage fee for slow-moving inventory, increases FBA fees, and launched the new Inventory Performance Index (IPI) metric. There have also been significant improvements to the basic inventory management features available in Seller Central.
These changes by Amazon are suggesting a clear objective for the e-commerce giant, i.e to help it's merchants manage their inventory more effectively and efficiently.
The most important characteristic of any successful retail business is having enough products in stock for your customers. In fact, what you should not be too proud of, is having the "sold out" tag plastered on your product image. It basically means that you got your supply and demand math all wrong. By correctly managing your inventory, you ensure that clients will be served quickly without waiting for you to restock. You must provide this essential element, otherwise, the customers will get another seller who can fulfil their expectations.
All the above-listed inventory management tools are specifically designed for the Amazon marketplace and should make your online retail shop more profitable. Try out a few of them, especially as most offer a trial period, then choose the right inventory management solution that fits your needs.
I and my team research various online verticals and can help you kickstart your Amazon business; so you could rake in more greenbacks with the best-recommended tools. Tap into the power of online retail business with me. I am just a mail away, so reach out to me if you want to scale up your niche business.