AlgoPix Review: Best eCommerce Product Research Software Tool 2020
Algopix is a robust product market research platform that provides online sellers, manufacturers, and brands the capability to access and analyze data about products, market demand, costs, and margins. It also generates actionable and valuable insights out of it. Whether users are researching about the right products to sell, identifying the right marketplaces to sell products, analyzing global product demand, or conducting competitor analysis, Algopix provides all the information they need so they can come up with intelligent decisions.
Table of Contents: take a look at the overall scope of the article
hide
Product research and analysis using Algopix can be done easily and quickly. Through the aid of its advanced algorithms, the platform automatically surfaces data related to buying products and selling them on marketplaces like eBay, Amazon, and Walmart. The platform can show users how much money they have to spend when they buy a particular product, how much profit they can get when they sell that product on a specific marketplace, and what fees they need to pay (like shipping and payment processing).
They can also determine if competition among sellers offering the same products is high or low. Moreover, it provides Google AdWords insights. It suggests a search phrase for every product and provides the cost-per-click and cost-per-acquisition associated with the search phrase.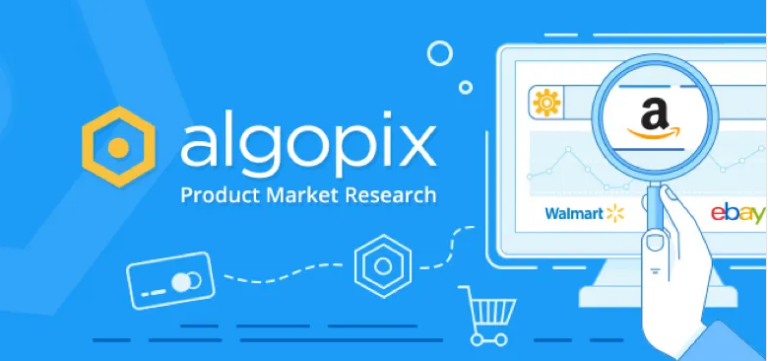 AlgoPix Review: Benefits
Generate Product-Related Insights Across Marketplaces: Algopix can help pinpoint and understand the advantages and disadvantages of selling their products on different marketplaces such as eBay, Amazon, and Walmart. Thus, Algopix provides them with all the valuable product-related insights they need across marketplaces. The product market research platform provides the level of demand, possible profit, and associated expenses for a product in each marketplace. Users can access data about the market prices of products, allowing them to find out if buying and selling a product on a particular marketplace is the right decision or not. Algopix processes and analyzes all these data points and automatically suggests whether users should sell the products in the marketplace.
Competitor Analysis Enablement: Algopix makes it easy for users to conduct competitor analysis. The platform enables them to verify how many sellers in a marketplace are selling the same products they have. They can check if the sellers are fulfilling and shipping orders for those products using FBA or Fulfillment By Amazon and if the products rank high in Amazon's catalog as well, thereby permitting them to analyze and assess risks.
Access Sales Performance Data: Algopix comes with a feature called Sales Estimator that can assist users in making better decisions as they source products. This feature gives them essential sales performance data like an estimation of how many quantities of products are sold each month and how much revenue is generated from product sales. As a result, businesses will be able to avoid keeping excess product inventories and sell more profitable products.
Optimize Ad Spending: Marketing managers and their teams can take advantage of Algopix's capability to generate Google AdWords insights so they can launch more effective and cost-efficient advertising campaigns. Algopix gathers data on product searches and recommends phrases that site visitors and online shoppers can use as they search for products. The average cost-per-click and estimated cost-of-acquisition associated with each search phase are provided by the platform as well. This way, users can formulate better marketing plans and use their marketing budget wisely.
AlgoPix Review: Features
Sourcing & Selling Insights
Company Comparison
Demand & Market Position
Expenses Analysis
Sales Estimator
Bulk Analysis
Google Adwords Insights
AlgoPix Review: Ease Of Use
Using Algopix is as easy as 1, 2, 3. The following steps will assist you in doing so: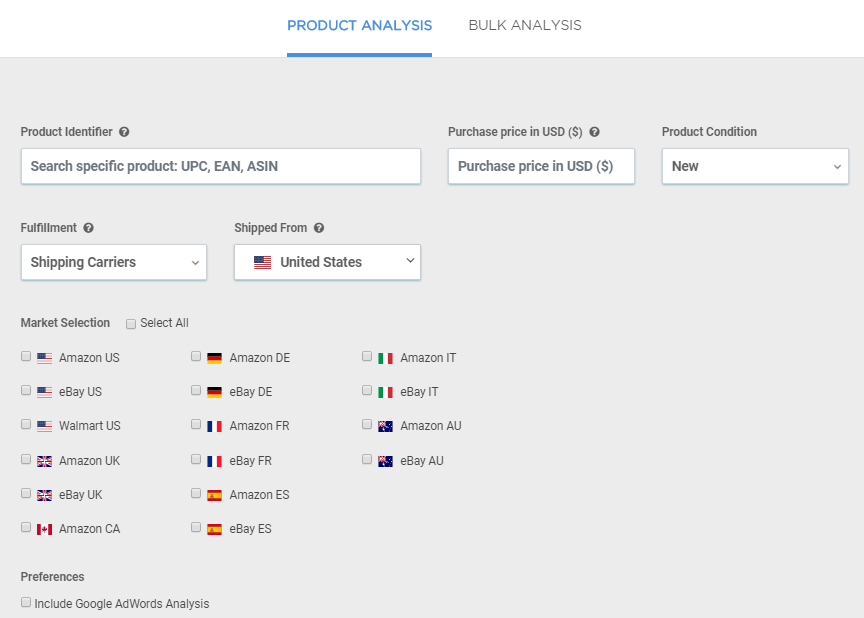 Step 1: Identify the product that you would like to do research.
Step 2: Enter a text phrase or a product identifier.
Step 3: Indicate the price of the item that you estimate it to be.
Step 4: Choose the market interest where you would like to perform the research. The least is one market, and you can choose as many markets you'd like.
Step 5: Select the product condition you will want it to be.
Step 6: It is optional, but you can also enable Google AdWords Analysis by ticking its box.
Step 7: Click the Submit button, and Algopix will search to provide the insights in real-time.
AlgoPix Review: Basic Functions
Single Product Analysis
The most known feature on Algopix is the single product analysis tool. This was the first tool I used on Algopix and was instantly impressed. The amount of insight they can provide on an item is unbelievable. Algopix uses unique algorithms to analyze real-time market data and provides you with critical statistics. After searching for a specific item and price point, Algopix shares product information like product identifiers, product descriptions, and product and shipping dimensions. It then analyzes the product compared to the market to give you price points, profit margins, demand and competition levels, and a breakdown of all logistic expenses, like shipping and taxes. It is crucial to know the supply and demand levels before putting a product online. The demand level calculation is precise and instantaneous. The competitive analysis feature informs the number of current listings and the corresponding seller feedback. The ability to optimize sales and competitiveness is due to market recommendations and market knowledge. Success, opportunity, and knowledge all go hand in hand with Algopix.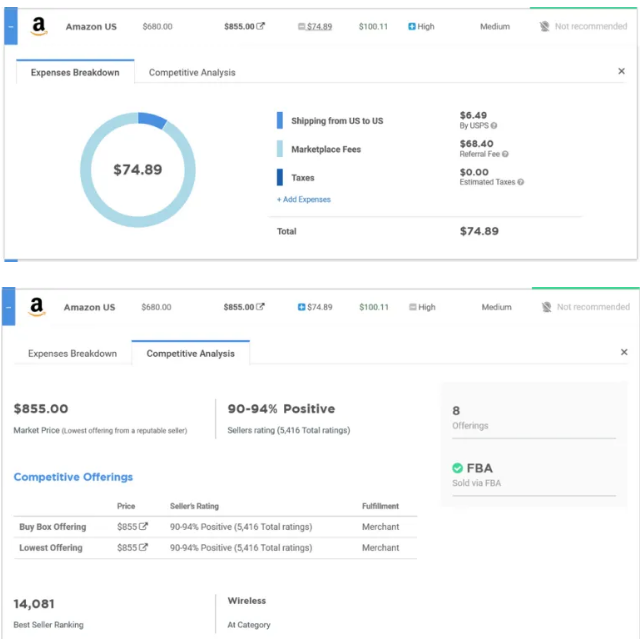 Bulk Product Analysis + Product Discovery
In addition to single product analysis, Algopix offers Bulk product analysis and product discovery. These tools are groundbreaking in the eCommerce industry. The Bulk Product Analysis feature enables you to analyze up to 3,000 products at once. After uploading a formatted CSV, Algopix can turn it into essential metrics in mere minutes. You can identify the most profitable products while filtering out the least relevant ones. It's as easy refining the file, saving it as a CSV file, and including the product identifiers and maybe detail titles. After uploading, it's necessary to fill out the price range and markets of interest, and the report will be emailed directly to you. The report includes data-driven recommendations, like prices, demand levels, profit percentages, US product rank, and shipping, handling, and tax fee estimations. This information is listed for any of the Amazon, eBay, or Walmart markets.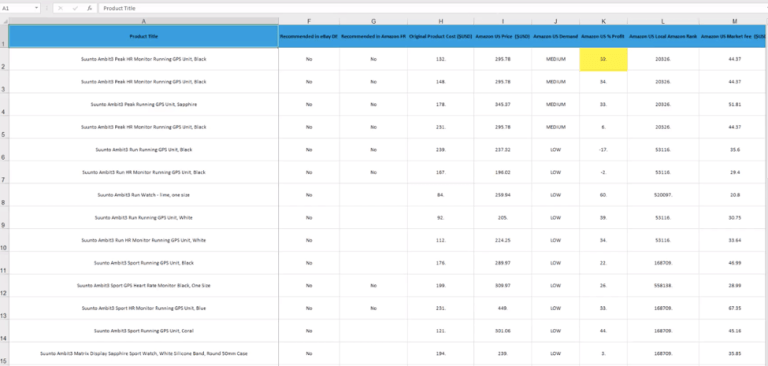 The product discovery tool is beneficial for new sellers exploring the market or seasoned sellers looking for a new product channel. It is a good idea to sell products you know something about, so think of a category you have expertise in and use this tool to search for a subcategory. Or use it if you have a vague idea but do not know the specific product you want. This feature allows you to search for a general product instead of a UPC or ASIN. Search for a keyword, like a chair, watch, or cosmetics, and select a market to analyze and then a list of products will appear. This will give you an overview of categories, products, and markets before you fine-tune your inventory list and switch to single product analysis.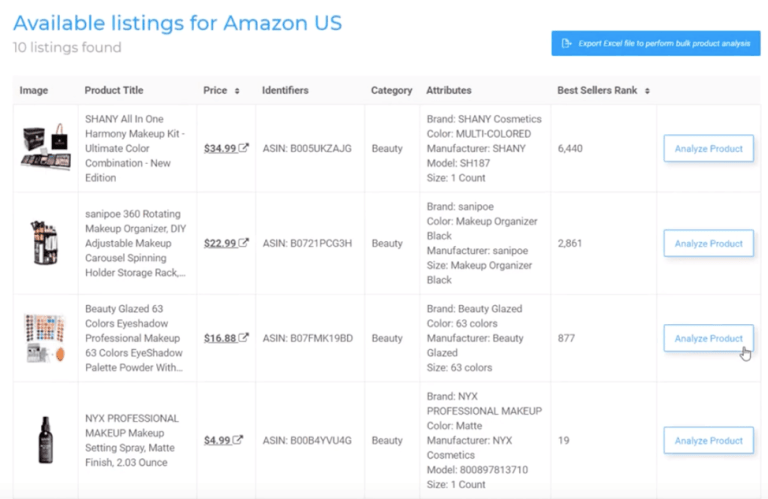 Store Analysis Feature
Algopix's store analysis feature provides essential insight into any online store's most popular products. This gives you the ability to peek inside your competitors' eCommerce stores to find out more about their successful products. This unique view of your competition identifies best-selling products, how much they cost, their demand level, and the marketplaces where they sell the best. Knowing what works for your competitors can help you plan your inventory and enable you to grow your eCommerce business.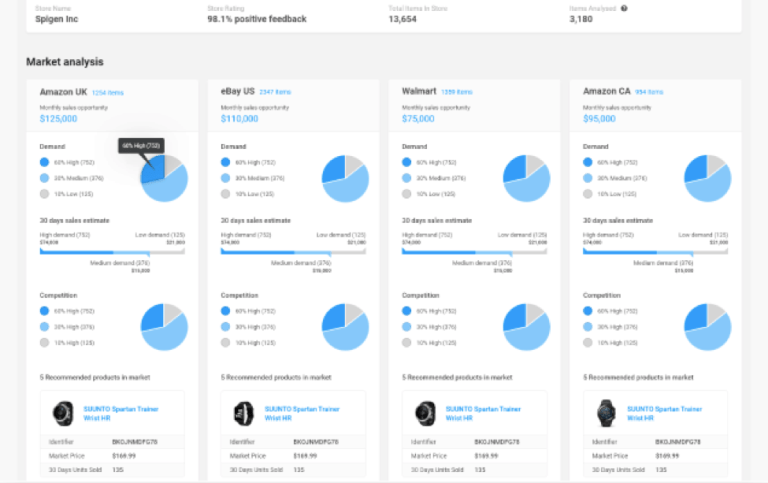 AlgoPix Review: API
Algopix can automate product research and integrate with your systems. This means there is no need to search for products manually, and you get quicker and easier access to all the valuable metrics Algopix provides. The interface and data make decision making effortless and accurate. You can check the competitiveness of listings at any time and make changes to your inventory quickly, like changing the sale price or removing low demand products. Algopix API is the biggest asset because it increases sales and profit margins through a conveniently aggregated and formatted database. For a relatively low cost, this reliable interface improved my eCommerce business drastically.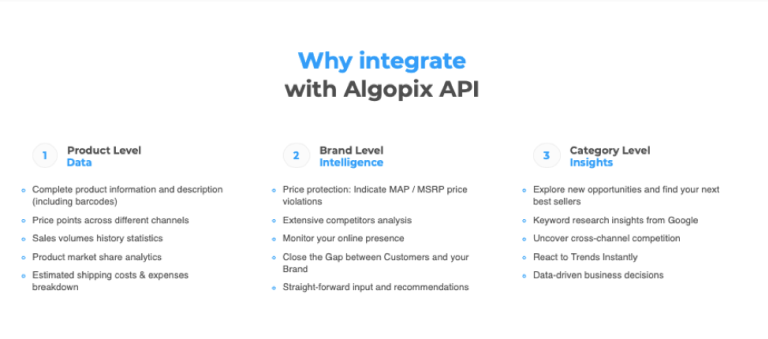 AlgoPix Review: Pricing
There are some free product research platforms, like Unicorn Smasher. I've tried one or two, but I was not thoroughly impressed. The thing about free platforms is they are making money one way or another, so if you aren't paying to use the application, they are either making money through advertisements, or they are selling your information. The advertisements would infringe on your time spent on the platform. The selling of your data could either be to target ads specifically to you or worse selling your information to competitors. Please read the terms of service to find out more. However, it is not usually worth the risk.
Instead of taking a chance with more untrustworthy sources, choose Algopix, an affordable option. They offer monthly or annual unlimited plans. The monthly plan is less of a commitment up front, but the annual plan saves you 20% overall. It provides a whole array of services from product metrics to Amazon sales estimation, eBay sales breakdown, price comparisons, and daily best sellers. The price is worth the services, and that can be seen almost immediately from your bottom line. If you are considering Algopix but are not 100% sure, try their 7-day free trial, no credit card necessary.
AlgoPix Review: Help & Support
In addition to the main services provided when you sign up with Algopix, there are some complimentary services which are helpful to all. I use the whole website as a resource but most frequently use Algopix's blog, dictionary, and ecosystem.
When I was just getting started in eCommerce, before I even used Algopix for my product research, I read their blog looking for industry advice. They have articles on everything from finding an excellent supplier to Amazon FBA tips to customer service and pricing. Each article is incredibly informative and is a great starting place to help understand a complex and continually evolving industry, like eCommerce. I would say the same about the Algopix dictionary. This page defines every industry (and Algopix) term and phrase. This tool is even helpful today as an experienced Amazon and eBay seller. It defines all the product identifiers, Amazon and eBay specific terms, as well as listing, payment, shipping and handling, and inventory management terms. As I've said before, knowledge is everything so read up before opening your eCommerce store.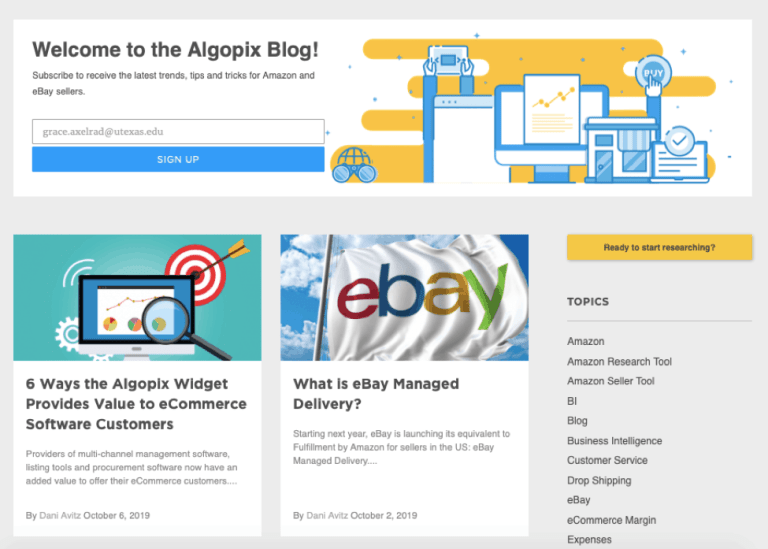 The Algopix ecosystem is a detailed map of all the industry connections Algopix has. This includes everything from freight options, suppliers, dropshipping tools, marketing and supply chain management companies, etc. Their network is extensive, and they are more than willing to help you get in touch with other industry experts. This was an asset to boost my company's reputation and profits further.
AlgoPix Review: Reviews
Algopix provides real-time product market analysis for eBay and Amazon sellers. Actionable insights are available for 14 global marketplaces and help save time, decrease risk and optimize sales. Here are some reviews for the tool:
"Algopix is an amazing tool to analyze a specific product across international eBay and Amazon markets, and I highly recommend using Algopix when you're considering switching from eBay selling to Amazon. Algopix helped me analyze all my inventory (with the bulk analysis) and recommended to sell the majority of my items primarily on Amazon markets where they're now reaching higher profit margins. I wouldn't have been aware of that without Algopix and surely couldn't gather such extensive data manually and equally accurate. I'm relieved I heard about the platform."- szaguli (Verified User)
"It's amazing to see that 3 min. Product research with Algopix will have a substantial impact on your profit margin!! Before making Algopix my daily go-to research tool, I was checking for hints and information online when to sell, what product, in which market. It was relying on my instincts and being fair that proved not being very efficient…After subscribing to Algopix, it seemed almost impossible to carry out in-depth product research manually! Algopix lets me save important time and delivers qualitative and quantitative information"- Carolin (Verified user)
AlgoPix Review: Competitors
Bigcommerce: Users use it for business, and they can use it for new leads generation if they have business accounts on different platforms and get more and more leads by this and happy that can increase their business in very little time.
Anywhere Commerce+: Build Fast and Delightful Omnichannel ExperiencesCapillary Anywhere Commerce+ is a mobile-first, omnichannel eCommerce platform featuring PWA, AI-powered recommendations & robust OMS. Make every consumer interaction memorable by making it easy for your consumers to buy from you anywhere, anytime.
Itesoft: Tools BY Unite SoftItesoft is a fully-featured eCommerce Software designed to serve Agencies, Enterprises. Itesoft provides end-to-end solutions designed for the Web App. This online ecommerce system offers Data Security, Mobile Access, Returns Management, Channel Management, Email Marketing at one place.
Summing Up
Algopix is different from its competitors for a few main reasons. The first and the biggest is that it covers 17 markets, including nine local Amazon markets, eight eBay markets, and 1 Walmart US market. As both an Amazon and eBay seller, this is crucial! In the past, I used Jungle Scout for Amazon and Terapeak for eBay. I was paying for two separate services, and my data was scattered and non-compatible. Now that I use Algopix, all my data is in one central location. Algopix analyzes each market and compares all 17 marketplaces to show which markets your product would perform best on. The insight is helpful for a seller on multiple marketplaces, but the extra intelligence can still help a seller who uses just one marketplace. For example, say you are an Amazon US and Amazon Canada seller, it would be very relevant to know if the product was selling for more money on eBay or if there was a low competition on Amazon Germany. All insight is good insight!
If you're looking for one platform to help you with every single eCommerce need, look no further than Algopix. Use Algopix to refine your inventory, explore new niches, increase sales, and everything and anything else. Algopix is genuinely changing the way product research is done for the better.