AMZ Tracker Review: Best Amazon Seller Toolkit of 2020
On a marketplace like Amazon, outperforming your competitors and winning a customer's attention takes herculean efforts. Unless you hire a team of skilled employees, you have to run the entire business operations on your own. This can undoubtedly take the time you could have otherwise spent on other more critical areas of the business.
Table of Contents: take a look at the overall scope of the article
hide
If you want to stay competitive and efficiently grow your Amazon business, you will need a full-suite Amazon seller tool to back you up. On the right note, with the rise of full-suite Amazon seller tools, you will never run out of help. The challenge lies in picking the best one for your business.
AMZ Tracker, designed especially for Amazon sellers, is the tool that can help the sellers raise their product standards and so its rankings as compared to your competitors in the market. It helps you in making your market on Amazon. It helps to keep a track for where your business and the products rank amongst the others. This service is made available for several countries.

AMZ Tracker has four different plans (subscription packages) according to the flexibility of the business holders present in the market. The plan is divided as Basic Plan, Professional Plan, God Mode and Legend. AMZ Tracker provides you with a fixed limitation of keywords that you can use to describe your products for letting you customers to know about your products. The range of keywords that you can use is based on the plan to which you subscribe. The marketplaces supported are The United States, United Kingdom, Brazil, Canada, China, France, Germany, India, Italy, Japan and Spain are all supported.
Overview
Amazon's third-party selling program has made it more feasible for small businesses to thrive online. Its advertising has made a lot of third-party vendor's products more visible to potential consumers. This puts more need to create advertising strategies to meet the changing demands of the market.
AMZ Tracker provides simple solutions for adapting to these market changes. It is software that helps a business improve its keyword rankings. Using this Amazon listing-optimization report enables any business to stay on top of the competition. It provides more opportunities to optimize your page's content for more visibility. An optimized page is a cost-efficient and effective way to advertise your product listings online. This enables any business to succeed at advertising and selling its products than a business that poorly optimizes its product listing.
AMZ Tracker is the best SEO tool for tracking keyword rank for Amazon searches. If you are an entrepreneur that is looking for insightful business and career growth ideas, you should read our review in depth before getting started.
Features
AMZ Tracker has 11 main features targeted at existing Amazon sellers that already have a product. We'll cover the features below and their usefulness:
Product Promotion
The product promotion section allows you to offer discounts for your Amazon product on their deals website vipon.com, the successor to the previously mentioned "Review Club". This feature is effective at increasing Amazon sales in the European marketplaces such as Germany. However, for the U.S.A and U.K marketplaces, it doesn't work as well as Jump Send.
Rank Tracking
AMZ Tracker was the first software in the Amazon seller space that allowed you to track your Best Seller Ranking along with your rankings on Amazon for various keywords. AMZ Tracker will enable you to monitor changes to BSR, along with keywords you are targeting for your product.
An example BSR chart from AMZ Tracker is below: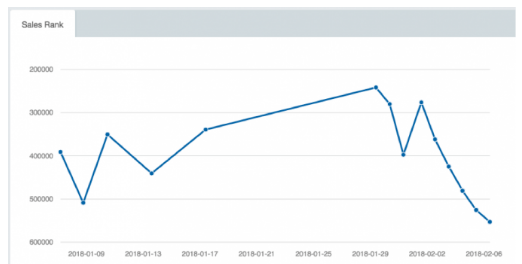 An example showing keyword ranking and change in rankings are below: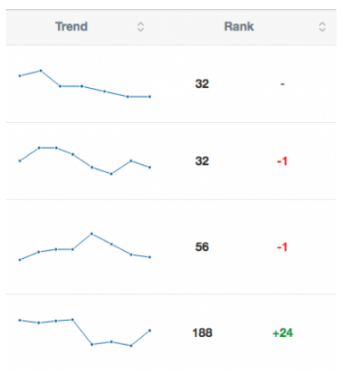 Being able to track how your product ranking changes after you make changes to your product or try different strategies is invaluable to an Amazon seller.
Email Reports
The email reports feature allows you to receive a daily or weekly email update of product rankings for selected keywords. There is also a CSV file included in the email that will enable you to import the data into a spreadsheet or other software.
Competitor Sales Tracking
The competitor sales tracking feature provides a very accurate estimate of daily and monthly sales figures for any given product. It works by checking the inventory levels for a product each day and from that, determining the number sold and the remaining inventory for that product.
This feature is useful for getting an idea of how many units a competitor is selling instead of relying on broad estimates.

Find New Keywords
The "Find New Keywords" tool in AMZ Tracker provides you with a list of the words and phrases from this auto-suggestion list on Amazon.
Deepwords (Keyword Tool)
Deepwords is another keyword suggestion tool that works the same as the above tool, except it provides estimated search volume and the related category.
Negative Review Alerts
This is another useful feature. Maintaining a 4 star or above rating on Amazon is essential to keep a successful product. This feature will alert you anytime you receive a rating that is less than 5 stars. This allows you to respond to the review quickly, and if you can determine who the buyer is that left the review, you can contact them to resolve any issues with the product or order.
Reviewer Hunter
The idea is that it searches through your Amazon order history to find email addresses from customers.
Listing Hijack Alerts
A hijacked Amazon listing is when another seller takes over the Buy Box and starts selling on your product listing. The product listing page is for all sellers on that product listing, so if another seller hijacks your listing and sends their products to customers, those customers might leave negative reviews on your product listing. The quicker you can respond to a hijacked listing and get back the Buy Box, the less sales you will lose.
Optimize Your Listings
It checks whether the keyword is in the title, description and bullet points. Also, it provides an evaluation on a range of other criteria that contributes to a successful product listing. The requirements and an example of results for a product are below.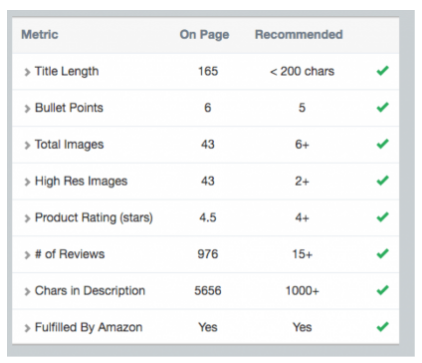 Super URLs
When a customer purchases an item on Amazon, the algorithm will connect the search term to the item purchased and increase the product ranking for that specific keyword. AMZ Tracker Super URLs allow you to manipulate this part of Amazon's algorithm by making it appear as though the customer searched for a keyword before purchasing your item.
Benefits
AMZ Tracker allows you to keep a real-time track of data of yours as well as your competitors' products and services.
It lets you have in-depth knowledge of the pricing, product rankings, products reviews, product ratings, overall estimation of possible sales, best-ranked products on Amazon, etc.
AMZ Tracker proves to be the best option for saving time as compared to researches done on other platforms.
Helps you to find the areas of improvisation needed for your products and hence profit areas as well.
The AMZ Tracker is compatible with all the sites of Amazon and is web-based software.
Being on AMZ Tracker can make you increase your conversion rates, and if it lowers down, you can overcome it by fixing it.
You can increase your search rankings by using Super URLs.
Pricing:
The AMZ Tracker service is available for 7 days in which you can enjoy a free trial of the software as to how it works and what all is flexible to you.
AMZ Tracker provides you with three different packages as below after certain discounts:
Basic Plan: $33.3 per month for beginner level. Keyword limit – 110 words.
Professional Plan: $66.7 for a month if you apply for a yearly package or $100 per month for a monthly package. Keyword limit – 500 words.
God Mode: $133.3 per month for a yearly package and $200 for a monthly package. Keyword limit – 1500 words.
Legend: $266.7 per month for a yearly package and $400 for the monthly package. Keyword limit – 3000 words.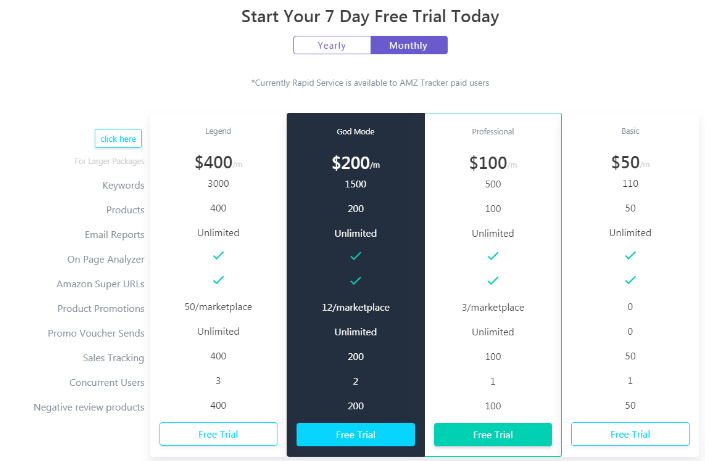 Signup and Ease of Use
Let us discuss the steps shortly on how one can track the product rankings using AMZ Tracker:
Log in to your AMZ Tracker account.
At the right top-end of the AMZ Tracker, you will see a Rankings tab. Click on it.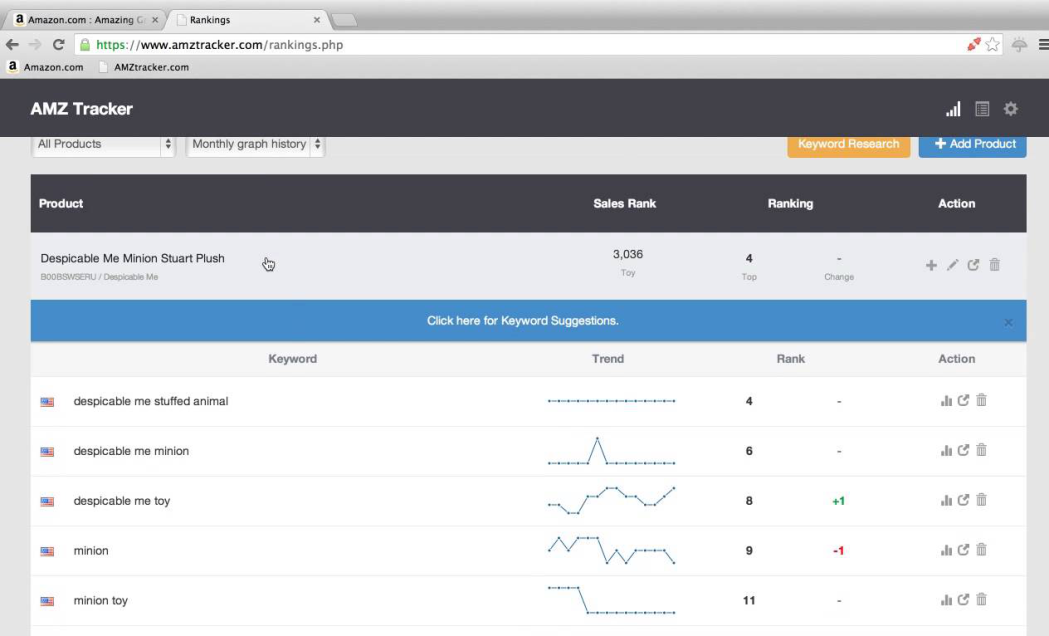 Now go for the 'Add Product' option.
Type the URL of your product which is available on Amazon. Multiple products can be added at one single time (mostly 10 products are preferred).
After this is done, you need to select a market place as to where your products should be sold.
Add keywords or tags that will specify your product details (e.g. your product is a toy, so add tags such as 'toy, animal, stuffed toy,' etc.). Always remember that every tag should be separated using a comma. The keywords can also be edited or deleted.
Now click on 'Add Product', and you will be brought to the product rankings window of AMZ Tracker, on which you can see the ranking of your products on Amazon.

To improve the rankings of your products, you should opt for a unique set of keywords or tags which may inevitably result in raised ranks of your products. You can edit the keywords and check for the new rankings later on.
User Reviews
"This is a fantastic app since its main function is to position the user so that he obtains a high seller rank in Amazon. The task of selling will be something much simpler for the user who installs this."
— Carmen Olga Carmona Villegas
What initially could have been a bad experience was quickly handled in a matter that was very satisfactory to my company. The software is useful, comparable to Sellics–I'd say the two are about even there, but the ability to promote on Vipon is what really sets AMZ Tracker apart for me. We have a bunch of new products just starting to get some traction on Amazon, so we were looking for something like this to help push us over the edge on those listings, and so far it's very promising.
Thanks, Guys!

Customer Support
There were some loopholes in the customer support. You can fill out the contact form for customer assistance. Fill out all the details and get the required help for the department you chose. You will soon hear from the department related to your issue.
Alternatives
TaxJar: TaxJar is a sales tax management software designed for Amazon and other online marketplace merchants and developers. Its features include auto tax filing, product exemption handling, automatic shopping cart and eCommerce sync, transaction tracking, and more.
BQool: BQool is an Amazon repricing tool that updates users' item prices based on price changes of similar products. Its features include automatic repricing, product listings, price calculator, sales reports, and more.
Sellics: Sellics is a multifunctional software designed for Amazon marketplace sellers, vendors, and agencies. It offers solutions for analytics, keyword rankings, profit tracking, managing pay-per-click campaigns, and more.
ShipWorks: ShipWorks is on-premise shipping software for eCommerce companies. It enables users to import their online orders from platforms like eBay, PayPal, and Amazon.
Jungle Scout: Jungle Scout is a product research tool for Amazon sellers. It offers a web-based solution and a Chrome extension that enables users to explore product opportunities, monitor competitor sales data, calculate Fulfillment-by-Amazon (FBA) fees, and more.
Summing Up
AMZ Tracker seems to be a tool that can help a lot of businesses boost their sales on Amazon. However, they have to be willing to pay the price. A lot of people still find these services to be impressive, yet are also frustrated with how things are. What is clear is that their services are useful to a degree. Keyword searches and promotions do seem to work on Amazon based on the feedback. The gripes with any given service seem to relate to its money-for-value. AMZ Tracker is a useful guide on how to sell products on Amazon; however, it may not help you skyrocket to the top of the category listings as it purports to do. It seems that the secret to improving your business on Amazon is through smart strategies. Eventually, copycat tools emerge, and most companies begin to use them to boost their business. It has been happening since the inception of the internet. You can try to use the tools provided by either service to improve your business. However, it's what you do with those tools that matter in the end.