Best AMZ Scout Alternatives for Amazon Sellers in 2020
AMZ Scout is a powerful and easy to use tool to find the best product niches out there. Monitoring the activity of competitors such as their sales inventory etc. is essential in the new marketplace, and AMZ provides you the avenues to do so without much hassle. The chrome extension it offers gives it ease of access to real-time data as well as makes its operations smooth. The main functions that AMZ scout does provide ,include product research and finding new product opportunities, competition research, and market analysis on Amazon and data mining.
Table of Contents: take a look at the overall scope of the article
hide
How to Choose a Niche When Selling on Amazon, eBay, and Walmart?
When you are a seller, half the battle is won when you have decided the best product out there to commoditize. To do this, there are some mythological approaches which can be followed based on real-life sales data as well as the utilization of a specialized set of tool. Preferences and personal experiences shouldn't be a factor of bias while choosing so-called products. To start, it is always to good to have a set of product guidelines that you adhere to so that it will be conducive to online purchases and has the appeal of the general audience. Factors such as choosing products that aren't fragile, occupies less physical space, timelessness, and within a suitable price range appealing to all are things that need to be brought into consideration. Other factors can also be included by considering the future possibilities of your business and so on. There are mainly three classifications of products. One is candy-like, which doesn't solve any problems but brings immediate pleasure. For example, fidget spinners. The issues with these are when they do go out of style, the sales decline.
Then there is a vitamin-like product that has long term positives and solves an emotional need. In all sense, it creates and satisfies a psychological need at most times. Then there is the painkiller type of product that addresses your immediate needs. The sweet spot amongst this is to find a product between a vitamin and painkiller. Hence if executed properly, we can make a good profit no matter what kind of product we choose. This is where tools such as AMZ scout comes into play and serves as one of the best niche finder tools for Amazon.
Best Amz Scout Alternatives: Product Research and Niche Finder Tools for Amazon, eBay, and Walmart
Cash Cow pro
The profitability of your amazon business can be easily analyzed by Cash Cow pro.managing several products and ensuring all of them remain organized is essential when you do run an amazon business. Cash cow pro helps in this regard. It is an analytical tool which serves the answers to two crucial questions. The profitability of the product and to find room for improvement.information such as return on investment and net profits is obtained right at your fingertips with this tool—all in all, it serves as a god AMZ scout alternative.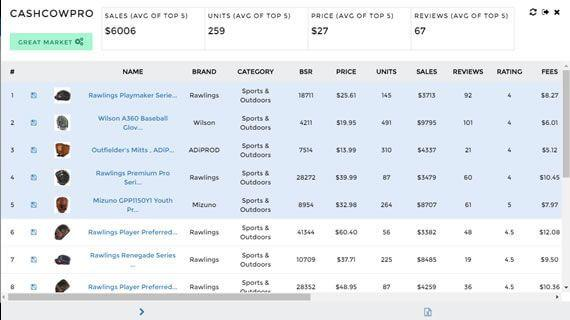 Cash Cow Pro Features
The operational features in this software suite can be classified as follows.
Orders: It gives you the option of filters to only see discounted orders as well as to view repeat buys.
A/B Split Testing: Testing various elements of your product listings to maximize profitability is done through this.
Email Messaging: Follow up emails to customers are sent through this.
Inventory Monitoring: average sales per day and exhaustion of the current inventory is calculated using this app.
Product Selection: This is done through its three components, the chrome extension, product filters, and the tool which analyzes the ROI.
Cash Cow Pro Pricing
The cost is around $49.97 a month or $497 a year.
Trendle: Best niche finder tool
Trendle is one of the best niche finder tools in amazon, which is a robust AMZ Scout competitor and a good AMZ scout alternative. It covers almost all amazon big markets such as the USA, Mexico, Canada, France, Italy, Spain, India, and so on. Its many features that provide easy to understand the information in many dashboards cover all utilities needed for an amazon merchant.with the help of Trendle, your productivity on daily tasks gets more comfortable to control and get feedback on such as getting reviews, restocking best sellers and managing campaigns, between others.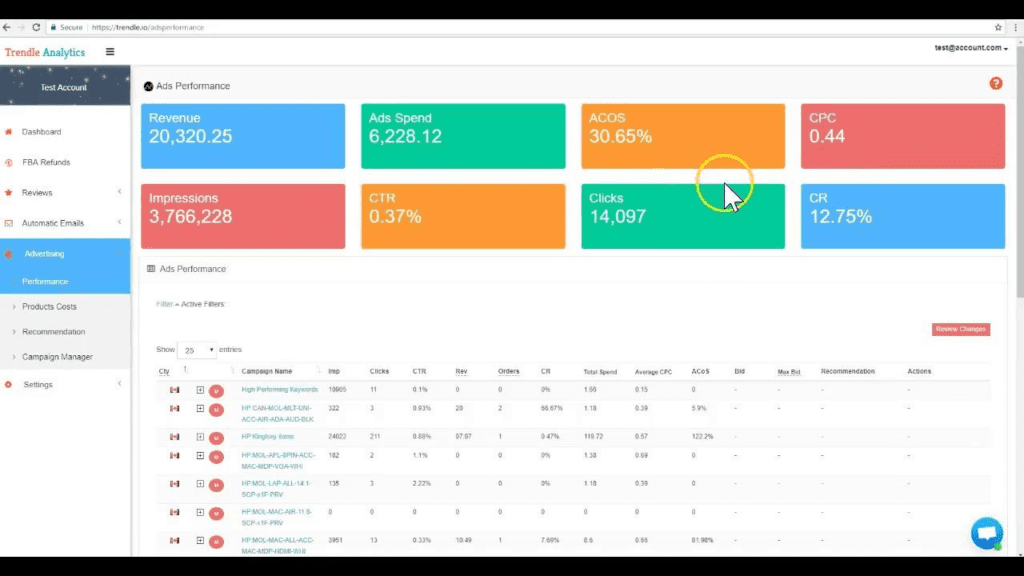 Trendle Features
FBA Refunds: You can ease up on your worry about the claims towards amazon with the help of this feature.refunds are automatically managed on damaged goods.
Product and seller reviews: Daily alerts f customer reviews keep you up to date on your product requirements and areas which need modifications.
Inventory Analytics: Instant information on stocks is made available with this feature.
Ads performance: automize your ACoS and other settings using this tool.
Keywords Ranking: For each product, its keywords and country are obtained.
Test A/B: This feature enables us to test price, images, selling price, etc.
What also stands out is Trendle does also provide a free 30 day trial to new amazon users so that they can get hands-on experience on the features they do give beforehand.
Trendle Pricing
Trendle.io does offer just one plan, which costs $50 per month, and does have a special offer for new Amazon sellers for $10/month.
Helium 10: a best product research tool for Amazon,
If you are looking out for the best egrow.io or a free egrow.io alternative, then it is the tool recently developed by Amazon sellers, Helium 10. This tool equips you with 19 essential and handy tools with more features getting added to it every year. In this, a serial entrepreneur and an online marketing coach head the project.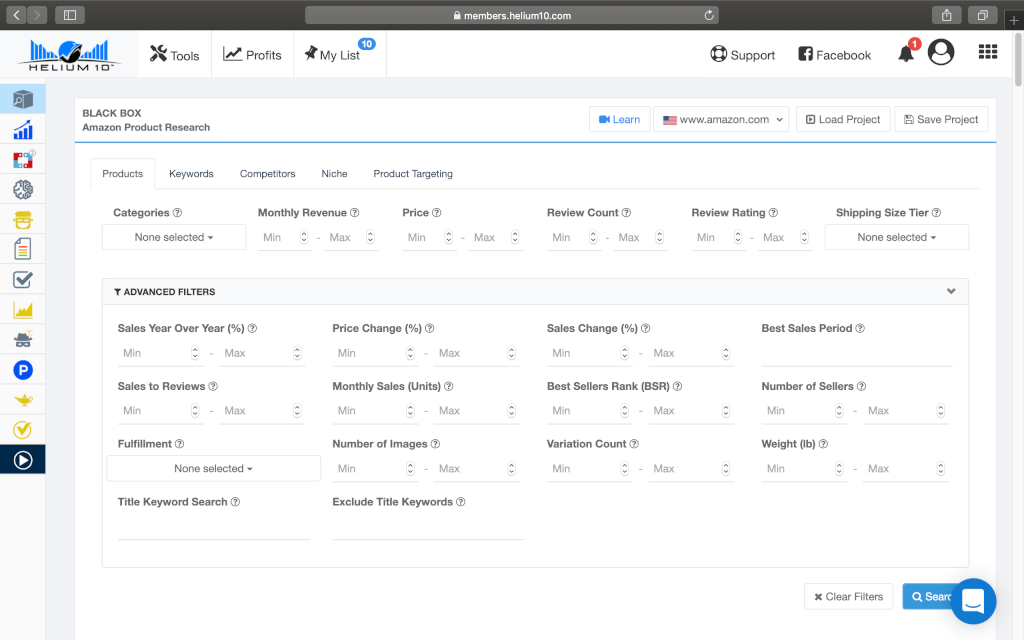 Few of its main features that make Helium 10 extremely easy to use and helpful are as follows:
Helium 10 Features
1) Cerebro: Helps you in getting an edge over your competitors by providing you with keyword ideas, reverse ASIN, and keyword search volume. It also provides data to know more about competing products and their capacities.
2) Black Box: Helps in searching for the most profitable product based on the criteria that you enter, including keywords, products, competitors, niche, and product targets.
3) Xray: Provides you with complete Amazon catalog information through a browser extension including best sellers rank, total and average revenue, inventory levels, ratings, number of reviews, and much more.
4) Scribbles: Provides you with keywords via the Amazon Seller API. Also, customized and the most profitable keyword suggestions are provided by it.
5) Refund Genie: As the name suggests, it helps you in getting easy refunds for lost or damaged inventory by generating detailed reports on them and submitting it to Amazon.
6) ADS: Helps you to see the top products by spend and sales, the highest ACOS campaigns, spend keywords, and much more. Also, it assists you with your Amazon PPC Campaigns directly from Helium 10 by simplifying, optimizing, and automating it.
Helium 10 Pricing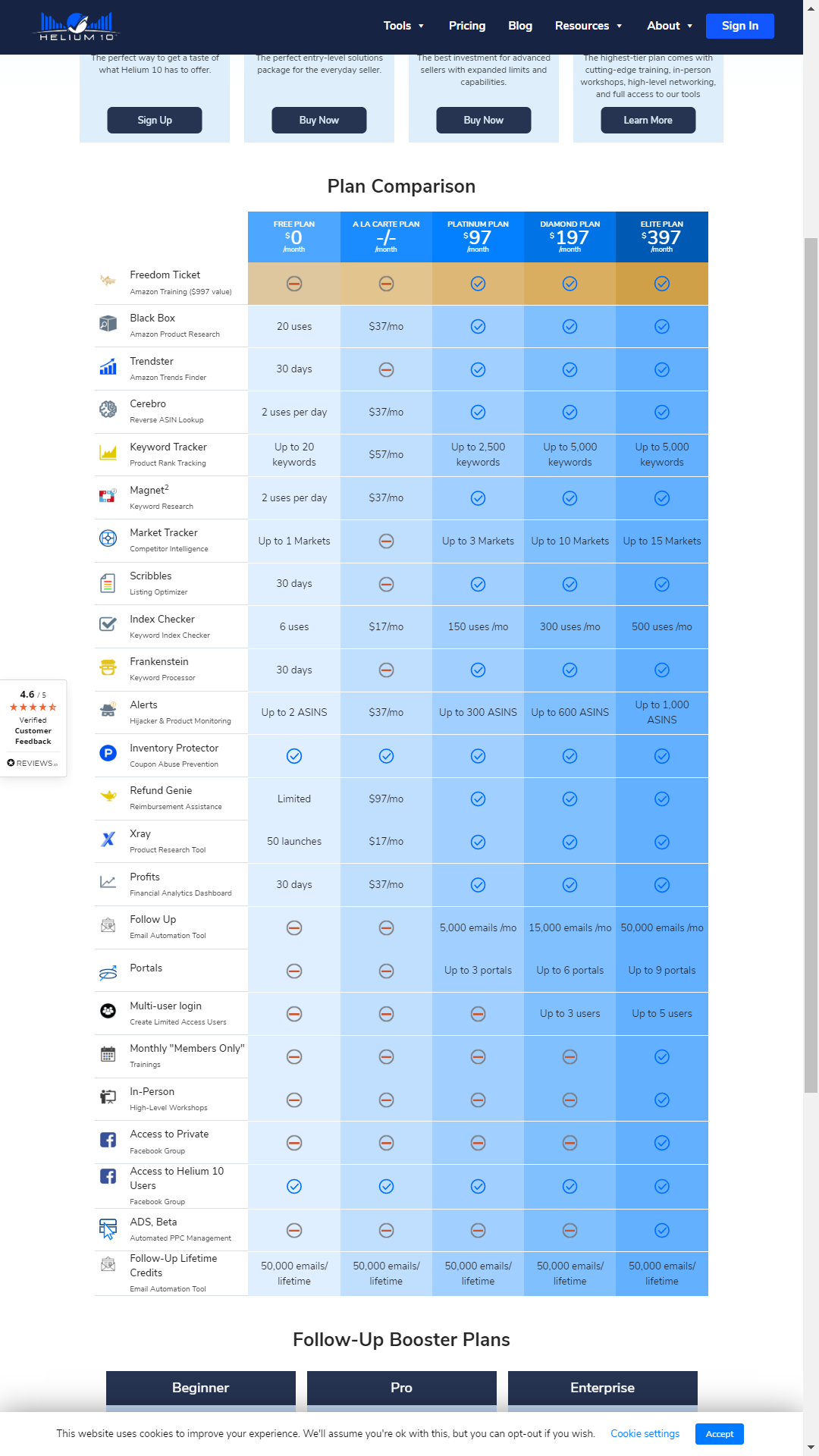 Zonguru
Since people prefer places and things where all their needs are satisfied without hassling too much in the search for the resources, Adam Hudson and Jon Tiley developed Zonguru.

It provides you with 12 tools under just one software. A brief about the 12 instruments is as follows:
Zonguru Features
1) Email Automator: Helps you in generating automated personalized emails for the consumers.
2) Zonguru Chrome Extension: Provides you with the extension necessary to view data.
3) Keyword Tracker: Based on the keywords you use for your product, it helps you in finding its rank and development made.
4) Keyword Listing Optimizer: Helps you in optimizing the title of your product.
5) Love-Hate: Helps in generating an in-depth analysis of your product based on the reviews given by customers.
6) Product Monitor: Helps in providing alerts once your product is noticed by a potential customer.
7) Negative Feedback: Helps in informing you about negative feedback left by a consumer.
8) Business Dashboard: Helps you in getting an estimate of net income in the form of graphs based on your present Amazon FBA Business.
9) Orders: Helps in having all the information of your customers.
10) Products: Helps in dealing with the exact logistics of your product.
11) IP Monitor: As the name suggests, it helps in monitoring your intellectual property like the online content and protect it.
12) Dirty Spy: Helps you in tracking the sales of any product available in the database of Amazon.
Zonguru Pricing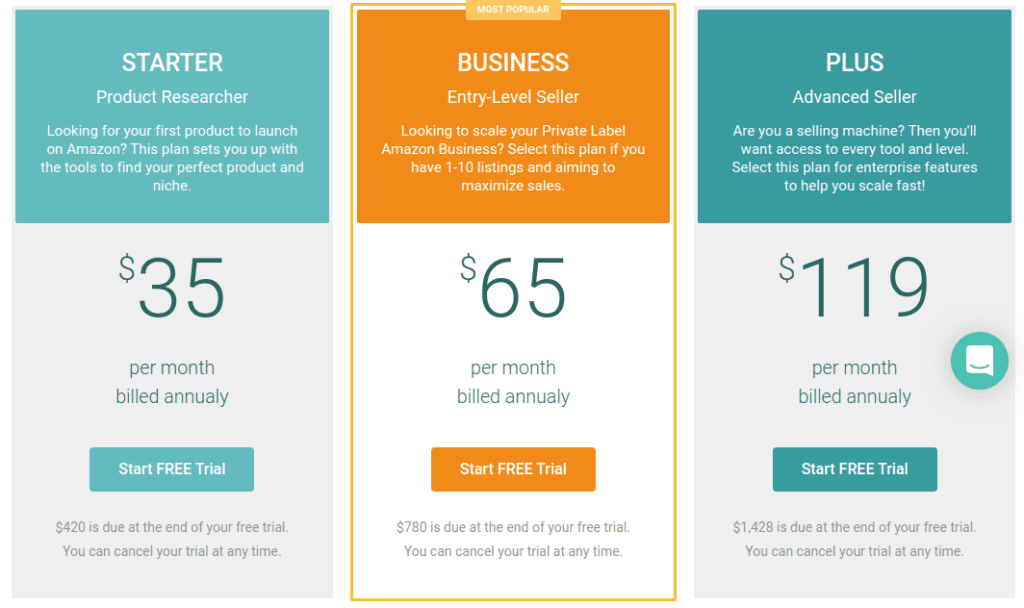 SellerApp
Matching the trend of all in one tool, SellerApp is also an Amazon research tool that has ten handy features in it. It helps you in having complete information about your competitor.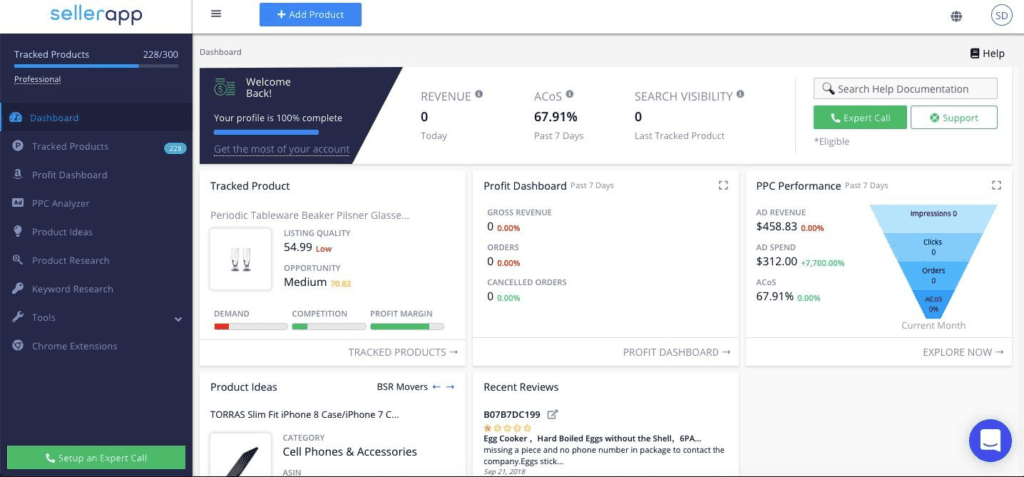 SellerApp Features
1) Product Research: The performance of your product depends on its visibility and proper, less competitive keywords. The tool helps you in searching through all the available products online and provides you with a correctly sorted analysis divided into categories you desire.
2) Product Ideas: Not only it helps you in improving your current business, but it also helps you in expanding your business by suggesting new ideas for products based on their present sales and predictions.
3) Profit Dashboard: The tool presents you with your Amazon profit dashboard in a very sophisticated and properly arranged form, including day to day sales, product performance, and much more.
4) Listing Quality: This tool provides you with a product listing which helps you in knowing about relevant bullet points, the desirability of a product and its images, number of review on the product and how all these influences a buyer's decision
SellerApp Pricing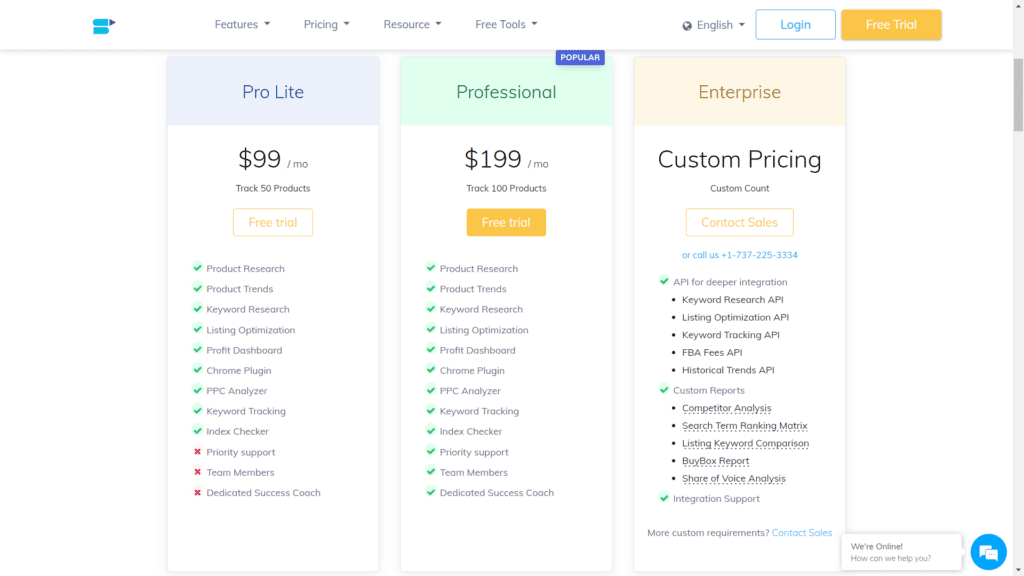 Hence to find the best amazon products out there ,the utilization of such tools is essential.AMZ scout including others provides such facilities and help to smooth out your business career.