12 Best Keyword Tracking Tools for Amazon Sellers in 2020
Mostly, people on Amazon look for a particular product, simply by a search. The very terms that they use are called keywords. Thus, keywords act as the connector from the customer's search bar to the product page. So it is imperative for you as a seller to first understand the keywords which your target users are using to search for the products that you offer frequently. Once you acquire this knowledge, the next step is where you implement those keywords into the content of your product listing pages. When you are using the right keywords in your Amazon listing, this means that you are speaking the same language as your audience. By using relevant keywords in your listing, your product can organically be seen on the results page whenever the customer searches for it. The goal, however, is to optimize the use of keywords further and strive to rank higher up on this search results page because most often, users don't scroll down that much and develop an instant negative perception about the products that appear down the results page.
Table of Contents: take a look at the overall scope of the article
hide
Now, having said that, what you need to keep in mind as a seller is that all your competitors are also doing the same thing that you are doing. Thus the process of Keyword Tracking becomes just as crucial as searching for the keywords. Tracking the keywords you use or plan to use will help you better understand where you will stand in a particular search, which are the keywords your competitors are also using. Also, you can track keywords to analyze which keywords are helping you rank better on the search results page so that you can optimize the use of it and even the ones that need further optimization. This is a very tedious task and becomes next to impossible when done manually in Excel or google sheets. Thankfully technology solves this problem, and there are a few tools that will make this task easy for you.
Top Keyword Tracking Tools of 2019 for Amazon Sellers:
Helium 10
Helium 10 effectively benefits its users to find the high ranking keywords, identify trends, keep track of competitors. It has a fantastic Amazon Keyword Ranking Tracker that can help you outrank your competitors.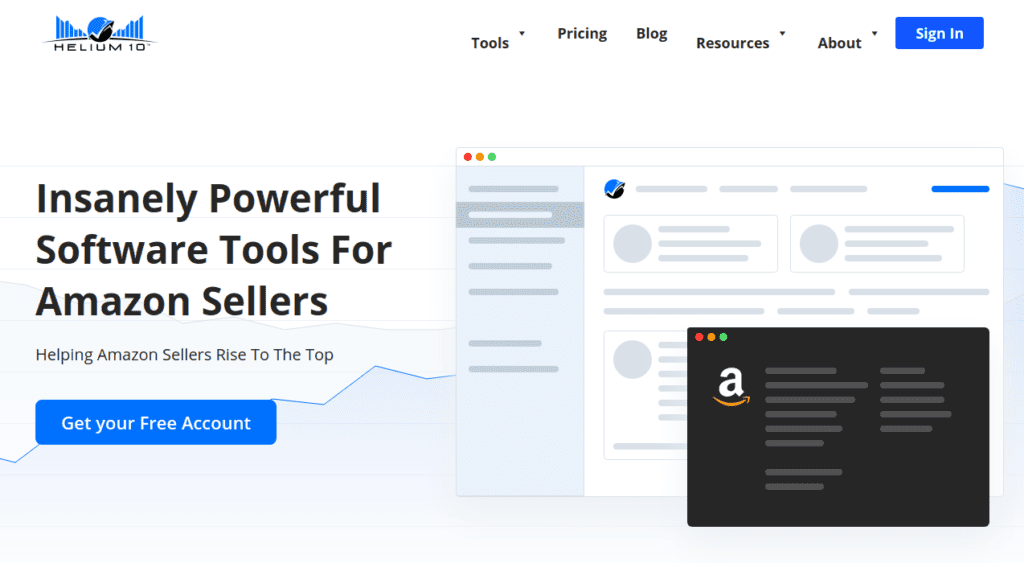 Features
Track the organic and sponsored position of your keywords in real-time. Monitor all your selected keywords in one easy-to-view dashboard.
Get the insights you need to pull the trigger quicker. The Rocket Boost feature allows you to check keyword ranking data for any "boosted" keyword every hour for 10 days.
With our intuitive design and easy to use interface, tracking your keywords and optimizing your Amazon product page has never been easier.
Monitor important keywords for the profitable Amazon niches you're targeting.
Know what works and what doesn't by logging the changes you made in your marketing and optimization efforts.
Track the competition and see how you stack up against their SEO strategy. See how every change affects your keyword game in real-time.
Generate valuable data on the keywords you track, including ranking, percentage changes, ranking trends over time, estimated monthly searches, and more.
Pricing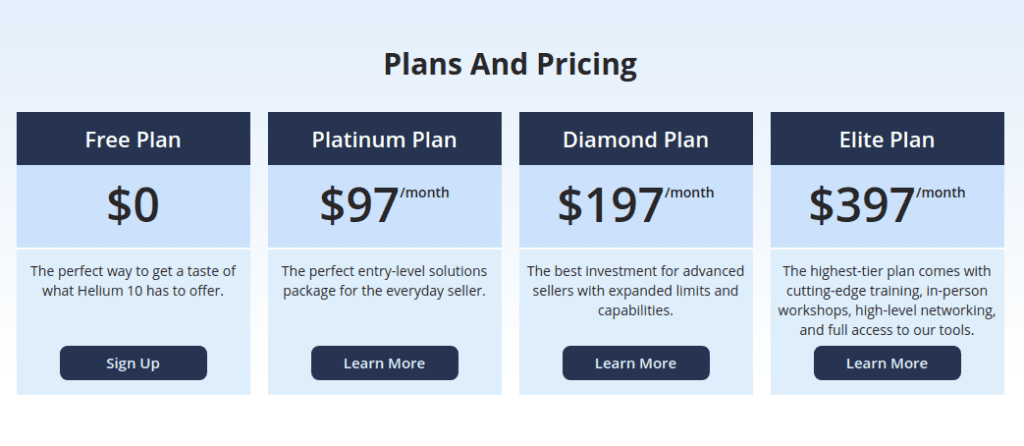 Discount Codes (If Any)
Check here for the various Helium 10 discounts and coupons offered to benefit sellers like you.
"ARBITRAGEINFO50"
50% off your first month of Helium 10
"ARBITRAGEINFO10"
10% off every month of Helium 10
ARBITRAGEINFO50 / get 50% off your first month of Helium 10.
ARBITRAGEINFO10 / get 10% off every month.
Jungle Scout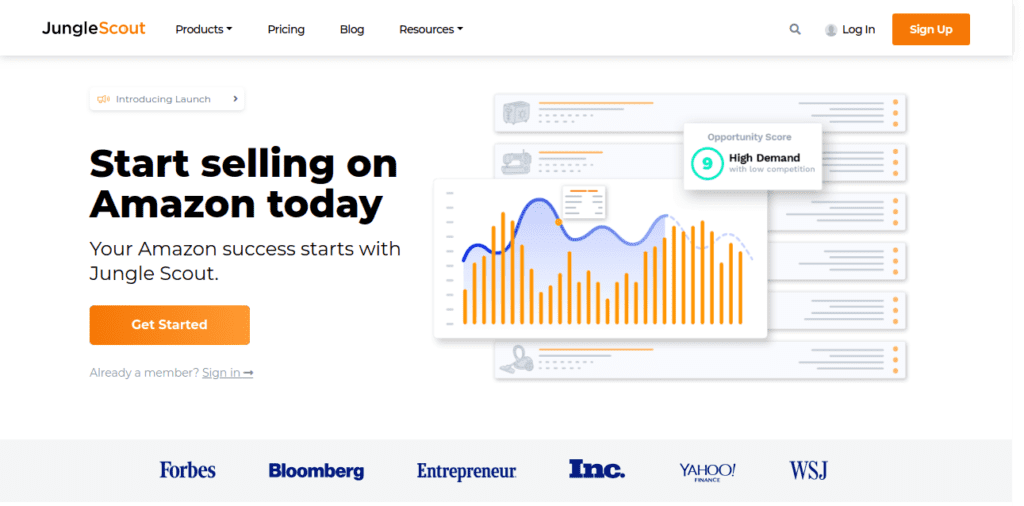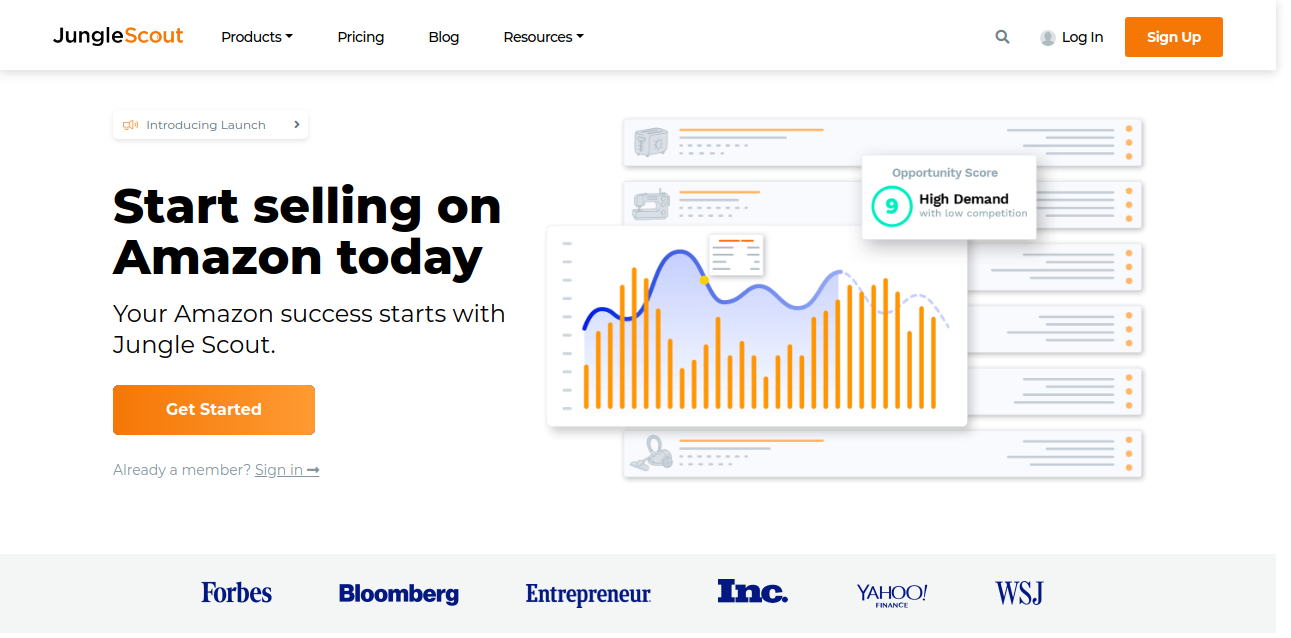 The Jungle Scout Keyword tracking tool helps you maintain a competitive edge by monitoring how your listings are performing in search rankings. You can assign keywords to an ASIN to learn organic rankings, connect to Keyword Lists to leverage previous product research, and monitor keyword ranking history to assess the impact from PPC or listing adjustments.
Features
Discover high-quality keywords
Research global marketplaces
Save on your PPC campaigns
Track product ranking by keyword
Full-service support
Recommended keywords
Export results to.CSV
No keyword left behind
Search globally
Instant insights
Pricing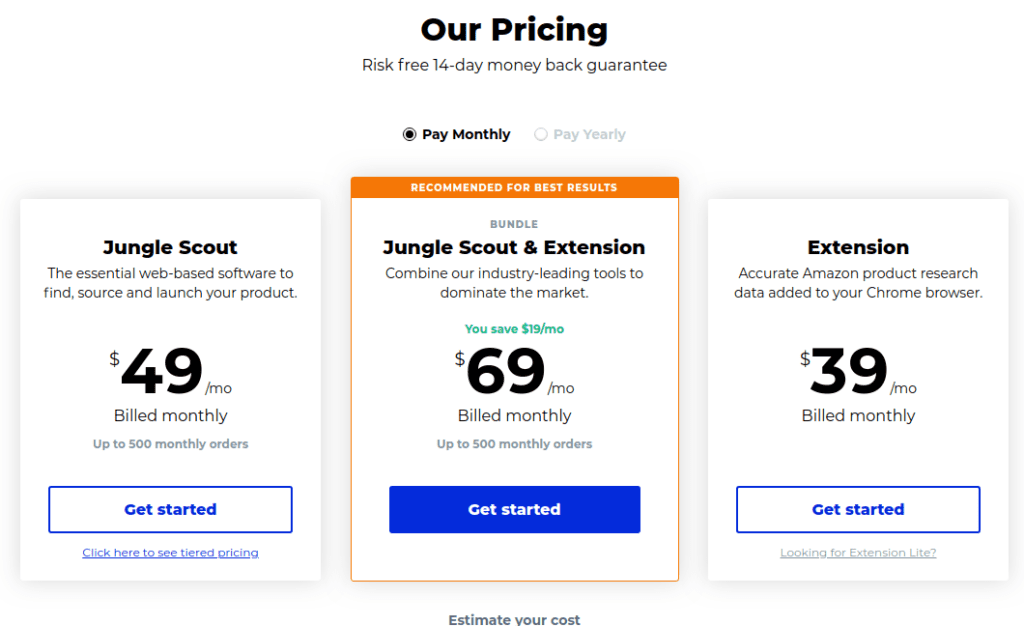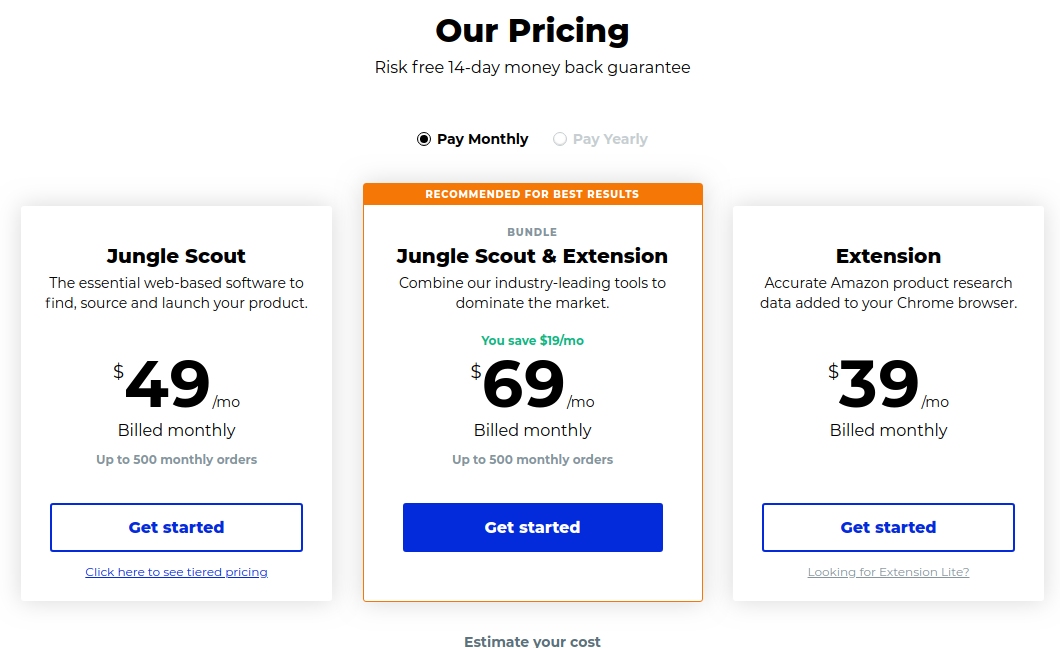 Viral launch
With their Amazon Keyword Tracking Tool, you can save time by tracking hundreds of relevant keywords with advanced features and boost your Amazon sales with tons of keywords your competitors are missing out on!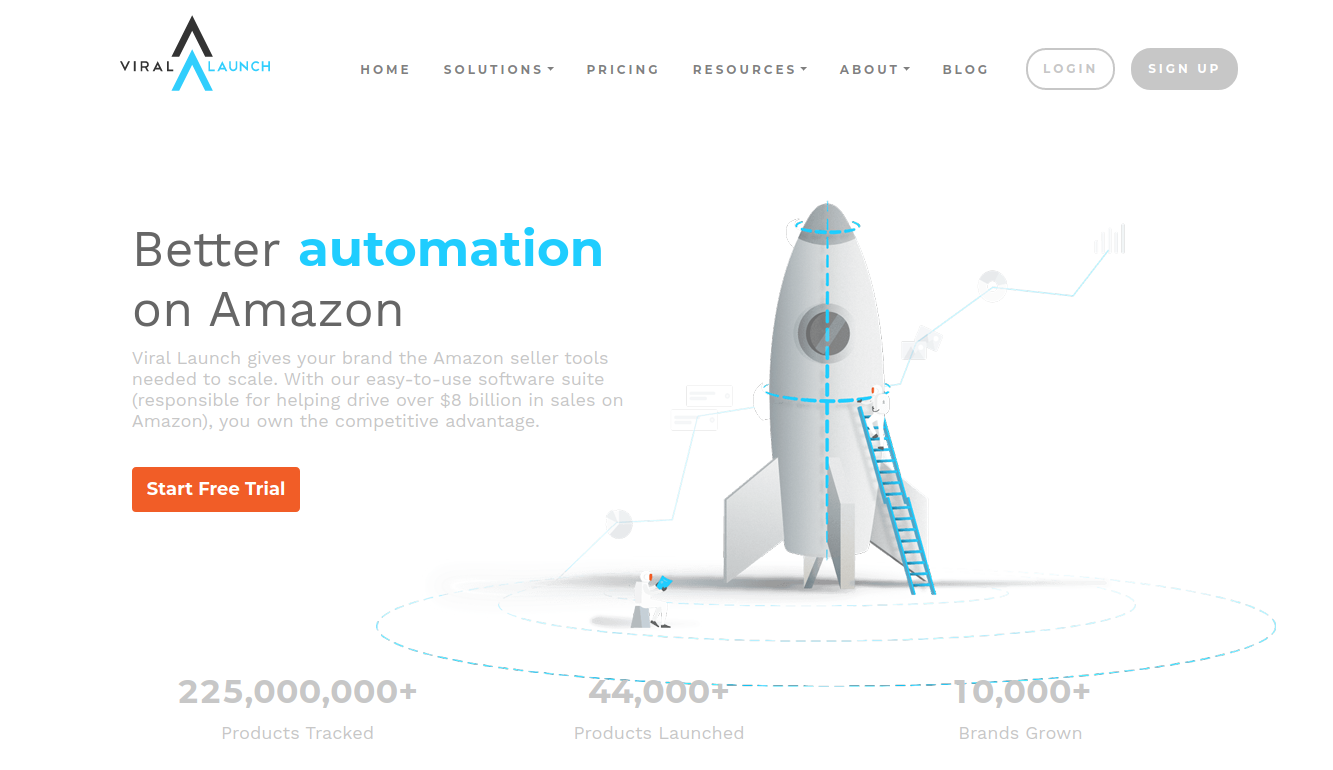 Features:
Automated Keyword Discovery
Keyword Search Volumes
Index Checker
Sponsored Rank Tracker
Hourly Keyword Tracking
Product Compare
Product Notifications
Best Seller Detection
Suggested CPC Bid
Keyword Rank Tracker
Keyword Notifications
Deep Product Analysis
Sales, Price, and Reviews
Pricing: There is a 20% off coupon on the lifetime plan, which is SHELDON.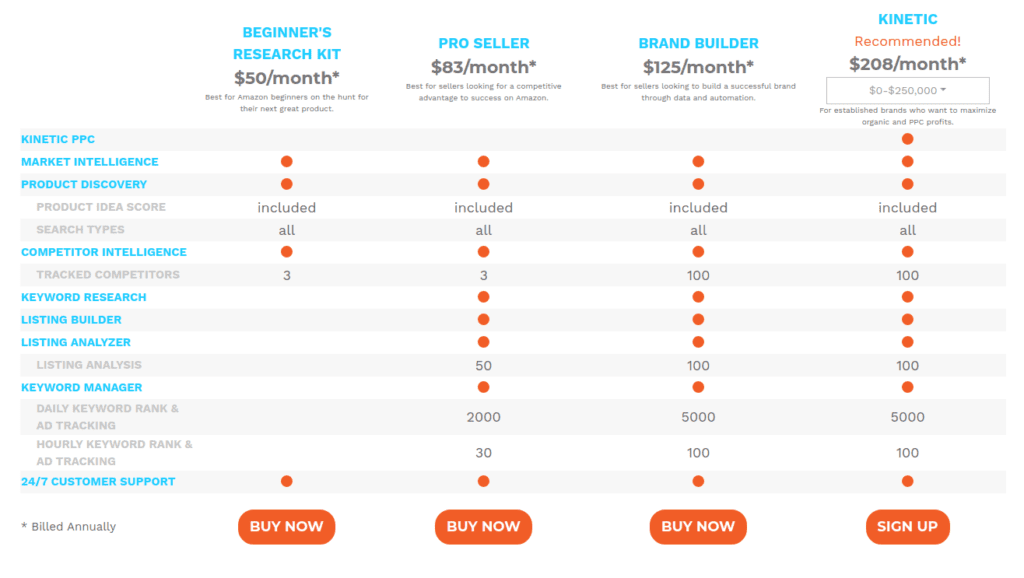 AMZtracker
AMZ Tracker is one of the best tools in the market. It is of immense assistance to many Amazon sellers & has a plethora of useful features, some of which they were the first to implement.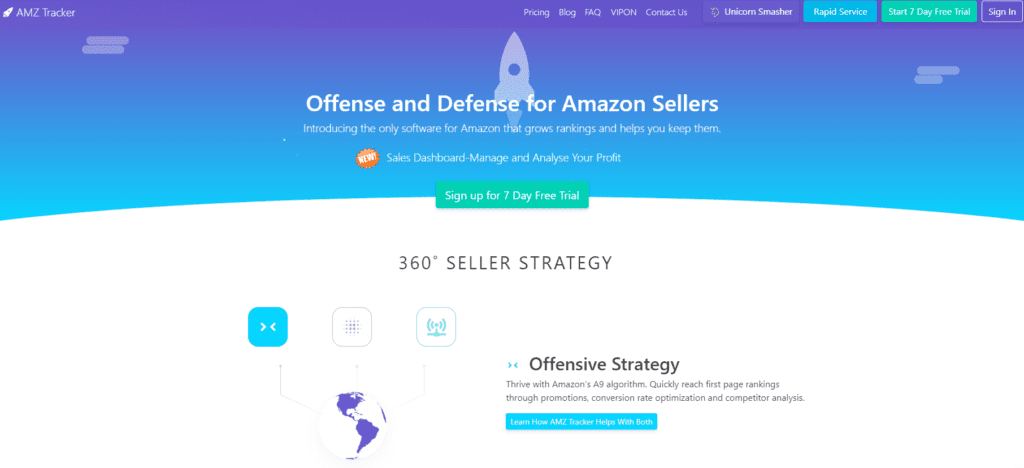 Features
Concurrent users are no issue
On-page listing analyzer
Sales tracking & product promotions
Competitor analysis
Negative review alerts
Alerts Listing Hijacks
Keyword research tool
Promo voucher management
Conversion Rate Optimizer
Super URLs
Keyword Tracking
Pricing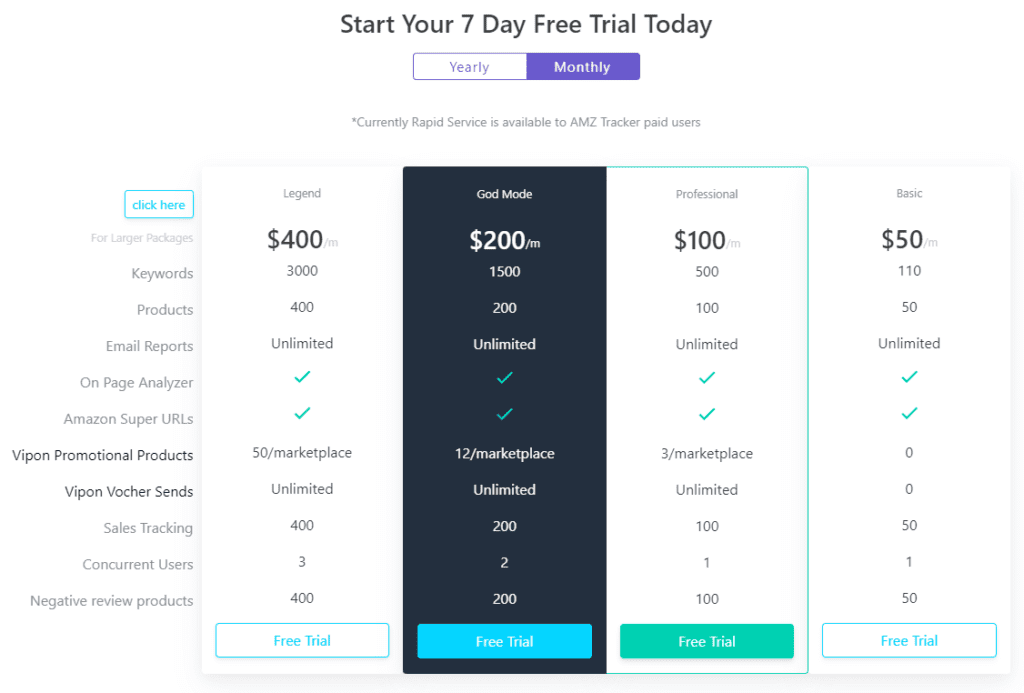 Zonguru
The Product Keyword Tracker allows Amazon Users to monitor the keywords on which their products are positioned, as well as the evolution of the positions as time goes by. With the ZonGuru Rank Tracker, you can monitor where your product ranks every day to various keywords that you are trying to rank for. It enables you to make the necessary changes to your keywords to make them more effective and hence create more sales.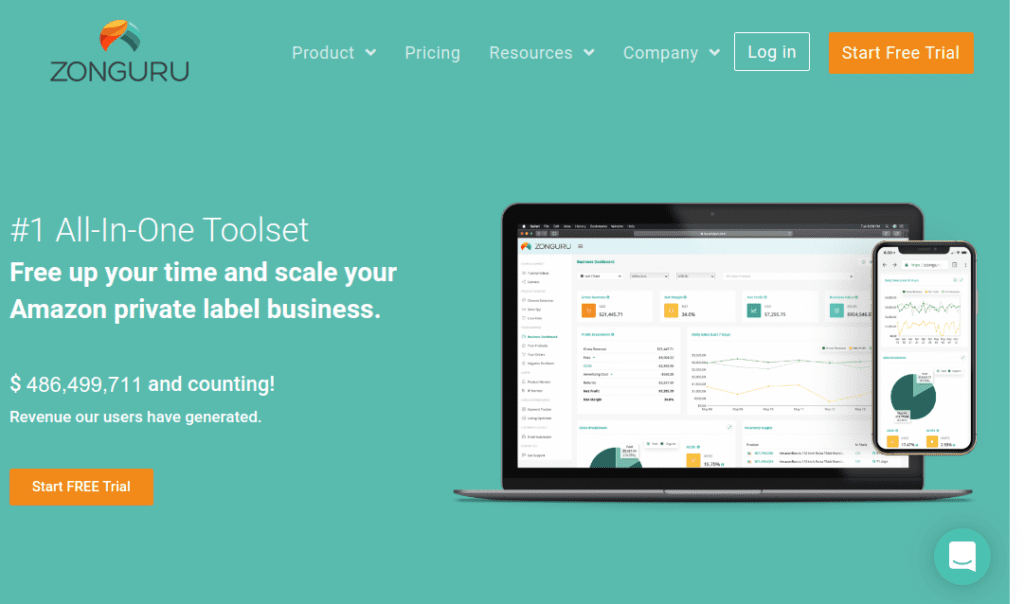 Features:
Business Dashboard – Get hold of all your essential Business Metrics instantly and easily in the dashboard. View the most important trends and metrics of Amazon business which is the most crucial aspect. With ZonGuru's Business Dashboard, you can always be aware of how your business is performing.
IP Monitor – The IP Monitor helps protect your Amazon products from the theft of intellectual property related to the photos of your products. An alert can be programmed when someone uses a picture identical to yours, retouched or not.
Product Monitor – Remain in control of your business at all times, Receive instant alerts on any product review or any listing hijack and remain in control of your business. It can also keep track of your competitor's listings, so you have a better understanding of what your competitors are doing and take measures accordingly.
Pricing
Zonguru offers a pricing model in which the prices vary according to the type and volume of the tools you wish to opt for. For the initial trial, you can test all of the available features for free before purchasing a plan for a week without requiring a credit card.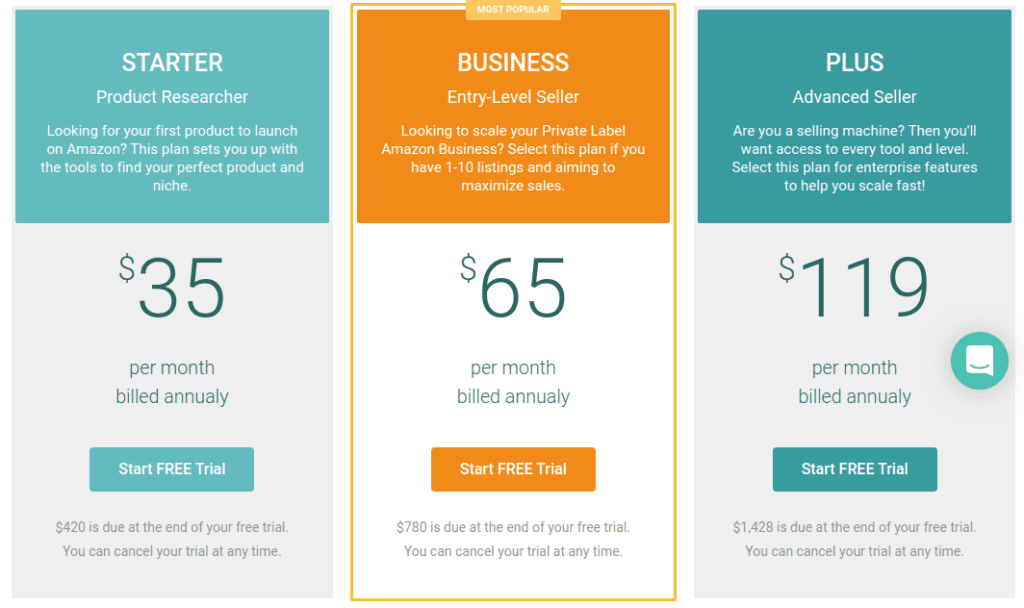 Discount Codes
Egrow
With their Keyword Rank Tracker tool, as a seller, you can easily track your Amazon SEO strategy. Get a better understanding of what is working for you and what is not by monitoring your keyword rankings in the organic Amazon search results. The Rank Tracker further helps you to summarise and visualize all of your product keywords in one place. Organized in easy to understand charts and panels, so that you save time in monitoring and tracking all of your Amazon product rankings.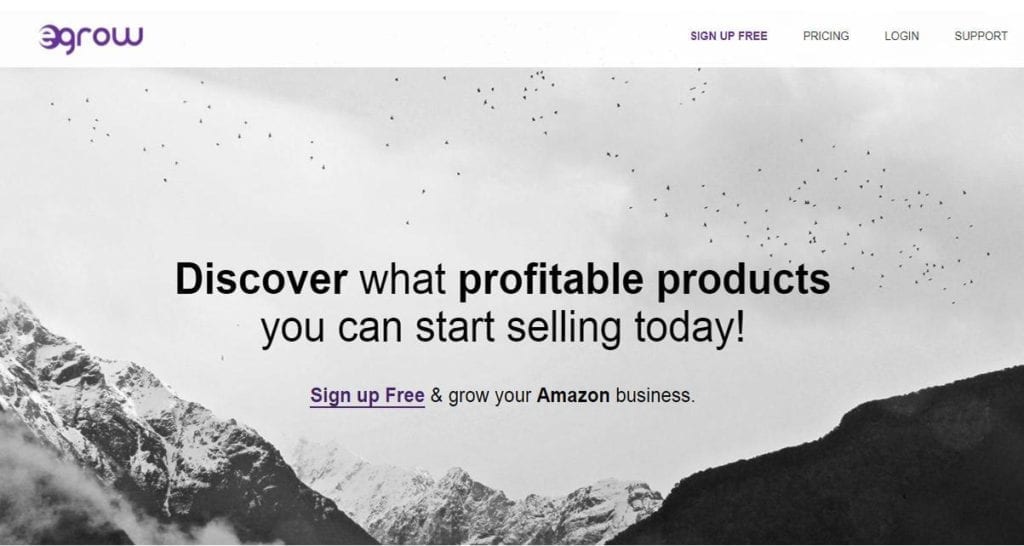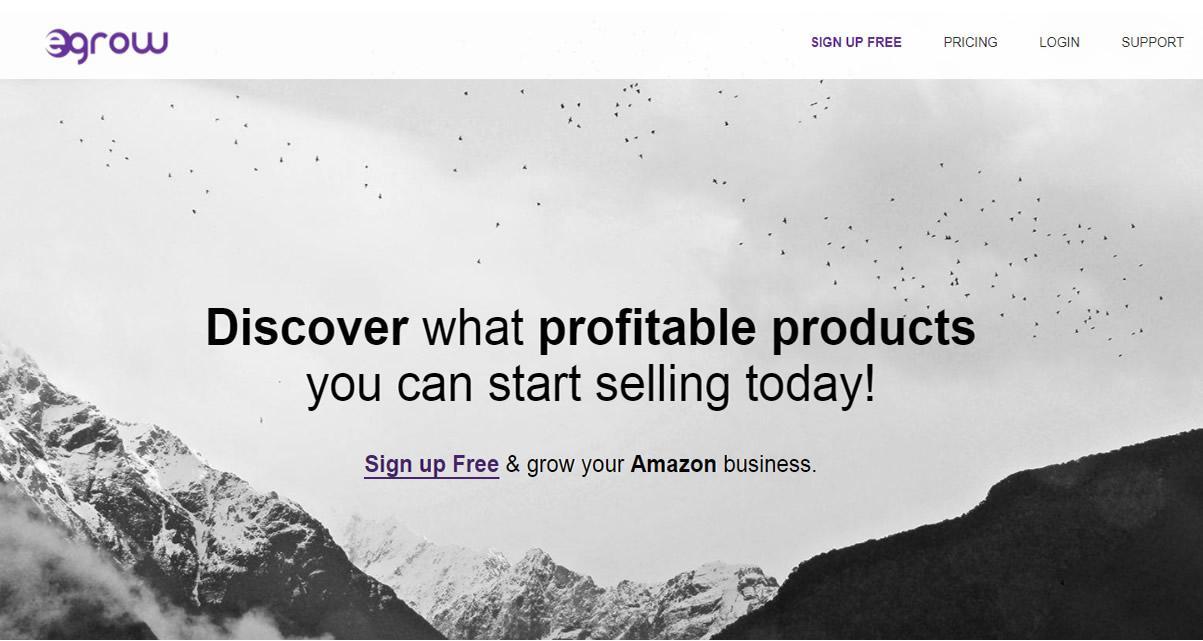 Features
It provides highly accurate estimated sales data
It offers the biggest database of daily-scanned products from Amazon.
It is super-fast.
It has preloaded keywords and positions in organic Amazon search results.
Egrow's user interface is intuitive and easy to use.
All the workflow happens within one application no need for other browser extensions or tools.
You can access up to 90 days of product history changes (sales, price, review, keyword)
Pricing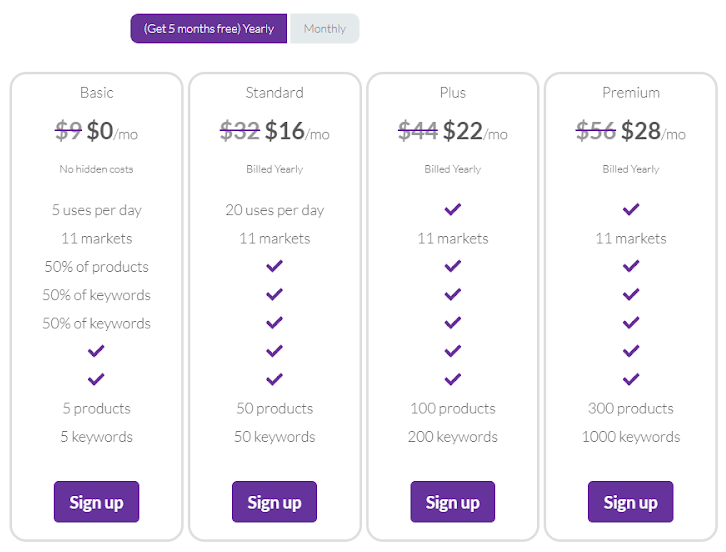 Amzscout
Description: AMZScout's Keyword Tracker helps you to see how marketing and optimization efforts affected your product listing ranking for given keywords. You can use it for your Amazon keyword research, monitoring both your products and your competitors' products. The easy and intuitive UI makes the extension's use and navigation very userfriendly while providing you with the tools to improve your product catalog's rankings. Take an in-depth look into search terms and discover new insights on products that were previously unknown to you. Become a better Amazon FBA seller and have your best selling products listed on the first page itself.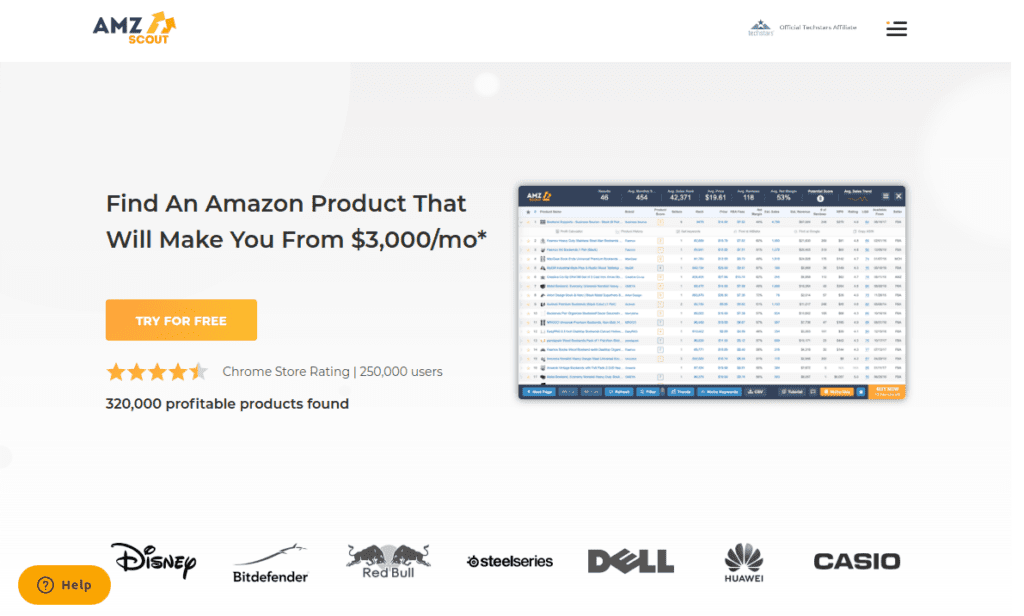 Features:
Monitor the keyword ranking positions in Amazon search results for any product. All you need is ASIN.
Break down keyword ranking by page and position for multiple keywords
Visualize keyword position changes over time using graphs, observing the data using variable frequency intervals – whether that's every hour or once a day.
Analyze various factors influencing the final ranking, helping you facilitate Amazon SEO, ease optimization process and stay ahead of the competition.
1 – 24 hours tracking range
8 Amazon marketplaces supported
Import/Export data
Track unlimited products
Rank, page, price, rating, reviews tracking
Pricing: It is the cheapest option & very accurate. One month of AMZscout for $44,99 will be cost-effective.
Monthly fee: $44,99
Yearly fee: $149
Lifetime fee: $399
Managebystats
Description: ManageByStats is a robust Amazon Analytics software built for Amazon Sellers. It provides its users with critical reports & data to have an easier approach to all the information that may affect your next steps on the business. This tool will enable you to have a new approach to your seller data, find new insights & boost your sales.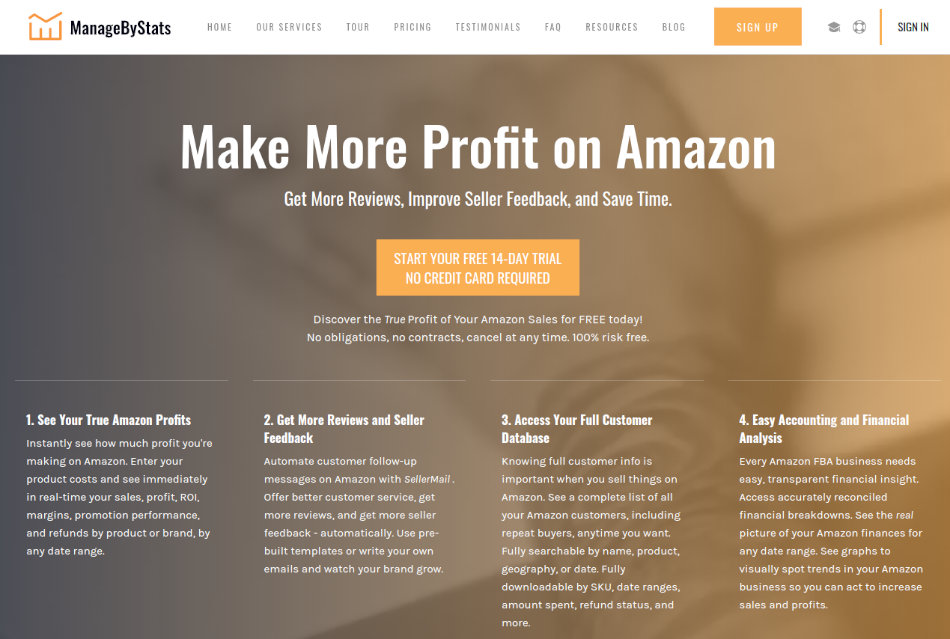 Features
Profit Dashboard
Statistical Management
Historical Graphs View
Product Grouping & Management
Customer Database
Transactions Database
Feedback & Reviews Monitoring
Inventory Management
SELLERMAIL – Advanced email auto-responder named one of the best Amazon seller tools available
ADVERTISING MANAGER
CATAPULT – The name says it all. Catapult your rankings, conversions and sales with these growth tools
SELLERBLAST – A unique MBS-only tool for Amazon email campaigns
PRODUCT FINDER
Pricing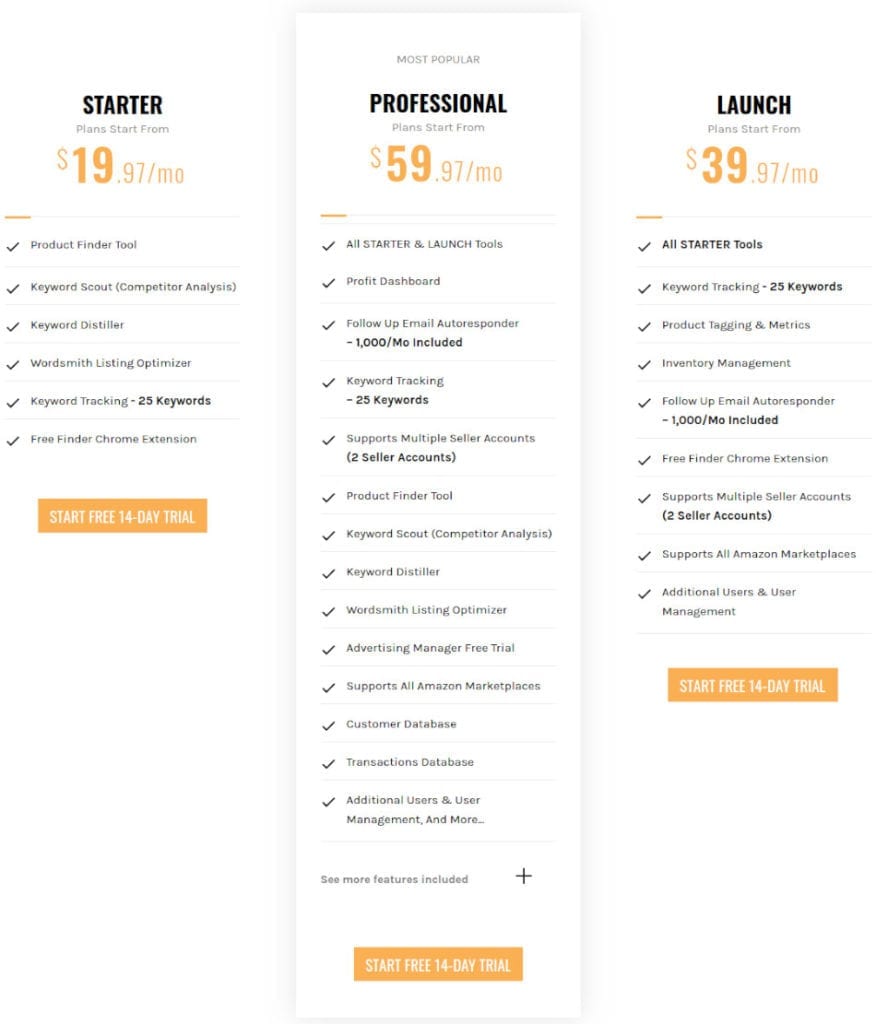 Discount Codes (If Any)
Cashcowpro
It is a leading amazon software tool that includes all the features you will ever need to run & grow your Amazon business, from automatic messaging for feedback to keyword tracking.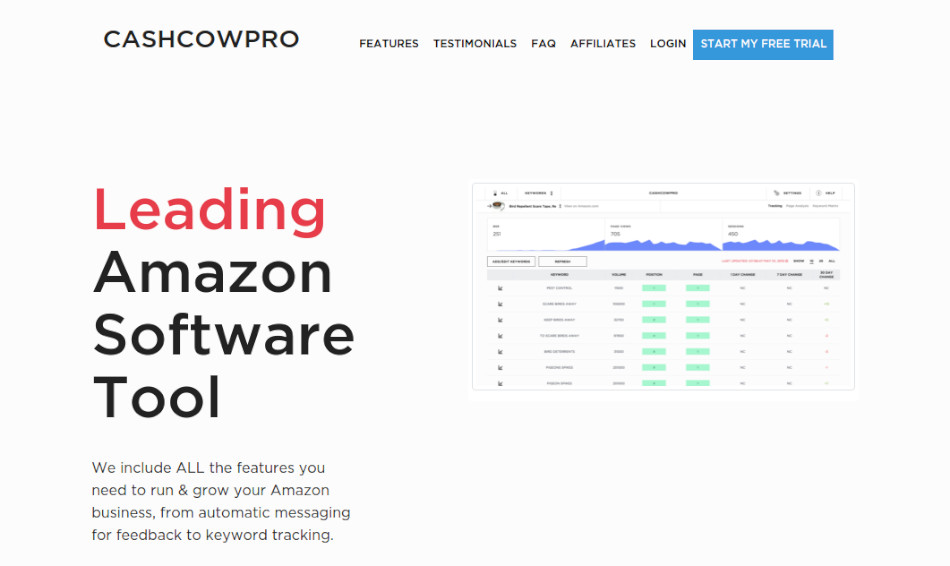 Features
Monitor Your Performance
Keyword Suggestion Tool, Hundreds of New Keywords
Check Keyword Competitiveness
Listing Analyzer & Optimizer
Sales Data, Know Your Profit
UNLIMITED Emails for Review Collection
Top 20 Million Amazon Product Selector, including a FREE Chrome Extension
Inventory Monitoring
Automatic Reporting
Performance & Conversion %
AB Test AUTO Listing Optimization
Pricing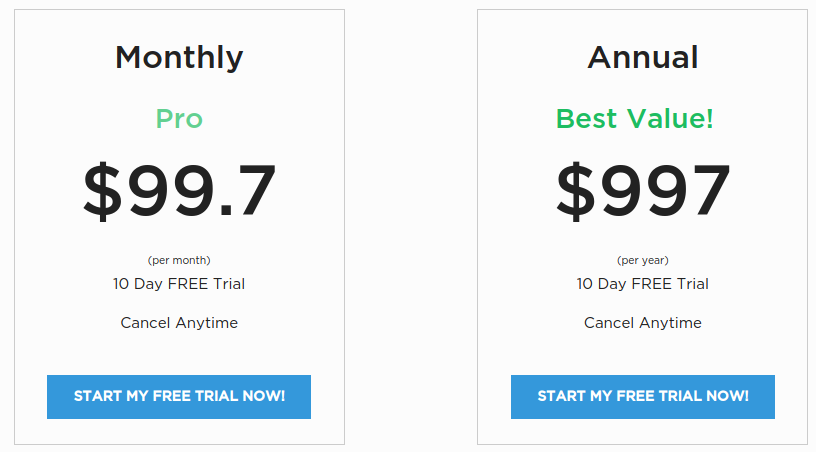 Sellerapp
It is a powerful eCommerce analytics tool that provides useful features & reports to allow Amazon sellers to derive actionable insights from their data. The solutions they feature are product sales estimates, competitor tracking, identifying profitable keywords, listing optimization, & finding backend keywords for competitor's listings.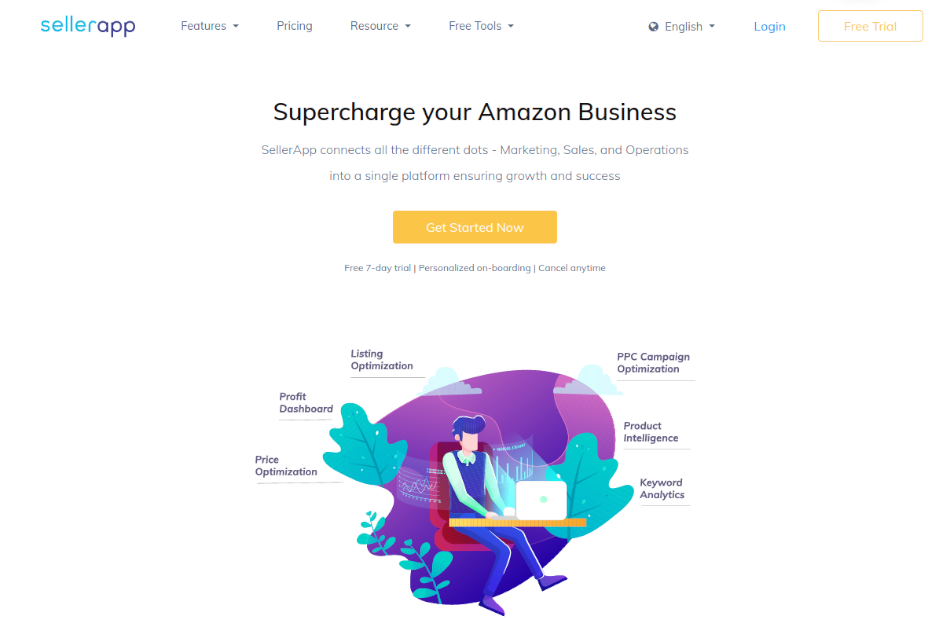 Features:
Amazon MWS Connect
BSR Alert
Chrome Plugin
Email Support
Hijacker Alert
Inventory Alert
Keyword Genie
Keyword Index Alert
Price Alert
Product Ideas
Product Keyword Optimization
Product Watch
Promo Planner
Revenue Alert
Pricing: There is a Free Trial period, along with various plans available.
FREE TRIAL
STARTER PLAN
$29.99/month
ESSENTIAL PLAN
$49.99/month
PRO PLAN
$79.99/month
BUSINESS PLAN
By quote
Discount Codes:
Sellersprite
Description: SellerSprite is an integrated software for Amazon sellers featuring a complete suite of tools to discover products, strengthen SEO, marketing, track product or keywords metrics & progress.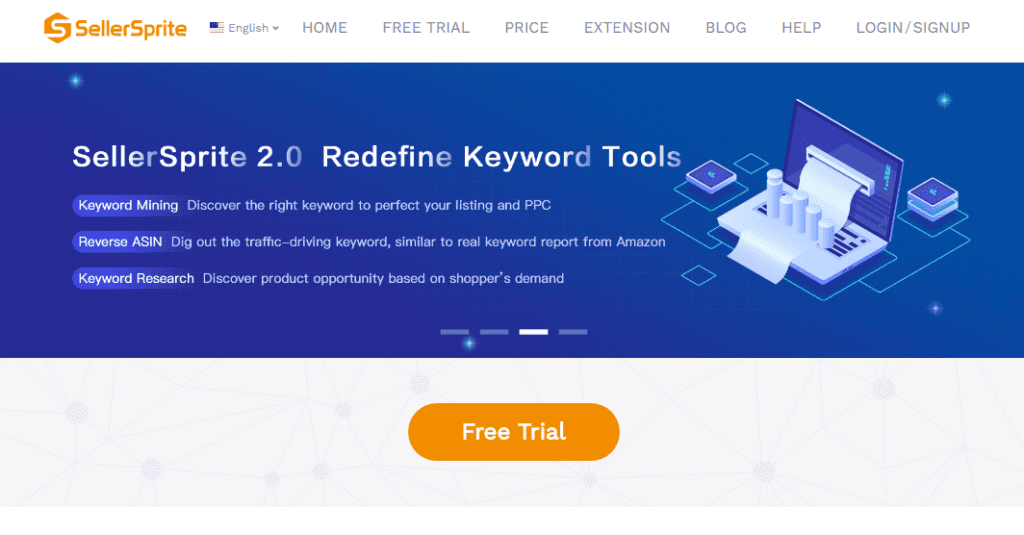 Features:
Provide the most accurate Amazon keywords with search volume, purchase rate, etc.
Recommend the most reliable relevant keywords for listing & PPC optimization.
Capture all the information you need to discover profitable products and niche market.
Browse the historical monthly search volume over the last 2 years.
Track your or your competitor's keyword daily ranking and visualize the changes.
Track keyword in a simple-to-use dashboard, we redefine the keyword tracking experience.
Pricing: There is a free trial period & 3 different plans available:
Standard: $69/month
Advanced: $138/month
VIP: $189/month.
Discount Codes: Coupon code with 35% off (yearly plan): HOME75
Coupon code with 20% off (monthly plan): SSWL80
Spitly
Spitly is an integrated A/B testing tool suite. The software will allow you to find the right pricing for your products by split testing to see how your product pricing will affect your rankings and conversions.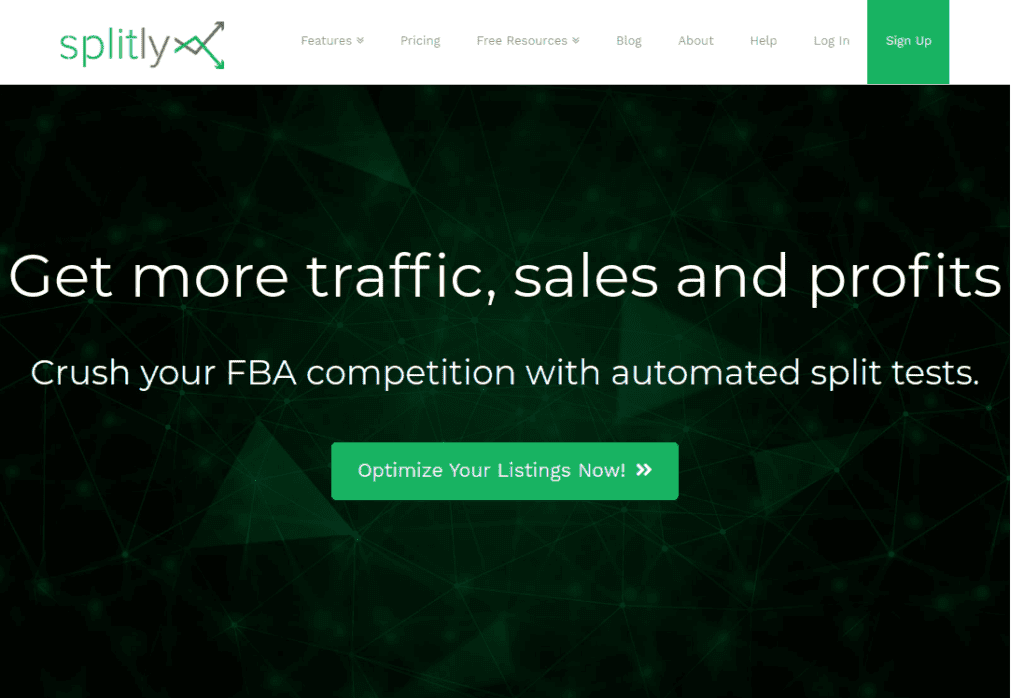 Features:
Reliable Tracking – Accurate keyword rankings, updated daily.
Historical Data Reports – Rankings' performance monitoring over some time
Time-Saving – Rank tracking tracks multiple keywords, and prevents the hassle of manually researching the rankings.
Pricing:
Discount Codes:
Summary
As an Amazon seller, your top priority is to make your products visible to more relevant customers than ever before. Thankfully with proper Amazon keyword tracking and using the right tools, this can be achieved with minimum effort. If you have well-optimized product titles and product details pages, there will be better search result rankings and increased visibility of your products, assuming you have the right product, you will be able to convert this increased visibility into an increased number of clicks, and ultimately this would lead to improved conversions. This becomes a positive cycle as this increased conversions would further improve search rankings, and it becomes a loop. Thus choosing the Amazon keyword tracking tool that best suits your needs is perhaps the best way to boost your Amazon sales.