Keeping an eye on the prices of goods at Amazon is essential nowadays, not only for shoppers but for sellers as well. The reason for which buyers keep track of prices is super easy to predict, and it is because they want to save more and shop more at the same time. As for sellers, tracking and monitoring prices online will help them beat up their competitors. Sellers need to reprice their items regularly to keep up with the competition and to prevent themselves from recurring losses. Also, when the sellers are tracking product prices, they have a higher chance of winning Buy Box.
Also, if the sellers don't measure their moves, then even fake reviews and lousy customer service can put an end to their Amazon journey quite easily. Although you might think that Amazon is pretty complicated to deal with, if your pricing policy is simple, sorted with customers in mind, you would be the winner. Your ultimate goal is to maximize as many conversions as you can while delivering the top-notch service and getting authentic reviews for that.
Now no one gets anything for free, and sellers are not an exception to this, and therefore you will have to create a pricing strategy which will be simple as well as deadly to your rivals.
Price tracking is not an easy task, and you would require ages to track the pricing of numerous products available in Amazon manually. Therefore to erase the wrinkles of worry from the faces of sellers, price tracking tools have been made available, and Camelcamelcamel is a similar price monitoring tool.
Before delving deep into the CamelCamelCamel Review, here is the brief introduction of Camelcamelcamel.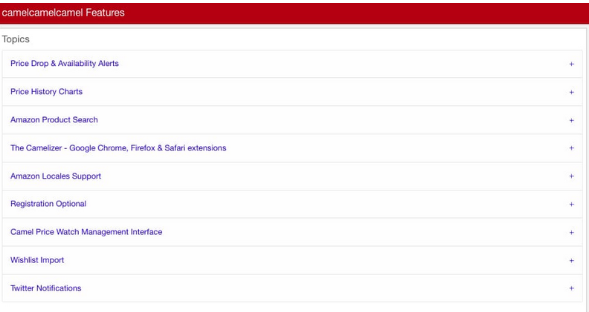 Camelcamelcamel is a user-friendly and popular price tracking tool which alerts sellers whenever the price of a product drops by displaying the price history of the products via charts. Be it any product available on Amazon; the tool will correctly work by sending you timely alerts. Camelcamelcamel supports the Amazon marketplaces of many countries like Canada, Italy, Germany, France, United Kingdom. The tool also helps sellers to say informed about the current prices of products and the pricing policies in trend.
Why Should You Use Price Tracking When Selling Online?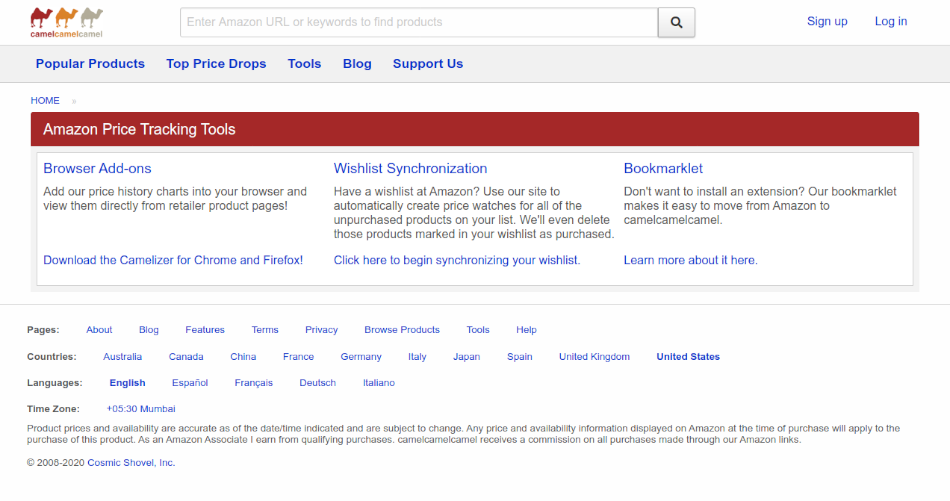 Before you set out on your journey of becoming a successful Amazon seller, you need to design a few strategies, especially pricing strategies. Regardless of the experience, you have as an entrepreneur; it takes time and effort to land on the right price for the products you want to sell. And as the price is one of the 5P's of marketing, the rest being Place, Promotion, People and Product, it contributes a lot to your business.
Here are some of the reasons about why should a seller use an online price tracker:
The traditional method of price tracking involves relying on excel sheets to store and track product prices manually. But manual tracking would only make a little sense only if your company sells only a few products and you are not interested to know about your rivals'rivals' product prices, which is highly unrealistic. To design your next move in setting prices of your products, you should know the prices your competitors have found to be right. But doing everything on your own might lead to unintentional mistakes, causing losses. Therefore, it is time that you rely on proper price tracking with a tool intended for it.
If you decide to launch your products and not reprice it after that, you would be losing out on several customers without even knowing about it. Without tracking prices, you would not have an idea about the standard pricing of the industry, and therefore you can mistakenly set your prices to be way higher than that of your rivals". Thus, your customers will land up to the product pages of your customers, causing a considerable drop in your ROI. To prevent losing potential leads resulting in monetary losses, you should rely on price tracking immediately after signing in on Amazon as a seller.
Price wars between competitors have become a regular issue nowadays, and it generally involves some other elements other than pricing, like a discount, promotion. If you do not monitor the online prices of your competitors, you would not realize the rapid changes taking place in terms of pricing of the products. Therefore to update your prices in a way so to allure customers and make profits at the same time, you should go for price monitoring.
Setting up an effective price strategy is not an easy chore because you will have to analyze critical pieces of data for it. Without a price tracking tool, you would not be able to do this regardless of the technical knowledge you have. A price tracking software which will guide you in price tracking will tell you whether you should reprice your products on a seasonal or monthly basis. It also offers you insights to help you determine whether your offered promotions and discount coupons were valid and if not, then how can you improve in these areas.
In a nutshell, to drop your prices as low as you can low at the right time to earn as much profit as possible, price tracking is necessary.
CamelCamelCamel Review: Product Features
Camelcamelcamel offers a plethora of features to ensure that the users have every functionality to monitor prices of products available on Amazon.
Alert sellers about price drop and availability.
Charts of the price history of items that you have added in your wishlist in Amazon and 3rd party eCommerce platforms.
Search any product you wish to on Amazon and view the price history search on the product page.
The Camelizer or the CamelCamelCamel chrome ext enable to function as an extension in browsers and sellers just have to install the extension for using it.
The price watch interface functionality will list the price watch in a tabular format displaying the product name, description, the product image as well as the current price as well as the price at which you started tracking.
The support of Amazon locales across numerous countries, virtual marketplaces.
Selles can enjoy the solutions without even registration as registration is optional.
You can find products very easily from your Amazon wishlist to the price tracking platform.
Notifications will be sent via email so that sellers can update their pricing instantly.
How CamelCamelCamel Works?
To make the most of this tool, sellers should install the camelizer which comes in the form of browser extensions. The best part about Camelcamelcamel is the camelizer, as per numerous reviews found online, and since it allows you to view the price history of the products without even leaving the page. Also, it is compatible with a variety of browsers commonly used so you can just install in your existing browser and use it to boost your profits.
Using Camelcamelcamel is also very easy, and you just have to input in your email id to enjoy the full set of benefits. However, you can also access the basic features of this platform, including checking prices of any product in amazon by putting in the link of the product page or searching the product in the search bar.
In case sellers are keen to know how frequently Camelcamelcamel will monitor the product prices for them, here is something they would like.
Price checking frequency of other eCommerce websites- Camelcamelcamel also checks prices of a few retailers other than Amazon such as Best Buy and Backcountry and the price checking frequency depends upon the retailers. While Best Buy might be checked once every hour, Backcountry might be monitored only a few times a day, and in most of the time, fluctuations are not found. But when it comes to Amazon, things do not remain this simple and therefore, the price monitoring frequency changes.
Price monitoring frequency of Amazon- In most cases, the prices of Amazon changes as often as Camelcamelcamel tracks it and also the product catalogue is vast, so the job becomes quite complicated and tedious. But handling it like a pro, Camelcamelcamel checks the prices of about 6 million products on Amazon across nine different locales.
Product prioritization- Before tracking product prices on Amazon, the tool breaks the products to be tracked based on nine locales, implying that the UK is one group, and the US is another group. After that, it further breaks down into two subgroups. There are two sub-groups, the tracked and the untracked subgroup. Under the tracked subgroup, all products which have at least one price watch are listed, and under the untracked subgroup, the products having no price watches are listed. Although the groups and subgroups are updated simultaneously, the smaller groups are updated faster than the rest. Nonetheless, to say, the untracked subgroup takes longer to update the prices and therefore if you want to receive price change alerts more quickly, then it is recommended to create a price watch.
CamelCamelCamel Tools and Solutions for Amazon, eBay, and Walmart Sellers
Alerts about product ranks in Amazon.
No registration required to track prices online.
Camelizer offers browser extensions for several browsers.
Regular updates about price changes via email.
Camelizer allows users to check out the price history charts in the product pages itself.
The graphs and charts can be customized to make it more understandable to the sellers.
An in-depth overview of how a product has changed its price over the last few months.
Price checking for Amazon locales is also supported.
Price watches display information in a neat tabular format to help sellers receive insights.
It works well for both retail and arbitrage sellers.
CamelCamelCamel Review: Advantages, Pros, and USPs
Camelcamelcamel will tell the users if the current price is higher than the regular price.
The interface is user friendly, and within no time, you will be able to learn your ways in the platform.
Camelcamelcamel is completely mobile-friendly, and you can check out prices from your mobile.
The historical data of pricing is straightforward and informative at the same time.
Sellers can install the plugin and add-in to their browser and use them while listing a page in Amazon.
It is completely free, and even shoppers who shop from Amazon can make the most of it.
CamelCamelCamel Alternatives and Competitors List
Some of the CamelCamelCamel alternatives are:
Keepa
PriceDrops
Price Snoop
Waatcher
PriceCute
Assortify
Fetchee
Splitly
Sellics
SellerApp
AMZscout
After reading this CamelCamelCamel Review, sellers might have understood the benefits delivered by it. The best part about it is you don't have to pay anything, so even if you are starting afresh, it would not harm to invest in a handy tool like this.
As a price tracking tool, it does a fantastic job in deriving prices of over 6 million products available in Amazon and presenting in a simple, easy to format. You do not have to contribute much effort in comprehending the results. The software is completely safe and reliable, and sellers without having any technical knowledge would be comfortable to control the platform.
The tool is completely free, and there are no hidden costs associated. Also, you can opt-out of registering on the website, but then you will have to remain content by missing out on a few advanced functionalities of Camelcamelcamel.