If you have been running a business on Amazon, you know managing several products and keeping all of them organized may become unmanageable after a while. Every once and a while, I receive questions about what tool I would suggest; therefore, with this Cash Cow Pro review, I will be going over the one that has been working for me. Essentially, Cash Cow Pro is an analytics tool which genuinely helps you understand the profitability of your business on Amazon, even though it also has two operational features; therefore, I split the review into a couple of sections.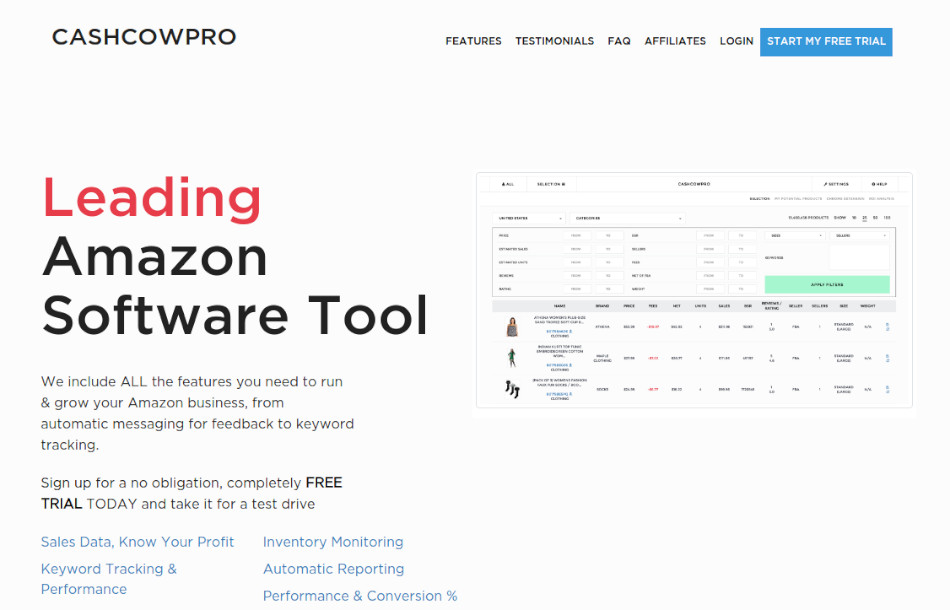 General bookkeeping tools will assist with high-level management of your company, yet they often are not very helpful when it comes to assessing the performance of certain products. This information is crucial as the Amazon marketplace becomes increasingly competitive because success with a business on Amazon is about having the ability to scale. If the product is not offering a good return on money and time, you either have to work on improving it or placing those resources elsewhere. Either way, your initial step is having access to the proper details.
Between storage, fulfilment fees, shipping, advertising, returns, etc., margins quickly can decrease, which makes it hard to know how profitable the product is honestly. An excellent analytics tool is going to assist you in seeing exactly what is happening at the SKU level for you to make informed choices.
Cash Cow Pro offers you the following information:
Return on Investment
Net Profit ($)
Net Profit (%)
Besides assessing the returns of your current products, you also can see the same details for possible products, assisting you in deciding if a market is worth getting into. Here's a screenshot showing the outputs and inputs of the ROI analysis.
There is also other information, yet those are the main metrics I usually keep my eye on to check if the results are meeting all expectations. You also will have the ability to see these details in chart format, so it is simple to check how a product has been trending over some time.
Cashcowpro Review: Benefits
Keyword Tracking – It's possible to check how your ranking changes over a while for specific keyword searches.
Sales – This tool shows your average day-to-day transactions versus the average of your leading five competitors for you to check how you compare.
Conversions – It's likely one of the most crucial things I look at since it is a crucial factor within your search ranking on Amazon, so you need to pay attention to this metric.
Page Session and View Data – It tells you how much visibility the product is getting. While it isn't always simple to interpret an absolute number, I'll check how the data is trending over some time.
Also, they have a Buy Box per cent metric that is helpful if you do not follow their private label business model.
Cashcowpro Review: Features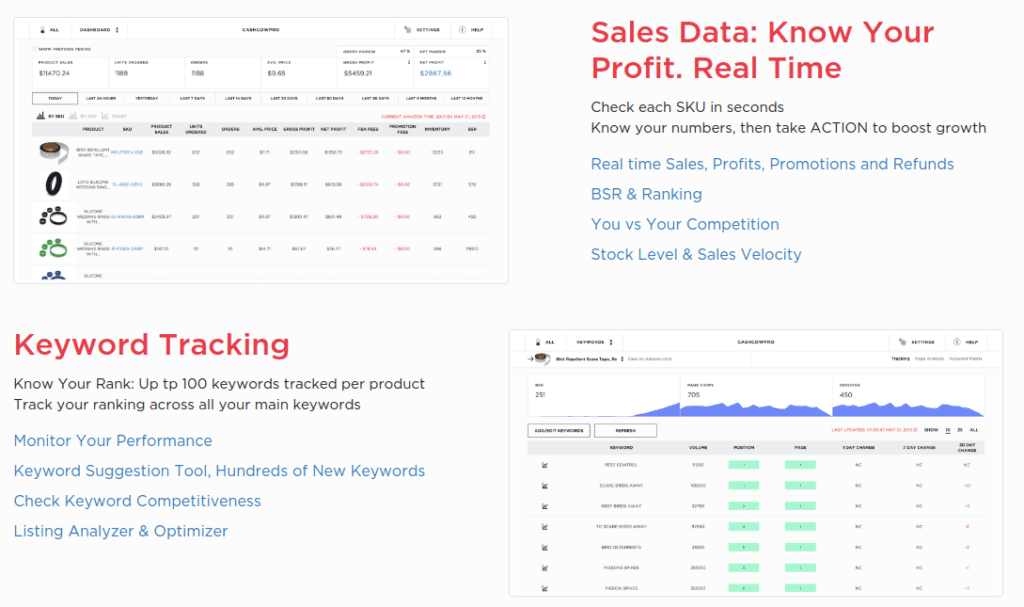 While having information is useful, running a business on Amazon requires more than merely analyzing numbers. Cash Cow Pro breaks the bank when it comes to the range of available features in the toolbox. People often ask, "Is CashCowPro legit?", and the answer is yes because the arsenal is full-packed. However, you have to know that you're spending stable cash like that to enable all the available features. This analytics tool has operational features which help in these areas:
Orders – This is not a functional feature, yet I wanted to mention that they have filters for you to see discounted orders or full price orders easily only. You also can easily see all repeat buys.
A/B Split Testing – It's possible to test various elements of the listing (Images, Price, Bullets, Title) to optimize profitability.
Email Messaging – Like Feedback Genius, you can send follow-up emails to consumers who've ordered your product via Amazon.
Inventory Monitoring – It's possible to quickly check your average sales per day for a product and when current inventory is predicted to be exhausted.
Product Selection – Three components to the product selection module include: Chrome extension like Jungle Scout.
A filter-based tool which permits users to set specific criteria.
A tool allowing users to keep track of possible products as well as analyze the ROI.
Sales Data
This feature by CashCowPro is focused on showing the real-time data to receive the right profit estimations. If you want to get a straightforward look over the financial stats you have during the campaign, sales data gets the job done. Checking each SKU works like in many other FBA tools, the equivalents are all over the place. You can check the following stats with sales data with the help of CashCowPro:
Units ordered.
Total number of orders.
Average price.
Profit from orders.
Overall net profit per operation.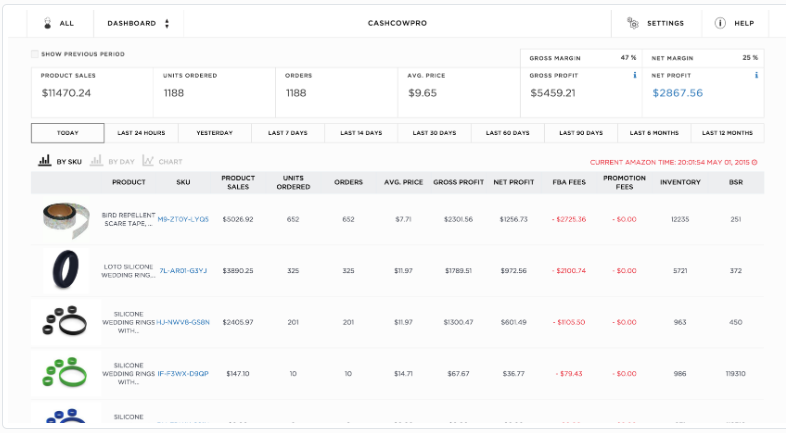 CashCowPro offers the standard of the keyword tracking process. Their tool is understandable and familiar for people with experience in FBA. Novices might get lost because the flexibility and range of search scenarios are creating the sandbox to find the right associations with the searched item.
CashCowPro allows you to keep an eye over 100 keywords for a single product. All you have to do is see how the words perform and pick the competitive ones that will rank easily. 100 keywords are not the desirable volume to get the overall picture during FBA, so keep that in mind.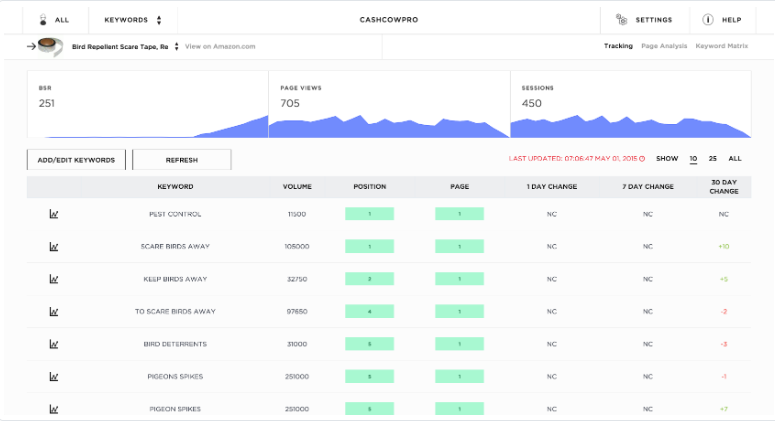 Automated Feedback Collection
If you want to succeed on Amazon, sooner or later you'll have to deal with reputation tracking. Hundreds of reviews will slide over you as the sales become more volumized. Responding to all those comments is not the case for you. Set automatic responses via CashCowPro emails with the help of an automated feedback collection feature.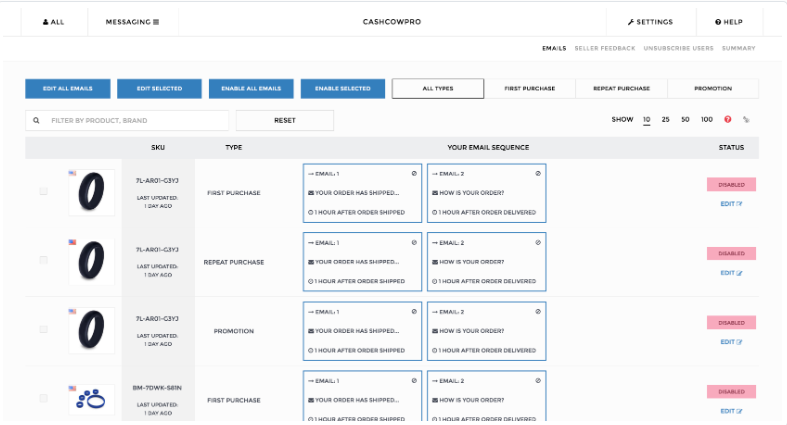 Global #1 Advanced Top 20 Million Best Sellers
Sooner or later, you'll feel the urge to expand the product niches that are suitable for your pocket. CashCowPro accounts that. This is when the research with the help of the top 20 best sellers comes in hand. Find out the most profitable products from the rare niches that wait for you to sniff around.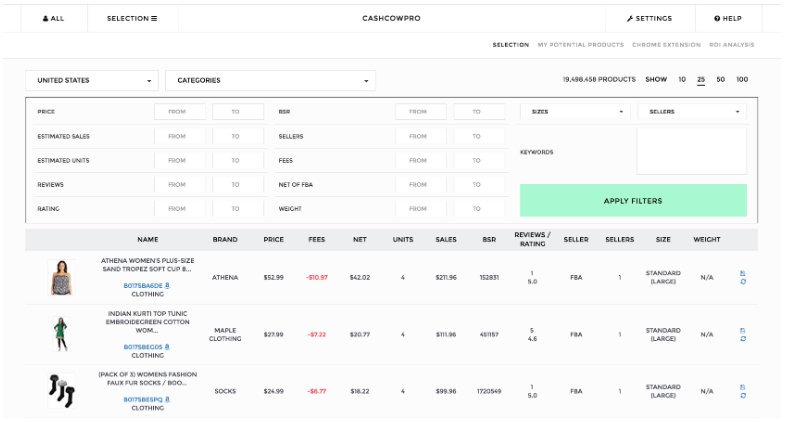 Inventory Monitoring
You have to ensure the constant availability of the items that you're selling on Amazon. You can observe the current financial performance on par with the stock of the items that you sell via CashCowPro. "Out of stock" is the nightmare that won't happen to you under such circumstances.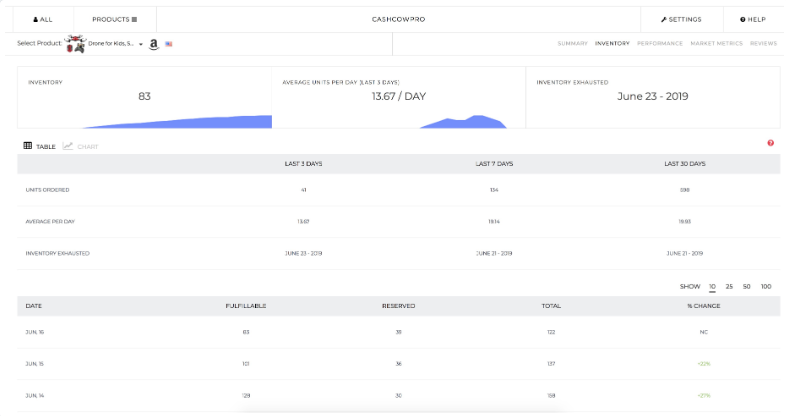 Page Views & Conversion %
This is the metrics tool that will tell you everything about the behavioural factors that drive your users. Once you opt for this feature, you see the fancy data about the user sessions, and that's all – nothing profound or granular here.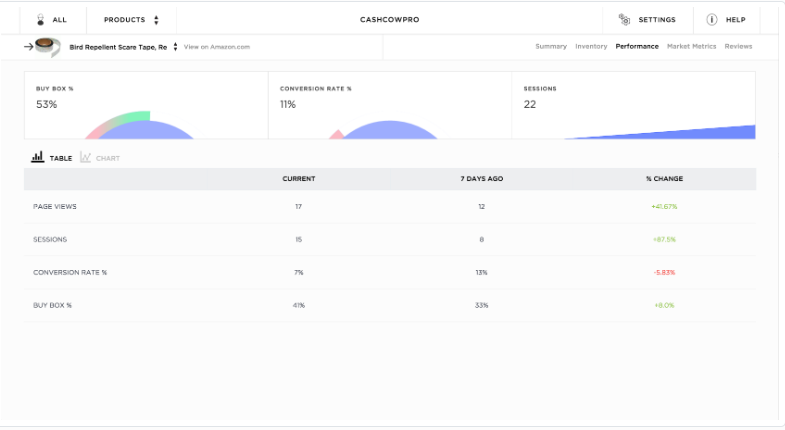 AB Split Testing Tool
Take your time to think out the price strategy to select for the next item from the listing on Amazon via CashCowPro. AB split testing allows you to set different prices for the same products to find out what stands out. Vast revenues usually come from the sold volumes, remember this rule of thumb on Amazon.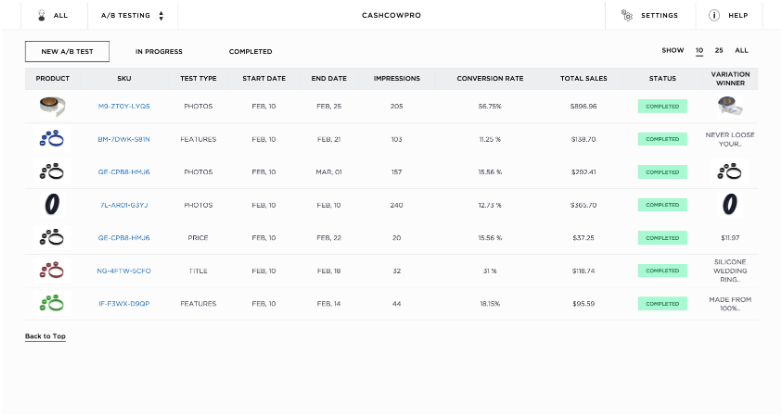 Cashcowpro Review: MarketPlaces
CashCowPro supports the USA, Mexico, Canada, Europe and the UK. The support for countries like China, India, and Australia is still coming.
Cashcowpro Review: Pricing
We mentioned that you're getting a bit of time to look around using Cashcow Pro during the free trial. At the same time, they have a fundamental subscription system that asks for money, for everything at once.
Monthly rate. Cash Cow Pro offers the 10-day free trial before that. For $99.7, you'll get access to every tool they offer.
Annual rate. You're saving a couple of hundred dollars with that. Still, $997 is the whole pile of cash; there are cheaper FBA tools out there.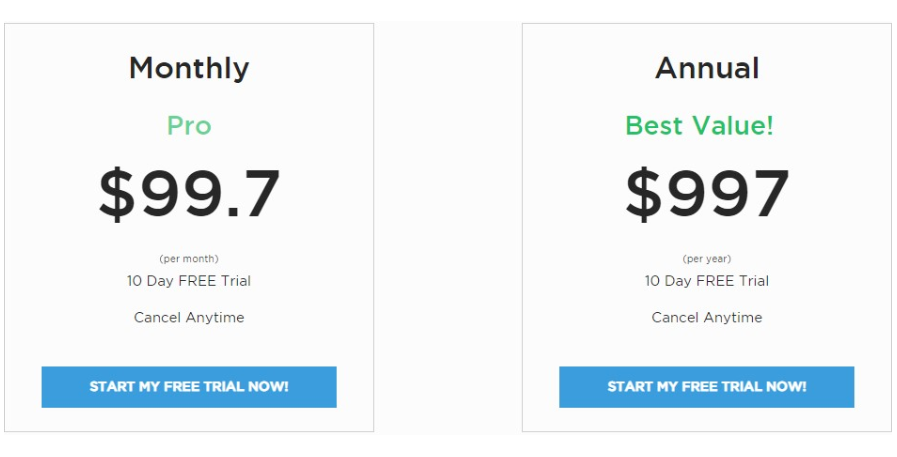 Luckily for you, CashCowPro won't hold you down as long as they can keep you cash coming. Feel free to cancel anytime to stop the charges that come out of your bank account. When you cancel during the trial, no charges follow as well.
Cashcowpro Review: Trial
Yes, although you need to enter card details and the trial is only for 10 days. Most tools these days offer 14 days as a minimum and up to 30 days for a free trial, and most don't require card details either, so this does come across a little stingy.
Still, if you want to mess around with the software and see how it works without paying a penny, it does the job.
Cashcowpro Review: Pros & Cons
Pros
Modest pricing – The web-based tool is reasonably priced at $99.7 per month, considering the package gives you unlimited access to tons of features. If you sign up for the annual plan, you practically get 2 months free.
Extensive marketplace support – It supports five major Amazon marketplaces (the USA, UK/EU, Canada, Mexico, Japan) around the world.
Seamless UI – The software is intuitive and easy to navigate. There is a low learning curve to master this tool. Even novice sellers will be able to get the hang of it quickly.
See the data you need in a few clicks – You can quickly access customer and order details about a selected order on the CashCowPro interface. No need to jump off to Seller Central.
Cons
Results may seem disorganized – The interface tends to look cluttered because of the spreadsheet-like layout. Information can get a bit overwhelming at one glance.
Shows uninformative data – You can't hide the products with no sales on the dashboard. It only contributes to the busyness of the screen.
Insufficient product breakdown – When you check the product breakdown, it doesn't sum up the sales collected from all Amazon marketplaces. You can only see this information by country.
Can do lots of things well, but not well enough– Because it includes a few features that have relatively low usability, some users consider the CashCowPro to be a somewhat jack of all trades, master of none software.
Cashcowpro Review: Reviews
There are mixed reviews for Cashcowpro like the ones below given by verified Users:
"Does a great job of letting me know how much I've made each month. Haven't used the PL side of it. And does seem a little expensive. But I have seen them have a few promotions." –Annabel
"I've been a user since summer 2016. It's a great tool! It was missing a couple of features at first, but they have since added them and more! Very responsive customer service."- James
"Cashcow is an absolute must for every Amazon Seller. Glad that you featured it on your site!" –Peter
Cashcowpro Review: Competitors
1. AMAZON ASIN
The ultimately Amazon ASIN tool (that does go by the same name as its service), which is FREE! By just adding the Amazon ASIN of the product of choice, this tool does offer a complete report about: the daily sales and revenue estimate, potential FBA profits and costs, a list of high search volume KW used for that product, keyword ranking and trends, view BuyBox price for used and new items, PPC costs and campaign phrases used, Amazon suggested KW and trending KW, as well as available sourcing options and price, and a list of competing products with the one introduced.
2. AMZHIVE
AMZHive is a large suite of tools for sellers, allowing them to have one affordable plan on a sleek website, instead of dealing with 3 or 4 separate services on different websites or apps. This is a powerful tool suite for Amazon sellers that allows them to understand their sales and customers better, keep their listings protected from hijackings and bad reviews, and will enable them to send automated emails to their customers to request feedback and product reviews. The only problem (at least for me) is that it only works in the USA, Canada and Mexico.
3. AMZSHARK
AMZShark is a fantastic tool for sellers that are already established on the Amazon game and need to scale up their sales. 13 tools in 1 covering every step of the selling process: from niche and keyword research to PPC campaigns improvement. This tool was created to support Amazon sellers for over 12 marketplaces: Australia, France, Canada, Germany, China, Italy, India, Mexico, Spain, Japan, United States and the United Kingdom.
Cashcowpro Review: Summing Up
After analyzing everything mentioned above, you can see that there are some issues to CashCowPro which prevent it from being a super-efficient tool for research. Still, it's an excellent tool for basic features like price tracking and keyword research. However, the price is steep and costly. You're getting an all-in-one solution, but you're unlikely to use even 60 per cent of the features. It does not work effectively on the vibrant market of Amazon FBA selling tools today.
While some users say that CashCowPro is basic, it has enough features to help you manage your Amazon store. There are other similar FBA total management tools like Sellics, Hello Profit, and Shopkeeper that give you almost the same features so it boils down to which one would be most practical for your business.
The thing that sets CashCowPro apart is that it gives you an overview of how well your FBA business is doing based on Net Profit figures. You won't have to second-guess the "health" of your business because you have the numbers to back it up.
CashCowPro is perfect for the beginner Amazon seller who likes working with all sorts of data and crunching the numbers to see which strategies work and which ones don't. If you're looking for an FBA management suite that is packed with all sorts of features, CashCowPro is well worth a try.
I and my team research various online verticals and can help you kickstart your Amazon business; so you could rake in more greenbacks with the best-recommended tools. Tap into the power of online retail business with me. I am just a mail away, so reach out to me if you want to scale up your niche business.