Expandly Review: Best Multichannel Ecommerce Software 2020
Are you running a retail business from a brick and mortar store? Or are you aspiring to be a business owner? Many individuals these days prefer to bid bye to their 9 to 5 job just to set up something which will always belong to them. Thanks to the advancement of technology because it has opened new vents for business to thrive and prosper amongst a hundred other economic issues. Are you trying to venture into eCommerce as well like other sellers but hesitant to take the next step because you lack understanding of technical terms?
There are numerous sellers out there who although do not understand much about technicalities have taken the leap of faith and today they are doing fine in their business.
If they can, so can you without facing any severe difficulties and by taking the help of experts.
As per reports, online shopping has been growing exponentially with each passing year, and this trend will continue forever, it seems. So, if you have to reach a broad customer base, then running a business from a physical store, would not be of much help and you will have to think bigger!
Bigger does not always imply opening stores in multiple locations, but running your business across platforms supported by the internet, or virtual stores.
If you think you cannot be famous within a fortnight of setting up an eCommerce platform to sell your items, why not take the help of already established eCommerce platforms like Amazon and eBay? You can sell your items on Amazon, and with the massive popularity of Amazon, you don't have to worry much about inviting users to your site or dealing with technical issues involved in setting up a fully functional eCommerce website. This way, you don't have to hire staff and pay them salaries or even rent an office space, as you can run an eCommerce business from your home. You don't have to keep an eye on checking whether your inventory has run out because tools like Expandly are there to assist you in that area.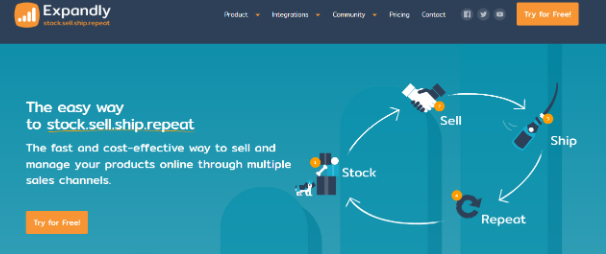 Expandly is a multichannel software which manages and optimizes every task categorized under inventory management, including, order management, live inventory management, shipping and listing functionalities. The tool is being designed to help online sellers list their products across numerous platforms like Amazon, eBay, Etsy, wish.com. With the aid of this software, sellers now can access and monitor their inventory across these sites and manage their orders by centralizing their business operations in Expandly.
Why Should You Do Inventory Management When Selling Online?
Do you know that customers are the biggest stakeholders in your eCommerce business? It might seem unbelievable, but lack of customers are the most significant factors contributing to the collapse of giant corps. You might wonder what has customers got to do with inventory management, and the answer is everything!
Even for eCommerce businesses, proper inventory management and customer satisfaction are intertwined, and the sooner you accept it, the faster you will be able to enjoy the ROI of your business.
So what are the challenges you would likely face if you fail to implement proper inventory management?
Believe it or not, every eCommerce seller faces some challenges thrown to them from improper inventory management if effective initiatives to implement it are not being taken from the very beginning.
Here are some of the problems you will be able to beat if you do inventory management when selling online:
Overstocking and understocking
If you fail to notice the buying patterns of your customers and insights from your inventory, you might either overestimate or underestimate the demand of your products. Both of these situations can be highly detrimental to your business if you tend to stock more than the actual demand you will have to pay inventory charges which can be quite expensive. On the other hand, if you oversell items which are out of stock, you would not be able to keep up with the hopes and expectations of your customers.
Scaling
It is excellent and ambitious of you to sell across multiple channels and aim to keep up with the growing demands of your customers, but will you be able to rely on manual management methods for this? While this seems to be easy during the beginning, as your business grows and you add more product listings, things can get out of hand too quickly. For manual inventory management, you will have to use excel sheets which can become cumbersome as you keep on getting more orders, and separate online tools that are not synced with each other. You will also have to use an offline program which will be unable to provide real-time updates about your inventory.
So it is recommended to design scalable inventory management tactics which have the potency to support all your business operations during growth.
Lack of data insights
It is quite difficult to derive insights from data if you are manually tracking and filling your orders with a pen and paper. To make decisions that will match your demand and to grow your business, you need to start observing and experimenting with data. To accomplish your ultimate goal, which is to boost profits, you need to cater to the ever-changing demands of your customers. And one of the best ways to do this is to observe the factors causing fluctuations in your inventory.
And only a centralized system like Expandly that sources inventory information on a real-time basis can tell you whether to restock and when to restock. Here is the detailed Expandly Review to help you understand the boons of using inventory management software.
Expandly Review: Product Features
For seamless and easier management, Expandly places all the information about your inventory, order, sales in a single place.
It is an all-in-one tool where sellers can monitor their orders, create, edit and manage their product listings and get live alerts from their inventory, all at the same time.
Enables sellers to trade across various channels in different languages and sync their inventory so that they don't overstock or oversell.
Allows sellers to expand their businesses in foreign countries by making use of the multilingual capabilities of the platform.
By running various tests and scans, Expandly generates custom reports with its analytics tools so that sellers can derive various hidden insights of their businesses from those reports.
Helps you implement more effective business strategies to drive more sales by enhancing customer experience.
It helps sellers in shipping-related tasks as well, like printing shipping labels.
Expandly also enables sellers to accomplish effective reporting and accounting management.
How Expandly Works?
Expandly makes inventory management super easy, and it also enables sellers to trade in numerous channels. Also, the super integrated platform allows sellers to view, manage and process inventories across the multiple platforms they are using to sell their products. As keeping stock when you are selling across all the profitable platforms is challenging, Expandly aims to help the sellers by the following ways:
Listing management
Here you can manually add in the listings of the products you sell one by one or add in bulk. If you are already dealing in eCommerce platforms like Amazon and eBay, you can import your listings from there as well. Also, you can easily add in variations of your products along with the SKUs. For adding listings, you can make use of the prebuilt templates of Expandly designed exclusively for this. Expandly will also use your historical listings across new sales channels. For your convenience, Expandly also marks Amazon FBA orders.
Order management
Regardless of the number of sales channels you have, Expandly will display the status of all your orders in a single screen. Then you can use flexible order filters to determine the orders you should work first. This tool will also help you to print order documents like invoices in bulk.
Inventory management
Even if you manage to sell only a single unit at one channel, Expandly will calculate your existing stock to alert you. You can also view an up to date record of your stock across all channels at all times. Now, whenever you receive a return from a customer, you can alert Expandly about the same, and it will include it in your existing stock.
Shipping management
Expandly will rapidly update all the shipping information across all channels so that you don't have to. It will help you to remember shipping deadlines as you will get reminders for it.
Expandly Tools and Solutions for Amazon, eBay, and Walmart Sellers
Some of the tools offered by this multichannel inventory management amazon are:
Multi-store management.
Customer relationship management.
Multichannel marketing.
Returns management.
Shipping management
Product listing management
Accounting management
Product shipping management
Printing shipping data in bulk
Sending and receiving shipping data to and from carriers.
Centralizing product catalogues across all the platforms.
Live inventory updates from all the selling platforms.
Connecting with warehouses made easy.
ERP integration.
Enabling sellers to monitor sales performance of every sales channel.
Calculating inventory turnover.
Expandly Review: Advantages, Pros, and USPs
According to a few Expandly reviews, some of the cons of using Expandly are:
Pricing of all the plans of Expandly are reasonable and s per industry standards.
Takes care of the inventory across all the platforms a seller wishes to sell their products on.
The support from the customer service team is excellent, thorough and quick.
The features are complete and easy to operate.
Efficiently solves issues like stock management and overselling.
Bookkeeping tools are quite effective.
Expandly also integrates with Magento 2, and therefore sellers do not need to pay for any extension.
Integrates with all the functionalities of popular tools.
Expandly Review: Pricing Plans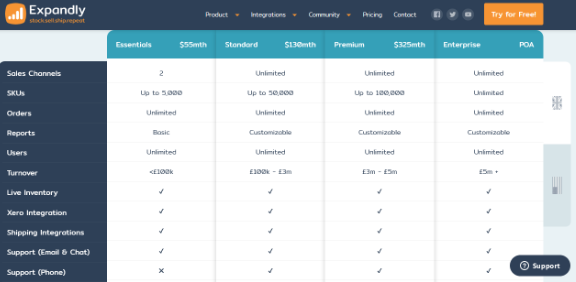 At present, there are four Expandly pricing plans; the first one called ' essentials' is priced at $55/month. The ' standard' and 'premium' plans charge $130/month and $325/month respectively. Sellers wanting to add in specific functionalities can contact the team of Expadly and get their ' Custom' plan.
Expandly Review: Coupon Codes
You can get an Expandly promo code offering a discount of up to 30% or promising freebies with $35/ order.
Expandly Trial Plan
Expandly allows sellers to make the most of the features without giving their credit information for 14 days.
Expandly Alternatives and Competitors List
Sellerapp
Bindwise
Keepa
Skugrid
Splitly
Camelcamelcamel
Veebo
Sellics
PriceDrops
Shuttle
Trendle
AMZscout
Conclusion
Managing sales on multiple channels is a tough job, and you will realize that once you start getting more sales. Expandly makes multichannel selling a super-easy job by letting you view and monitor your inventory level, sales volume, orders received at multiple eCommerce channels. The inventory management tools of Expandy sync not only your product units but also kits and bundles returns so that you can plan your inventory and prevent stockout or overselling.
Also, the pricing plan of Expandly fits into the budget of every seller, small, medium or big and within this price they would be getting the support and benefits of the all-in-one tool instead of having to invest on distinct complicated solutions.