HelloProfits Review: Best Amazon Seller Analytics & PPC Software
HelloProfit is an all-in-one Amazon seller analytics and pay-per-click (PPC) manager software. Its features include a merchant dashboard, a product dashboard, payout reporting, seller analytics, and more.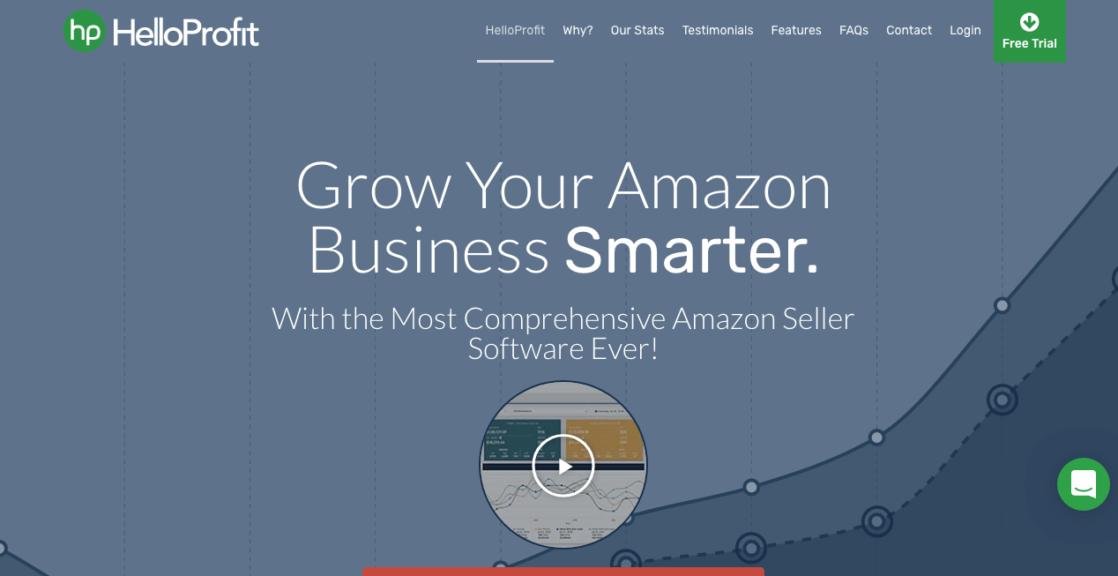 Multiple merchant accounts is not a problem with Hello Profit. You can have a merchant account across various regions, yet you can access these merchant statistics and export its details. You will be updated from time to time as it updates the data from Amazon at regular intervals. Yes, that is how Hello Profit becomes a comprehensive Amazon Seller Tool.
It is not also a problem to have multiple brands in Hello Profit because you can categorize and group them to easily manage their stats. You can never go wrong with their advanced PPC manager that has Smart Filters to optimize campaigns in match with your metrics and pre-sets. Moreover, you can easily tweak some adjustments to your keywords and budget. It gives you an eye-opening information right through your eyes.
HelloProfits Review: Benefits
Customer analysis and management
A very well-designed and intuitive dashboard that provides all of the information
Gross sales, profits, and ROI data on all ASINs and product variations
Comprehensive reporting features for ROI, fees, payouts, promos, sales, etc
A tally of refunds for every ASIN
A tool to help track and manage promotions
An Amazon Best Seller Rank tracker
HelloProfits Review: Features
1. Merchant Dashboard

This clean dashboard provides all the data and metrics you need in one easy-to-digest display. The total metrics for everything are listed here, even if you have multiple merchant accounts.
You can also break down everything per SKU as shown here:

You can also drill down pretty deep and see more detail on anything you like.
It can all be filtered by merchant, marketplace, date, etc, and the full range of data provided is impressive:
Tax
Revenue
FBA fees
Shipping
Gift wrapping
Referral fees
Promo fees
Total VAT bill
Return credits
Refund credits
Sponsored Ads
Profits
Complete margins taking all of the above into account
2. Product Dashboard

This section displays aggregated statistics of all of the yuor products, and of any product groups or categories you wish to define. It's an excellent way to judge the growth of your products and notice any outliers that require attention. You also have complete control over things like hiding data you find irrelevant, making it super easy to focus on what matters.
It also has a feature that compares your full-priced sales and discounted sales to measure how effective your promotions are, which can come in handy for confirming whether the increase in sales velocity accounts for the decreased price or not.
Everything here is completely filterable, sortable and separated so you can check the data by transaction type, as well as tracking your own seller rank to stay aware of what works and what doesn't in terms of your marketing and optimizations.
The rank tracking isn't as usable and logical feeling as standalone alternatives like KeyworX but the overall dashboard here is powerful, intuitive, and you can spend a lot of time here analysing every facet of your business.
3. PPC Manager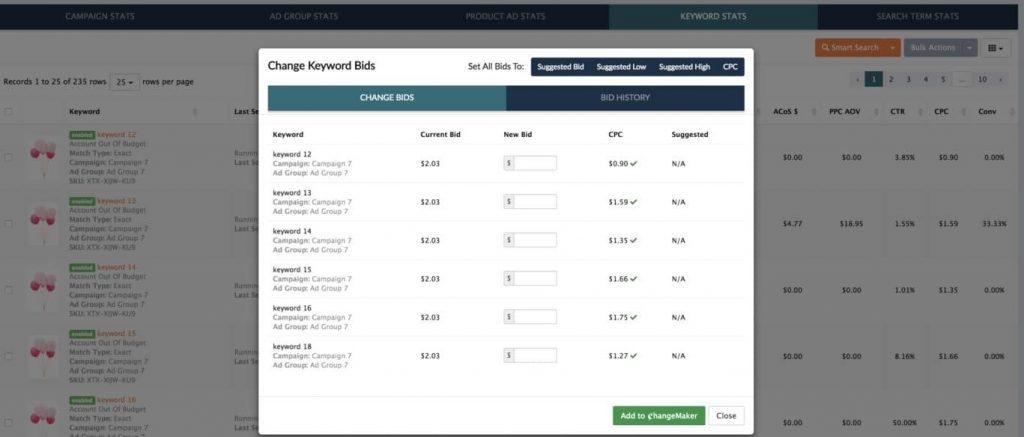 HelloProfit's PPC manager is arguably the best part of the whole package, as it allows you to drill down super deep and get granular with every fact of your PPC campaign.
It also uses their own self-made algorithm to calculate the profitability of your PPC campaigns, an algorithm that they claim is more advanced than Amazon's ACoS and based on the results, we'd have to agree. Customisable graphs also help you to present the data in any way you wish in order to paint a picture of your progress over time.

Interestingly, there are also pre-set campaigns and ads that you can use to optimize your campaigns rapidly with a click or two, then edit and optimize further if you wish.
This is a 10/10 PPC manager and if you're looking to massively increase your PPC spend and strategy, this tool alone will likely be worth the cost of HelloProfit.
4. Payout Reporting

This is a fairly unique one that you may have never even realised you wanted, but it's actually super helpful. The payout reporting section provides a complete, aggregated and itemized bi-weekly breakdown of your Amazon finances, allowing you to go through everything at a glance, SKU by SKU, and ASIN by ASIN.
Income and expenses are grouped together so you can easily see anything that requires attention, and net profits, ROI, units and margins are all displayed clearly. This was a pleasant surprise for us and provides a super convenient way to check up on everything every fortnight and apply any optimizations or changes that are needed.
5. Instant Notifications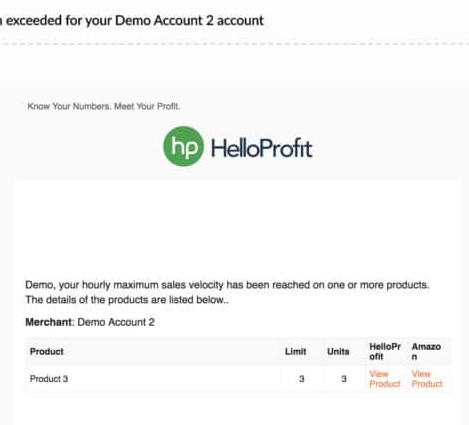 You can set any parameters for the instant notifications that you like, so HelloProfit can notify you when:
Your sales velocity changes drastically – especially when it drops as this may indicate an issue with your listing
You reach your previously set max daily/hourly sales velocity
You gain or lose the Buy Box
Stock is getting low and needs to be reordered
Products are struggling to sell
Since all notifications are fully customizable, you can ignore this section entirely if you wish, or set up a whole range of them, if you're the forgetful type!
6. Customers and Orders
This section is essentially a CRM for Amazon, providing easy access to current and past orders, customers and their order history, which orders were refunded, and more. There is a quick smart search that makes it easy to find what you're looking for and it can really help with increasing your customer lifetime value by providing you with insights on who tends to order again, when, and why.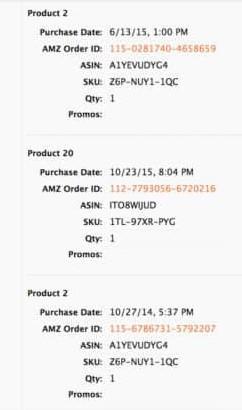 A convenient addition is the feature that lets you leave notes on customers pages to avoid, for example, forgetting why an order was refunded or anything else you might wish to remember. That's it for our breakdown of the individual tools and pages in HelloProfit. As you can see, they are mostly of a high standard and perhaps even more importantly, intuitively designed and a joy to use.
HelloProfits Review: Marketplaces
The marketplaces that are supported as of writing are as follows
US
Canada
UK
Germany
France
Spain
Italy
Mexico
HelloProfits Review: Customer Reviews
As of the date that this article was written, there are not a lot of positive HelloProfit reviews online. However, users said that it has a very straightforward user interface (UI) and a robust set of features. They particularly liked its search rankings, expenditure tracking, sales consolidation, and analytics features. They also commended its responsive support team.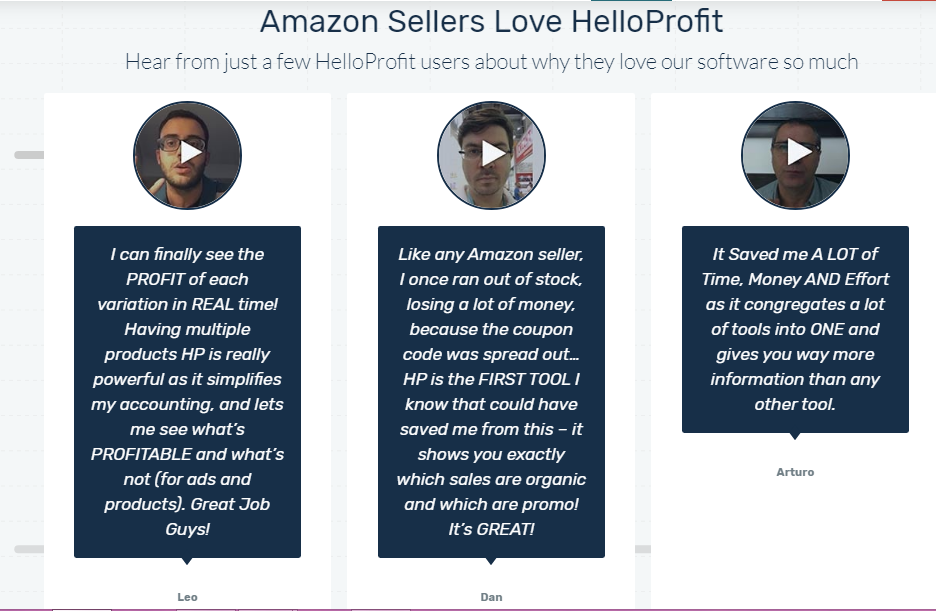 HelloProfits Review: Pricing & Trials
The "Most Popular" and "Selected Plan" mentioned here seem to suggest there are other plans available, but there are no others listed on their site – we imagine larger, agency packages are available via quote, but in all honesty unlimited orders per month and unlimited addon merchant accounts meant we didn't feel the need to look into this despite being one of the biggest Amazon marketing agencies around – so this package will just be fine for the vast majority of you.
It is safe to use their free trial first to know whether their amazon software is right for you. Hello Profit offers a 21-day free trial for only $1! Once the free trial is through, you only have to pay $97 per month instead of the regular rate of $297 each month. This is the Expert Plan, the most popular plan subscription of Hello Profit. Do not worry! You can cancel the subscription anytime you want.
The plan includes unlimited orders per month, one merchant account but gives you the leverage to have an unlimited add-on merchant accounts, and 30 keywords for each product. If you wish to upgrade your plan subscription, you may do so. Start tracking your profits now!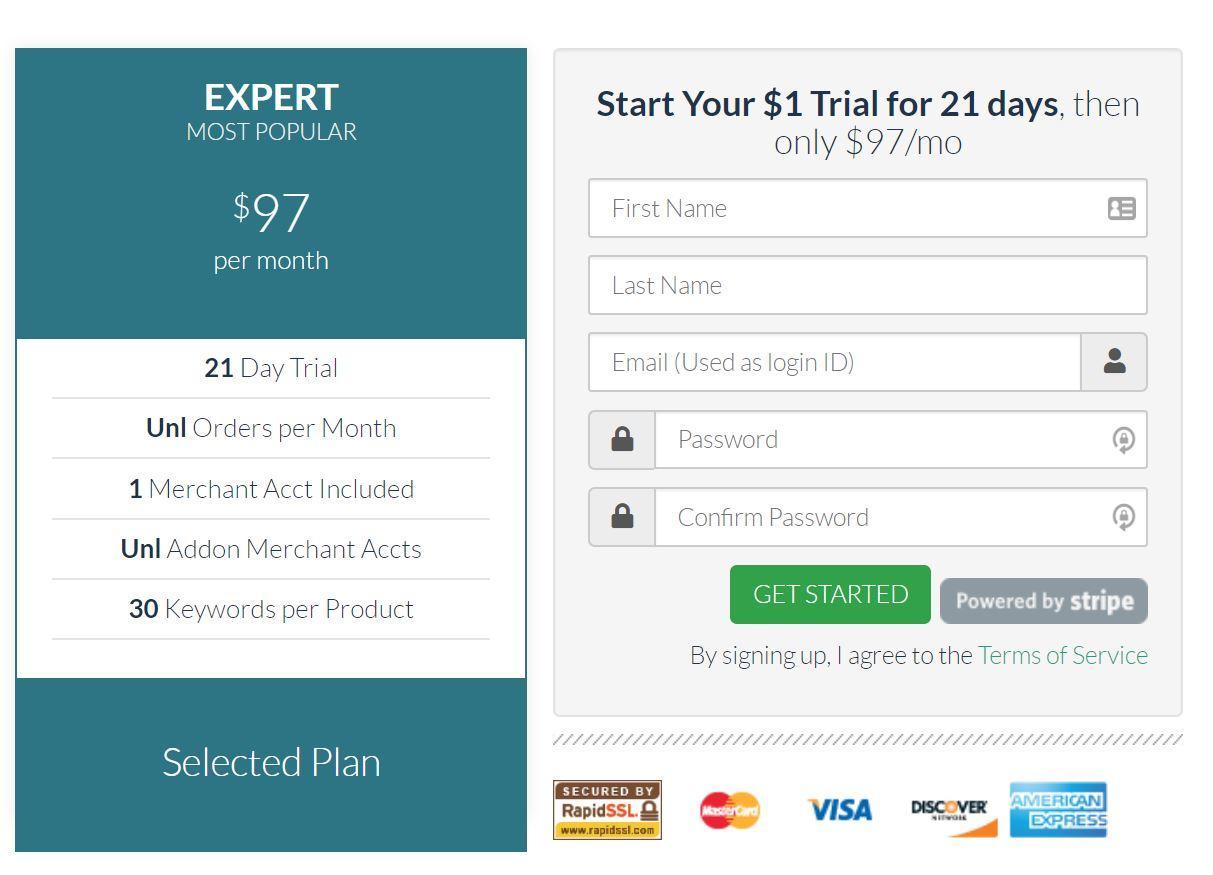 HelloProfits Review: HelloProfit vs Sellics
Firstly, Sellics and HelloProfit are involved in a pretty amusing rivalry, setting up paid ads for each other's product names and referring to each other in their marketing material. This perhaps isn't surprising when their offerings are so comparable, but one thing that came of it is an intense desire for some form of differentiation.
When sitting down and looking at both tools in depth, it becomes clear that HelloProfit has come out the victor in regards to this, with some unique design choices and quality of life features that are genuinely helpful and win HP a lot of points.
There are a couple of other points where HelloProfit wins out over Sellics:
Keyword tracking and a Chrome Extension are included. Sellics has both but charges for them
HP has multiple logins to allow you to give your staff members different permissions – Sellics does not have this functionality and all team members use the same login and see the same information
These are perhaps minor things depending on the size of your company but are points for HelloProfit regardless.
HelloProfits Review: Other Competitors
1. Xero – Beautiful Accounting Software
Xero is an online accounting solution for small businesses that is known for its ease of use. See your cashflow in real-time with online billing, banking and accounting. Just login anytime, anywhere.
Free trial, pay nothing until you're ready
No setup fees, upgrade fees or contract
Free online support
Xero is the emerging leader of online accounting software that connects small businesses to their advisors. At its core Xero is an easy-to-use but powerful accounting system designed from the ground up. It's all you need to run your business.
2. Taxomte
Taxomate is an Amazon FBA seller accounting software intended to automate your financial process. The taxomate solution connects your Amazon account with Xero and QuickBooks so you can import your order sales. This automated approach to importing orders can eliminate the use of spreadsheets or double-entry work.
Amazon reconciliation with your seller statements is easy after the import into QuickBooks or Xero. The software also helps generate quarterly and yearly tax reports to match the form 1099-K send by Amazon to the IRS.
3. GoDaddy Online Bookkeeping (formerly Outright)
GoDaddy Online Bookkeeping is a web-based accounting software for online retailers. GoDaddy Bookkeeping lets you sync your Amazon, Etsy, eBay, and PayPal seller accounts to their online software to better keep track of your sales and overall financials.
GoDaddy Online Bookkeeping is ideal for Amazon sellers to manage your financials with no prior accounting knowledge. The software lets you automatically create and send invoices, view reports such as a profit and loss statement, and accept payments via credit and debit cards from your smartphone.
4. A2X
A2X for Amazon is an automated accounting system for Amazon FBA sellers. A2X works with:
QuickBooks
Amazon
Shopify
Xero to provide easy Amazon marketplace accounting.
A2X helps manage your sales, fees, cost of goods sold, and FBA inventory. It can automatically grab your Amazon settlement transactions and post them to your existing accounting system.
5. FreshBooks
FreshBooks is a cloud accounting solution designed for freelancers and small business owners. It is a simple and intuitive solution, so accounting isn't intimidating. Create professional invoices, capture your expenses and track your time towards projects. Plus all of your data is stored securely in the cloud, so you can work wherever you are, on whichever device you'd like.
Summing Up
Literally everything that is needed and expected from an Amazon Seller Software is available at Hello Profit! It is a complete package of Amazon Seller Analytics that enables you to have a full control of your business. Imagine, you only have to login one account that has multiple powerful tools.
More than that, Hello Profit is a high-end technology that offers LIVE Sales Updates. You can view the statistics, profit, and ranking of your sales LIVE! You do not need to complicate yourself with graphical data. There is a visualized graph that helps you understand your data easier and faster.
Helloprofit is the perfect partner for those who are looking for an Amazon business intelligence tool at an affordable cost. Helloprofit grabs your merchant data, process it using it's algorithm and fits the perfect tips to grow your merchant account and your Amazon PPC campaigns. This tool will save you tons of hours of Excel spreadsheet processing and will allow you to see your account performance at a glance in user-friendly charts.
Totally worth the money. Take your sales to the top! You can start a 21-day trial for only $1! Thus, work with Hello Profit to value your customer's worth!
Arbitrageinfo's Recommended Amazon Seller Tools: