Jungle Scout vs Amzscout Review: 2020 Edition
Internet has made everything seemingly easy and it has made sure that it would make its way through all of the aspects to put an effect on them. Same with making money. It has expanded exponentially and has made a little space and a myriad of opportunities for everyone. That, has opened doors for businesses like Amazon, which started as a mere online bookseller but has now expanded into the go to online marketplace for everyone. It is explicit that Amazon is the future because irrespective of what people wish to purchase, the first idea that pops up is necessarily to venture through Amazon. Also, the fact that it has grown to become one of the big fours among Google, Microsoft and Apple, in such little time is both commendable and exceptional. The trend of online shopping is what is making it work right now, and has affected the traditional retail stores immensely and you might have noticed that the malls are much emptier now. The reason behind the shift is both simple and obvious, that is, the Amazon gives all the power to the consumers itself and is far more convenient. All of it just goes to prove that there is some serious money that one could make with Amazon, and if you ride with the Amazon wave now, you could fill your pockets too. They offer a variety of manners in which you could earn with the platform. As for the easiest, FBA, that is Fulfilled by Amazon is an excellent example of the same. Here, the seller does not have to do much, besides sending their product to the Amazon inventory once an order comes by and from there, Amazon takes care of the rest. Another excellent example would be of Private Label, where you sell a product manufactured by someone else under your brand's name. Other than that, you could take part in Retail Arbitrage where you buy products at a relatively cheaper rate and sell them on Amazon at a higher rate and the difference in it, makes up for your profit. These are some of the best and the most popular ones, however, there are more options to consider.
Table of Contents: take a look at the overall scope of the article
hide
Tips on Choosing the Right Amazon Product Research Tool
Knowing exactly how your business works and how you like things to work in your business is the basic and simple guide to really selecting the right amazon product research tool. No one can really hand you out a check list or a manual on how to know which the best tool is and considering the fact that just a tool could affect your earnings significantly, you could say that it is of an upteempth importance. For starters, you need to know your items the best and thoroughly. The more information you gather on it and analyze it, the more it will help you. It can get very competitive on Amazon, so you have to be very careful with what products you choose and develop a strategy in accordance with it. So, essentially, you would need to have complete knowledge about your product and the market.
Jungle Scout vs Amzscout: Platform Overview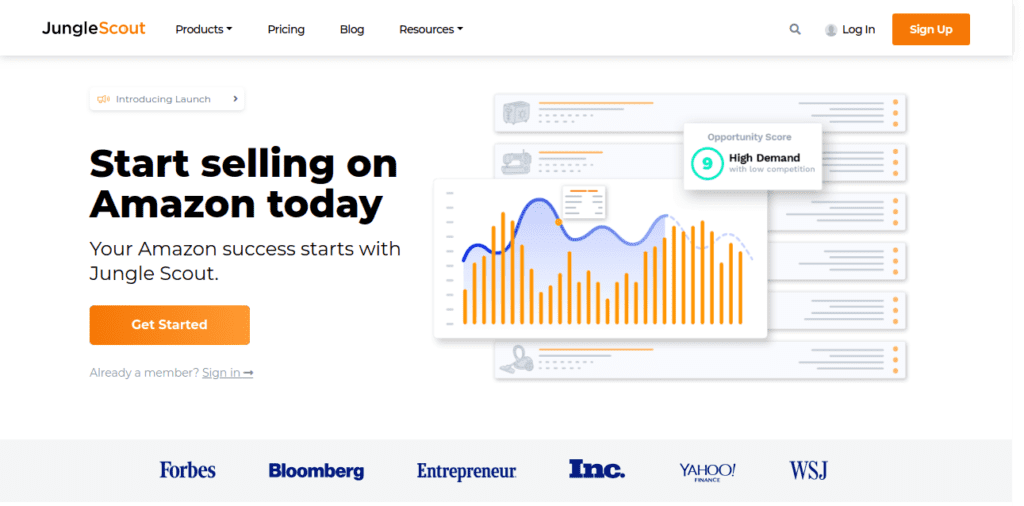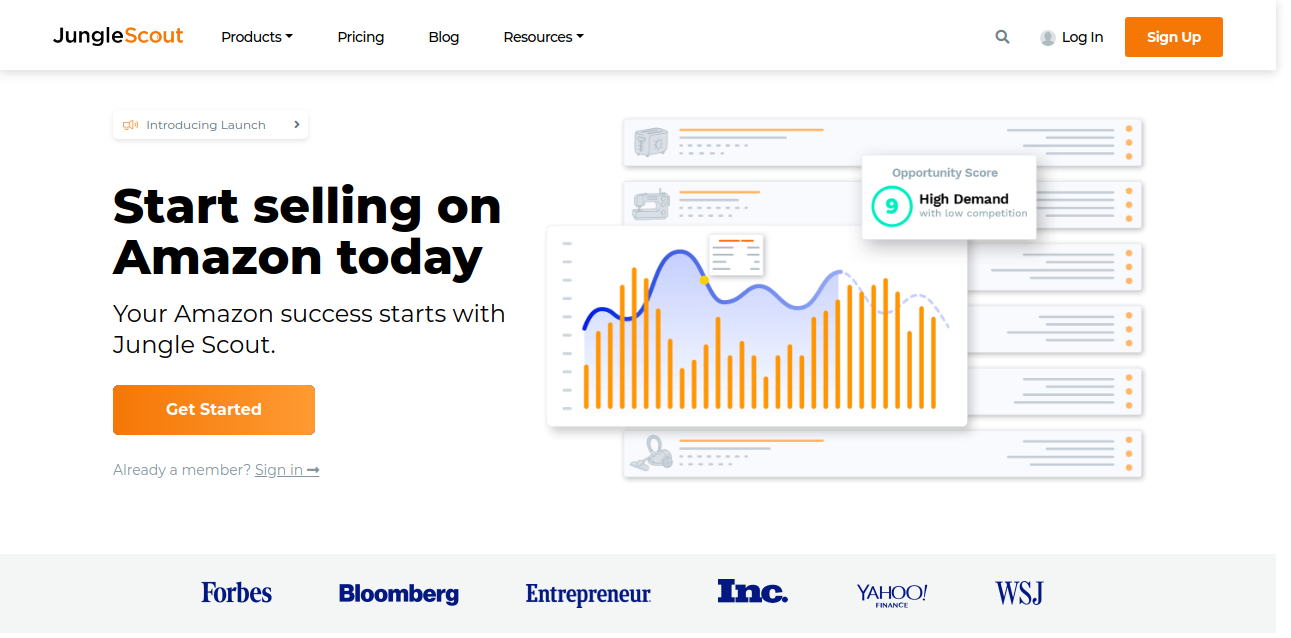 Jungle Scout, founded by Greg Mercer in 2014 is the solution to finding great products to sell on Amazon and was the first Amazon product research tool on the market and has come a long way since. With more than 99,000 thousand customers, all of whom very strongly recommend the platform, they have successfully marked their place to become the go-to for novices and power sellers. They come as a Web App and a Chrome Extension. The former allows you to search for and find niches and the latter helps evaluate products, niches and search terms.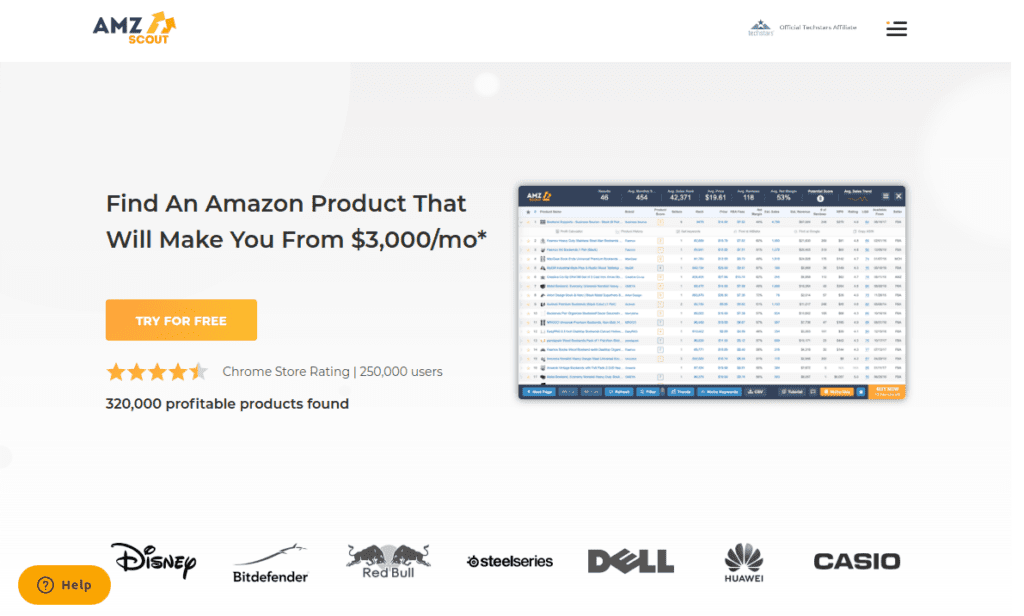 With over 2,50,000 users, AMZScout is an absolutely brilliant platform. They have found over 3,20,000 products already and vouch to help find an Amazon Product that will help you make over $3,000 every month. With a great set of clients, like Disney, RedBull, Dell, Casio, Huawei, you should be assured that your money is going in the right place and will sure bring back returns. With this, you can check your trend sales regularly, which does not seem possible with other platforms. Also, their data analysis is pretty accurate and very reliable. Its web app works with any modern web browser. However, the extension only works with Google Chrome browser. It reaches out to over 9 marketplaces and is available in 10 countries, which is very impressive. One of their most preferred features is their Profit Calculator.
Jungle Scout vs Amzscout: Features Comparison
Jungle Scout has some brilliant features to offer-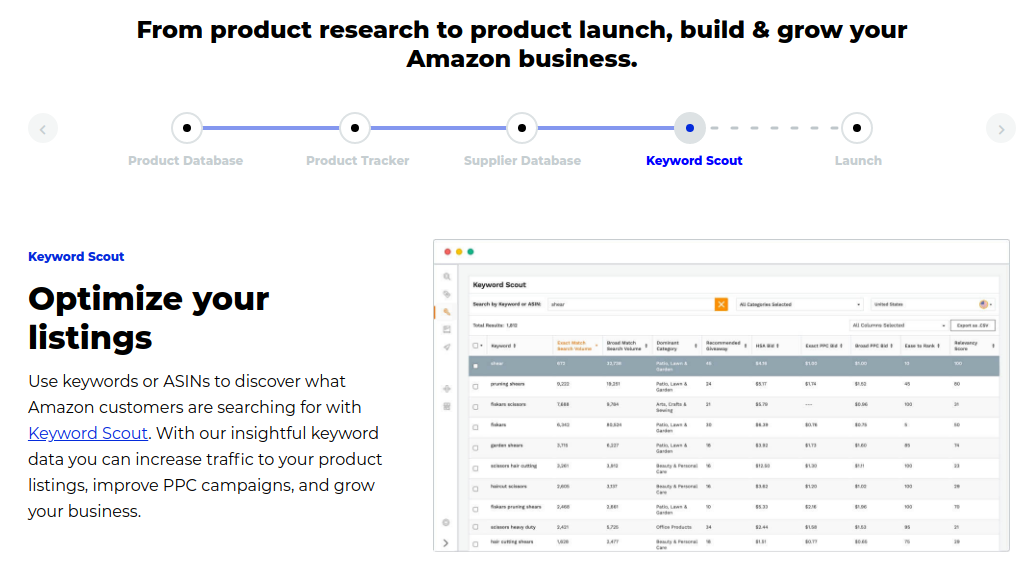 Find Products– They help find Amazon product opportunities by applying a wide variety of filters, including category, review counts, and average sales using Jungle Scout's Product Database.
Closer information on Customer and Competitor Trends– With their AccuSales algorithm, you receive the most accurate data, which eventually helps in the decision-making process.
Tracking and Validate Ideas– Product Tracker verifies your idea, monitors product to reduce risk of seasonality or shifts in the demand cycle and launch a great product.
Identify Keyword Trends and Optimize Listings– They show you customer search trends, using keyword-level insights to build better product listings, increase brand exposure, and drive extra sales.
Find the best Quality of Suppliers– With their Supplier Database, you can find suppliers, their top customers and their verified shipping records from all over the world.
Better Customer Experience– Helps boost sales with automated email communications & build promotions and personalized customer experience gives you the power to minimize negative feedback, increase reviews, and improve your sales velocity.
Signup with this Jungle Scout link to avail exclusive offers (only for Arbitrageinfo readers). 
AMZScout has a list of features, that are-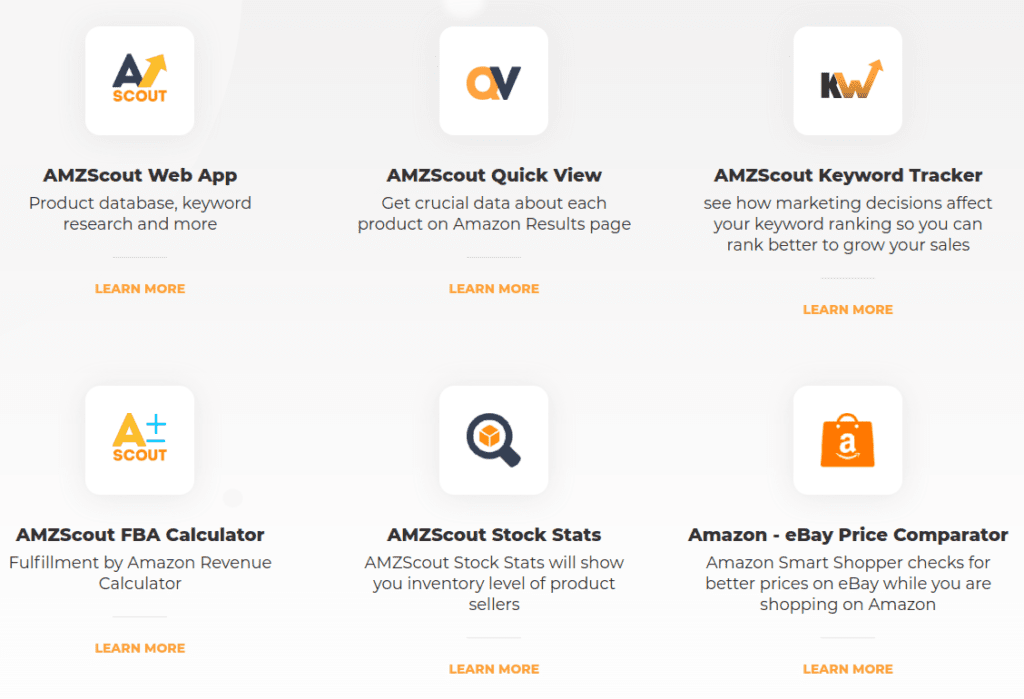 Niche Scanner– Get the history of any niche from the day it began and compare those with your ideas. You find both, the description and the numbers from the day it has become available.
Product Daily History Kit– Get data on any products' sales, stocks and prices, and comprehend how well it has performed.
Product Keywords Checker– Learn from top performing keywords to find the least competitive customer queries.
Listing Scanner– Scan poor listings to find better opportunities. By scanning in bulk, with detailed listing score, you can find niches with poor product photos and descriptions.
FBA Profit Calculator– Figure out your profits and costs with the most used calculator on the internet.
Jungle Scout vs Amzscout: Benefits
Using Jungle Scout comes with a set of benefits-
It is exceptionally easy to use and you can easily add and track products you've identified as potential options.
Provides detailed information about everything- in-depth information about the number of units being sold, revenue that could be made and the potential to succeed with the product.
The data provided by them is highly reliable.
Helps organize products as per thematic lists.
Helps determine the search frequency of any product, seasonality, and competition levels.
With the territory of AMZScout, comes a lot of benefits-
Know your future profits.
Create Top Listing with the use of Listing Scanner.
Copy best selling keywords from the top sellers.
Avoid other sellers' mistakes with stocks, prices, and planning.
Find the right niche quick and easy.
Jungle Scout vs Amzscout: Pricing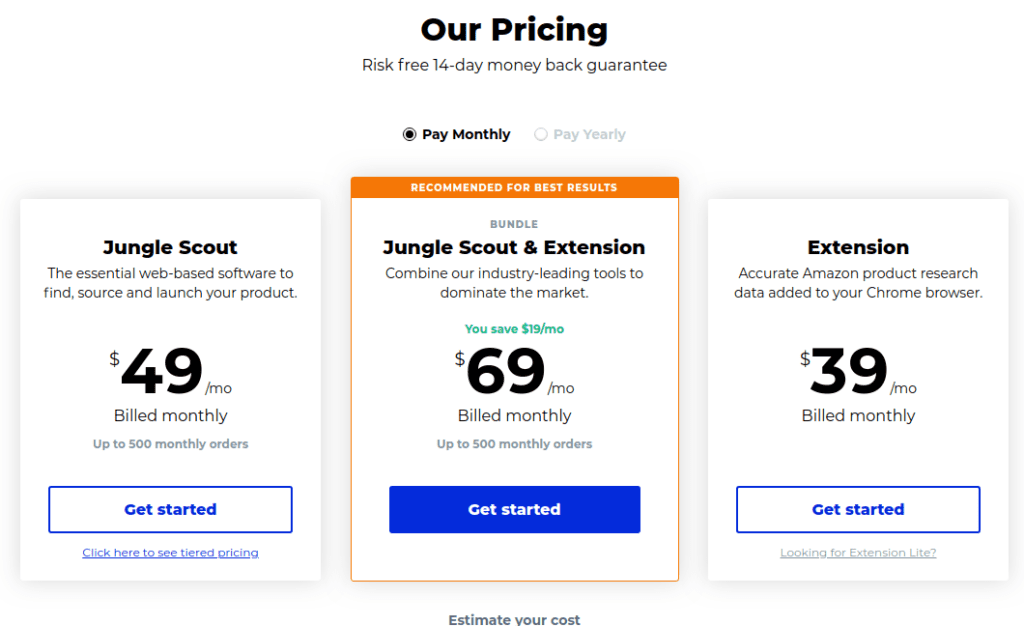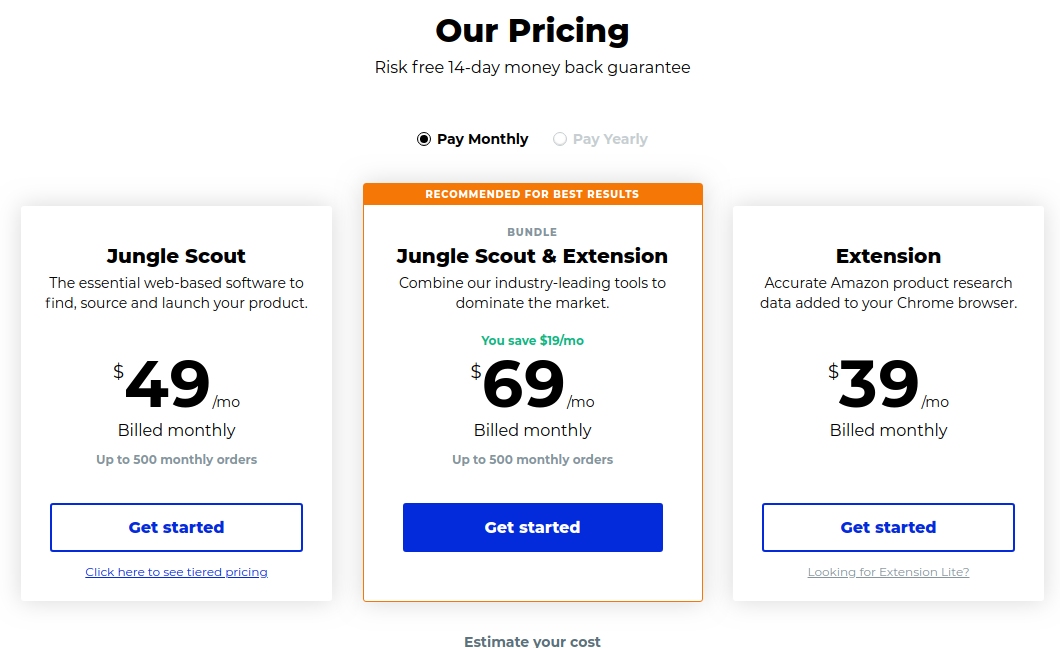 If you choose to pay for Jungle Scout's monthly subscription, the following are your options-
Jungle Scout- The best all-in-one software to find and launch your product- for which you would be charged $49 per month.
Jungle Scout and Extension- Dominate the market with both of our most powerful tools in the industry.- for which you would be charged $69 per month.
Extension- The industry-leading extension for market intelligence on Amazon- for which you would be charged $39 per month.
For the ones who would rather pay yearly, you would be saving $120 on Jungle Scout and would be required to pay only $468 annually. You would be saving $348 on Jungle Scout and Extension and would be required to pay $588 annually and for Extension, you would save $240 and pay $228 annually.
For AMZScout, you would have to pay-
$44.99 per month and you would have access to their product with no boundaries and if not, you could pay $199 and use it forever.
User reviews
Users seems pretty satisfied with what Jungle Scout has to offer and say-
"..is beyond amazing. From the features, (free and paid), to the videos and support team behind it.''
"..is the best Amazon tool for it is easy to navigate and provides information of great value."
"It definitely streamlines my Amazon product research and is helpful."
AMZScout knows how to keep their users happy-
"I used other tools before I switched to AMZScout. I really like it, especially keyword trackers and product trackers that give me a good reference," says John.
"Honestly, it is like you are trying to find the exit in the dark, and suddenly to get a flashlight. With AMZScout quality and productivity go exponential. I use it the most for looking products and of course track competitors," says Mario.