Jungle Scout vs Sellics Review: 2020 Edition
The online marketplace has without a doubt been a blessing to the buyers, for they have access to everything in the comfort of their home. The same seems particularly true about Amazon, however, because a survey showed that 55% of people tend to first look through Amazon and then, any other online marketplace. It has expanded in an unprecedented and unexpected manner in the past but is now set to rule the area and it is quite often that it is called the future of the retail market. It is interesting that it started as a mere online bookstore and what it has gotten up to is applaudable. Their continuous strive to become better was quite clear when they had broken their own record on Cyber Monday 2017, when they sold more products that they ever did in a single day. It has driven retail stores down significantly and is single-handedly responsible for the creation of such a vast marketplace. Also, it provides quite an opportunity to make money. The simplest of all is retail arbitrage, where you find and sell products, bought at a wholesale price and the difference in the cost price and selling price, makes up for your profit. You can easily find such products in Walmart or eBay and make quite a profit off it. Other than that, FBA is an option, where you send your inventory to Amazon's warehouse and when an order comes in, they ship it off for you. You could work as an Amazon affiliate which gets you up to 10% commission for every product that you sell. For that, you need to focus higher on the commission categories and use one Amazon link. Also, research on the keywords, target buyer keywords, look up your niche and such. You can sell Private Label Products with Amazon FBA and the potential to make money with the same is in millions. In simple, you have to create a product, find a manufacturer, and start selling that product on Amazon and for it would be Fulfilled by Amazon, you have to send it to their inventory and once an order is placed, they would deliver it. There are more options that you could learn about. In this post, we are going to do a comparison of two retail arbitrage tools named 'Jungle Scout' and 'Sellics'. Hope this platform comparison would be helpful to you.
Table of Contents: take a look at the overall scope of the article
hide
Tips on Choosing the Right Amazon Product Research Tool
There is no prescribed list with checklists that one can follow to find the right Amazon Product Research Tool. When you do business, you have to follow your gut and see what really works for you, because such things, vary from person to person and business to business and what might work for them, might not for you. Also, fancy packing does not attract people anymore, you have to research thoroughly, so you have to put in the effort and personally decide on one.
Jungle Scout vs Sellics: Platform Overview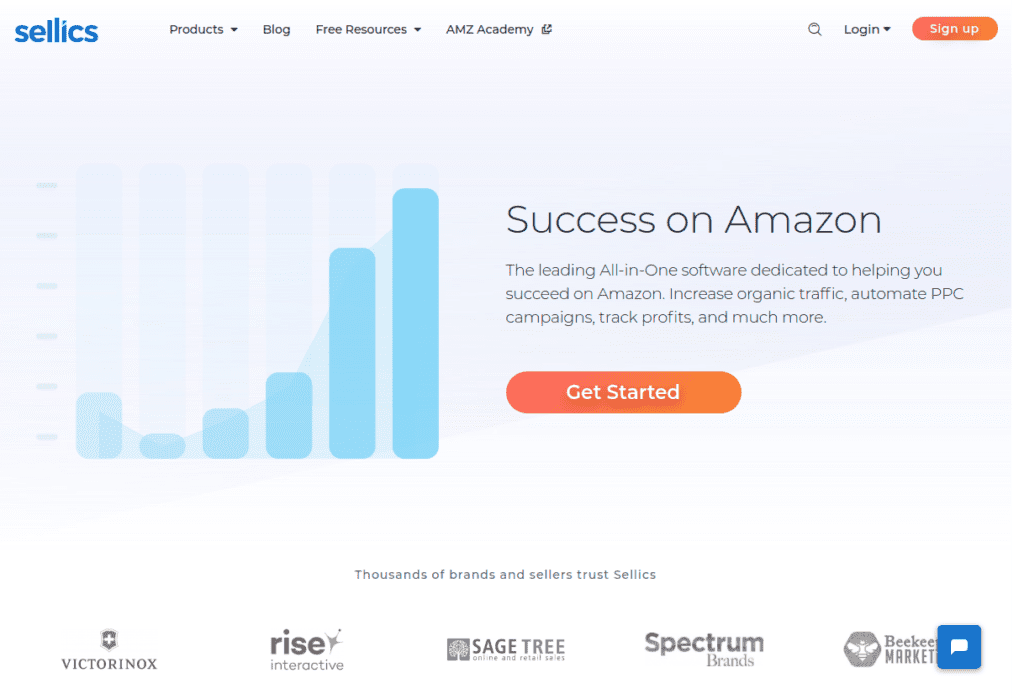 Sellics, based in Germany, started out as just a simple keyword ranking tracker in 2014, is now a commercial based analytics company. Known to be an all-in-one software solution for Amazon sellers, they keep on adding new features and upgrading themselves to suit your needs. They have some pretty good companies as their clients, which includes Bosch, KW-Commerce, Chal-Tec, Private Label Journey, and L'Oréal. It is not exclusively for sellers and also branches out into a Vendor Edition for Amazon vendors.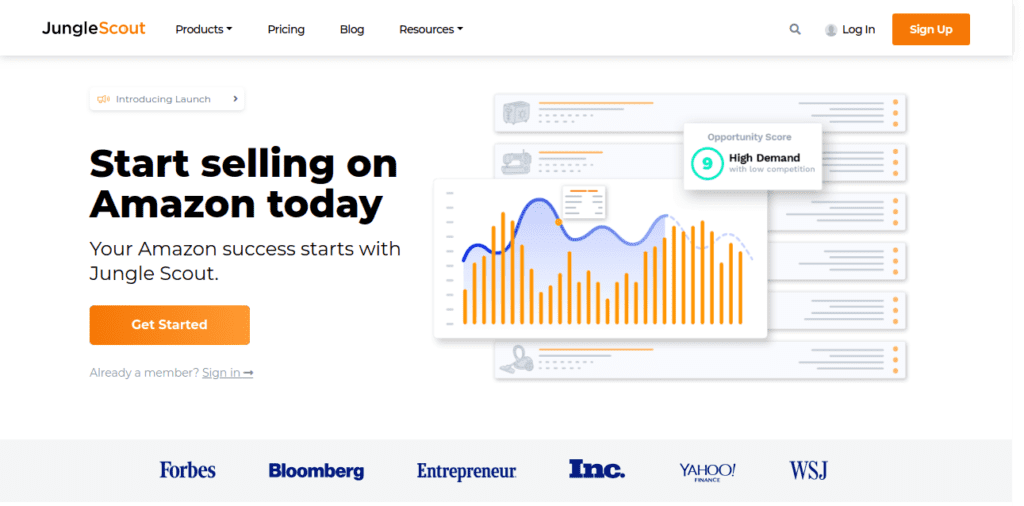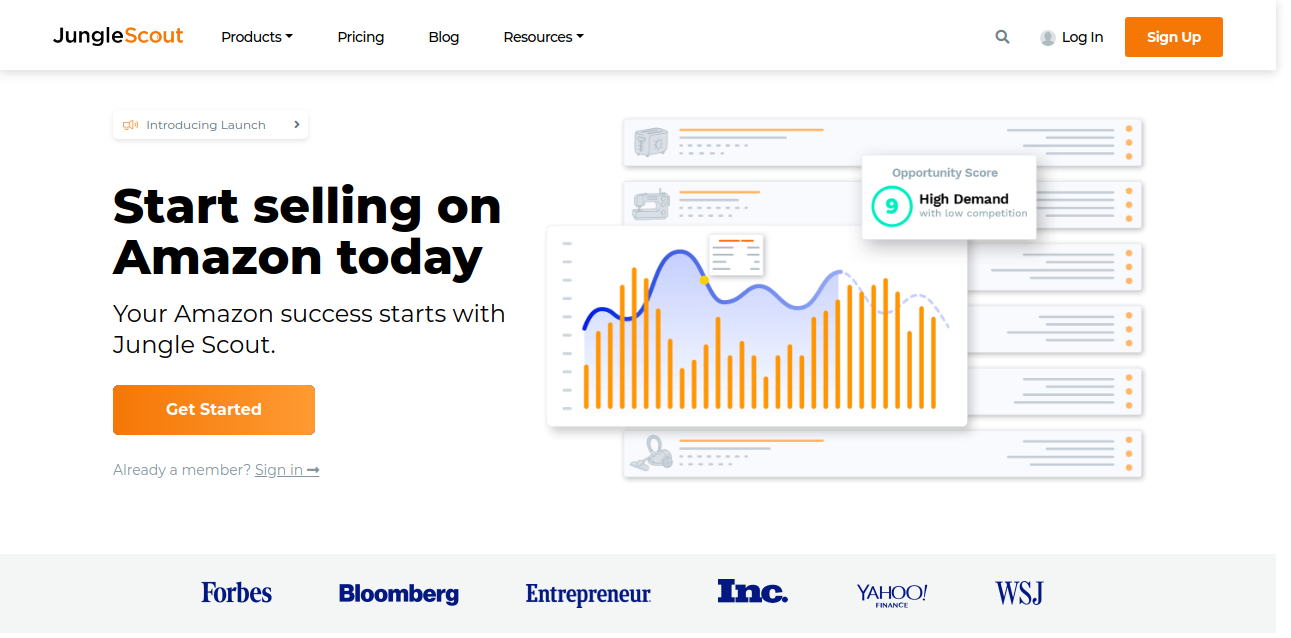 Founded by Greg Mercer in 2014, Jungle Scout was the first product research tool to hit the market and since then it has expanded so much to become the go-to for both the entrepreneurs and the power sellers alike. It has become the solution to finding great products to sell on Amazon. They offer both- Web App and a Chrome Extension where the former allows you to search for and find niches and the latter helps evaluate products, niches and search terms. With more than 99,000 thousand customers, it is a very strongly recommended platform.
Jungle Scout vs Sellics: Features Comparison
Sellics has quite a lot to offer-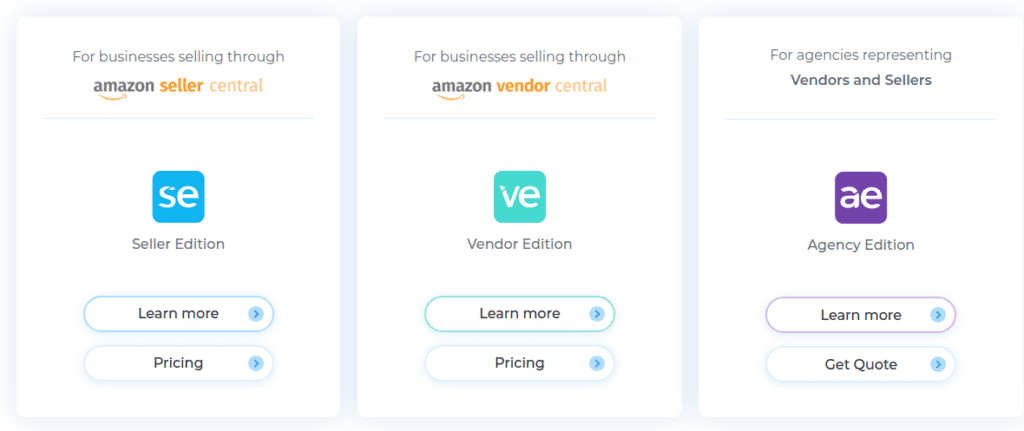 Product Research helps filter through the top 10,000 best-selling products on Amazon with their Sellics Product Database.
Review Management shows your new reviews on your products. 
Inventory Management notifies you when you run out of stock based on your recent sales velocity. 
Their Profit Dashboard gives you complete automated calculations of your real profit on Amazon. 
PPC Manager saves time and automates your PPC campaigns.
Amazon Ranking Optimizer assures that your products ranked higher on Amazon.
Competitor Monitoring tracks your competitors' daily sales volume, and monitor your competitors' keyword rankings against your own to see what aspect they outperform you in. 
Signup with this Sellics link to avail exclusive offers (only for Arbitrageinfo readers). 
Jungle Scout is equally impressive-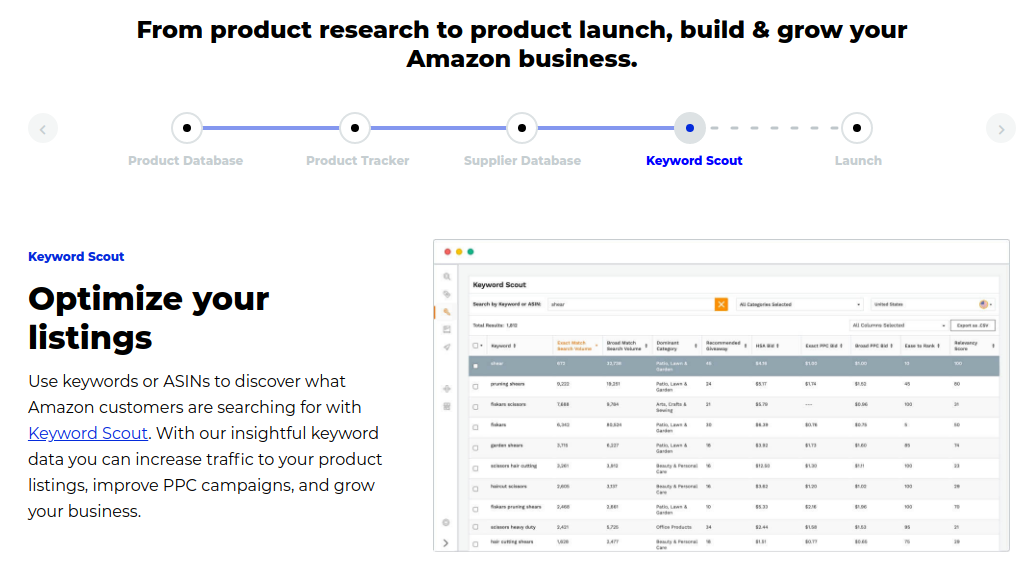 Discover Products: They help find Amazon product opportunities by applying a wide variety of filters, including category, review counts, and average sales using Jungle Scout's Product Database.
Insight on Customer and Competitor Trends: With their AccuSales algorithm, you receive the most accurate data, which eventually helps in the decision-making process.
Track and Validate Ideas- Product Tracker verifies your idea, monitors product to reduce risk of seasonality or shifts in the demand cycle and launch a great product.
Identify Keyword Trends and Optimize Listings- They show you customer search trends, using keyword-level insights to build better product listings, increase brand exposure, and drive extra sales.
Find Quality Suppliers: With their Supplier Database, you can find suppliers, their top customers and their verified shipping records from all over the world.
Better Customer Experience- Helps boost sales with automated email communications & build promotions and personalized customer experience gives you the power to minimize negative feedback, increase reviews, and improve your sales velocity.
Signup with this Jungle Scout link to avail exclusive offers (only for Arbitrageinfo readers). 
Jungle Scout vs Sellics: Benefits
The benefits offered by Sellics are as follows:
Boost Keyword Ranking.
Expand selection.
Get notified of new reviews.
Never run out of inventor
Tracks profit in real time.
Maximize Amazon PPC revenue.
The benefits that Jungle Scout offers are:
Easy to use and.
Helps track and add products that are potential options.
Gives in-depth information.
Highly reliable data.
Organization of products as per thematic lists.
Helps determine the search frequency of any product, seasonality, and competition levels.
Jungle Scout vs Sellics: Pricing
Sellics has quite a lot of plans to offer on the basis on sales volume per annum of which, some are: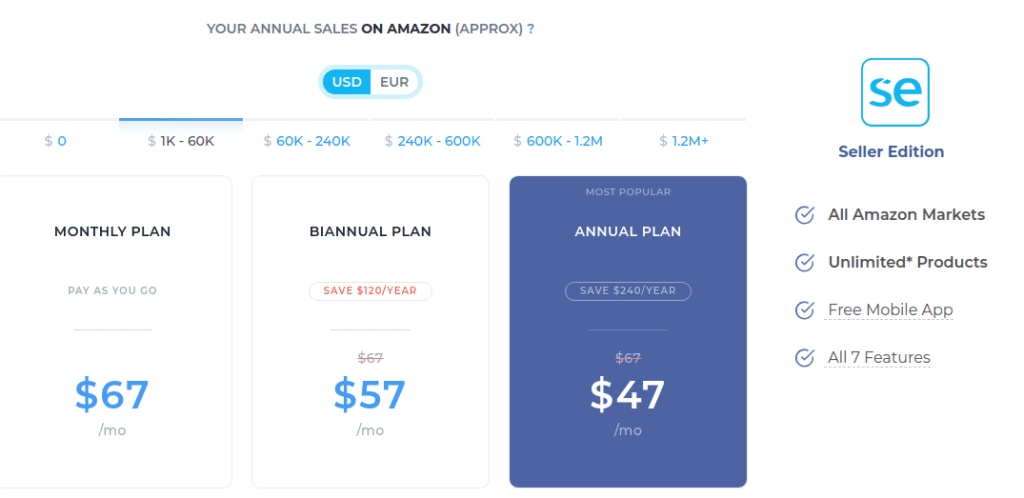 For 1K- 60K sales volume per annum, the annual plan costs $47 monthly.
For 60K- 240K sales volume per annum, the annual plan costs $77 monthly.
For 240K- 600K sales volume per annum, the annual plan costs $117 monthly.
For 600K- 1.2M sales volume per annum, the annual plan costs $ 157 monthly.
For 1.2M+ sales volume per annum, the annual plan costs $257 monthly.
Other that that, they also provide with a free trial for 2 weeks.
For Jungle Scout, the pricing is pretty clear-: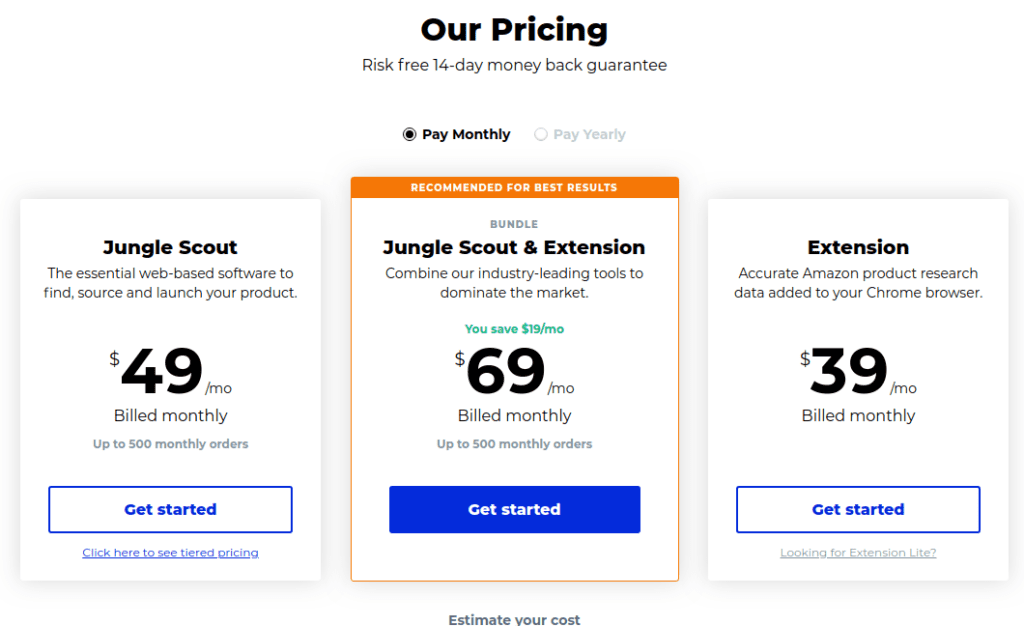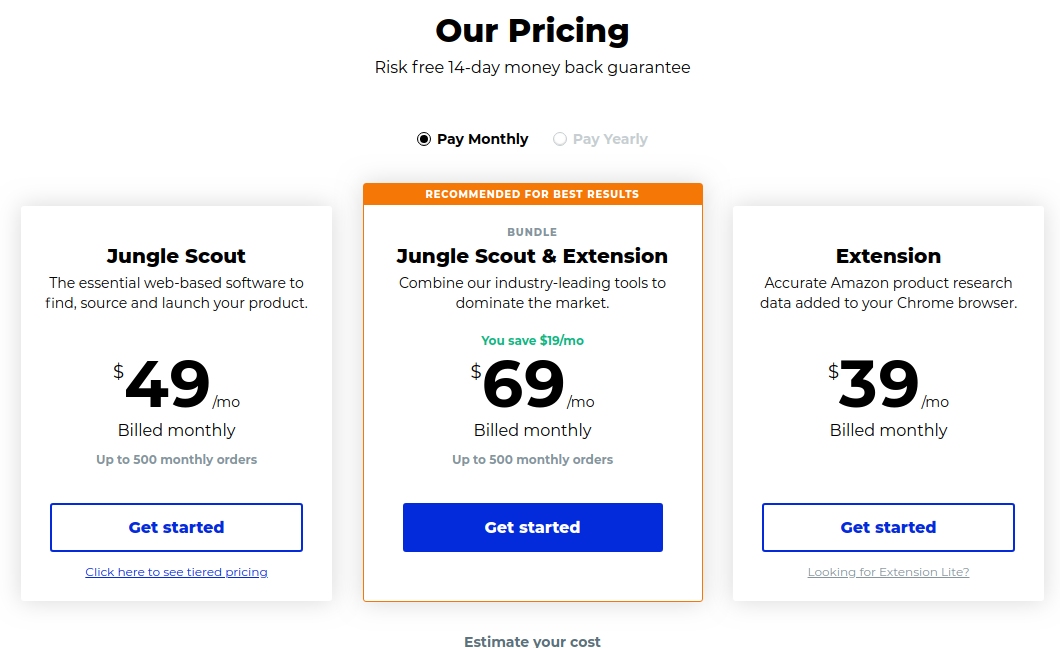 Jungle Scout– The best all-in-one software to find and launch your product- for which you would be charged $49 per month.
Jungle Scout and Extension- Dominate the market with both of our most powerful tools in the industry.- for which you would be charged $69 per month.
Extension- The industry-leading extension for market intelligence on Amazon- for which you would be charged $39 per month.
For the ones who would rather pay yearly, you would be saving $120 on Jungle Scout and would be required to pay only $468 annually. You would be saving $348 on Jungle Scout and Extension and would be required to pay $588 annually and for Extension, you would save $240 and pay $228 annually.
Jungle Scout vs Sellics: User reviews
Sellics has gotten some amazing reviews so far:
"Sellics is hands down the most comprehensive product available. Finally a real all-in-one tool," says Dale Thomas from Puppy Addict.
We have been successfully using Sellics to keep an eye on competitors for many years now! -Annina Wehling from Exinit.
Selling on Amazon without Sellics makes no sense because you cannot identify and make use of various potentials. The costs for Sellics have quickly become irrelevant and I finally have more time to take care of strategic things.- Christoph Schaller from Vogelgaleria.
Jungle Scout is known to be:
".. beyond amazing. From the features, (free and paid), to the videos and support team behind it.''
"..is the best Amazon tool for it is easy to navigate and provides information of great value."
"It definitely streamlines my Amazon product research and is helpful."