Profit Scraper Review: 2020
If you have been looking up at the internet to search for basics which you need to know to start your online business, then you must have heard about book flipping or book arbitrage. Book arbitrage allows businesses to operate without owning a warehouse for their products or taking care of their inventory and without having to ship and deliver the products to the customers. The actions that take place in book flipping businesses start from the business selling a product, then send the product over to a 3rd party retailer, who then ships the products to the customers. Book arbitrage helps you get rich easily as you would be getting a commission in selling other people's products without investing much. If you are thinking about establishing your career in eCommerce as a seller, then book arbitrage is a great way to start. This kind of business model is also attractive for the manufacturer of the good as they do not have to engage in the tasks and subtasks involved with the shipping and delivering of the products to the customer's doorsteps. The prerequisites of starting up an arbitrage business are few as you would only be needing a supplier or a manufacturer, and start selling their products. For this, you will have to build your eCommerce site, and if that seems too much work, you can make most of the already established eCommerce platforms like Amazon and eBay. Also, you need to follow some essential tips and take the help of dropshipping software, like Profit Scraper.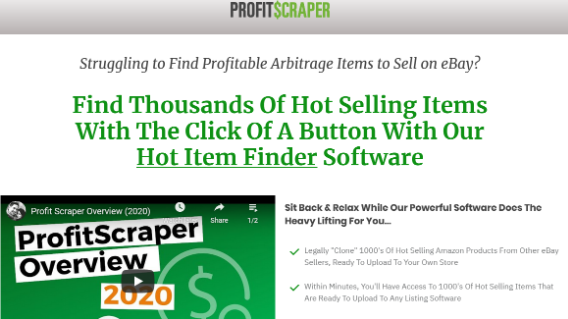 Profit Scraper is a cloud-based software which helps eCommerce sellers to hunt for specific items and resell them to earn profits. In clear words, with the assistance of Profit Scraper, you can hunt out the items which are selling at a lower price in Amazon than eBay. After coming across such goods by scrolling through the millions of goods sold across the two platforms, it generates the results so that sellers can buy the goods from Amazon at a lower price and sell it at eBay at a steeper price to enjoy the profits generated as a result of the price difference.
Before we get into the intricate details of Profit Scraper Review, let's discuss the need for using such a tool.
Why do you need Book Arbitrage tools and software?
If you are considering starting off your book arbitrage business, then you would have to research about Amazon to eBay arbitrage software. Although the process sounds super simple, it cannot go in your favour for multiple reasons listed below, and therefore you should start thinking about investing in arbitrage software. An arbitrage tool will not only help you find suppliers to buy products at a low price, but it will also give you actionable insights about your business so that you can determine the best possible way to boost your sales.
Straining out only profitable deals
Each day more and more products are being added in giant eCommerce marketplaces like Amazon and eBay, and this makes it very difficult for sellers to get their desired deal. If they consider doing it themselves manually by continuously scrolling product prices at both the platforms, it will take an eternity to check prices of all profitable items. But an arbitrage tool like Profit Scraper only shows profitable products in the search results.
Alerting you about deals
Before the demand season sets in, most arbitrage and dropshipping sellers want to buy the items so that they can sell it at higher prices to the customers demanding it. Now if you become a little late in procuring books, then your competitors will take your place, and by the time you get to understand everything and buy the books, you would not be able to sell all. Therefore, it is recommended to use an arbitrage tool as it will let you know about deals instantly before even your competitors get to know about it.
Buying only highly demanded products
Do you want to fill your inventory with goods which do not sell at all or sell at a painstakingly slow rate? To ensure success in an arbitrage business, a seller must only purchase items which are guaranteed to sell within no time! Because, if the items take time in selling, they would not be able to gather additional capital to invest in the business.
Breaking down of costs
Most sellers face trouble understanding the costs and the fees they are required to pay to manage their book arbitrage business. Also, they might not be able to understand their ROI and profits generated from each sale, because there are a ton of other factors involved in it. But if you as a seller do not have an understanding about your business expenses, will you be able to know about the nooks and corners of your business? With the help of a book arbitrage tool like Profit Scraper, you will be able to calculate your profits accurately.
Profit Scraper Review: Product Features
Here are some of the attractive features of this Amazon to eBay arbitrage:
Automatic stock and price monitoring every 45 minutes, regardless of the number of products present in your wishlist.
Sellers can easily find hot selling items and upload them in their eBay seller account by cloning the images, descriptions, model numbers.
Profit Scraper allows you to upload items in bulk in eBay complete with descriptions, model number, images.
Profit Scraper also offers an auto-ordering feature, both on Amazon and eBay, and it allows you to order goods from suppliers in just 10 minutes. After that, the supplier will mark the ordered goods as dispatched after leaving positive reviews for your buyers.
Make the most of the dashboard available in the platform to check out essential figures of your business, including sales, profit, daily sales, transactions. Here you will also come across various reports which would tell you how to convert potential leads successfully.
If you are finding trouble navigating the numerous features of Profit Scraper, you can watch training videos or approach the customer service team.
In the eCommerce business, there is no dearth of piggybackers who might steal your listings, so whenever someone searches your listing, they would get an error message because your eBay account is completely secured with Profit Scraper.
With a Profit Scraper subscription, sellers can now access the Facebook support group of Profit Scraper where you will receive various tips and suggestions which will immensely help you in your book arbitrage business.
How Profit Scraper Works?
Before understanding how this eBay profit software work, let us discuss how sellers can use this platform to their benefit:
Go to the official website and sign in with your details.
After that, you would have to connect your eBay seller account with the platform.
Upload all the products you wish to sell to the shoppers of eBay.
You are done, and now you have to wait for the profits to arrive.
After you have figured this out completely, you should also know how the tool works to give you all the advantages over your rivals.
Profit Scraper allows you to source those products from eBay which other retail arbitrage sellers are also sourcing.
Then the platform begins to load all the selected items into your Profit Scraper and eBay account.
The tools continuously monitor the products, so that if the price on Amazon increases your price listings on eBay will also increase, also if some of the stock of the product out from Amazon then the tool will automatically remove the price listing from eBay.
Also, Profit Scraper enables auto-ordering facility, which implies that it will sign in your Amazon Prime account and buy your wishlist products on your behalf. To facilitate this, you will have to set up the software so that it can fully apply the automated features so that the sellers only have to reply to customer queries and take care of negative customer feedback.
You will have to identify the sellers or suppliers with whom you want to crack a deal and Profit Scraper will be on high alert to check the prices of the goods the supplier sells. However, you can also employ the tools to look for 1000 top-selling items which cater to the category of goods you buy and sell. So whenever there is a change in price or stock, the tool notifies the seller so that he can take action or if you turn on auto-ordering it can automatically buy the goods from Amazon so that you can sell it at eBay afterwards at a higher price.
The customer service is one-of-a-kind, and whether you want software update or consider to resolve some glitches, you can approach them, and they will be there for you.
Profit Scraper Tools and Solutions for Amazon, eBay, and Walmart Sellers
Here are some of the tools you would get, but some of these might vary with the pricing plan you subscribe:
Top items finder.
Bulk posting and uploading of products on eBay.
Stock and price monitoring done in every 45 minutes.
Automatic VERO protection enabled.
Sellers can block suppliers, other sellers, ASINs easily.
The tool can scroll through unlimited eBay seller accounts.
Powerful analytics and reporting tools.
Access to the private Facebook community.
Support from Amazon locales like USA, EU, UK.
Live chat support available on the platform.
Coaching videos available to train sellers in using the platform up to its full potential.
Amazon auto order is also supported.
Sellers can also crack profitable deals across platforms like Walmart and Overstock.
Trackings are updated automatically immediately after they are available.
Unlimited VA accounts are also supported in case sellers want to sell over there.
Profit Scraper Review: Advantages, Pros, and USPs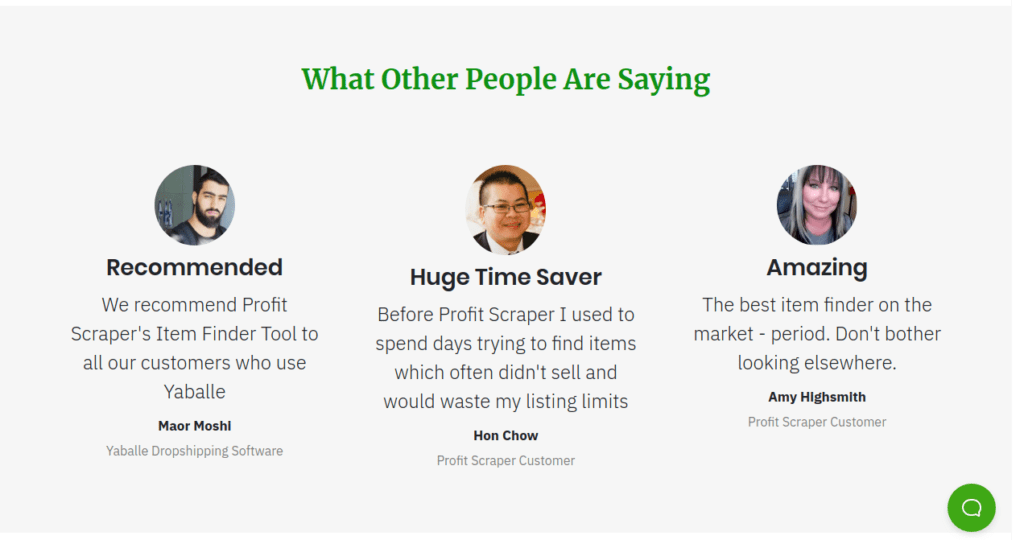 The educating videos give sellers a standard aid, but if they cannot find what they are looking for, sellers can write to the customer service team who are excellent in what they do.
The tool is best at locating and cloning best-sellers account listings helping sellers to use it in their eBay product listings.
Whether you are selling or buying a good, the tool will start automatically that in your stock within 10 minutes.
With the help of this tool, now sellers can keep piggybackers at bay because the software secures the tool disabling it from appearing in anybody search results who attempts to steal away listings.
Profit Scraper Review: Pricing Plans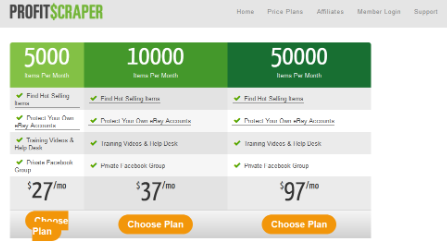 At present, there are three choices available for the sellers when it comes to choosing a pricing plan:
While all the three plans offer all the benefits included in the already mentioned feature list, the number of items you can search varies with the price. The initial plan charged at $27/month allows the sellers to search 5000 items a month. Similarly, the other two plans priced at 437/month and $97/month enables the sellers to generate the scan results of searching through 10,000 items and 50,000 items per month, respectively.
Profit Scraper Review: Coupon Codes
The tool offers attractive discount and promo codes that allow sellers to buy listings directly from Profit Scraper, and it starts from $47/month.
Profit Scraper Trial Plan
You can enjoy most of the benefits of the tool for 14 days by just paying $1.
Profit Scraper Alternatives and Competitors List
Here are some of profit scraper alternatives:
Helium10
Sellics
Helloprofit
eFlip
Sellzee
Zen arbitrage
Keepa
Camelcamelcamel
AMZscout
Splitly
Source Mogul
Tactical Arbitrage
Skugrid
Unicorn Smasher
Conclusion
Profit Scraper is an excellent arbitrage tool for sellers who want to start their business without keeping any products stocked. With the help of this software, you will get to know about the hot-selling items of eBay so that you can use it at your advantage by buying the same products at Amazon and selling it off at eBay. The software is super easy to use, and you can also clearly view important figures concerning your business.
If you want an ultimate solution for Amazon to eBay arbitrage, then you can trust in the powerful features of Profit Scraper.