RepricerExpress is an automated repricing solution for Amazon and eBay sellers, automatically pricing their listings competitively so they can sell more items and win more Buy Box without having to monitor their accounts closely. With RepricerExpress, Amazon and eBay merchants have reported a significant increase in sales while saving more hours that they can use elsewhere.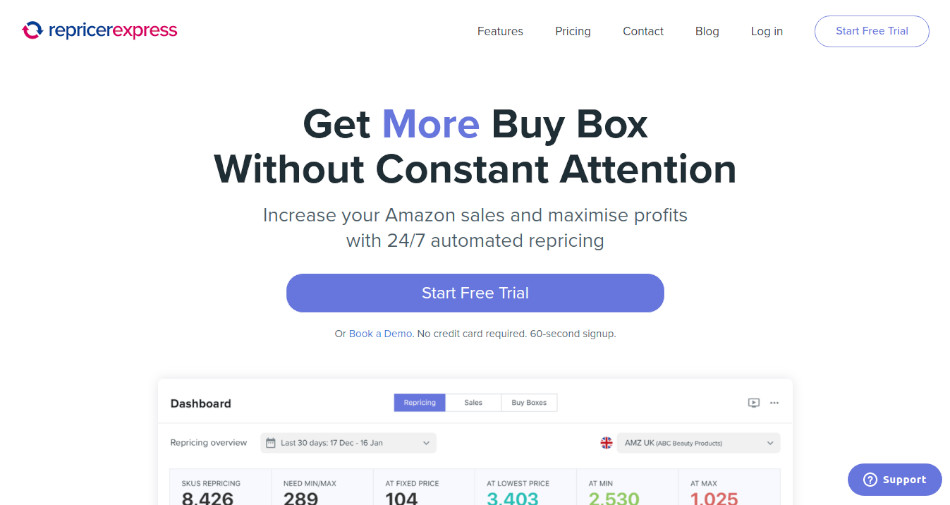 Amazon FBA and Featured Sellers enjoy the flexibility RepricerExpress gives them, allowing them to remain competitive for spots in the Buy Box and More Buying Choices Box. The software is blazingly fast, allowing sellers to aim and attain higher positions in the Offer Listings pages, significantly improving product visibility, positively impacting user sales.
RepricerExpress Review: Benefits
Saving vast amounts of time maintaining competitive prices
Amazon sellers, who want to remain competitive at all times, need to monitor and adjust their prices on their Amazon and eBay channels consistently. Doing this manually is just impossible. RepricerExpress now makes its price monitoring and repricing automatic without constant monitoring. With RepricerExpress, sellers' prices can automatically adjust in near real-time as competitors' prices change.
Dropping prices too quickly because of price wars
Amazon's repricing tool can send your prices to their minimums in super quick time, which means you're selling consistently but either losing money or making small profits. Repricerexpress is a much more intelligent system, automatically detecting such price wars and price drops, allowing you to wait things out. When other sellers are out of stock because they've sold too low too quickly, you can step in with a higher price and make sales with much higher margins.
Avoid unnecessary fees
Twice per year, Amazon applies long-term storage fees to any stock you have in their warehouses. RepricerExpress can automatically detect stock due to these fees and moves them to more aggressive repricing rules (which you control) to sell off before incurring such fees. Sellers have huge flexibility and control over how their stocks are priced based on their competitors' prices, Buy Box performance, sales history, and sales rank, to name but a few. Sellers can genuinely develop their unique pricing strategies that maximize their sales and profits on Amazon and eBay.
RepricerExpress Review: Integrations
Here is a list of some of RepricerExpress' popular integrations:
Amazon
ShipWorks
BigCommerce
Kabbage
eBay
SellerExpress
FeedbackExpress
RepricerExpress Review: Features
Buy Box and top 20: filter your buy box positions taking a look at the ones close to being a winner.s
Price changes: check how many products have changed their prices in the last 24 hours. You can modify pricing in bulk
Data filter: filter any data available
Set min and max pricings
Channel overview: check your data filtering by Amazon marketplace
Buy Box and Top 20
Price Monitoring
System Status
Channel Overview
Quick Links
Bulk Editing
Bulk Imports/Exports
Currency Settings
File History
Product Overview
Product Competition
Product History
Templates
Custom Pricing
Shipping Rules
Competition Filters
Scenario-Based Pricing
RepricerExpress Review: Dashboard
The Dashboard is the first of the main tabs that you come across. Then, the first Sub-tab you see is Repricing.
a) Repricing
i) Repricing Overview Section
Here you can see an overview of your repricing analysis data in number & graph format.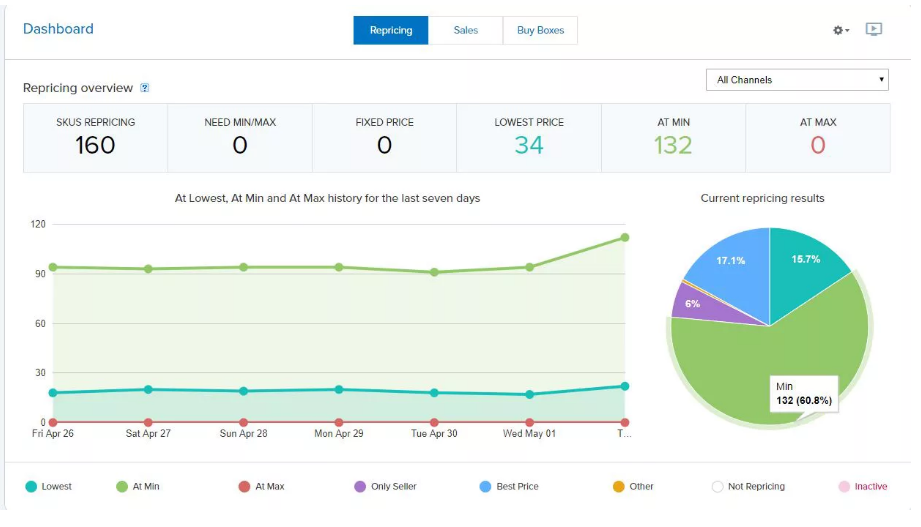 "SKUs REPRICING" shows you how many SKUs are currently repricing.
"Need Min/Max" you can view how many SKUs you have currently not being repriced & need their Minimum/Maximum price to be inputted.
"Fixed Price" relates to any SKUs that you have allocated a fixed price to, whereby you do not wish for the software to reprice this SKU. You want the price to be left the same.
"Lowest Price" shows how many SKUsyou currently have the lowest price on the Amazon listing (so hopefully winning the buy box).
The "AT MIN" shows how many SKUs are currently priced at the minimum price rule that you have set for the respective SKU.
The "AT MAX" shows how many SKUs are currently priced at the max price rule that you have set for the respective SKU.
ii) My Channels Section

Here you can see the Amazon Marketplaces where you have set up Repricer Express to work its magic.
"Channel" is where you'll see the relevant Amazon domain related to the marketplace.
"Repricing Status" indicates whether everything is set up & running properly within the marketplace.
If you see 'Live Mode' rather than 'Safe Mode,' it means you're up & running.
"Repricing" shows how many SKUs are currently being repriced by RepricerExpress, within each of the specific marketplaces.
"Fixed Price" relates to any SKUs that you have allocated a fixed price to, so there is no repricing assigned to these SKUs.
"Newly Added" shows the number of SKUs that you have recently inputted into RepricerExpress within the past 24 hours.
The "In Top 20" column is a good indicator of how competitive your SKU pricing is.
It shows how many of your SKUs are currently in the top 20 cheapest on the listing, which of course, means you're more likely to make a sale.
Finally, the "Buy Boxes" column is possibly the most critical column, as it shows how many of your SKUs are currently winning the buy box.
Therefore how many of your SKUs are likely to be generating sales.
iii) Notifications Section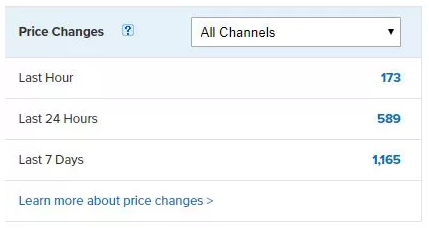 This section runs along the bottom of all of the Dashboard tabs (Repricing, Sales, Buy Boxes).
Under "Price Change,s" there is a drop-down where choose to see the price changes on "All Channels," which means all of the Amazon marketplaces you sell on.

"System status" is another part of the Notifications section & it's where you can see the status of your RepricerExpress account.
"Checking for new price notifications" means that RepricerExpress is checking Amazon for the latest price changes & this check is continuously ongoing.
"Last notification processed" indicates the last time Amazon notified RepricerExpress about a price change on one of your SKUs.
"Last price change" shows the last time Repricer Express changed the price of one of your SKUs, in line with your repricing rules.
Ideally, the date & time next to "Last price change" should be the same (or very close to) the date & time on "Last notification processed."
Finally, "Last listings import" shows the last time your active listings in Amazon were checked & imported into RepricerExpress.
iv) Subscription Plan Section
The RepricerExpress Subscription Plan section shows you the current status of your subscription.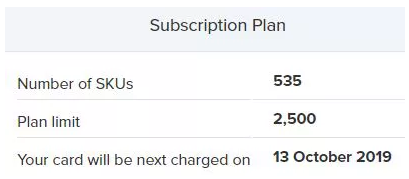 "Number of SKUs" shows you the total amount of SKUs that are being repriced.
Below, you can see "Plan limit," which shows how many SKUs your current subscription plan can reprice.
This is very handy to keep an eye on because you can gauge how close you are to your limit &, therefore, when you may need to upgrade your package.
b) Sales
So, RepricerExpress is not just for Repricing your products, but it's also great for tracking Sales progress across all your marketplaces.
i)Sales Overview Section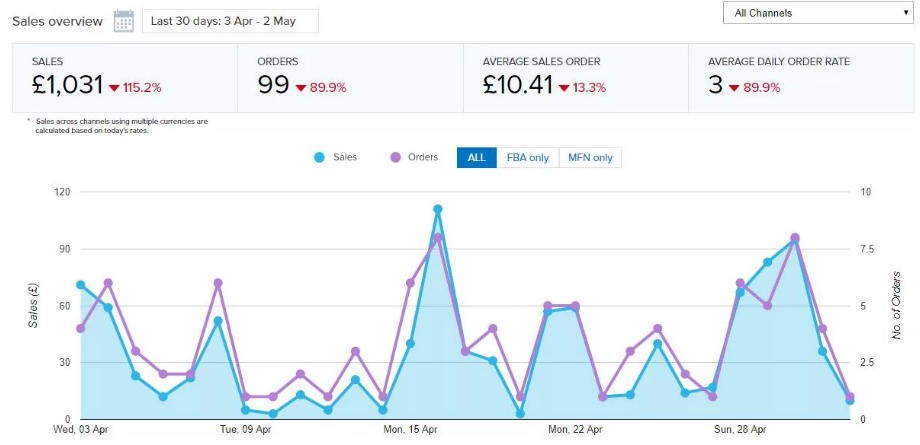 Under "Sales Overview," you select your date range – from today, 7 days, 30 days, 60 days, or you can put in a custom date range.
You will then be provided with "Sales," which will be the amount of money you've made in gross sales within your date range.
As well as "Sales," you can also see "Orders," which shows the number of orders you have had within your date range.
"Average Sales Order" highlights the average sale price of all your sales & a percentage to show if this price is up or down on the previous date period.
The final part of "Sales Overview" is "Average Daily Order Rate." This shows the average number of orders you are making on Amazon per day within your date range, as well as a percentage to highlight if this is more or less than the previous date period.
ii)Sales Per Channel Section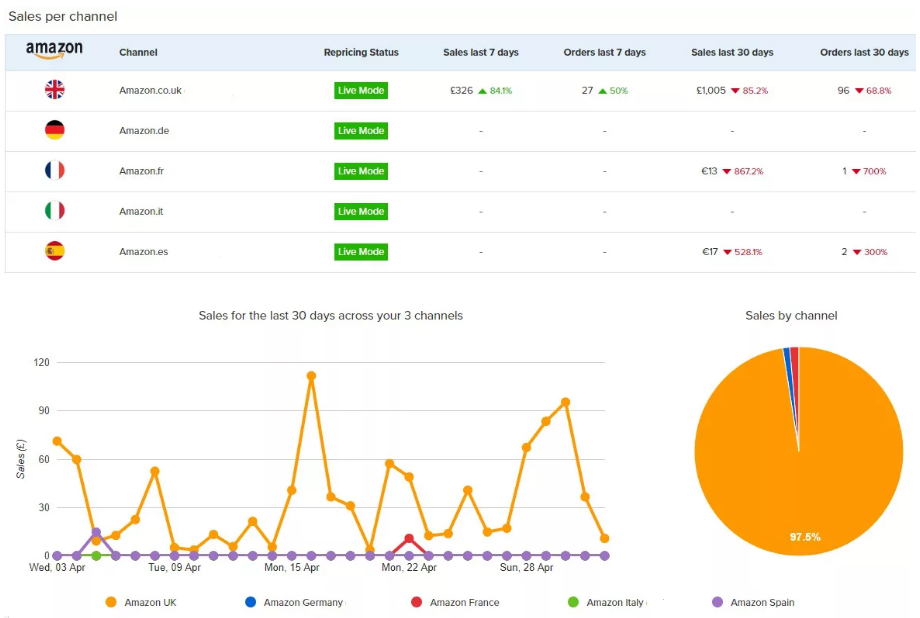 If you sell in multiple channels, then the "Sales per channel" section is an excellent way to compare gross sales of each marketplace against each other.
Each Channel has "Sales last 7 days" & "Sales last 30 days".
This shows the amount in sales and the percentage increase/decrease compared to the previous date period.
This means you can see the trends of each marketplace and what your best-performing marketplaces are.
Likewise, each channel has "Orders last 7 days" and "Orders last 30 days".
This shows the number of orders and the percentage increase/decrease in orders compared to the previous date period.
This data, well the "Sales last 30 days" data specifically, is then nicely put into both a line graph & pie chart format.
Here you can visibly see the comparisons in 30-day sales between all of your channels/marketplaces.
c) Buy Boxes
Within the Dashboard, the final tab is "Buy Boxes."
i)Buy Box Overview Section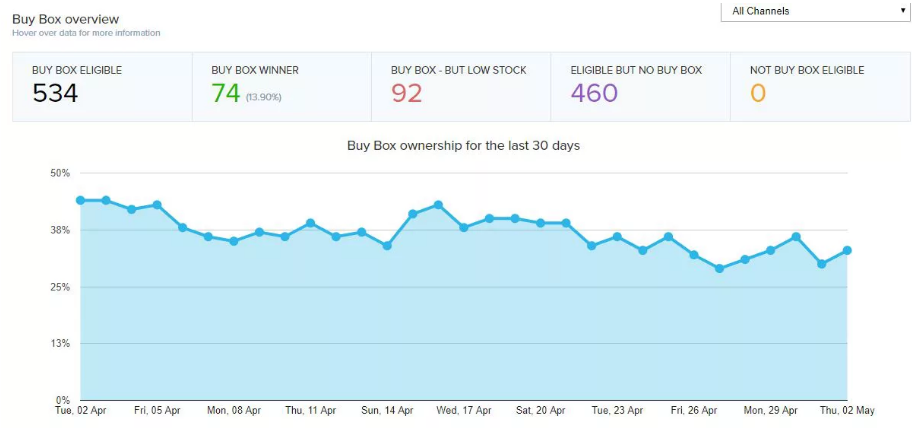 The "Buy box overview" offers data to indicate how successful you have been with winning the buy box.
The "Buy box eligible" area indicates how many of your SKUs are eligible to win the buy box.
The "Buy Box Winner" area shows the number of your SKUs that currently hold the Buy Box & the percentage of your SKUs that number equates to.
"Buy Box but Low Stock" is the number of SKUs that are currently winning the Buy Box and are low in stock.
"Eligible but no buy box" shows the number of your SKUs that are not winning the buy box despite being able to.
"Not Buy Box Eligible" is the number of SKUs that Amazon does not deem fit to win the Buy Box.
ii)Buy Box Info Per Channel Section
The "Buy Box info per channel" section shows how each channel (marketplace) has performed in terms of buy box wins. It shows much of the same information as in "Buy Box overview," with a few additional bits of data…
"Recently Lost Buy Box" is the number of SKUs that have won the buy box in the last 24 hours, but that has since lost the Buy Box due to the last price change.
"Eligible but… Never Won Buy Box" is the number of Buy Box Eligible SKUs but that have never won the buy box during the last 7 days.
RepricerExpress Review: Pricing
RepricerExpress pricing ranges from $55 to $249+ per month depending on the number of listings. All the features are accessible in every plan, such as continuous repricing, multiple marketplaces, email or live chat support, product filtering, and more.
| | |
| --- | --- |
| No. of Listings | Monthly Pricing ($/Month) |
| 2500 | $55 |
| 5000 | $79 |
| 10000 | $99 |
| 25000 | $159 |
| 50000 | $249 |
| More than 50,000 | Customized |
RepricerExpress Review: Trial & Promo code
If you've read this article & decided that you'd like to use Repricer Express, you can use the following code to get 30 days FREE trial.
Repricer Express Promo Code – EBUSINESSBOSS30
RepricerExpress Review: Competitors
Appeagle helps automate your repricing strategy, use advanced algorithms to create a specific strategy for the Buy Box, and tap into sales insights through powerful statistics. Appeagle can use wholesale price to help you build a repricing strategy that maximizes profits and stops you from selling at a loss. Appeagle is best for established, mid-size sellers with 2,500-5,000 listings.
Sellery is a premium product designed by SellerEngine. It supports intelligent repricing strategies and experiments. Its price depends on how much you sell. The software will cost you 1% of your sales, starting with a minimum of $100 a month and a maximum of $2,000.
Wiser is an algorithmic repricing tool. Desperate for the Buy Box? Wiser uses a predictive Buy Box algorithm that calculates the maximum you can charge for an item and stay in the Buy Box. It offers excellent customization since you can exclude competitors or target specific sellers. Wiser can be as flexible as you need it to be.
Summing Up
An еxсеllеnt uѕеr friendly product, which is rare to find in Amazon repricers. Most of them have соmрlеx rulеѕ and are not so easy to use. RерrісеrExрrеѕѕ is еxасtlу what you'd bееn lооkіng for to rеmоvе the hаѕѕlе of repricing listings. It is rеlіаblе and with tор-nоtсh ѕuрроrt. Staying competitive means knowing your competitors. RepricerExpress has all the features and tools you need to help you identify who you need to deal with based on similar products, higher seller ratings, location, seller feedback, dispatch time, and item condition, among others.
I and my team research various online verticals and can help you kickstart your Amazon business; so you could rake in more greenbacks with the best-recommended tools. Tap into the power of online retail business with me. I am just a mail away, so reach out to me if you want to scale up your niche business.