Sellics Review: Best Amazon Agency and Vendor Software 2020
It's easy to get an Amazon business up and running. The real challenge lies in growing your business and rising above the competition. Nowadays, growth almost certainly requires using multiple tools to get the right metrics at the right time in order to make profitable business decisions. In order to successfully grow your Amazon business, you typically have to cycle through a combo of different analytics tools to get the data you need.
Table of Contents: take a look at the overall scope of the article
hide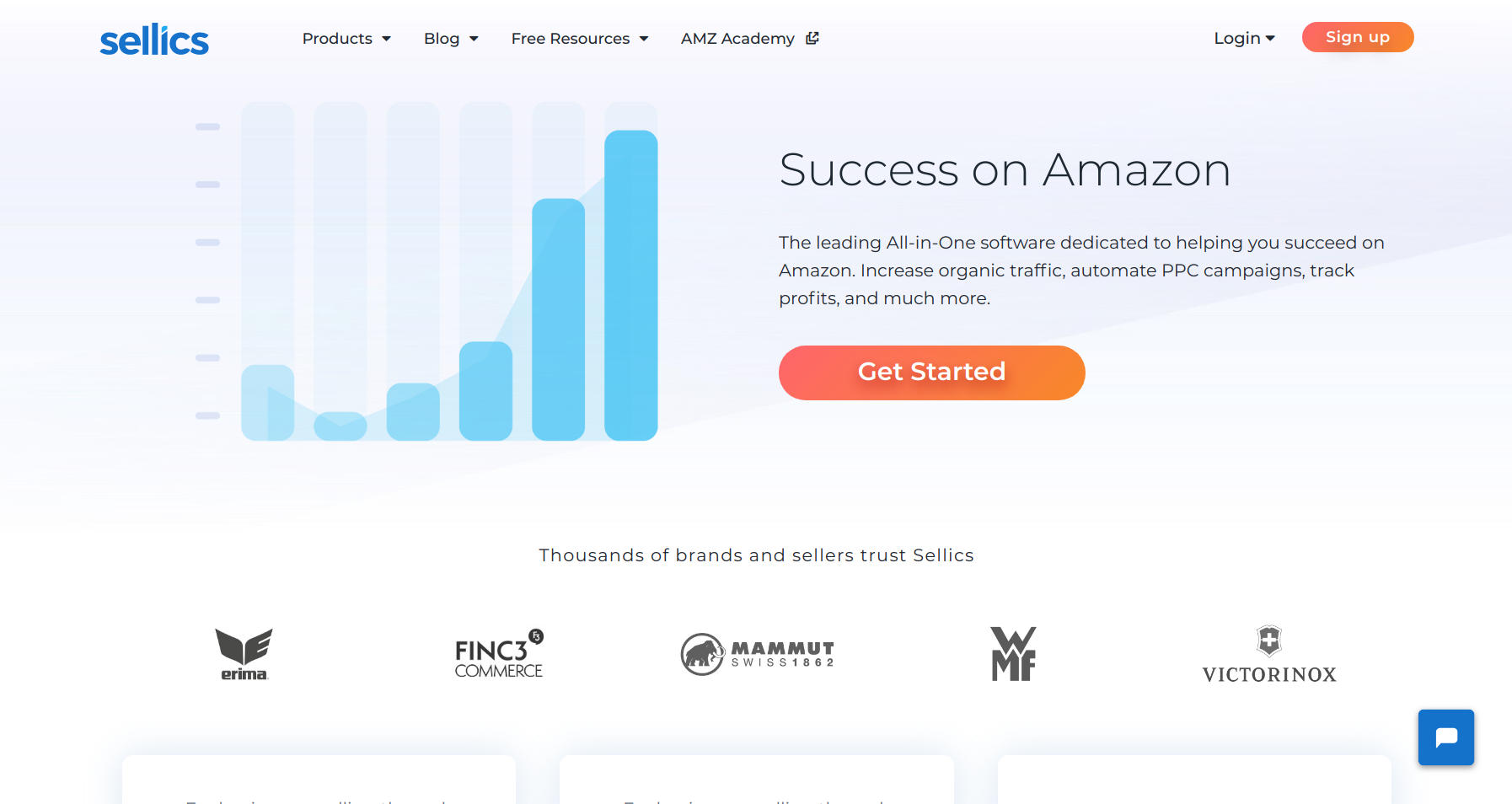 Sellics wants to break that cycle by providing Amazon sellers with all the tools they need in one place. It is essentially a one-stop shop for Amazon sellers that bundles three to five different analytics tools into one package. You can use it to optimize rankings, monitor competitors, manage reviews, track several performance metrics, and more.
Sellics Review: Overview
Founded in 2014, Sellics is a commercial analytics company based in Germany. It started out as a simple keyword ranking tracker then added several features over the years to become an all-in-one software solution for Amazon sellers. The company boasts several big names as clients, including Bosch, KW-Commerce, Chal-Tec, Private Label Journey, and L'Oréal.
Sellics provides two separate software platforms: a Seller Edition for Amazon sellers and a Vendor Edition for Amazon vendors. The Seller Edition, which is what this post covers, is exclusively for Amazon sellers with Seller Central accounts.
Sellics Review: Features- Overview
Amazon Sponsored Products/PPC Campaigns
SEO & Listing Optimization
Review Management
Keyword & Product Research
Competitor Research
Inventory/Stock Management
Sellics Review: Benefits
Sessions and conversion rates – the performance widget shows the sessions and conversion rate for all your products, which is a feature most tools don't have.
Good customer support – the support team can be reached via live chat or email. They respond to queries quickly.
Extensive knowledge base – Sellics has an online knowledge base that covers every feature with tips on how to best use the provided tools to grow your business.
Supports 8 Amazon marketplaces – Sellics supports several Amazon marketplaces, including the U.S., UK, Germany, France, Spain, Italy, Mexico, and Canada.
Variable pricing – your subscription fee is determined by your annual business volume. This is an improvement from their old pricing model.
Sellics Review: Editions
Seller edition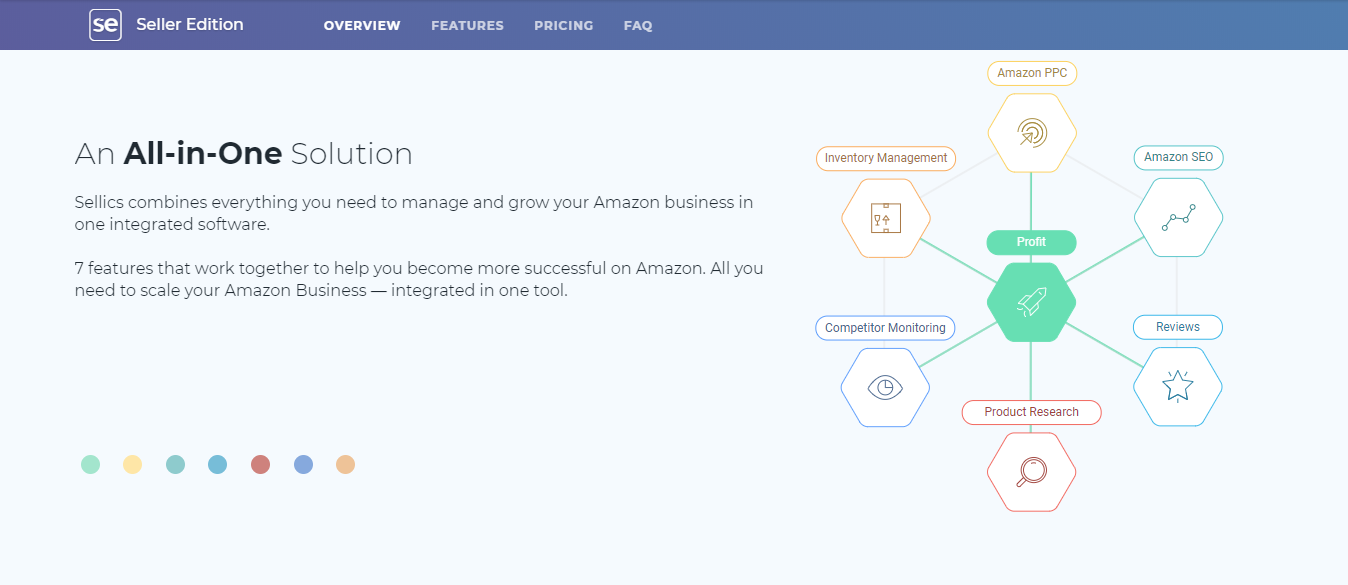 The Seller Edition is the integrated software that lets sellers manage their Amazon store better.
Profit Dashboard
PPC Manager
Amazon Ranking Optimizer Competitor Monitoring
Product Research
Review Management
Inventory Management
Vendor edition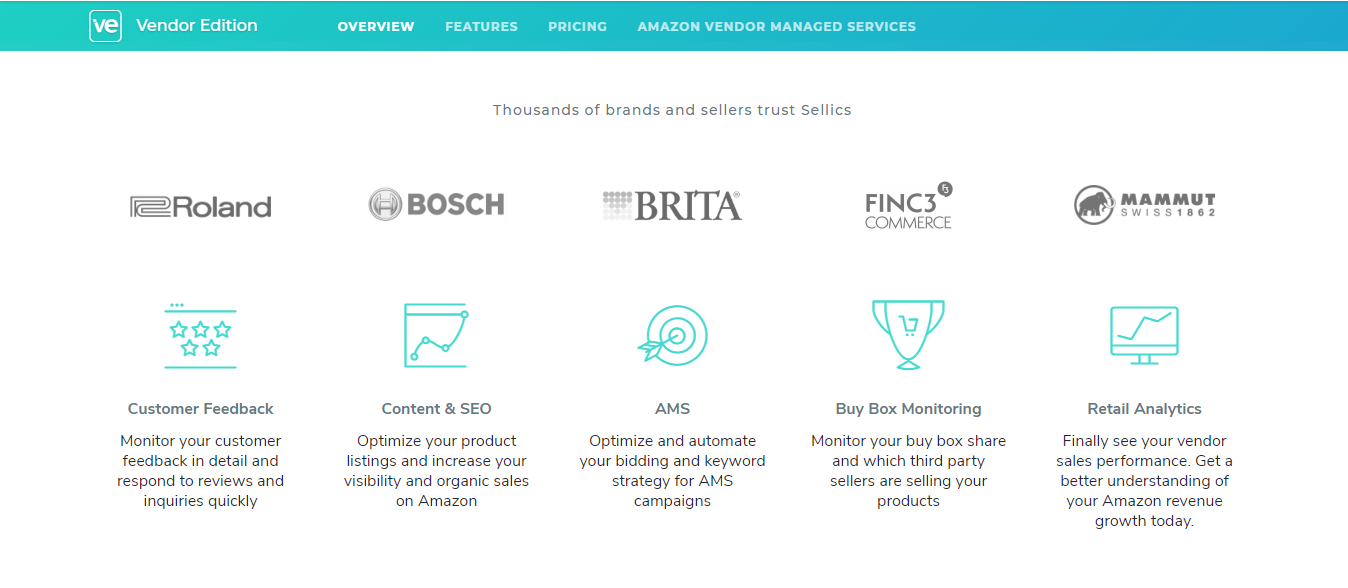 The vendor edition is for brands that need specific tools to take their Amazon business to the next level.
Customer Feedback
Content & SEO
Amazon Marketing Services
Buy Box Monitoring
Retail Analytics
Agency edition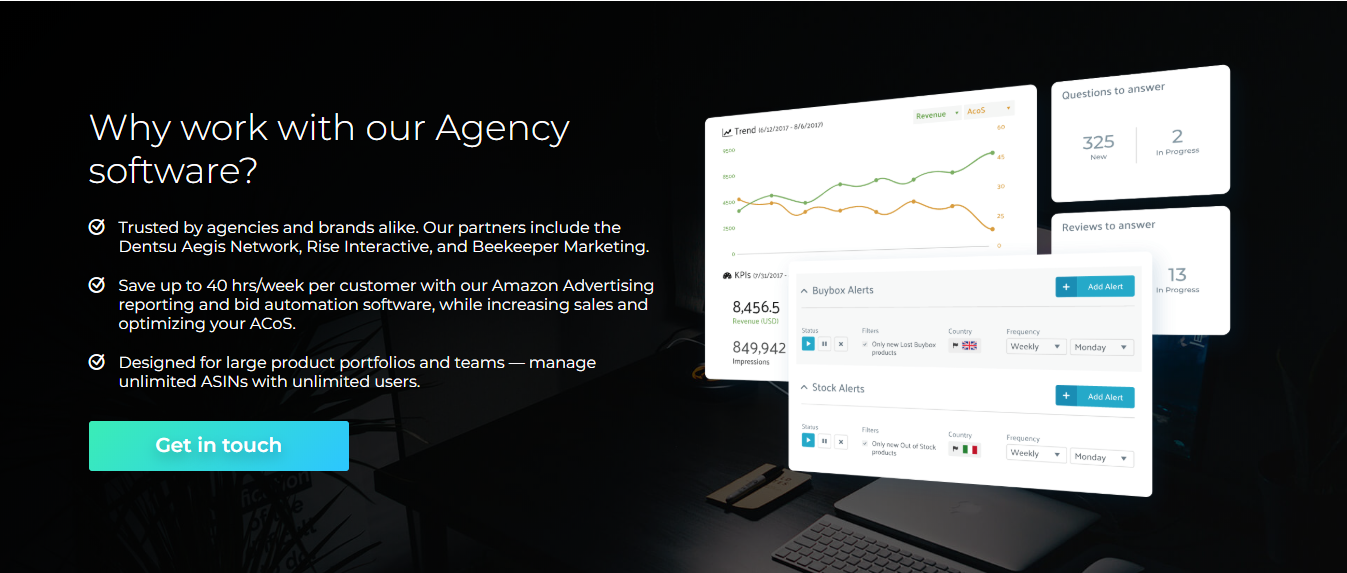 The Agency edition is designed for agencies that need a simpler way to manage seller and vendor accounts.
Amazon SEO
Amazon Advertising
Granular access controls
Client management
Aggregated data
Customer support
Agency Directory
Sellics Review: Amazon marketplaces available
Sellics is available for Amazon marketplaces:
US
Canada
Mexico
England
Germany
Spain
France
Italy
India
Sellics Review: Exclusive Features

As soon as you sign in to your Seller Account for the first time, you'll land on the main dashboard that can be easily switched between the spy tool, niche analyzer and product detector.
There is also the "cockpit" which is essentially a dashboard full of metrics, data and widgets, and a great place to get insights about your Amazon business as a whole.
Let's take a look at the individual features and tools:
Niche Analyzer

This is a fairly simple tool that analyzes the potential sales volume and strength of the competition within your chosen niche.
It's not a tool you'll spend a great deal of time in, but when you are considering entering a new niche or launching a new product it's invaluable, giving instant insights into:
How many sales the niche as a whole makes
How many sales the biggest players in that niche make
How difficult it will be for you to rank in the top keywords
How many sales you are likely to achieve if you do this
Product Detector

The purpose of this tool is to give you a detailed breakdown of the products that are currently listed on Amazon. Its main use is to find profitable niches with low competition. It's the most simplistic tool in the package and provides good value.
There are some filters that give you agency over how the products are sorted though, allowing you to order products by sales rank, number of reviews and more.
Keyword Rankings

This section is all about researching keywords, finding who's ranking well for what, and finding all of the possible keywords for your niche, including which ones have the most traffic, and which ones have the least competition. It provides you with search volumes of over 200 million Amazon keywords, and can also track your products ranks over time in order to see what works and what doesn't in terms of your listing optimizations and other improvements.
Inventory Management

Inventory management can be one of the biggest hassles for an Amazon seller, especially if you have a broad range of products across multiple manufacturers and multiple Amazon marketplaces.
This tool puts all of your stock information in one place and allows you to calculate the ideal reorder dates and receive alerts when it's time to replenish stock based on current inventory, production and delivery time, and sales velocity.
This is one of our favourite Sellics features and makes juggling multiple product ranges as easy as it could reasonably be.
PPC Manager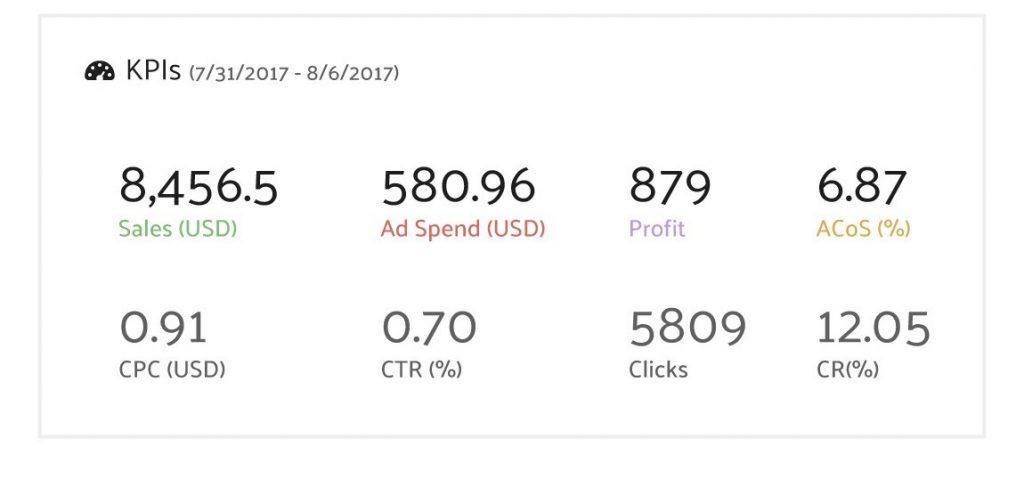 The PPC manager pulls data and metrics from your Amazon Sponsored Products campaigns and allows you to analyse and optimize them from within Sellics. It also alerts you of keywords that aren't performing well and suggests alternatives based on search volume and impressions, which is a nice touch. It also has some basic automation functions that allow your bid prices to adjust themselves based on their performance.

Profit
Sellics' Profit dashboard provides running totals on all your profit margins that are updated every 5 minutes. You can manually input the individual unit cost of your products and any other cots from outside of Amazon such as inspection services etc.
Profit Dashboard will then automatically deduct all costs that are from Amazon, including:
Amazon fees
PPC costs
FBA fees
Shipping fees
…and anything else that's relevant, allowing you to easily and quickly check your profit margins and discover which products are your biggest moneymakers, and which are potentially not worth continuing with.
It all works seamlessly and updates constantly, and we think this is one of the most impressively executed parts of Sellics.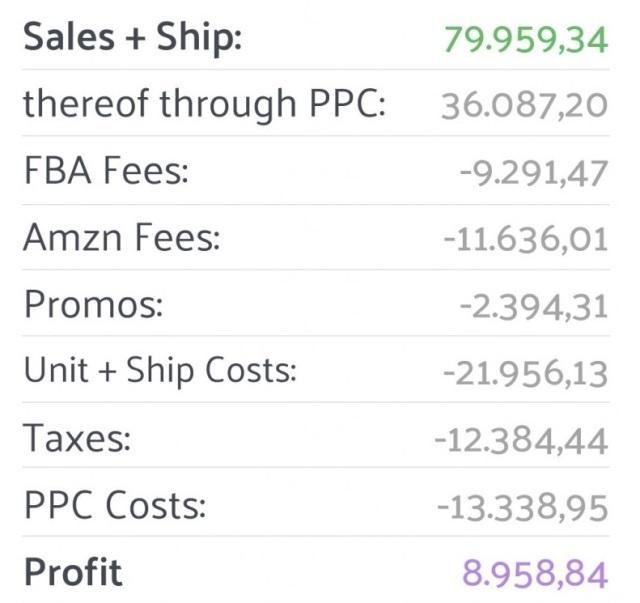 Review Management

This tool works like a simpler version of Feedbackwhiz. It gives instant notifications and alerts for negative reviews, allowing you to rapidly take action to defend your brand with a single click.
Sellics Review: Customer Reviews:
"Sellics has been an excellent tool for us to keep track of our sales, inventories, and campaign managing. It allows us manage our Amazon sales, campaigns and inventory in a much easier manner. The mobile application also gives us useful information to keep track of our business."
By Komykon (verified buyer)
"So far the web software delivers well! I am more confident on my PPC."
Chriz Pangilinan (verified order)
"Sellics is awesome. I can keep track of my earnings The interface is very intuitive and the set of tools are the most important you need to grow the business and increase profits. I really like how I can see if I'm making a profit or not. Many Amazon sellers lose money because they spend too much on advertising and thanks to Sellics I am not one of them anymore."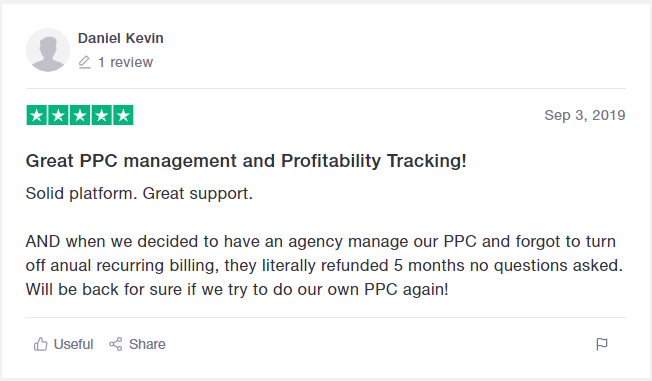 Sellics Review: Customer Support
Sellics customer support can be reached via email or live chat (the chatbox is in the bottom-right corner of the main page). Depending on your timezone, you won't have to wait more than half a day for answers to any queries you send on working days (9 a.m. to 6:30 p.m. CET). The support team is very responsive.
Sellics Review: Pricing
The Sellics pricing scheme has multiple price points, depending on the amount of annual Amazon sales. Monthly pricing for the Seller Edition ranges from $57-$317, depending on whether the user opts for a Monthly Plan, a Biannual Plan, or an Annual Plan.
It also offers products for Vendors (starting at $149) and Agencies (custom priced). The Vendor Edition's pricing depends on the modules covered, such as customer feedback, content, and SEO, Buy Box, retail analytics, and AMS campaigns. Additionally, fees are determined by the numbers of Amazon marketplaces and Amazon Standard Identification Numbers (ASIN) included.
You can test and review all of the available features for free for 14 days (no CC required) before purchasing a plan. Once the free trial ends, you can choose a subscription plan. They use a variable pricing model that charges you based on the volume of products you sell. Sellics recently changed their pricing model as it previously used a credit system for keywords or products tracked, which ultimately proved very confusing and put people off the software as they couldn't understand how it worked.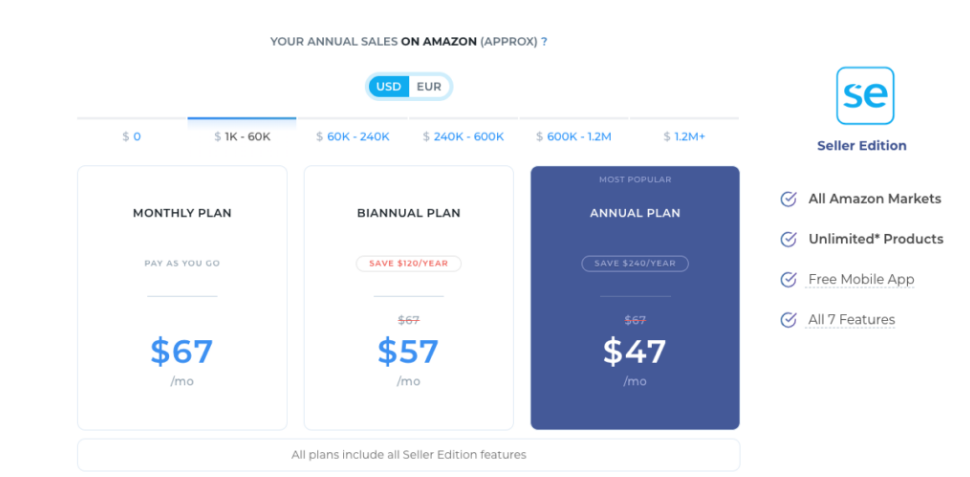 Sellics Review: Competitors
Reviewbox
They help manufacturer brands monitor key e-commerce data on Amazon, Walmart, and other major retail sites. Our software will track the following information daily on a per SKU level:
Product reviews on Amazon and most other major retail sites
User questions on Amazon and most other major retail sites
Buy box (merchant, availability), 3P prices, and sales rank
Product content (title, images, bullet features, A+ status)
Search rank position
Once signed up, you'll be able to access the raw data and also get timely notifications. Key features include:
Email alerts for new reviews and questions with ability to filter reviews by stars for the entire team
Ability to set MAP prices and get alerts when prices are violated
Ability to export all data (reviews, questions, prices, search)
Feedvisor
Introducing the "AI-first" optimization and intelligence platform for large sellers and brands on Amazon. At the forefront of retail innovation, Feedvisor clarifies complex market dynamics into moments of insight and action that enable marketplace sellers' and brands' competitive advantage. Leveraging data intelligence and automated action in a platform of unparalleled depth and scope, Feedvisor drives seller success at every e-commerce touchpoint.
From an algorithmic repricer revolutionizing marketplace selling, to recent innovations in advertising and inventory, we offer sellers business-driving clarity and control. Every solution advances our dynamic and powerful platform—constantly expanding our master suite. Leaders in technology, Feedvisor stays ahead of evolutions in e-commerce to empower marketplace sellers and brands.
JungleScout
JungleScout is product hunt tool that will help you in choosing a profitable niche on Amazon along with finding Amazon Products that can bring more sales conversion. JungleScout do this process simply by allowing you to access the Amazon sales database right with the help of Google Chrome Extension or Web App.
JungleScout provides best resources for the data-driven product research. JungleScout will minimize the risk of failing along with maximizing the profit. You can sign up using this link.
Summing Up
Sellics is great because it bundles every analytics tool you'll need to profitably sell on Amazon in one neat package. It provides you with all the data and performance metrics you need to grow your Amazon business, with options to dive deeper and gain further insight from key performance indicators.
If you want an analytics dashboard that provides you with the approximate profitability of your products coupled with handy features like a PPC manager and ranking tracker, Sellics is the way to go. It also firmly wins in our comparison between Sellics and AMZ Tracker. The pricing model can be confusing at first but for most new Amazon sellers, you'll be paying $57 to $97 per month.
The main drawback is that you must connect your Seller Central account to use most of the features Sellics provides. If you're only starting out and don't have a Seller Central account, then Sellics is not the right software for you. In this instance, we would recommend using Jungle Scout over Sellics if you are still in the product research phase. It can make product research less of a chore and drastically improve your chances of finding a profitable niche.
For those further down the road with their Amazon business, Sellics is definitely worth giving a try. You can sign up using this link.