Splitly Review: Best Amazon Listing Optimization Software 2020
Whenever you hear the term SEO, you relate it to Google right away. But contrary to this popular belief, there are countless other sites which have their search engines and the most common example of such search engines is Amazon. It acts as a search engine when it comes to online shopping, and in this category, it is considered to be higher than google with about 200 million products. Thousands of sellers like you are joining the platform of Amazon to expand their businesses into the virtual marketplaces which are currently in vogue. Shoppers who purchase these items listed by the sellers visit Amazon and eBay and search for their desired choices in the search option, and this makes Amazon one of the best search engines of online shopping.
So Amazon SEO is a real thing, and it involves that your listing should acquire a high rank in Amazon's search results whenever a buyer searches products of your brands or similar brands. The Amazon SEO also resolves to optimize the listings of the sellers so that the shoppers turn into conversational leads, therefore, increasing profits of the sellers.
But what will sellers have to do to ensure that their listings have an excellent SEO score? They don't have to do anything by themselves, only relying on a listing optimization tool will end all your woes.
Luckily for you there exist listing optimization tools such as Splitly which enables you to compare your listings with a preset listing score which will help you to know whether your listing is optimized as per industry standards. If you are a new seller and you are feeling lost n the vast ocean of SEO, then no need to worry because this amazon tools for sellers will tell you the areas of your listings you should focus on to make it optimized.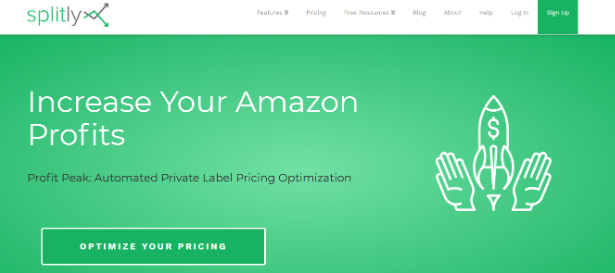 Splitly is an A/B testing tool designed to benefit eCommerce sellers by maximizing their profits. The sellers who are dealing with FBA or fulfilment from Amazon can use this tool to gain a competitive edge over their rivals in the virtual marketplaces. If you are into FBA, then you would know how sellers change the image, and description of products, it is Splitly which after considering these determines which variation is the best by running it on Amazon's performance reports. This Splitly review would tell you more about the features, USPS of this listing optimization tool.
Why Should You Do Listing Optimization When Selling Online?
If you are a seller on platforms like Amazon, eBay, Shopify then you know the power of the platforms as well as competition there. It is owing to this fierce competition, that nowadays sellers should know about listing optimization opportunities and use it to beat their rivals.
No one will tell you this, but listing optimization is the backbone of running a successful eCommerce business in 3rd party platforms like Amazon. As your sales are directly proportional to the number of clicks your product gets, it is crucial to have an effective listing optimization strategy.
You will have to admit the fact that success does not come easy, especially when you are selling your products alongside several other sellers selling similar products. To guarantee long-term sales, sellers need to do a ton of things correctly, and among them, one is listing optimization.
You might wonder why you would engage in listing optimization? There are a ton of reasons, and all of them are related to a significant boost in your revenue!
Smart and professional listings– Do you know that if there are underlying errors in your product listings and Amazon finds it, it can even block your seller account? Also, if the errors are not that critical, and Amazon does not block you, it can suppress your listings so that it does not appear in the search results. So to make your listings smart, professional and error-free with every component up to the mark, you can make the most of a listing optimization tool like Splitly.
Drive more conversion– When you will start using a tool like this, the tool will run tests on your listings to make your product images and descriptions catchy. As it also improves the product layouts, customers have a better view of your product on their screen. The first image is also chosen strategically so to make the overall view of your products impressible. When your customers like what they see on your product pages, they are most likely to click on the 'buy now' option. With more and more customers visiting your product pages, you will have an increased lead, and if your pricing and reviews received are in order, it will automatically lead to more conversions.
Competitor analysis– With the help of the Amazon keyword analysis, you will be able to know the keywords most frequently used by your competitors to drive more traffic into their product pages. This way, you can determine the high volume keywords which are ranking high in SEO so to use them in your product listings. You would not be able to accomplish the keyword research without using a keyword tool, which is also a listing optimization software. When you begin to use a keyword research tool to understand the keyword ranking high in SEO, the tool will drive results directly from Amazon.
Splitly Review: Product Features
Splitly delivers a host of attractive features to help the sellers make maximum profit by selling their goods on Amazon:
Testing prices to see how it impacts your conversions and sales.
After running split tests, which is the USP of Splitly, it checks the increase in sales due to it.
The software enables sellers to upload numerous images, titles and descriptions for a single product so that the tester can choose the best among those and use them in the product page of the seller.
Helping sellers to generate more sales and long-time revenue for their businesses
The features of the tools work by determining the ideal price which will fetch you more customers and profits at the same time.
Keyword rankings to help you determine the keywords used by your rivals in their product listings
The automatic pricing optimizer will set prices automatically after considering industry standards without needing your intervention.
The alerts would also let you know which areas of your listings need improvements to rank high in the search results.
Now sellers would be able to sleep while the software figures out their supply and demand ratio effectively.
How Splitly Works?
To ease the burdens of the sellers looking forward to gaining a competitive edge over their rivals, developers have designed an all-in-one tool called Splitly with several definitive features. Numerous splitly reviews have revealed that Splitly will erase all the woes of the sellers owing to its effectiveness and ease of use. But, before you wonder more about the reviews, here is the modus operandi of Splitly described in detail.
Split testing- Splitly is not only an A/B testing tool, and instead it allows split testing, which is basically running two things side by side, comparing the conversion rates and then selecting the best option. The split testing conducted by Splitly is even better than this as it employs Artificial intelligence by running different titles, descriptions, images with or without your intervention, and recording the consumer behaviour. Once it has gathered enough data to understand which plan is the most favourable, it will continue to run that, and this will automatically increase your traffic leading to a boost in sales.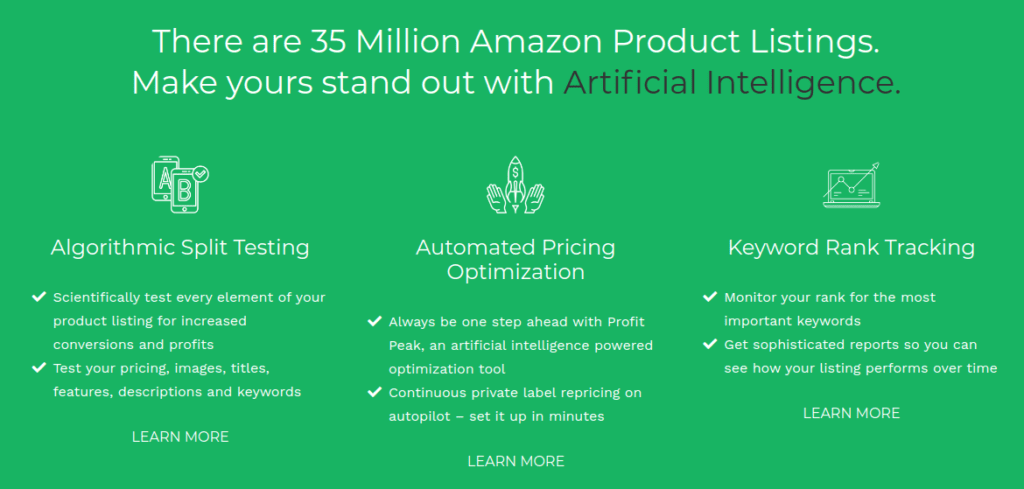 Profit peak- If after using Splitly for a while you seem to be content with your listings and therefore prefer not to run split tests on it anymore, but you want to continue with the price management functionalities, then Splitly will offer you the automatic pricing optimizer. This feature is highly crucial because it ensures that your prices will be attractive to customers while fetching profits for you. Also, without this, you will always have to worry about tweaking your prices on the slightest pretexts. Splitly will always take care of it, without even your input. This particular feature will also help you with inventory management as it automatically drives in your demand and supply data. If the supplies of your products, as well as those of your rivals', are found to be lower with the demand being high, it will automatically hike your prices a bit.
Keyword rank tracking- In case you are considering purchasing a separate keyword ranking solution, you do not have to do so as it is one of the additional features of Splitly. It updates you regularly about the accurate keyword rankings of your products as well as those used by your competitors in their product listings. The historical ranking will give you an overview of the performance of your keywords over time. This is included alongside the above functionalities because then you can see how your listing optimizations are resulting in your ranking in the search results. For example, if you compare two listings and Splitly chooses one for you it tells you that the chosen one is not only the best in terms of customer engagement parameters, but it is prefered by Amazon's algorithm as well.
SplitlyTools and Solutions for Amazon, eBay, and Walmart Sellers
Split testing to run and test two plans at once to determine the best
The keyword ranking solution helps the sellers in determining some of the high ranking keywords used by their rivals.
Price management to determine the feasible price to attract customers.
Inventory management to handle supply and demand.
Automated price optimization to ensure that your profit remains at peak at all times.
Supports numerous virtual marketplaces
Splitly Review: Advantages, Pros, and USPs
In a competitive niche, the split test helps you to maximize your profits over the long run.
The customer support team is great and comply with any requests made by the sellers.
The keyword ranking solution enables the sellers to scale up the SEO strategy of their product listings.
The pricing is reasonable as compared to the ton of benefits owed by this listing optimization tool.
Thanks to the useful tests of Splitly, you will be able to rank higher now.
The platform of Splitly is completely secure, so your data will be safe with them.
Splitly Review: Pricing Plans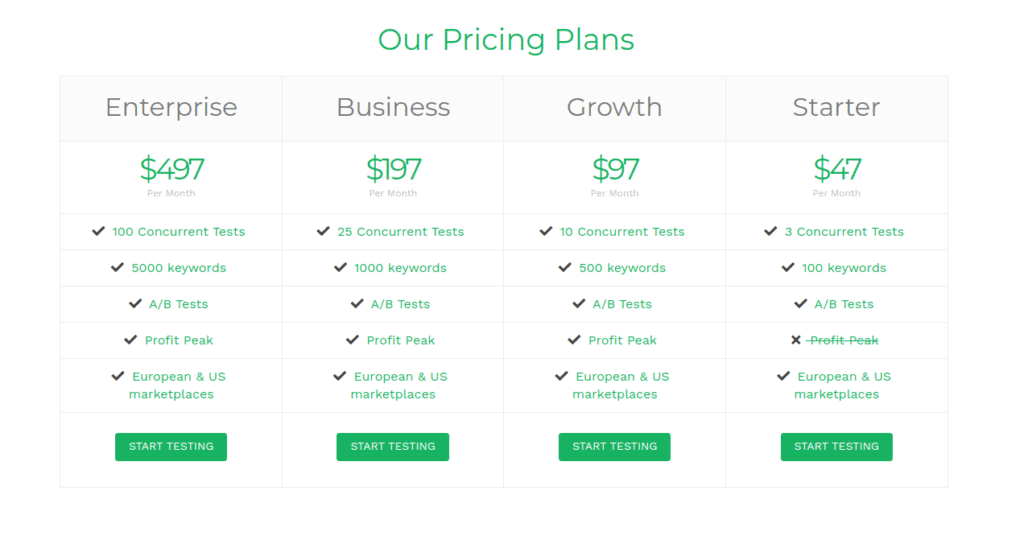 Splitly offers four pricing plans for the sellers of virtual marketplaces:
Enterprise- $497/month
100 concurrent tests allowed
5000 keywords tracked
Business-$197/month
25 concurrent tests enabled
1000 keywords suggestions
Growth-$97/month
Ten tests allowed
500 keywords allowed
Starter- $47/month
Three concurrent tests allowed
100 keyword suggestions given
No profit peak functions.
Splitly Review: Coupon Codes
Splitly offers numerous splitly coupon codes with a minimum 10% off at a regular basis.
Splitly Trial Plan
Splitly does not offer any free plan, but instead, it enables users to get a full refund within 14 days of purchasing any plan, in case he/she is not satisfied with the services.
Splitly Alternatives and Competitors List
Reviewbox
A2X
inkFrog
DataHawk.co
Sellics
Jungle Scout
Feedvisor
Helium 10
AMZ.One
Camelcamelcamel
Merchantwords
Informed.co
Terapeak
SellerApp
Monsoon Marketplace
Vendio
Viral Launch
SellerExpress
Conclusion
Splitly is a fantastic listing optimization tool because rather than offering just A/B tests, it conducts split testings which help sellers to determine the best plan for them by checking the results beforehand. This amazon fba analytics software makes the most of the recent AI trends to allow you to create several projects at once with different pictures, layouts, descriptions of the same product listing. Splitly also runs tests on pricings to develop a price that can allure your customers and guarantee you high earnings.
So, if you don't want to be left-behind amidst the vast swarm of sellers in virtual marketplaces, then you should try out a standalone tool like Splitly.