Unicorn Smasher Review – Best Product Research Tool for Amazon, eBay Sellers 2020
Do you want to make huge money as a seller on Amazon and other giant virtual marketplaces like eBay? Then, you should start conducting market evaluation, because there are no substitutes of it. So, before diving into the huge crowd of sellers like you for a full-time career opportunity, sellers should make a note of proper market research. Newbies at times prefer to take up arbitrage selling because it does not call for an initial investment or an inventory to store the goods. But if you have what it takes to be an entrepreneur, you should live your passion as a retail seller on Amazon as well. It is not only you but every Amazon seller, regardless of the size of their business, has gone through the difficult time of determining whether they are choosing a bankable product. Although it might not sound much of a deal, in reality, not knowing about your moves or being unsure about your business decisions will be scary. But after putting on the suit of a business person, you should not give up nor allow yourself to be beaten up by your rivals. Therefore, you should plan everything, so to stand strong and grab as many loyal customers as you can, because, without customers, your business would be reduced to nothing! There are a ton of things which fall under product and market research including, seller fees, selection of products, brand restrictions, competition. Now when an eCommerce seller has to look at all these factors, things get overwhelming and major errors to start creeping in. So to relieve yourself from such stress, and get actionable insights about your business, you can rely on the solutions of Unicorn Smasher Amazon.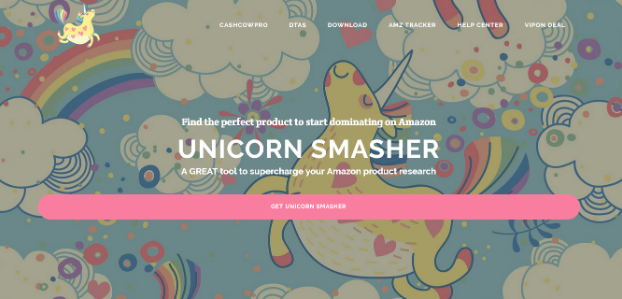 Unicorn Smasher is a product research software developed by AMZ tracker. It offers various metrics related to eCommerce selling, including market analysis, sales estimates, competitor analysis. Unicorn Smasher works by reading information from a specific product page on Amazon to source in-depth product-related information, from the category and price of the product to the number of sellers selling that product. It offers secondary data such as where the main product is located, the number of ratings and reviews received by the product. It also checks whether the product complies with the rules of FBA or Fulfillment by Amazon.
To find out whether Unicorn Smasher will cater to your eCommerce business requirements, read this Unicorn Smasher Review.
Why Should You Do Product Research when Selling Online?
Before we discuss why it is essential for every eCommerce seller to conduct product research, let us define the term 'product research'.The ultimate aim of performing market research is to find winning deals to enjoy maximum profits. In a nutshell, product research involves analyzing market trends to be able to determine the products one should invest in boosting their ROI. You can also think of it as the way to find cheap but highly demanded products which you can resell to enjoy the price difference.
If you still are not convinced, then here are some of the reasons telling you the importance of doing product research:
To find the best products to sell
Once you have decided to make your career as an eCommerce seller, you would have to determine which of the products you want to sell, accurately. Because it is not a wise decision to sell any product you come across and then incur losses. The best products to sell should be high in demand while having minimum competitors. Finding such a product might be difficult at first, but if you don't succeed in finding such deals, you would never be able to enjoy the profits of your desire.
Checking the top products list
With the competition increasing with each day and the application of various stringent policies for the sellers in Amazon, the old tricks of finding a suitable product are not going to work for you. After you have selected a category of products you desire to sell, you will have to go through the list of the top-selling products so that you can look forward to trading these products. After that, you will have to go beyond and see whether similar products are selling at the same rate. This step is imperative because you would never want to buy and sell products which people don't want to purchase, do you?
Check what your competitors are doing.
Only selling goods which are supposed to sell like hotcakes owing to their competitive price and quality, will not prove to be sufficient for making profits. You will have to stalk the business moves of your rivals to succeed, and although this sounds pretty easy, in reality, it would take a lot of time and efforts to analyze the business strategy made by your rivals. By conducting product research, you would have a thorough outlook about their sales numbers, the keywords used in their listings and other important metrics associated with online selling.
Until and unless you become completely sure about the lists of products you would buy and then resell to enjoy considerable profits, all with the help of product research, things are not going to be easy for you. Also, since complete product research is practically impossible for any human being out there to do manually, you are going to need the help of a product research tool like Unicorn Smasher.
Unicorn Smasher Review: Product Features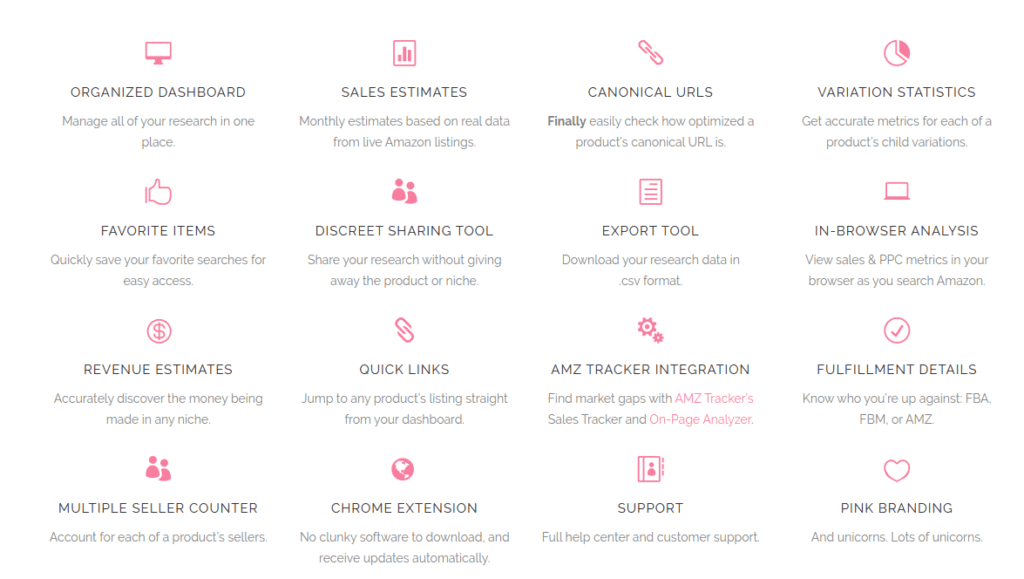 Be it information about product ranking, pricing, sales review and ratings or estimates sales rate; Unicorn Smasher offers accurate real-time data to help sellers stay updated.
You would now easily get accurate information about sales and revenue of all the products available on Amazon just with the help of Unicorn Smasher's advanced functionality.
The platform is super easy to use, and by navigating, you would come across the dashboard, where you will be able to manage the search of your desired products by filtering them with a set of keywords. You can even save products here for future research purposes.
As the AMZ tracker team designs the tool, sellers would be able to hunt for profitable opportunities among numerous other products available.
The tool comes in the form of an extension and is equipped with various features which make searching for any product simple.
Sellers can also view the opportunity score generated by the tool, which will tell them which products would garner them a considerable revenue amongst similar others.
If you are keen to research on some actual data, then you can make the most of Unicorn Smasher because it enables users to export the results in a CSV file which can later be opened in spreadsheets for advanced analysis.
To make the task of searching products apt for beginners, the tool allows you to strain the results by using umpteenth features like profit estimate, sales price, variations, number of sellers, to name a few.
How Unicorn Smasher Works?
Although not much is known about how the tool does what it does, you can understand the basics by learning how to use this tool, because, for the first time, things might get overwhelming.
Follow these steps to embark on your journey of becoming a successful entrepreneur with the assistance of Unicorn Smasher UK.
Go to the official site and fill in your details and credit information to use the paid version of Unicorn Smasher. But if you want to try the free option first, then download the extension from the Google Chrome store.
After you have installed it successfully, you will have to start by searching for products. To do so, enter a keyword in the search bar, and within a second you would see a complete overview of the products appearing in the results with their name, price, ranking, variation, category, number of sellers.
If you want to check out more results, don't forget to check the next page. One of the best features of Unicorn Smasher is that it lets you export your search results in excel sheets so that you can analyze and give it a thought before making any purchase decisions.
If you are using the paid version, you can also add the search results in the dashboard for future analysis.
To speed up your searching process and to help sellers locate their desired products easily, Unicorn Smasher allows sellers to use a ton of filters including ranking sales volume, Amazon FBA, reviews and ratings, number of sellers selling the product.
Unicorn Smasher Tools and Solutions for Amazon, eBay, and Walmart Sellers
Organized and formatted dashboard where you can view all your research data.
Accurate sales estimates and historical sales data based on information derived from numerous live projects.
Canonical URLs are available to end the confusion of sellers about two URLs belonging to the same product.
Unicorn Smasher offers variation statistics to help you determine whether the prices of your desired product are fluctuating too much so that you can prevent yourself from making bad investments.
Huge data can be exported via.CSV files for sellers who don't have provisions on storing it in the platform.
As you will navigate through Amazon, you will get browser analysis in the form of PPC metrics or sales estimates.
Unicorn Smasher employs a matching algorithm to give you accurate information about the revenue you can make in trading products by filtering out expenses associated with it.
Chrome extension sends you real-time updates anytime and anywhere.
To accelerate your product search without getting confused by additional information, use the quick links feature to visit all the product listings right from your dashboard.
The AMZ tracker integration would let you use two tools, sales tracker and on-page analyzer, and with the help of these, you can track items of your preference effectively.
Unicorn Smasher Review: Advantages, Pros, and USPs
Let us see what do customers like about this tool:
The features, although advanced, are super easy to use.
It is available in the free version as well as the paid version.
Offers detailed information about products complete with its price, revenue estimate, sales rank.
The dashboard is super effective in organizing, managing and storing all of your search results in one place.
Sellers can export their search results data via.CSV so to continue with their research in the future.
Offers an opportunity score for every product you search so sellers can get the idea of how profitable the deal would be.
Unicorn Smasher Review: Pricing Plans
The paid version which also goes by the name of Unicorn Smasher pro, is priced at $49/lifetime license. All the features mentioned in this Unicorn Smasher Review are available in the pro version and the information sourced by the tool for sellers subscribed to this pricing plan are pretty much accurate when it comes to revenue estimates and sales rank of products available on Amazon.
Unicorn Smasher Review: Coupon Codes
You would require no such promo codes to use Unicorn Smasher as it offers a completely free version as well. In case you want to buy things from Amazon after becoming a Unicorn Smasher subscriber, you would find a ton of promo codes offering huge discounts on selected goods.
Unicorn Smasher Trial Plan
The best thing about Unicorn Smasher which does not force the user to look for any Unicorn Smasher alternative is that one can enjoy it without even paying a penny. And even in the free version, a seller would be able to employ most of the functionality promised by Unicorn Smasher. However, according to most users, the pro version offers the most accurate results, but if you are starting your eCommerce business, the trial version would be right for you.
Unicorn Smasher Alternatives and Competitors List
The similar tools and software giving a tough competition to Unicorn Smasher are:
Jungle Scout.
AMZScout.
CashcowPro.
AMZShark.
Helium 10.
Profit Scraper.
Teikametrics.
Stitch Labs.
ASINspector.
KIPRT.
Scope.
Shopkeeper.
AZ Gismo.
BigTracker.
Conclusion
If you want a touch of Unicorn goodness to light up your eCommerce business, then you should at least try out the solutions of Unicorn Smasher, as it would not have to invest even a single penny. If you get impressed by the performance of the free version of Unicorn Smasher, then investing in the paid version is worth a try. But until then, you should make the most of all the tools offered to you by this product research software for absolutely free of cost.