Last updated on January 18th, 2023 at 05:39 am
A cryptocurrency is a virtual or a digital currency secured with the help of cryptography, making it impossible to counterfeit or double-spending. It runs on a series of blockchain technology on a decentralized network generated by computers, which manages and records transactions.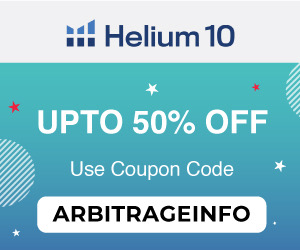 Cryptocurrencies have come a long way since their inception, and currently, more than 6,700 cryptocurrencies are dealt with and traded publicly. Also, there has been a sharp increase in the value of cryptocurrencies, which raises money through initial coin offerings, generally known as ICO.
A recent report by CoinMarketCap says that the total value of cryptocurrencies stands at more than $2.2 trillion. Bitcoin's value, the most popular cryptocurrency presently, is at about $1.2 trillion. You might wonder why cryptocurrencies are all the rage in this modern 21st century; well, there are many reasons:
People who swear by cryptocurrencies consider them the "Future Currency" and hope that they will become valuable in the future if they buy them now.
There are also no issues reducing the value of cryptocurrencies as no central banks are involved in their dealing and trading.
It is more secure than traditional payment systems as cryptocurrencies work on blockchain, decentralized processing, and recording system.
Cryptocurrencies are going up in value, generating buyers' interest in their procurement.
So now that you know what cryptocurrency is let's talk about crypto arbitrage! Crypto arbitrage is a tactic for profiting from an asset's fluctuating price on different exchanges.
Simply defined, the crypto arbitrage approach is when we acquire a crypto asset at a lower price on one exchange and sell it for a greater one on another.
Benefits of Taking a Crypto Arbitrage Course
There are various benefits of taking a crypto arbitrage course, like:
Easy Profits: Crypto arbitrage outperforms many other trading strategies in terms of profit realization speed. This is because profits are made as soon as the transactions and trades are completed since price discrepancies are exploited over such short intervals.
Volatile Nature: The persistently high levels of volatility that cryptocurrencies, including Bitcoin, have been operating for over a decade display one of the reasons for their popularity in the trading world. Cryptocurrencies' decentralization and proof systems help maintain high volatility by ensuring varying supply and demand levels.
This volatility is advantageous for crypto arbitrage since the more prices vary, the more potential markets exhibit contradictory rates.
A plethora of Opportunities: Cryptocurrencies offer a diverse set of arbitrage opportunities. With over 500 exchanges and over 4,000 cryptocurrencies worldwide, there's a good chance that altcoin arbitrage possibilities may arise.
Ever-present competition: Despite their growing popularity and notoriety, cryptocurrencies are currently traded at a far lower rate than fiat currency. This means that crypto arbitrage faces less competition than other, more widely used financial instruments.
Price Disparities: The extent of the price discrepancies that occur is a distinguishing aspect of crypto arbitrage vs. ordinary arbitrage. Inconsistencies in digital money typically run from 3% to 5%, but there have been times when opportunities have been as great as 40%.
7 Best Crypto Online Arbitrage Courses: 2023 Edition
Here is a list of some of the best crypto arbitrage courses you can take online and build a strong cryptocurrency profile.
1. The Complete Cryptocurrency Course: More than 5 Courses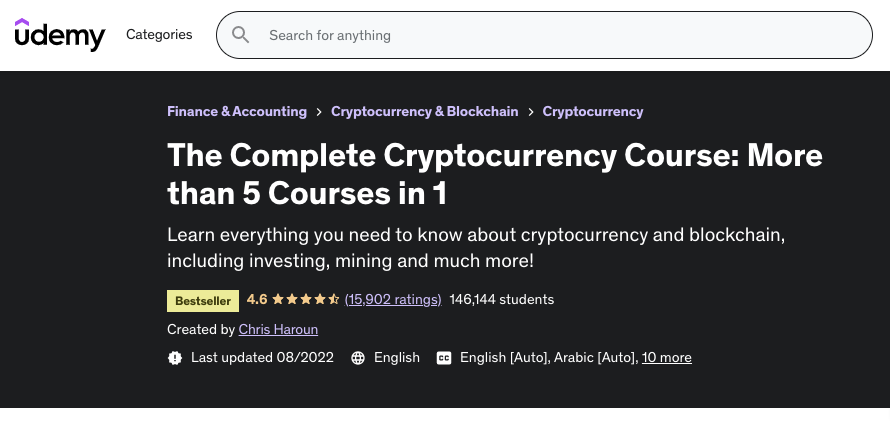 This is a 24 Hour comprehensive, COMPLETE Cryptocurrency Course! It is the most thorough cryptocurrency course available ANYWHERE on the market – or your money back (30-day money-back guarantee). This course and the many exercises in this course are for beginner or advanced users in any country! >140,000 students have taken this course.
By an Award Winning MBA professor who is a top-selling online business teacher, top-selling author, former Goldman Sachs employee, Columbia MBA (finance major), and venture capitalist who has invested in and sat on the boards of cryptocurrency companies since 2013, and a hedge fund industry veteran and founder. He is also the author of the #1 best-selling business course on Udemy.
Upon completion of this course, students will be able to invest, mine, trade, and thoroughly understand cryptocurrencies.
Understand what makes a significant cryptocurrency a great long-term investment
Understand what are the biggest mistakes new investors make in cryptocurrencies.
Know how to watch out for scams and manage risk
Learn tools to be able to identify the next great cryptocurrency (what to look for & watch out for)
Learn how to read charts
2. Trade and Arbitrage effectively with XRP Course.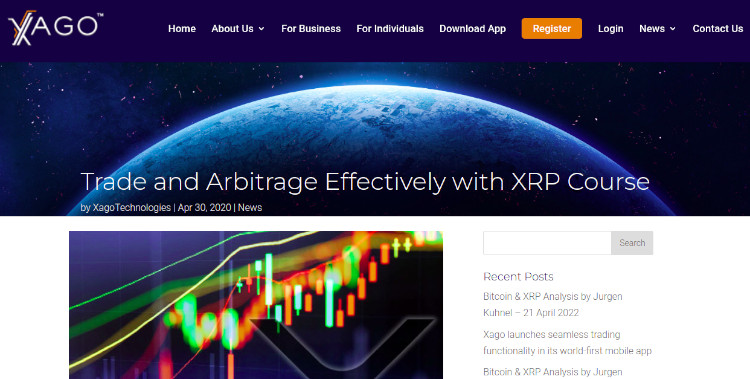 This digital currency arbitrage course will give participants the tools, strategies, and tactics they need to trade and arbitrage efficiently on safe and well-known local and worldwide cryptocurrency exchanges.
The teacher will conduct actual trades in the classroom, and students will leave knowing how to place their transactions on an exchange safely and securely.
This crypto arbitrage course aims to impart knowledge of bitcoin and XRP, and the differences between the two leading cryptocurrencies will be explained to attendees.
As a newcomer to this course, you'll be able to contact the teacher for additional assistance following the course to ensure ongoing support (a small fee may apply depending on the amount of time required).
3. Crypto Trading with Quant Connect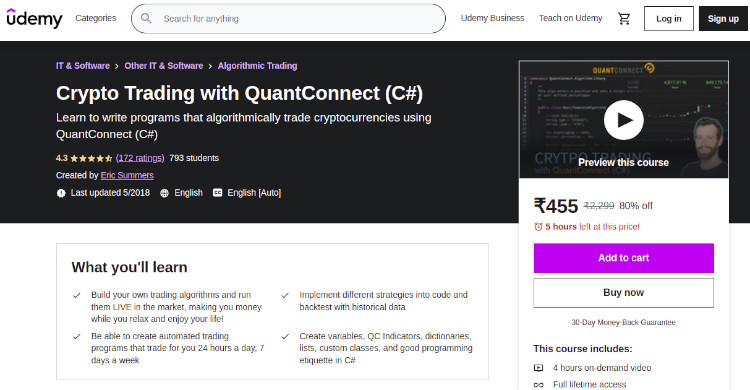 This cryptocurrency arbitrage course is created by Eric Summers. It will teach you how to build your trading algorithms and run them LIVE in the market, making you money, create automated trading programs that trade for you 24 hours a day, seven days a week, implement different strategies into code and backtest with historical data, create variables, QC Indicators, dictionaries, lists, custom classes, and good programming etiquette in C#, and much more.
This course has over six hundred students, a rating of 4.7 stars out of 5, and is available at a discount of eighty-three percent!
4. Cryptocurrency Trading Bot with a User Interface in Python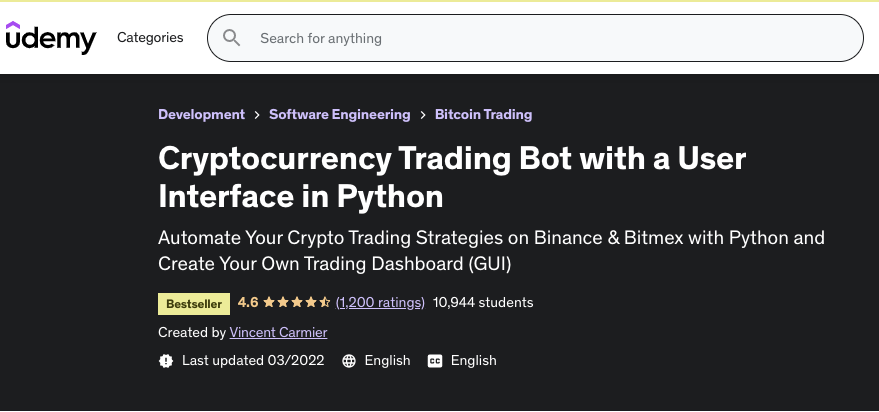 This course will guide you through all the steps required to write a program in Python for algorithmic trading, using the best coding practices. It is a perfect example of the "learning by doing" pedagogy: instead of learning only theoretical concepts, you will learn important concepts whilst creating a real trading application, from API connections to trade management.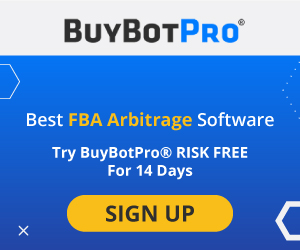 How to Code a trading bot / Automate a trading strategy
How to Connect to crypto exchange APIs in general
How to Design a graphical user interface (GUI) in Python
Improve your Python skills and good practices with a real-world project
Learn to use a REST and Websocket API
5. Alteryx Essential Crypto Arbitrage Course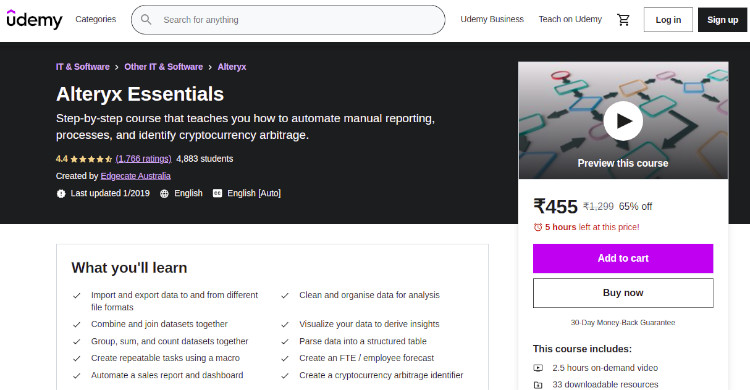 An excellent cryptocurrency arbitrage course created by Edgecate Australia will give you a step-by-step guide to automating manual reporting and processes, as well as identifying cryptocurrency arbitrage.
Additional things you will get to learn in this crypto arbitrage course are:
Data can be imported and exported to and from a variety of file formats.
Prepare data for analysis by cleaning and organizing it.
Datasets should be combined and joined together.
To gain insights, visualize your data.
Datasets should be grouped, summed, and counted together.
Create a structured table from the data you've gathered.
Using a macro, create tasks that can be repeated.
Make a projection for the number of full-time equivalents (FTEs) and employees.
Create a sales report and dashboard that is automated.
Make an identification for cryptocurrency arbitrage.
This crypto arbitrage course has over six thousand students who have taken this course and has a rating of 4.5 stars out of 5, making it one of the bestsellers on the Udemy platform.
5. Cryptocurrency Investment Course 2023: Fund your Retirement!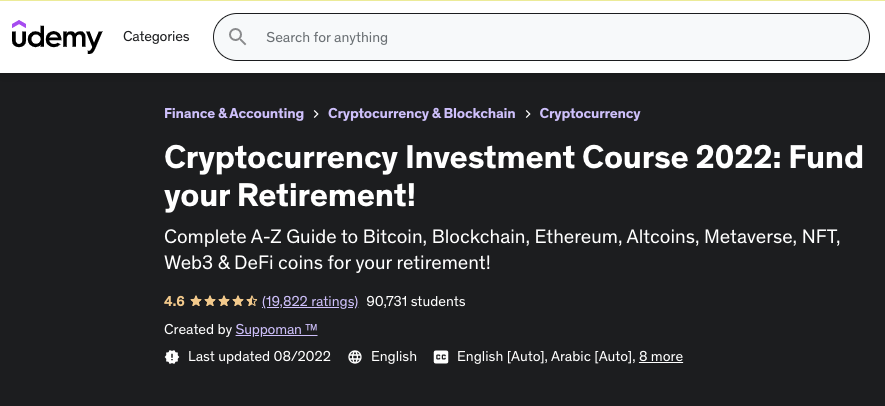 This course is the original & definitive guide to Cryptocurrency on Udemy and will teach you everything you need to know – understanding Bitcoin, Ethereum, and all Altcoins, setting up a secure wallet, buying Bitcoin & any Cryptocurrency on the no1 exchange – Binance, my 7 criteria for identifying profitable coins… and the biggest Booms in Cryptocurrency – Metaverse, NFTs, Gaming, Meme coins, DeFi & IDO Launchpads.
The global economy is in a financial collapse in 2023, and Cryptocurrency provides the number 1 asset class to gain financial security, avoid recession & increase your purchasing power. And I will safely navigate you through everything you need to know to understand and take advantage of it! Cryptocurrency prices are at an 18 month low, and the opportunity to buy Elite coins within the DeFi/NFT/Gaming/Metaverse space exists today!
Go from Beginner to Advanced in Cryptocurrency, gain financial freedom and escape recession in today's economic collapse!
Learn from 6 courses in 1, across 13 hours: Research & Investing fundamentals, Bitcoin, Ethereum, Early coin investing, DeFi, Metaverse & NFTs
Consistently build your Retirement fund with my profit-taking strategy
Identify Cryptocurrencies with great potential, make huge gains, and stick with them for the long-term
Learn how to exploit DeFi & Yield Farming for high profitability in 2023
Learn about Blockchain, SHA256 hashing, and mining to fully understand how Crypto is the future!
Set yourself up quickly with a Simple Wallet for storing coins safely while buying and sending Bitcoin to the exchange to buy altcoins
Tips on Choosing the Best Crypto Arbitrage Course
If you are interested in choosing the best crypto arbitrage course, here are some tips that you need to keep in mind:
Make sure the course taught will cater to your needs.
The course should be an affordable one.
Keep an eye out for the discounts and offers available on these courses we mentioned in the list.
The course should also teach you about the niche that you are trying to go into.
The course should be in English and teach you how to apply whatever you learned to a domain marketplace.
If possible, go for the courses which promise you a money-back guarantee, so that you do not lose your money.
While choosing the best crypto arbitrage course, you need to analyze and understand that using these courses won't guarantee you outright success.
You can even club two or more to understand these traffic arbitrage courses better to get the best results. The key lies in understanding the differences between each and choosing the best one to help you earn part-time or passive money.
While this list is not exhaustive, other free crypto arbitrage courses are available in 2023. Therefore, we urge you to thoroughly review this list, which will help you make a wise and informed decision while choosing the cryptocurrency arbitrage course.
We hope you found this blog helpful and gained some knowledge about cryptocurrency arbitrage, how to make money both actively and passively from this source, and how to do crypto arbitrage through cryptocurrency arbitrage courses available online. Please let us know what you think about this blog in the comment section.
Limited Offers: On Growth Tools for Your Ecommerce Business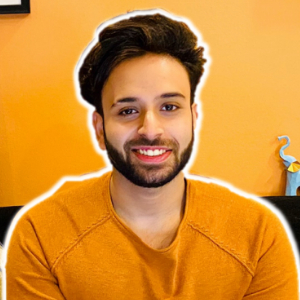 I and my team research various online verticals and can help you kickstart your Amazon business; so you could rake in more greenbacks with the best-recommended tools. Tap into the power of online retail business with me. I am just a mail away, so reach out to me if you want to scale up your niche business. mail: [email protected]