Last updated on January 18th, 2023 at 05:51 am
Dropshipping has set its root deeper in the online retail business, and it is widespread as people are habituated with the eCommerce industry. Its methods and models, everything has been adopted by many in the past years and still embraced by others today. But did anything change in the dropshipping business? What are the new trends that interest dropshippers to apply such advances to acquire business growth? Here are the 5 new concepts that are driving the momentum in the dropshipping industry nowadays.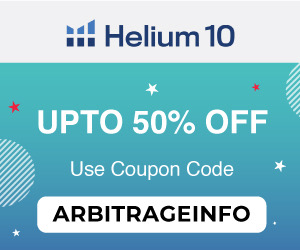 Feature Products on Social Media
Social media is far more popular than any other platform and hence an easy way to reach out to the audiences. Being into the dropshipping business, you need to be aware of the taste and trend of the season and impulse the buyers by employing social media marketing techniques. It successfully works in two ways – Instagram and Pinterest.
You can display the item that you want to sell on Pinterest's buyable Pins or Instagram stories and as posts. It would be best if you targeted the right audience by implementing specific SEO tactics and creative content (words/images/videos). Once someone intends to buy your product and orders them – dropship the same item via a third party seller to the buyer's doorstep.
Voice Search Optimization
Now is the era of voice technology, where there is Siri, Google Assistant, Alexa, Cortana, etc. And then there's a whole new world made using the voice command technology that we have made. Now, this realm is unveiled by the dropshipping industry in a way that's similar to SEO – it is the voice search optimization.
Voice search optimization is a new concept through which drop shippers can improve their product's demand in real-time. Emphasize on voice questions that are most often asked and drive traffic to your product listing, ads, etc. and provide optimal answers in conversational language along with SEO keywords.
Automation to the Rescue
Automation is the most used technology in the dropshipping business. The dropshipping software or tools that you use – the automated monitoring, outsourcing, price & product listing, everything is accomplished with the power of automation. Artificial Intelligence (AI) is the leading technology behind the automation – you can also witness this in automated emails, automated query resolutions, and many more. The best of it? – you can customize settings and features as per your convenience for better output.
Build Business With Trust Signal & Badges
As suspicious activities on the Internet are growing, people are growing more cautious. Today people search for signals, badges to become assured of the services they provide. As such, Trust Signals compels customers to trust in your legitimacy. Trust badges are like guarantee or proof that ensures that you are a trusted seller. Badges like guaranteed safe payment via digital payments or security companies, etc. instil trust in your customers.
Machine Learning for Seamless Operation
Bots or software, Machine Learning has significantly etched its mark everywhere. Whether you use chatbots for better customer interaction on your website or want to know about the best selling products and its price on various sites on the web – Machine Learning simplifies those features and brings them at the tap of your finger.
How Amazon Dropshipping Model Works?
Dropshipping is one of the most convenient methods for arbitrageurs or online retail sellers to leverage the benefit of easy profit-making with third party product delivery from Amazon. Let's see how this works.
Basically, in a dropship model, the seller doesn't keep any stocks in the inventory. When the customer places the order for a product that the seller has listed on the eCommerce websites (eBay, Amazon, AliExpress, etc.), you receive the order and using the drop shipping method place the order for the same product on Amazon to another seller. The Amazon seller then delivers the item to the buyer's doorstep.
As there is no inventory running at the backend, you can reach out to your customers by displaying ads on various platforms, or through engaging social media posts. With the help of the best SEO content and attractive images, you can see the increase in the number of orders for your listed products. The single purpose of dropshipping is to sell the product at a higher price than the price listed by the Amazon seller, and the price difference is nothing but the profit.
Again, dropshipping is divided into 4 categories, namely – product reselling, business extensions, product creation, and print on demand. But among all these options, the Print-on-Demand is chosen mainly by drop shippers owing to its suitability and seamless features for online retailing. You can leverage complete flexibility in online retailing with the dropshipping model, scroll down to know what are its benefits.
Drop Shipping Benefits:
No hassle of managing and monitoring inventories.
Sit back and relax as the third party seller takes the burden of packaging, shipping, and delivering the product.
Easy to handle, grow, and flexible – even a newbie can opt for the dropshipping model.
No additional expenditure in maintaining stocks or the product delivery process.
No liability for poor customer service.
Best Amazon Dropshipping Software Tools: 2023 Edition
Dropshipping is not a single step to be controlled effectively – there is product sorting, list preparation, price comparison, profit evaluation, and many more. The Amazon dropshipping tools are of great help to align these steps in one direction without many manual methods. They feature automated and precise solutions for a fast and secure business. In this read, you will get to know about the best dropshipping tools and software that will expand your business footprint in real-time. Scroll down!
Best Amazon to Amazon Dropshipping Software Tools
To dropship on Amazon, you have to comply with the guidelines and policies to do so. Some of the best tools available on the Internet for Amazon to Amazon dropshipping are as follows.
1. Jungle Scout: Best Amazon to Amazon Dropshipping Software 2023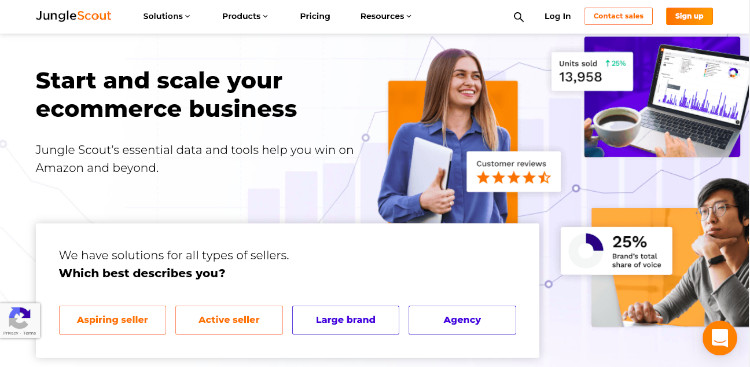 Jungle Scout – Discover numerous dropship features with Jungle Scout's to list out the best-selling product and increase the sales rate easily. It shows options for niche products that have a huge demand in the marketplace and can contribute to your profit value.
Features:
→ Explore the in-trend product niches easily
→ Calculate the revenue and profit
→ Access, compare and save the verified supplier list to scale your business
→ Analyze how a particular product is performing
→ Great filter to scan through over 450 million products
2. Repricer Express: Best Amazon to Amazon Dropshipping Software 2023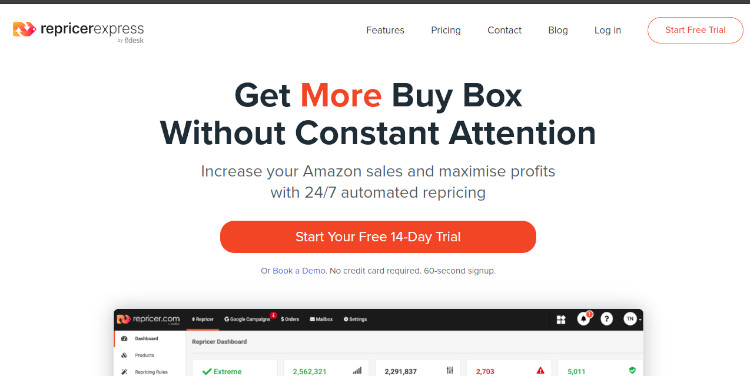 RepricerExpress – Stay competitive with the best price listing and upscale your profit margin. RepricerExpress provides a full tool kit that enables instant search options by scouting through product and pricing data on the web. Its powerful tools are capable of bulk editing and listing best prices, so you always stay ahead.
Key Advantages:
→ New and used product listing
→ Shows seller rating and feedback
→ Automated price listing, editing depending on market trends
→ Easy and fast repricing listing in just 20 minutes
3. WalletMonitor: Best Amazon to Amazon Dropshipping Software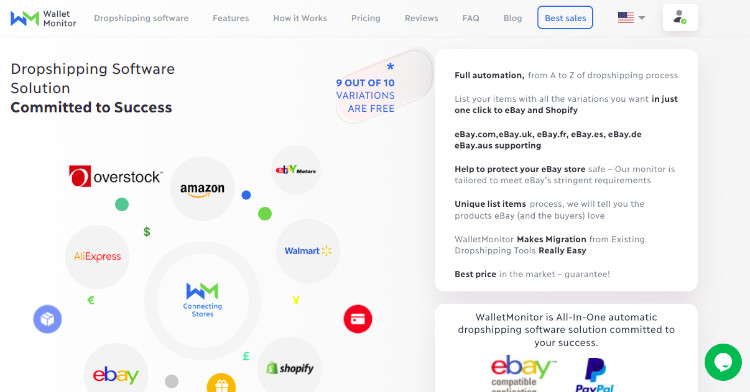 WalletMonitor – Profit more with automated services that helps you concentrate on strategies to expand the business. Try the numerous dropshipping features at just $1(trial period offer). This fully automated Amazon to Amazon dropshipping management software is going to replace the earlier manual and complex procedures and deliver better outputs.
Features: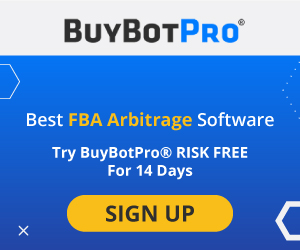 → Dropshipping solution for Amazon, eBay, AliExpress, Walmart, and many more.
→ Unveils profitable products and automatically lists/relists them for you.
→ Easy competitor analysis
→ Monitors profitable deals
→ Automated email sending once the order is confirmed
Best eBay to Amazon Dropshipping Software Tools of 2023
Grow your ROI with these best eBay to Amazon dropshipping tools that promise smooth business and huge profit margin.
4. Salesfreak: Best eBay to Amazon Dropshipping Software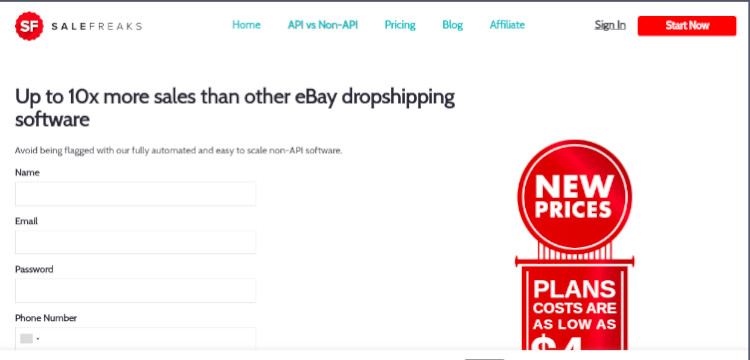 Salesfreak – Its API and non-API software is very relatable depending on the type of services one chooses. Give your business a boost with automated solutions and concentrate on earning more profit.
Salesfreak Benefits:
→ Promises 5-10x sales rate
→ Automated dropshipping features
→ Compatible with ebay.in, ebay.co.uk, ebay.com accounts
→ Protection tools for safe & secure dropshipping
4. Ecomdash: Best eBay to Amazon Dropshipping Software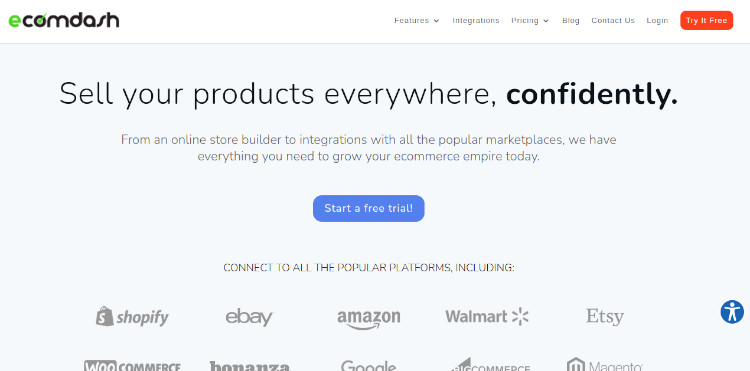 Ecomdash – Channelize all dropshipping steps with Ecomdash's automated management tools. It helps you to fulfil new customer order and simultaneously keep track of product shipment and delivery. Stay more focussed and enjoy multitasking with this all-in-one dropshipping software. Moreover, you can dropship not only from eBay to Amazon but also across multiple eCommerce platforms.
5. PriceYak: Best eBay to Amazon Dropshipping Software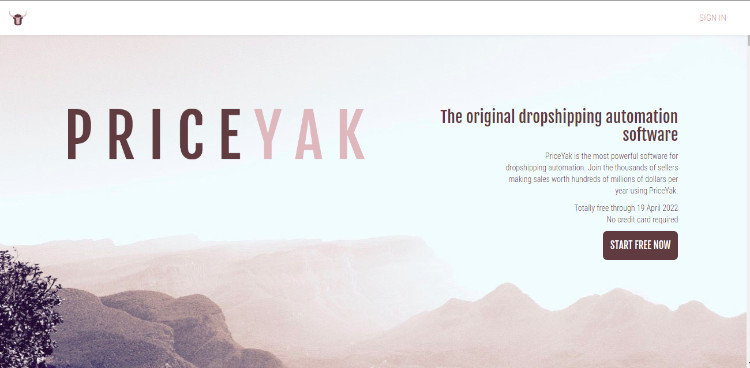 PriceYak – PriceYak features speedy automated operation, which helps save your time, and its accurate solutions are important for business growth.
Key Advantages:
→ Creates bulk of listing in real-time
→ It outsources product and price data and relists the best competitive price
→ Auto-ordering streamlines the processes quickly after the customer places an order
→ From product listing to customized template, PriceYak covers everything for you.
→ That's not all – it is also a completely free software.
Best AliExpress to Amazon Dropshipping Software Toolsof 2023
Simplify your dropshipping business from AliExpress to Amazon with these popular software/tools to boost your sales rate.
6. Oberlo: Best eBay to Amazon Dropshipping Software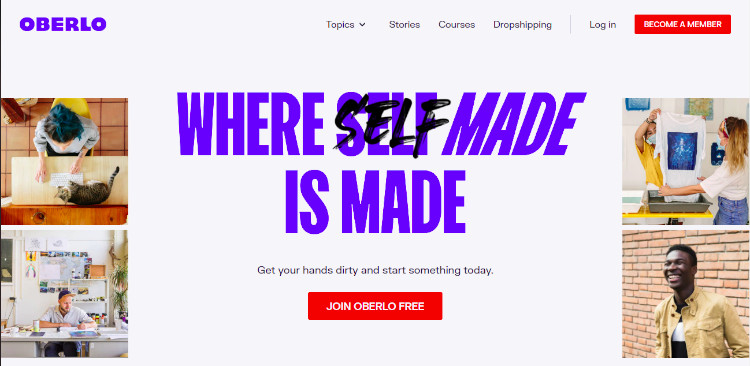 Oberlo – One-stop for all your AliExpress to Amazon dropshipping needs, it is easy to operate, its demo videos are helpful for novice drop shippers to start a business from scratch.
Why choose Oberlo?
→ Precise stats helps update the products with the potential sales rate
→ No need to add your credit card to leverage its benefits
→ Place shipping order with just one click
→ Easy to track product supply
→ It automatically updates the price list as per the ups and lows
7.Woodropship: Best eBay to Amazon Dropshipping Software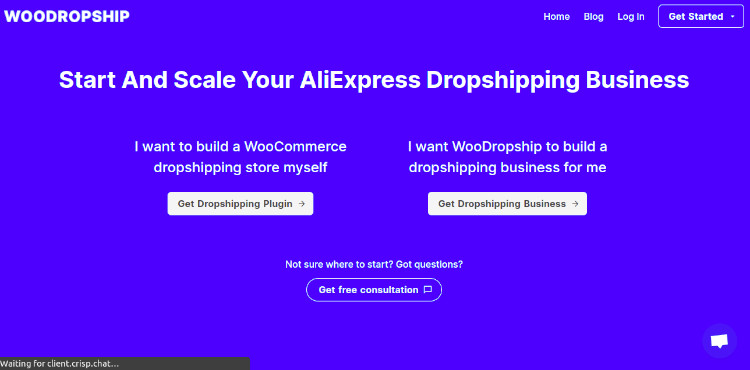 Woodropship – Search, add, list, reprice, calculate – Woodropship houses all the solutions to your smooth dropshipping business. Add to your Chrome extension and see the magic of this semi-automated dropshipping software.
Features:
→ Quick updates and alerts on price fluctuations, so you never miss a chance to incur a profit.
→ Import product list from AliExpress easily
→ Choose the best niche item from over a million products
→ Hassle-free edits to remove mistakes before launching the list
8.Ali Inspector 2: Best eBay to Amazon Dropshipping Software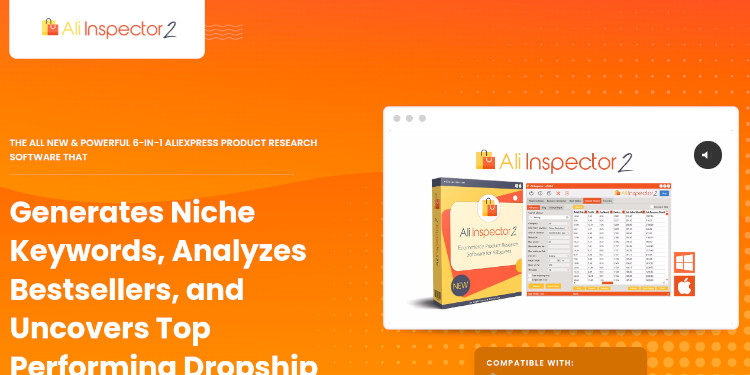 Ali Inspector 2 – It is a powerful software which provides for drop shippers to build a business. Its excellent research tool pulls data from the web and shows you the best performing products so that you can score more. Its unique sales prediction calculation for 14-days helps you set profit goals and enhance them if required to scale up the revenue.
Best Items to Dropship on Amazon in 2023
It is very crucial to choose the best niche product to dropship via Amazon. It can only be done with thorough research on the current trend in the marketplace. Use the tools as mentioned above to understand the order volume for a particular product and then double-check it on Google Trends – you will know if there is a positive or negative demand.
Looking at the current scenario -the COVID-19 pandemic- across the world, the profitable items to list on Amazon are:
Hygienic products like masks, sanitizers, etc.
Tech and electronic – Phone charging, headsets, earphones, and earbuds.
Beauty and Spa – Salon and facial kits
Household items
But what's important is how you can find the best-selling niches that are profitable for dropshipping. I have listed the tools available online, which will assist you in searching the hot-selling products. Check them below!
Shopify Dropshipping
Repick
Spocket
Pexda
Amazon Dropshipping Tips, Guide, and Best Practices
Since dropshipping includes three people, the process can be complicated. Dropshippers often face a lot of questions – what to do when certain factors hit hard when the profit margin is already slim? Or how to turn the adverse scenario into a profit-making opportunity? How to focus on finding a popular niche? I have studied and come up with these practical tips and guides, which, when implemented into practice, might help you with your dropshipping business.
Don't go too far scouting for the price data. Check for the product ranking, its demand, etc. along with prices to list accordingly.
Attempt at giving deals to attract customers – it makes your product different from the same items sold by other competitors.
Finding the right niche is an essential factor. Browse through different tools the categories which are in trend at a particular time.
Do a thorough scanning of product suppliers – they are the bridge between you and your customer, any wrong delivery might strain your relationship with the customer.
The Common Challenges in Amazon Dropshipping
There are certain restrictions involved in the Amazon dropshipping model, which might hamper your cordial relation with the customers. Again, the profit percentage can also get downed due to some underlying factors. Some of these challenges include:
As per Amazon's dropshipping guidelines, a minimum 10-15% is levied on every item. When the profit incurred is low, Amazon's sells-fee can make it an unprofitable deal.
You have to keep track of both the supplier and the customer, unlike the usual direct buyer-seller business model.
The supplier isn't answerable to the customers for the delay, or faulty product delivery – they don't bother about the third-party involved in the process and its underlying issues. They need to be addressed only by the seller, which in this case, is the drop shipper.
A Final Roundup
From the above listed Amazon dropshipping tools, you might have already selected the one that suits your needs. I tried to light on the areas that some of you might find quite interesting as they are likely to help you with deciding what's right for your business.
If you want me to add some more details about Amazon dropshipping, mention them in the comment box, and I will try to update the answers to your queries.
Limited Offers: On Growth Tools for Your Ecommerce Business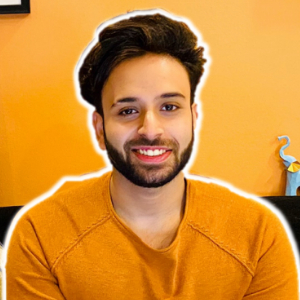 I and my team research various online verticals and can help you kickstart your Amazon business; so you could rake in more greenbacks with the best-recommended tools. Tap into the power of online retail business with me. I am just a mail away, so reach out to me if you want to scale up your niche business. mail: [email protected]