Last updated on January 18th, 2023 at 05:51 am
To start with, I will give a brief about retail arbitrage. Retail arbitrage has been the line of action for every e-commerce or retail business since time immemorial – buying at a minimal amount and reselling to customers and clients at a higher price (inclusive of all the delivery and packaging charges). Removing much of the manual workload and saving your valuable time, Arbitrage Software simplifies this complicated process. And today, I will elucidate the popular Amazon software tools in this article.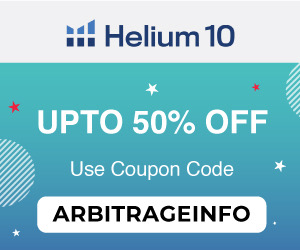 But what's so unique in Amazon arbitrage business software tools? Well, the answer is straightforward and might interest the budding and established retailers. The free Amazon FBA software tools are the most trusted by sellers, which simplifies sorting, comparing, listing, or handling the products. So without any further ado, let's begin with it.
How to Start an Amazon Arbitrage FBA Business?
With so many options available to help you uplift selling, you can quickly start an Amazon Arbitrage FBA Business. Starting a business on Amazon can scale up fast with proper tactics and seller tools. Furthermore, it can be handled remotely from across any location in the world. So if you are still thinking about getting in this field, follow these simple steps to create your business on Amazon and then list your product on the platform.
First, create an account on Amazon.
Select the product you wish to sell to customers.
Now, you will need to do some product researching – like which products are trending on Amazon and most popular among customers. For this, you can take the help of Amazon arbitrage tools like AMZ Base, Source Mogul, Helium 10, etc.
The next step is product sourcing with free or paid Amazon FBA tools.
After using arbitrage tools, it's time to establish the brand.
Create a product listing (which has already been sorted by the Amazon arbitrage software tools).
Now that everything is complete, you can engage in advertising to popularize your product among customers.
Benefits of Amazon Arbitrage Business
The retail arbitrage business on amazon is beneficial for everyone if you follow the tactics and use the tools (I have narrowed the list of the best 10 tools below). So let's understand how is Amazon Arbitrage Business beneficial.
It collects and analyzes data to show you profits, generates keywords, sales rate, etc.
You get a smooth business flow and constant profit monitoring.
Alerts and updates about price droppings, so you can re-arrange the price listing.
Automatic data selection, storing, and refining.
Organized and simplified dashboards.
Free Amazon Arbitrage FBA Software Tools: 2023
We have compiled a list of Amazon FBA software tools which are completely free to use so that you can get started with your online storefront. Also, we have mentioned some robust and professional tools which you can try as they offer an initial free trial for some days.
1. Camel Camel Camel: Best Amazon FBA Pricing Software
Camel Camel Camel is one of the best free amazon arbitrage tools that has introduced a simplistic pricing solution for all the retail businesses out there. But what does it do, and why should you uncover its benefits? Let's see!
What is the most common filter used while purchasing any products on Amazon (or any other e-commerce site)? The price category is way more critical now than ever. With so much cutthroat competition, every seller needs to be precise and bid the best offer for millions of online customers. But this is a very tricky business since pricing fluctuates depending on the market conditions. If you already know about the Camel Camel Camel app, you have opened the lock to an easy pricing list. And to those sellers, who are unaware of this amazing Amazon price tracker tool, it's high time to link your business decisions with this software tool. It keeps track of the price dropping and upscaling value, so you can always get the latest trend of product pricing and likewise use it to your benefit. And the most striking thing – there is no registration required to leverage price tracking of the concerned products. Furthermore, it can also check the price history of the products in the Amazon Wishlist. So when the customers can make the right purchase in terms of price, simultaneously, you will gain a competitive edge.
What are then key advantages?
Stay up-to-date with the current pricing trend.
Save time and energy.
Massive profits
Compare pricing of the product in the Wishlist
It helps list an economical price
2. Keepa: Free Amazon Arbitrage Software Tool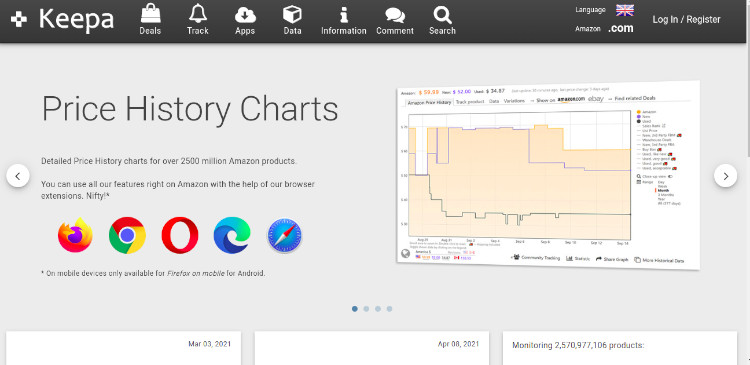 Keepa is somewhat similar to CCC but with more easy-to-understand data and details. Keepa is a free Amazon software arbitrage tool that will expand your regular pricing tactics so that you can stay ahead of your competitors. All you need to do is add it to your Chrome/Firefox extension, and you are all set. Now let's get on with its features list.
Features:
Get push notifications on mobile, desktop, RSS, email, or linked social media account (Twitter and Facebook) regarding the price fluctuations of the products.
Colored representation (in graphs) is very convenient for first-time users. It shows sales rank, price dropping, etc., of the products.
The time-frame option gives immediate results of a selected day, week, or a period of three months on the product history tab.
It keeps track of international Amazon product prices.
Monitors the price variation of the items in your Wishlist by transferring the entire item list on this software tool.
It displays the highest price and product's sales rank on the top of the page and the lowest pricing and sales rank at the bottom of the page.
3. FBA Calculator for Amazon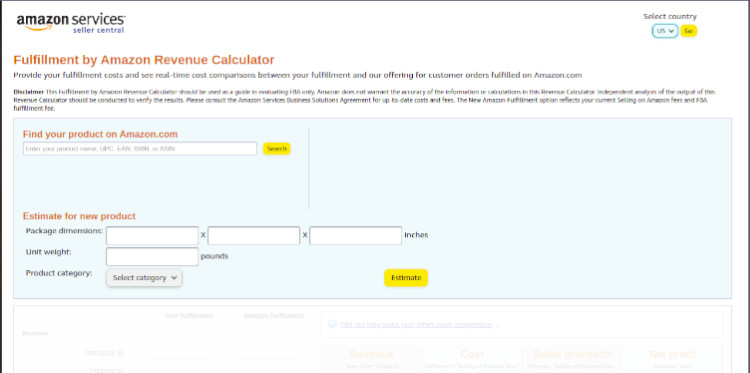 The top-on-the-list for every retail business on Amazon is the FBA calculator with which you can rest assured with a complete profit calculation. What's more? You don't have to immerse yourself in figures and ROI calculations. Every retailer trying to launch their products on Amazon, later or sooner, has calculated the profit graph. Choosing the FBA calculator streamlines this procedure in a more intuitive manner that lets you make decisions by analyzing cost and many other factors and shows a better selling price. This is a great tool to help you estimate sales, understand future profits, and enjoy a balanced business. So let's dive deeper into some more details about this excellent amazon software arbitrage tool.
Highlights:
Real-time profit calculation
Free trial for 3 months
Free shipment, storage, and removal of products (bonus Amazon service)
Direct customer-seller interaction
Strengthens business finance by cutting losses in advance
4. AMZ Base: Free Amazon Product Research Assisting Tool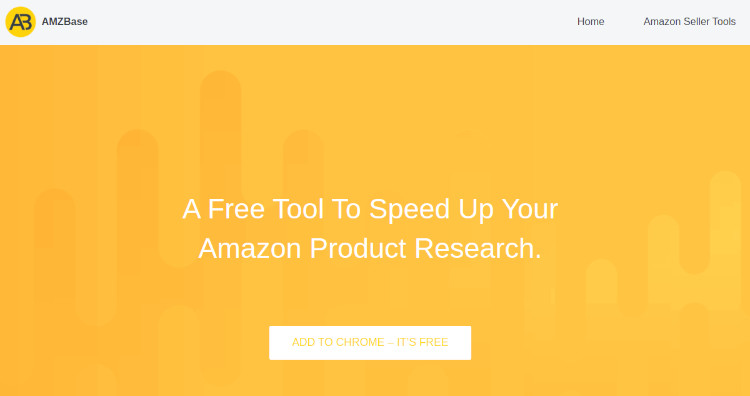 New to Amazon retailing? Using free Amazon FBA tools like AMZ Base will keep your business on track by updating you about the trending products at any particular time. It is a versatile Amazon arbitrage tool, which also allows you to access Camel Camel Camel with one tap. Get assistance for searching relevant products and sell them on Amazon. Want to know more about it? Scroll down!
Features:
Obtain ASIN No. – No fiddle-about in searching a particular product. Just keep the cursor on the product image and get the ASIN number in real-time, along with the product's title and description.
Comprehensive product history allows you to access CCC with one click, so you understand the past pricing trends of any product.
Other B2C listings – Quickly assess the pricing and listing details of a given product on other e-commerce websites (like Alibaba, AliExpress, eBay).
Profit estimation – Additional benefits like FBA fees calculation help analyze your business profits.
5. Unicorn Smasher: Free Amazon Product Research Software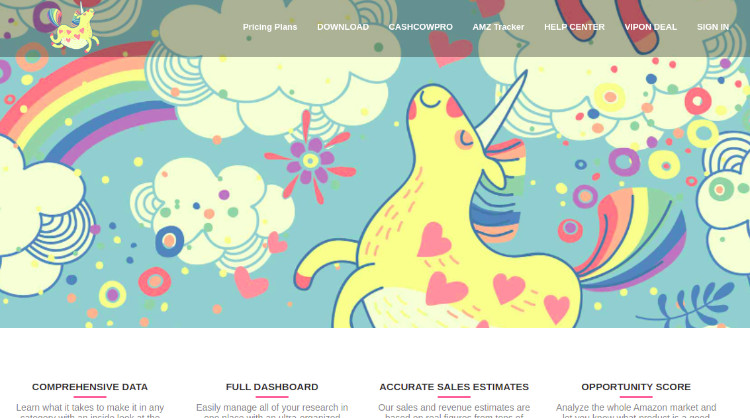 Adding Unicorn Smasher to your desktop helps get precise details and removes the risk of guesswork from your retail business. Stand out by picking the right product for your business, which may be the difference between possible profit or loss. It works by scanning the data and eyeing which product is at the top of the sales list. Step ahead towards success with this free amazon arbitrage software that speeds up the product research.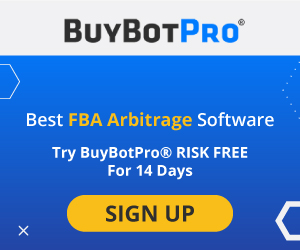 Features:
Quick estimation of bestselling products on Amazon.
It calculates revenue and sales with real-time data analysis.
Advantage:
Time-saving
Practical analysis to give easy-to-understand metrics
Allows integration with AMZ Tracker to get daily sales record.
6. Sonartools: Free Amazon Keyword Tool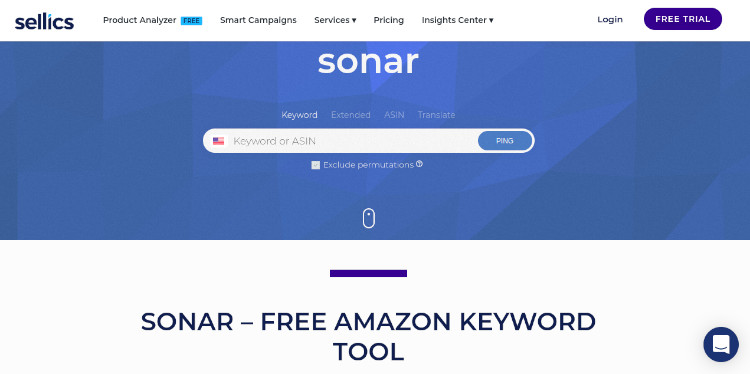 Sonartools is the most fantastic research tool for Amazon sellers, which improves the product's visibility to come on top of customers' search list. Since it increases the frequency of coming into customers' visibility, there is a good chance it gets into their cart (compared to those at the bottom of the list). The keyword tool searches all the relevant and top-rated keywords based on the estimation of customers' search list data. Adding to the sellers' benefit, Sonartools is a free amazon FBA tool.
Why Sonartools?
Free keyword generation
Better visibility = Better product ranking
Get results from a database of 180+ million keywords
Multiple-language option
ASIN search availability
7. Keyword Planner: Best Amazon SEO and Product Research Tool
Keywords are decisive for getting more traffic to any product. As such, Keywords Planner helps you to find discover relevant keywords to help catch more customer attention. Center your business with organic growth that sets the path to target the right customers. It is one of the most popular seller tools that are also free of cost to use.
Benefits:
New keywords suggestion
Estimation of monthly search list of a keyword
Easy to sort relevant keywords according to different product category
Plan new online campaigns
How to use it?
The set-up procedure:
Go to the Keyword Planner website.
Set up an AdWords campaign or skip the process.
Then click on "Go to Keyword Planner."
Choose the appropriate reason for the question "What's your main advertising goal?"
Next, click on "Create an account without a campaign."
Submit, and you are all set to use the free arbitrage software tool.
The main keywords searching process:
Find the keywords for a particular product you want to list on Amazon.
Or get the estimated metrics (search volume and forecasts) for the relevant keywords.
8. Source Mogul: Best Amazon Product Sourcing Tool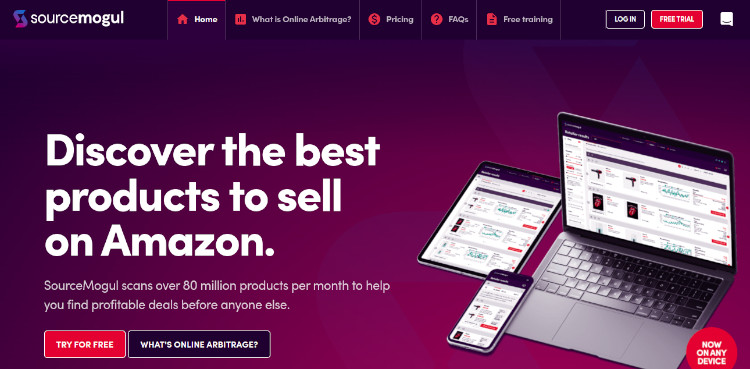 New to Amazon retailing? Want to grow fast? Source Mogul is one of the best amazon arbitrage software tools that will help you sell your products quickly with its automated product researching. Base your product listing on top-searched products on Amazon, so you have a greater possibility of profit. With a free trial, this retail arbitrage software helps to check on the trending stocks on Amazon and accordingly prepare the relevant product selling list. Check out the complete list of features below:
Features:
Filters top searched products from a list of 1000
Customization option for product listing
Calculates ROI for relevant products.
Analyzes excellent offers on brands (that you can avail of by selling on Amazon).
9. Zonguru: Best Amazon FBA Software Tool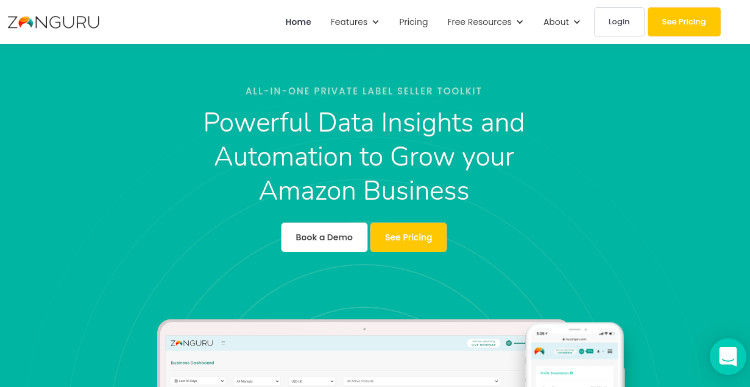 Zonguru is a sales software, which can be easily installed on your Chrome. It helps Amazon traders to maximize their sales quickly. It also helps to understand how to place keywords and relevant images to scale up the sales. It is a complete arbitrage arsenal to have in your bucket -accurate data analysis, business metric monitoring, customer interaction- name it, and they are available in the Zonguru sales software. Navigate the best-selling product on Amazon in a simplified and organized manner, and get a competitive edge. Also, it gives a 7-days free trial service to the users.
Advantage of using the all-in-one Zonguru tool:
A complete product research – bestseller ranks, sales estimation, reviews, price listing, etc., in one place.
Simple to use desktop version (Chrome Extension).
Powerful UI delivers accurate data research results.
Automatic customer engagement option.
10. Helium 10: Most Popular Amazon FBA Software Tool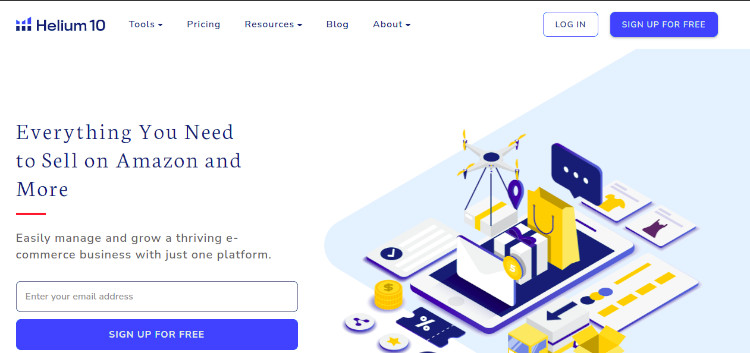 By far, Helium 10 is the most trusted & multi-utility arbitrage tool that gives a 30-days free trial to the sellers. Its powerful SEO, research, and business monitoring tool are developed to provide you with the track of the latest progress, price droppings and simultaneously optimize the product listing. This easy-to-manage tool offers multiple ways to elevate your retail business effortlessly.
Advantage:
A complete package of tools like Black Box, Trendsetter, and features like profitability calculator, customer review listings, ASIN research, etc.
Top-rated SEO keyword finder.
It optimizes the listing process from over 100s of keywords.
Built-in security to protect from possible threats.
It allows alerts and updates on personal devices.
Helps in decision-making strategies
Amazon Arbitrage FBA Software Tools: Free Trial
Paid Amazon Arbitrage software tools come with a limited free trial offer for the user. Practically, it is conducive if you are new to the Amazon retailing business. The free trial period allows you to use the software/tool and get the hang of it after several usages. It is also helpful to understand whether it will be profitable for your business growth or not. If a particular software is not up to the mark, you can always cancel the payment and go for the one that suits your needs.
Why Should You Always Choose a Paid Software over a Free One?
Free arbitrage software tools are suitable for new Amazon retailers to set up the whole business process. However, if you want to elevate the business, get the best results and earn more profits, paid software is the preferred option. Free Amazon FBA tools come with limited facilities, and the estimation value of keywords, products, etc., are somewhat precise. In comparison, paid software tools have in-built security features, various powerful tools to manage the Amazon retail business, and many more. Furthermore, they also have a limited period free trial offer to test the accuracy of the results and whether or not it is helpful for the growth of the business.
How to Choose the Best Amazon Arbitrage Software in 2023?
The growing competitiveness of the online retailing business and the surging demand for e-commerce have resulted in many arbitrage tools and software. It becomes essential to choose the right suit for the Amazon retail business with such a vast option. To relax you from such a tedious job, I have listed out a few buying guides, following which you can easily pick the best amazon arbitrage software.
Check out for a paid arbitrage software if you have already established your business. But also try to choose the one who is generous on your budget and encompasses more features.
A software that is a complete package of all seller tools is a preferable option.
Look for its Alexa ranking, and go for it if the number is comparatively lower than other software.
Customer reviews and ratings are the best way to understand which product is genuinely reliable. Look for the arbitrage software, which earned the best customer feedback.
Whether you pick a free amazon FBA software or a paid one, the bottom line is to check out for the one that provides maximum benefits. These were the best 10 Amazon arbitrage software tools that I found relevant for uplifting Amazon retail business. If you liked this article, share your valuable comments on using the above software.
Limited Offers: On Growth Tools for Your Ecommerce Business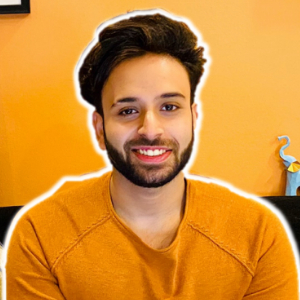 I and my team research various online verticals and can help you kickstart your Amazon business; so you could rake in more greenbacks with the best-recommended tools. Tap into the power of online retail business with me. I am just a mail away, so reach out to me if you want to scale up your niche business. mail: [email protected]