Last updated on January 18th, 2023 at 05:37 am
When selling the same goods, online arbitrage refers to the technique of leveraging pricing disparities by inflating the price tag—buying clearance and reselling it on Amazon FBA, for example.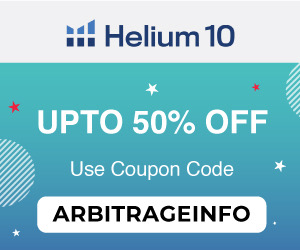 Although the same product might have been purchased for a lesser price, it is sold at a somewhat higher price. Flipping is an art form, not a new concept.
However, not all products purchased online may be bought at a profit. That is why, rather than using a calculator, you should use a tool to analyze whether a product you intend to acquire is worth reselling.
The low entrance cost is one of the benefits of eCommerce arbitrage. Of course, the stock will require some financial commitment, but it will most likely be in the low hundreds of dollars rather than thousands of dollars.
How to Choose an eCommerce Arbitrage Software?
If you want to choose the best eCommerce arbitrage software, here are some things you must keep in mind:
Make sure the software offers a comprehensive product research
It must cater to your needs and demands
If the software is free, you should make the most use out of it
It must also provide a sound repricing system
Should give the seller a clear picture of the profit margin impacts
Best eCommerce Arbitrage Software Tools: 2023
Take a look at our selection of the best ecommerce arbitrage software that can increase your sales by over 10X.
1. BuyBotPro: Best ECommerce Arbitrage Software with Free Trial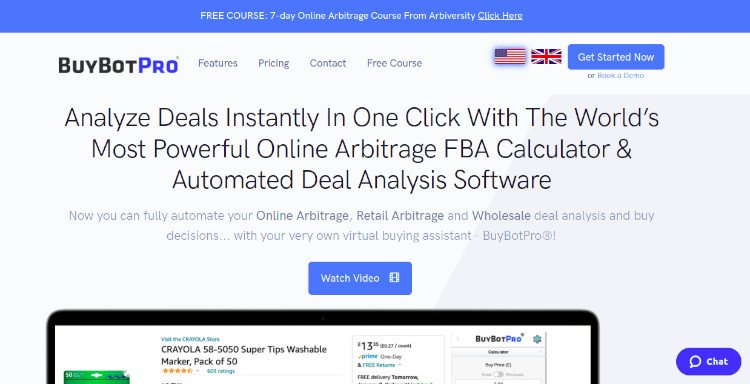 BuyBotPro is one of the best free eCommerce arbitrage software that features a Chrome extension and helps sellers make better judgments when undertaking online arbitrage or even retail arbitrage.
It's a tool that can help you avoid buying things that are a "bad buy" because they're gated, losing money, hazmat-restricted, or private-label.
Some of its features are:
Automated deal analysis and buy features
BSR Checker
Competition analyzer
IP Radar
Hazmat Checker
VAT calculator
Sales estimator
2. Oberlo: Free ECommerce Arbitrage Software for Shopify Dropshipping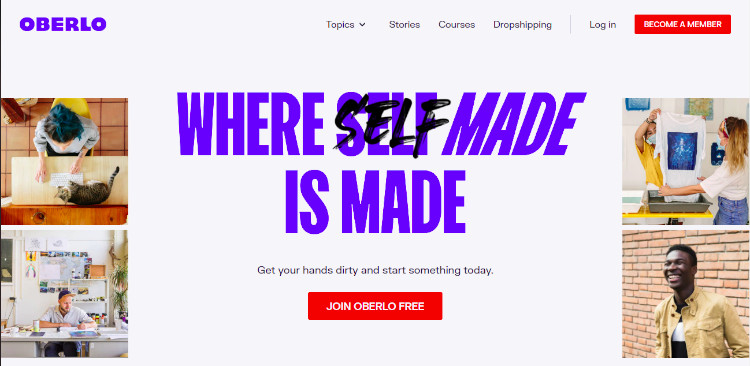 Oberlo is a free eCommerce arbitrage tool that is a Shopify-only dropshipping application. The software coordinates the delivery of each good to clients and assists sellers in finding new products to offer online.
Data-driven product searches, competitive price management, product listing customizations, inventory management, and more are included in this free eCommerce arbitrage software. It enables companies to engage with chosen suppliers without limitations.
Some of its features are:
Easy to import products from AliExpress
Customize product details
Automated inventory updates
Optimized for a global audience
Shipment tracking
Supplier management
Price optimization
3. Zonguru: Best ECommerce Arbitrage Software for Amazon FBA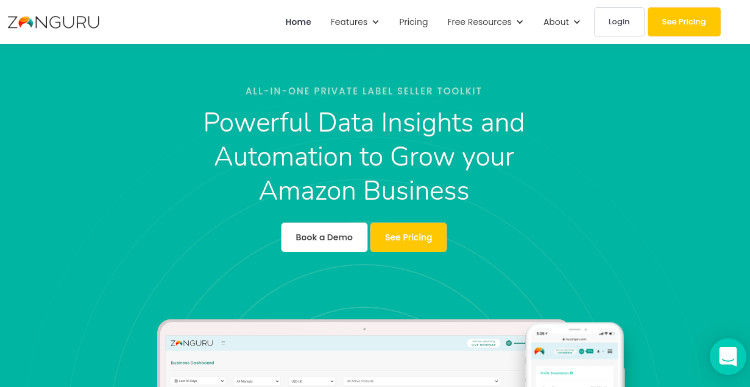 Zonguru is a free eCommerce arbitrage software that provides its users an all-in-one tool suite that enables FBA entrepreneurs to find/validate new items, locate manufacturers, improve listings, and track the success of their business.
ZonGuru is made up of sixteen separate modules, each with its purpose. For example, niche Finder, which finds successful niches based on data collected straight from Amazon, and Niche Rater, which validates macro and micro-niches on the fly, are two of ZonGuru's modules.
The system also has a Sales Spy feature that tracks competitor sales, revenue, and profit estimates for the previous 7 or 30 days.
Some of its features are:
Product Pulse
Keyword Tracker
IP Monitor
Listing Optimizer
Niche Finder
Keywords on Fire
4. Tactical Arbitrage: Best ECommerce Arbitrage Software for Product Sourcing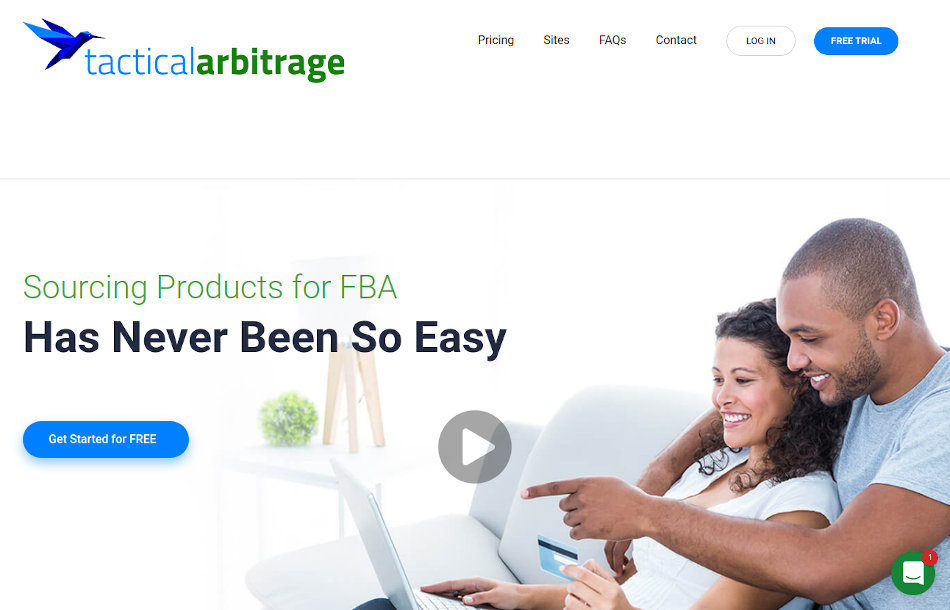 Tactical Arbitrage is a free eCommerce arbitrage tool for selling on Amazon that allows you to source from over 1000 different sites worldwide. It may search by category, filter by essential parameters like ROI and sales rank, and provide estimates for prep and shipping.
Sellers can confidently find matching and profitable products using UPCs and an image-matching algorithm. There's also a detailed book sourcing tool, a page dedicated to Amazon-to-Amazon flips, and wholesale manifest scanning tools.
Some of the features on offer are: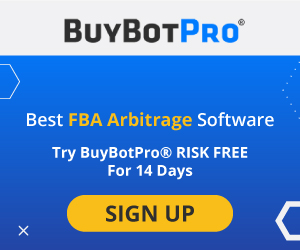 Product search
Reverse search
Wholesale analysis
Library search
Amazon to Amazon flips
View existing inventory
5. Helium 10: Free ECommerce Arbitrage Software for Amazon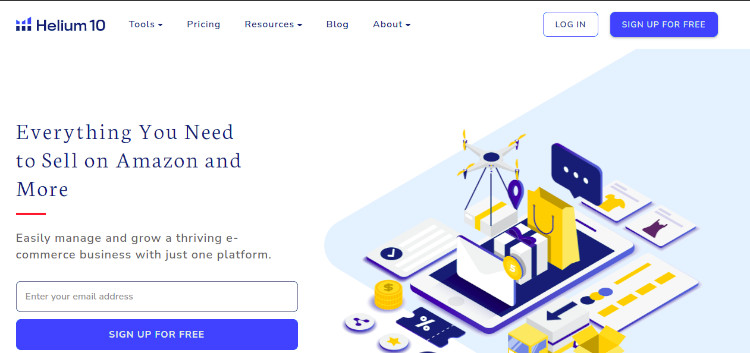 Amongst all the eCommerce arbitrage tools, Helium 10 has also made a name for itself and is popular with people looking for the best eCommerce arbitrage software.
This software relies on the database of multiple seller tools by Amazon, which helps it in indexing high-ranking keywords, product listing optimizations, trend identifications, and spying on competitors.
This tool would be suited best for the people who are looking to grow their Amazon FBA business at an exponential rate.
Some of its prominent features are:
Channel management
Inventory management
SEO management
Multi-channel marketing
Promotions management
Order management
6. Sales Freak: Best ECommerce Arbitrage Software for eBay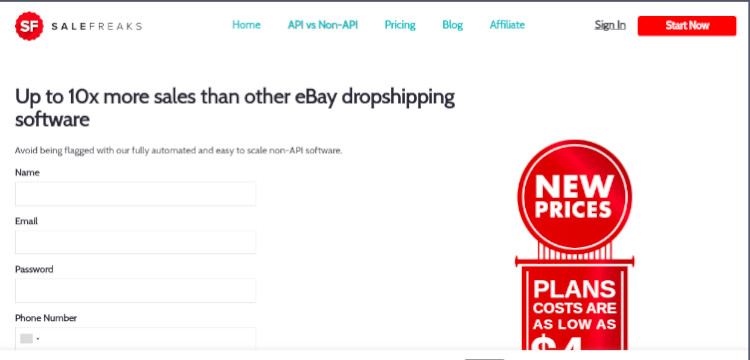 Salefreaks is one of the best eCommerce arbitrage tool that allows you to automate your sales process fully. You can use the solution to promote your listings, boost search impressions, and enhance sales. Salefreaks has software that is both API and non-API. In addition, the software assists existing dropshippers with eBay accounts, whether they are novices or experts.
You can manage your item locator by modifying your prices in real-time to identify profitable things. In addition, conversion rates can be used to track business performance via a dashboard. Marketers and small and medium businesses use the software.
Let's take a look at some of its features:
Variant mapping
Bulk orders
Shipping management
Custom pricing models
Supplier management
Order management
Product data management
Pricing optimization
7. AmzScout: Best All-in-One ECommerce Arbitrage Software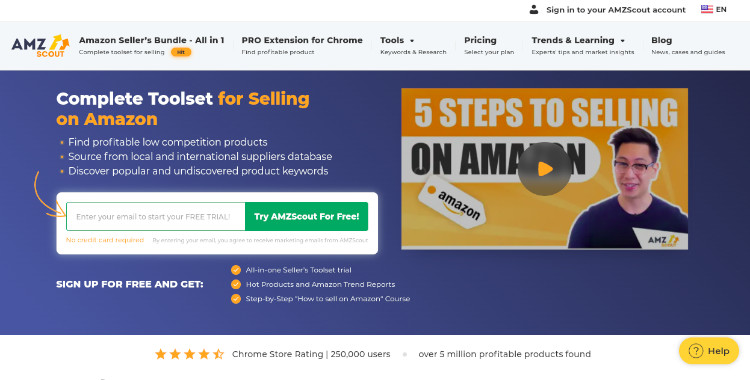 The AMZScout is an Amazon eCommerce arbitrage that allows you to identify things that suit your requirements quickly. It has several filters that you may use to swiftly narrow down your search and focus on products that fit your unique needs. It also has a few more features that will help you with your product research.
It begins by putting up the foundation for how to become lucrative. The software then assists you in locating high-profit products, optimizing your listings for more sales, and planning your entire AMZ business for optimal profit.
Some of its features are:
Chrome extension
Product score
Web app
Keyword tools
Track historical data
Profit calculator
8. Sellerapp: Best ECommerce Arbitrage Software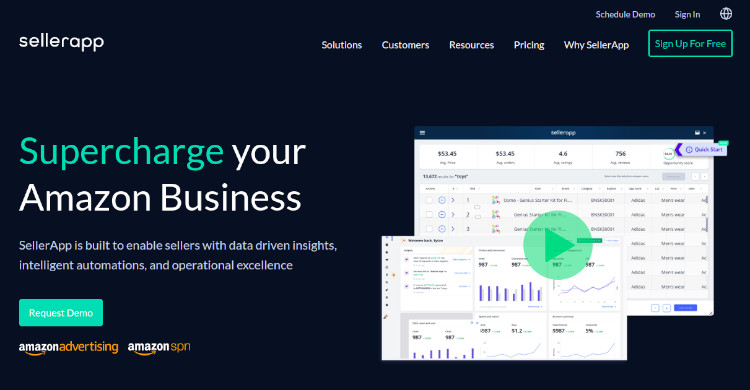 Have you ever thought of being a product research ninja? Well, this is possible if you use the Seller App!
One of the best eCommerce arbitrage tools available online would give you some of the best intuitive features, and it packs lots of things like shortcuts and instant insights, making it a hit product. In addition, it provides you with the correct numbers, and the data is always picked up from the most reliable sources.
Let us take a look at its features:
Listing Optimization
Profit Dashboard
Product Intelligence
Keyword Analytics
Price Optimization
PPC Campaign Optimization
These tools are not perfect, and you can even club two or more to get better results for your business.
The key lies in understanding the differences between the amazon product research tools and choosing the best one to help your product sell.
While this list is not exhaustive, these are the best free eCommerce arbitrage tools available in 2023. We urge you to go through this list thoroughly, which will help you make an informed decision while choosing your best tools.
Limited Offers: On Growth Tools for Your Ecommerce Business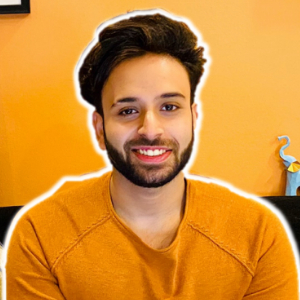 I and my team research various online verticals and can help you kickstart your Amazon business; so you could rake in more greenbacks with the best-recommended tools. Tap into the power of online retail business with me. I am just a mail away, so reach out to me if you want to scale up your niche business. mail: [email protected]