Last updated on January 18th, 2023 at 01:51 pm
When it comes to making the decision, we suggest you use a tool that helps you handle your business completely. Data is of extreme importance, so you must make sure that the tools provide absolutely accurate data. Here, we have a list of the best tools for Amazon sellers. They will definitely get the job done.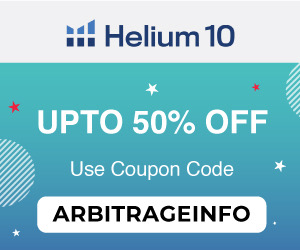 Benefits of Using the Best Tools for Amazon Sellers
The biggest driver behind every successful Amazon seller is the use of seller streamlines and optimizes business practices. For all kinds of Amazon sellers, to unlock the best potential and to maximize sales, you need the Amazon seller tools that have varying benefits like:
Profitability Calculations: One of the most difficult tasks for Amazon sellers is the calculation of a product's profitability. The aim is to calculate the profitability of tons of products in a fraction of time. After you are done calculating, the tools provide a summary of the product's profitability, and you can compare.
Forecast Sales and Inventory: Another difficulty for most sellers is to forecast sales and to build enough inventory to maximize revenue. Forecasting tools help find the perfect amount of products to meet the demand, but it also optimizes the storage costs. These tools have included sales estimations to conduct proper forecasting.
Competitive Analysis: Finding profitable products can take extremely long. A new tactic that has come up is super targeting which reduces product research time significantly. Instead of doing product research, you can simply find a seller on Amazon, connect with their supplier and take it from there. It helps find high demand products quickly.
Task Delegation and Reinvesting: Some Amazon businesses grow so much that sellers have to grow their teams. With these tools, sellers can delegate responsibilities, train employees, and show them how to jump-start. The smaller tasks can be done quickly and effectively. It helps sellers use their valuable time and use it to grow their business.
Best Tools for Amazon Sellers for [FREE]
Here is a set of free tools that can be used by Amazon sellers to increase their overall ROI and improve their rankings.
1. Camelcamelcamel: Best Amazon Price Monitoring Software for Amazon Sellers
CamelCamelCamel provides a free Amazon price tracker that monitors millions of products and alerts you when prices drop, helping you decide when to buy. They allow you to create Amazon price watches, and you will get alerts via email when prices drop. They help you view the price history of millions of Amazon products. They also help with Product searching on Amazon. They have browser add-ons for Firefox and Chrome, and they let you view price history charts without leaving retailer product pages and make it easy to create price watches when viewing retailer sites. It allows you to import all of the products from any public Amazon list.
2. Keepa: Best Amazon Price Tracker Software Tool for Amazon Sellers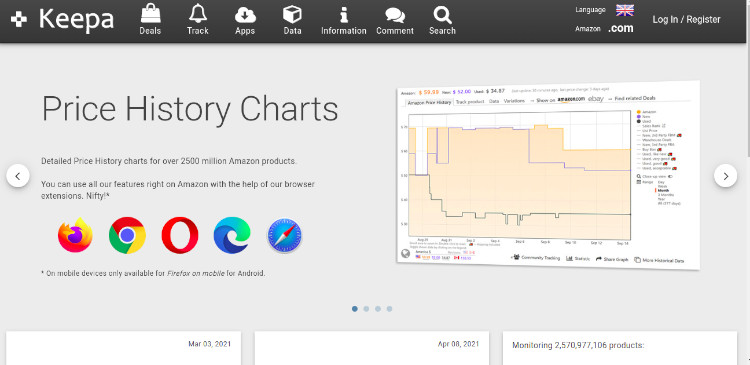 Keepa provides you with detailed price history charts for over 1900 million Amazon products. It allows you to set up a price watch directly from the product page, and they track any product and notify you once the price drops. They allow you to compare and track international Amazon prices. They also provide an overview of recent price drops. Once you install their Browser extension and then the Keepa price history graph will be displayed directly on each Amazon product page. They help you track overviews and manage your product watches too.
3. Fba Calculator: Best Free Tool to Calculate Amazon Sales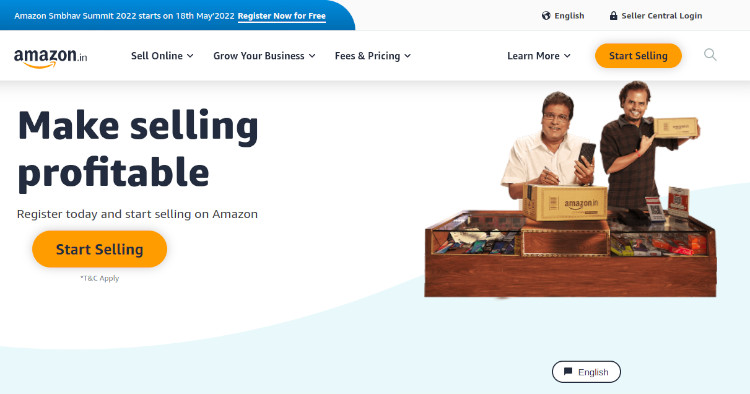 FBA calculator helps you plan your 2023 Amazon Sales potential. They calculate every Amazon selling fee for any product with the Amazon FBA fee calculator. They compare the best fulfilment choice for the product. They help you analyse the product with the Amazon revenue calculator to understand if the product has ample product margins. This is an essential tool for an Amazon seller to understand the Amazon FBA fees, compare fulfilment methods. The Amazon FBA calculator is also an excellent tool to understand the product profitability to analyse if a product is worth the effort and money.
4. Helium 10: Best All-In-One Amazon Seller Tool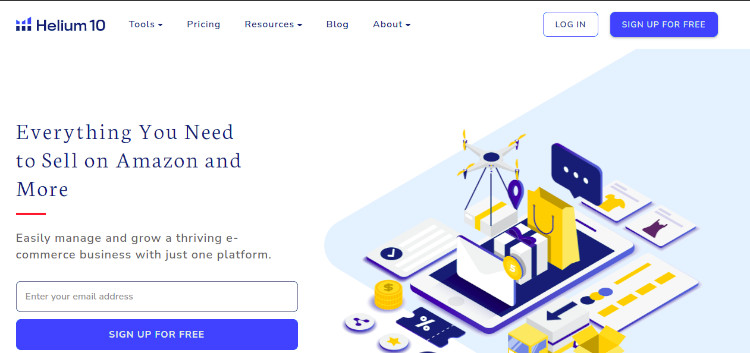 Helium 10 provides you with everything that you need to sell on Amazon and more. They help you easily manage and grow a thriving e-commerce business with just one platform. Using Helium 10, you can easily find a product with their database and quickly validate your product's success with at-a-glance analytics like seasonal trends, profit estimates, and more. They help you find thousands of keywords in seconds. Their smart guide leads you through the listing creation process, so you write stellar, high-ranking listings every time. They help you manage your business effortlessly, and their built-in security tools keep you a step ahead of malicious threats. They help you create better products, positioning, and competitive strategies with smart metrics.
5. Jungle Scout: Best Product Research Tool for Amazon Sellers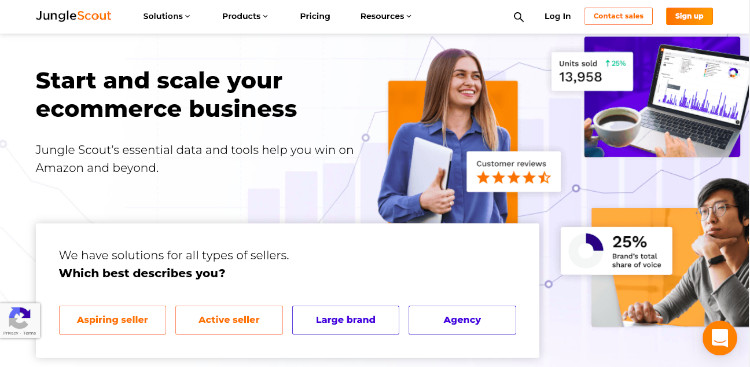 Jungle Scout is an exceptional all-in-one platform for selling on Amazon. They help you do everything from product research to product launch to building and growing your Amazon business. They help you easily search for any product by keyword, categories or custom filters with Product Database to save time with your research by drilling down to find products with high demand. Their Product Tracker helps you find daily sales, inventory data, and revenue for any Amazon product. Their Supplier Database helps you find qualified international suppliers based on your search criteria. They help increase traffic to your product listings, improve PPC campaigns, and grow your business.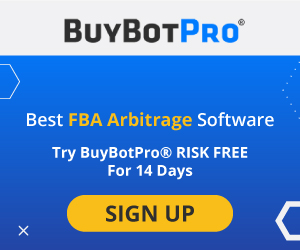 6. AMZScout: Best FBA Seller Tool for Amazon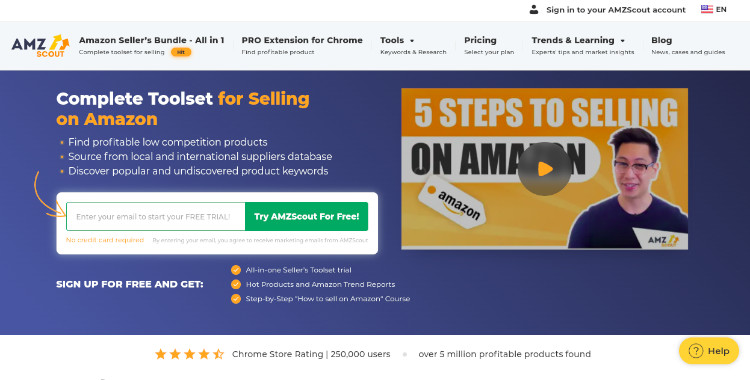 AMZScout is a complete toolset for selling on Amazon. They help you identify and compare products with the highest profit potential and evaluate competition using the legendary PRO Extension. They help gain access to the most accurate analytics solution in the industry. Using this, you can discover affordable and trustworthy suppliers from any country, including the US and China, in just one click and compare suppliers by rating and business activity to choose the most reliable partners for your business. They help keep tabs on all your competitors, monitor their sales, pricing, keywords, and stock levels to gain an advantage.
7. ZonGuru: Best Amazon Seller Tools to Scale Business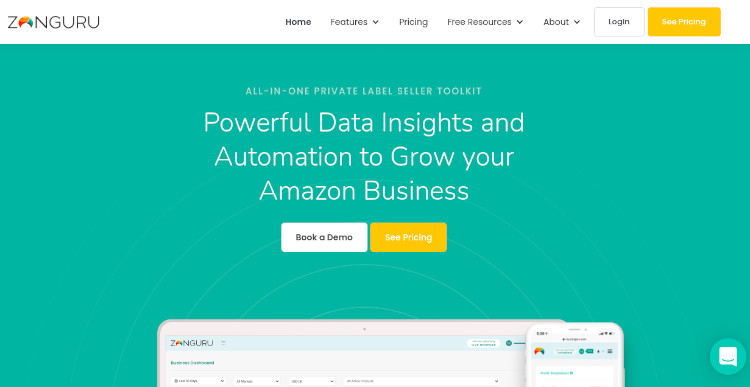 ZonGuru is an all-in-one private label seller toolkit that provides the most powerful data insights and automation to grow your business on Amazon. They help you find your next best selling product quickly and easily. Their Niche Finder is the best and most effective way to generate product ideas in the blink of an eye. Their Sales Spy helps track monthly sales data for any Amazon product. They help you find the strengths and weaknesses of a product and how to differentiate yours. Their world-first collaboration with Alibaba.com is designed to pair you with the perfect supplier. They have excellent tools to help you craft listings designed to attract clicks and conversions.
8. Viral Launch: Best Sourcing Tool for Amazon Sellers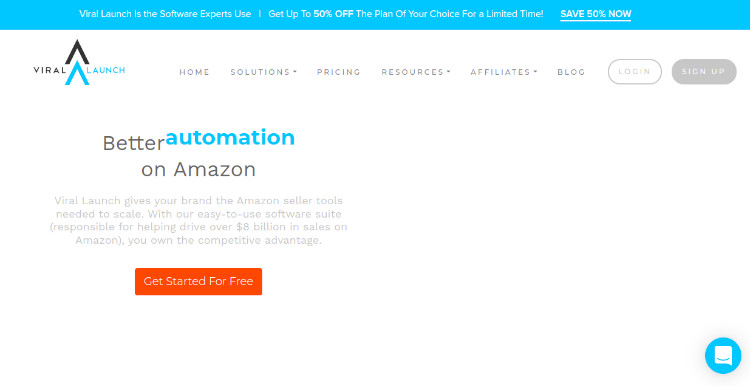 Viral Launch gives your brand the Amazon seller tools needed to scale. With their easy-to-use software suite, you own the competitive advantage. With their Product research tool, you can find reliable product ideas faster than ever before with accurate sales estimates, trends, insights, and more. They help you reverse-engineer and monitor your top competitors to learn from their strengths and capitalise on their weaknesses. It allows you to identify the most important keywords for your product at the click of a button with automated keyword research. They help you drive better PPC results with ad rank tracking, suggested bids, product-targeting suggestions, or managed services. It helps enhance your keyword strategy by tracking your performance and finding easy opportunities to improve.
9. Seller App: Best Marketing Tool for Amazon Sellers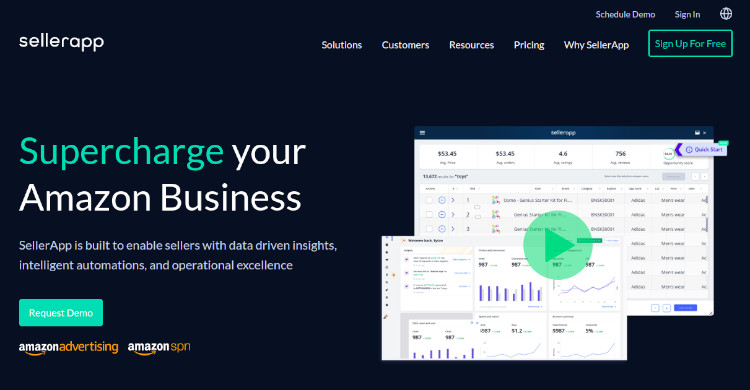 SellerApp connects all the different dots – Marketing, Sales, and Operations into one platform that ensures growth and success. They help flag negative search terms, automatically mine for converting keywords to optimise targeting to increase conversions while decreasing ad spends and ACoS. They help maximise your sales opportunities to track expenses, spending, and profits and provide hundreds of keyword suggestions along with the search volume, competition, and even seasonal trends. It scrutinises the discoverability along with the desirability of the listings to provide actionable listing improvement recommendations.
10. Sellics: Best Advertising Tool for Amazon Sellers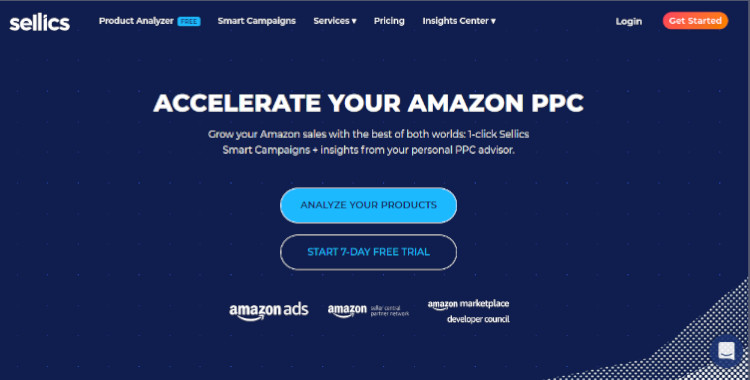 Sellics combines cutting-edge end-to-end AI technology with the best PPC experts out there to save you time and grow your business. They help save time and automate everything from best practice campaign setup to ongoing optimisation – with a few clicks. They provide in-depth, personal consulting or choose our hands-off managed service plans. They help you understand how you are doing with customised benchmark reports. With Sellics Automation, new relevant keywords have been added daily through keyword harvesting, increasing relevant traffic and better CTR.
Conclusion
Amazon has provided an invaluable opportunity to sellers. The best way to use it is to drive sales. It is impossible to do the varying tasks and work that comes with selling on Amazon without any help from seller tools. These seller tools help maximise business efficiency, productivity, and potential. You can still leverage the old strategies and tricks when selling on Amazon, but for best results, you must use the Amazon seller tools. These tools are not about making your business better but essentially about optimising your true potential and success. Use the best Amazon seller tools highlighted in our list above.
Limited Offers: On Growth Tools for Your Ecommerce Business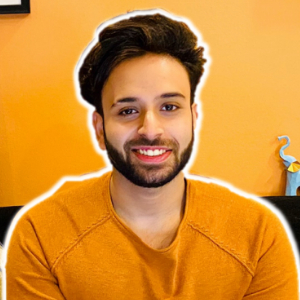 I and my team research various online verticals and can help you kickstart your Amazon business; so you could rake in more greenbacks with the best-recommended tools. Tap into the power of online retail business with me. I am just a mail away, so reach out to me if you want to scale up your niche business. mail: [email protected]