Last updated on January 18th, 2023 at 01:34 pm
1. Helium 10: Best All in One Amazon Seller Analytics Tool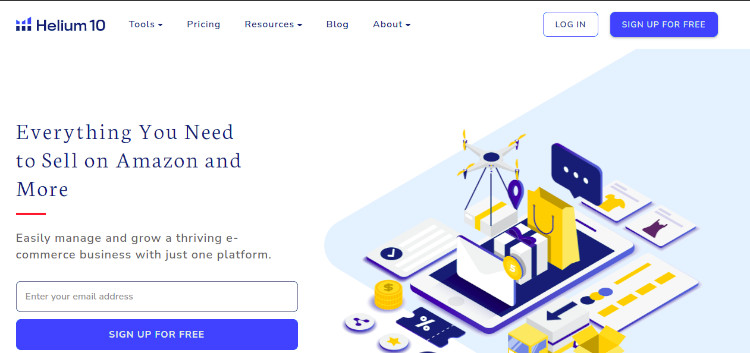 Helium becomes one of the best all-in-one Amazon seller analytics tools that combines the capabilities of 19 features into one and is made by amazon sellers themselves… A serial entrepreneur and online marketing coach, Manny coats, heads the project. The software combines 19 tools in one, and more features get added on each year. We will discuss some of the main features that make helium 10 one of the best amazon product research tools out there.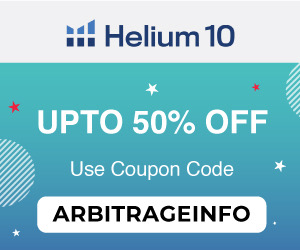 Cerebro: Using reverse ASIN helps us to spy on our competition by getting lots of keyword ideas.
Black Box: It's a powerful tool used to find the most profitable products to sell based on the criteria we provide.
Xray: This provides us with a browser extension that directly shows Amazon catalog information such as best sellers rank, total and average revenue, inventory levels, ratings, number of reviews, and much more.
Scribbles: Scribbles automatically adds the required keywords directly to our seller central via the Amazon Seller API.
Refund Genie: Estimated reimbursements for lost or damaged inventory and detailed reports on them are quickly generated to submit reimbursement requests to amazon.
Ads: This tool enables us to simplify, optimize, and automate your Amazon PPC Campaigns directly from helium 10. It allows us to view the top 5 products by spend and sales, highest ACoS campaigns, and spend keywords; setup sponsored Brand Campaigns, and more.
Helium 10 Pricing Plans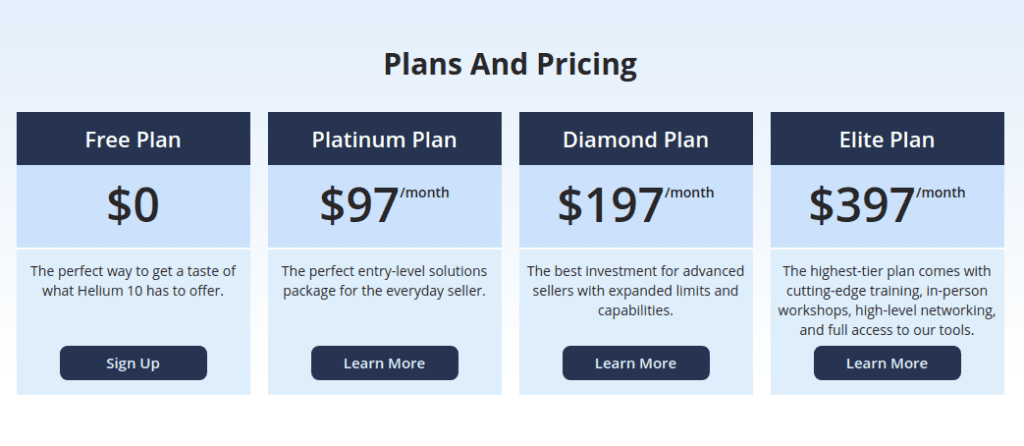 2. Jungle Scout: Best Amazon Product Research Finder Tool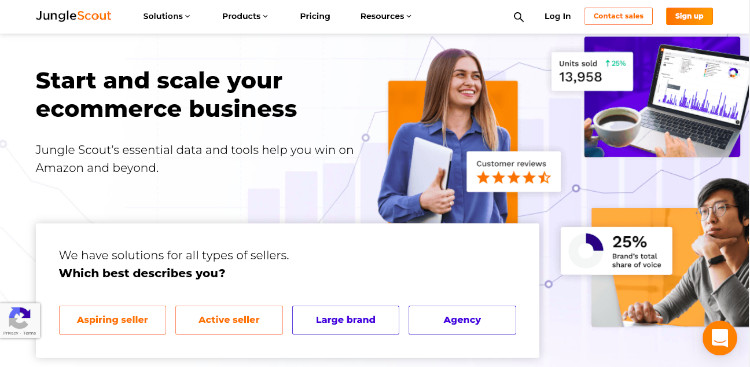 Jungle Scout is a research tool offered by Amazon that enables you with finding winning products, researching keywords, estimating sales, and keeping an eye on all the competitors right from your rich dashboard. Talking about its origin, Greg Mercer founded it in 2014. The primary purpose that it solves is to show you the most profitable product with which you can grow your business in the easiest way possible.
In the present scenario, when tonnes of competition is increasing every year, the need to choose the most profitable product becomes extremely important. A wrong choice of product can make you fall in the market irrespective of your talent. So, the most critical factor for success, i.e., product research, is where Jungle Scout helps you instantly.
Jungle Scout Product Features:
1) Niche Hunter
Niche Hunter forms an essential part of this Amazon tool which helps you in identifying some profitable niche keywords, ideas, and products based on the following parameters:
2)Product Tracker: This is the tool that spits out the entire sales history of your chosen product that will include the average price, Best Seller Rank, units sold, reviews, Inventory in Stock, and a lot more just to judge if your product can be the next big thing or not.
3)Product Database: This has over 70 million products from the Amazon catalog, but the best part is you don't have to view all of them to find what's right for you. It provides you with preset filters, which makes it easier for you to find what you need and will prevent you from overlooking good information present right there in the database like profit calculator, international marketplaces, etc.
Jungle Scout Pricing Plans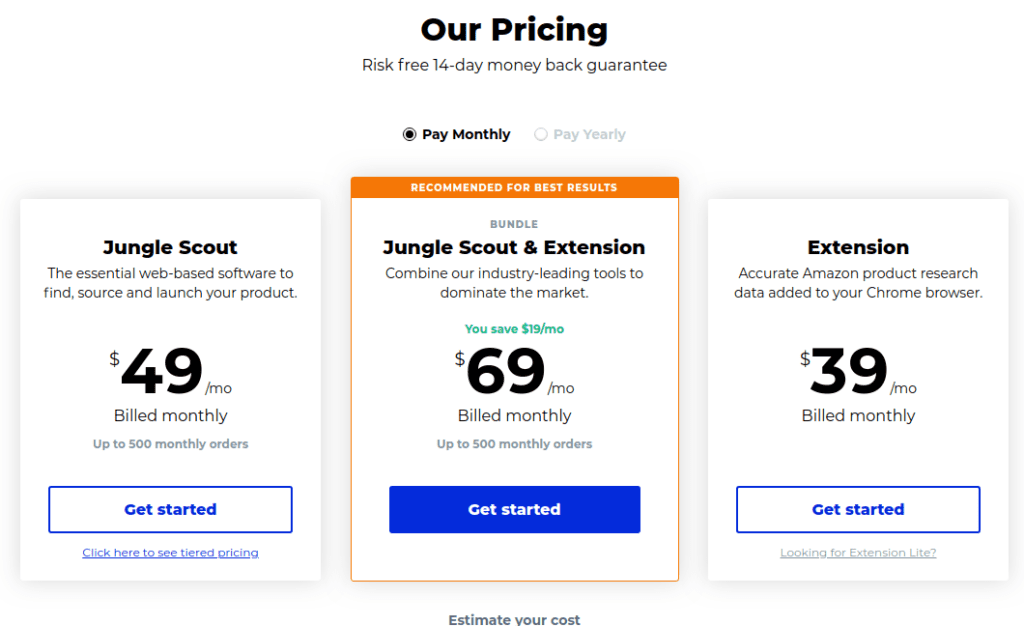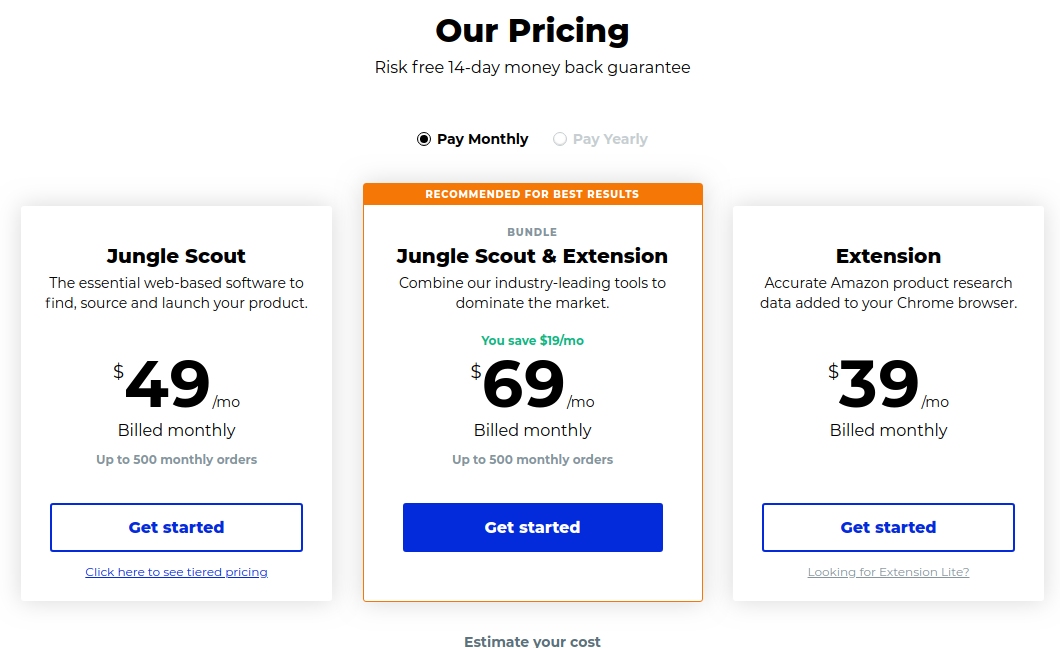 3. SellerApp: Best All in One Amazon Research Tool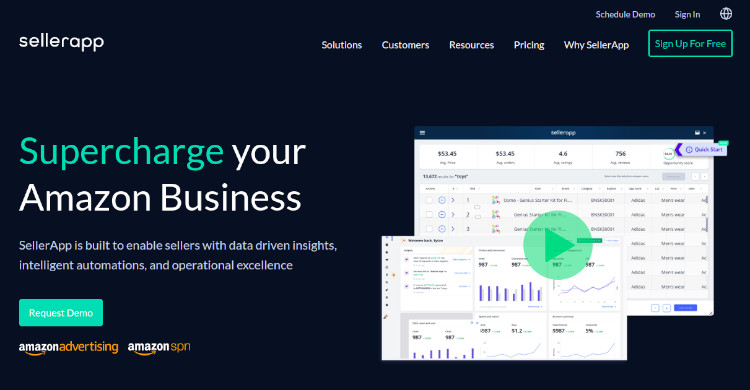 SellerApp is an all in one amazon research tool which provides ten salient features from rank monitors to product and keyword research.
It provides one of the best reverse ASIN tools to get a good idea about the competition you face as well as gain information from them.
Sellerapp Product Features
Product Research: To have the best performance of our products, product visibility is a crucial factor. The more closer the result is to the top ranks, the more likely your product will sell.
To allow your products to thrive, we must find products with less competition and the apt keywords which will enable them to have higher search results.
What the tool does is search through hundreds and thousands of products online, giving you a dashboard with the analysis sorted by categories you desire.
Product Ideas: SellerApp does, while providing ideas to improve your business, also helps in suggesting new ideas for products based on their current sales and predictions.
This feature becomes highly valuable when we are thinking of expanding our business.
Profit Dashboard: The presentation of data is as crucial as its analysis, and it plays a significant role in making many decisions. This tool enables looking like the most sophisticated amazon profit dashboard, where specific info about our day-to-day sales, performance, and much more is continuously monitored and displayed.
Listing Quality: Based on discoverability and desirability, this tool provides the best product listings. The listings so obtained will help us know the convincing and relevant bullet points, the attractiveness of one's product images, the number of reviews, and how they impact a buyer's decision.
Sellerapp Pricing Plans: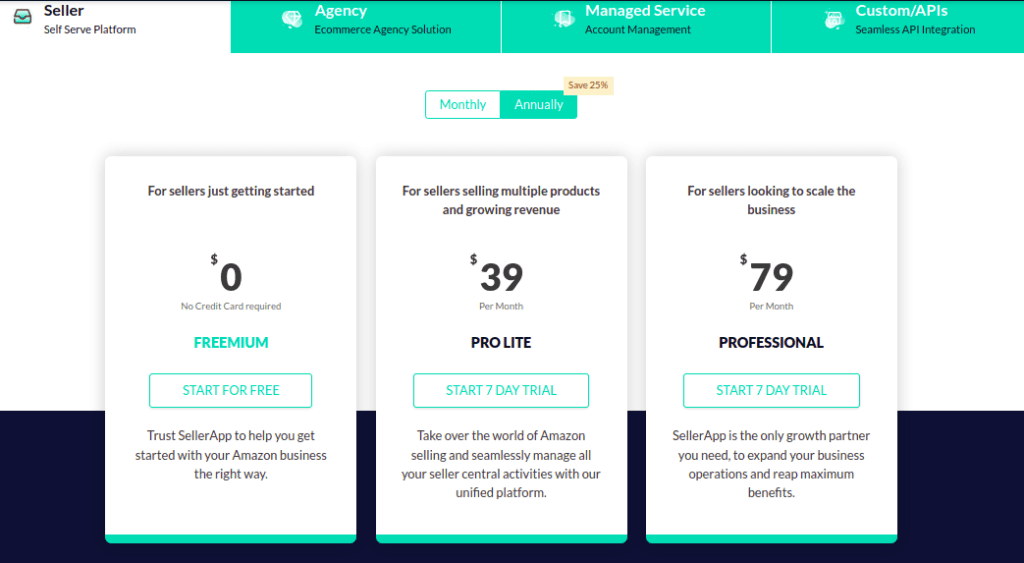 4. Viral Launch: Best Amazon Product Sourcing Tool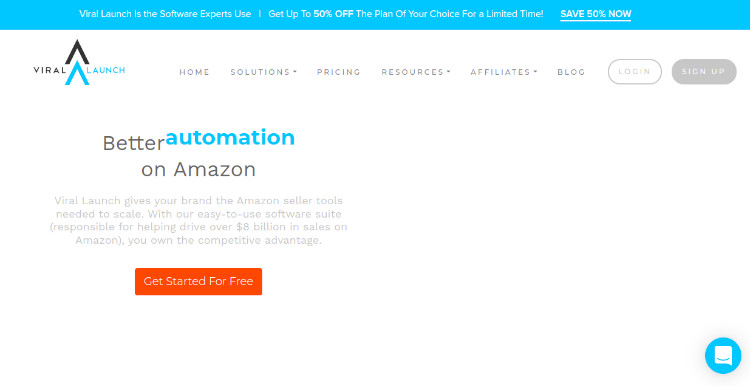 Viral launch is an Amazon research tool that has been garnering much popularity in recent times. This can only be attributed to its robust data and automation, seamless integration,result-driven procedures, and constant improvements. To make data-driven decisions in your business and clients' businesses, from finding the best products to target in ads to finding opportunities in your keyword research to discovering new products and evaluating competitors, the software suite gives you everything you need to get an edge.
Viral Launch Features
Its main features can be listed as follows.
Amazon Product research: A potential tool to compare products and decide which one will provide you with the optimum profit.
Amazon competitor tracker: A means to keep well track of your competitors in the market. It notifies you of their ups and downs and allows you to be one step ahead by knowing their moves.
Amazon keyword research: A tool that provides you with new suggestions for better organic traffic
Amazon Advertising & PPC: A tool to maximize your ROI and cut down on your campaigns
Amazon Keyword tracking:aTo keep track of your listing to get better ranks and changes to be made
There is room for improvement when it comes to optimization and development after launch. Still, when it comes to product research and launching a product as effectively as possible, the viral start is one of the best options out there.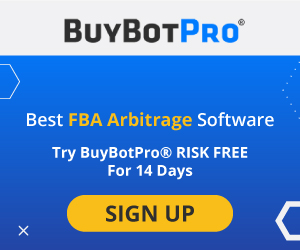 Viral Launch Pricing Plans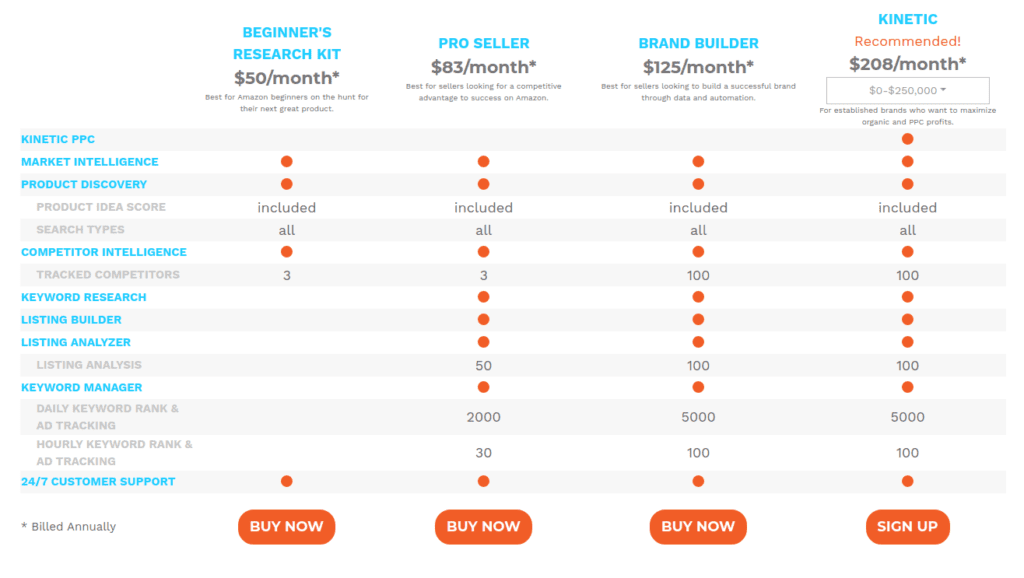 5. Egrow: Best Amazon Product Research Tool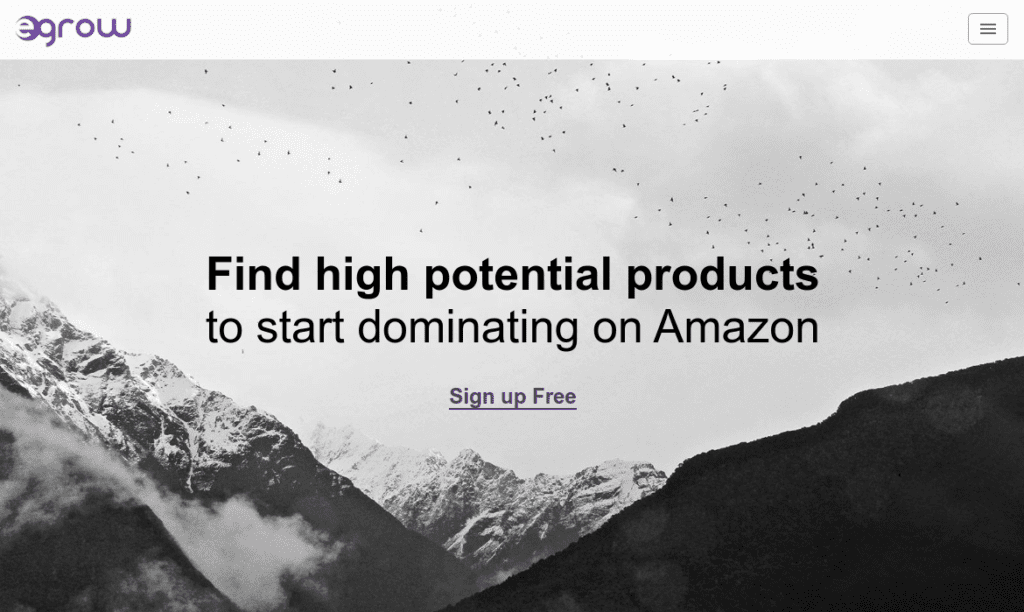 Egrow is a one-stop destination for amazon sellers. Accessibility and ease of understanding of data are what the modern man requires. Thus Egrow does its work by providing you with these facilities by analyzing millions of products on the Amazon marketplace and presenting it to you in easy-to-understand charts and figures. Time is of the essence when it comes to the market, and hence Egrow understands its value by doing swift analysis and finding the products suitable for you to sell.
Egrow offers all necessities needed to enhance your business to the next level for one single price. If you are just a toddler in the game, then Egrow ensures that it becomes your guiding light on the path of success. Or, if you are well versed in the field, then Egrow lets you monitor your progress and outpace your competitors.
Egrow.io Product Features
Product Database: An overall view of the best products according to sales, reviews, ratings, and more. It helps you seize the best opportunities out there, spy on successful sales, and ensure that you get the correct data.
Live Amazon Scanner: real-time keyword scanning and data extraction from amazon can be carried out without any other extensions or plugins.
Saved Searches: swift analysis of data can be made by pre-calculated numbers already available based on sales reviews etc.
Keyword & Niche Research Tool: low competition keywords generate good sales enabling your products to be ranked better.
Reverse ASIN Research: competitive keywords with important metrics are obtained to rate your product better.
Egrow.io Pricing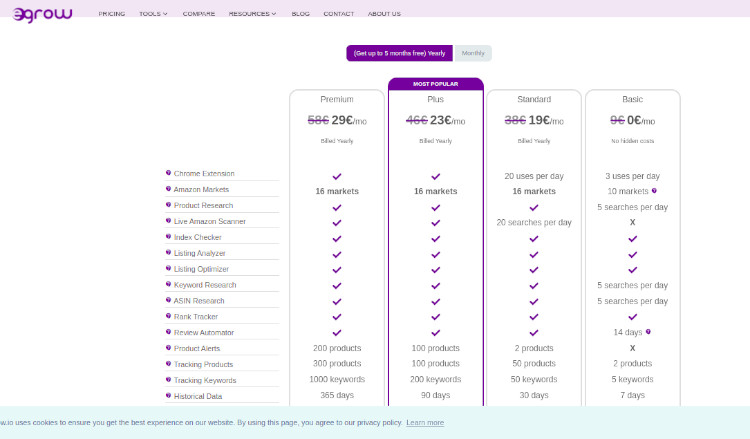 6. Zonguru: Best All-in-One Tool Kit for Amazon Sellers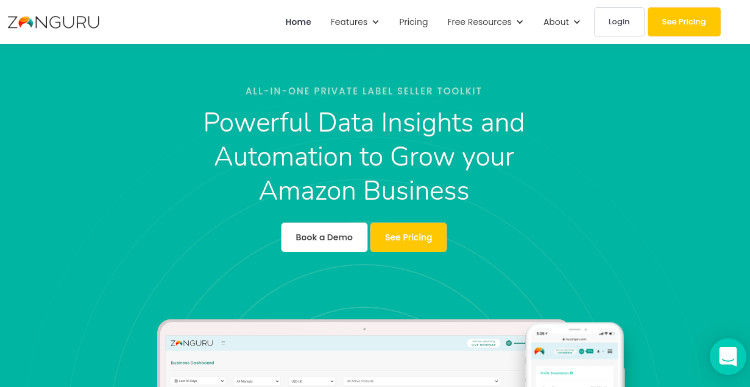 By realizing the need for an all-in-one tool, Adam Hudson and Jon Tiley are amazon sellers and developed zonguru. It provides you 12 tools in 1 software, effectively reducing your costs and making lives easier.
The 12 Tools in Zonguru
The Email Automator: Helps you to program personalized emails that needed to be sent to customers.
The ZonGuru Chrome extension: The extension available to view product data
The Keyword Tracker: Enables us to know where our product is ranked based on our keywords and note its development.
The Keyword Listing Optimizer: enables the optimization of titles of a product
The "Love-Hate: This creates an in-depth analysis of the product based on customer reviews
The Product Monitor: schedule alerts on products once it comes under the notice of a potential consumer.
The Negative Feedback: informs us of negative opinions left by the customer.
The Business Dashboard: Real-time estimation of net income based on our Amazon FBA business in the form of graphs
Your orders: help in centralizing all information about your customers.
Your Products: it deals with the logistics of your specific product.
The IP Monitor: This tool helps us protect our intellectual property like online content etc.
The Dirty Spy: To track the sales of any product in the amazon database.
Zonguru Pricing Plans: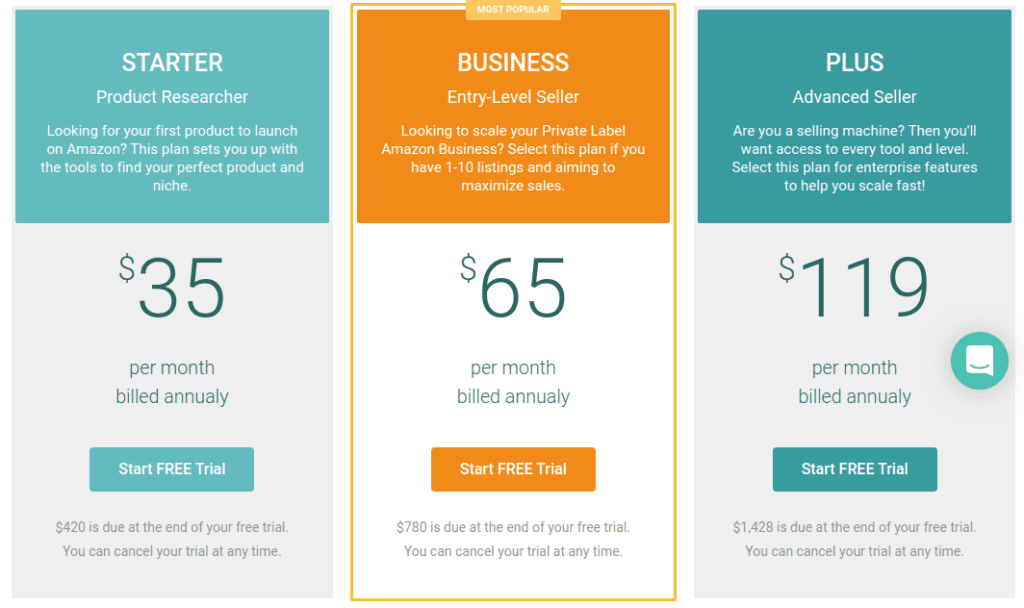 7. Sellics: Best Amazon Tool to Maximize your Profit
Sellics offers three to five analytical tools in one package for amazon sellers. You can use it to manage reviews, optimize rankings, track several performance metrics, monitor competitors, and much more. It started as a keyword ranking software, and several other features were added over the years to become a bundled package for amazon sellers.
Two separate platforms are provided by sellers: A vendor edition for amazon vendors and a seller edition.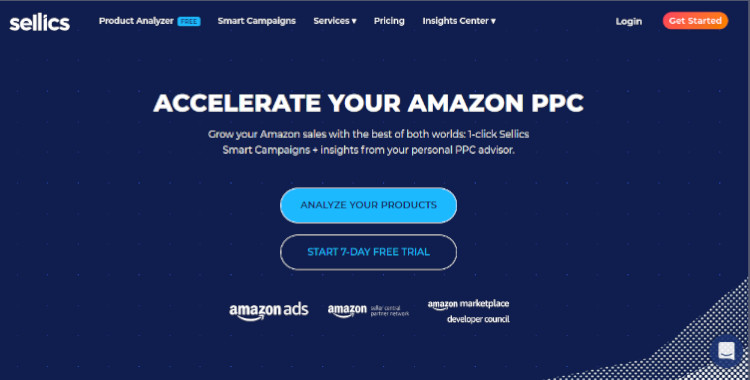 Sellics Product Features
Signing into the seller edition account takes us to the product detection page. The navigation bar setup helps us navigate between product detector, niche analyzer, and spy tool.
The drop-down menu has core features that can be accessed.
The Marketplace Web Service (Amazon MWS) API access token takes care of your privacy concerns. Your credentials are kept private, and as a member of Amazon's Solution Provider Network, sellers ensure that it isn't shared with any third-party software.
A breakdown of all the features are listed as follows
Product Detector
Niche Analyzer
Spy Tool
Cockpit
Keyword Rankings
Review Management
Inventory Management
Profit Dashboard
PPC Manage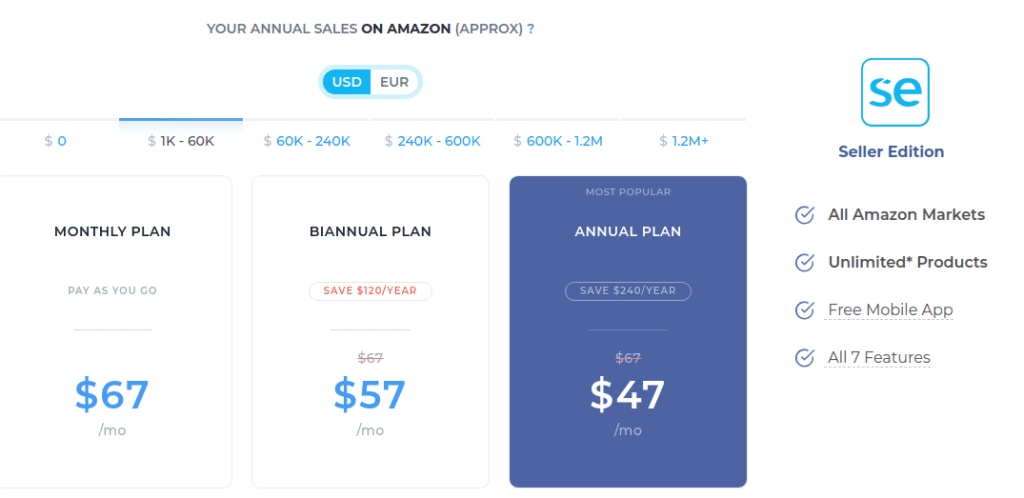 8. AmzShark: Best Toolkit for Amazon Sellers
Amzshark is a set of 13 tools that provides you with your amazon business solutions. It helps in many processes from listing optimization, PPC strategy, finding trendy keywords, etc.
Along with supporting the amazon marketplace, it also comes with great educational support with easy tutorials and a good user interface.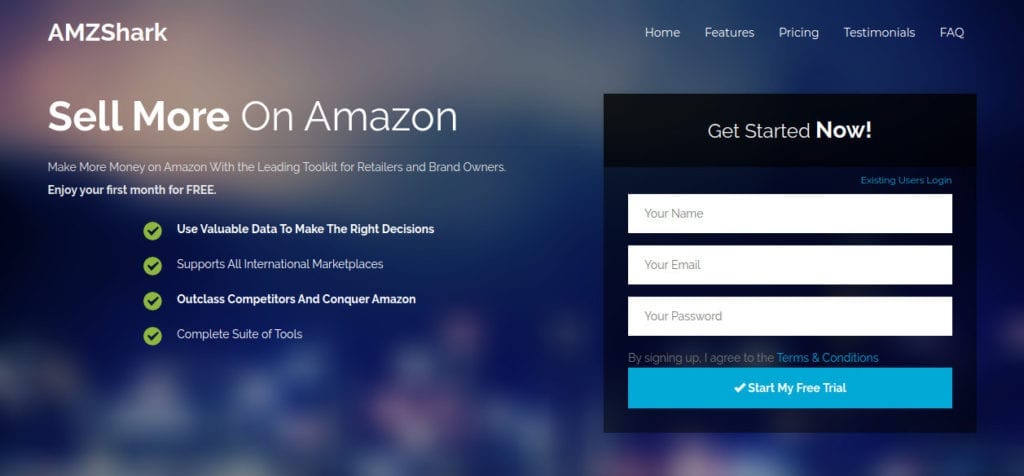 A breakdown of its functions is as follows
Niche Scout
Supplier Scout
Search Rankings Tracker
Keyword Explorer
Review Alerts
Listings Scout
Feedback Alerts
Keyword Comparison
Hijacking Alerts
Sales Tracker
Super URLs
Competition Scout
AmzShark Pricing Plans: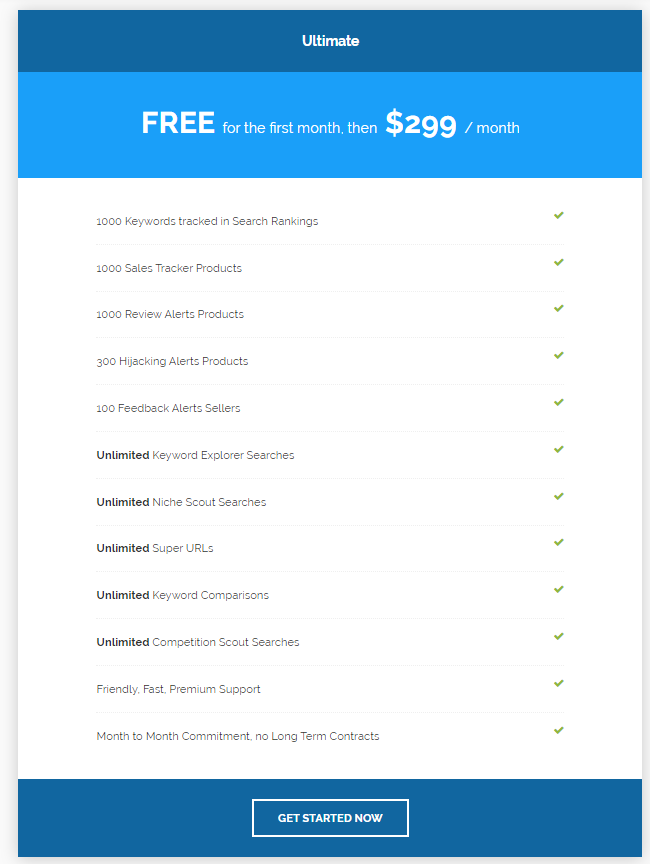 Roundup: The Best All in One Amazon Seller Tool
Thus as we have seen, the best tools enable us to be one step ahead of others in the market. These maximize your potential and saves time which can be utilized in other areas to increase your profit. The many different elements of a successful venture such as shipping, tax, payments, listing, sourcing, advertising, customer service, and much more are brought to your doorstep by these in one tool to make your smooth business running and profitable.
Limited Offers: On Growth Tools for Your Ecommerce Business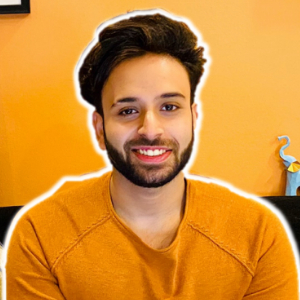 I and my team research various online verticals and can help you kickstart your Amazon business; so you could rake in more greenbacks with the best-recommended tools. Tap into the power of online retail business with me. I am just a mail away, so reach out to me if you want to scale up your niche business. mail: [email protected]