Last updated on January 17th, 2023 at 04:26 pm
The past couple of years witnessed the entire world being completely shifted towards digital commerce, and especially during the pandemic. The ecommerce industry has become more competitive, and both the large and small entrepreneurs are not selling digitally. Amazon alone has over 2 million active sellers all over the world. When there are sellers on such a large scale, it is important to equip yourself with the correct knowledge, skills, and tools. This is necessary to thrive in the increasingly competitive industry. Given that the new sellers have limited stocks, they would not need all the tools that are offered in the comprehensive software packages, but they definitely need the basic ones to help manage and grow business. These tools are essential in keyword research, automatic repricing, list optimization, feedback monitoring, and PPC management. In this list, we have spoken about the best Amazon Marketing Software Tools that will help you with your marketing on Amazon.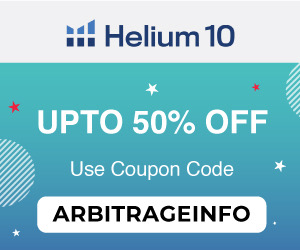 Benefits of Amazon Marketing Software Tools for FBA Sellers
Amazon marketing tools are important for sellers to remain competitive in the marketplace. These tools are used by marketers and sellers to search for keywords, check the ranking, determine product prices, calculate FBA fees, and monitor reviews. These tools help efficiently manage ads, inventory, sales, and marketing campaigns. There are several benefits that you can derive from the Amazon marketing software tools like:
Most eCommerce brands consist of small teams, and it becomes difficult for them to manage all tasks and manually keeping track of everything is not the best option for most teams. The Amazon marketing software tools help immensely with this and help manage and maintain all parts of a seller's presence.
It helps sellers quickly identify the best tools of the trade and leverage them to obtain success on Amazon.
10 Best Amazon Marketing Software Tools for Online Sellers: 2023
Here is a list of some of the best Amazon marketing software tools that can help online sellers as you succeed.
1. Sellzone: Best Amazon Marketing Tool for FBA Sellers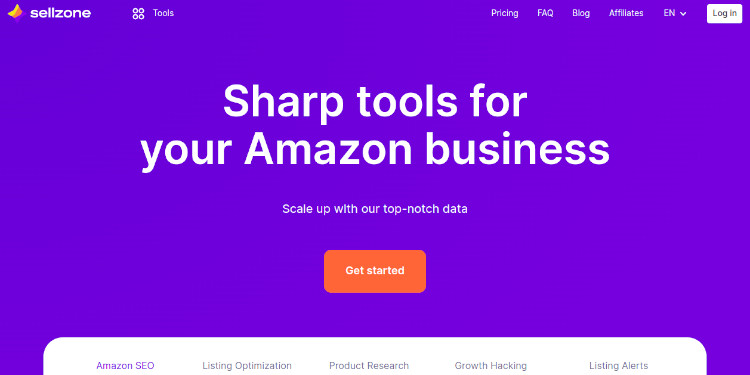 Sellzone provides sharp tools for your Amazon business and helps you scale up with their top-notch data. Their toolkit is extremely intuitive and easy to use. Not only do they provide a robust software system, but they assure ease of use. It is packed with strategy-altering data and offers one of the most informative blogs. They help make data-driven decisions and ensure that you have the highest quality listings that maximise your conversion.
Features:
Helps analyse Amazon search performance and external traffic of any product.
Helps enrich your listings with the right search terms.
Helps improve your product pages' visibility, CTR, and sales.
Using the monitoring tool, you can get instant alerts if something goes wrong.
Helps pick out low-competition, high-demand products to sell on Amazon.
Offers split testing tools that suggest changes that can make a big difference.
Helps launch and direct the most profitable advertising campaigns.
Pricing: They offer a free 7-day trial. They have a Free plan. For their Growth plan, they charge you $40 per month. For their Pro plan, they charge you $70 per month.
---
2. Helium 10: Best Amazon Marketing Software for Online Retailers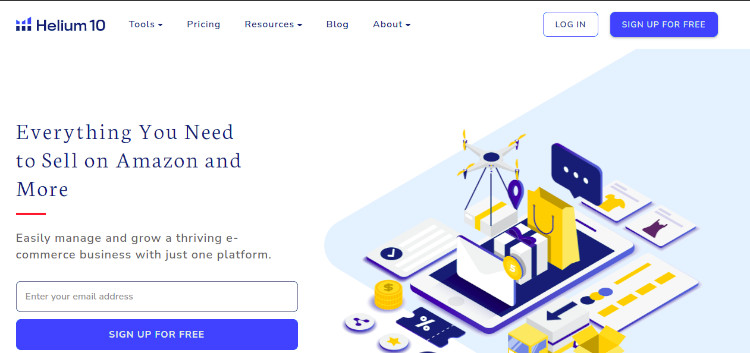 Helium 10 provides you with everything you need to sell on Amazon and more. They help you efficiently manage and grow a thriving e-commerce business. It is the industry's first all-in-one Amazon software that helps you manage everything. Their tools suite has nearly every tool and resource that you will need to sell on Amazon.
Features:
Helps easily find a product and quickly validate its success with analytics like seasonal trends, profit estimates, and more.
Helps source everything from backend keywords to low-competition phrases and more.
Offers easy-to-use tools to allow you to pack your listings with hundreds of keywords.
Leads you through the listing creation process, so you write stellar, high-ranking listings every time.
Offers non-stop monitoring that lets you know what's happening with your products, seller account, and markets.
Offers built-in security tools keep you a step ahead of malicious threats.
Helps create better products, positioning, and competitive strategies with smart metrics.
Offers PPC management and automation to help grow your revenue with minimal effort.
Pricing: They offer a Starter plan that will cost you $39 each month. Their Platinum plan will cost you $99 every month. Their Diamond plan will cost you $199 every month. You have to speak to their sales team to get a customised plan for the Enterprise plan.
---
3. JungleScout: Best Amazon Marketing Tool for New Sellers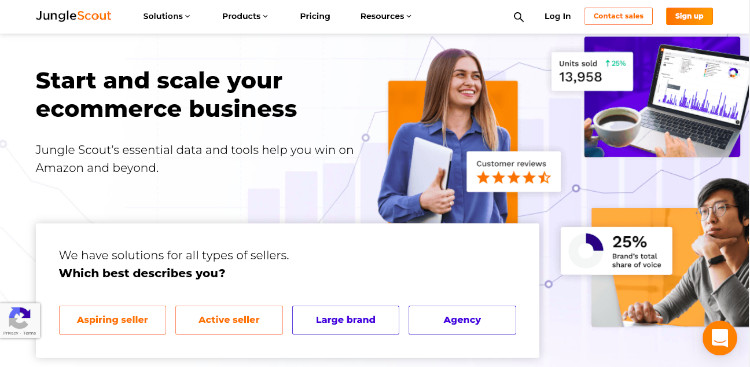 JungleScout is the leading all-in-one platform for finding, launching, and selling Amazon products that help you unlock your Amazon potential. They provide the best resource for data-driven product research. It handles the heavy lifting of big data analytics and helps sellers decide what products must be offered.
Features:
Helps uncover high-demand, low-competition keywords to find products with maximum profit potential on Amazon and helps identify trends and filter opportunities using AI-driven insights so you can confidently craft your product strategy.
Helps save and monitor product ideas and track a product or group of products to evaluate sales over time and spot trends, unexpected spikes, and seasonality.
Helps narrow your search with the most comprehensive product research filters, as well as a profit calculator to help you compare price, revenue, and FBA fees for each product opportunity.
Pricing: They offer a Basic plan that will cost you $29 per month. Their Suite plan will cost you $49 each month. Their Professional plan will cost you $89 each month.
---
4. AmzScout: Best Amazon Marketing App for Sellers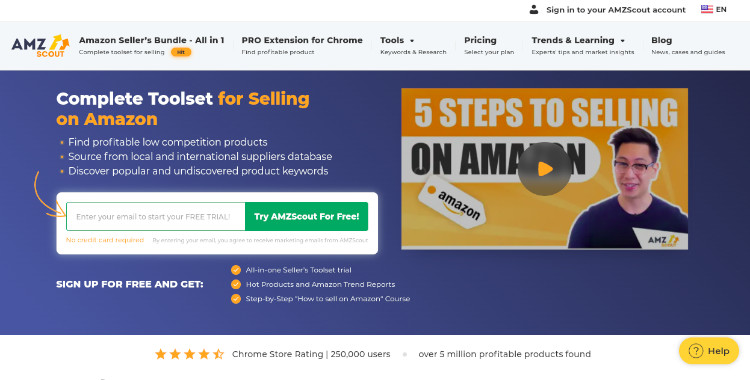 AmzScout is an excellent Amazon product research tool that empowers some of the most famous Amazon sellers. They show you a realistic overview of trends, saturation, competition, and more and offer tons of different tools that are really useful. It is at 94% accuracy and is perfect for finding niche ideas, finding how big these niches are, and then being able to build them into subsets. They have all the tools for product research in one place.
Features: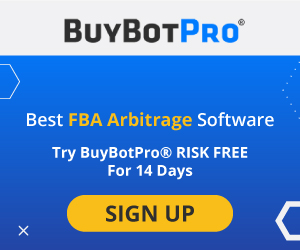 Helps keep tabs on all your competitors and monitor their sales, pricing, keywords, and stock levels to gain an advantage.
Helps launch a successful product quickly. They help get all the keywords, provide recommendations and reports to fine-tune your listings and beat your competitors.
Helps discover affordable and trustworthy suppliers and provides access to millions of manufacturers.
Helps identify and compare products with the best profit potential and helps evaluate the competition.
Pricing: They offer a Pro Extension, which is a legendary tool for product research and is loved for its accurate sales date and costs $16.49 per month. They have an Amazon Seller's Bundle, which is a complete toolset for beginners and experienced sellers and costs you $29 per month.
---
5. ZonGuru: All-in-One Amazon Marketing Tool for Sellers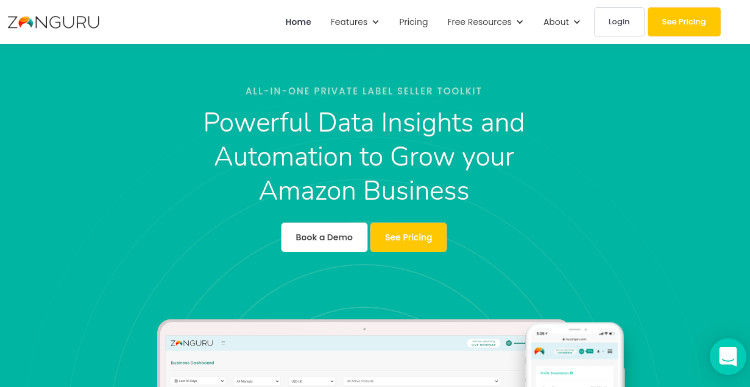 ZonGuru brings the most data-centric tools that help sellers scale their businesses on Amazon. It is an all-in-one toolkit for sellers and provides a range of powerful data insights and automation to grow your business. Their suite of product research tools helps sellers find their next best selling product both easily and quickly. They help you maximise your sales. With their simple UI and accurate data, you can keep an eye on how your business is doing. It helps you easily engage with customers to keep them returning.
Features:
Helps generate product ideas in the blink of an eye.
Helps craft the perfect listing with the most accurate data.
Helps track monthly sales data for any product.
Shows the strengths and weaknesses of your product.
Helps uncover the buyer keywords that are driving product sales for your competitors.
Helps spy on Your Competition's Backend Listing Copy for Ultimate Insight.
Provides all the important business metrics at your fingertips.
Helps manage your products and get alerts when to re-order from suppliers.
Helps automatically monitor what position your listing ranks for each of your buyer keywords every day.
Pricing: They have a Research plan which will cost you $24 monthly. Their Seller plan will cost you $38 monthly.
---
6. BuyBotPro: Amazon Market and Deal Analysis Tool for Sellers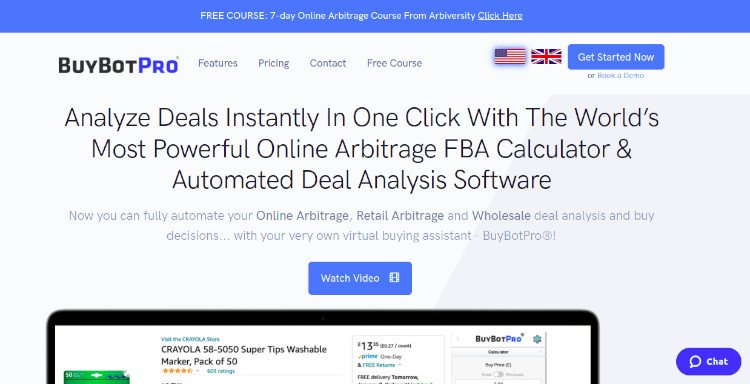 BuyBotPro is the world's first fully automated FBA calculator and deals analysis tool for Amazon sellers. This is the most advanced online arbitrage analysis tool in the industry. They automatically check your amazon online arbitrage deals for you, and save you time, money, and prevents the bad guys. You can now analyse deals faster and more accurately than ever before with BuyBotPro.
Features:
Makes your online arbitrage deal analysis faster and easier,
Shows you exactly how much you'll make after fees, taxes and other costs.
Helps analyse your competition.
Shows you if you can sell the product on your account.
Breaks down Amazon fees for you.
Enter your deals into sheets for you.
Shows sales there are of that product 30 days, 90 days and predicted 90 days.
Helps analyse the competition.
Pricing: They have a plan that will cost you $29.95 per month. Their other plan will cost you $39.95 each month.
---
7. Sellerapp: Best Amazon Marketing App for Online Merchants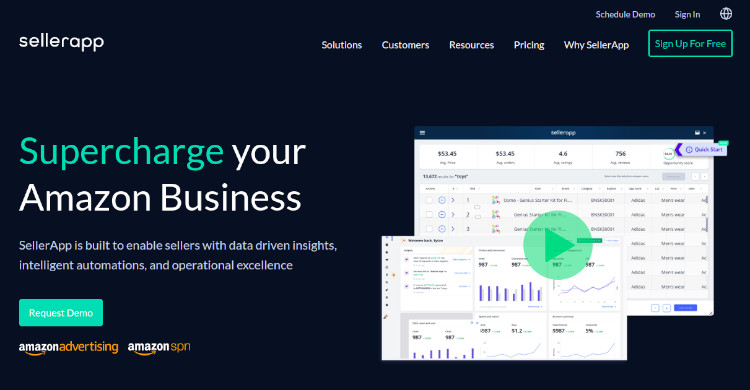 With Sellerapp, you can supercharge your Amazon business. It connects all the different dots – Marketing, Sales, and Operations into a single platform, ensuring growth and success. It allows you to automate your ad optimization process for the best profits. They offer advanced analytics and intelligence.
Features:
Helps flag negative search terms to automatically mine for converting keywords to optimize targeting and increase conversions while decreasing ad spends and ACoS.
Offers Chrome extension, which is your pair of intelligent eyes gathering every bit of sales information for every product as you browse through Amazon pages.
Helps optimize your Amazon pages, grow your revenue and in turn increase profits.
Pricing: They offer a Freemium plan that does not cost anything. Their Pro Lite plan will cost you $49 each month. Their Professional plan will cost you $99 each month. Their Select plan is completely customizable.
---
8. Sellics: Best Amazon PPC Marketing Tool for Sellers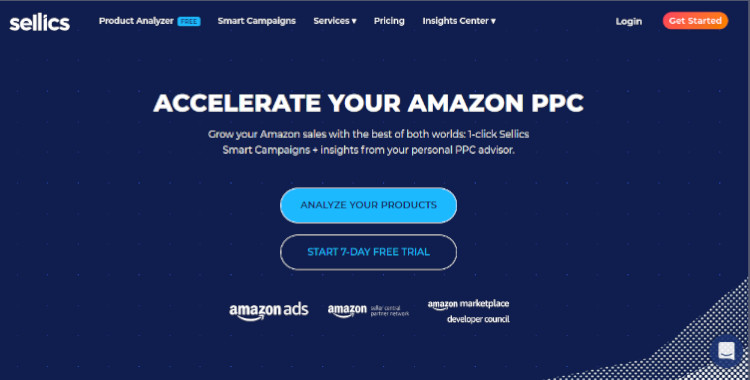 Sellics offers full one-click automation and advisory service for Amazon PPC. They combine cutting-edge end-to-end AI technology with the best PPC experts out there to save you time and grow your business. They help you save time and automate everything from best practice campaign setup to ongoing optimization – with a few clicks. Their AI-based algorithms leverage keyword clustering, sales forecasting, seasonality models and more.
Features:
Offers end-to-end automation to save you time.
Offers in-depth personal consulting.
Helps you understand how you are doing with customized benchmark reports covering over 20,000 product categories – showing your growth and cost-saving potential.
Adds new relevant keywords to campaigns daily through keyword harvesting, resulting in an increase of relevant traffic and better CTR.
Pricing: They offer a Sellics Benchmarker, which is free. Their plan, Advertising Advisor, starts from $259 per month. The plan, Managed Services, starts from $999 per month.
Roundup
You have to put in a lot of effort to become a successful Amazon seller, and it is necessary to manage various elements that include pricing, shipping logistics, listings, product sourcing, feedback, finances, SEO, advertising and other key components. It is challenging to manage all of this alone, and this is where the Amazon marketing tools come into play. Since Amazon allowed third-party sellers to access its platform, the number of Amazon tools has also grown exponentially. The products and services can help with several aspects of selling to Amazon and create various opportunities. If you use the best Amazon marketing software tools, you are definitely on the right track. They will help you with everything from product research, to automation, to getting the accurate metrics to make further decisions. They do the heavy lifting so that you can manage your ecommerce business and make profits. They help efficiently manage your finances, track inventory, and show the right product to the right audience to maximise conversion and sales. The abovementioned are the best Amazon marketing software tools for sellers, which will for sure show results.
Limited Offers: On Growth Tools for Your Ecommerce Business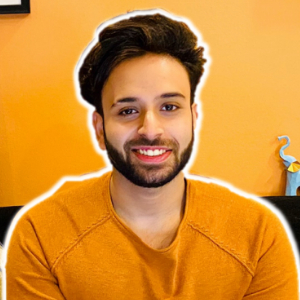 I and my team research various online verticals and can help you kickstart your Amazon business; so you could rake in more greenbacks with the best-recommended tools. Tap into the power of online retail business with me. I am just a mail away, so reach out to me if you want to scale up your niche business. mail: [email protected]