Last updated on January 17th, 2023 at 04:28 pm
Several ecommerce businesses have taken the opportunity that Amazon provides to increase their profit margins. Both retailers and new sellers are leveraging Amazon FBA, Fulfillment by Amazon, to find their niche in the online marketplace. It is common knowledge that Amazon works with third-party sellers. In 2020, almost half of all of the Amazon sales came from third-party sellers and not from Amazon directly, and two-thirds of those sellers use the FBA platform. Right now, more than two million people worldwide are participating in Amazon FBA. In this article, we will discuss what is Amazon FBA business and how one can do the strategic planning for the same.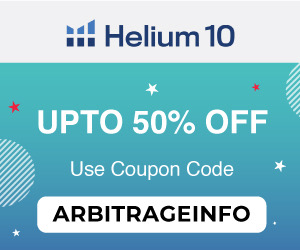 What is Amazon FBA Business?
Amazon is a giant in the online retail and fulfilment space. The pandemic has increased the use of the platform, and it now has over 300 million active customers worldwide. Amazon FBA business is one of the best business models that one must invest some time and effort in because it will pay off.
Amazon FBA business or Fulfillment by Amazon is a service that Amazon provides for their third-party sellers for automation of their order fulfillment and shipping services. It is a simple concept where the seller can sell, and Amazon ships the products. Anyone can get enrolled with this, and Amazon will handle all shipping, which includes returns and refunds, warehousing in their warehouses, picking, packing, and more. Sellers can send their products to Amazon, and they will store them in their warehouses and then process the orders, and come in. You can handle the sales and know for a fact that Amazon is stocked with your products, and then Amazon does the rest for you.
What are the features of Amazon FBA?
Amazon's Fulfillment by Amazon is a business model that is constantly evolving to meet the needs of both its customers and the sellers that use the platform. It strives to keep up-to-date with the changes that can help brands meet consumers' demands and stay the best with their FBA service.
They added the co-mingling of inventory, which is allowed if the barcodes are used. This is when Amazon stores each unit of a product together irrespective of the seller and ships any of those to a buyer. This is called stickerless inventory. Owing to this, a counterfeit can possibly be shipped to the customer in place of a high-quality unit that the seller placed in Amazon's warehouse. So, it is important to keep an eye on your inventory if you want to use this feature. There have been instances where legitimate sellers who used FBA were banned from selling on Amazon because of negative reviews for damaged or fake products.
Another feature is the Inventory Performance Index which quantifies a variety of elements to determine how the inventory is performing and to help you improve that by getting rid of excess inventory, improving the sell-through rate and such. You want a score above 500, which is based on factors like-
In-stock inventory
Excess inventory
Stranded inventory
Sell-through rates.
There are ASIN level quantity limits placed by Amazon to ensure that the seller has a variety of products, and the new performance dashboard helps easily monitor everything. You can track the inventory activity, focus on API score, and also get advice and tips on ways to make better use of your inventory from Amazon.
As mentioned earlier, Amazon is constantly changing and evolving its FBA program. They have a communicative system that notifies the sellers of changes and the new changes. It is very important to stay updated and make changes as they come down.
What are the Amazon FBA Fees?
Amazon FBA is going to cost money, and it would not always be a small amount of money. For starters, you need to think about how Amazon charges fees- for storage, items are charged based on size and weight, and not cost. So, if you sell low-cost items through FBA, it could cost more than it is worth. So, it is important to deliberately choose what you list on your FBA platform.
With the FBA program, you have to pay the storage and fulfilment fees. The more inventory you store, the more you have to pay. They have a nifty thing, where the costs of the items that are stored for longer than 180 days are increased.
Other than that, Amazon also tracks the items at the warehouse but have not been listed for sale or are stranded inventory. This costs you money, but Amazon also provided a Stranded inventory report.
In the reporting section of your FBA dashboard, you will find settlement fee reports. This will help you see the fees that you will pay to Amazon for this program. When there is excessive demand, like during the holiday season, you will have to pay higher storage fees to store inventory in the warehouse. This is why you must cross-check your listing and remove things you won't lose.
There are various costs involved with Amazon FBA, and there are some factors related to pricing that one must consider. But, Amazon generally provides all useful information and assistance to ensure highest transparency.
Advantages of Amazon FBA:
When you are thinking about doing a business, it is essential to draw out a list of the biggest things that would stand out in the particular business model. The top benefits offered by Amazon FBA are:
Effortless Shipping and Logistics: In FBA, Amazon will do all the work for you, and you only have to track your listings and make sure they are stocked. Amazon takes care of the fulfilment from start to finish.
Discounted Shipping Rates: Amazon is a fulfilment giant globally, so naturally, you will have to spend less on shipping costs. So, you will have to pay lower fees.
Management of Returns: Other than sales, Amazon will handle returns and refunds because they are part of the fulfilment process.
Management of Customer Service: Amazon offers their own customer service for the FBA sellers, and you can use its platform to take care of the customer service needs.
Quick Delivery: The products in FBA automatically get a Prime badge and are shipped for free at a faster speed. So, you do not have to pay premium fees for quick delivery.
More storage space: If you do not have FBA, how many products can you realistically store. With FBA, you get access to unlimited storage space for a cost, and they have warehouses everywhere.
Omnichannel Fulfillment: With FBA, you can sell to targeted customers on Amazon and access their new multi-channel fulfilment solutions, allowing you to sell your products to different platforms.
Strategy Planning for Amazon FBA Business Model
The Amazon FBA platform is not new, so you can access valuable insights that can help maximize your sales. Here is how you can increase your profits and streamline your growth using the FBA service:
Use analytics tools: It is essential to do your product research and find the most profitable products available on Amazon to determine the product categories you wish to sell in.
Smartly select products: It is essential to think about sales ranks and what you get in the exchange. High-ranking products are very competitive; they sell quickly and keep the inventory moving. Low ranking products can be stagnant but also allow you to become a leading seller.
Bundle items: The most challenging thing about Amazon is competing with dozens of common listings that do not have a significant price difference. You can stand out by curation of bundled listings that draw people's attention and offer more.
Build your brand: you must take the time to create a brand and reach your target audience. You have to simultaneously sell high-quality products and get good reviews to make sure that you maximize your sales opportunities.
Answer questions: One of the most important factors in choosing a seller is how well they respond to questions from consumers. You must answer questions promptly and politely.
List of Amazon FBA Software Tools
Here is a list of Amazon FBA software tools often used by the top sellers to increase sales and advertising ROI.
1. Helium10: Best Amazon FBA Software Tool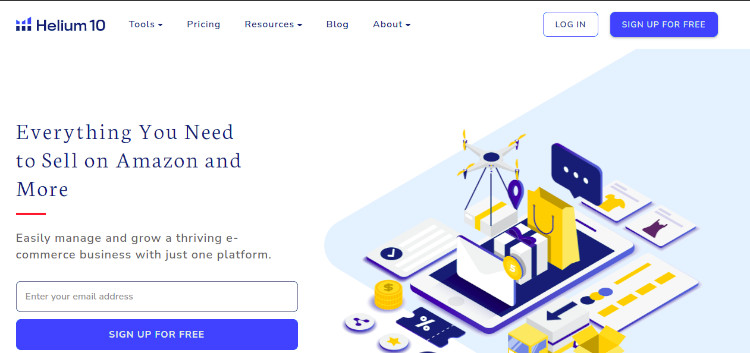 Description: Helium 10 provides you with everything you need to sell on Amazon and more. With this one platform, you can easily manage and grow a thriving e-commerce business. It is the industry's first all-in-one software that conducts more powerful product research. They help you find thousands of listings in just seconds, and you will be able to write listings in the best way. With the software, you'll be able to manage your business effortlessly. You can use their accurate analytics to power your decision-making process and market your business with utmost confidence.
Features:
Helps you easily find a product with their robust database and helps quickly validate your product's success.
Helps source everything from backend keywords to low-competition phrases and more.
Provides a smart guide to lead you through the listing creation process, and their easy-to-use tools allow you to pack your listings with hundreds of keywords.
With non-stop monitoring, you know what's happening with your products, seller account, and markets, and the built-in security tools keep you a step ahead of malicious threats.
Provides all kinds of analytics in clear, easy-to-read graphs.
It helps pull outside traffic and drive Amazon customers and their PPC management and automation, allowing you to grow your revenue with minimal effort.
Pricing: Their Starter Plan will cost you $39 each month. Their Platinum Plan will cost you $99 each month. Their Diamond Plan will cost you $199 each month. Their Enterprise plan provides custom plans.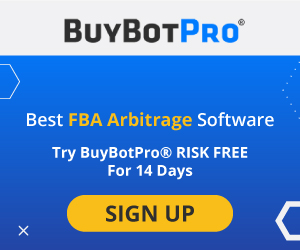 ---
2. Zen Arbitrage: Best Amazon FBA Book Arbitrage Software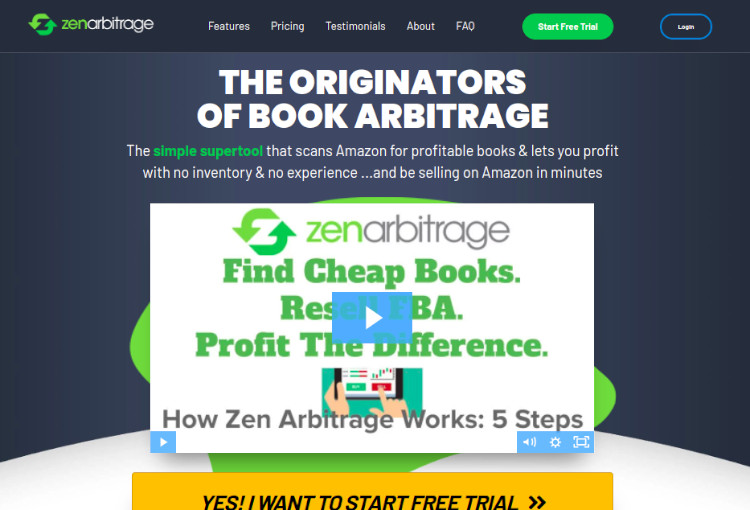 Description: Zen Arbitrage is the best tool for online arbitrage automation for Amazon sellers. It is a nifty tool that scans Amazon for profitable products and helps you profit without any inventory and experience. They offer a virtual business in a box, which includes everything you need. They allow you to scan and find excellent opportunities and profit from the difference. They offer the best features with absolute simplicity and an easy-to-use dashboard.
Features:
Provides the most detailed arbitrage training and real-time coaching.
Helps build a truly virtual business that you can run from anywhere in the world.
Offers pre-sorted lists of profitable products so that you can skin searching.
Offers built-in tracking to track all sales and profits.
Offers real-time Amazon data which is accurate.
Offers a whole suite of profit-boosting tools and various profitable streams.
Pricing: You can get Zen Arbitrage for just $97 a month. You can get both Zen Arbitrage and Zen Trade for $125 a month.
---
3. BuyBotPro: Best Amazon FBA Calculator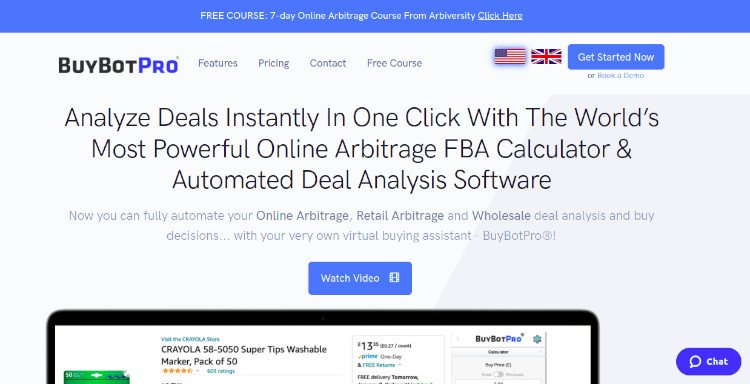 Description: With BuyBotPro, you can automate your online arbitrage deal analysis. It is a fully automated FBA calculator for Amazon sellers, which helps automate your online arbitrage, retail arbitrage, wholesale deal analysis and buy decisions. It is a manual sourcing accelerator that saves you time and enables you to make more money.
Features:
Help make your online arbitrage deal analysis faster and easier.
Shows you your profits after your taxes, fees, and other costs.
Tells you your BSR percentage and how fast it will likely sell.
Analyzes your competition and check for Intellectual Property violation.
Shows you your ROI and predicts sales.
Uses thousands of data points to analyze a deal for you in seconds.
Shows a sales chart history with FBA Price, New Price, Amazon Price and Sales Rank for 7 – 360 days.
Shows all variations for that product, their price, the number of sellers and all fully searchable.
Pricing: One of their plans will cost you $29.95 per month. Their other plan will cost you $39.95 per month.
---
4. AmzScout: Best Amazon FBA App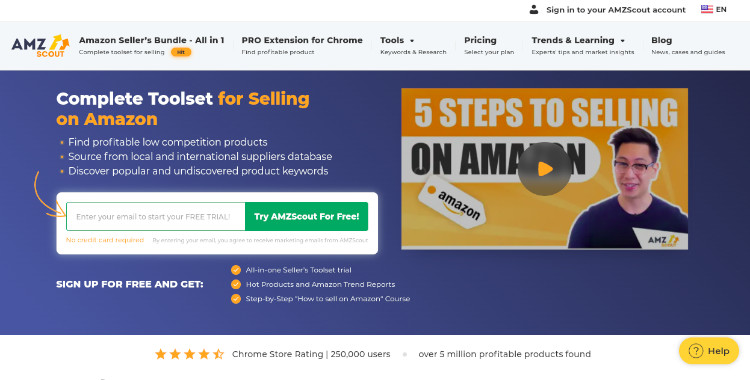 Description: AMZScout is an excellent product research tool. It provides you with a complete toolset to sell on Amazon. It helps you find profitable low competition products and sources from local and international suppliers databases. They allow you to discover popular and undiscovered product keywords. They provide you with the key with the most realistic overview of trends, saturation, competition, demand and supply. They can help with both dropshipping and FBA and save you a lot of time.
Features:
Helps find and verify profitable products to see if they trend up or down and check competition levels to get sourcing options and improve your listing quality.
Provides a whole course on how to sell on Amazon profitably.
Provides 19 of the top 1% profitable products delivered to you weekly.
Provides reports with Monthly Product Trends, Profitable Niches, Amazon News, Insights and Tips on Maximizing Profit.
Helps generate profitable product ideas, select the best product out of a profitable niche, check product performance with daily tracking.
Helps gather the best keywords for your listings to attract customers via search and PPC campaigns.
Shows organic positions and monitors keyword rankings to run PPC with high output keywords.
Pricing: You can get the Amazon Seller's Bundle for just $29 per month. The Pro Extension plan will cost you $16.49 per month.
---
5. JungleScout: Best Amazon FBA Tool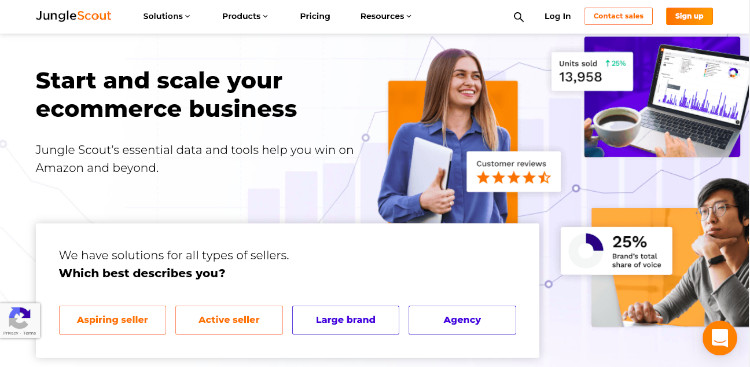 Description: With Jungle Scout, you can unlock your Amazon potential. It is the leading all-in-one platform for finding, launching, and selling Amazon products. It is the best resource for data-driven product research and handles all the heavy lifting on big analytics. It has helped thousands of sellers avoid failure and helps sellers decide what to sell.
Features:
Helps uncover high-demand, low-competition keywords and find products with maximum profit potential on Amazon.
Helps identify trends and filter opportunities using AI-driven insights so you can confidently craft your product strategy.
Helps save and monitor product ideas, so you never lose out on an opportunity and track a product or group of products to evaluate sales over time and spot trends, unexpected spikes, and seasonality.
Helps narrow your search with the most comprehensive product research filters, as well as a profit calculator to help you compare price, revenue, and FBA fees for each product opportunity.
Pricing: Their Start-up suite plan will cost you $189 per month. Their Entrepreneur Suite will cost you $349 per month. You can get the Freedom Builder Bootcamp for just $999 for a year.
---
6. ZonGuru: Best Amazon FBA Marketing Tool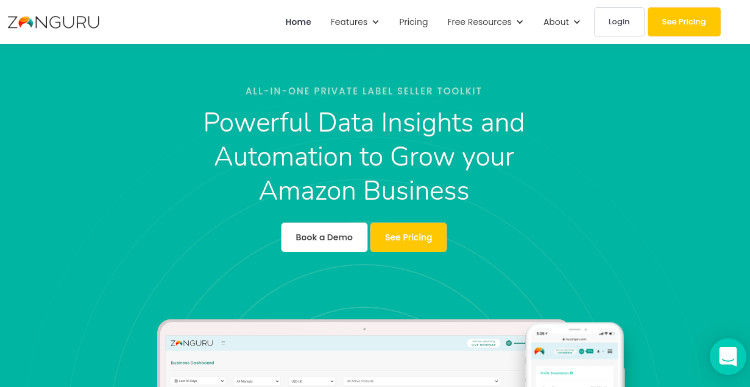 Description: ZonGuru aims to provide the most accurate data and estimations. They provide the most accurate data insights and automation to grow your Amazon business. With their Product research tool, you can find your next best-selling product quickly and easily.
Features:
Helps maximise sales by showing where to put the keywords and images to drive sales.
Offers simple UI and robust and accurate data to show how your business is doing.
Helps connect with customers to keep them returning.
Offers Niche Finder, which is the most effective way to generate product ideas.
Helps craft the perfect listing backed by accurate data.
Pricing: Their Researcher plan will cost you $24 per month. Their Seller plan starts from $38 per month.
---
Roundup
If you leverage the power of Amazon FBA, you can get a lot of online sales only if you do it correctly and have profitable products. There are various ways to sell on Amazon, and different people will not arrive at the same decisions. With what we have presented to you in this article on What is Amazon FBA Business Model, it must be easier to decide if you want to proceed with this. Ultimately, FBA offers sellers the best in a good package that is priced reasonably. It might not work for everyone, but it is an excellent opportunity.
Limited Offers: On Growth Tools for Your Ecommerce Business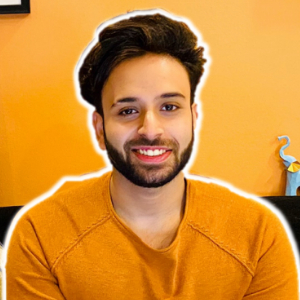 I and my team research various online verticals and can help you kickstart your Amazon business; so you could rake in more greenbacks with the best-recommended tools. Tap into the power of online retail business with me. I am just a mail away, so reach out to me if you want to scale up your niche business. mail: [email protected]