Last updated on January 17th, 2023 at 04:23 pm
Amazon is an increasingly popular shopping site. If you are looking to sell products online, you must add Amazon selling to your list. It is one of the most important selling sites now, has an impressive customer base, and has about 200 million active visitors every month. When you are using a platform like Amazon, there is no limit to the number of people you can possibly reach.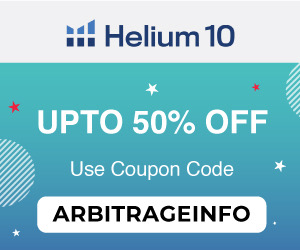 Amazon sells a lot of products, but that does not mean you will list anything to sell on the app, and it will sell. The most important and first step to start selling on Amazon is to choose the correct product category. New sellers must not sell products that do not sell. When you choose a product category, you must consider some very important factors like:
Popularity of products
Search volume
Profitability
Availability of products
Competitors
As a seller, you cannot just randomly select a product and start selling it, especially if you want to be a successful Amazon seller. It is very important to do product research before you start to sell, find the best selling products, and offer the very best to the customers. You must also look out for competitors. You must focus on the best seller's rank and look for categories that have minimal competition. In this article, we will list the best selling products on Amazon that you can consider.
Shopping Trends on Amazon in 2023
The use of ecommerce has certainly accelerated in the last few years because the pandemic has forced people to turn to online shopping. Amidst this, the one destination for people to find their products is Amazon, followed by Google. Amazon has built very strong relationships and allows people to easily check reviews, prices, and product inventory. This clearly means that sellers must capitalize on Amazon advertising and make sure that their brands are visible when shoppers are delving into research. For younger audiences, the channel is supposed to be social media. 18-25-year-olds research their products on Instagram, while for an older age group, the same would be on Facebook. Given the popularity of such shopping destinations, one must capitalize on it and reach young shoppers.
The Best Selling Product Categories on Amazon for 2023
If you wish to sell on Amazon and succeed, you have to target the best product categories and sell items that will possibly empty your inventory quickly. You have to be careful about the product to make sales happen. Some of the best-selling product category options on Amazon are:
Apparels and Accessories
Cosmetics
Skincare
Electronics
Hair Care
Health
Nutrition
Supplements
Home Decor
Toys
Best Selling Items on Amazon in 2023
The best selling products on Amazon in the past year have been:
Crossbody Purses: People were staying in during the pandemic and did not have a need for purses. With places opening up and people going out, purses and handbags have been high in demand. The purses, all kinds of varieties, have been flying off the shelves.
Microfiber sheet sets: Since the pandemic, people have been very focused on being more comfortable, and this caused microfiber sheet sets to be very high in demand.
Blue Light Glasse: Given that people have switched to a work-from-home pattern in various industries, they have to use their computers a lot. This has made blue light glasses demands go very high because they filter the blue light from screens so that your eyes are not harmed as much.
Handmade items: Amazon has seen the rising popularity of handmade items that provide shoppers with access to very unique items. It includes jewellery, bags, and home decor.
Eye Compress: Given that people cannot go to a spa, the at-home spa treatments and other relaxation items have witnessed high demands.
Face Masks: People are unable to go to salons and are doing their best to take care of themselves at their homes. They are buying everything from gel masks, beauty face masks to cream masks. These products are both relaxing and beautiful.
Fitness Items: Fitness items have always been a hot seller on Amazon, but since the pandemic, people have purchased items more to stay fit at home.
Games: SInce the pandemic, people have been trying to find products that will keep them busy at home. Games and puzzles have been great to fulfil entertainment needs.
K-Pop Products: The wave for K-Pop has started recently, and the buzz has driven people to buy K-Pop merchandise online. It varies from phone covers, accessories to sweatshirts.
Yoga Pants: People have been looking for clothing that is comfortable and good looking, especially with basic pants. These items will make sure that profits roll in.
How to Find the Best Selling Items on Amazon: Best Practices for Product Research
Some of the best things to consider when doing product research are:
What is trending: To narrow down your options and find the best products to sell on Amazon, you need to see what is trending, check their bestseller list. You can also rely on Google trends for the same. The products that are trending in retail stores will most likely be high in demand.
High demand products: Make sure the products are high in demand, even when they are overly trending. You must find products that people would want to buy and make your store look like the best place to buy them from.
Avoid Seasonal Items: The seasonal items will definitely sell out during the seasons, but if it does not, you will have to hold the inventory till the next year. Seasonal items are popular during the time but not the best financial move if they do not sell out fast.
Find a Specialized NicheL With products that are high in demand, you will definitely face immense competition, so it is important to choose a specialised niche. This will make sure that you will sell a trending item, you stand out, and this will help build a loyal following.
Check Product Reviews: If you want to sell high-demand products that have a loyal following, focus on the reviews. Use keywords to focus on the specific products. As you read reviews, you will know how long these products have been on Amazon and what they do. This will give insight into what buyers like and what they do not.
List of Tools to Find the Best Selling Product Items on Amazon
Here is a list of Amazon FBA software tools often used by the top sellers to increase sales and advertising ROI.
1. Helium10: Best Amazon FBA Software Tool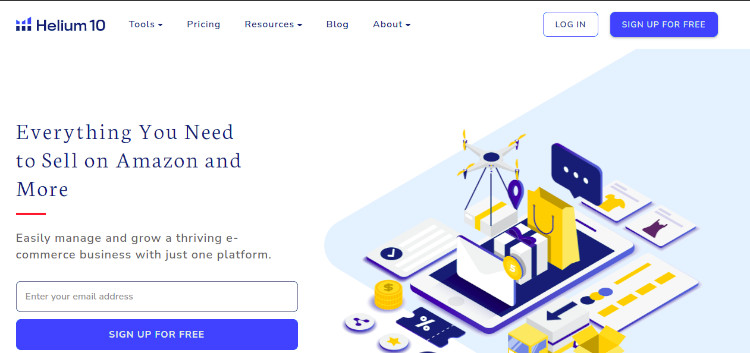 Helium 10 provides you with everything you need to sell on Amazon and more. With this one platform, you can easily manage and grow a thriving e-commerce business. It is the industry's first all-in-one software that conducts more powerful product research. They help you find thousands of listings in just seconds, and you will be able to write listings in the best way. With the software, you'll be able to manage your business effortlessly. You can use their accurate analytics to power your decision-making process and market your business with utmost confidence.
Features:
Helps you easily find a product with their robust database and helps quickly validate your product's success.
Helps source everything from backend keywords to low-competition phrases and more.
Provides a smart guide to lead you through the listing creation process, and their easy-to-use tools allow you to pack your listings with hundreds of keywords.
With non-stop monitoring, you know what's happening with your products, seller account, and markets, and the built-in security tools keep you a step ahead of malicious threats.
Provides all kinds of analytics in clear, easy-to-read graphs.
It helps pull outside traffic and drive Amazon customers and their PPC management and automation, allowing you to grow your revenue with minimal effort.
Pricing: Their Starter Plan will cost you $39 each month. Their Platinum Plan will cost you $99 each month. Their Diamond Plan will cost you $199 each month. Their Enterprise plan provides custom plans.
2. Zen Arbitrage: Best Amazon FBA Book Arbitrage Software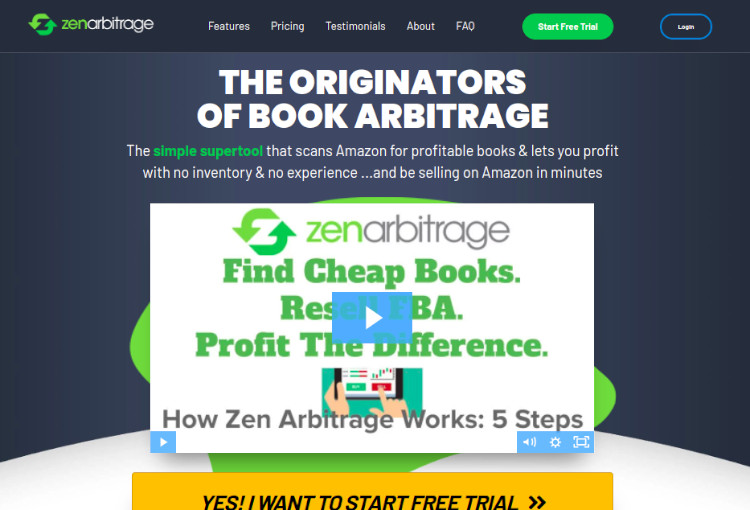 Zen Arbitrage is the best tool for online arbitrage automation for Amazon sellers. It is a nifty tool that scans Amazon for profitable products and helps you profit without any inventory and experience. They offer a virtual business in a box, which includes everything you need. They allow you to scan and find excellent opportunities and profit from the difference. They offer the best features with absolute simplicity and an easy-to-use dashboard.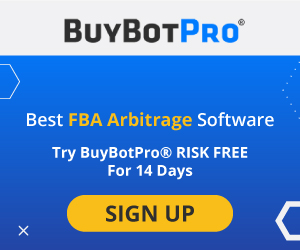 Features:
Provides the most detailed arbitrage training and real-time coaching.
Helps build a truly virtual business that you can run from anywhere in the world.
Offers pre-sorted lists of profitable products so that you can skin searching.
Offers built-in tracking to track all sales and profits.
Offers real-time Amazon data which is accurate.
Offers a whole suite of profit-boosting tools and various profitable streams.
Pricing: You can get Zen Arbitrage for just $97 a month. You can get both Zen Arbitrage and Zen Trade for $125 a month.
3. BuyBotPro: Best Amazon FBA Calculator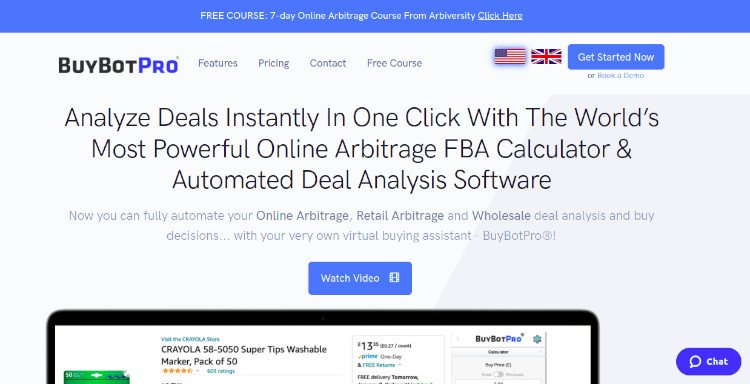 With BuyBotPro, you can automate your online arbitrage deal analysis. It is a fully automated FBA calculator for Amazon sellers, which helps automate your online arbitrage, retail arbitrage, wholesale deal analysis and buy decisions. It is a manual sourcing accelerator that saves you time and enables you to make more money.
Features:
Help make your online arbitrage deal analysis faster and easier.
Shows you your profits after your taxes, fees, and other costs.
Tells you your BSR percentage and how fast it will likely sell.
Analyzes your competition and check for Intellectual Property violation.
Shows you your ROI and predicts sales.
Uses thousands of data points to analyze a deal for you in seconds.
Shows a sales chart history with FBA Price, New Price, Amazon Price and Sales Rank for 7 – 360 days.
Shows all variations for that product, their price, the number of sellers and all fully searchable.
Pricing: One of their plans will cost you $29.95 per month. Their other plan will cost you $39.95 per month.
4. AmzScout: Best Amazon FBA App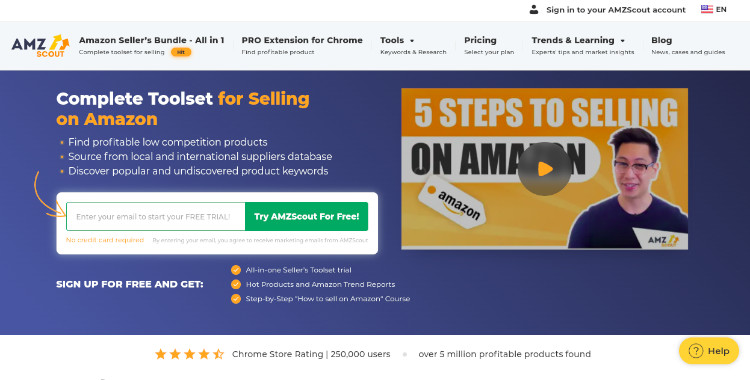 AMZScout is an excellent product research tool. It provides you with a complete toolset to sell on Amazon. It helps you find profitable low competition products and sources from local and international supplier's databases. They allow you to discover popular and undiscovered product keywords. They provide you with the key to the most realistic overview of trends, saturation, competition, demand and supply. They can help with both dropshipping and FBA and save you a lot of time.
Features:
Helps find and verify profitable products to see if they trend up or down and check competition levels to get sourcing options and improve your listing quality.
Provides a whole course on how to sell on Amazon profitably.
Provides 19 of the top 1% profitable products delivered to you weekly.
Provides reports with Monthly Product Trends, Profitable Niches, Amazon News, Insights and Tips on Maximizing Profit.
Helps generate profitable product ideas, select the best product out of a profitable niche, check product performance with daily tracking.
Helps gather the best keywords for your listings to attract customers via search and PPC campaigns.
Shows organic positions and monitors keyword rankings to run PPC with high output keywords.
Pricing: You can get the Amazon Seller's Bundle for just $29 per month. The Pro Extension plan will cost you $16.49 per month.
5. JungleScout: Best Amazon FBA Tool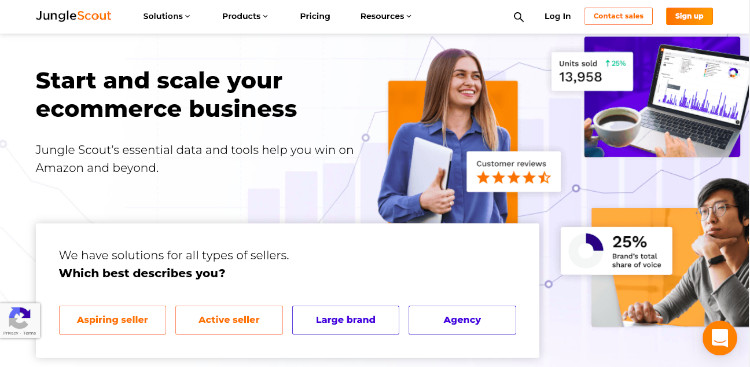 With Jungle Scout, you can unlock your Amazon potential. It is the leading all-in-one platform for finding, launching, and selling Amazon products. It is the best resource for data-driven product research and handles all the heavy lifting on big analytics. It has helped thousands of sellers avoid failure and helps sellers decide what to sell.
Features:
Helps uncover high-demand, low-competition keywords and find products with maximum profit potential on Amazon.
Helps identify trends and filter opportunities using AI-driven insights so you can confidently craft your product strategy.
Helps save and monitor product ideas, so you never lose out on an opportunity and track a product or group of products to evaluate sales over time and spot trends, unexpected spikes, and seasonality.
Helps narrow your search with the most comprehensive product research filters, as well as a profit calculator to help you compare price, revenue, and FBA fees for each product opportunity.
Pricing: Their Start-up suite plan will cost you $189 per month. Their Entrepreneur Suite will cost you $349 per month. You can get the Freedom Builder Bootcamp for just $999 for a year.
6. ZonGuru: Best Amazon FBA Marketing Tool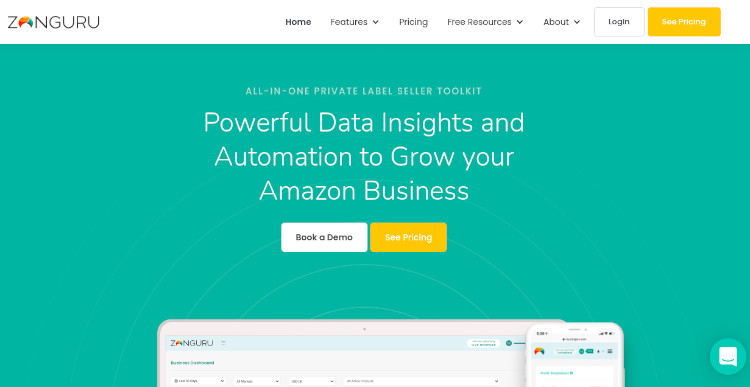 Description: ZonGuru aims to provide the most accurate data and estimations. They provide the most accurate data insights and automation to grow your Amazon business. With their Product research tool, you can find your next best-selling product quickly and easily.
Features:
Helps maximise sales by showing where to put the keywords and images to drive sales.
Offers simple UI and robust and accurate data to show how your business is doing.
Helps connect with customers to keep them returning.
Offers Niche Finder, which is the most effective way to generate product ideas.
Helps craft the perfect listing backed by accurate data.
Pricing: Their Researcher plan will cost you $24 per month. Their Seller plan starts from $38 per month.
Roundup
Irrespective of whether you are a new seller or just looking to add new products, any of the items that we have listed above are a great option to start with. It is important to then build the product inventory. You can start with just some products and expand from that. Or you can just stock a few products from each category to gauge how products sell and understand how products sell and what the customer base is like. It is important to keep up with product research because the market keeps changing. This helps to know that popular products in the past might not be the same now. You must follow our list of the best selling products on Amazon to refer to and know the best sellers.
Limited Offers: On Growth Tools for Your Ecommerce Business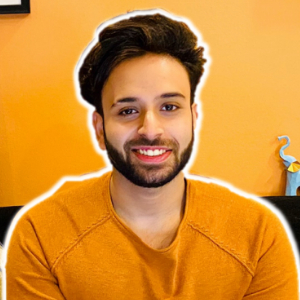 I and my team research various online verticals and can help you kickstart your Amazon business; so you could rake in more greenbacks with the best-recommended tools. Tap into the power of online retail business with me. I am just a mail away, so reach out to me if you want to scale up your niche business. mail: [email protected]