Last updated on January 18th, 2023 at 01:37 pm
Researching for a product to sell on Amazon, is all about analyzing current market trends to choose an item that can generate high sales. Basically what you are trying to do is to search for a product that you can get for less cost & yet sell at competitive prices with a good profit margin. It is not surprising that most people who look into FBA will never start unless they find a product with low competition & also which is high in demand. Going through the steps, first, you need to list the best selling products on Amazon, select the ones you would like to sell. Then, do thorough research & see if similar items are generating enough sales. This step is crucial because you will never want to sell items that people are not even looking for. After you have made a list of potentially profitable products, you need to dig deep & analyze their statistics like sales, reviews, keyword search volume, & similar products, etc.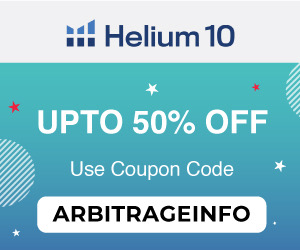 To be successful in selling a product on Amazon, you need to keep in mind the following things:
Products not Dependent on Seasons: Go for products that aren't seasonal & can sell all year
No legal problems: Avoid products that have any trademark or legal issues.
Higher Price per unit: Products with low prices have smaller margins & thus should be avoided unless you are assured of volume.
Lightweight & small: These types of products lead to lower shipping costs reduced storage & other logistical costs & thus improve margins.
Product with a USP: Choose a product that can perform better than your competitors, this increases the chances of making more revenue.
Product research can be tedious if done manually, here are a few tools to make your life easier
10 Best Amazon Product Research Software Tools: 2023
Here is a detailed listing of the top 10 best Amazon product research software tools for online sellers.
1. Helium 10: Best Amazon Product Research Software Tool
Black Box is a powerful Amazon product research tool that uses smart advanced filters & strategic data to help sellers find new product ideas based on their exact needs. They can easily analyze the average sales volume, price, weight, & competition of any product on Amazon, allowing you to complete hours worth of product research work in seconds. The results can also be saved & sorted into different lists to keep them for future use. It is far quicker & simpler than any other similar tool on the market.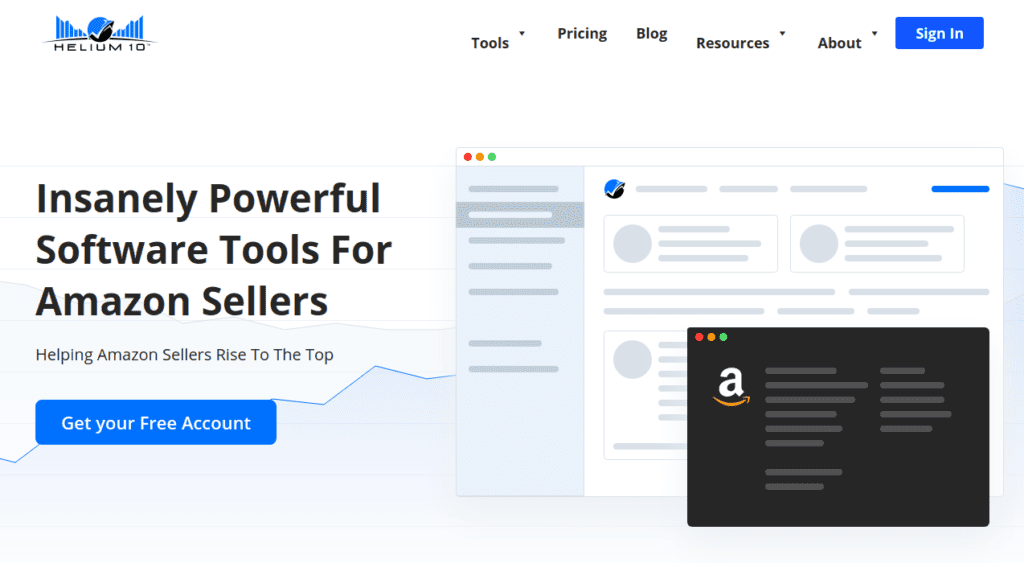 Features:
Index Checker – This tool generally allows all the sellers to simply figure out which of their backend & frontend keyword terms that are generally indexed by the Amazon & which are not.
Keyword Tracker – This tool allows you to simply keep a log of the changes that you have actually made right in your marketing & optimization efforts.
Alerts – This hijacker alert lets you keep track of anyone barging in your site.
Pricing: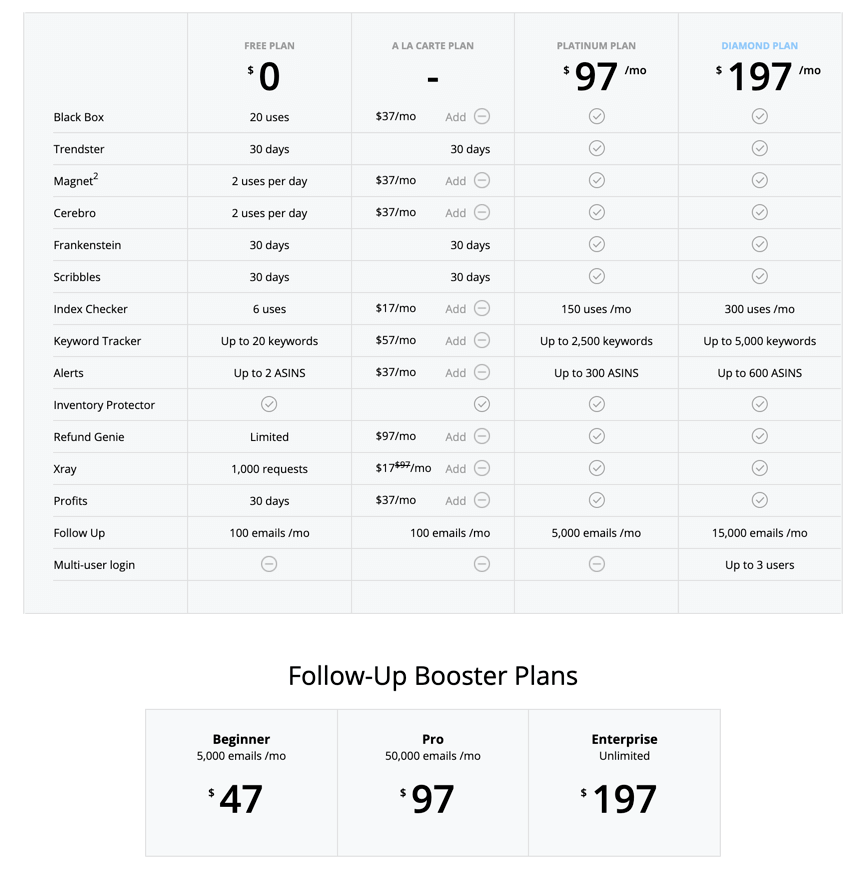 Discount Codes:
Check here the various Helium 10 discounts & coupons offered to benefit sellers who have a growing business
"ARBITRAGEINFO50"
50% off your first month of Helium 10
"ARBITRAGEINFO10"
10% off every month of Helium 10
ARBITRAGEINFO50 / get 50% off your first month of Helium 10.
ARBITRAGEINFO10 / get 10% off every month.
2. Jungle Scout: Top Amazon Product Research Software Tool
Jungle Scout is a tool that enables you to analyze & sort through the long list of Amazon products in order to discover which ones will be the most profitable & help you achieve a steady flow of income from your business. "Average Daily Sales", "Average Sales Rank", "Average Selling Price", "Average Reviews", & "Opportunity Score" will suggest if a niche is worth entering. These numbers offer you a good idea of competitiveness & demand & will help you determine if more research should be done, or if a different product should be found.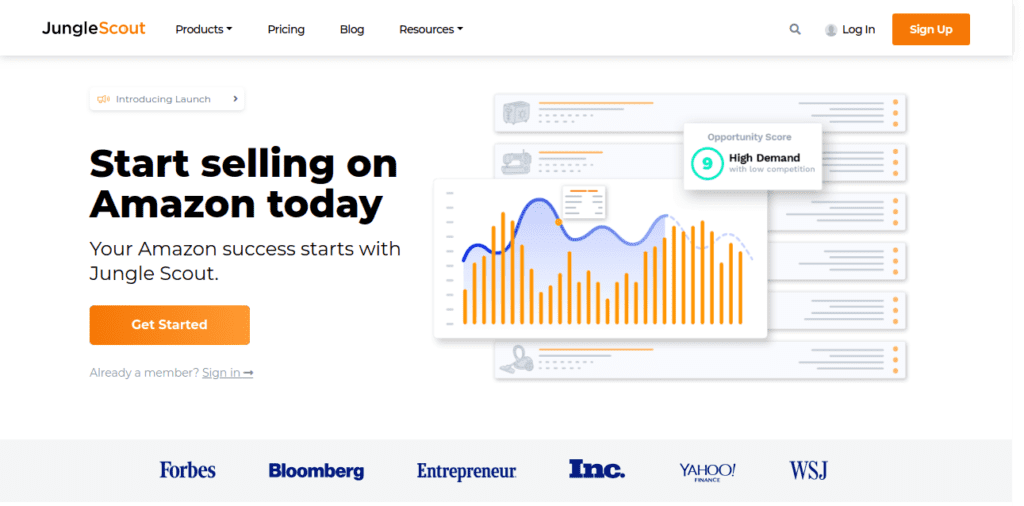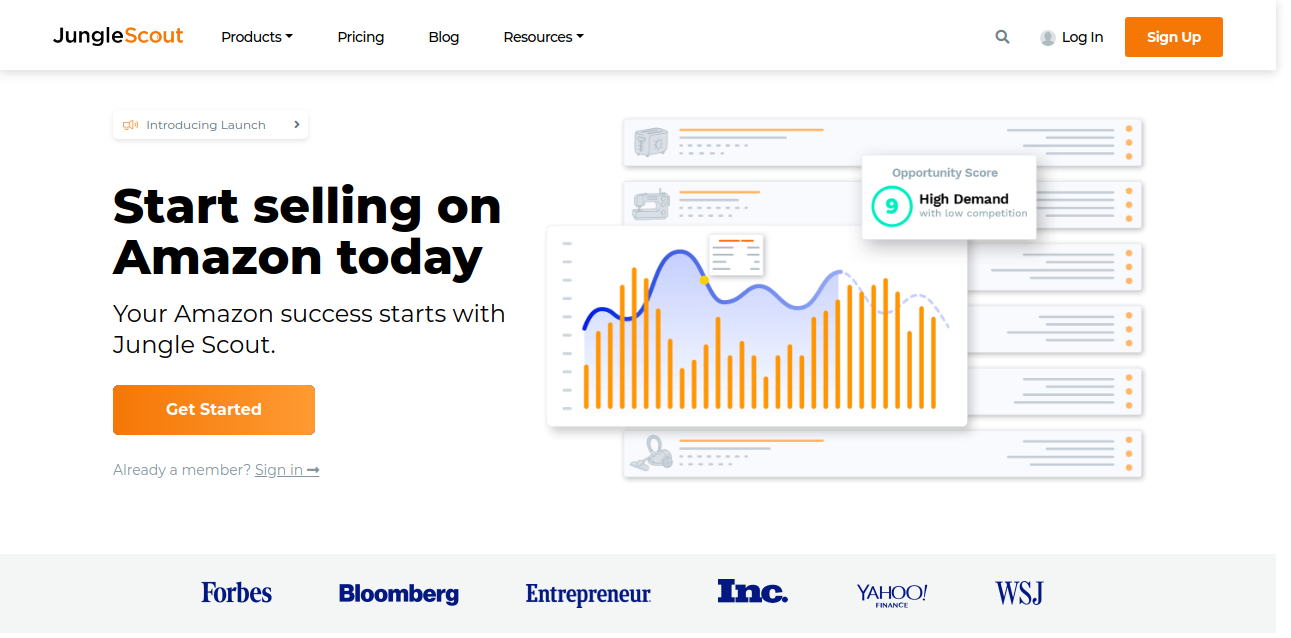 Features
Single User Account
Daily & Monthly Sales
Monthly Revenue
Rating & Review Tracking
Category & Seller Ranking
Historical Sales & Pricing
Estimated FBA Fees
Product Opportunity Score
Listing Quality Score
Pricing
The effective product research tool added to the Chrome browser is a risk-free extension with14-day money-back guarantee. Accurate Amazon product research data added to your Chrome browser at $39 billed monthly.
Signup with this Jungle Scout link to avail exclusive offers (only for Arbitrageinfo readers).
3. Sellics: Best Amazon Product Research Software Tool
Sellics started off as a commercial analytics company in Germany in 2014 that just used to have a keyword tracker. Now they have created different versions of the software to accommodate businesses of all sizes comprising all tools that are needed to be a successful Amazon seller.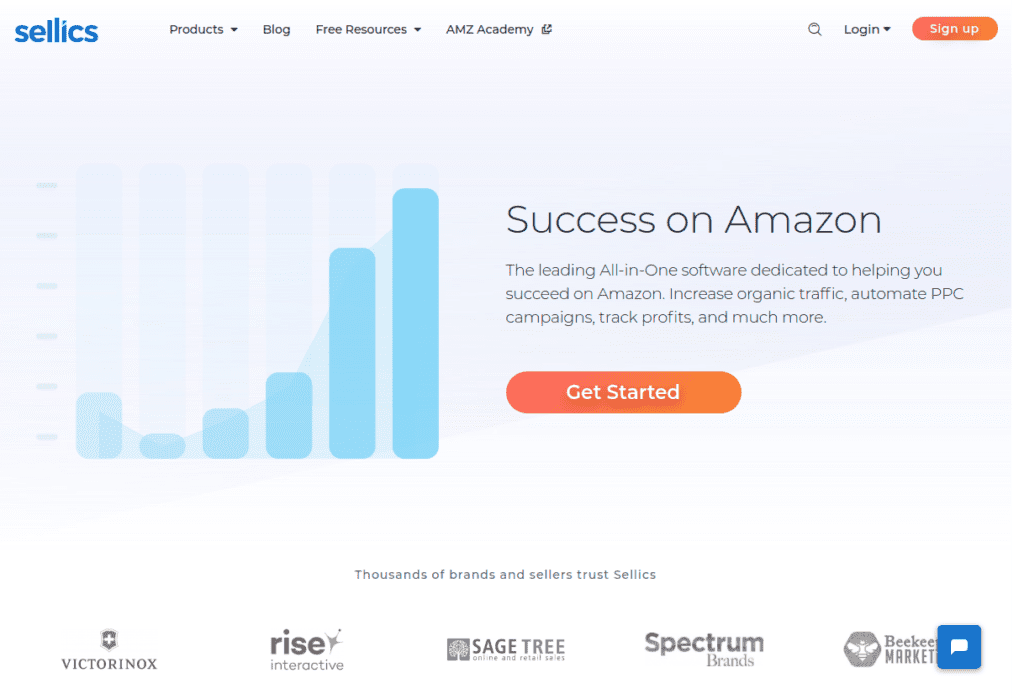 Features:
A user-friendly A/B testing suite
Keyword research, rank tracking, & analytics functions, including those of competitors'
Listing analytics & optimization tools
An Amazon Sales Rank Tool that covers sales volumes, sales history, price history, product rank tracking, etc.
Pricing:
Signup with this Sellics link to avail exclusive offers (only for Arbitrageinfo readers).
4. Viral launch: Best Amazon Product Research Software Tool
Description: The Product Discovery tool offers sellers to enter the parameters of the product they would like to sell. It also allows sellers to search directly for a product through its ASIN code. Viral Launch enables you to search for a product by typing a keyword & defining a price range.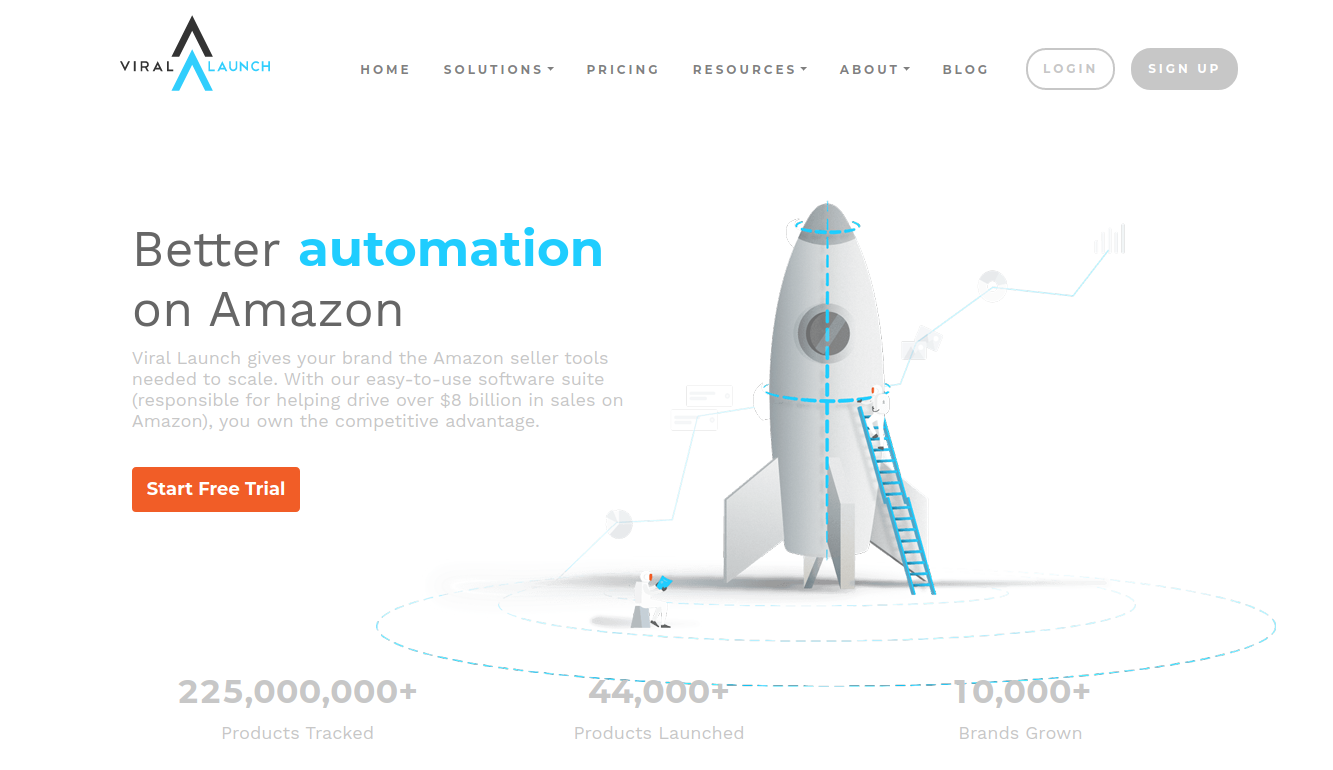 Features:
A product research function to compare ideas & see the potential demand & competition for them
A conversion rate optimization tool
A product launch tool to work directly with Amazon's algorithm & launch with as high a ranking as possible
A PPC management suite to maximize your ROI.
A keyword rank tracking tool to keep track of your listings ranks
Pricing: There is a 20% off coupon on the lifetime plan which is SHELDON.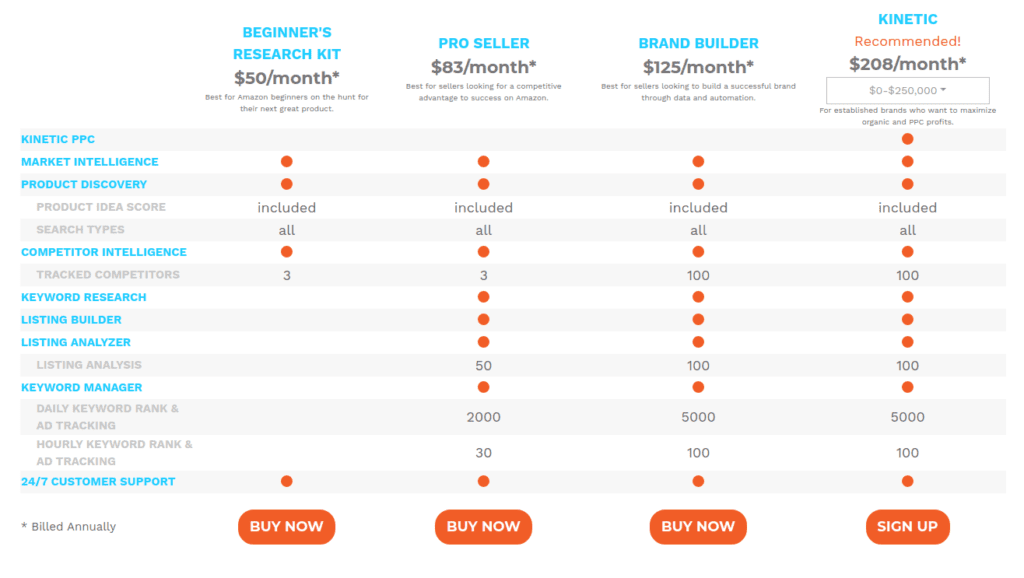 Signup with this Viral Launch link to avail exclusive offers (only for Arbitrageinfo readers).
5. Egrow: Affordable Amazon Product Research Software Tool
Egrow analyzes millions of products in the Amazon marketplace & aggregates sales data in easy-to-understand charts & panels on a daily basis. It will save your time in market analysis & help you find products that you can easily sell.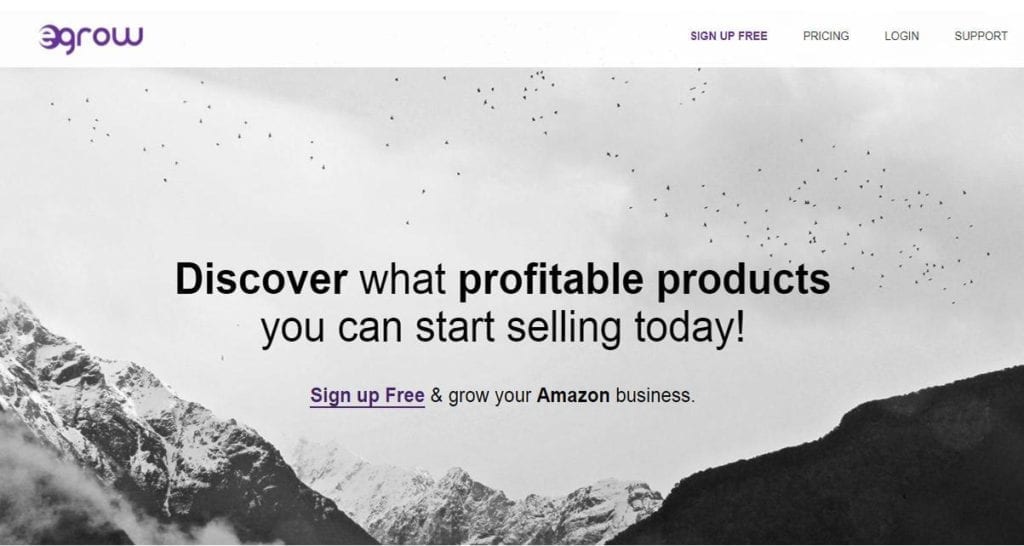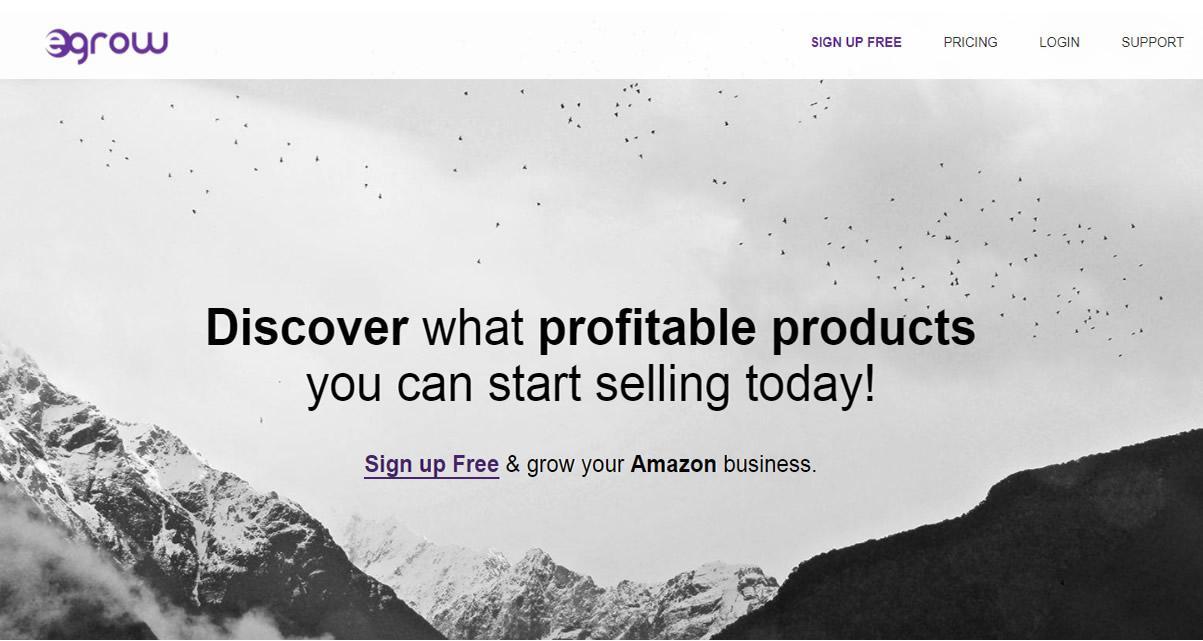 Features
It provides highly accurate estimated sales data
It offers the biggest database of daily-scanned products from Amazon.
It is super-fast.
It has preloaded keywords & positions in organic Amazon search results.
Egrow's user interface is intuitive & easy to use.
All the workflow happens within one application no need for other browser extensions or tools.
You can access up to 90 days of product history changes (sales, price, review, keyword)
Pricing
There are four packages available for Egrow users:
Basic Plan which is offered free for 5 products & 5 keywords research over 11markets. Chrome extension is available in this plan.
Standard Plan is $16 per month.
Plus Plan is $22 per month.
Premium is $28 per month which is their best-suited plan for enterprises.
Signup with this eGrow link to avail exclusive offers (only for Arbitrageinfo readers).
6. Managebystats: Best Amazon Product Research Software Tool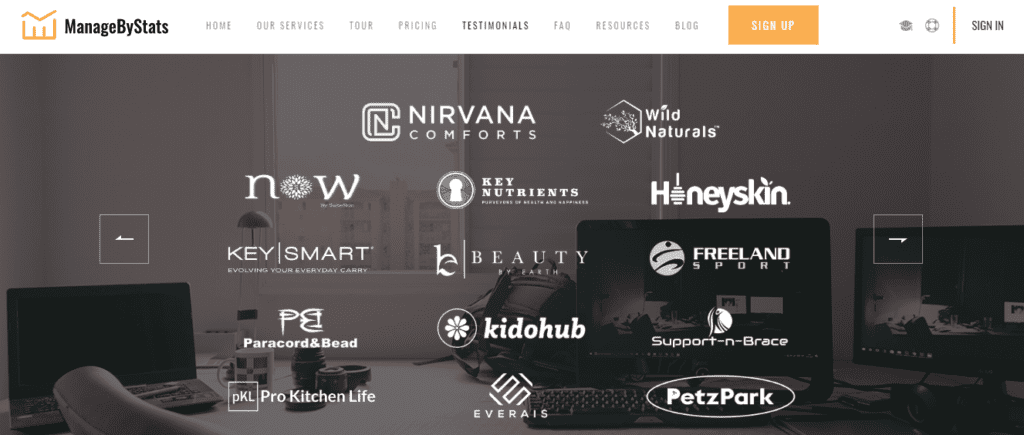 ManageByStats is one of the most powerful Amazon Analytics software built for Amazon Sellers. It produces reports & data which is not available on Amazon or it's really hard to find, so you are going to have an easier approach to all the information that may influence the choice of your next steps on the business. This tool will allow you to have a new approach to your seller data, find new insights & boost your sales.
Features:
UNLIMITED SKUs – New items can easily be added without worrying about that inevitable price increase every month hence focus only on the growth.
SALES VOLUME – Even if you sell high priced items in a fast-growing business, there need not be any tension as they do not set a limit on sales volume.
ASIN & SKU TRACKING – You can enter Cost of Goods Sold (COGS) & the automated dashboard will show Profit Margins through SKU tracking. These can also be customized for specific time frames.
MULTIPLE AMAZON SELLER ACCOUNTS – You can connect to multiple Amazon Seller accounts. Though there is an additional fee when you connect to multiple accounts. This situation will arise when a business grows.
Pricing:
The main differences between the plans include the limit of supported seller accounts, follow-up email autoresponder, keyword tracking, as well as access to premium features such as product finder, audience generator, & inventory management.
| | | |
| --- | --- | --- |
| Plans | Pricing ($/Month) | Supported Multiple Seller Accounts |
| Starter | $59.97 | 2 |
| Professional | $179.97 | 3 |
| Advanced | $309.97 | 5 |
Signup with this Manage by Stats link to avail exclusive offers (only for Arbitrageinfo readers).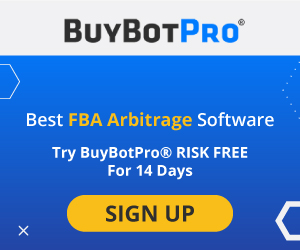 7. ASINspector: Best Amazon Product Research Software Tool
ASINspector is an Amazon product research tool that helps sellers to find popular products. Popular features enable sellers to find the cost & availability of products on AliExpress, Alibaba & eBay.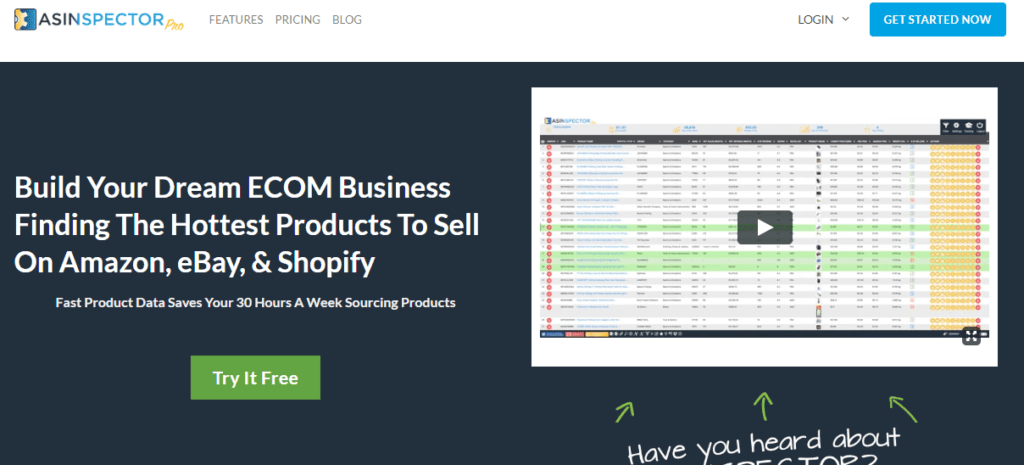 Features:
Best Seller Rank
Revenue estimator
Product review statistics
Sales data for third party websites such as Walmart
Favorite searches
Keyword search
Mobile product scanner
Filtering,
ASIN import
Related keywords list builder.
Estimated Monthly Sales & Revenue
Buy Box Seller
Pricing:
ASINspector Pro is free which gives:
Unlimited Data
Instant Sales Estimates
Daily Sales Estimates
Monthly Sales Estimates
Best Seller Rankings
Daily Sales Estimates
Monthly Sales Estimate
There is also an annual plan of $147 to be paid one time & $10 every month for seasoned sellers.
Signup with this Asinspector link to avail exclusive offers (only for Arbitrageinfo readers).
8. Sellersprite: Top Amazon Product Research Software Tool
SellerSprite is an integrated software for Amazon sellers featuring a complete suite of tools to discover products, strengthen SEO, marketing, track product metrics & progress.

Features:
A large database with over 20M products each month, the sales data & data metrics are the most accurate.
Competitor Lookup tool enable seller get an insight into the price, BSR, review, rating, hijacker, deals, sales, etc trends of competitors.
Product Discovery tool enables the seller to find potential products based on the criteria set, like sales growth rate, etc.
Market Research tool helps the seller find untapped markets based on market capacity, trends, competitive, volatility, etc.
Pricing: There is a free trial period & 3 different plans available:
Standard: $69/month
Advanced: $138/month
VIP: $189/month.
9. Bqool: Best Amazon Product Research Software Tool
BQool provides a sturdy solution to assist Amazon sellers save time, minimize expenses, & sell more products. It offers you to enhance your Amazon sales rank each for brand new & existing products to spice up sales & optimize Amazon's long storage prices.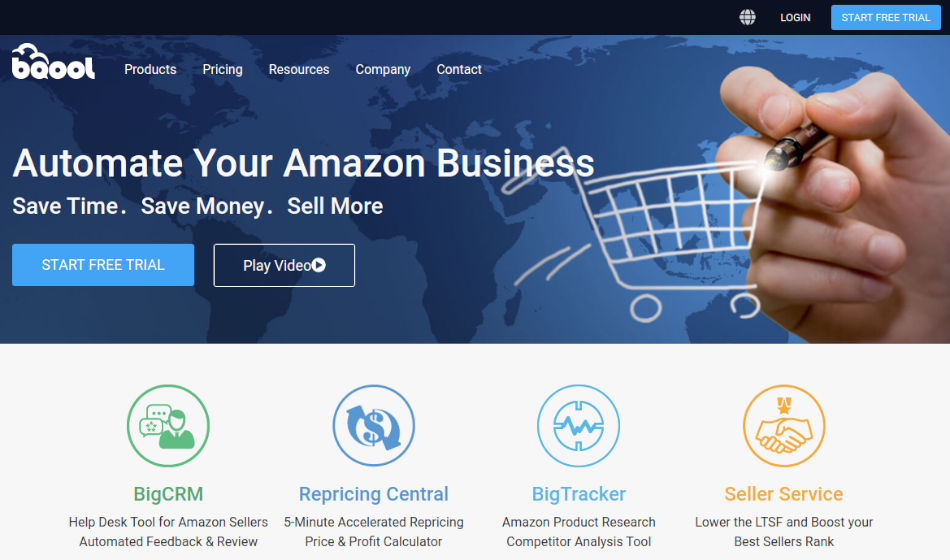 Features:
5-mins Accelerated Repricing
Embedded Price & Profit Calculator
Full Customer Insight for Fast Response
Customized Customer Service Templates
Intelligent Amazon Feedback Software
Insightful Listing Data
Customizable Repricing Settings
Schedule Repricing
Compete Against Buy Box Price
Comprehensive Dashboard & Reports
Repricing History Log
Listing File Upload
Favorite Filters & Groups
Price Safety Net
Pricing:
BQool pricing has four subscription options. The main differences between the plans are the repricing speed, product listing amount, & the availability of sales reports.
| | | | |
| --- | --- | --- | --- |
| Plans | Monthly Pricing ($/Month) | Annual Pricing ($/Year) | Listings Available |
| Plan 1 | $25 | $270 | 1,000 |
| Plan 2 | $50 | $540 | 5,000 |
| Plan 3 | $75 | $810 | 7,500 |
| Plan 4 | $100 | $1,080 | 10,000 |
10. Algopix: Best Amazon Product Research Software Tool
Algopix is a robust product market research platform that tells users how much money they have to spend when they buy a particular product, how much profit they can get when they sell that product on a specific marketplace, & what fees they need to pay.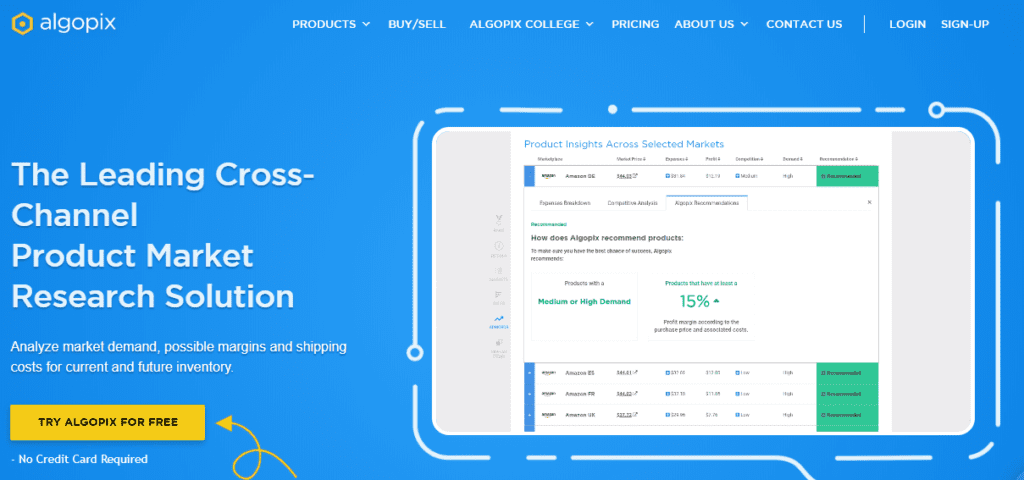 Features:
Sourcing & Selling Insights
Company Comparison
Demand & Market Position
Expenses Analysis
Sales Estimator
Bulk Analysis
Google Adwords Insights
Pricing: There us a free trial period & a custom pricing plan.
Basic: $9.99/month
Business: $19.99/month
Premium: $29.99/month
Discount Codes: There is a 20% discount on Annual Unlimited Plan which is now at $27.99. Signup with this Algopix link to avail exclusive offers (only for Arbitrageinfo readers).
11. AMZshark: Best Amazon Product Research Software Tool
AMZShark is the best tool for sellers who established on Amazon & are looking to scale up their business. The tool uses some of the best features in the industry that every Amazon seller should be using to meet their profit goals.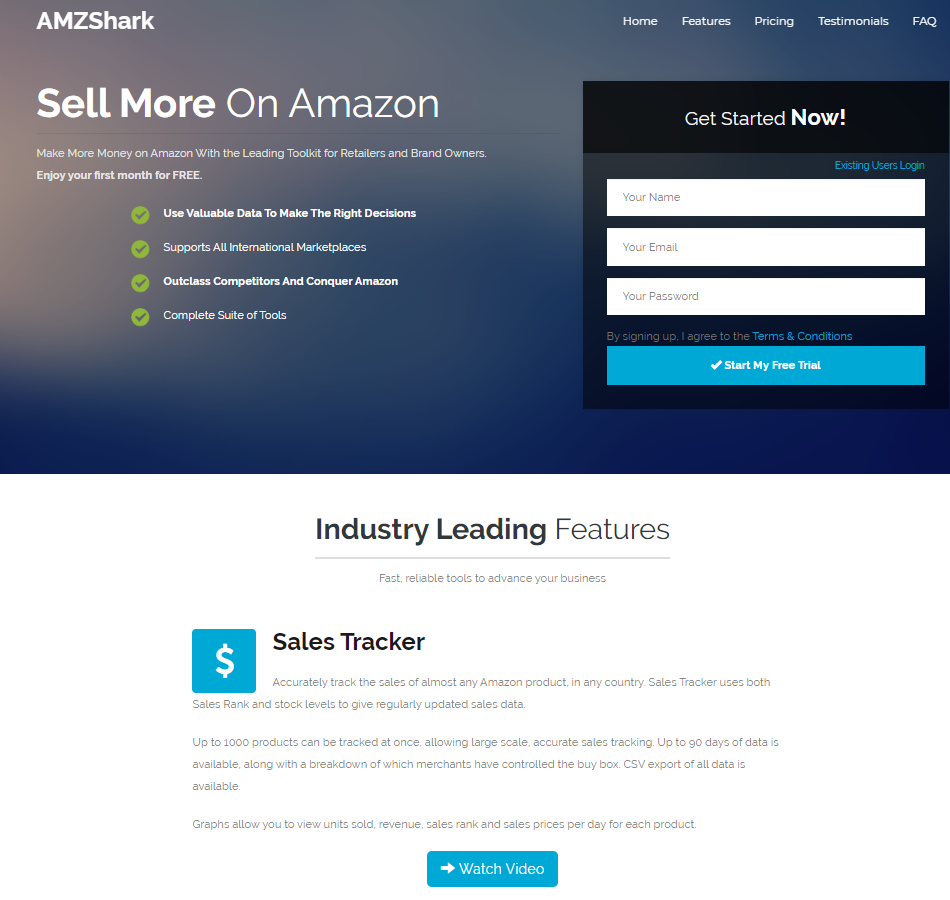 Features
Sales Tracker – Accurately track the sales of almost any Amazon product, in any country.
Niche Scout – Niche Scout allows you to instantly get competitiveness & profitability scores for top ranking products in a given niche including the average number of reviews, the average monthly revenue, & more, at-a-glance.
Search Rankings Tracker – Find out exactly where specific products rank in Amazon's search engine.
Keyword Explorer – Find hundreds of keywords that relate to your niche quickly & simply. Use these results in PPC campaigns, Amazon SEO & in-depth keyword research.
Competition Scout – Find out what keywords your competitors rank for, & discover which keywords you should target.
Review Alerts – Use Review Alerts for market research, investigate new niches & analyze customer desires
Supplier Scout – You can use this to find both non-Amazon competitors & potential suppliers who sell this product to merchants.
Pricing
AMZshark offers a one month trial for new customers, after this, the subscription costs $299 per month, which automatically renews each month.
12. Merch informer: Best Amazon Product Research Software Tool
It is a popular subscription-based suite of tools that helps you to research profitable product ideas that are more likely to sell. Finally, with their very own design you can actually make your design ready to upload to Amazon.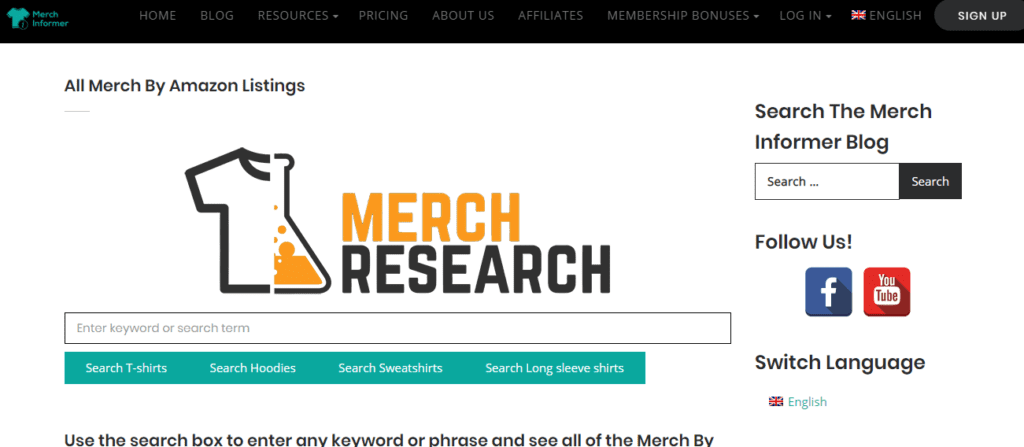 Features:
MI TM Protection – Using a complete trademark database this extension checks your listing for any risky keywords.
MI Lister – Save listing profile templates with the brand name, title, bullet points, and description auto-filled.
MI Book Hunter – Search off Amazon on popular social media sites for popular products
Merch Designer – This is the built-in graphic design app used to create a profitable design.
Pricing:
NEWBIE for $9.99 / Month
BASIC at $19.99 / Month
ADVANCED for $29.99 / Month
PRO at $59.99 / Month
Signup with this Merch Informer link to avail exclusive offers (only for Arbitrageinfo readers).
13. Inventory Lab: Best Amazon Product Research Software Tool
With the Stratify tool from InventoryLab, you can research products, list your items competitively, keep track of your expenses & better handle your inventory. There also provide comprehensive reports to enable you to see what suppliers, categories & products are most profitable. The app is also available on mobile devices.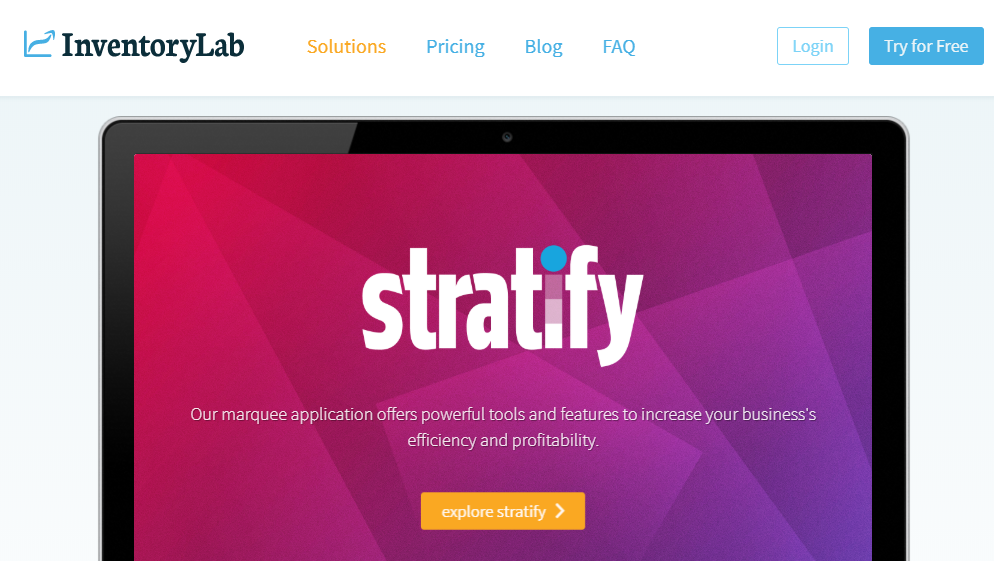 Features:
Workflow for creating shipments
Analytics for income & expenses
Real-time monitoring
Reports on Revenue, Profit, ROI
Calculation breakdown.
Pricing: Pricing Plan starts from $49 per month to $490 per year
Trial Length is for 14 days.
Discount Codes: Trial can be extended to 30 days with promo code FB30.
14. Sellerapp: Best Amazon Product Research Software Tool for Online Sellers
It is a powerful eCommerce analytics tool that offers usable features & reports to enable Amazon sellers to derive actionable insights from their data. The solutions they provide are: product sales estimates, competitor tracking, identifying profitable keywords, listing optimization, & finding backend keywords for competitor's listings.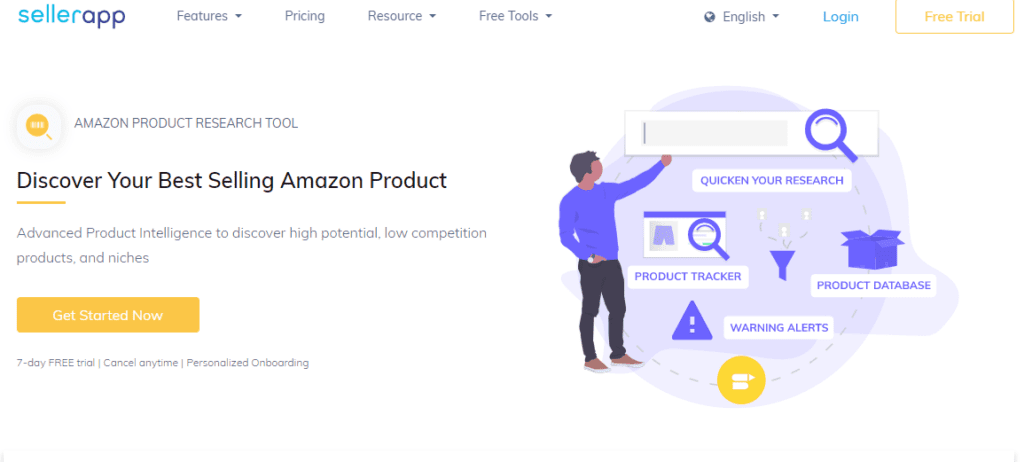 Features:
Amazon MWS Connect
BSR Alert
Chrome Plugin
Email Support
Hijacker Alert
Inventory Alert
Keyword Genie
Keyword Index Alert
Price Alert
Product Ideas
Product Keyword Optimization
Product Watch
Promo Planner
Revenue Alert
Pricing: There is a free Trial period along with various plans available.
FREE TRIAL
STARTER PLAN: $29.99/month
ESSENTIAL PLAN: $49.99/month
PRO PLAN: $79.99/month
Signup with this Sellerapp link to avail exclusive offers (only for Arbitrageinfo readers).
Round-Up
Competition on Amazon has come to a point where just having a nice logo & designing premium packaging doesn't work anymore. With an increase in the number of sellers & the rise of stringent selling policies, old tricks of finding products to sell don't work anymore; a lot of research is required, which cannot be done without sophisticated technology. As a seller, you need to take your time, choose a tool that best suits your needs.
Limited Offers: On Growth Tools for Your Ecommerce Business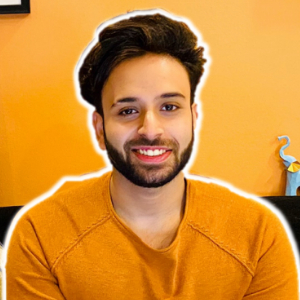 I and my team research various online verticals and can help you kickstart your Amazon business; so you could rake in more greenbacks with the best-recommended tools. Tap into the power of online retail business with me. I am just a mail away, so reach out to me if you want to scale up your niche business. mail: [email protected]