Last updated on January 17th, 2023 at 04:22 pm
Now, more than ever, people are discovering the benefits of starting a business on Amazon FBA. It is possible for everyone to build a business on Amazon and generate high-level and regular income in a comparatively short time. However, it is rather challenging and calls for a need for the best Amazon FBA software tool.
One of such tools is Profitl, which helps you determine the best FBA deals, wherever you are, via two solutions for just one monthly price. It powers through with absolute ease and efficiency, so much so that you would wonder how you managed to conduct FBA business before the same. The app, their Chrome extension DealFinder, and the Discord community can accelerate your FBA to new heights and help you make a second or primary income in the most streamlined, stress-free ways possible.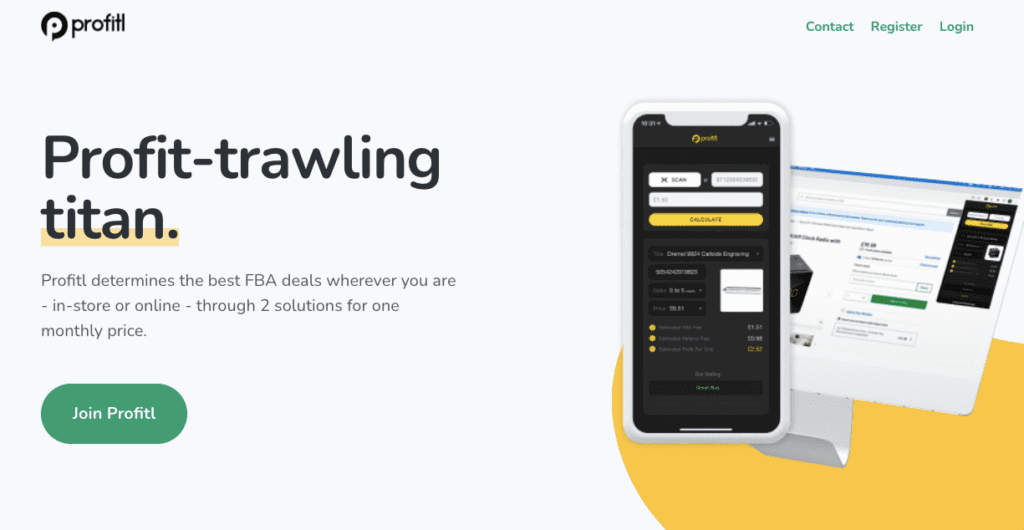 Profitl Features:
Provides estimated monthly sales figures based on product performance statistics pulled straight from Amazon.
Show you estimated FBA and referral fees, giving you a clear insight into what you'll be paying Amazon.
Provides an estimated vat, break-even, return on investment, and profit per unit.
Shows you product reviews, allowing you to gauge the audience's reception to a product.
Shows you the price graphs, letting you compare past price points to determine the most and least you could sell a product for 90 days, 180 days, and 365-day graphs are available.
It provides insights into how many FBA and FBM sellers are selling a product, including Amazon.
Shows the lowest offer sections showing you the price of your competition.
With IP Risk, show you the brands you need to be careful about selling.
Their HAZMAT status helps you identify whether Amazon classifies the product as hazardous.
Offers potentially oversized status; a step to preventing high FBA and delivery fees.
Offers notes section, allowing you to write down your analysis or important information.
Provides personal rating; give your deal a set rating, so you don't have to repeat your analysis.
Allows you to save deals, allowing you to save your notes, rating, and review and review it in your "Saved Scans' section on the Profitl Website.
Benefits of using Profitl:
Scan and Discover App: You can scan absolutely any item and determine your gains in a moment. They will instantly calculate FBA fees and referral fees and provide an accurate estimation of potential profit. They will also search through a product's 30-day price history and previous sales performance to estimate monthly sales and tell you whether the product is a good investment.
Browser Extension: If you install their Extension, it will take just seconds to find hidden profits. It will automatically cross-reference a product name to find its ASIN, then provides everything you need to make a fully informed decision.
FBA Course: They offer an extensive FBA course, written and designed by the Profitl team. This is inclusive of everything you need to know to kick-start your FBA career. It includes the same lessons that Profitl themselves learned to amass more than £2,000,000 in revenue without the nasty learning curves, and it's free forever to all Profitl users.
Community: They have a Discord community that is available to all Profitl users to learn, ask, and chat amongst more than 2000 other users, including the Profitl team. They have direct links to their Discord community, letting you discuss all things FBA with more than 2000 other Profitl users. They have FBA Deal of The Day, hand-picked deals that they send into their Discord for free every weekday.
DealFinder: Profitl has a unique portal that contains thousands of potential FBA deals. They do all the hard work for you and scour the internet to look for potential arbitrage deals, and then they put them all in just one place. So, all that you have to do is analyze the deals and decide whether you want to buy. They update DealFinder twice a week to allow you to discover untapped potential across any category in no time. This video shows how you can make 100%+ ROI with deal sheets.
Profitl Pricing:
The pricing for the UK is:
£30/month for Profitl
£30/month for DealFinder
£60/month for both
£180/yearly for Profitl (Same as £15 a month)
£180/yearly for Dealfinder (Same as £15 a month)
£300/yearly for both (Same as £12.50 per product or £25 for both a month)
The US/Canada/India pricing is:
$43/month for Profitl
$43/month for DealFinder
$86/month for both
$243/yearly for Profitl (Same as $20.25 a month)
$243/yearly for Dealfinder (Same as $20.25 a month)
$405/yearly for both (Same as $16.88 per product or $33.75 for both a month)
Profitl works in the UK, US, Canada, and India.
DealFinder works in the UK and US.
Profitl Review: What Users Say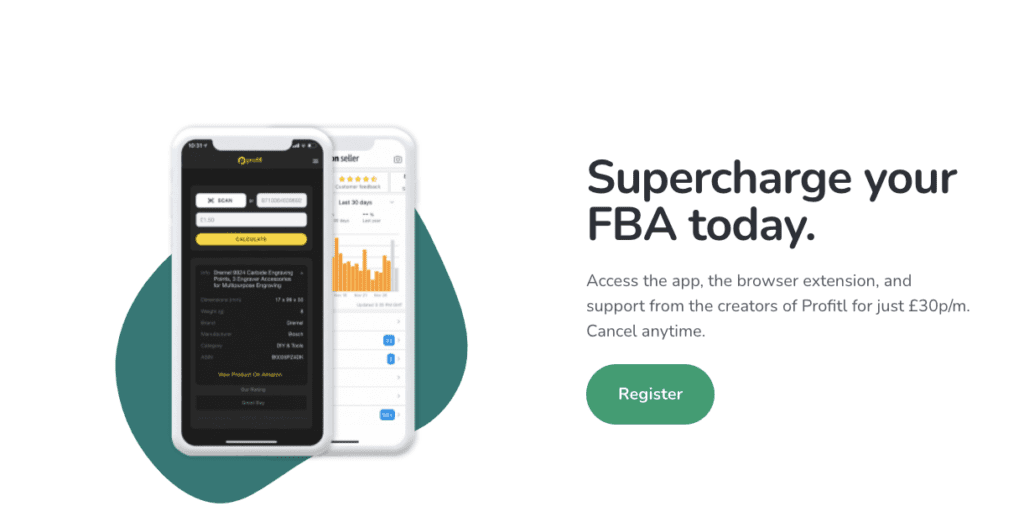 Having used Lystr with great success, when the opportunity arose to try the latest software Profitl, I was super keen! Just as Lystr was, the software was clean, user-friendly, and led to amazing results in just under 2 months of use!" says Ollie Hood.
"Great tool for FBA, completely changed my game on product research. The customer service offered by the Profitl team is second to none, happy to advise with certain products when researching and anything else," says Chris Jones.
Roundup
Profitl is one of the best Amazon FBA software tools. They help you truly grow your FBA to massive heights and earn a lot in a well-managed way. It is one of the best ways to discover deals on the go. Using just a scan or a search, their app will show you all the information that you need to make informed decisions about your FBA purchases quickly and conveniently. Even if you do not like the Extension, you can use Profitl for Web, which will provide you with some kind of game-changing insights as to the mobile app and their extension with an added benefit of search history and lets you pick up with your left off across the whole range. DealFinder is the cherry on top of the Profitl experience, saving their users hours searching for wins. For an additional monthly fee, you'll have access to up to 2,000 potential FBA deals twice a week, all organized into easy-to-read categories for your convenience. With this Amazon FBA software tool, you'll never have to find your own products again. You can sign up with them here: