Last updated on January 17th, 2023 at 04:22 pm
If you want to be successful in the long run, in huge marketplaces like Amazon, you will need Amazon selling tools. These are essential to excel in the various elements, which include price, feedback, finance, shipping, tax, listing, sourcing, advertising, customer service, and such. Keeping in mind, we have drawn a list of the best Amazon seller tools for UK merchants to help you become the next bestseller on Amazon.
10 Best Amazon Seller Software Tools: 2023
Here is a list of the best amazon seller tools for UK merchants, which will help you become the next successful seller on Amazon.
1. Profitl: Best Amazon Software Tool for UK Sellers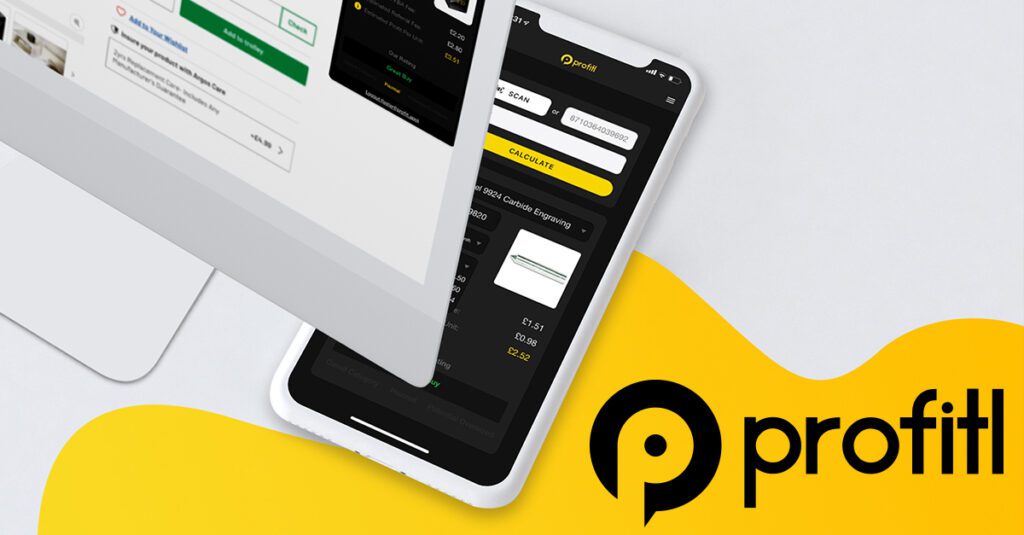 Profitl helps you determine the best FBA deals, wherever you are, via two solutions for just one monthly price. It powers through with absolute ease and efficiency, so much so that you would wonder how you managed to conduct FBA business before the same. The app, their Chrome extension DealFinder, and the Discord community can accelerate your FBA to new heights and help you make a second or primary income in the most streamlined, stress-free ways possible.
Features:
Provides estimated monthly sales figures based on product performance statistics pulled straight from Amazon.
Show you estimated FBA and referral fees, giving you a clear insight into what you'll be paying Amazon.
Provides an estimated vat, break-even, return on investment, and profit per unit.
Shows you product reviews, allowing you to gauge the audience's reception to a product.
Shows you the price graphs, letting you compare past price points to determine the most and least you could sell a product for 90-days, 180 days, and 365-days graphs are available.
Provides insights into how many FBA and FBM sellers are selling a product, including Amazon themselves.
2. 3DSellers: Best Ebay Seller Software Tool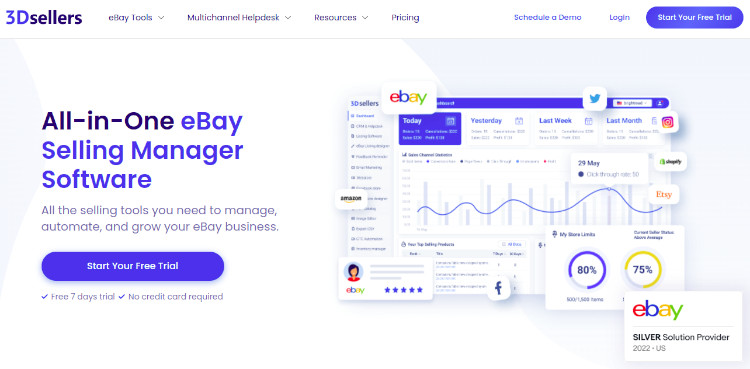 3Dsellers is the all-in-one eBay selling manager software that provides all the selling tools you need to manage, automate and grow your business on eBay. It helps you market, manage, and automate your eBay business beyond the eBay seller hub and supercharge your brand with limitless eBay selling power. It helps you give your business a workflow makeover with all the eBay tools and customer support features you need to increase sales, save time, and boost your eBay seller rating.
Features:
3Dsellers extend your abilities to create listings, edit and sell products into super-selling capabilities, allowing you to perform big tasks to achieve big sales goals—fast and efficiently.
Helps empower your fulfillment team to process eCommerce orders at full speed and efficiently perform post-sale tasks.
3Dsellers' Helpdesk makes your support team fast, knowledgeable, and able to focus on brand messaging.
Helps brand your eBay items with stunning listing designs to gain new buyers and watchers, plus improved search rank and create unlimited listing designs and apply them to eBay listings in bulk while automatically applying designs to new listings by category.
3. SolidCommerce: Best Amazon Listing Tool for Sellers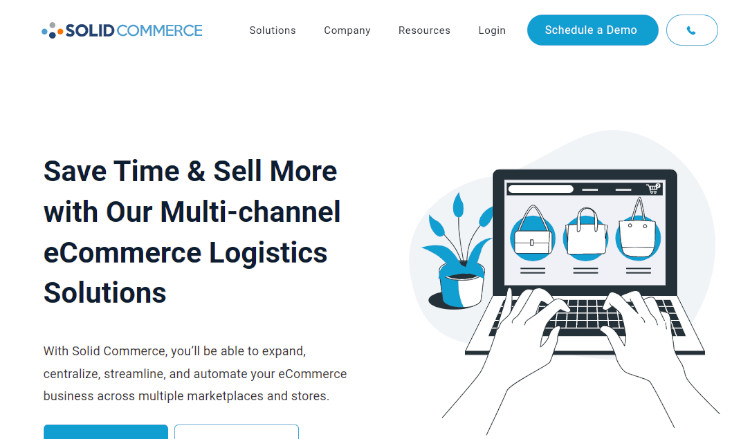 With this multi-channel eCommerce logistics solution, you can save time and sell more. You will be able to expand, centralize, streamline, and automate your eCommerce business across multiple marketplaces and stores. They help you expand your sales to new channels quickly and profitably. Manage all your marketplace inventory, fulfill orders, and post shipping information.
Features:
Helps save time, reduce your workload, and list more SKUs by bulk listing new products, submitting updates, and revising live listings on all major marketplaces and web stores.
Gives a lot of options for sorting, organizing, and fulfilling your orders. Your Growth Advisor will help you find the right specialized process for you.
Their powerful search capabilities help you quickly find the orders you want. Search filters include order status, buyer name, buyer zip code, SKU, UPC, marketplace, warehouse/vendor, and more.
Helps save time by batch printing shipping labels for multiple carriers at once. Filter orders by custom order status and then print labels sorted by Storage Location or SKU.
4. CrazyLister: Best Amazon Listing Tool for Sellers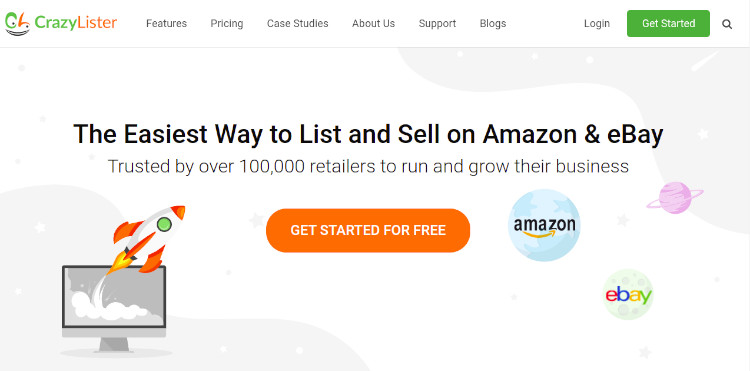 CrazyLister is the easiest way to sell on Amazon and eBay. It is trusted by over 1,00,000 retailers to grow and run their businesses. It helps you easily list your inventory on eBay and Amazon and create professional ebay templates in just minutes. It helps you expand from Amazon to eBay and grow your sales by easily listing your Amazon products on eBay. Their listings are 100% mobile responsive and can be optimized on all devices. They also help eliminate overselling with automated inventory sync.
Features:
Create listings in a heartbeat with the world's fastest lister.
CrazyLister automatically analyses your data for compliance with the requirements of the channel you want to publish your products.
Offers powerful bulk functionality to publish new listings and perform any listing management action in bulk to save time.
Allows you to import from eBay, Amazon, and CSV files. Import from all international eBay and Amazon sites.
Offers full support for item specifics to maximize discoverability – map and adjust any item-specific from one channel to another.
CrazyLister's 'find & replace' tool you can make changes in bulk with a single click.
5. eDesk: Best eCommerce Helpdesk for Amazon Sellers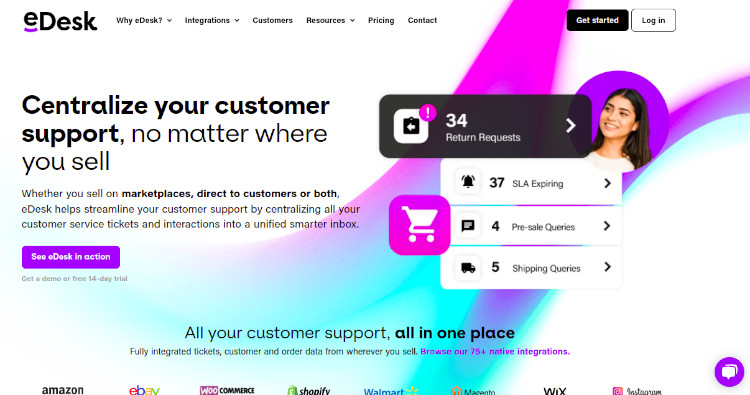 This is the smarter way to do eCommerce support, and it helps improve customer happiness, productivity, and business reputation through AI-powered automation and insights. They give fully integrated tickets and customer and order data from wherever you sell.
Features:
Helps increase customer satisfaction by resolving queries quicker with a dashboard view of all your customer conversations and their related order details.
Enables teams to easily collaborate and share information and expertise quickly and accurately.
Helps operate more efficiently without compromising service by automating routine tasks and translations.
Helps scale support and make more informed business decisions as your business expands with product, channel, and agent performance insights.
6. Repricer: Best Amazon Seller Software Tool for Repricing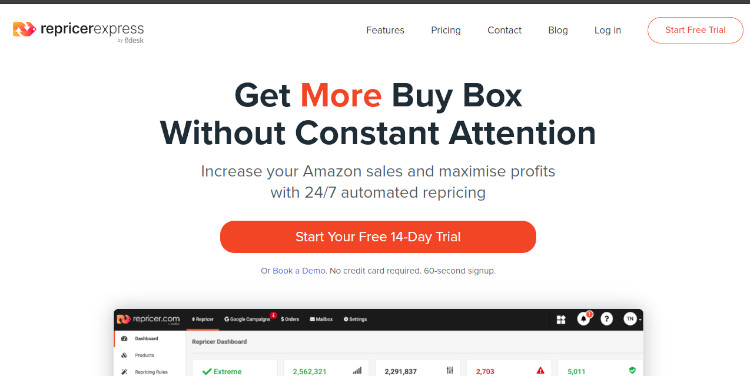 Repricer is the world's #1 repricer to safely automate your Amazon pricing, win the Buy Box, and sell more. Repricer.com takes the work out of pricing by offering you the flexibility to automatically adjust your prices based on these factors and hundreds more. It reacts to your competitors' changes in less than two minutes and gives you the best chance of making that sale. They track every competitor's price and tell you how often these prices move to keep your ahead.
Features:
Helps make a profit on every sale. Enter your costs, so you will only sell at your target profit margin.
Helps change your prices based on stock levels. Sell more aggressively when your stock levels are high and increase prices when your stock goes below a preselected level.
Helps identify products with a high and low probability of winning the Buy Box and take action.
Helps raise your game during quiet periods of the week by scheduling time-specific rules that optimize your repricing strategy.
7. Sellbrite: Best Amazon Seller Listing Software Tool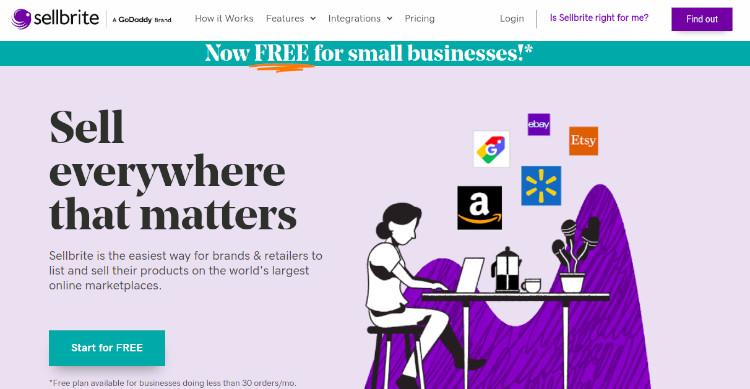 Sellbrite is the easiest way for brands and retailers to list and sell their products on the world's largest online marketplaces. Sellbrite helps you reach new customers no matter where they shop – create and manage listings, control inventory, and fulfill orders from a single, intuitive interface you'll love using. Sellbrite automatically adjusts your inventory when items are ordered and updates the channels to keep everything in sync. This helps to avoid overselling items you don't have in stock.
Features:
With powerful variation management and a robust catalog at your fingertips, your customers will see your products just the way you want them to.
Offers rapid inventory sync and keeps your marketplace quantities accurate to avoid overselling.
Helps print postage and route orders from one place no matter how you ship.
8. Ecomdash: Best Amazon Listing Software Tool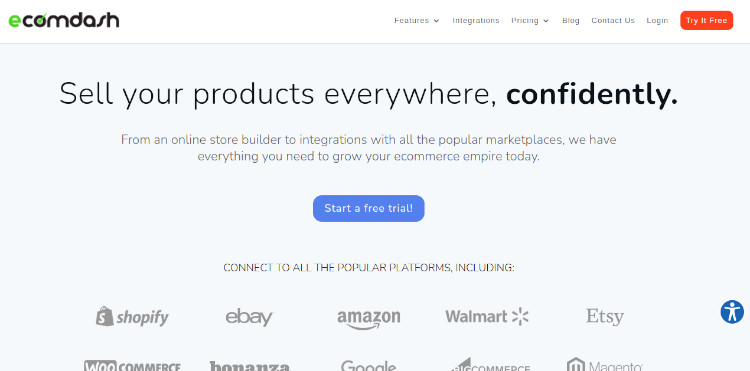 With ecomdash, you can manage both your marketplace and ecommerce website sales from one platform. Build an online store, list products on marketplaces like Amazon, process new customer orders, and much more. You can manage inventory across different platforms and build your very own online store. They provide better control over your multichannel product listings too.
Features:
Helps manage product levels across multiple warehouses without the fear of overselling and accurately sync kits, multipacks, and components without any headaches.
Allows you to choose from 30+ predesigned website elements and add them quickly with our drag-and-drop capability.
Save hours of data entry by using our advanced filters to search for products and make edits in bulk.
9. Zikanalytics: Best Amazon Product Research Software Tool for Seller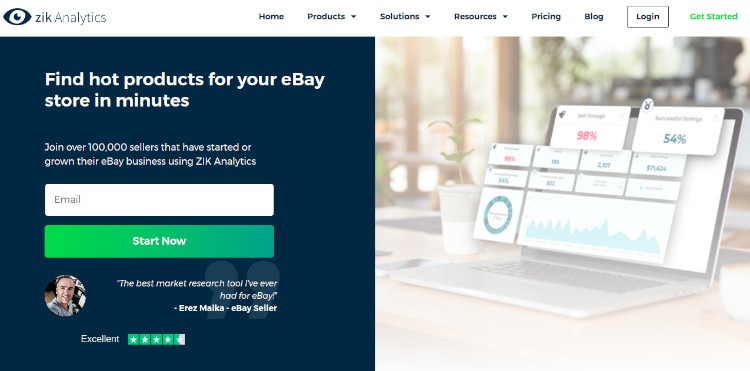 Zikanalytics provides all the resources you need to make yourself a success on eBay. Whether you're a dropshipper, reseller or wholesaler, we have all the tools you need to start selling on eBay. It has a user-friendly interface with everything in one place and automated tools to help you find hot products in minutes. You can grow your store fast with 100 million products from 20 suppliers.
Features:
Offers a user-friendly interface with everything in one place.
Offers automated tools to help you to find hot products in minutes.
Helps grow your store fast with 100 million products from 20 suppliers.
Helps uncover low competition, high-demand, high-profit products.
Their products are backed by sales data, so they're likely to sell.
10. Seller Cloud: Best All-in-One Amazon Software Tool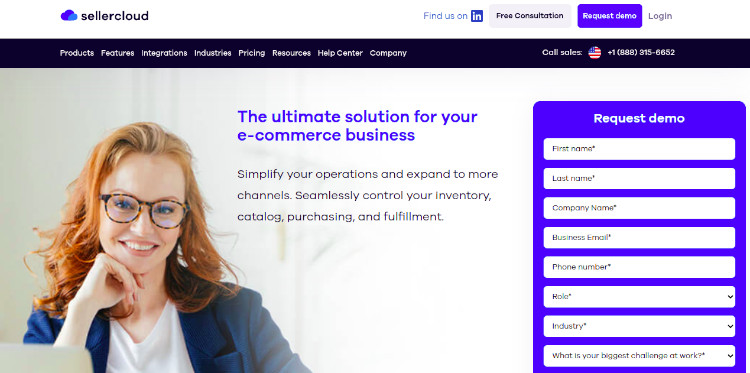 Seller Cloud is the ultimate solution for your eCommerce business. They help simplify your operations, expand to more channels, and seamlessly control your inventory, catalogue, purchasing, and fulfillment. They give you endless possibilities for reaching more customers and growing your sales.
Features:
Helps list, sell, and manage products across multiple channels.
Helps manage all your inventory and fulfillment from a single platform.
Sellercloud gives you the control you need over every aspect of your inventory workflow.
Helps you organize your operational workflow, so you can save time on tedious tasks and concentrate on the essential things.
Roundup
Here we have listed some of the best Amazon seller tools for UK merchants. These are all very efficient and cut down your workload by a lot. They help with management, inventory tracking, and fulfillment, and all-in-all, increase efficiency and reduce time spent by you on these things.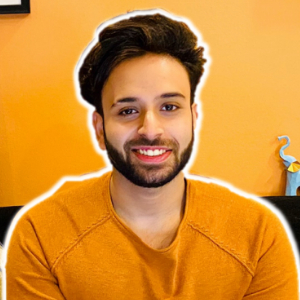 I and my team research various online verticals and can help you kickstart your Amazon business; so you could rake in more greenbacks with the best-recommended tools. Tap into the power of online retail business with me. I am just a mail away, so reach out to me if you want to scale up your niche business. mail: [email protected]