Last updated on January 18th, 2023 at 01:39 pm
Businesses are expanding at a much faster pace than we can imagine. Starting from launching online stores to the geographical expansion of business by partnering with various other firms, companies make the most available tools. The Google Chrome extensions allow software tools to layer over web pages successfully. Extensions work as small software programs that will enable you to customize your browsing experience. An extension will enable you to design and add more functionality to your web browser without diving intensely into native code. Almost every other business is harnessing the power of innovative extensions and using them to facilitate business operations.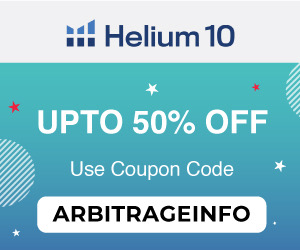 7 Best Amazon Seller Chrome Extensions of 2023
Here is a list of the 7 best Amazon Seller Tools with Chrome Extensions. Take a look at the top ones…
1. Helium 10: Best Amazon Chrome Extension for Sellers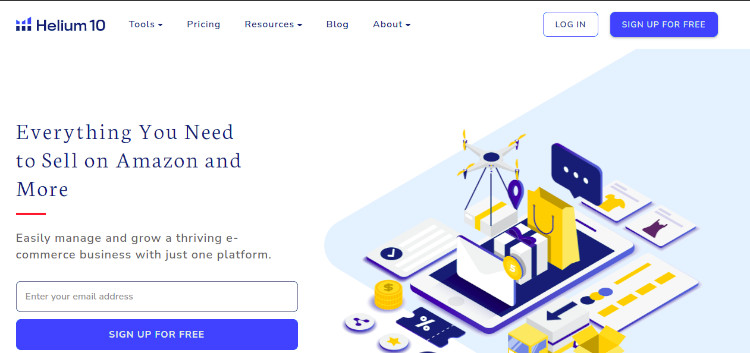 Helium 10 aims to provide Amazon sellers with a comprehensive software suite that addresses their business maintenance and sales growth needs. The tools offered in the extension will enable the users to refine the product research by validating potential product opportunities to make better sourcing decisions, plan for seasonality, estimate their profits, and revolutionize their competitor research.
Helium 10 Features:
The valuable tools available in the Helium 10 Chrome extension are:
X-Ray – A powerful Amazon product research tool that provides statistical data on over 450 million active Amazon products.
ASIN Grabber – Discover which competing 100 products are ranking for the desired keywords.
Profitability Calculator – You can monitor the statistics you need to know to be profitable selling a specific kind of product.
Inventory Level – Check how much stock your competitors have and when they might run out.
Review Downloader – Find out what customers are saying about your competitors to find several other ways to improve your product efficiently.
Helium 10 Pricing
Being one of the most versatile platforms in the industry, Helium 10 offers a wide range of pricing plans.
Helium 10 Discount Codes
If you are a regular Amazon seller and looking to expand, it will be beneficial for you to start with standard plans of Helium 10 as the free plan might not cater to your needs. Hence check here the various Helium 10 discounts and coupons offered to benefit sellers like you.
"ARBITRAGEINFO50"
50% off your first month of Helium 10
"ARBITRAGEINFO10"
10% off every month of Helium 10
ARBITRAGEINFO50 / get 50% off your first month of Helium 10.
ARBITRAGEINFO10 / get 10% off every month.
2. Egrow: Best Amazon Chrome Extension for Sellers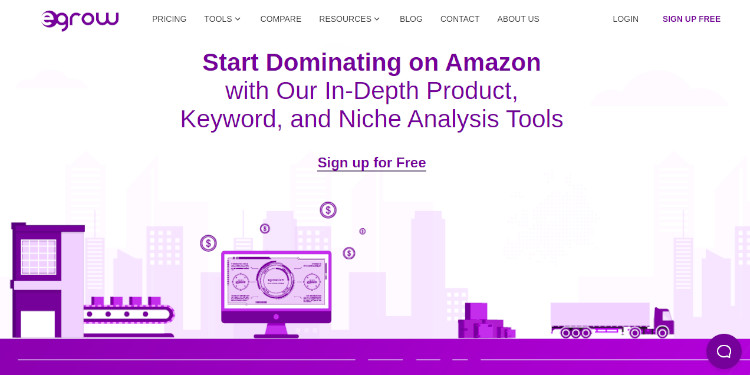 Egrow analyzes millions of products in the Amazon marketplace and aggregates sales data in easy-to-understand charts and panels daily. It will save your time in market analysis and help you find products that you can easily sell. The Chrome plug-in that they have created can be downloaded and installed with the Google Chrome browser. You can register a free Egrow account. Using your login details from the Egrow website, log in inside the extension window after the installation.
Egrow Features
It provides highly accurate estimated sales data
It offers the most extensive database of daily-scanned products from Amazon.
It is super-fast.
It has preloaded keywords and positions in organic Amazon search results.
Egrow's user interface is intuitive and easy to use.
All the workflow happens within one application no need for other browser extensions or tools.
You can access up to 90 days of product history changes (sales, price, review, keyword)
Egrow Pricing
There are four packages available for Egrow users:
Basic Plan which is offered free for 5 products and 5 keywords research over 11markets. Chrome extension is available in this plan.
The standard Plan is $16 per month.
Plus Plan is $22 per month.
Premium is $28 per month, which is their best-suited plan for enterprises.
We believe that Egrow is the faster and more accurate software, so we are confident giving it free. All the payments are billed annually. You can test all features without any upfront payment or contracts. Signup with this eGrow link to avail exclusive offers (only for Arbitrageinfo readers).
3. Zonguru: Best Amazon Chrome Extension for Sellers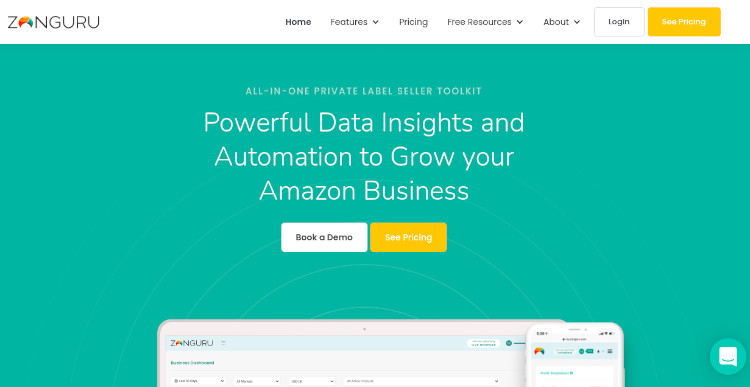 ZonGuru is a suite of powerful tools for seasoned Amazon sellers providing services like product research, eBay listing, email automation, and more. Highlights include competitor sales volume tracking, eBay listing and order processing, sales rank tracking; keyword optimization; negative review notifications; buyer email automation, and keyword rank tracking. The Zonguru Chrome Extension helps make product research a more intuitive process and gives you the tools to feel confident when deciding whether to invest in a new product.
Features
Business Dashboard – Get hold of all your important Business Metrics instantly and efficiently in the dashboard. View the most important trends and metrics of Amazon's business which is the most crucial aspect. With ZonGuru's Business Dashboard, you can always be aware of how your business is performing.
Email Automator – Sellers need to run promotional offers from time to time, specifically to existing customers. This tool helps you make beautiful emails, built-in templates, and easy to use interface to add professional graphics, product pictures, company logo, etc. All this can be automated as to exactly when to send the emails; the emails can also be personalized using the Variable Substitution feature so that every email is handwritten for the user. You can even add attachments automatically, and all these customizations help prevent your emails from being designated as spam. You can introduce new products, do after-sales follow-ups, and greatly enhance your overall customer experience.
Keyword Tracker – Monitor the performance of your keywords. Use our Keyword Tracker to monitor where your products rank for essential keywords quickly. Amazon's search engine is a gold mine of potential customers; all they have to do is find you! This tool removes the need for manual keyword checking, allowing you to optimize your listings and grow sales.
Product Monitor – Remain in control of your business at all times, Receive instant alerts on any product review or any type of listing hijack, and remain in control of your business. It can also keep track of your competitor's listings to better understand what your competitors are doing and take measures accordingly.
IP Monitor – One of the most advanced tools provided by Zonguru. The IP (acronym for Intellectual Property) Monitor helps protect you from IP theft, such as the use of duplicate pictures to the pictures of the products in your store by other sellers. You can choose to receive an alert when someone uses an identical photo of your product, even if they have doctored or retouched it.
Zonguru Pricing
Zonguru offers a pricing model where the prices vary according to the type and volume of the tools you wish to opt for. You can test all of the available features for free before purchasing a plan for a week without requiring a credit card for the initial trial. You need to pay the entire yearly fees upfront for the annual plan, but you can change your plans midway, according to your requirements. It is advisable that you start with the starter plan and gradually scale up as your business expands.
Signup with this ZonGuru link to avail exclusive offers (only for Arbitrageinfo readers).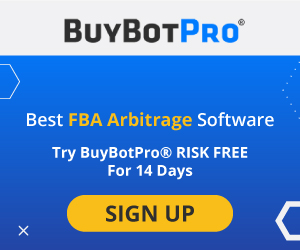 4. JungleScout: All-in-One Amazon Chrome Extension for Sellers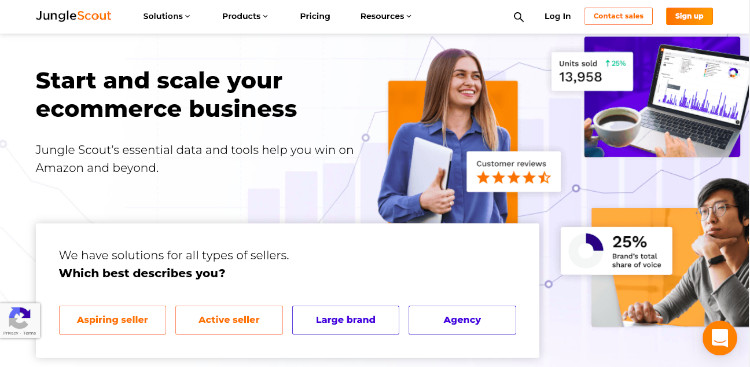 Jungle Scout is a tool that enables you to analyze and sort through the long list of Amazon products to discover which ones will be the most profitable and help you achieve a steady flow of income from your business. The Chrome Extension benefits an Amazon seller to have a comprehensive view of critical product details for a product niche at a glance. "Average Daily Sales," to understand better "Average Sales Rank," "Average Selling Price", "Average Reviews", and "Opportunity Score" (in the Pro version)," determine if a niche is worth entering. These numbers offer you a good idea of competitiveness and demand and help determine if more research should be done or if a different product should be found.
Jungle Scout Features
Single User Account
Daily & Monthly Sales
Monthly Revenue
Rating & Review Tracking
Category & Seller Ranking
Historical Sales & Pricing
Estimated FBA Fees
Product Opportunity Score
Listing Quality Score
Jungle Scout Pricing
The effective product research tool added to the Chrome browser is a risk-free extension with14-day money-back guarantee. Accurate Amazon product research data added to your Chrome browser at $39 billed monthly.
Jungle Scout Discount Codes
Signup with this Jungle Scout link to avail exclusive offers (only for Arbitrageinfo readers).
5. Unicorn Smasher: Free Amazon Chrome Extension for Sellers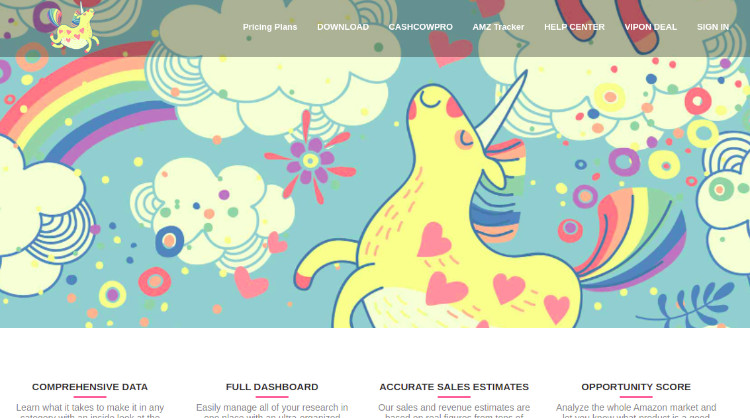 Unicorn smasher was designed and developed by Amz tracker. It is a free feature used by Amazon sellers to conduct their product research. Unicorn smasher delivers an overview of price costing, best-selling ranks, buyer reviews, and other important information for any product advertised on Amazon. It also offers authentic sales and revenue projections and estimations based on data captured from thousands of products within Amazon.
The extension has some great features built into it, which will smoothen the users' search process and select the exact product that will raise their online store's profile and profits.
Unicorn Smasher Features
Organized dashboard
Opportunity scores and sales estimates
Real-time, reliable data gives you an inside look at the prices, bestseller ranks, reviews, ratings, estimated sales, and more for any product on AMZ.
Accurate sales and revenue estimates based on actual data from tens of thousands of live AMZ products.
Ultra-organized dashboard to easily manage all of your AMZ product research in one place and save you weeks of tedious research. It is a free replacement for Junglescout, amzscout.
Discreet sharing tool that puts your data in a super easy shareable format that doesn't give away your product, making it easy to get feedback from other sellers.
Discreet sharing tool
Variation statistics
In-browser analysis
Order fulfillment
Integration with AMZ Tracker to give subscribers an inside edge on finding profitable opportunities.
Pricing: The chrome extension is offered free for all its users.
6. Keepa: Best Amazon Chrome Extension for Sellers Chrome Extension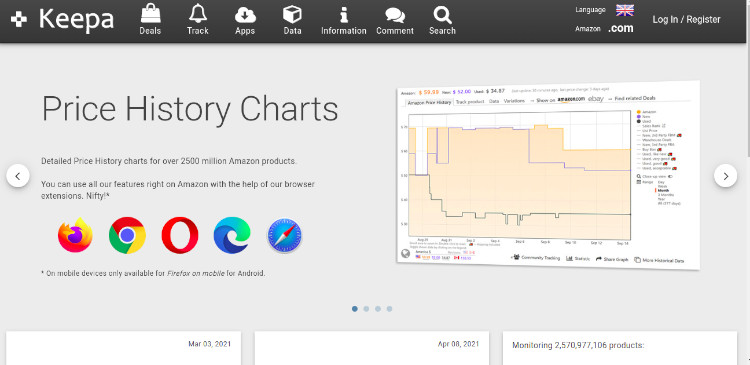 It is one of the most popular tools for professional sellers on Amazon who want to monitor products and track prices efficiently. The chrome extension enables unlimited access to the deals section table, interactive graphs and sales rank, and counts.
Keepa Features:
Product finder: search on the tool's database and find your product to add it to your watch list
And when it comes to a product's monetary history, Keepa tends to win out again for a more intuitive display by showing you low dollar amounts on the bottom and high dollar amounts on the top.
The same intuitiveness goes for a product's sales rank, too, with the lowest at the bottom and the highest at the top.
If you want to keep your focus super narrow, click to remove a set of data. And if you're going to broaden your scope, just click back the data sets. Plus, a neat thing happens if you click back the Amazon data set because it comes back shaded to indicate it's in stock (and white if it's out of stock). You can also see the in-stock, out-of-stock history of an item, so you never have to compete directly with Amazon, which isn't the smartest idea in the world.
Product viewer: import your product lists
Keepa shows you more immediate results by giving you the option to display date ranges of a day, week, month, three months, or all the extension's data on file.
Bestseller lists: the best selling products on Amazon grouped by category
Top seller list: Amazon's top-selling merchants
Price History charts
Detailed Price History charts for over 1 billion Amazon products.
Price Drop & Availability Alerts: Set up a price watch directly from the product page. We track any product for you and notify you once the product dropped below your desired price. We track lightning deals as well.
Compare and track international Amazon prices: Prices for all Amazon locales are listed and easily tracked.
Daily Deals, an overview of recent price drops: Get the real deals. Keepa finds the best deals every day. Find products with the highest drop in price in your favorite product category.
Category tree: browse Amazon's products by category using a useful category tree
Keepa's API. This is the only monthly payment tool. The API will allow you to request live pricing and availability, price history, sales rank, offers count, Buy Box information, review count history.
Keepa Pricing:
Keepa is a Chrome Extension; it allows for only two tiers of pricing. The free version gives you access to the Product Finder, the Product Viewer, the Best Seller Lists from Amazon, the Top Seller List, and various other features. However, it limits your search of products and ASINs to 5 per search.
The Monthly Subscription costs $15 a month and gives you 5000-10,000+ searches for ASINs and products per search. It also allows you API access for 5 tokens per minute and a quota refill rate of 5% per hour instead of 2.5% every 23 hours for the free version.
7. Bqool Chrome Extension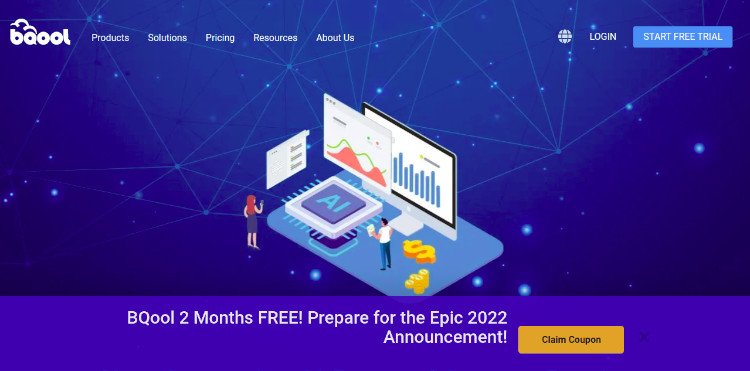 BQool provides a robust solution for Amazon sellers to automate their processes. It specializes in streamlining how to reprice your products, manage email campaigns, and oversee product reviews. The product's main aim is to help you save time, minimize expenses, and sell more. It also offers you a solution to improve your Amazon sales rank for new and existing products to boost sales and optimize Amazon's long-term storage costs.
BQool Features:
5-mins Accelerated Repricing
Embedded Price & Profit Calculator
Insightful Listing Data
Customizable Repricing Settings
Schedule Repricing
Compete Against Buy Box Price
Comprehensive Dashboard & Reports
Repricing History Log
Listing File Upload
Favorite Filters & Groups
Price Safety Net
Over 6 million sellers exist on Amazon, and each of them knows that product reviews are one of the most critical factors for a successful business on the platform. As an Amazon seller, you will require the appropriate leverage to get over your competition. Make Google Chrome an effective weapon for this purpose. Chrome extensions for Amazon sellers can give you the right tools and insight to deliver an in-browser experience that improves your efficiency. The tools mentioned above are the most popular among Amazon sellers, which will give you an extra edge to perform better.
Limited Offers: On Growth Tools for Your Ecommerce Business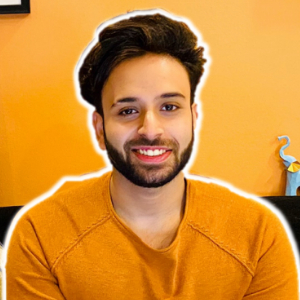 I and my team research various online verticals and can help you kickstart your Amazon business; so you could rake in more greenbacks with the best-recommended tools. Tap into the power of online retail business with me. I am just a mail away, so reach out to me if you want to scale up your niche business. mail: [email protected]