Last updated on January 18th, 2023 at 01:40 pm
At a time when everything is so rapid and at the tip of our fingers, services like the online marketplaces are a blessing. We are also a generation that is monitored by the internet and the same provides a little too much for us. Naturally, we have also looked up how to make money easily and the internet has provided us with solutions for the same. For people who wish to be an entrepreneur, do business and yet be at ease, Amazon is the ideal choice. It centres on e-commerce, cloud computing, digital streaming and artificial intelligence and is widely known for its capability of disrupting the smooth flow of industries that have been operating for a long, are well established, with its technological innovation and mass scale.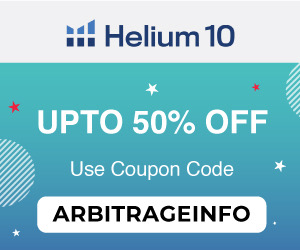 Not only is it the largest in terms of revenue but has made solid efforts and progress and made the shift from being a small scale online bookseller to being the go-to online marketplace for everything there is. It has become the second most valuable company in the world by market capitalization is highly commendable. As for the opportunities it provides to earn money, FBA, which is Fulfilled by Amazon is an excellent example of the same. Here, the seller does not have to do much, besides sending their product to the Amazon inventory once an order comes by and from there, Amazon takes care of the rest. Another excellent example would be Private Label, where you sell a product manufactured by someone else under your brand's name. Other than that, you could take part in Retail Arbitrage where you buy products at a relatively cheaper rate and sell them on Amazon at a higher rate and the difference in it makes up for your profit. These are some of the best and the most popular ones, however, there are more options to consider.
Tips on Choosing the Right Amazon Sourcing Tool
The correct Amazon Sourcing Tool is crucial and necessary for a business. There is a bunch of these available in the market and the opinion on each will differ based on the kind of business, the owner, demographic, product and such and you really just need to know what would work for you and your business. You need to make a calculated guess, weigh the pros and cons of each of the platforms and make a decision based on what your business is.
Viral Launch vs Tactical Arbitrage: Platform Overview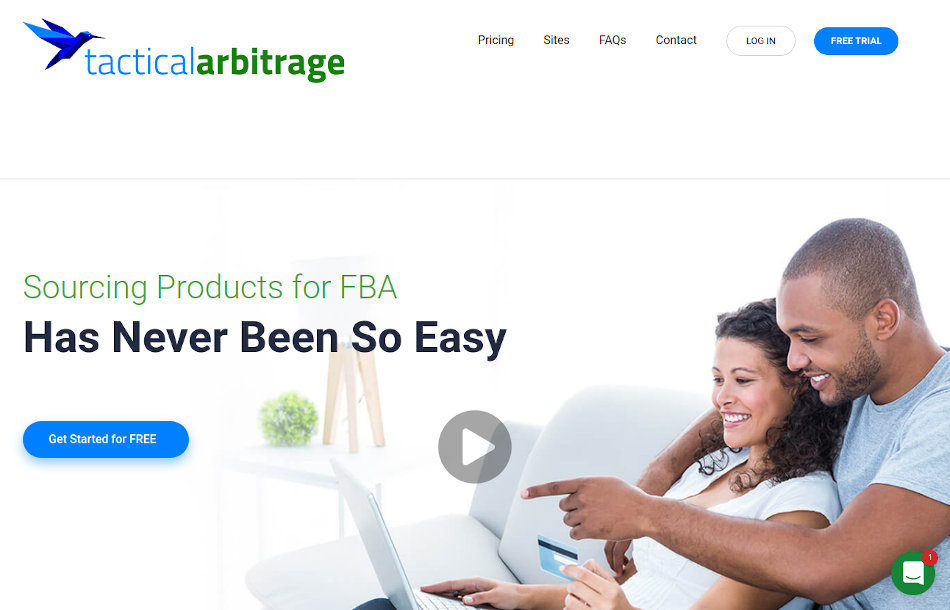 Designed and operated by Visual Magic Productions, Tactical Arbitrage is a powerful software service that uses powerful databases to analyse business services, compare data, and separate and recommend profitable purchasing options for online Amazon sellers. It provides a great sourcing platform with the tools to scale, and a Basic search alternative option built right in, if you are a beginner and experienced sellers, they have an intuitive and comprehensive product sourcing platform, with modules covering everything.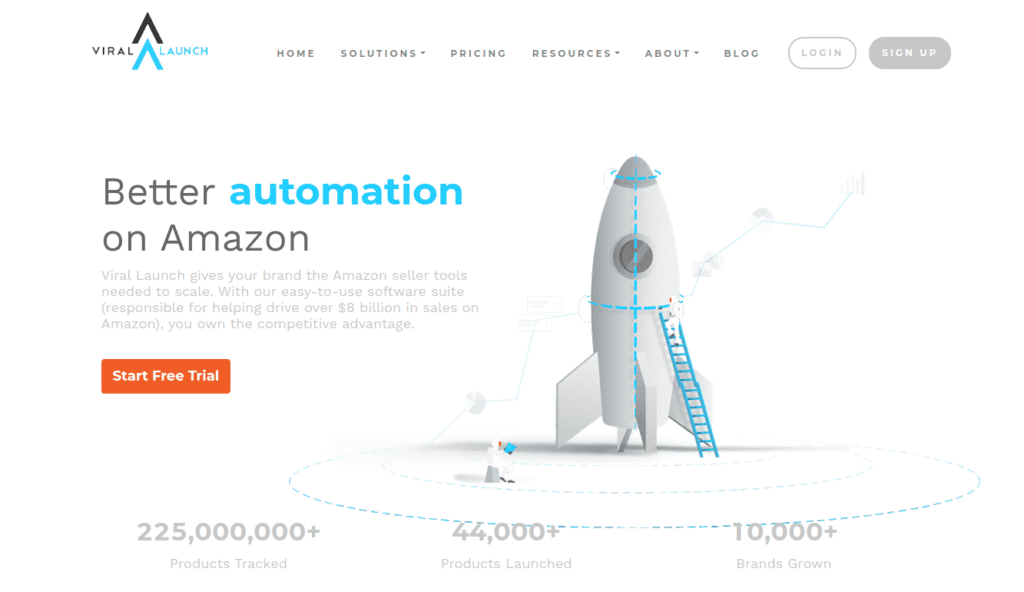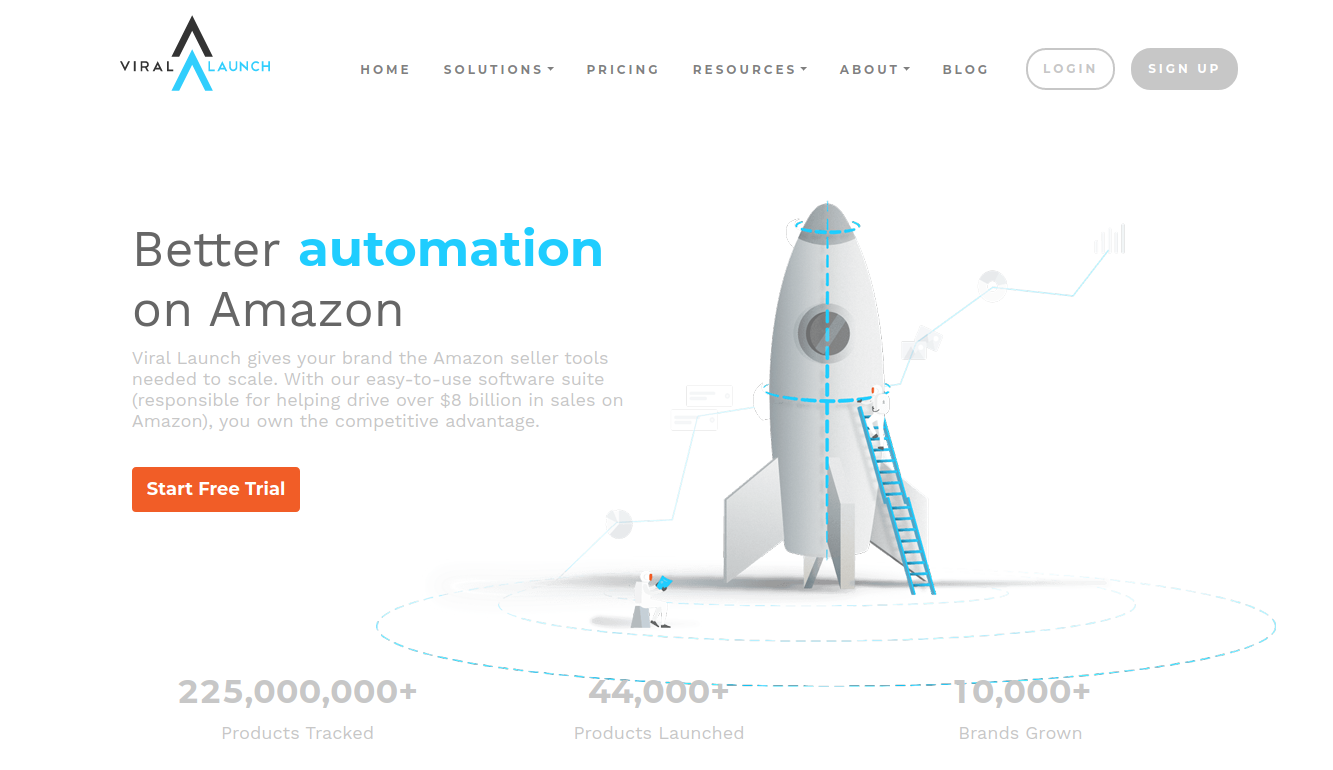 Known to have driven over $8 billion in sales on Amazon, and as the platform that provides the Amazon sellers with everything they need, Viral Launch has an easy to use software suite that can help you own the competitive advantage. Having tracked over 225,000,000 products, launched over 44,000 products, and helped over 10,000 brands grow, it is known to have everything you need. It is the most basic tool out there and is devoted to helping you launch your Amazon business. Even if you are a beginner, the overall usage will help find a product and niche that would suit your needs well. One of the best things that they have to offer is the full customization of Chrome Extension, and the Market Trend for all top sellers is one of the best features ever and it is probably the only platform to offer it at this point.
Viral Launch vs Tactical Arbitrage: Features Comparison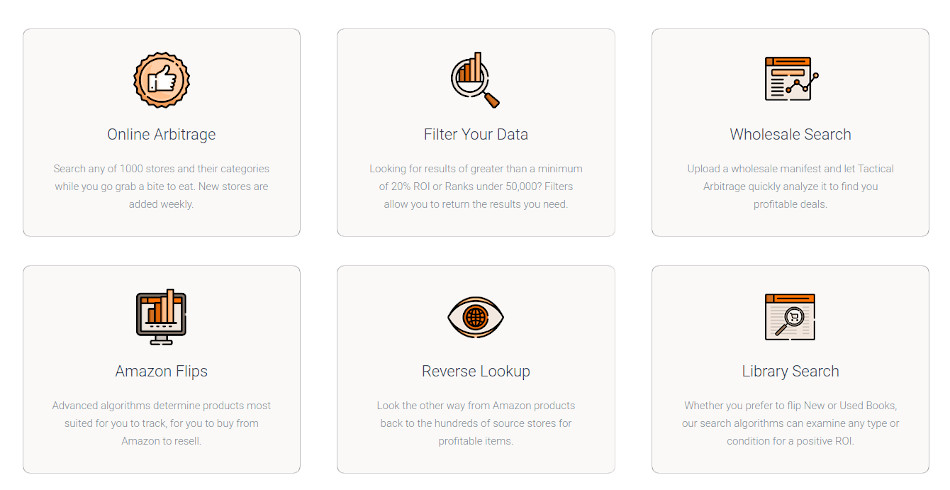 The following are the features that Tactical Arbitrage offers-
Online Arbitrage- They have over 1000 stores and you can search on them anytime and they are updated weekly. Their unique matching algorithms allow searching on not only the major department stores, but over 1000 lesser sourced stores as well.
Filter your Data- Allows you to return the results you need. If when sourcing, you're going to be using a 20% off coupon code or cashback offer have this integrated into your calculations. Add estimates for your prep and ship costs to get a more accurate ROI calculation.
Wholesale Search- Upload a wholesale manifest and they quickly analyse it to find profitable deals. Once you are confident in a match you can look closer, and access detailed data directly from the results page for further analysis.
Tactical Edge- Examine multiple price points and find the best price point to list your product. Advanced algorithms determine products most suited for you to track, for you to buy from Amazon to resell.
Reverse Lookup- Scan tens of thousands of ASIN's using Reverse Search to determine if there is a profitable source to buy.
Library Search- Whether you prefer to flip New or Used Books, our search algorithms can examine any type or condition for a positive ROI.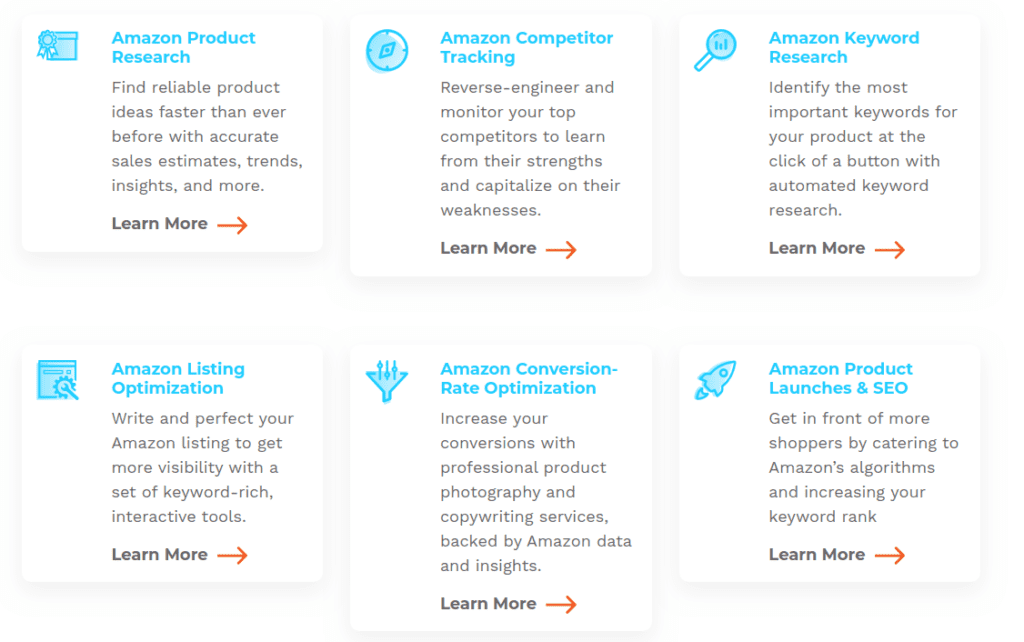 The following are the features that Viral Launch has to offer-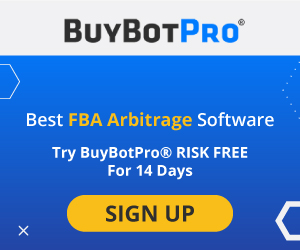 Amazon Product Research – find reliable product ideas quicker and backed with accurate sales estimates, trends, insights, and more.
Amazon Competitor Tracking – monitor your top competitors.
Amazon Keyword Research- find the important keywords for your product.
Amazon Listing Optimization- write the perfect Amazon listing to get more visibility with a set of keyword-rich, interactive tools.
Amazon Conversion Rate Optimization – maximize conversions with professional product photography and copywriting services, backed by Amazon data and insights.
Amazon Product Launches and SEO – Amazon's algorithms and increase your keyword rank.
Amazon Advertising and PPC – generate better PPC results with ad rank tracking, suggested bids, product-targeting suggestions, or managed services.
Amazon Keyword Tracking – better keyword strategy.
Signup with this Viral Launch link to avail exclusive offers (only for Arbitrageinfo readers).
Viral Launch vs Tactical Arbitrage: Benefits
The following are the benefits Tactical Arbitrage offers-
Easy to access metrics
Dynamic Data Analysis
Analyze arbitrage opportunities for extra data
Multiple income streams
The following are the benefits Viral Launch has to offer-
Robust Data Automation
Seamless Integration
Results driven features
Constant improvements
Comprehensive education
Viral Launch vs Tactical Arbitrage: Pricing
Tactical arbitrage offers a free trial that lasts for a week and other than that, it has five packs-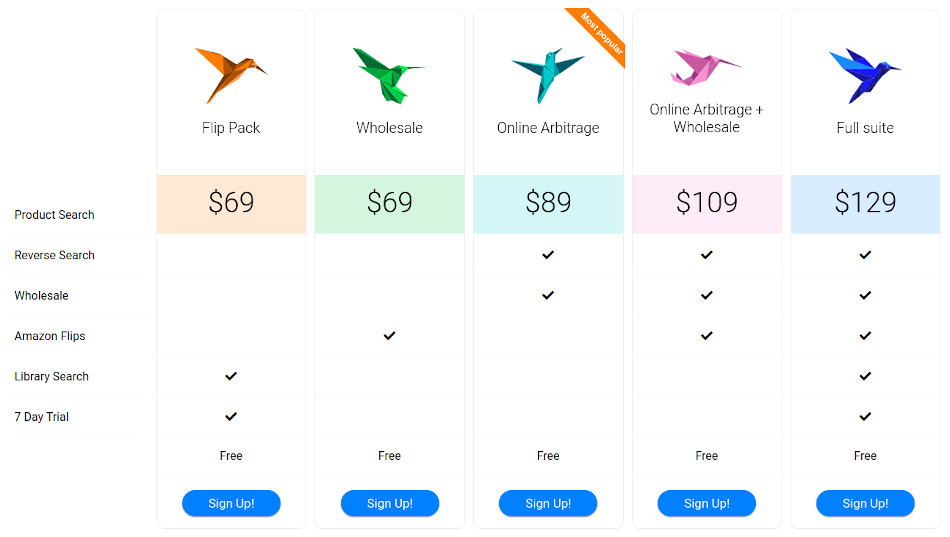 The Flip Pack only comes with Library Search and you would have to pay $479/ year for it or $49 monthly.
The Wholesale Pack allows you to only benefit from wholesale and you have to pay $649 yearly and $69 monthly.
The Online Arbitrage offers you Product research and reverse search and would cost $849 yearly and $89 monthly.
The Online Arbitrage+ Wholesale Pack would cost you $999 yearly and $109 monthly and would offer Product research, reverse research and wholesale.
The Full Suite would offer all the features at $1099 yearly and $119 monthly.
Viral Launch has a free trial that lasts longer and would probably help you comprehend if you want the platform or not, better and except for that it has four plans-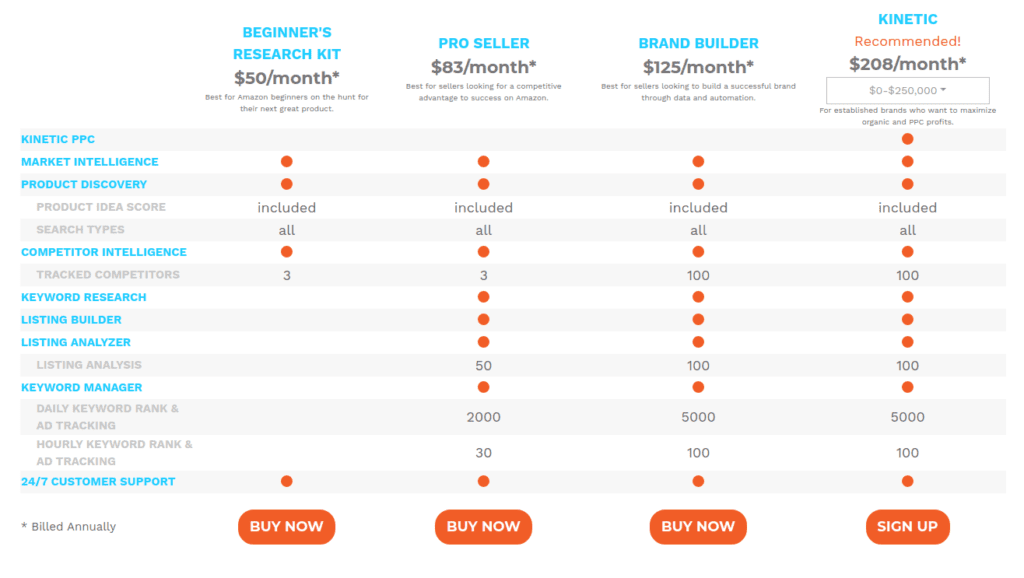 Their Beginner's Research Kit plan which is suitable for beginners on the hunt for their next great product would cost you about $49.17 each month.
The Pro Seller, would cost $82.50 per month and is perfect for sellers looking for a competitive advantage to success on Amazon.
Their Brand Builder, known to be perfect for sellers looking to build a successful brand through data and automation costs $124.17 each month.
Their Data Hunter costs $332.50 for each month and is suitable for sellers with an irrational appetite for unparalleled levels of data and analytics.
User reviews
The users love what Tactical Arbitrage has to offer and their views are such-
Dan says,"I've been with TA since the beginning – it started off strong and has grown more powerful than I ever thought possible. "
Jason says, "Tactical Arbitrage revolutionizes the way for Online Arbitrage. It allows us as entrepreneurs to focus more of our attention and energy on growing and expanding while having a good backbone in place that you can depend on. "
Jamie says,"Pays for itself over and over again."
Viral Launch has its customer pretty happy too-
Tom Wang from eComHub says that, "With so many tools and software in the FBA space, Viral Launch is by far my favourite. It is my go-to tool for everything from product research to keyword optimization. I love how easy and intuitive everything is, and it truly drives results for my Amazon FBA business."
Lian Hirschkorn from Amazing Freedom says that "The Viral Launch suite of tools has been a game-changer for brands selling on Amazon. I use the tools on a daily basis to make data-driven decisions in my business and clients' businesses… from finding the best products to target in ads, to finding opportunities in my keyword research, to discovering new products, and evaluating competitors, the software suite gives me everything I need to get an edge."
Limited Offers: On Growth Tools for Your Ecommerce Business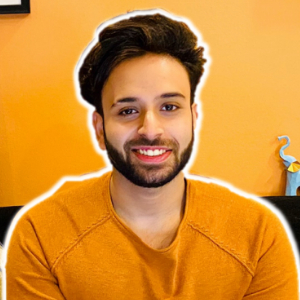 I and my team research various online verticals and can help you kickstart your Amazon business; so you could rake in more greenbacks with the best-recommended tools. Tap into the power of online retail business with me. I am just a mail away, so reach out to me if you want to scale up your niche business. mail: [email protected]