Last updated on January 18th, 2023 at 01:36 pm
Amazon customer reviews act one of the main sources to attract customers on Amazon. It basically helps them understand every detail of the product. Since, consumers cannot physically inspect the product while shopping online, they trust the experiences of other buyers who have used the product in order to judge the product.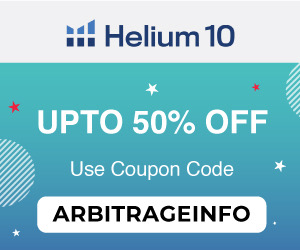 A recent research conducted found that 90% of consumers online believe their purchasing choices are influenced by product reviews. Many customers consider positive reviews to be one of the factors that made them inclined towards buying a particular product over purchasing other competing items online, especially those that cost more. Therefore, it is important for sellers to understand that customer reviews on Amazon can make or break their e-commerce businesses.
Reviews help sellers gain important market insights – Selling on Amazon requires a lot of research. As a seller on Amazon, when you're looking to add new products in your lineup, the first thing that you do is to conduct product research. And the best way to understand if a particular product is going to sell or not is to find out what users who have bought the product or similar products are saying about it, what are the pros and cons of the product, based on that you can made a calculative decision whether to invest your money on the product or go for an improved version of the same that addresses the user concerns.
Reviews Increase Conversion Rates – With the increase in competition, it has become necessary for brands to go for aggressive marketing campaigns just to get an edge ahead of the competition. But, sponsored ads and content makes it increasingly difficult for buyers to trust any brand, unless the recommendation doesn't come from a fellow buyer. And reviews are not only limited to the product itself, user reviews contain their experiences on the shipping times, cost, packaging and much more that directly affects you as a seller. So, the more user reviews you have about your product, the chances of people buying the product as well as trusting you as a seller also increases. Not only does this will increase Amazon sales but also gives exposure to your other products, thereby boosting your overall sales.
Amazon Product Review act as a Free Marketing Tool – The life of an honest and positive review is much longer than any content or marketing activity that you can create. A positive review found helpful by buyers is likely to influence purchasing decisions for a long time after it has been written. So, reviews act as a boost for the product sales long after the initial marketing campaigns have died off.
Reviews increase organic search rankings – Amazon algorithm is designed in such a way that it tracks product reviews of all items which helps in calculating the actual popularity of the product in the market. If good reviews are written about your product then Amazon considers it to be more relevant and popular and thus ranks your listings higher than your competitors.
All positive reviews is not always a good thing – If all the reviews of your product are positive then customers will probably perceive them to be sponsored. An occasional negative or moderate review leads them to believe that actual customers are writing the reviews. And if an overwhelming number of reviewers have a positive outlook of your product, you shouldn't be worrying about it.
Reviews help Engage Customers – Constant activity and getting feedback from the customers can turn the review page of a product into a valuable forum or community. Here customers can reply to address each others doubts or queries regarding a product and also provides an opportunity for you as a seller to engage in conversations with prospective customers. This helps increase the trust factor amongst them and the chances of them buying the product from you greatly increases.
Amazon ensures the trustworthiness of reviews – Since its inception, Amazon has maintained a very strict policy towards ensuring the trustworthiness of its reviews. As discussed before, an honest review by a fellow buyer can go a long way in terms of strengthening the brand image of the product, the seller as well as the e-commerce platform as well. So the fact that amazon is the biggest and most popular e-commerce platform on the planet can be greatly attributed towards this policy of ensuring good quality reviews on the platform.
Review management includes asking users to write reviews, quickly responding to reviews and ensuring that all the reviews follow the strict guidelines provided by amazon. With hundreds of users writing reviews on products and sellers selling a plethora of products in becomes necessary for sellers to use a tool that would help them effectively manage the reviews. Let us look at some of them.
Review Management Tools of 2023 for Amazon Sellers:
Here is a comprehensive list of some of the best review management software tools for amazon sellers for 2023
AMZfinder
AMZFinder is one of the most popular Amazon seller software for its two major tools: Feedback Request System and Review Management. Feedback Request System helps to send review request emails and invoices automatically, benefitting the seller to gain more positive reviews. While the Review Management tool monitors reviews and orders paving a great way to help sellers deal with reviews and improve the reputation of their store.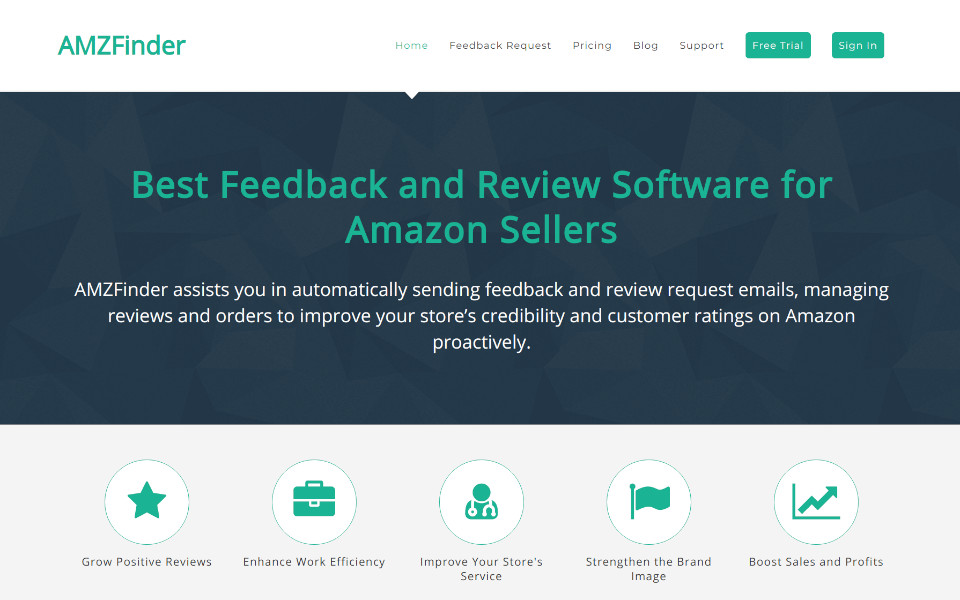 Feature:
Customer Review Platform
Review Monitoring
Response Management
Blacklisting
Content Filtering
Customer History
Customizable Templates
Data Mapping
Data Synchronization
Email Distribution
Email Integration
Instant Messaging
Invoices
Multi-Channel Management
Order Tracking
Summary Reports
Third-Party Integration
Prioritizing
Feedback Management
Feedback Collection
Ratings & Reviews
Email Templates
Categorizing
Filtered Views
Customer Complaint Tracking
Client Management
Pricing: There are four different Pricing Plans
Starter Plan at $ 29.99 per month
Basic plan at $ 34.99 per month
Pro plan at $ 39.99 per month
Enterprise plan at $ 54.99 per month
You can sign up using this link.
Discount Codes:
AMZtracker
AMZ Tracker is a comprehensive tool that will be of great assistance to most Amazon sellers & has a variety of good features, some of which they are pioneers in.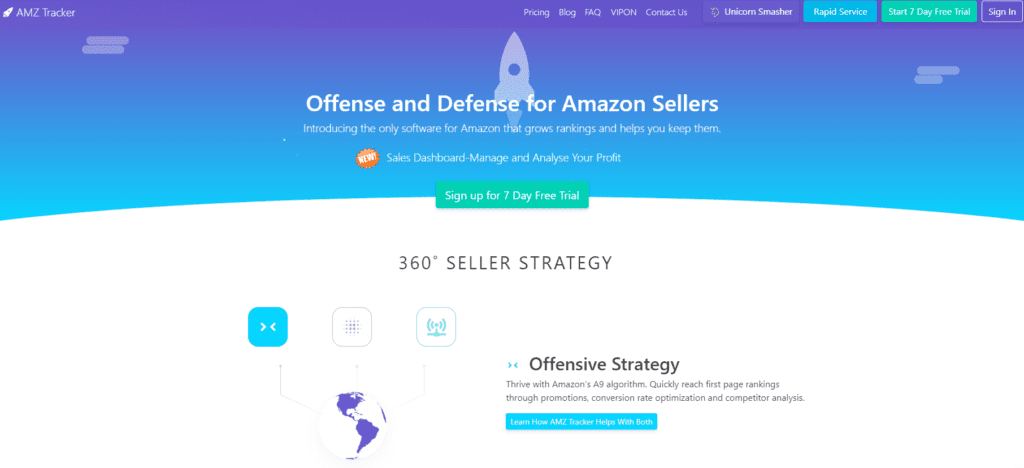 Features
Concurrent users are no issue
On-page listing analyzer
Sales tracking & product promotions
Competitor analysis
Negative review alerts
Alerts Listing Hijacks
Keyword research tool
Promo voucher management
Conversion Rate Optimizer
Super URLs
Keyword Tracking
Pricing: There is a 7-day free trial period. Four different pricing plans are available at $50, $100, $200, $400. You can sign up using this link.
Discount Codes:
Sellics
This platform is popular for businesses of all sizes as it enables to automate PPC campaigns and monitor sales performance with keyword ranking, inventory control, feedback management and more. They provide three versions of the software: Seller, Vendor & Agency Edition. Sellics also helps users with managing reviews with instant alerts for any customer review received on Amazon. Users can sort reviews by their impact on average star rating, as well as prioritize the response rate accordingly.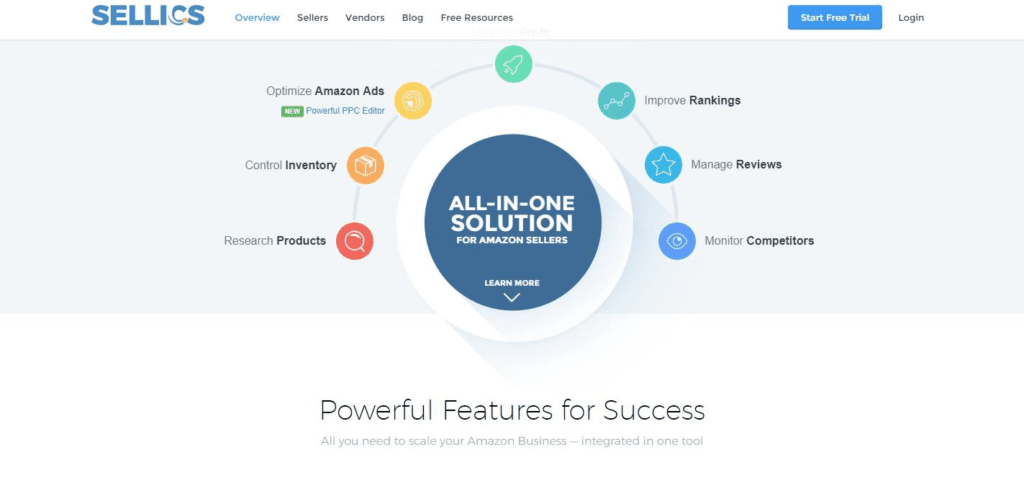 Features: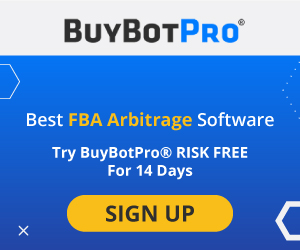 A user-friendly A/B testing suite
Keyword research, rank tracking, & analytics functions, including for your own listings & those of competitors
Listing analytics & optimization tools
Complete sales data from Amazon including information on your BSR, competitor comparisons, PPC costs & performance, refunds, profits & more
An Amazon Sales Rank Tool that covers sales volumes, sales history, price history, product rank tracking, etc.
Pricing: The monthly plan starts at $67 per month. If you go for the biannual plan, you will get a discounted rate of $57 per month. The annual plan will give you the cheapest rate at $47 per month. You can sign up using this link.
Discount Codes:
Bindwise
Bindwise is an automated monitoring eCommerce platform delivering effective Amazon data alerts on sales performance, keyword rankings, reviews and hijackings for the Amazon sellers in need of automated daily management of their businesses. Bindwise offers two primary services; Monitoring for Amazon Sellers and Ecommerce Platform in Google Sheets. Powerful Tools are offered to track negative reviews and respond to those quickly.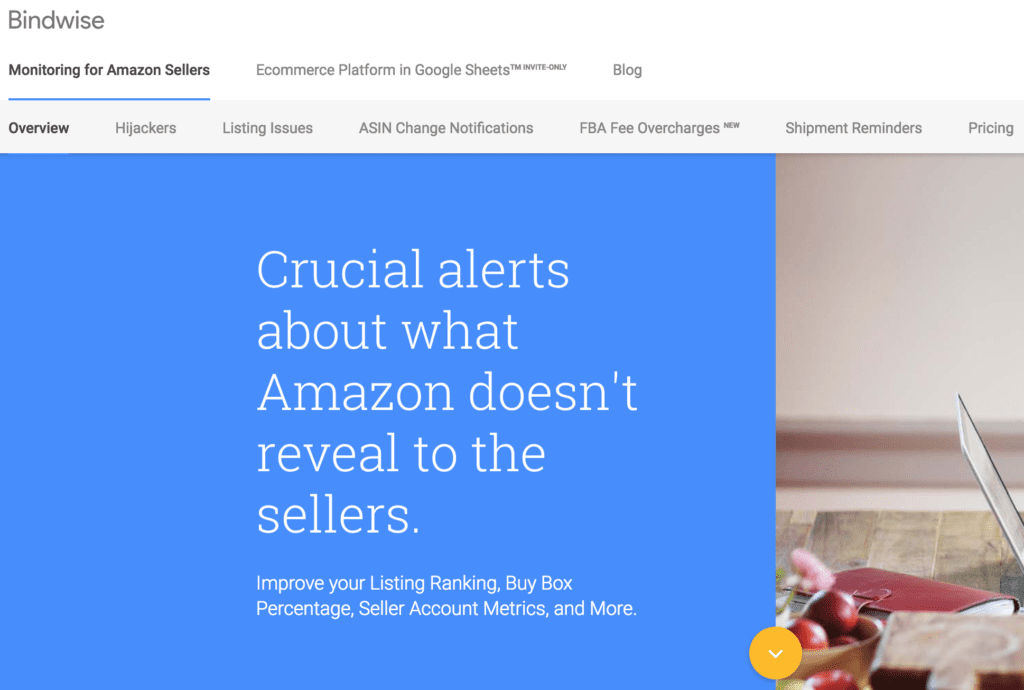 Feature:
Monitor Hijackers
Listing Issues
ASIN Change Notifications
Order Management
Inventory Protection
Inventory Monitoring
Hijack Alerts
Listing Optimization
Negative Review Alerts
Feedback Management
Monitor Competitors
Policy Violation Alert
Listing and Product Detail Pages
FBA Fee Overcharges
Shipment Reminders
Pricing: A free trial with all features is available. Bindwise offers a free plan which operates 7 days of any month. However, the paid plan is just $19 per month sending you up to 100 alerts a day.
Cashcowpro
It is a leading amazon software tool that includes all the features you will ever need to run & grow your Amazon business. Popular features include reports on sales data, tracking keywords, collecting feedback and reviews, finding profitable niches, monitoring inventory, improving conversions and split test listing title, price, images and features.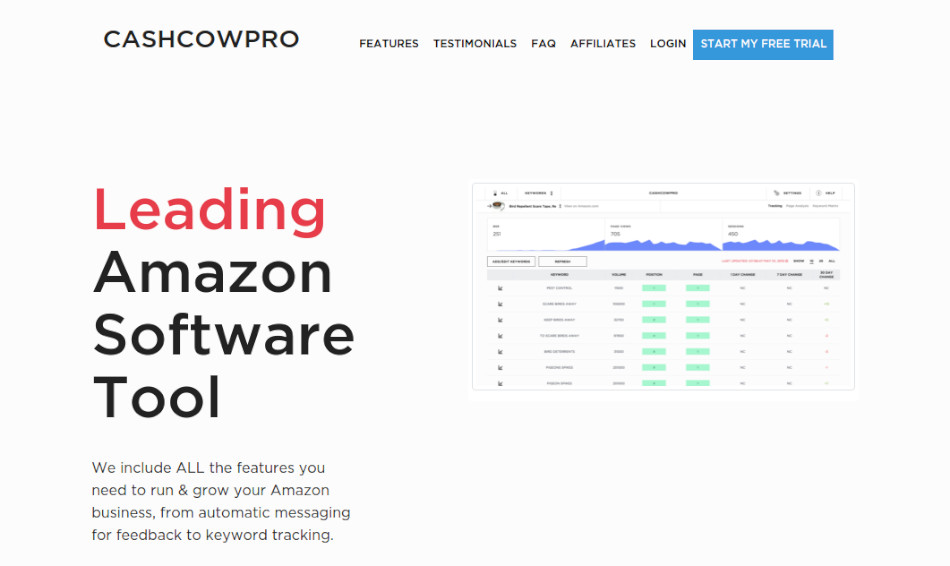 Features
Monitor Your Performance
Keyword Suggestion Tool, Hundreds of New Keywords
Check Keyword Competitiveness
Listing Analyzer & Optimizer
Sales Data, Know Your Profit
UNLIMITED Emails for Review Collection
Top 20 Million Amazon Product Selector, including a FREE Chrome Extension
Inventory Monitoring
Automatic Reporting
Performance & Conversion %
AB Test AUTO Listing Optimization
Pricing: There is a 10-day trial period with the requirement of a credit card. The monthly plan starts at $99.7 and annually the same will cost $997.
Signup with this Trendle link to avail exclusive offers (only for Arbitrageinfo readers).
Trendle
Trendle is an integrated application for Amazon sellers which features automatic review solicitation emails, FBA reimbursement analysis, Sponsored Products Ads analytics and management, Seller feedback and product review tracking and alerts, profitability and inventory analytics, keyword search rank tracking, and listing split testing.

Features:
The Review management tool can help you to:
Stay up to date with all your reviews
Receive alerts for all your Products & Seller Reviews left by all your customers.
Track the number of reviews and the average score on all your products so you can improve and perfect your listing.
Pricing:
There is a free trial period of 30 days.
$10 a month for new Amazon sellers (less than 100 orders shipped to date)
$50 a month for all other sellers for all features
An additional 10% commission is charged for using the FBA reimbursement managed service
You can sign up using this link.
AMZshark
Itis the perfect tool for seasoned Amazon sellers who are already established on Amazon & want to scale up their sales. The tool features popular industry-leading features that every Amazon seller should be using to meet their business needs.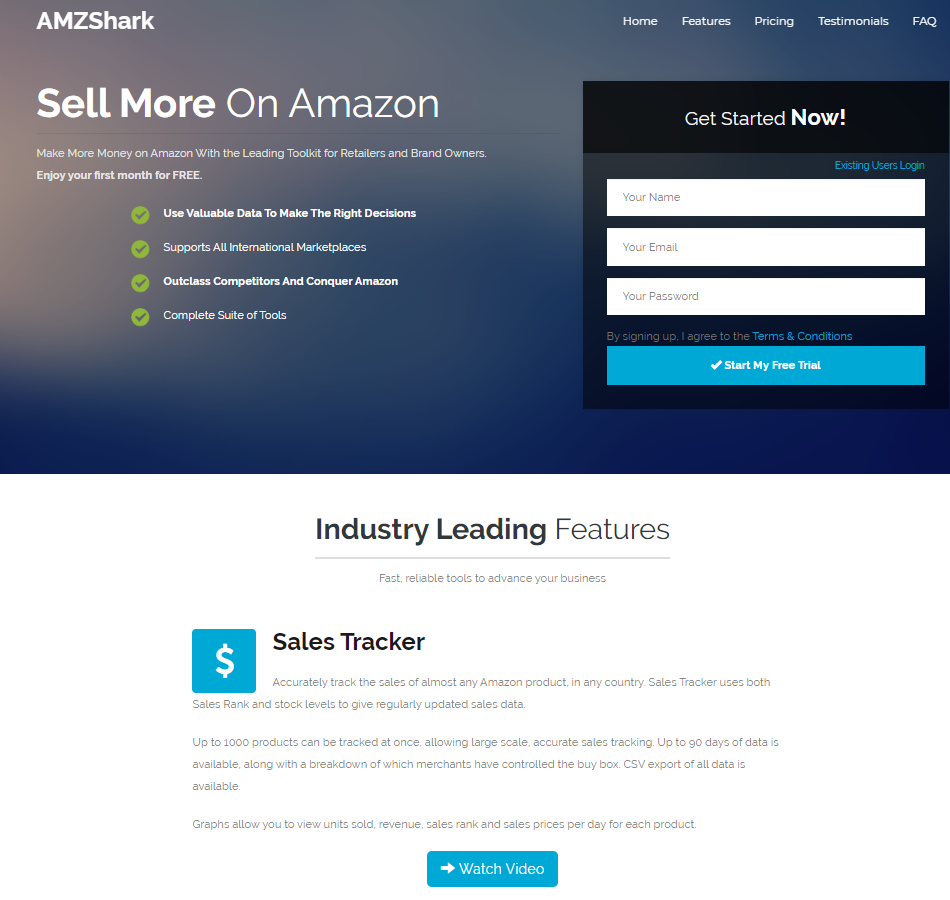 Features
Sales Tracker – Accurately track the sales of almost any Amazon product, in any country.
Niche Scout – Niche Scout allows you to instantly get competitiveness & profitability scores for top ranking products in a given niche including the average number of reviews, the average monthly revenue, & more, at-a-glance.
Search Rankings Tracker – Find out exactly where specific products rank in Amazon's search engine.
Keyword Explorer – Find hundreds of keywords that relate to your niche quickly & simply. Use these results in PPC campaigns, Amazon SEO & in-depth keyword research.
Listings Scout – See every facet of a product's listing page. You can use this information to refine your own page & boost your presence in Amazon's search engine. Compare listings that rank for a keyword & find weak spots in your own listing.
Keyword Comparison – Easily compare & contrast up to 20 keywords at once, useful for identifying profitable sub-niches.
Hijacking Alerts – Receive automatic email alerts when a competitor steals the Buy Box from your listing.
Super URLs – Super URLs can be used to help increase your search ranking on Amazon. Direct customers to your products using these links, & each purchase made via Super URLs will boost your ranking in whichever keywords you choose.
Feedback Alerts – Automatically monitor your Seller Feedback, with automatic email alerts allowing you to stay on top of any negative comments.
Competition Scout – Find out what keywords your competitors rank for, & discover which keywords you should target.
Review Alerts – Use Review Alerts for market research, investigate new niches & analyze customer desires
Supplier Scout – You can use this to find both non-Amazon competitors & potential suppliers who sell this product to merchants.
Pricing
AMZshark offers a one month trial for new customers, after this, the subscription costs $299 per month, which automatically renews each month.
Reviews are an integral part of a product's market image, research has shown that consumers trust reviews on any online platform as much as a recommendation from a reliable friend. This makes reviews very crucial for long term sales of any product. Reviews give buyers an exact idea about the product as well as the seller and the platform thereby directly influencing the purchase decision. As we found out in this article, popular eCommerce platforms like amazon have realized the importance of reviews and made them an integral part of their search algorithms making products with more reviews rank higher and thus sell faster. So as a seller it becomes important that you go that extra mile in ensuring that your users are giving you reviews on Amazon. With multiple products and hundreds of customers, it becomes very difficult to manually manage the reviews, so it is important that you take your time and choose the perfect review management tool that best suits your needs.
Limited Offers: On Growth Tools for Your Ecommerce Business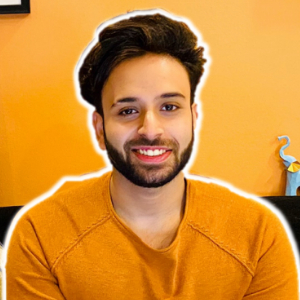 I and my team research various online verticals and can help you kickstart your Amazon business; so you could rake in more greenbacks with the best-recommended tools. Tap into the power of online retail business with me. I am just a mail away, so reach out to me if you want to scale up your niche business. mail: [email protected]