Last updated on January 18th, 2023 at 01:36 pm
Everyone likes to pick up the product they want for the least cost. Multiple brands have mushroomed in every market space, selling similar products at competitive prices; on top of that, there are hundreds of online marketplaces with thousands of sellers selling the same or competing products. That's a lot of competition. Focussing on Amazon, sellers continuously compete to win the buy box; they come up with many strategies on the back of a lot of research, often through sophisticated tools. Pricing is one of the most critical factors that drive sales. So as a seller on Amazon, you need to be constantly updated on the prices that your competitors are offering, the price going on the Amazon buy box, the price of competing products, and your fluctuating margins due to changing supply chains & logistics. As you can understand by the scale and complexity of monitoring all these different parameters to ensure competitive prices of your products, it becomes next to impossible to effectively and efficiently carry out this task manually. Thankfully, a lot of companies have understood this problem and have come up with tools that cater to just this problem; using these tools reduce your manual efforts and ensure that all of your products always have the most competitive prices listed across amazon and even other e-commerce platforms that you have been using. These tools automatically monitor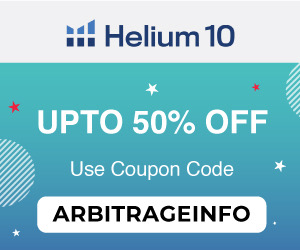 Prices on the buy box
Prices of the competitors
Prices of competing products
Your margins
And ensure that your product appeals to the bulk of the customers by having competitive prices. Some of these tools are sophisticated and use advanced reporting and analytics, and prediction modelling to automatically keep your products at competitive rates based on market trends and before most of your competitors. Let us look at a few such tools.
10 Best Pricing/Profit Tools for Amazon Sellers: 2023 Edition
Here is a comprehensive list of some of the best Amazon profit and pricing tools that can increase your revenue and sales.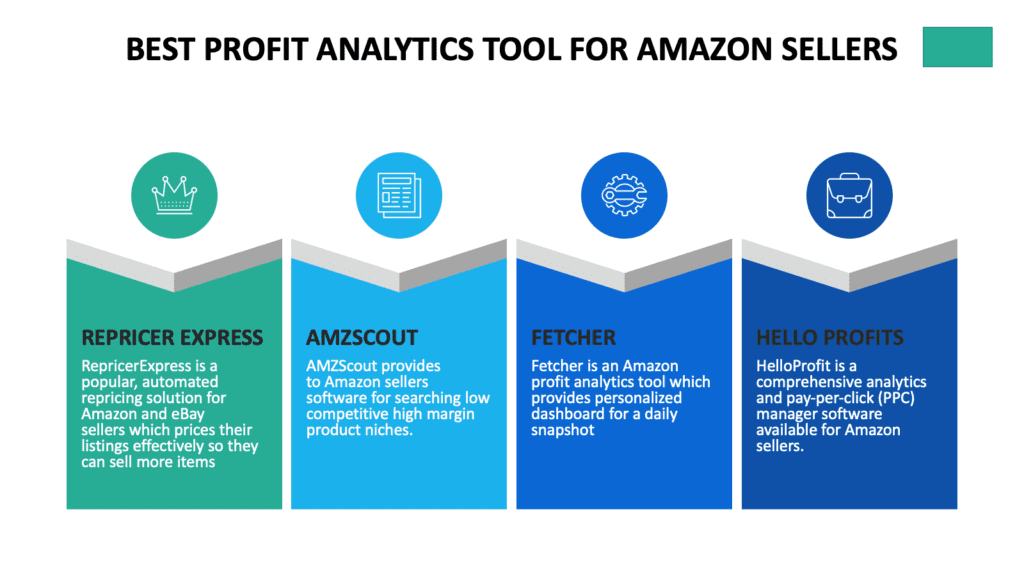 1. RepricerExpress: Best Amazon Repricing Software Tool for FBA Sellers
RepricerExpress is a popular, automated repricing solution for Amazon and eBay sellers, which prices their listings effectively so they can sell more items and win more Buy Box without having to monitor their accounts intricately. The speed provided by the software allows sellers to aim and attain higher positions in the Offer Listings pages, which significantly improves product visibility, positively impacting user sales.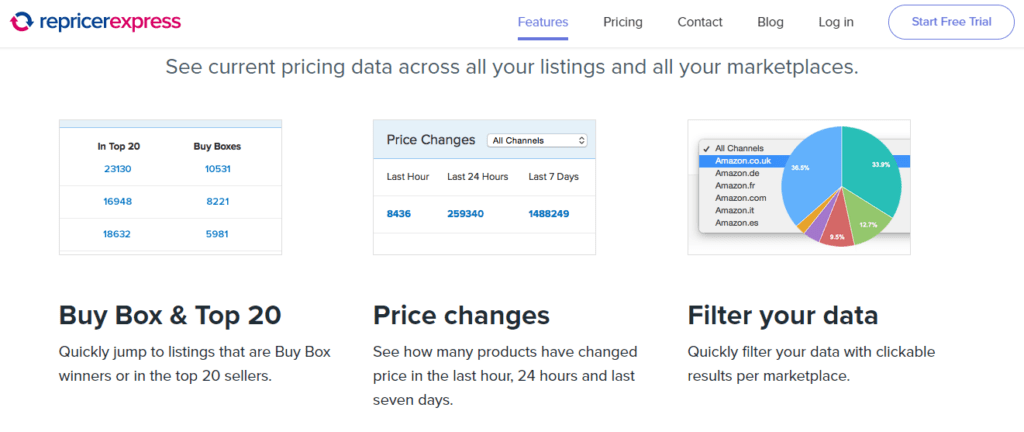 Feature:
Price Monitoring
Data Filters
Bulk Editing
Bulk Imports/Exports
Currency Settings
File History
Product Overview
Product Competition
Product History
Templates
Buy Box Options
Custom Pricing
Shipping Rules
Competition Filters
Scenario-Based Pricing
Pricing: A 15 day trial period is available without requiring a credit card. There are five different plans available for various sellers at $39, $49, $69, $99, $169 per month based on the listings to be provided.
2. AMZscout: Best Amazon Repricing Software Tool for FBA Sellers
AMZScout provides Amazon sellers software for searching low competitive high margin product niches. The easy and intuitive UI makes the extension's use and navigation very user-friendly while providing you with the tools to improve your product catalog's rankings. Take an in-depth look into search terms and discover new insights on previously unknown products to you. Become a better Amazon FBA seller and have your best-selling products listed on the first page itself.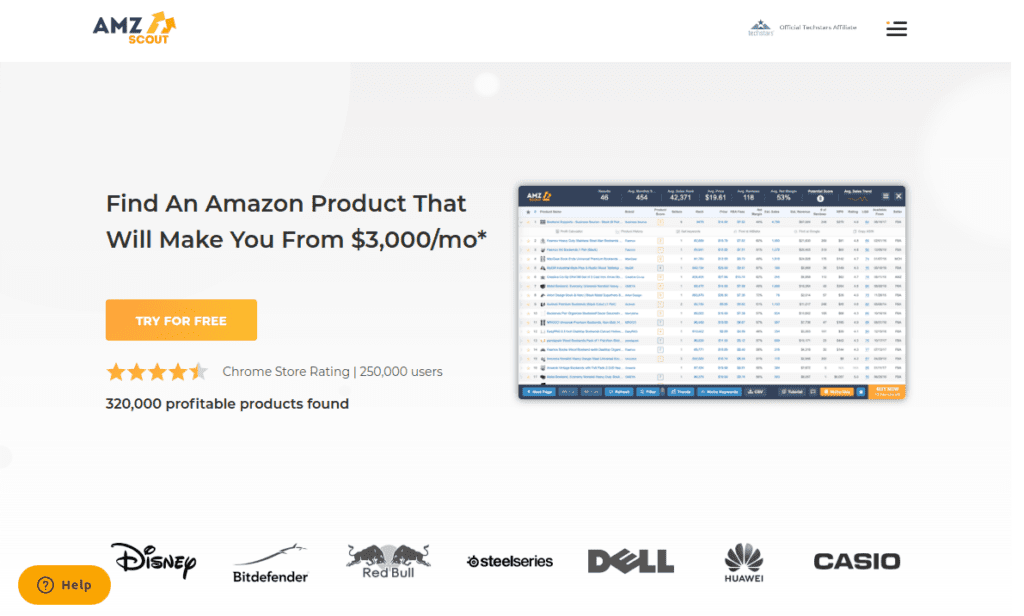 Feature:
Sales estimates
Revenue estimates
Spy on the competition
Keywords explorer
Fulfillment details
View trends
Sales rank at a glance.
Profit calculator
Sales history per year
Instant information on ratings
Quality of product listing
Quick product sourcing
Works on the following Amazon markets
Pricing: It is the cheapest and very accurate option available for Amazon sellers. One month of AMZscout for $44,99 will be cost-effective.
Monthly fee: $44,99
Yearly fee: $149
Lifetime fee: $399
3. Helloprofits: Best Amazon Profit Analytics Software Tool
HelloProfit is comprehensive analytics and pay-per-click (PPC) manager software available for Amazon sellers. It provides them with a merchant dashboard, a product dashboard, payout reporting, seller analytics, etc.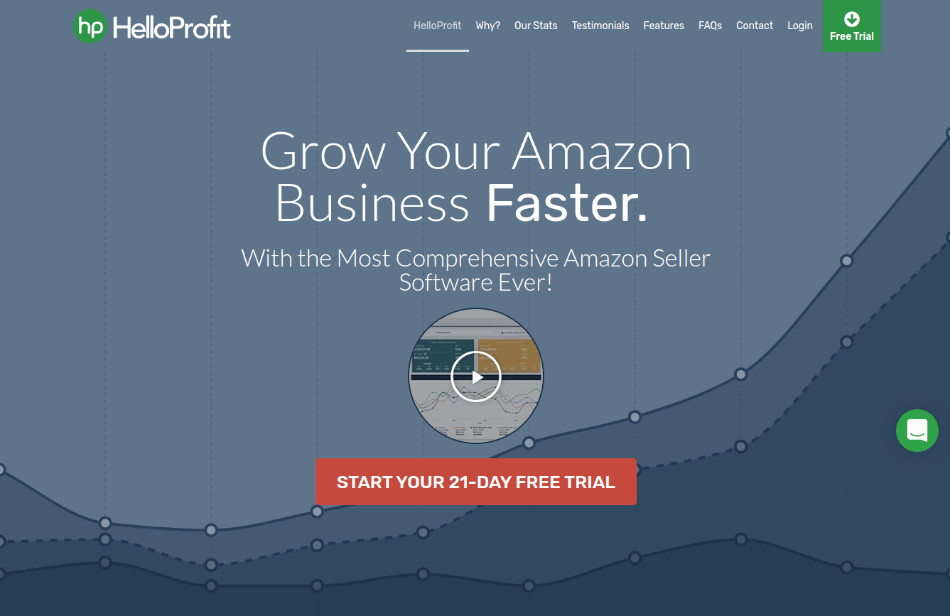 Feature:
Account alerts
PPC manager
Payout reporting
Bid management
Budget management
Analytics & return on investment (ROI) tracking
Campaign management
Pricing: HelloProfit pricing is based on a single subscription plan called the Expert, which currently costs $97 per month. This plan includes unlimited orders per month, 30 keywords per product with one merchant account, and unlimited add-on merchant accounts. You can sign up using this link.
4. Cashcowpro: Best Amazon Profit Analytics Software Tool
It is a leading amazon software tool that includes all the features you will ever need to run & grow your Amazon business, from automatic messaging for feedback to keyword tracking.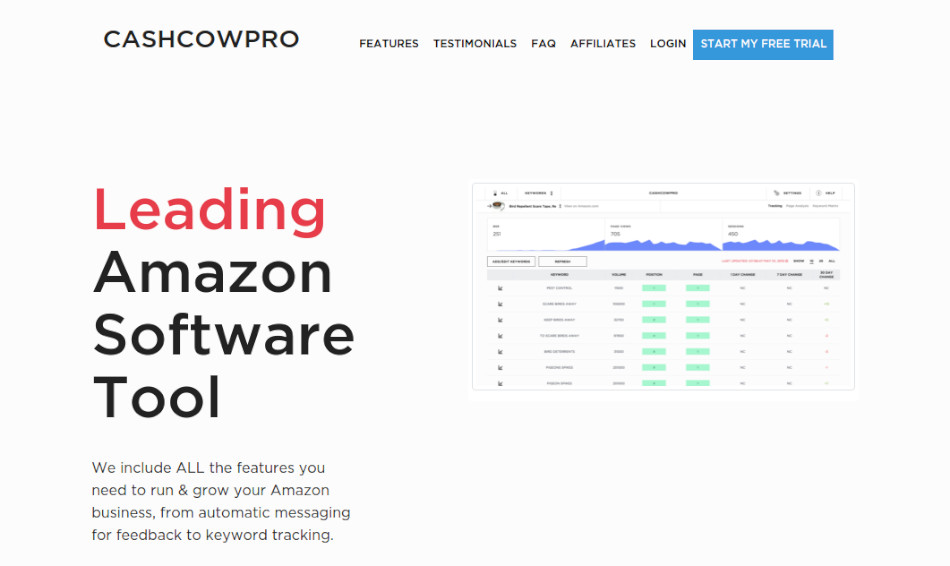 Features
Monitor Your Performance
Keyword Suggestion Tool, Hundreds of New Keywords
Check Keyword Competitiveness
Listing Analyzer & Optimizer
Sales Data, Know Your Profit
UNLIMITED Emails for Review Collection
Top 20 Million Amazon Product Selector, including a FREE Chrome Extension
Inventory Monitoring
Automatic Reporting
Performance & Conversion %
AB Test AUTO Listing Optimization
Pricing: There is a 10-day trial period with the requirement of a credit card. The monthly plan starts at $99.7, and annually, the same will cost $997.
Signup with this CashCowPro link to avail exclusive offers (only for Arbitrageinfo readers).
5. Trendle: Best Amazon Pricing Software Tool for FBA Sellers
Trendle is an integrated application for Amazon sellers that features automatic review solicitation emails, FBA reimbursement analysis, Sponsored Products Ads analytics and management, Seller feedback and product review tracking and alerts, profitability and inventory analytics, keyword search rank tracking, and listing split testing.

Features:
Available For All Marketplaces
Automatic Emails
FBA Reimbursements
Advertising Performance
Product & Seller Reviews
Profitability Analytics
Inventory Analytics
Keyword Ranking
Split testing
Pricing:
There is a free trial period of 30 days.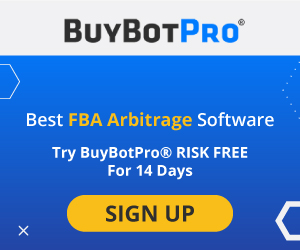 $10 a month for new Amazon sellers (less than 100 orders shipped to date)
$50 a month for all other sellers for all features
An additional 10% commission is charged for using the FBA reimbursement managed service
You can sign up using this link.
6. Bqool: Best Amazon Repricing Software Tool for FBA Sellers
BQool provides a robust solution for Amazon sellers to automate their processes. It specializes in streamlining how to reprice your products, manage email campaigns, and oversee product reviews. The product's main aim is to help you save time, minimize expenses, and sell more. It also offers you a solution to improve your Amazon sales rank both for new and existing products to boost sales and optimize Amazon's long-term storage costs.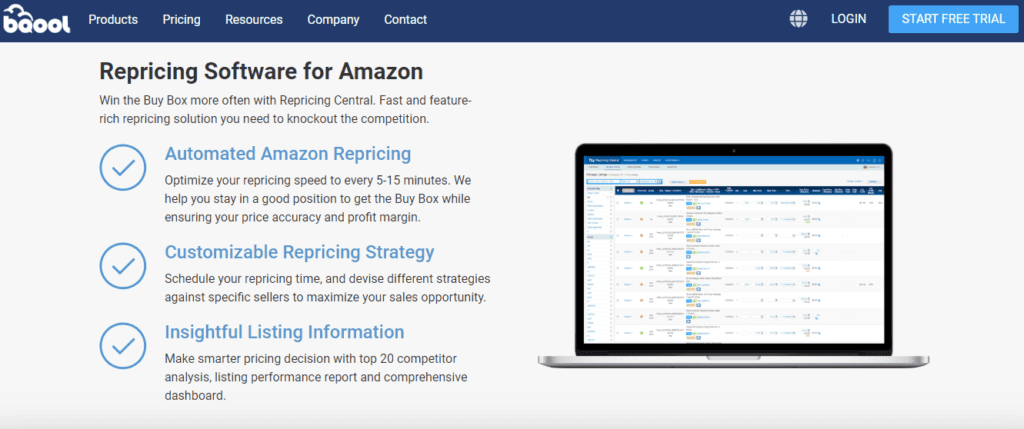 Features:
5-mins Accelerated Repricing
Embedded Price & Profit Calculator
Insightful Listing Data
Customizable Repricing Settings
Schedule Repricing
Compete Against Buy Box Price
Comprehensive Dashboard & Reports
Repricing History Log
Listing File Upload
Favorite Filters & Groups
Price Safety Net
Pricing:
BQool pricing has four subscription options. The main differences between the plans are the repricing speed, product listing amount, and the availability of sales reports. There are four plans at $25, $50, $75, and $100 per month.
7. SKU Grid: Best Amazon Repricing Software Tool for FBA Sellers
SKU Grid is the most advanced tool that provides all the right tools needed to sell at various marketplaces and generate the most profit. SKU Grid processes many product information per day, analyzes data, and enables the users to always stay competitive with updated price and stock information. It works with more than 800 retail and wholesale suppliers.
Feature:
SKU Fetch & Wise Lister
Free WooCommerce Store
Auto CSV Export
Custom Profit Formula
Buy Box Owner
Compare Items
Default Quantity / Item
Pricing: There is a trial period of 7 days. The plans are:
Newbie – $14.99
Beginner – $29.99
Intermediate – $59.99
Upper Intermediate – $89.99
8. Sellerapp: Best Amazon Pricing Software Tool for FBA Sellers
It is a powerful eCommerce analytics tool that provides useful features & reports to allow Amazon sellers to derive actionable insights from their data. The solutions they feature are product sales estimates, competitor tracking, identifying profitable keywords, listing optimization, & finding backend keywords for competitor's listings.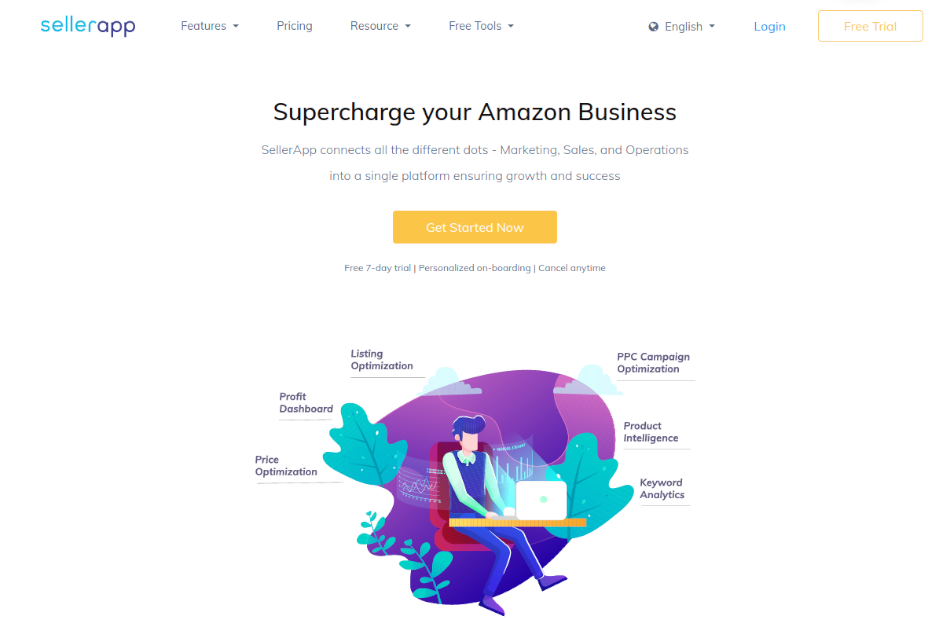 Feature: Amazon MWS Connect
BSR Alert
Chrome Plugin
Email Support
Hijacker Alert
Inventory Alert
Keyword Genie
Keyword Index Alert
Price Alert
Product Ideas
Product Keyword Optimization
Product Watch
Promo Planner
Revenue Alert
Pricing: There is a Free Trial period, along with various plans available.
Starter plan – $29.99
Essential plan – $49.99
Pro plan – $79.99
Business plan – custom pricing
Signup with this Sellerapp link to avail exclusive offers (only for Arbitrageinfo readers).
9. Keepa: Best Amazon Price Tracking Software Tool for FBA Sellers
It is one of the most popular tools for all those professional sellers on Amazon who want to efficiently monitor products and track prices. The chrome extension enables unlimited access to the deals section table, interactive graphs, sales rank, and counts.
Features:
Product finder: search on the tool's database and find your product to add it to your watch list
And when it comes to a product's monetary history, Keepa tends to win out again for a more intuitive display by showing you low dollar amounts on the bottom and high dollar amounts on the top.
The same intuitiveness goes for a product's sales rank, too, with the lowest at the bottom and the highest at the top.
If you want to keep your focus super narrow, click to remove a set of data. And if you're going to broaden your scope, click back the data sets. Plus, a neat thing happens if you click back the Amazon data set because it comes back shaded to indicate it's in stock (and white if it's out of stock). You can also see the in-stock, out-of-stock history of an item, so you never have to compete directly with Amazon, which isn't the smartest idea in the world.
Product viewer: import your product lists
Keepa shows you more immediate results by giving you the option to display date ranges of a day, week, month, three months, or all the extension's data on file.
Bestseller lists: the best selling products on Amazon grouped by category
Top seller list: Amazon's top-selling merchants
Price History charts
Detailed Price History charts for over 1 billion Amazon products.
Price Drop & Availability Alerts: Set up a price watch directly from the product page. We track any product for you and notify you once the product dropped below your desired price. We track lightning deals as well.
Compare and track international Amazon prices: Prices for all Amazon locales are listed and easily tracked.
Daily Deals, an overview of recent price drops: Get the real deals. Keepa finds the best deals every day. Find products with the highest drop in price in your favorite product category.
Category tree: browse Amazon's products by category using a useful category tree
Keepa's API. This is the only monthly payment tool. The API will allow you to request live pricing and availability, price history, sales rank, offers count, Buy Box information, review count history.
Pricing:
Keepa is a Chrome Extension; it allows for only two tiers of pricing. The free version gives you access to the Product Finder, the Product Viewer, the Best Seller Lists from Amazon, the Top Seller List, and various other features. However, it limits your search of products and ASINs to 5 per search. The Monthly Subscription costs $15 a month and gives you 5000-10,000+ searches for ASINs and products per search. It also allows you API access for 5 tokens per minute and a quota refill rate of 5% per hour instead of 2.5% every 23 hours for the free version.
Summary
As an Amazon seller or any e-commerce seller for that matter, you must provide the most competitive rates, and with so much competition in the market coming up with innovative offers, models, etc., it is only natural that you need the help of advanced software technologies to do this automatically for you. So using a Pricing/Profit tool in 2019 is necessary, and choosing the right tool is of utmost importance. One must keep in mind that the tool should reduce manual labor, be easy to use, offer excellent customer service, and have economic pricing plans. Ultimately the right tool comes down to your own needs and preferences, but it is always advisable that you try out a few of the first and go forward with whatever suits your needs the best.
Limited Offers: On Growth Tools for Your Ecommerce Business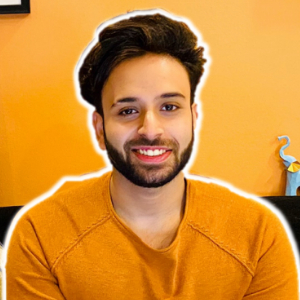 I and my team research various online verticals and can help you kickstart your Amazon business; so you could rake in more greenbacks with the best-recommended tools. Tap into the power of online retail business with me. I am just a mail away, so reach out to me if you want to scale up your niche business. mail: [email protected]