Refundly Review: Best Amazon Reimbursement Service for FBA Sellers 2020
Are you an Amazon seller? Do you know about your pending reimbursements? Sellers mostly concentrate on the current source of revenue, sales. Reimbursements are not considered that necessary, but if reimbursements are not taken care of, it can lead to substantial losses in the long run. A refund can cover a considerable part of the seller's revenue. When selling on Amazon, keeping track of amazon seller refunds is essential as sometimes the eCommerce platform might commit some mistakes. The amazon seller might lose money even without the knowledge about it. Keeping track of Amazon FBA eligible reimbursements can be a challenging and time-consuming process.
To make matters worse, they come with an 18-month expiration date. Amazon refund tools help the seller keep track of amazon fba refund reimbursement. It keeps track of inventory, helping in warehouse management and giving you reports based on analytics on various aspects such as shipping and damaged and returned products.
Refundly automatically reconciles your reports to identify Amazon's inventory mistakes. After the software does its magic, you can then set your focus on getting your money back and easily keep track of your claims on the dashboard. Refundly helps sellers manage their amazon reimbursements to ensures refund recovery. Currently, it supports the markets of Amazon US, Mexico, Canada, the UK, Italy, Germany, France, and Spain.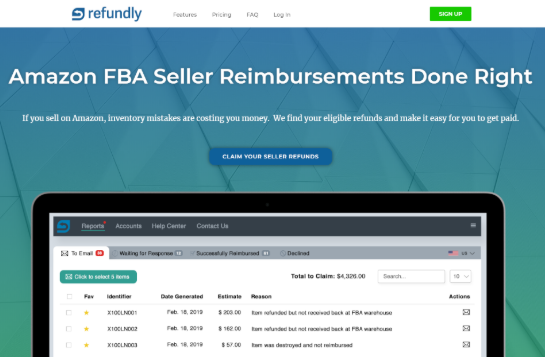 Why Should You Do refund Management when Selling Online?
How you manage returns will influence the general management of your warehousing and storage, inventory, depreciating goods, and soiled items. Therefore, the bottom line will be the impact on overall profitability.
Managing returns isn't quite as simple as putting items back on a shelf to be shipped off to a different customer. Returns involve a quality control process. The reason for returning an item should be established once it has been returned, if not earlier. Increasing the efficiency of the process by which returns are then managed will prevent hindrance to outgoing logistics too.
If processing isn't efficient, it can be exorbitant(unreasonably high). Refund management can help an amazon seller in the following ways-
Inventory Management- As a part of your supply chain, inventory management includes aspects such as controlling and overseeing purchases; maintaining the storage of stock from suppliers as well as customers; managing the quantity of purchasable product and order fulfilment. Naturally, your company's precise inventory management meaning will vary. Supported the kinds of products you sell and therefore the channels you sell them through. But as long as those essential ingredients are present, you'll have a solid foundation to create.
Warehouse Management- Warehouse management is the control of the day-to-day operations of a warehouse, as the shipping, receiving, put-away, and picking of products.
Analytics & Reporting- Refundly analyses the account of the amazon seller and makes a report of all the pending reimbursements of the seller. This eases recovery the seller can use the report details to proceed with the refunds. This way, the seller not only knows the amount but have the proofs to claim it.
Order Management- In eCommerce, the merchant and therefore, the customer share a standard goal: to urge the merchandise from customer order entry to customer porch as quickly and accurately as possible. To achieve this, businesses must have an efficient and flexible order management system that can keep up with what your business needs to meet modern buyer expectations and competition.
Absorbing the cost- When products are handled by an outsized third party company like Amazon, once the condition of the return has been established, it can either be repackaged ready for resale, sent for refurbishment or for recycling. Even when products can no longer be sold, it is still possible to mitigate costs against refurbishment or recycling, and this can neutralize the expense of the process involved.
It is also important to remember that once an item has been returned, it will either be refunded or replaced without an additional sale. Managing reverse logistics efficiently will prevent these cases from becoming a severe loss to the corporate form within the general logistics management process.
The cost of returned products will have an impression on pricing. If any of the same products are being returned then to keep the product profitable, its price will inevitably go up.
Amazon makes all kinds of inventory management mistakes that they reimburse sellers. However, FBA reimbursements aren't always automatic and may be challenging to track. This is costing sellers much money.
Return Management- Return management program may be a return process for shippers that want to enhance the customer's satisfaction and ease the method of returned assets. The seller manages the process from beginning to end, including receipt, sorting, credit processing, and supreme disposition of the returned product.
Increase Customer Satisfaction- When an organization's products or services either meet or exceed customer expectations customer is satisfied. In fact, the same quality might be served by other manufacturers as well, but clients are typically looking for superior products, services, and support requirements from the vendors. What customer wants is to possess their voice heard and resolve it immediately.
Reduced Overall Total Cost- The return supply chain is a higher priority in some industries than in others, especially those where the returned product can be recycled or manufactured. And employing the services of the professional reverse logistics can guarantee you that in the long run, it will save you money. Make sure the professional you are hiring must be experienced and able to see the big picture when analyzing the back-end of your supply chain.
Protected Revenue and Income- Employing a reverse Logistics analysis will help you to know how much revenue and income are at risk. You'll achieve this only due to end-to-end functionality and continuous monitoring of reverse logistics procedures like recalls, returns, and warranty service.
Bring Transparency in Operations- The best advantage of hiring the professionals is that they carry improvement in transparency into the status of the item being returned. A process needs to be created whereby the user can calculate the total number of items needed as a whole or incrementally. This will allow manufacturers to save their manufactured parts because they know of any parts to be collected and reused at a later date.
Refundly Review: Product Features
Interactive Dashboard
An Interactive Dashboard allows you to easily view, track, sort, and manage your refund claims
Safe & Reliable
It is Safe & Reliable, and the software gives accurate results and is compliant with Amazon's Terms of Service. It's an Amazon TOS compliant service you can trust
No Up-Front Costs
There are no Up-Front costs, making it affordable and comes with a no-risk pricing plan that ensures a win-win situation: you only pay when you get paid. They charge a low fee of 12% of the money you get back from Amazon.
Personalized customer service
High Degree of automation ensures that you save time and effort and can focus on growing your business.
How Refundly Works?
After signing up, you'll get to follow a couple of simple steps to sync your Amazon Seller account with Refundly. Once you are doing that, refundly's software will scan your inventory history to seek out eligible reimbursements for the last 18 months of your transaction. You can view your eligible refunds intimately, submit your claims, and keep track of all of them within the Refundly dashboard. It's an all-in-one, hassle-free tool to help you make sure your money is not slipping through the cracks. There are three simple steps to get started-
Step1- Sign up and follow the easy directions to synchronize your Amazon seller account with Refundly.
Step2- The software algorithm scans for inventory problems and identifies eligible refunds dating back up to 18 months.
Step3- Submit your claims and keep track of reimbursement eligible refunds within the Refundly dashboard.
Refundly scans amazon sellers account and provide reports based on the following factors-
Refunded orders which are not returned by buyers even after 45 days
Units destroyed by Amazon without being reimbursed
Refunds reimbursements for more than what was charged
Lost items in the FBA warehouse
Damaged items in FBA warehouse
Replacement sent to the customer with the first being returned
Damaged returns and inventory by FBA warehouse workers
Credits and partial refunds are given to customers that were drawn from your seller account.
Refundly makes it simple for Amazon sellers to locate and reconcile reimbursements for lost, damaged, or otherwise compromised inventory that is costing you money. Refundly makes sure that customer refunds taken from your account because of an issue with Amazon are paid back to you before the reimbursement period is over.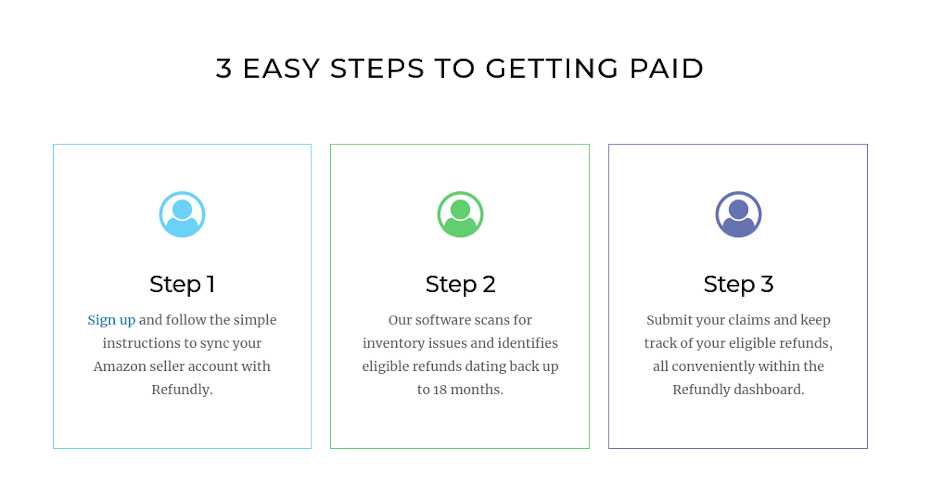 Refundly Tools and Solutions for Amazon, eBay, and Walmart Sellers
AMAZON TOS COMPLIANT- Refundly is 100% TOS compliant. It keeps your account is safe.
THE MOST AFFORDABLE SERVICE- Only 12% of your expected reimbursements must be paid for the service. In contrast, other services charge up to 25%.
GUARANTEE- You don't pay a dime until you are sure you're eligible for reimbursements. If you aren't reimbursed by Amazon as much as estimated, a parallel refund is issued to you.
FAST CLOUD-BASED TOOL-No software to download or install, just simple instructions to follow. Once your account is set up, you can log into the refundly dashboard of your Refundly and get to know reports at any time.
DASHBOARD- Refundly offers a very interactive dashboard. User can navigate very easily through options. This increases working efficiency.
Refundly Review: Advantages, Pros, and USPs
Refundly gives you accurate results for your pending reimbursements from Amazon.
The amazon seller can trust it as refundly complies with Amazon's policies. It provides Amazon TOS compliant service. This increases its report reliability and authenticity.
Refundly is very affordable as compared to some of its alternatives which might charge 25% for the same services. It follows a pricing policy where you don't have to pay anything unless you start earning from the software. This makes using refundly risk-free`.
Refundly provides you with an easy-to-use dashboard. Now you'll view, submit, and track your claims with the ease of a click without getting confused by the interface layout.
Stuck somewhere? Don't know what to do? Refundly has your back. Refundly provides personalized customer service to help Amazon sellers as soon as possible. This makes sellers work hasslefree.
By doing the analytical work and providing quick and reliable reports, Refundly saves time and effort so you can focus on growing your business rather than settling accounts.
Refundly Review: Pricing Plans
Refundly analyses your inventory free of cost. The pricing plan of Refundly is commission based. They charge 12% of the amount amazon seller recovers from Amazon. You don't need to pay anything else. No up-front costs! That too, without any commitments, you can discontinue the services whenever you want.
Refundly Review: Coupon Codes
Refundly Trial Plan
As they don't charge anything before the reimbursement trial pack is irrelevant here. Also, inventory analysis is free.
Refundly Alternatives and Competitors List
Refunds Manager
FBA Auditor
AMZRefund
Refund Retriever
Conclusion
Errors happen, even with the biggest online retailer on the planet. Whether it is due to stocking issues with Amazon, delivery issues with couriers, or some other human errors along the way, mistakes can, do and will crop up. If you are not going to keep tabs on them, it is unlikely anyone else will.
It's incredibly effortless. Even if you don't know the first thing about claiming refunds from Amazon, you can complete the whole process in about an hour. Just repeat this every few weeks, and you'll have tied all refund-related loose ends. As we know, the best Amazon FBA tools set themselves apart by being feature-rich while being easy to use. This one fits that bill. Now settle your pending reimbursements of months in minutes with analytics of Refundly easily and affordably.