Last updated on January 18th, 2023 at 05:45 am
A cryptocurrency is a virtual or a digital currency secured with the help of cryptography, making it impossible to counterfeit or double-spending. It runs on a series of blockchain technology, on a decentralized network generated by computers, which manages and records transactions.
Cryptocurrencies have come a long way since their inception, and currently, there are more than 6,700 cryptocurrencies that are dealt with and traded publicly. Also, there has been a sharp increase in the value of cryptocurrencies, which raises money through initial coin offerings or generally known as ICO.
A recent report by CoinMarketCap says that the total value of cryptocurrencies stands at more than $2.2 trillion. The value of bitcoin, the most popular cryptocurrency presently, is about $1.2 trillion.
You might wonder why cryptocurrencies are all the rage in this modern 21st century; well, there are many reasons:
People who swear by cryptocurrencies consider it the "Future Currency" and hope that it will become valuable in the future if they buy it now.
There are also no issues of reducing the value of cryptocurrencies as there are no central banks involved in their dealing and trading.
It is more secure than the traditional payment systems as cryptocurrencies work on blockchain, decentralized processing, and recording system.
Cryptocurrencies are going up in value, which also generates interest among buyers for their procurement.
Why Do You Need a Crypto Arbitrage Bot?
You might be curious to know why you would need crypto arbitrage bots.
Well, here are the reasons!
Crypto trading bots are computer programs that assist you in purchasing and selling cryptocurrency at the best possible price. The primary purpose of this program is to boost revenue while lowering losses and risks. These apps allow you to manage all of your cryptocurrency exchange accounts in one spot. Many of these apps make it simple to trade for Ethereum, Litecoin, Bitcoin (BTC), and other cryptocurrencies.
There are various advantages of using a crypto arbitrage bot for your trading needs; some of them are:
A powerful piece of program: A human trader can only process a certain quantity of data at a given moment. Even if all of the data has been processed, finding insights from it can be difficult. On the other hand, Crypto trading bots can efficiently process large amounts of data and come to reasonable conclusions.
Effective: There are no delays or, more critically, human errors to worry about. As long as the bot obtains accurate data and uses appropriate algorithms, it will trade assets with a higher possibility of profit. These bots have the added benefit of working 24 hours a day, seven days a week.
Indifferent to emotions: Every choice made by a crypto trading bot is based on the perceived risk. It has no fear of losing or greed for profit, unlike humans. Experienced traders may make reasonable decisions by suppressing their emotions, but this is not always the case for everyone, particularly beginners. A crypto trading bot, on the other hand, permanently removes emotion from the equation.
How Does Crypto Arbitrage Works?
Cryptocurrency arbitrage is a set of trading activities that involves purchasing and selling the same amount of cryptocurrency from two different exchanges at the same time to profit from the difference in exchange rates.
The transaction is carried out so that the amount of cryptocurrency on both exchanges is the same as before the transaction. In contrast, the corresponding amount in fiat is increased by the rate difference.
Best Crypto Arbitrage Bots for Trading: 2023
We have handpicked some of the best crypto arbitrage bots that can generate a very high ROI for your crypto trading.
1. Bitsgap: Best Crypto Arbitrage Bots Software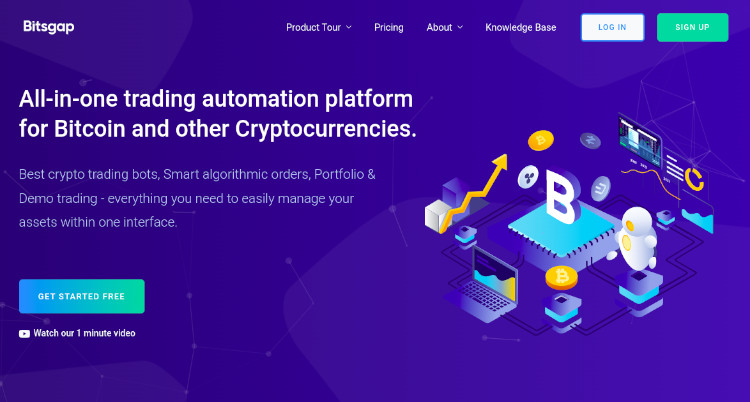 One of the most unique crypto arbitrage bots software, Bitsgap lets users with varying levels of expertise and skillsets automate their trading on this platform and maximize their profits.
Bitsgap's method is based on the GRID approach, which is a basic but powerful methodology. Within a trading range chosen by a trader, it distributes investment proportionally.
When the price fluctuates, the Bitsgap algorithm is designed to maximize profit by buying low and selling high. Stop-loss, Trailing UP, Take profit, and various exit techniques are all available to automated bots.
Features:
You don't have to download anything because it's a cloud-based service.
Trading bots are founded on a logic that is both transparent and efficient.
DEMO mode of a risk-free trading simulator
Strategies for a speedy bot launch that have been tried and tested
Pros:
There are four alternatives to pick from: free, basic, advanced, and professional.
A 14-day free trial is included with all plans.
Cons:
Most plans have trading restrictions.
A higher price when compared to the competition.
2. Coinrule: Best Crypto Arbitrage Trading Bot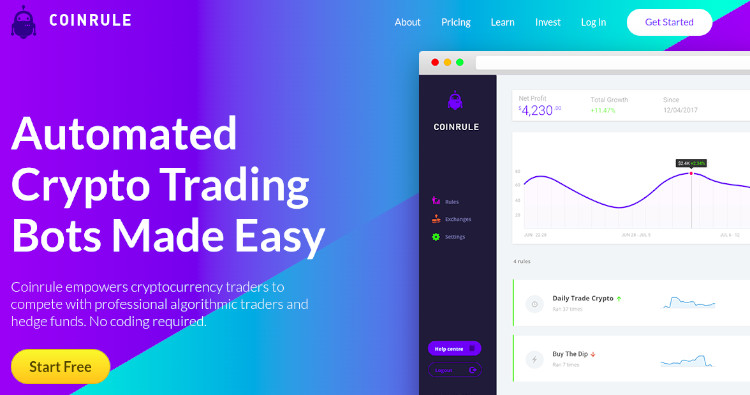 Coinrule is one of the most famous crypto arbitrage bots which is available for traders.
It is an automated trading platform tailored to the demands of newcomers to the market. It emphasizes the construction of trading rules, making it simple to construct your strategies using the intuitive interface.
Coinrule allows you to automate your trading, just like any other bot service. The "if-this-then-that" idea of this platform, on the other hand, offers it an edge over other similar services.
This service provides you with a variety of pre-determined strategies from which to choose. Both beginners and advanced traders can use this bot to create their trading strategies.
Features:
Customer Support
Friendly User Interface
Good security
Offers trading strategies
Pros:
The most popular exchanges are supported.
Has the most user-friendly interface
There is a free version available for newcomers to try out.
More than 130 strategy templates are available.
Cons:
There is no strategy backtesting.
Provides only a limited amount of information about the performance of the templates.
3. Cryptohopper: Free Crypto Arbitrage Trading Bot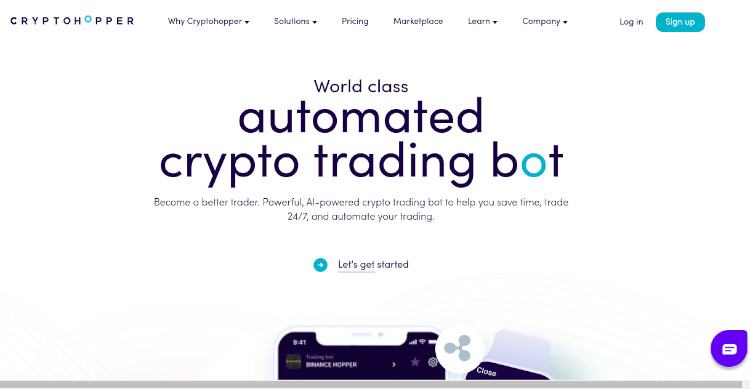 Cryptohopper is one of the best crypto trading bots, whose bot known as the market-making bot is one of the most well-known trading bots on Cryptohopper. It is similar to Pionex's Grid Bot, except it focuses on profiting from order book spreads.
Cryptohopper seeks to empower traders by offering a simple-to-use, full-featured tool that allows users to trade numerous cryptocurrencies with ease while removing human flaws from the process.
Features:
Customer Support
Exchange integration
Technical analysis
Completely cloud-based
External Signals
Shorting
Pros:
Doesn't charge a monthly fee in addition to a commission.
Access to high-level analytic tools is available to investors.
Advanced security protections are included in this comprehensive smartphone app.
Cons:
There are no choices for customer service over the phone.
To use the majority of the features, you must subscribe to a monthly plan.
4. Shrimpy: Best Crypto Arbitrage Trading Bot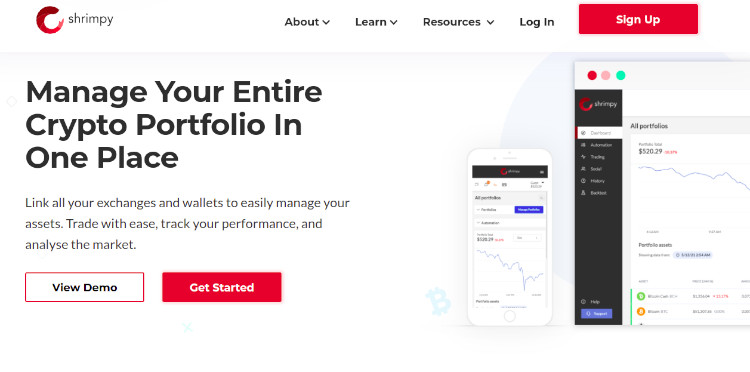 Shrimpy is a crypto arbitrage software that was launched in January 2018 and is a relatively new social cryptocurrency trading and portfolio management application. Shrimpy, like 3Commas, allows crypto dealers to manage their whole amount across 16 different exchanges. Shrimpy also includes social trading, portfolio performance tracking, backtesting, and Dollar-Cost Averaging, among other features.
Shrimpy allows you to design unique indexes that span all connected exchanges and use a distinct trading strategy for each.
Features:
Integrate several cryptocurrency trading exchanges into a single platform.
With a simple interface and crypto tools, you can manage your entire crypto portfolio.
Keep track of your portfolio's performance and make automatic adjustments to your investment strategy.
For each social trader who follows you, you will be paid a commission.
Using multiple indicators and trading tools, automated trading methods.
Pros:
Simple to use
Plans are affordable, and a free version is available.
Trading on the social web
Portfolio rebalancing
Backtesting
Cons:
5. Pionex: Best Crypto Arbitrage Trading Bot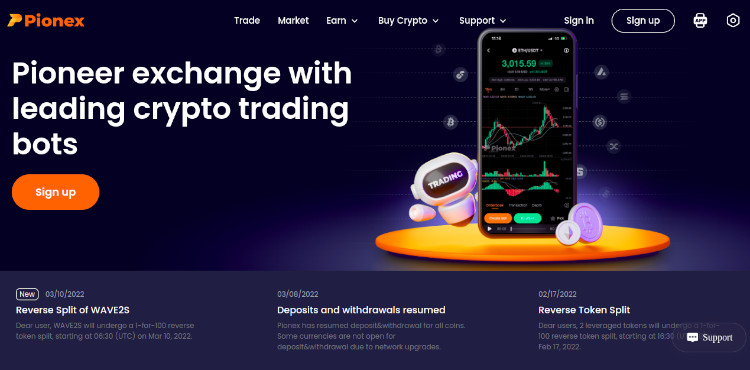 Pionex is a crypto trading platform that offers 12 free trading bots. Users can trade automatically 24 hours a day, seven days a week, without having to constantly check the markets. It is one of the largest Binance brokers, combining liquidity from Binance and Huobi Global.
All users have access to the Pionex crypto exchange, which includes automated trading bots. You will, however, be charged a fixed fee of 0.05 percent on each maker or taker transaction. As a result, Pionex is one of the most cost-effective major exchanges available.
Features:
Grid bots
Multiple currency support
Access through a mobile app
Backtesting
Automated trading
Pros:
Always free
Low trading fee
Cons:
Few exchange platforms
No customer support
6. Trality: Create Your Own Crypto Trading Bot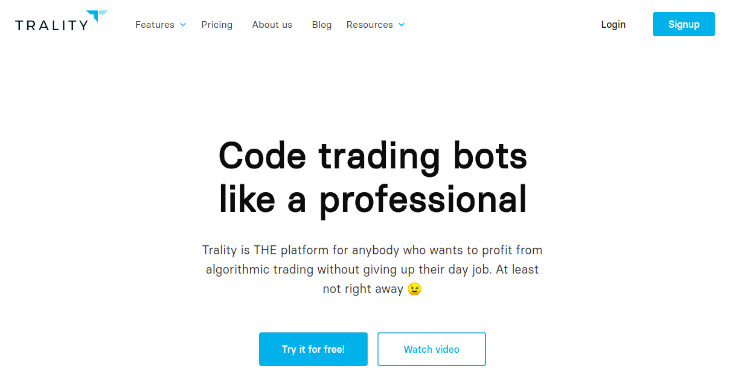 Trality is one of the best crypto trading bots which is based on the Python application programming interface that is appropriate for both novice and advanced cryptocurrency traders (API).
The Trality online software, which is completely cloud-based, allows you to construct without the need for any extra equipment or downloads. More skilled traders will benefit from Trality's Code Editor, while beginners will benefit from its Rule Builder, which allows you to easily develop trading bots by dragging and dropping indicators to develop your strategy.
Features:
Crypto trading bots
Algorithmic trading
Crypto portfolio management
Pros:
Tools for both programmers and non-coders
Encryption from beginning to conclusion
User interface that is simple to use, interactive, and graphically based
The system is entirely cloud-based.
Cons:
There is currently no mobile application available.
It has the most popular exchanges, but it is in desperate need of more.
7. Quadency: Best Crypto Arbitrage Bot and Exchange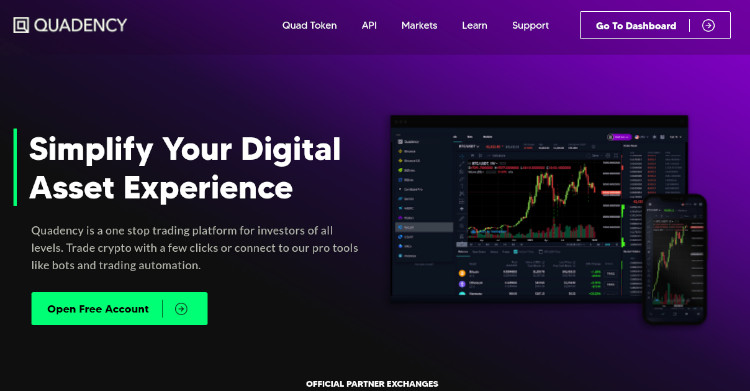 Quadency is a crypto arbitrage bot that enables users to link numerous exchange accounts into a single interface and trade any of their crypto assets with a single click. It offers a simple trading experience, a user interface that is easy to use, and a safe platform.
Features:
Customer support
Great plans for different pricing
Advanced charting
Unified platform
Portfolio analytics
Pros:
Intuitive
Easy to understand UI
Visual portfolio manager
Cons:
8. Altrady: Free Crypto Arbitrage Platform with Integrated Bot Scanners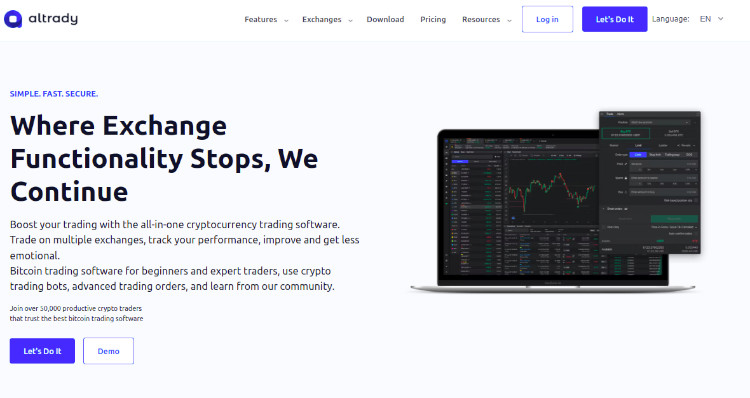 Altrady is a multi-exchange crypto arbitrage platform that enables cryptocurrency investors to purchase and sell on several exchanges from a single interface. For investors who wish to diversify their portfolios fast and easily, this can be a significant benefit. Altrady also offers a wide range of customization tools and features that may be utilized to create a unique trading platform for investors.
Features:
Smart trading
Web trading
Portfolio manager
Crypto base scanner
Real-time market data and alerts
Pros:
Customization options abound.
Investors can use hotkeys and journaling capabilities to keep track of their trades and progress.
Its learning system contains a plethora of videos that demonstrate how to use the platform's most popular features.
Cons:
In addition to typical broker fees, there is a monthly fee.
For new users, it can be overwhelming.
9. Wunderbit Trading: Best Crypto Arbitrage Bot for Trading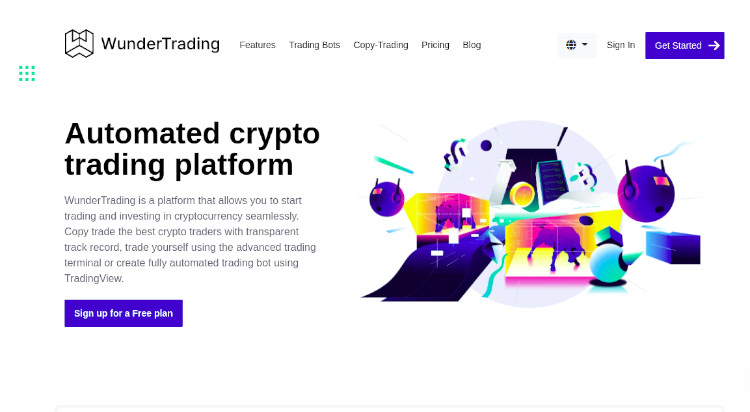 Wunderbit trading is a crypto arbitrage scanner that allows the users to trade in a cryptocurrency exchange and social trading network that allows them to trade on the platform themselves, copy-trade the greatest crypto traders with a transparent track record, or use TradingView to build a fully automated crypto trading bot.
Features
Social trading marketplace
Multiple account management
Pyramiding bot automation
Smart crypto trading automation
Free crypto trading terminal
Pros
A plethora of innovative features
Easy to buy
Great connectivity and communication
Cons
No mobile app
Does not have a large user base
10. Botcrypto: Create Your Automated Crypto Trading Bot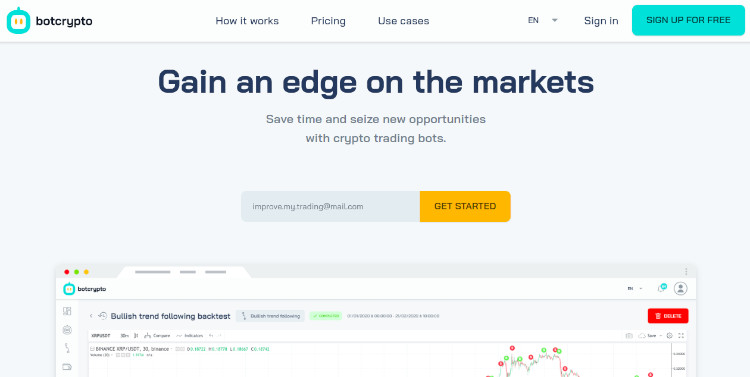 Botcrypto is a crypto arbitrage software that enables you to customize and create trading bots. It allows you to automate your trading tactics without having to know how to code. Technical indicators, webhooks, take profit, trailing stop, wait, and other features are available in the visual editor, which can be dragged and dropped.
These robots can be set up without any IT knowledge. They are available 24 hours a day, allowing our users to trade more efficiently and save time. Botcrypto also includes instructional resources that allow you to run simulations to get started without risk and learn best practices.
Features:
Configurable bots without any codes
Bots are operational 24/7
Free backtests
Real-time simulations offered
Pros:
Easy-to-use interface
No installation required
Free backtests and simulations
Strong community
Learn to trade courses
Create Strategies with a visual editor
Cons:
Only a few exchanges are permitted.
The Botcrypto shop has a limited number of strategies.
We hope you found this blog helpful and gained some knowledge about what crypto arbitrage bots are all about, how to make money both actively and passively from this source, and how to choose the best crypto arbitrage software online. Do let us know down in the comment section what you think about this blog.