Last updated on January 18th, 2023 at 05:45 am
If you are a seller on Amazon and have worked hard to push your product or service through many ranks, you would want to get good feedback or customer reviews, right?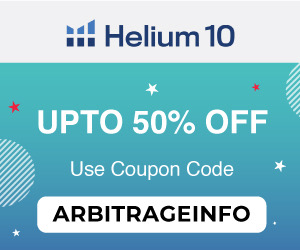 So how would you achieve this?
You would achieve this through "Amazon Feedback Software"!
Amazon Feedback Software helps the sellers automate the process of getting reviews from their customers from various software.
Why You Need an Amazon Feedback Automation Software Tool?
There are many reasons to get an Amazon feedback automation software tool because, through the use of these tools, it is now possible to automate various areas of your Amazon business, allowing you to focus on more critical tasks. You can very much leave data-driven machine learning algorithms to perform the heavy lifting for you, from setting up business notifications to optimizing your PPC ads.
So it makes sense for Amazon sellers to adapt to automatic Amazon review software, which simplifies feedback administration and boosts their review statistics.
It's common knowledge that internet reviews are among the most essential aspects that Amazon customers examine before purchasing a product. In reality, according to multiple market surveys and studies, over 80% of purchasers read online evaluations when shopping on e-commerce platforms.
Most Amazon consumers do not leave feedback; approximately 5%, or 1 out of every 20 consumers, do not.
Amazon sellers must use a feedback management system that delivers review requests to Amazon consumers automatically after they make a purchase. In a perfect environment, the sellers would send these emails to your buyers by hand, but this becomes impossible if they receive a large number of orders every day.
These numbers alone should be enough for sellers to invest in Amazon feedback software.
So now that we know what an Amazon feedback tool does, let us take a look at what should be the ideal characteristics of the concerned tool:
It should adhere to Amazon's Terms & Conditions to the letter.
Links to external websites, marketing messages/promotions, or incentives to post reviews should not be included in the emails sent by these Amazon review tools.
Should provide an A/B testing feature to see which templates are the most effective.
It should, in theory, also monitor negative feedback.
It should be simple to connect to your Amazon Seller Central account.
10 Best Amazon Feedback Software Tools: 2023
1. PickFu: Best Feedback Tool for eCommerce Sellers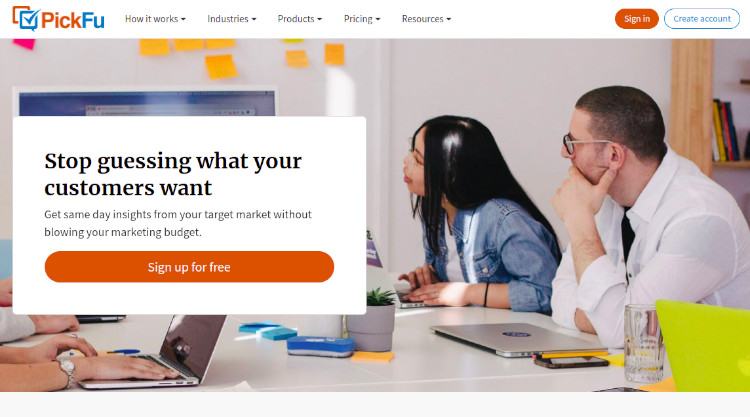 With an Amazon feedback service like Pickfu, you can easily test your creative ideas with audiences that match your client profile using this polling program. Amazon merchants can choose Amazon Prime Members as their target demographic and then see what they have to say about their product listing. These insights might help the sellers figure out if their listing establishes the correct expectations for potential buyers.
You won't get reviews on products that have already been sold using PickFu. However, you may collect feedback on listings before they go live on your Amazon store.
Features: live polls, choose target demographics according to the product listings.
Pros: Before your product goes online, you can seek feedback. Not only that, but you'll get feedback within an hour or two, and in some cases, as little as 15 minutes.
Cons: It does not work inside the Amazon marketplace.
2. Feedback Express: Best Amazon Feedback Tool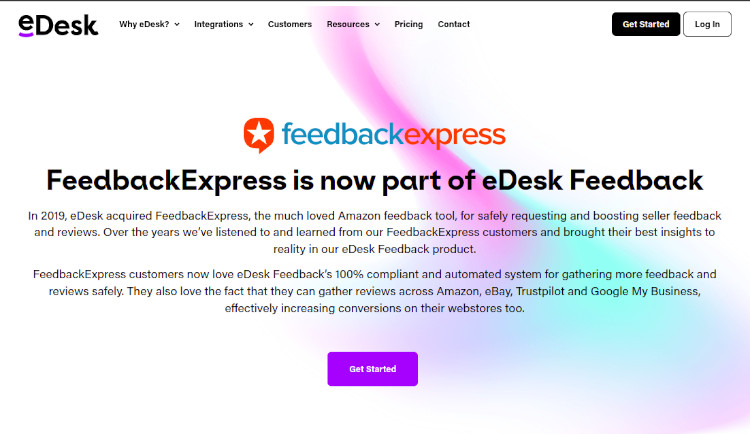 Feedback Express is an Amazon feedback tool that has been a vital component of the e-commerce sector for over a decade, and they are truly the best at managing Amazon feedback and product evaluations.
They specialize in Amazon feedback and eBay feedback and are still one of the top Amazon review solutions on the market today.
Features: Set up automated email, configure different types of messages for customers, act on negative feedback through notifications and reminders
Pros: supports several Amazon marketplace, great support & fast response, best for improving & scaling your Amazon business.
Cons: faces issues when entering items in a blacklist, doesn't notify of negative product review, only negative seller review, sellers start to block emails when there are a lot of feedbacks.
3. Feedback Whiz: Amazon Seller Tools to Dominate the Marketplace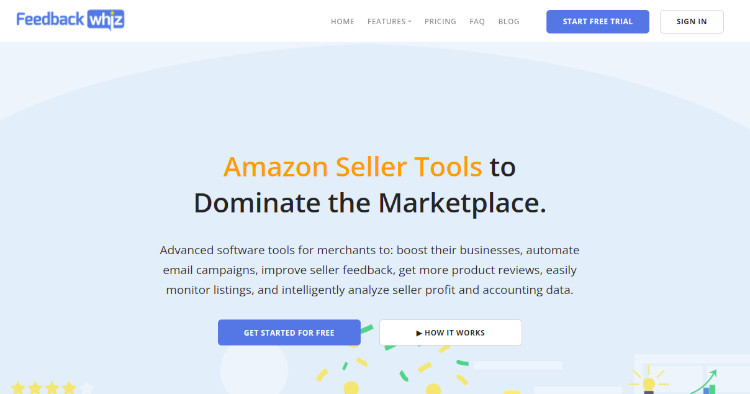 Feedback Whiz is one of the best Amazon feedback tool that Amazon sellers should use. Amazon merchants can use FeedbackWhiz to track, manage, and automate emails, product reviews, orders, and feedback. They can use gifs, emojis, buttons, and attachments, create professional email templates. A/B test topic lines and analyze open rates.
Amazon sellers also can send or exclude emails depending on triggers like refunds, shipments, deliveries, feedback, and repeat purchases; track and manage all product reviews.
They will receive immediate notifications anytime a new review is published. In addition, they can keep track of all product listings to receive alerts when important events like hijackers, buy-box loss, and listing changes occur.
Features: Order management, Profits & Accounting, Feedback Management, E-mail automation, Data analytics, Monitoring & Automation.
Pros: Saves time & energy, not subject to human error or emotion, It is practical.
Cons: Can hurt the profit per item, hard to catch a better pricing opportunity, no bulk-upload option.
4. AmzFinder: Best Feedback and Review Software Tool for Amazon Sellers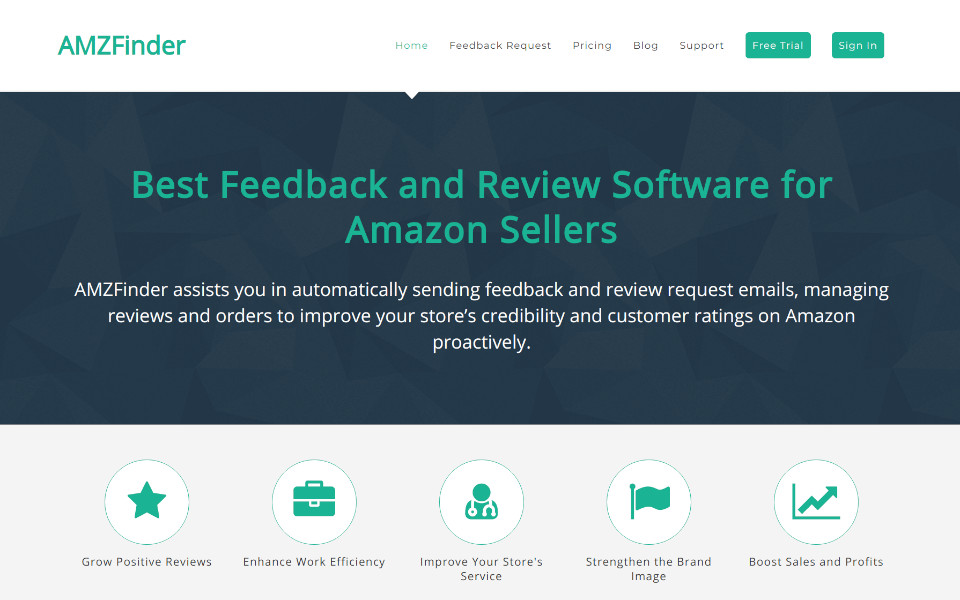 AmzFinder is an Amazon feedback service that is an Amazon review management tool with a slew of functions. AMZFinder is a free tool that allows retailers to engage with their consumers and ask them to discuss their buying experiences across eight Amazon marketplaces.
AMZFinder has divided its services into two parts to make things easier: feedback requests and review management.
Features: craft customized email templates, send messages in multiple languages, automated invoice generator, track numerous ASINs.
Pros:
Positive feedback on your Amazon seller profile will skyrocket.
Paying attention to the needs of customers improves store service.
Professional marketing and rising client trust help to improve a brand's image.
Sales and earnings explode when customer satisfaction rises, and market gaps are exploited for efficient business strategies.
Cons:
Because social media data aren't visible, it's impossible to track your company's progress through social media audiences.
Because of the difficulties in setting it up, it is less user-friendly and difficult to become used to.
The trial version is missing features that are required to evaluate the software's capabilities.
5. SageMailer: Best Amazon Reviews and Seller Feedback Tool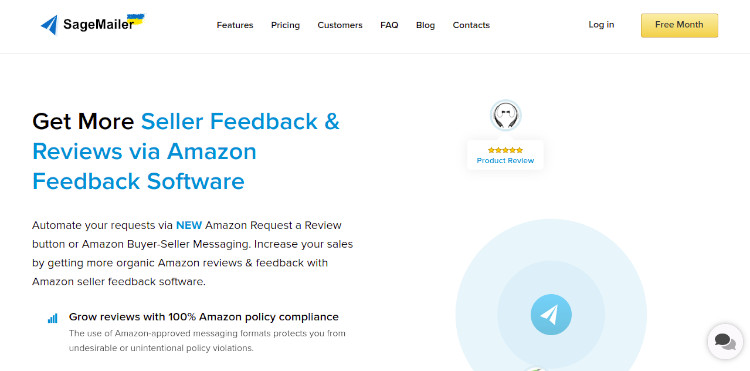 Sagemailer is an Amazon feedback manager that helps you generate more organic reviews and feedback by sending out automated email campaigns. SageMailer also includes A/B testing, real-time email alerts for customer feedback for an unlimited number of ASINs, and the ability to connect all Amazon Buyer-Seller messages, making it easier to handle all customer contributions in one location.
The Amazon seller central in the EU, America, Japan, Australia, Turkey, and India are all supported by SageMailer.
Features: Email campaigns, setting up delivery settings and letter templates, professionally translated templates, inbox messages, data analytics & A/B testing, VAT invoicing.
Pros:
There's no need to share. Messages sent from Seller Central are 100 percent Amazon-approved.
Amazon converts requests into the buyer's native tongue.
Specific ASINs can be excluded.
One-Month Free Trial
Alerts in Real-Time
ASINs are not limited
Customer Service that is both professional and experienced
Support via live chat
For the free edition, no credit cards are required.
Cons: E-mail templates are not appealing and leave a lot to desire.
6. Feedbackz: Free Amazon Feedback Software Tool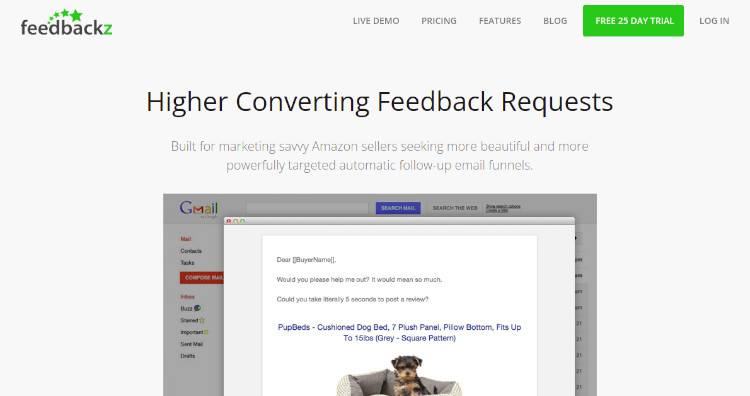 Description: Feedbackz is one of the best Amazon feedback software to automate Amazon seller feedback and product review requests. A significant number of product reviews on the Amazon platform indicates that a buyer is more likely to click on your listing on the search results page.
As a result, more clicks imply higher ranks and, as a result, more sales. And this is precisely what any Amazon merchant hopes to achieve.
Features: Live demo, HTML/CSS editor, Monitoring & review alerts, Tracking of scheduled and sent emails.
Pros: Offers a 25-day trial, which is more than the competitors, live demo option, and easily customizable templates.
Cons: Outdated design, old services, a small number of auto-fill tags, lack of live chat support, the open rate of email is unknown.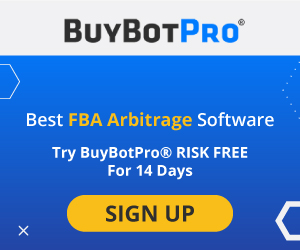 7. Seller Labs: Best Amazon Feedback Tool to Build Your Brand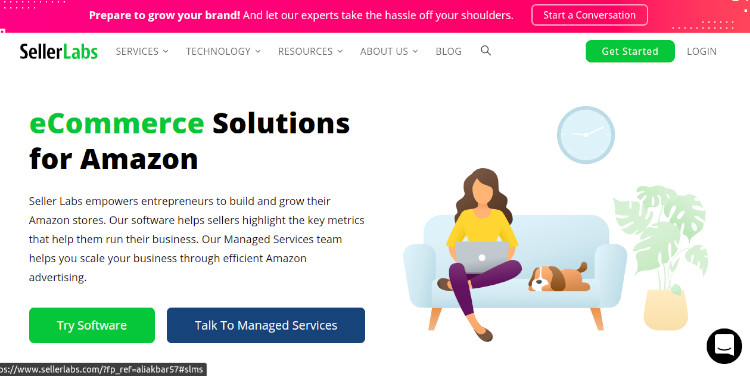 Seller Labs is one of the best Amazon feedback software which can assist Amazon sellers in four primary areas: company performance monitoring, competitor analysis, customer communication management, and ad campaign optimization.
Product Revenue Optimization (or PRO for short) by Seller Labs is a fantastic platform that allows you to manage your business with a full Amazon seller software designed to maximize revenues and promote growth. Seller Labs is an easy-to-use product revenue optimization platform designed to help you grow and earn your eCommerce business.
Features: Positive product review & seller feedback notifications, Refreshed and updated communications center, Review automation, brand new dashboards, product catalog & detail pages, smart filters, campaign serving status.
Pros:
Adaptable frameworks
Data that is comprehensive
Actionable Intelligence on an Easy-to-Use Platform
Focus on Profitability at the SKU Level
Keep an eye on your finances and make sure you're making money.
From a strategic standpoint, Take control of SEO and organic traffic.
Enhance Customer Feedback
Effective Communication
Respond rapidly to new product reviews and feedback from sellers.
In a single dashboard, track traffic, ad expenditure, and conversions.
Suggestions for Advertising Powered by AI
Find profitable keywords to expand your product offerings.
Cons:
For newcomers, more pricing alternatives are required.
There isn't much technical knowledge required.
There is no lice chat support.
8. Managebystats: Best Amazon Customer Follow-up Feedback Tool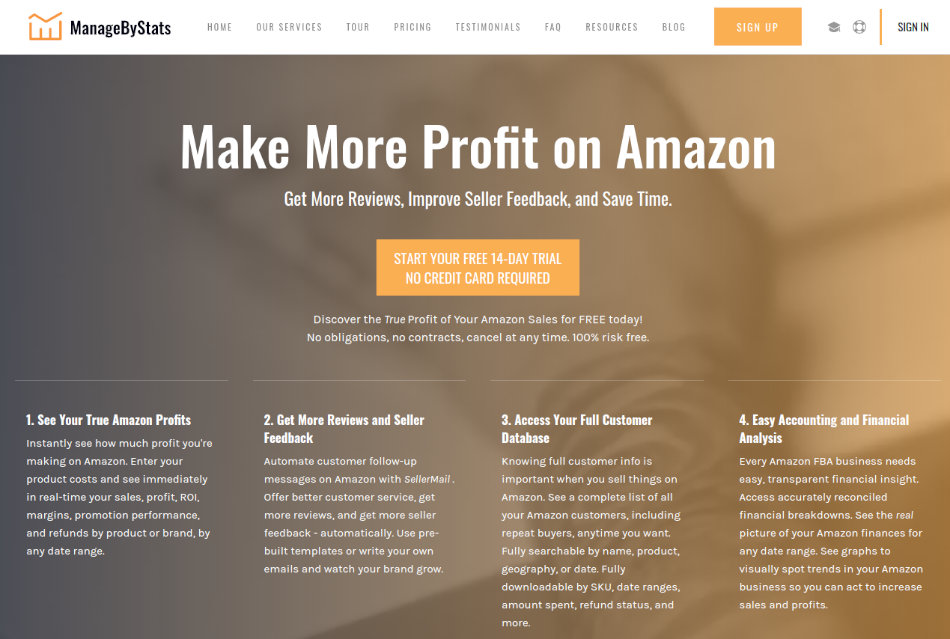 ManageByStats is an Amazon feedback software for sellers created by Amazon. Each of the 25 tools in the kit gives an Amazon seller the ability to manipulate the market. As a result, their sales will increase, and they will promote their own company.
This tool suite manages millions of transactions and records extensive data on each with over 5,000 active users. However, the real strength of ManageByStats is the data-driven perspective it provides to a seller.
Features:
Profit Dashboard
Visualizer
Transaction Reports
FBA Calculator
Pros:
There are a variety of features available, as well as sales data.
Multiple feature customization
Setup or cancellation is simple.
Data and information security
Understanding and learning how to use the tools
Cons:
Fees for having multiple seller accounts
Developer access to an Amazon account is required.
The user requires permission to access an Amazon account.
9. Sellerlion: Best Amazon Feedback Automation Tool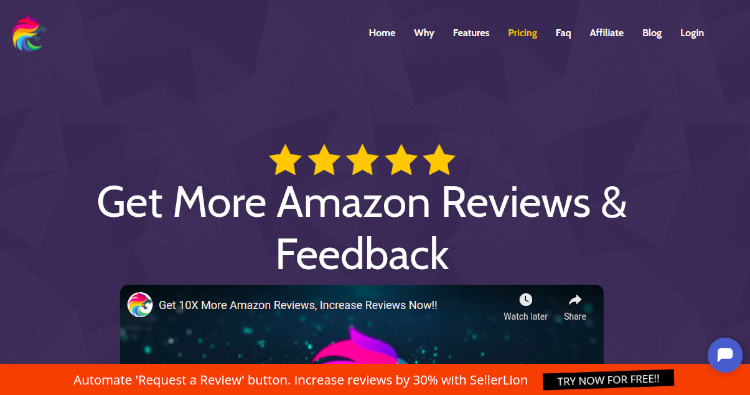 Seller Lion is one of the best Amazon feedback software that provides seller-specific feedback and review follow-up email service. Seller Lion allows retailers to automatically send review or feedback request emails to their Amazon customers. It is a simple Amazon feedback automation application that works for both small and large businesses.
Features:
Designed specifically for Amazon
Buyers are automatically emailed.
WYSIWYG Editor for A/B Split Testing Email Design
Product monitor and repricer
Default Campaigns & Emails
Alert for Negative Feedback
Simple to use
Pros:
Pricing Feedback and Reviews that are Automated
Multi-Channel
Cons:
It is primarily helpful for the Indian market.
10. CaptainAMZ: The Best Amazon Review & Feedback Tool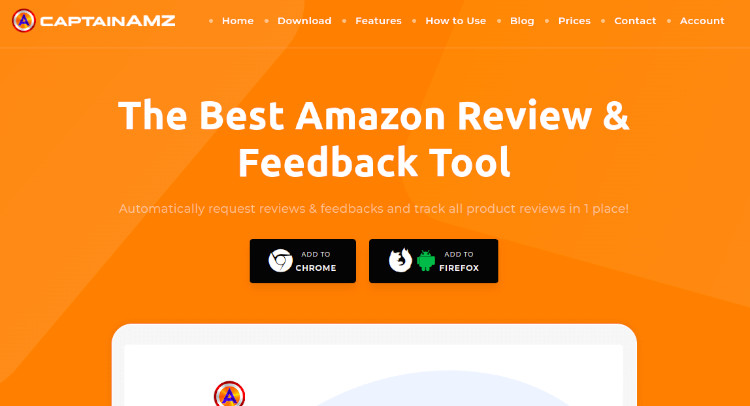 CaptainAMZ is one of the best amazon feedback tool, a Chrome Extension that creates a dashboard to assist Amazon sellers with automating seller feedback and product review requests. Customers who have opted out of third-party emails are not affected by the software because it uses Amazon to send emails to them. For each of the orders, the software automatically requests reviews and feedback.
After the order is fulfilled, requests are sent out between 4 to 30 days. The sellers won't have to click any buttons because the software will take care of everything. The merchants may also set up notifications to notify you when you receive new feedback or reviews. As a result, they can expect to obtain three times as many reviews as if they did it manually.
Features: Auto request review, three times more product reviews, track all product reviews, works with all Amazon marketplaces, advanced settings and reports, autoresponder, refund calculator.
Pros: automated scheduling, auto messaging, more product reviews than competitors.
Cons: Alternatives provide more features with less cost.
11. Zonguru: Best Amazon Review Automation Software Tool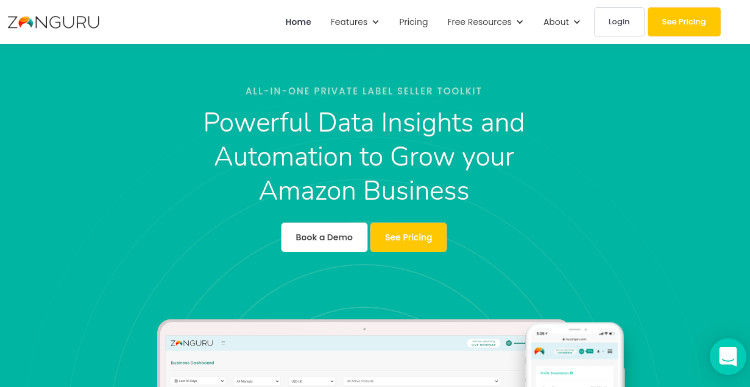 Zonguru is an Amazon feedback service that provides comprehensive Amazon seller capabilities, including feedback management capabilities. If you're looking for software that can help you with all elements of your Amazon business, Zonguru is a good option. On the other hand, while its automatic email facilities aren't as robust as those mentioned above, they're worth a shot.
Features:
Sellers can use industry-leading product research tools to uncover new and profitable product categories.
To assist in providing exceptional customer service, use email automation.
All sellers should be aware of these alerts to know exactly what is going on with their business.
Business and product dashboard analytics to aid in the management of your company.
Tools for listing optimization that ensure your listing receives the most traffic possible.
Pros:
Covers all aspects of an Amazon FBA business.
It comes with a chrome addon for quickly defining the lucrative niche.
There are 11 apps in one, all of which can be used to maintain customer loyalty.
There is a free trial available.
Product classes can be studied quickly and effectively.
Monthly revenue data for goods are tracked.
Immediately locates any sequence you're looking for.
Cons:
The beginner's package has a lot of limitations.
Costly in some ways.
Only a brief trial period is available.
12. SellerLift: Best Feedback Follow-Up Automation Tool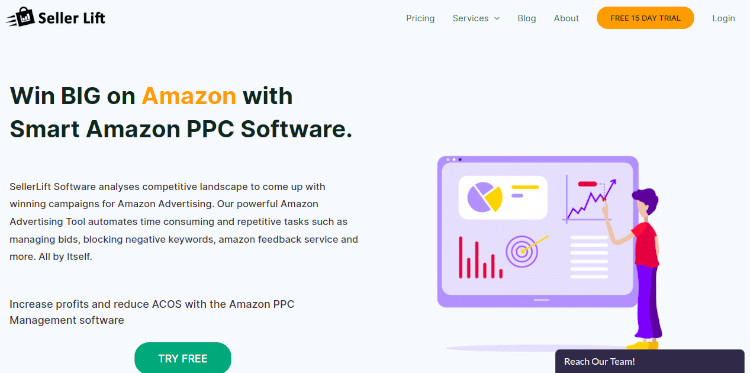 SellerLift is an Amazon feedback software that sends automated queries to your Amazon customers to obtain seller feedback and product reviews. You can configure precise sending times to improve the performance of your email campaigns, but after the first setup, the service runs on autopilot.
Features:
HTML email editor
Automatic post-sales message
Filtering and targeting option
Integrated scheduler
Readymade templates
Personalized mails
Pros:
A plethora of features
User friendly
All the buyers from international markets are available.
Cons:
Limited 15-day free trial
Costlier than the competitors
Less number of responding emails
13. Salesla: Best Amazon Feedback & Review Request Automation Tool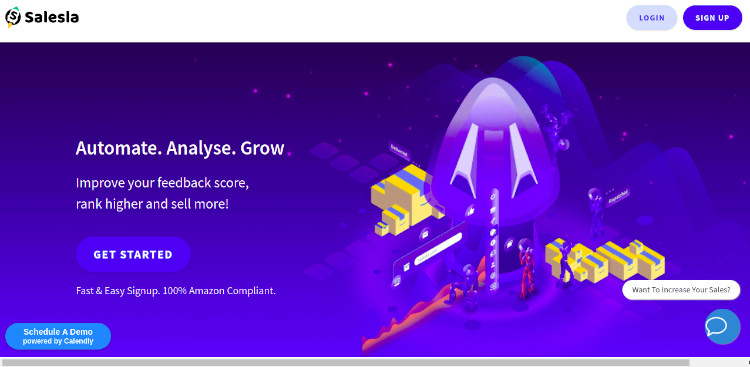 Salesla is an Amazon feedback tool that allows online businesses that sell on Amazon Marketplace to deliver tailored letters to customers and monitor campaign results.
Users can automate customer emails with Salesla by creating a procedure, and the program will send them to the right clients at the correct time. It also allows users to add a personal touch to customer correspondence. They can include branded email headers, custom buttons, product images, order information, and much more to master consumer engagement.
Features:
Social Media monitoring
Customer review platforms
Sentiment analysis
Campaign management
Review monitoring
Response management
Social media metrics
Pros: More features than competitors, starting from a lower price than others in markets, provide social media optimization and monitoring.
Cons: No free trial
Limited Offers: On Growth Tools for Your Ecommerce Business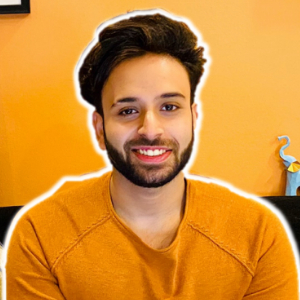 I and my team research various online verticals and can help you kickstart your Amazon business; so you could rake in more greenbacks with the best-recommended tools. Tap into the power of online retail business with me. I am just a mail away, so reach out to me if you want to scale up your niche business. mail: [email protected]