Last updated on January 17th, 2023 at 04:30 pm
I'm sure most of you are familiar with Amazon. You might as well be living under a rock if you don't. Amazon is one of the most widely utilized online marketplaces for buying and selling goods. If you're an Amazon seller, you've probably heard of the term FBA. Doesn't it sound familiar? FBA stands for Fulfillment By Amazon, a service that Amazon offers. It provides vendors with storage, packaging, and shipping services.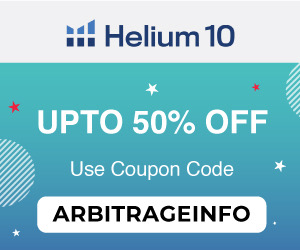 Amazon lets merchants focus on their selling techniques by giving this FBA service, which reduces the inconveniences. When a seller opts for this service, they can send their products or merchandise to an Amazon fulfillment centre, where they are stored in warehouses until they are sold to end-users.
Sellers must pay Amazon fees, but in exchange, they receive a variety of benefits, including:
Customer service is available 24 hours a day, seven days a week.
Access to one of the most dynamic fulfillment networks in the world
Picking, packaging, and shipping charges are included in the fulfillment and shipping expenses.
How to Choose the Best Amazon FBA Revenue Calculator?
You must be wondering how to choose the best Amazon FBA calculator after reading about this FBA service by Amazon.
So if you want to choose the FBA excel calculator, here are some things you must keep in mind:
Make sure the software offers a comprehensive product research
If the software is free, you should make the most use out of it
It must also provide a sound repricing system
Should give the seller a clear picture of the profit margin impacts
The calculator should suit your needs as well
With that in mind, here is a list of the FBA cost calculator that we recommend you try in 2023.
The Best Amazon FBA Revenue Calculator: 2023 Edition
1. Helium10: Best Amazon FBA Revenue Calculator for Free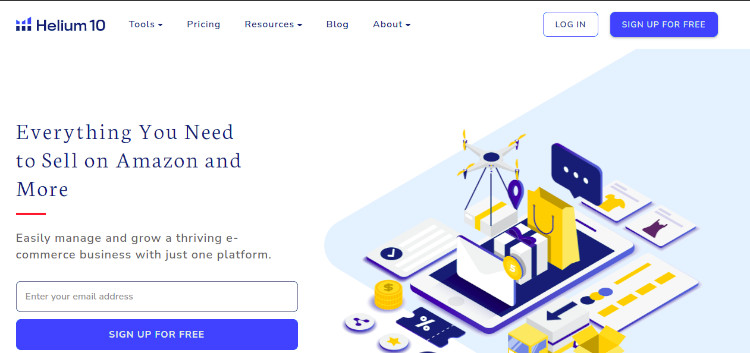 One of the most reliable FBA revenue calculator, Helium 10, will aid in fine-tuning your product research by confirming possible product opportunities, allowing you to make better sourcing decisions, plan for seasonality, predict earnings, and improve competitor research.
With this free and compelling Amazon FBA Revenue calculator Chrome extension, you can take your Amazon business to the next level. It has a user-friendly interface that blends smoothly with your Amazon surfing experience, providing competitive research logically as you browse listings and search pages from merchants.
Some of its notable features are:
Increases sales by enhancing the sales pipeline
Lower costs for more effective PPC. You can quickly discover high-demand keywords.
Efficiently source products. You can rank higher and rapidly
Conduct Competitor research, optimize your listings, and increase its traffic
The tools on offer on this FBA profit calculator are:
Xray
ASIN Grabber
Profitability Calculator
Inventory Levels
Review Insights
2. DigiCommerce FBA Calculator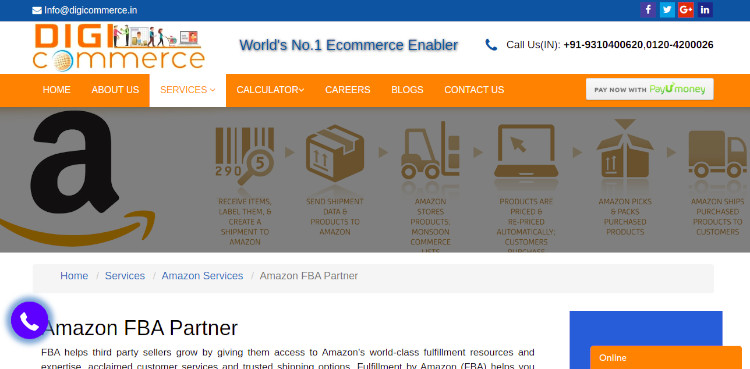 This Amazon FBA Revenue calculator lets you price your products to compete with other sellers while still making a profit necessitating a careful balance between FBA fees, purchase price, and sale price.
Amazon has different slabs for different product categories regarding commission, fulfillment fees, and shipping prices. As a result, manually calculating the cost of each item is a time-consuming task.
The FBA profit calculator calculates the correct fixed closing cost based on pricing category, shipment charges based on size, weight, volume, pick and pack fee, fulfilment fee, and any relevant storage fees.
Simply select the appropriate Goods Category for your product and input the price. You'll get a thorough breakdown of all Amazon fulfilment charges. Details like monthly storage, labor, packing material, shipping charges, and consumer fees are meticulously considered.
You'll get a breakdown of the calculation that includes selling fees, fulfilment costs, and net profit, as well as a percentage margin. You can tinker with numbers to come up with a reasonable sale price depending on your buy price, and you can do so without lengthy calculations or blunders.
3. Free Amazon FBA Calculator by SellerApp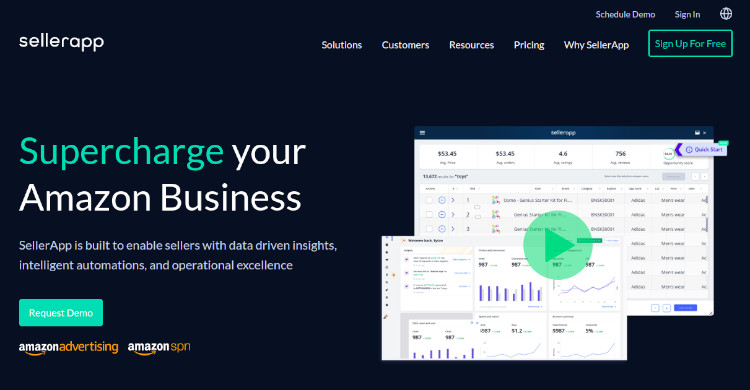 The FBA revenue calculator is a must-have tool for Amazon sellers who want to learn about FBA fees and compare fulfillment options. The Amazon FBA revenue calculator is also a great way to figure out how profitable a product is and whether it's worth your time and money.
To use this FBA profit calculator by Sellerapp, you need to copy and paste the URL or ASIN of your Amazon product. Then, enter the item price, shipping and seller fulfillment costs, the cost of delivering it to Amazon, and the total cost of the product per unit into the FBA profit calculator. Finally, compare the net profit and profit margin of using FBM vs. FBA estimated by the FBA calculator in the report.
4. FBA Calculator by Amazon from Seller Central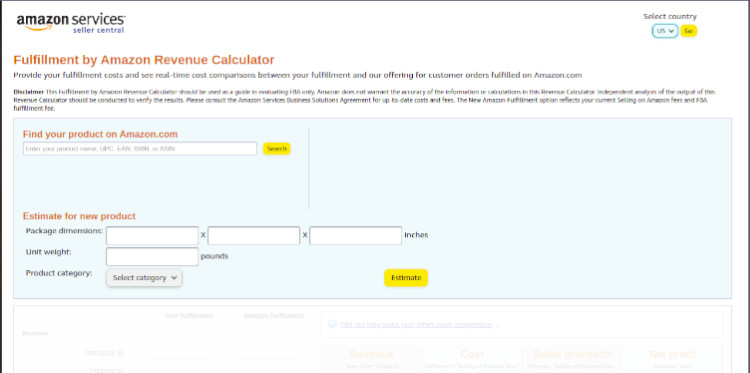 If you want your Amazon retail operation to run smoothly, you need to have an FBA calculator. The FBA revenue calculator guarantees a thorough profit calculation, and you don't have to be stuck in numbers and ROI calculations. Every shop attempting to debut their products on Amazon has calculated the profit graph, whether later or sooner.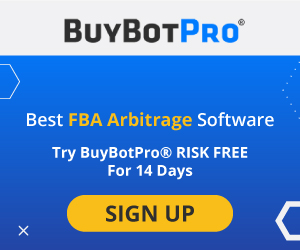 Using the FBA profit calculator simplifies this process more straightforward, allowing you to make options based on cost and various other criteria and display a better selling price. This is a fantastic tool for estimating sales, calculating future profits, and running a well-balanced firm. So let's know a little more about the specifics of this excellent Amazon software arbitrage solution.
Features:
Profit computation in real-time
Three-month free trial
Products are shipped, stored, and removed for free (bonus Amazon service)
Customer-seller interaction that is direct
Enhances business finance by preventing losses before they occur.
5. Zonguru: Best Amazon FBA Software Tool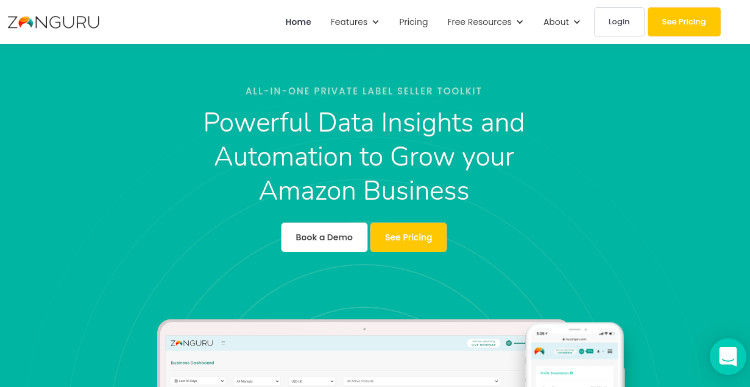 An excellent FBA profit calculator, Zonguru is a sales software that can be loaded quickly on your Chrome browser. It enables Amazon sellers to increase their sales fast. It also aids in the understanding of where to add keywords and related images to increase sales.
It has many features that you would need—accurate data analysis, business metric monitoring, client interaction—you name it, and the Zonguru sales software has it. Get a competitive edge by navigating Amazon's best-selling items in a structured and straightforward manner. Users can also take advantage of a seven-day free trial.
Some of the salient features of Zongurur are:
You can get everything you need to know about a product in one spot, including bestseller rankings, sales projections, reviews, and pricing lists.
The desktop version is simple to use (Chrome Extension).
A powerful user interface produces precise data study outcomes
Option for automatic customer engagement.
6. ProfitGuru Amazon FBA Calculator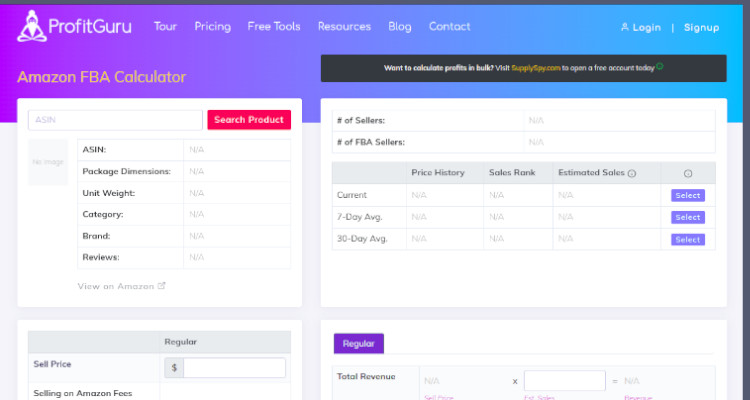 This FBA revenue calculator calculates the possible earnings from Amazon products based on their monthly sales volume.
The estimate is based on the current pricing and the product's "Sales Rank." To calculate your complete profit figures, add your Shipping Cost and Cost Price.
You'll also see the product's average sales volume for the last 7 and 30 days, so you can determine whether sales are likely to increase or decrease in the future.
Before placing an order with your supplier, you can use this method to see if a product possibility is worth pursuing.
You may even generate a sharing link with the results so that your team or partners can discuss them easily.
7. AMZ Base Amazon FBA Revenue Calculator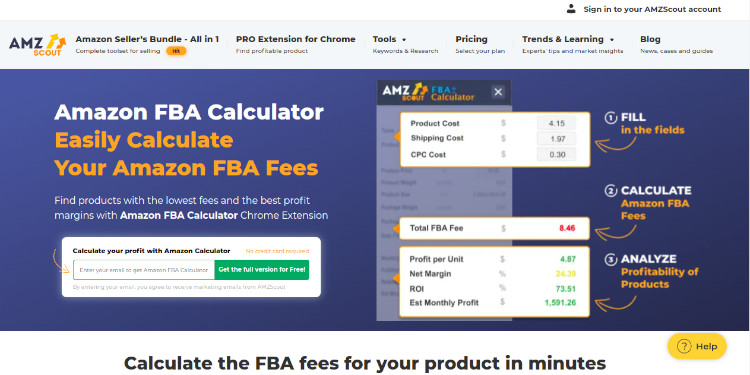 Still, need help figuring out Amazon selling? Free Amazon FBA revenue calculator tools like AMZ Base will keep your business on track by providing updates on the most popular products at any given time. It's a multi-purpose Amazon arbitrage application that also lets you access Camel Camel Camel with a single tap. Get help finding relevant products and selling them on Amazon.
Some of its features are:
Obtain the ASIN number – There's no need to waste time looking for a particular item. Instead, simply hold your cursor on the product image to retrieve the ASIN number, title, and description in real-time.
With a comprehensive product history, you can access CCC with a single click and learn about prior pricing trends for any product.
Other business-to-consumer listings – Analyze a product's pricing and listing details on different e-commerce sites quickly (like Alibaba, AliExpress, eBay).
Profit estimation – Additional features such as FBA fee computation aid in analyzing your company's profitability.
8. Sellics: Amazon FBA Revenue Calculator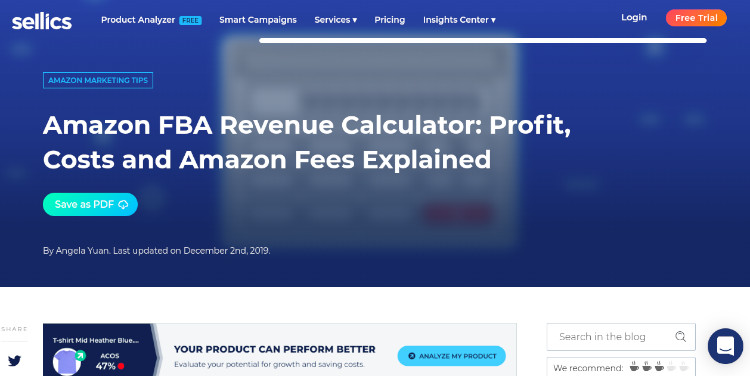 If you sell Amazon FBA, the Amazon seller calculator is a valuable tool to have. It assists you in calculating fees, shipping charges, and other expenses to figure a profit.
Using the Sellics FBA profit calculator, the users get access to the Sellics Profit Dashboard, which allows you to keep track of your daily sales and profits. After subtracting your expenses (import taxes, Amazon fees, FBA fees, PPC, Cost of Goods, and so on), we compute your profit margins (down to SKU level). The Amazon Profit Tracker app is also accessible for Sellics users.
We hope you found this blog helpful and gained some knowledge about what Amazon FBA is all about, how to make money both actively and passively from this source, and how to choose the best Amazon FBA calculator online. Please let us know what you think about this blog in the comment section.
Limited Offers: On Growth Tools for Your Ecommerce Business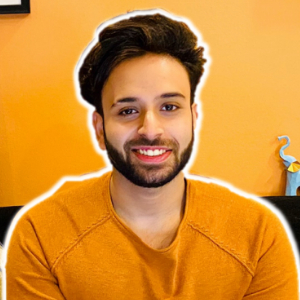 I and my team research various online verticals and can help you kickstart your Amazon business; so you could rake in more greenbacks with the best-recommended tools. Tap into the power of online retail business with me. I am just a mail away, so reach out to me if you want to scale up your niche business. mail: [email protected]