Last updated on January 18th, 2023 at 01:48 pm
Theoretically, Amazon Arbitrage is somewhat an easy concept. But when it comes to practicality, it is a lit-bit much challenging and time demanding. Whether choosing the best products, comparing them, selling them, storing them, or be it customer handling services, it all becomes a bit hectic. To reduce your stress, you need certain assistance. In such cases, Arbitrage Software comes to your rescue.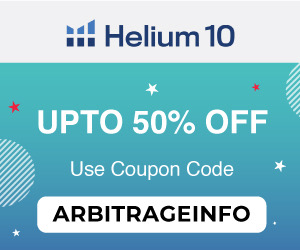 Why You Need an Arbitrage Tool to Maximize your Profits from Amazon Arbitrage?
Arbitrage tool or Arbitrage Software, what it does is it goes to a website instead of you going manually and looking for every product on that website and compares it with Amazon. It does it automatically with thousands of products. This will save you time and effort, which as a result, will help you concentrate more on other essential tasks. This tool will help you compare the products and help you keep in check your returns. This way, you will instantly know your profits and will be able to decide whether to buy it or not.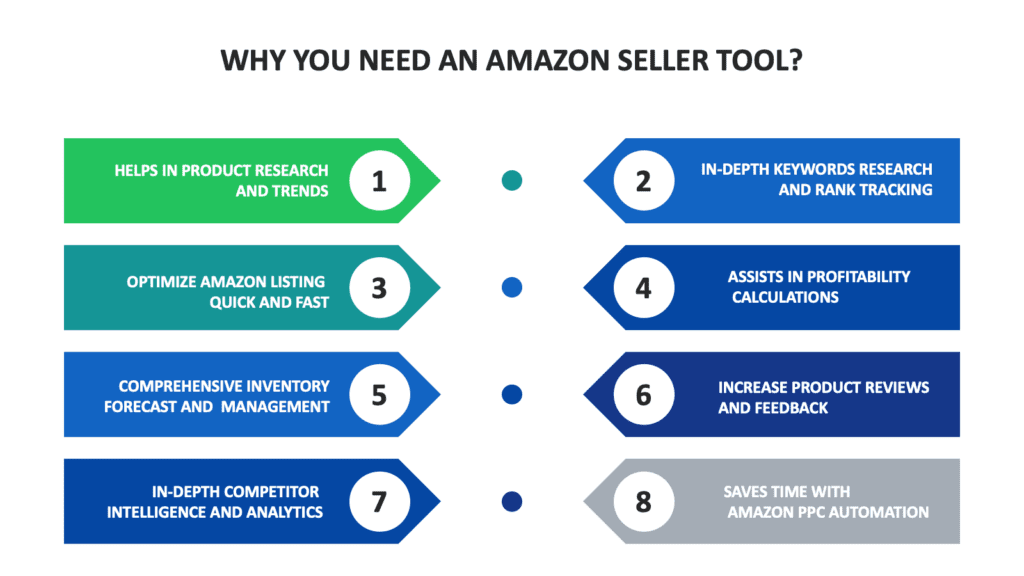 Being involved in the business will not earn you anything, but making smart decisions will. Time will be of the essence, and you should focus more on strategy and making them run on autopilot mode. These tools are made for your benefit only. It will help you increase your profit by assisting you in choosing the best and most profitable products. Not only that, but it will also help you compare thousands of products sitting at home.
The arbitrage tool acts as a profit checker. So, I highly recommend you use one if you are thinking of going into Amazon Arbitrage.
Benefits of Amazon Arbitrage Software:
I have already explained the primary benefit of Arbitrage Software. Now, let's have a look at what other things they are going to help us with.
It will collect data that helps estimate profitability and sales velocity.

It will help pull massive amounts of data from hundreds of stores in minutes.

It will help you store, filter, and refine huge selections of data.

The tool will set price alerts to help you find leads "passively."

Use fewer tabs and save tons of time when doing online Arbitrage.
9 Best Amazon Arbitrage Software Tools: Retail Arbitrage
Here we look at some of the best Amazon arbitrage software and tools that can help you get started with the retail arbitrage business. These combined sets of tools are almost unavoidable if you're looking to run a successful retail arbitrage. Our recommendations are Helium 10, Jungle Scout, and Zonguru (discount links included below)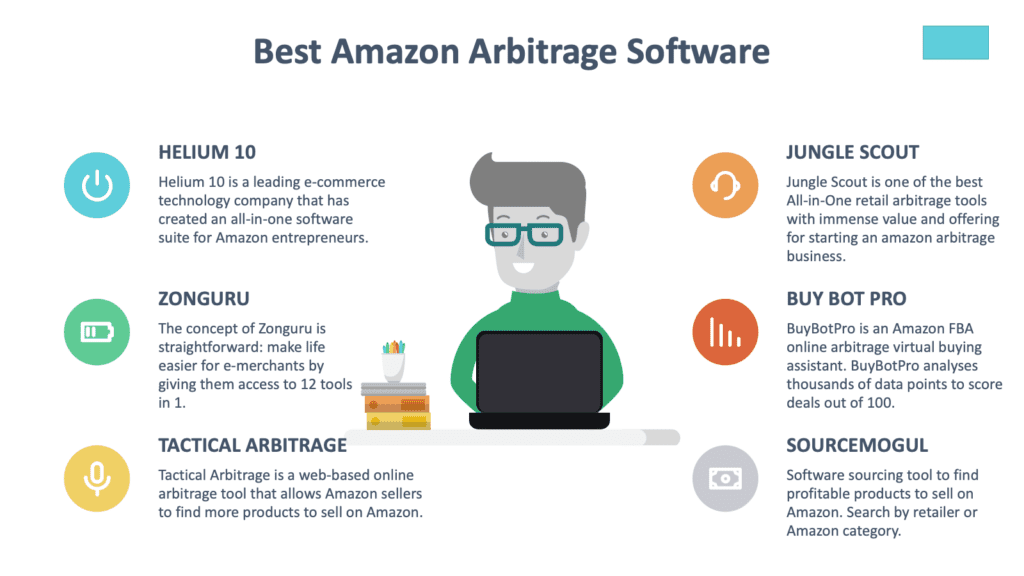 1. Helium 10: Best Amazon Arbitrage Software Tool: 2023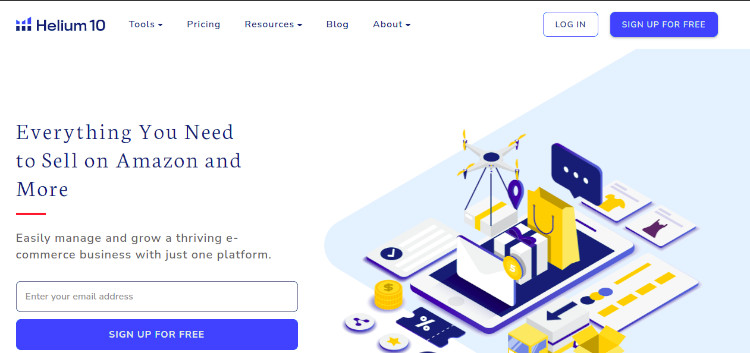 Helium 10 is a leading e-commerce technology company that has created an all-in-one software suite for Amazon entrepreneurs. It provides web-based software that offers a robust suite of tools to help Amazon sellers optimize their product listings, find optimal and creative keywords, and make more money on the platform. Helium 10 tools are designed to save time, find profitable products, discover profitable keywords, remove unneeded keywords, identify FBA reimbursements for damaged or lost inventory, and optimize product listings. Helium 10 monitors competitors and analyzes product trends to create opportunities for merchants to expand their Amazon private label business. The data is reliable enough to guide your decisions through the selling processes. With the help of these tools, you can uncover product ideas and dive deeper into the market to research and validate those ideas. As the name goes, it has more than ten tools (now over 20) for Amazon Sellers, enabling them to make a massive profit without putting in any extra effort. Helium 10 is one of the best Amazon arbitrage tools that can help you succeed in FBA.
Highlights of Helium 10 advantages:
Find profitable products.
Run more successful and PPC campaigns
Save time
Avoid ineffective keywords
Find top performing keywords
Spy on your competitors
"ARBITRAGEINFO50″ 50% off your first month of Helium 10
"ARBITRAGEINFO10″ 10% off every month of Helium 10
2. BuyBotPro: Best Amazon FBA Arbitrage Software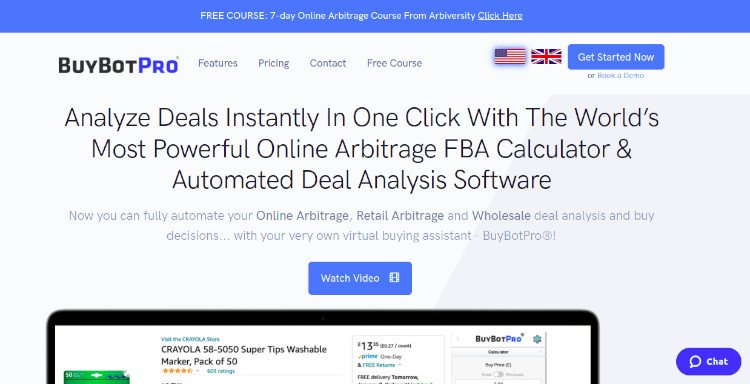 BuyBotPro is an Amazon FBA online arbitrage virtual buying assistant. BuyBotPro analyses thousands of data points to score deals out of 100. As well as being an FBA calculator and a buying assistant, it checks eligibility, Hazmat, private label status, competitor stock, and estimated sales. It also calculates VAT and exports deal information to a buying list in Google Sheets.
Features:
AUTOMATED DEAL ANALYSIS & BUY DECISIONS:

Makes your online arbitrage deal analysis so much faster and easier!

ROI & PROFIT CHECKER:

Tells you exactly how much you'll make after fees, taxes and other costs!

BSR CHECKER:

Tells you what percentage BSR your product is (Top 1%, 3%, 5% etc.) – telling you how FAST it will likely sell!

COMPETITION ANALYZER:

Analyzes your competition for you (FBA, AMZ & MF sellers!)

PRIVATE LABEL CHECKER:

Checks for the likelihood of it being private label – avoid at ALL costs!

HAZMAT CHECKER:

Automatically checks if the product is Hazmat!

ELIGIBILITY CHECKER:

Tells you if YOU can sell the product on your account at a glance!

SUGGESTED PURCHASE QUANTITY:

Tells you how many units to buy!

AMAZON FEES BREAKDOWN:

Tells you exactly what your Amazon fees will be!

BUY SHEET AUTOMATION:

It enters your purchased deals into your buy sheet FOR you, saving time and effort!

VAT CALCULATOR: Accounts for VAT not only on Amazon fees but your buy and sell decisions! (flat rate, standard rate & non-vat registered!)
CUSTOM CRITERIA:

Tell BuyBotPro what ROI, BSR & PROFIT you're looking for in a deal, totally customizable!
Signup with this BuyBotPro link to avail exclusive offers (only for Arbitrageinfo readers).
3. AMZScout: Best All-in-One Amazon Arbitrage Tool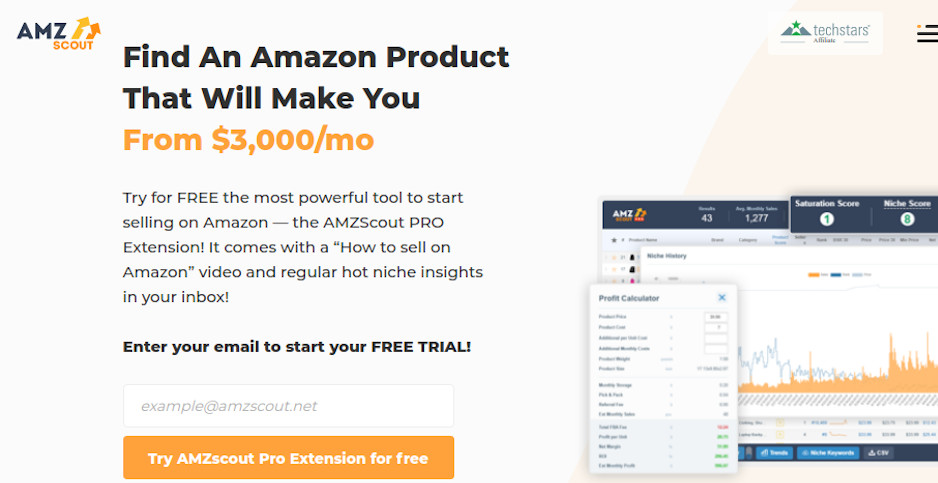 AMZScout is a wonderful set of tools that takes the hard work and guesswork out of identifying profitable products on Amazon in as little as a few days. It aids in discovering high-profitable goods, improving your advertising for more sales, and planning your entire AMZ organization for profit maximization.
It offers a wide range of services, including inventory management, training, keyword research, and data tracking. There are millions of products in the product database of this Amazon FBA software. This is a helpful tool for choosing products that have the potential to earn you money in the future and aren't too aggressive if you're just starting out selling on Amazon.
Features
550 million goods are listed in the Product Database.
Finding and validating profitable items, Amazon Product Research breaks them down by day, week, month, and year, or focuses on seasonal sales trends.
Users of the Amz Scout Product Tracker can add rival companies' products to a product tracker and track their daily sales.
Using the Keywords Research Tool, you can organize your product listings and rank higher in Amazon's search results.
The full picture of how your listing keywords work and how optimization affects your ranking and sales is displayed by Amazon Keyword Tracker.
Using data analytics, prospective suppliers are found. Finding a source of products is the next step after identifying a product niche to target.
Use the FBA Fee Calculator to spread your sales across several nations and maximize the potential of your Fulfillment by Amazon (FBA) enterprises.
The FBA Sales Estimator determines whether a product is worthwhile to purchase in the market by estimating the precise sales of that product over a specific time period.
A set of tutorial videos on selling on Amazon using AmzScout are available in the AMZ Scout Seller's Course.
Pricing
The AMZScout Pricing Plans are simple and reasonable for new users. To test the platform, it provides a free trial plan with few features. You can next select one of its two premium plans, namely:
The annual cost of the Pro Extension Plan, which starts at $16.49/month, is $197.99. You receive a Chrome Professional Extension with this package to help you locate successful products. You may monitor the rivalry for these products and improve your listings. However, the plan is missing capabilities for tracking products and keywords.
The Amazon Seller Bundle has a monthly starting price of $29 and an annual cost of $349.99. With this strategy, you get:
Pro Extension
Access to 1000+ exclusive products
Keyword tracker
Product Tracker
Amazon Keyword Research
Reverse ASIN search tool
Product database
12 months trend report
4. JungleScout: Best All-in-One Retail Arbitrage Tool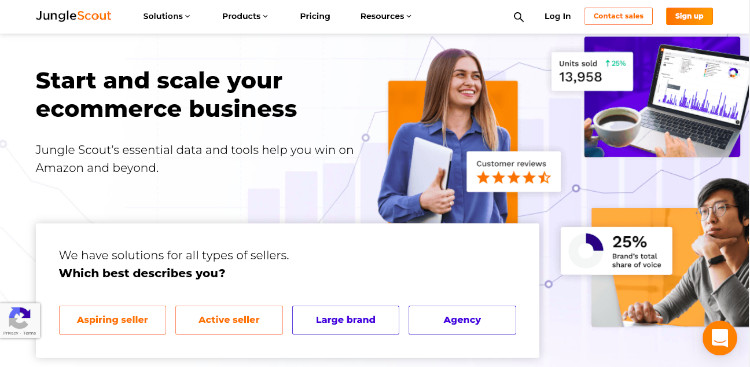 Jungle Scout is one of the best All-in-One retail arbitrage tools with immense value and offering for starting an amazon arbitrage business. With its tools that help find, launch and sell Amazon products, the software suite not only helps form a new business but also expands the one that you already own. Irrespective of your budget, they have something in store for the sellers and have plans that start as low as $39. It is quite safe to say that it has all that you would look for. I suggest you take the 14 days Free trial and check out this free Amazon arbitrage tool. Also, check out our detailed Jungle Scout review here to know more about the plethora of features offered by the platform.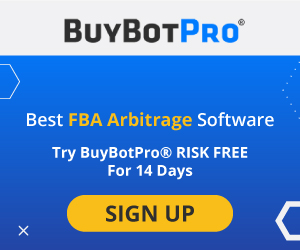 Features:
Discover Products and opportunities by applying a wide variety of filters, including category, review counts, and average sales.
Insight on Customer and Competitor Trends:
Product Tracker verifies your idea and monitors the product to reduce risk.
Identify Keyword Trends and Optimize Listings:
Find Quality Suppliers:
Helps boost sales with automated email communications & build promotions and personalized customer experience
Signup with this Jungle Scout link to avail of exclusive offers (only for Arbitrageinfo readers).
5. Tactical Arbitrage: Best Sourcing Tool for Amazon Arbitrage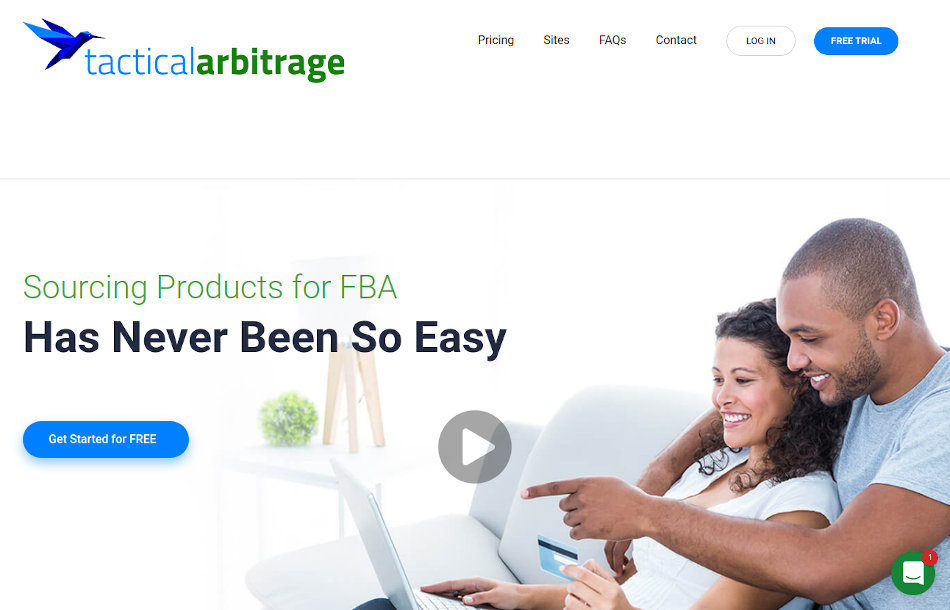 Tactical Arbitrage is a web-based online arbitrage tool that allows Amazon sellers to find more products to sell on Amazon. You can buy low from over 900+ different 3rd party sites and sell at higher prices on Amazon. Tactical Arbitrage does one thing: it helps Amazon sellers make more money!
Features:
6. ZonGuru: Best Amazon Arbitrage Software Tool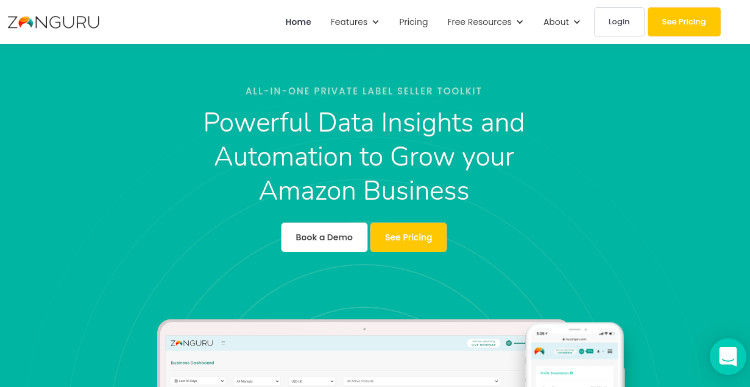 Zonguru was founded by two successful Amazon sellers and friends, Adam Hudson and Jon Tilley. The idea of Zonguru was born from a simple observation when they were facing the same problems faced by a plethora of other sellers, i.e., while using Amazon FBA, 3 or 4 different tools needed to be used simultaneously to excel on the platform…this process was very inefficient, tedious and time-consuming and involved incurring a lot of costs! The concept of Zonguru is straightforward: make life easier for e-merchants by giving them access to 12 tools in 1. Again, it is one of the best amazon arbitrage tools for FBA. Zonguru product list includes
Features:
Business Dashboard
Sales Spy
Love/Hate
Email Automator
Keyword Tracker
Keyword Listing Optimizer
Product Monitor
Negative Feedback
Your Orders, Products,
IP Monitor
Here is ZonGuru Special Offer for Arbitrageinfo readers: 50% Off for the First Month and a 7 Day Free Trial included [ Signup using this link here]
7. Camel Camel Camel: The Free Amazon Arbitrage Software Tool
The next most raved about tool is Camel Camel Camel and the Camelizer. When you search for an item on CamelCamelCamel.com or just easily use the Camelizer plugin, it will show you historic Amazon and 3rd party (FBA/FBM sellers) pricing and sales rank data. CCC launched in 2008, so you'll typically be able to see data that far back, if applicable. This is a free Amazon arbitrage tool that should be under your arsenal.
Features:
By using CCC, you can determine if that juicy price is over/under the regular price and if that sales rank has been consistent or has been influenced by price.

On CCC, you'll also be able to track price drops and search for price drops within the past seven days to see if there are any Amazon to Amazon flip opportunities.
8. SourceMogul: Best Amazon Arbitrage Sourcing Tool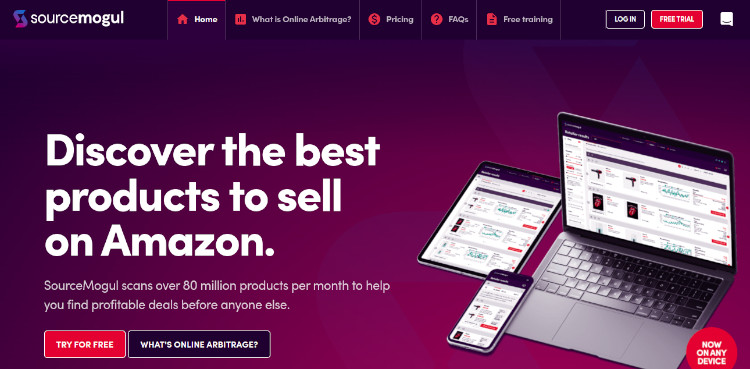 Software sourcing tool to find profitable products to sell on Amazon. Search by retailer or Amazon category. Useful features include brand restrictions checker and current stock checker. Results include embedded Keepa sales and price history charts, competitor info, and fees breakdown.
Features:
SourceMogul will bring up a list of products alongside a wealth of helpful up-to-the-minute information to help you to make the most informed decisions.

Power and Design – Hugely sophisticated search and database technology tamed via an easy to use interface.

Maybe you want to purchase things with a high-profit margin, or perhaps you prefer to focus on things that will sell quickly.
How to Use:
Select the supplier you want to choose or select the categories you are interested in.

It will show you how each search is progressing in real-time.

Dial-in precisely what you are looking for with extensive filter settings.

Check out the products it finds for you.

And add items you are interested into your wish list.

Check for stock availability and brand restrictions at a single touch.
Signup with SoureMogul using this link here.
Best Online Arbitrage Sourcing Software and Tools
For those who are selling on Amazon, product sourcing is always a difficult task. Online Arbitrage Sourcing is an effective way for Amazon sellers to find profitable inventory for their FBA businesses. Manually going to the retailer's website and finding matching products that are making profits on Amazon is quite challenging. These arbitrage sourcing tools speed up your time finding products and help to analyze them better and faster.
Keepa

Repricer Express

Bqool

AMZ Shark

ASINspector Pro

AMZ Seller

AMZ Scout

Algopix

Skugrid

Merch Informer

Skubana

AMZ Shark

Profit Scraper
The Best Amazon Items to Sell in 2023
The most profitable products can be obtained from websites of favorite retailers such as Walmart, Home Depot, and Target. Revenue earned on Amazon is always higher than in other digital markets. Online Arbitrage works best if you can buy items at a considerably lower price than what you will sell those for on a different market. Fba arbitrage software will benefit you over other Amazon sellers as you can quickly learn how to find, buy, and sell products. The following are the most profitable amazon arbitrage items:
Books

Baby Clothing

Jewelleries, gemstones

Electronic goods

Workout Wear

Cosmetics

Apparel

Groceries

Shoes

KitchenWare
Tips on Choosing the Best Online Arbitrage Tools Software
More than a dozen good online retail arbitrage tools and software, and choosing the right one can be critical. We have compared quite several tools here on Arbitrageinfo and are continually adding new ones. You can follow this checklist while choosing the best online arbitrage tool. This seems to work for us and will most likely work for you.
Ensure the pricing is competitive. It would help if you didn't end up paying huge bucks for one tool.
Check out the Alexa and Similarweb rankings; the lower the rank, the better it is. It gives an idea of the tool or software's popularity and market presence.
Always try to go for all-in-one software to minimize your efforts and training time.
Go through the reviews to see what features people loved the most, which you are also looking for.
Hope this list of Amazon Arbitrage tools will be helpful to give you a great start in your successful retail arbitrage business. Feel free to share your recommendations and experiences with us.
Limited Offers: On Growth Tools for Your Ecommerce Business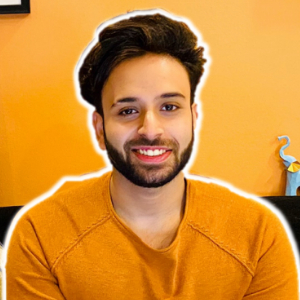 I and my team research various online verticals and can help you kickstart your Amazon business; so you could rake in more greenbacks with the best-recommended tools. Tap into the power of online retail business with me. I am just a mail away, so reach out to me if you want to scale up your niche business. mail: [email protected]