Last updated on January 18th, 2023 at 01:48 pm
Arbitrageurs know how to utilize the fluctuations in prices by using Amazon to eBay arbitrage automation tools. They are familiar with niche markets such as antique tapestries. A regular seller specializing in this might try to market his product to antique collectors in a limited market. But an Amazon to eBay arbitrage software user might buy the antique tapestry being sold on Amazon and market it on eBay as a vintage decoration piece for your home (and people looking to redecorate is a significantly larger market than antique collectors). The same seller might also increase the price by 10, 20, or 30 percent and get his asking price on eBay in many cases.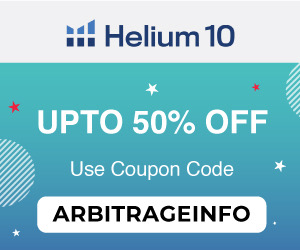 How to Choose the Right eBay Arbitrage Tool?
Choosing the right tool for amazon to eBay arbitrage automation is crucial for your business. Your profits and business scalability depend significantly on the tool's features and how you manage to use it. The points listed below need to be kept in mind while choosing an amazon eBay arbitrage software.
The number of stores in the tool's database and how often new stores are added and the data is refreshed.

How detailed is the analytics and reporting of the tool

How strong is the algorithm being used by the tool

The amount of automation features present.

The number of relevant & essential features provided

How user-friendly is the overall interface to use regularly

The kind of customer support is available. This is very important if you get stuck somewhere or are encountering any problem.
Tips on Amazon to eBay Arbitrage Automation
Market research –

You need to find out what's in demand and find profitable opportunities to sell products. If you're looking to set up a long-term Amazon to eBay dropshipping business, you should consider investing in some market research software to help find profitable items.

Items going out of stock and price changes – Many times, it so happens that after you get an order on eBay, the seller on Amazon increases its price, or worse, the product goes out of stock. Logically, there are two things you need to ensure.

Your Amazon orders are placed as soon as you get a sale on eBay, preventing

items from becoming out of stock.
Your eBay listings are automatically repriced when Amazon prices change, preventing

accidental losses from Amazon price changes.
Thus, it would be best if you use software to automate your eBay business.
The specific features you need to look for to prevent these issues are:
Auto-order: Software will automatically place orders on Amazon for you once you get a sale on eBay
Repricer: A basic eBay repricer can change your listings when the price on Amazon changes. More advanced repricing software can also change your prices according to your competitors on eBay to help you win more sales and make the maximum profit possible.
Filtering items and optimizing your store

– Finding items to sell and listing them onto eBay is one thing. But you also need to regularly remove items that don't sell to keep your store optimized. If you don't, your costs with eBay will be unnecessarily high, and you could lose your search ranking.

VeRO Violations

– When you list hundreds or even thousands of items on eBay at a time, you run the risk of accidentally list an item that is protected by a trademark or copyright. But doing so could come at a high cost. If you breach eBay's VeRO program (an acronym for Verified Rights Ownership), you could find yourself with a temporary or permanent suspension from the site, so it's vital as an Amazon to eBay drop shipper that you find ways to avoid uploading VeRO items. There are tools in the market that do just this automatically.

Being unable to provide Amazon item tracking – Amazon has its carrier network, which only lets you view item tracking if you're logged in to the Amazon account that ordered the item. And given that you aren't about to share your Amazon account details with all your eBay buyers, you have a problem. Without providing item tracking, you'll deal with more customer service queries and lose more eBay cases. There are tools in the market that cater to this specific problem. They tag the Amazon tracking number to a third-party tracking number, which can be shared with your eBay customers, who can then see the items' tracking details.
5 Best Amazon to eBay Software Tools: 2023 Edition
Here is a list of the best online arbitrage software that can help you in getting started with product sourcing, channelling, and monitoring your Amazon to eBay arbitrage.
1. BuyBotPro: Product Sourcing Tool for Amazon to eBay Arbitrage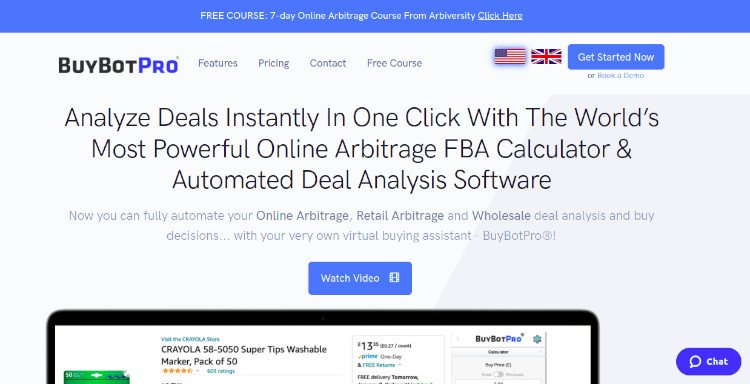 BuyBot Pro is an automated chrome extension that enables the seller to make profitable decisions while doing online arbitrage or retail arbitrage.
Features:
Automatically analyzes multiple deals and provides recommendations on the best opportunities.
ROI and profit margin analysis shows how much you will make after all fees, expenses, and other deducted costs.
Demand analysis is based on selling rank, so you can focus on items that will sell quickly.
Competition analysis to tell you how other marketplace vendors are listing and selling your products.
Inventory recommendations so you can purchase and sell the right number of items.
Custom filter and search criteria, Hazmat and eligibility checking, sales estimator, and more.
Price: The price for BuyBotPro varies between $35 and $45 a month, depending on the features you need. You can get a discount by paying for a year in advance. Signup with this BuyBotPro link to avail exclusive offers (only for Arbitrageinfo readers).
2. Zikanalytics: The Best Software to Scale Your eBay Business in 2023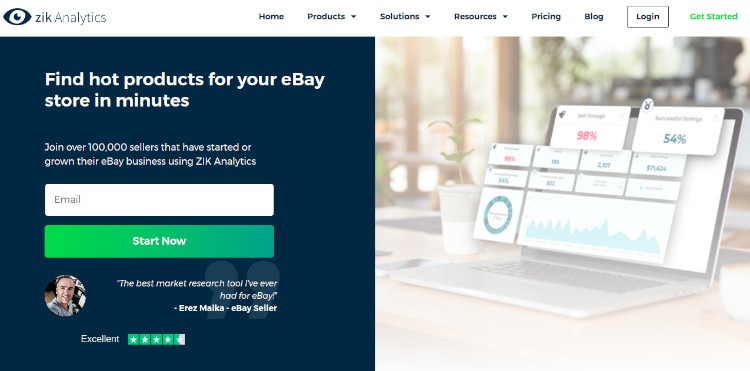 ZIK Analytics is a popular e-commerce market research tool that enables sellers to find profitable items on various markets and sell them on eBay. The tool suggests how to effectively sell their items fast by ranking them on the first page. ZIK is powered by different tools that leverage data analytics's power to find the best products, niches, and categories. There is a free training academy, and a 7-day free trial is available via their website. Zik Analytics supports major eBay markets like the U.S, U.K, France, Germany, Italy, Spain, and Australia.
Features: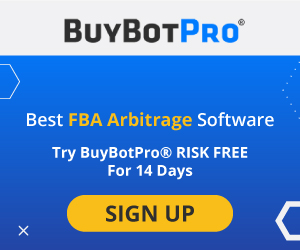 Store Analytics – Connect your store to ZIK Analytics to get unique insights into your seller performance.

Price Analytics – Get insights into how to price your products to get the most sales and profit.

Item Folders – Save the items you find and easily export them to all significant eBay listing software.

Manual Scanner – One-click to scan eBay products and source them from Amazon or Walmart

ZIK Booster Extension – The free browser extension can be used to check items for VeRO violations. You can also examine how many competitors sell the products you're researching.
3. Salefreaks: Best eBay Arbitrage and Dropshipping Software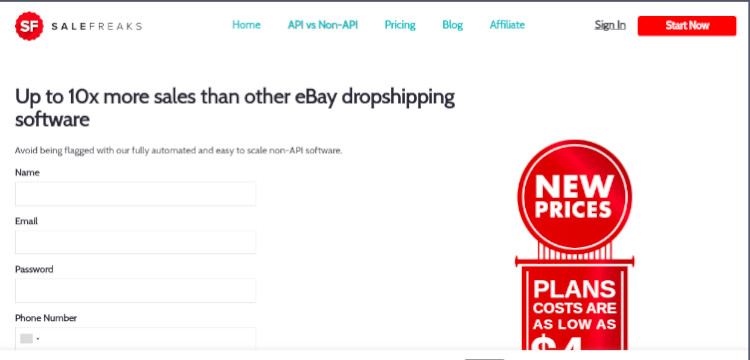 Salefreaks is its exclusive and revolutionary tool in the market of Arbitrage software. Salefreaks tracks eBay sellers' list that you choose the items they successfully sold in the last 24 hours and automatically lists them to your store daily. You no longer need to filter through sellers' items or optimize your eBay titles.

Features:

Locates high-profit items from Amazon to dropship on other marketplaces like eBay & Bonanza

Produces professional listings for your store effortlessly

Automatic repricing of your items to maximize profits

You can view communication history for all buyers in a simple dashboard.

Order and dispatch Amazon items without even lifting a finger.

Orders automatically placed on Amazon within minutes

Auto-upload buyers' tracking information to eBay

Analyze detailed profit statistics for every item.
4. Profit Scraper: Find Profitable Arbitrage Items to Sell on eBay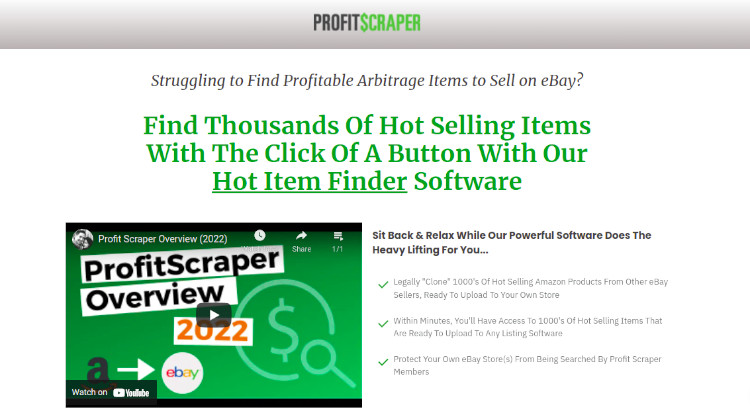 Profit Scraper currently supports the USA, UK, Canada, France, Germany, and Italy. You can use the eBay arbitrage method worldwide. So if you live in the UK, you can list items on eBay UK and eBay USA, and even other countries. It doesn't matter because the items' location is in the supplier's warehouse (e.g., Amazon), so you use the supplier website where your customer lives and send the product directly to them!
Profit Scraper has a built-in protection mechanism that you can use as long as you are a member. If any other user tries to enter your eBay ID into Profit Scraper, it won't let them search your listings.
Features:
You'll be able to quickly see the sold count and watchers to identify items that you can sell yourself. Once you've found the items you want to sell, you can automatically upload them to your own eBay account. Profit Scraper clones images, descriptions, product identifiers such as model numbers/UPCs too!

Profit Scraper will allow you to bulk upload all your chosen items directly to your eBay account with a couple of clicks. This will save you a HUGE amount of work. The imported items will contain a title, description, item specifics, photos, as well as your shipping and returns information.

Every 45 minutes, Profit Scraper will automatically check for stock/price changes on the supplier's website and then update your listings on eBay automatically. As well as this, if you sell an item (making you out of Stock), Profit Scraper will update your item back to In-Stock within 10 minutes!

Easily view sales and performance figures such as costs, fees, and overall profits by day, week, or month. Also, see reports on historical price/stock updates, bulk uploads, Auto Ordering, and more. They also include a powerful and unique Listing Conversion Report to track which listings are converting better so you can increase the profit margin of winning listings and de-list poor-performing listings!

Profit Scraper includes eBay account protection. This means that if another user of ProfitScraper tries to search for your eBay listings, the tool will display an error message telling them that they cannot search that eBay seller because their account is protected. Also, to protect your eBay account, they have an internal VERO database. Every time you upload items to eBay using Profit Scraper, they can check the product's brand to ensure it's not part of the eBay VERO program. As well as with this, you can also block specific keywords if needed too!
How to Use:
Sign up and instantly receive your login details.

Connect your eBay account and define your account settings.

Scrape and bulk upload products to sell on eBay.

Make money! That's it.
The method mentioned above applies to all the software and tools I have discussed regarding Amazon to eBay arbitrage. I have not repeated this information with the sole intention of not boring you up with my repetition.
5. PriceYak: Free Amazon to eBay Arbitrage Software (14 Days Trial)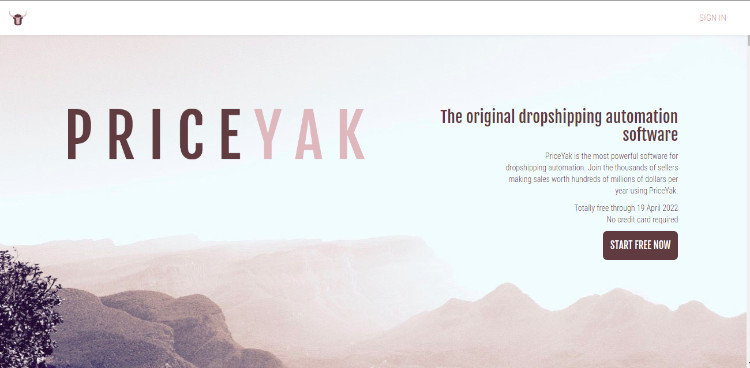 PriceYak began ten years ago as a proprietary system for Amazon to eBay dropship arbitrage. PriceYak has inspired a wave of look-alike services. But PriceYak's superior speed, reliability, and advanced features make it the secret weapon of choice for today's largest dropship sellers. PriceYak is the most advanced automation suite for retail dropship arbitrage. PriceYak supports selling on eBay, Amazon, or Shopify and sourcing from many retailers, including Amazon (.com, .ca, and .co.uk), Walmart, and Costco. PriceYak's tools automate your store's operation so you can free you and your staff's time for the most important thing: growing your business.
Features:
Listing Creation-

Create thousands of beautiful listings in seconds by merely entering the product ID you'd like to list.

Reprising-

PriceYak's state-of-the-art repricer catches changes in price or availability at the source market extremely quickly, then algorithmically adjusts your listing, ensuring you'll never make a sale at a loss or that you can't fulfill.

Order Fulfillment-

PriceYak AutoOrdering places the order at the source within minutes of receiving an order from your customer. No hassle, no ordering teams, and minimal risk.

Store Stats-

The store Stats page shows you listing and order counts over time, breakdown of listings by the retailer, profit histogram, and more.

Bulk listing Editor-

Bulk Listing Editor lets you tag or edit per-listing settings in size with a simple CSV upload.
Amazon Arbitrage or Amazon-eBay Arbitrage is a great way to earn money. To do so, you'll need to list and monitor somewhere over 500 items. The only way to do this successfully is to use amazon eBay arbitrage software. While there are several products on the market, only a few offer true amazon to eBay arbitrage automation. It is essential to do thorough research before choosing any eBay arbitrage tool. Most of the tools have trial plans which you can avail of. Ultimately the right amazon eBay arbitrage software for you would be the one that solves your purpose without burning a hole in your pocket and which is easy to use and maintain.
Keywords: amazon to eBay arbitrage, amazon to eBay arbitrage software, what is amazon to eBay arbitrage
Limited Offers: On Growth Tools for Your Ecommerce Business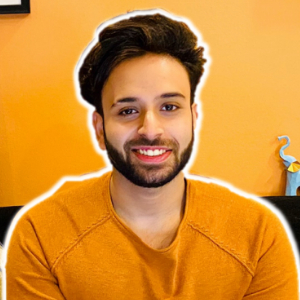 I and my team research various online verticals and can help you kickstart your Amazon business; so you could rake in more greenbacks with the best-recommended tools. Tap into the power of online retail business with me. I am just a mail away, so reach out to me if you want to scale up your niche business. mail: [email protected]