Last updated on January 18th, 2023 at 01:49 pm
Arbitrage, in simple words, means simultaneously buying and selling securities, currency, or commodities in different markets or in derivative forms to take advantage of differing prices for the same asset. I know how much you love shopping. But, sometimes, being always the consumer doesn't satisfy you. Then let's see how to get to the other side of the business.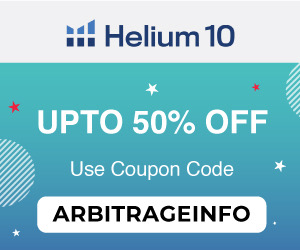 Retail arbitrage refers to the act of buying products in your local retail stores and then selling those same products through online marketplaces for a profit. Items purchased in this manner are generally acquired on sale, offering a significant discount compared to the retail price. You might be wondering, can I make money with retail arbitrage in 2018? The simple answer is yes.
Items that are purchased via retail arbitrage can be sold on a variety of marketplaces. These marketplaces include Amazon, eBay, Etsy, Instagram, Facebook Marketplace, and many others. In my experience, Amazon is the best place to sell when getting started, so that this post will focus on Amazon FBA.
Getting Started with Amazon Arbitrage: Choosing the Right Course
Moving suddenly to the other side of the business is not quite easy. It takes a lot of research. And with a bit of help, your dreams can easily take the form of reality. For such circumstances, there is a lot of course at our disposal. Some of them are online courses, and some of them are blogs and articles from the experts themselves.
Amazon Retail Arbitrage Course List:
When talking about courses, how can we not talk about the sensational expert in Amazon Retail Arbitrage, Ryan Grant.
He has been selling on Amazon since 2008 when he was a freshman in college. In September of 2013, he quit his full-time job as an accountant to pursue making a full-time income selling on Amazon and has been running his own business ever since. Since 2015, they have done over $1 million in sales on Amazon alone, and this year they are on pace to do nearly $6 million.
1.Ryan Grant's course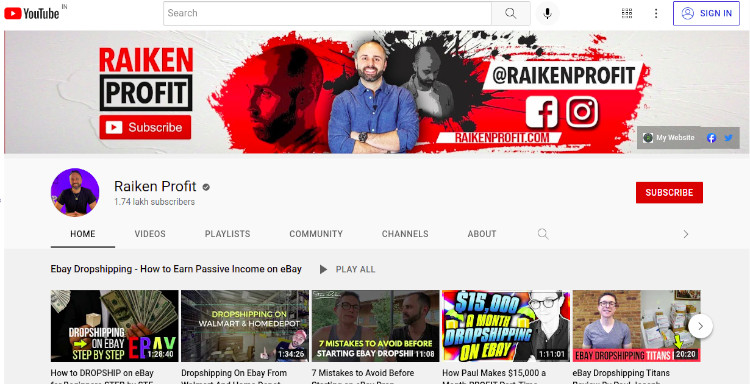 Along the path of success, Grant also intends to inspire all the people out there. Grant has a blog that talks about online investments and the business named "Online Selling Experiment." He also offers an online course on amazon retail arbitrage, which you will find in the same blog address. The tag line says, "Learn the low-risk system I have used to help hundreds of people make $1000 or more each month on Amazon".
This course will teach you a step-by-step system for profitable sourcing products to sell on Amazon. Unlike many other options out there, he has designed this course with beginners' actual needs in mind. You won't need to risk all your savings on inventory or quit your job just to get started. This is something you can do with virtually any amount of money, and you'll also be profitable from the very beginning.
The content is broken into 8 sections, plus one bonus module available if you choose the Pro version of the course. In keeping with the 'as easy as possible' theme, the entire course will be available to you immediately – you can binge-watch the 5+ hours of video content in one sitting or do it over time when you get a chance at night.
The USPs of this course:
You will be learning from the best. He has gone through the journey as a beginner, so he clearly understands a beginner's mindset.

His course is a step-by-step process that will help you understand in a better way.

He sets a goal for himself to help you earn $1000 every month within the first 6 months of the year. That means he is taking responsibility for what outcome he is offering.

You'll learn…

How to source profitable products

How to set up your

Amazon Seller

account

How to send your items into Amazon FBA warehouses.
About the Author: In his own words, from the article on his blog,
"My name is Ryan Grant.
My introduction to selling online was by chance. I wouldn't say I liked the offer I got for textbooks from a university bookstore buyback program and was convinced I could find someone willing to pay more. I continued to sell online through college but eventually took a full-time job as an accountant after graduating. Like many people, I quickly grew frustrated with certain aspects of the job, so I decided to put more effort into my business.
I eventually decided to quit to pursue selling online full time, and my last day of "regular" work was September 20, 2013.
While the money is excellent, the best part about my business is the freedom it provides me. I now control my schedule and don't have to work for as many hours as my employer says or be limited to a few weeks of vacation days per year. I may not be a billionaire, but I have a real business that provides me with more money and freedom than my regular job ever could have.
I've also helped many others achieve similar results, and I hope you're next.
-Ryan".
Success Story
"I started selling on Amazon on my own last Dec. After a month of frustration and confusion, I took Ryan's Arbitrage class even though I had limited funds. It is the best money I have ever spent. Ryan cares about his students and has a real gift for explaining everything so you can understand it. After 6 months with minimal funds, I am selling over $1000 every month. If you want to learn Amazon, you won't find anyone better to teach you." – Mary.
2. Retail Arbitrage Pro- Utilize Amazon to your Advantage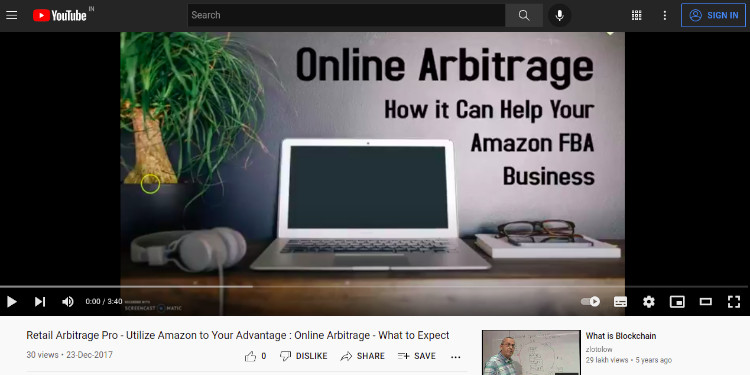 The creator of this course is Bryan Guerra. The course fees are Rs. 12,800. It includes 4 hours of on-demand video. 1 article, 1 downloadable resource, full lifetime access, access on mobile and TV, and a Certificate of Completion on completion of the course.
It teaches you various methods to find your products. It also teaches you about Seller Central Optimization, Strategy, and Shipping.
USP of this course: This course mainly focuses on the methods through which you can find the right products.
Every class is in detail. You have almost 5 classes in one category.
Getting items for arbitrage from retail sellers
3. Amazon Selling Secrets- Start Earning Passive Income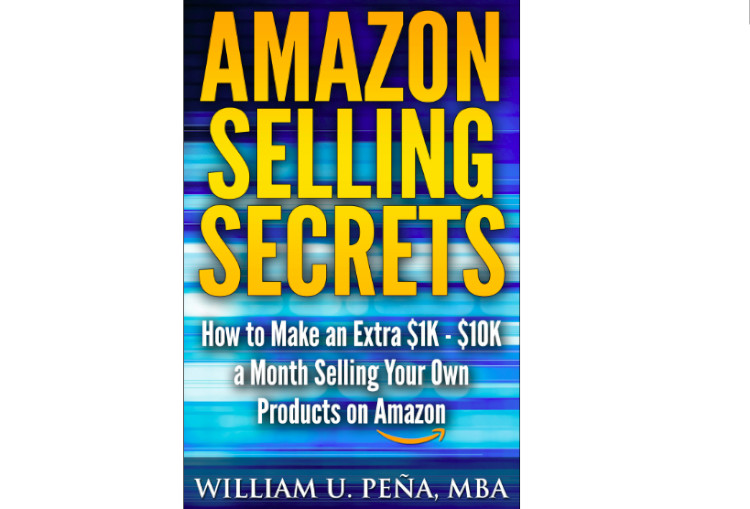 William U. Peña is the creator and instructor of this course. The course fee is Rs. 9,600. It comes with 6 hours of on-demand video, 9 articles, ten downloadable resources, full lifetime access, access in both mobile and TV, and a Certificate of Completion.
USP of the course: In this class, you will learn How to:
Identify Desirable Products People Want to Buy.

Create a Unique Brand that People will Remember.

Find High-Quality

Product Sources that will Support Your Thriving Amazon

Business.

Create High Converting

Amazon Listings

that will Emotionally Compel Customers to Buy Over and Over.

Create the Most Profit Possible with the Least Amount of Expense.

Test and Validate Your Product to Guarantee your Product's Success.

Effectively Fulfill Orders and

Manage Your Inventory

.

Provide Outstanding Customer Satisfaction and Motivate Customers to Buy More.

Get Abundant Reviews from Raving Fan Customers.

Continually Promote and Sell Your Products Both in and Out of Amazon.

Automate the Process so that You Can Sell Products While You Sleep.

Expand Your Amazon Selling Business and Make 6 or 7 Figures a Year.
About the Author: William U. Peña, MBA, is an entrepreneur that specializes in "working less, earning more" He has written the two most highly acclaimed business books, "Passive Income in 90 Days" and "The 3 Day Entrepreneur."
Success Stories: Benoit Racine says, "This was a great course. All the questions I was asking myself have been explained in sufficient detail. Glad I signed up!"
"Great course and informative. For beginners, some of the information can be overwhelming. I enjoyed the specific examples and the outline at the end of how to break things down over 90 days. Enjoyed the presentation and to the point explanations", says JD Fusek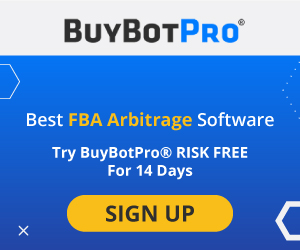 What is the Amazon FBA Program?
Amazon has created one of the most advanced fulfilment networks globally, and your business can benefit from our expertise. With Fulfillment by Amazon (FBA,) you store your products in Amazon's fulfilment centers, and they pick, pack, ship, and provide customer service for these products.
How does the FBA Program Works?
You send your inventory to Amazon's state-of-the-art fulfilment centers located close to your customers around the world. Your products will be stored securely, and you can send them as little or as much as you want. When you use FBA, your products listed on Amazon become eligible for Amazon Prime and Super Saver Shipping to get what they want, fast and free, and more of their customers can become your customers. When customers buy your products, Amazon will pick, pack and ship them, and customer service and even return 24 hours a day.
Amazon FBA Arbitrage Course List:
1. How to start an Amazon FBA store on a Tight- Theo McArthur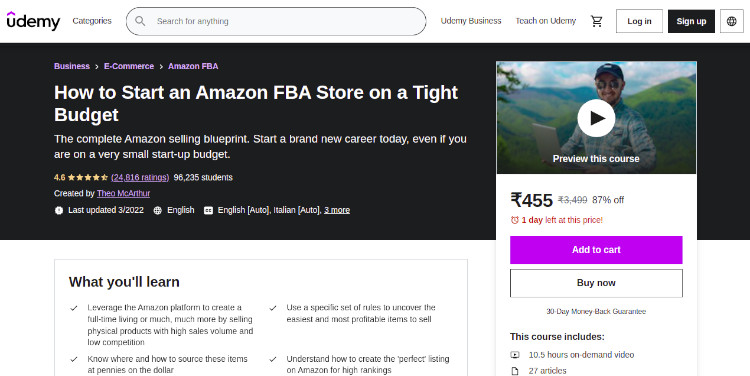 You can find this course at Udemy. The course fee is Rs. 11,520 with a 30 days money-back guarantee. It includes 8.5 hours of on-demand video, 32 articles, 61 downloadable resources, full lifetime access, access on both mobile and TV, and a Certificate of Completion.
USP of this Course:
Leverage the Amazon platform to create a full-time living or much, much more by selling physical

products with high sales

volume and low competition

Use a specific set of rules to uncover the easiest and most profitable items to sell

Know where and how to source these items at pennies on the dollar

Understand how to create the

'perfect' listing on Amazon

for high rankings

Know what Amazon shoppers are searching for and take advantage of that knowledge to get more sales

Be able to get stock and start selling even when on a very tight budget

Know how to kick start sales the right way

Understand how to use Amazon's internal advertising feature

Be able to avoid the pitfalls and costly mistakes often made by new sellers

Take advantage of advanced tactics to take sales to a whole new level

Understand how the top 1% of Amazon sellers play the game

Save a ton of time by tapping into niches and products that have already been researched

Know how to get approval to sell in lucrative restricted categories

Know the 5 things to focus on and the 5 things not to waste time on

Follow a simple step-by-step plan to fast forward the entire process.
About the Author: Theo McArthur is an Entrepreneur, Amazon Seller, Investor, and an Online Marketer.
He has been working online since 1995. He left his job and went full-time online in 2001. Over the last 15 years or s,o he has created and marketed many digital e-learning products and has also worked extensively in affiliate marketing. He builds several 'authority' blogs to promote affiliate products and also worked on many other marketing methods and profiting with affiliate offers.
In the mid-2000's he got involved with trading and investing stocks, commodities,s and even foreign exchange. In 2014 after a tip-off from a friend, he made his first cryptocurrency investment.
He always preferred to have several business interests, so he started selling on Amazon in the spring of 2013. Previous to that, he had never sold any physical products online. Today he also runs his independent e-commerce websites.
Success Stories: Sylviane says, "Usually, I don't comment, but this time around, I feel the need to. I also usually give 3 or 4-star max, but I gave five stars because it is cheap, but it also has very relevant and structured information for a beginner.
Theo and her team are very responsive, and I feel that they genuinely care about the student beyond money. I followed the instruction as recommended, I went through the whole course, and now I am going back again to start, and this time with actions. Thank you a ton."
"Yes, this course was exactly what I was looking for, very detailed information with a lot of examples. The over the shoulder view makes it easy to follow each lecture. Highly recommended if you are interested in Amazon FBA!" Gregory Morton adds.
2. Amazon FBA as a Private Label Business Launching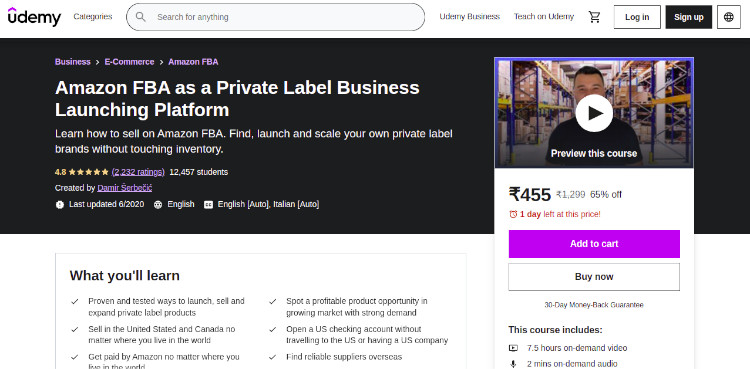 Damir Šerbečić creates this course can find this course in Udemy. The course fees are Rs.1280. It includes 7.5 hours of on-demand video, 2 mins on-demand audio, 12 articles, 55 downloadable resources, full lifetime access, access on both mobile and TV, gets a Certificate of Completion on completion of the course.
USP of the course:
Proven and tested ways to launch, sell and expand private label products

Open a US checking account without traveling to the US or having a US company.

Get paid by Amazon no matter where you live in the world

Find reliable suppliers overseas

Import products cost-effectively to the United States

Best way to import products if you are not from the United States

CHECKLIST: What to ask suppliers

CHECKLIST: Due diligence – how to spot fraud suppliers

How to properly label your products and send them to Amazon FBA warehouses

How to

optimize Amazon product listings

like big brands

Strategy for launching and continually marketing your brand, on and off Amazon

Increase social proof of your product listing and get 100% legitimate, verified reviews

How to drive external sales and ultimately increase keyword rankings on Amazon

How to deal with negative thoughts and unhappy customers

How to avoid getting your seller account suspended
About the Author: Damir is an Amazon FBA Seller, Digital Marketer, eCommerce Entrepreneur.
He has been involved with internet marketing since 2007. He has specialized in selling physical products on Amazon and his eCommerce stores by leveraging the power of both paid and free traffic sources.
Besides growing and managing his own online physical product businesses, he does consult for one major European eCommerce website and actively teaches on Udemy and WinWinAcademy.
His style of teaching is different and highly focused on you taking action without wasting your valuable time. That is why lessons are short, practical, and to the point.
Success Story
"I've looked around for some time on a course that provides high value yet is affordable to someone simply considering a Private Label business. This course gives you everything you need to feel confident about setting up your Private Label & using FBA as a platform.
Damir gives in-depth details for all aspects of the budget, niche focus, listing optimizations, and marketing. More importantly, he describes many of the back-end resources and legalities one has to consider to have a fully secure business.
I highly recommend this course to anyone looking for a direct, to-the-point, detailed & easily digestible course on Private Label & Amazon FBA. Damir is a quality instructor & the knowledge he gives is worth many times the price of the course!" says Jonathan Encarnacion.
Again Roee Klinger says, "Damir is a great teacher. This is the second course that I took with him as the teacher, and I am delighted with what I got. He replies fast to questions and updates the course as time goes on and things change. I would recommend it to any beginner on Amazon."
We all have to start somewhere. With the help of adequate research, a little help, and a passion for doing it, we all can achieve our dreams. I have contributed my part through this article. If you are someone who wants to start his/her own business and was waiting for the right time, you better get on with it. Now, because, is the right time. After this, the only regret remains. Good Luck.
Limited Offers: On Growth Tools for Your Ecommerce Business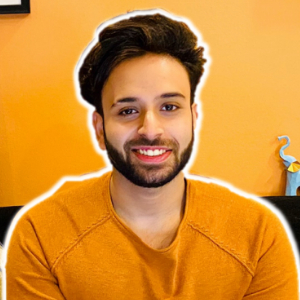 I and my team research various online verticals and can help you kickstart your Amazon business; so you could rake in more greenbacks with the best-recommended tools. Tap into the power of online retail business with me. I am just a mail away, so reach out to me if you want to scale up your niche business. mail: [email protected]