Last updated on January 18th, 2023 at 01:49 pm
Online shopping has its set of benefits and is definitely a boon. Not only does it save you the trouble of going out and buying what you need, but it also is never short of products. Especially for websites like Amazon, with several vendors and sellers comes many options to select from. But what if it were just a couple and exhaustible? Good enough for Tactical Arbitrage, a technological software service designed by and operated by Visual Magic Productions Pty. Ltd allows Amazon sellers to find more products to sell on Amazon. It is basically also willing to turn away new customers to assure that the current ones get the best of the services provided because Alex, the creator of the same, made it absolutely clear that he will only allow new users when the software can handle them.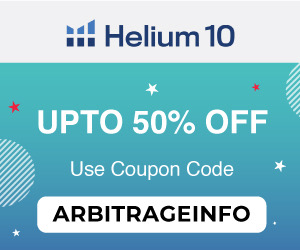 It very conveniently shows you searched from over 800 third-party sources, which is quite a gigantic amount, and find the products you can buy for a low price and sell for higher on Amazon to profit. Very similar to the given is FBA Wizard, a software that helps you easily find winning products to sell on Amazon and eBay and can be used to find products for online arbitrage, wholesale and private label. It works in a couple of countries which includes the US, UK, and Canada, and they incessantly keep adding new features that would help and retailers. They also allow you to set up the Virtual Assistant to help you take care of your scanning and product analysis with a special add-on module. This article would be evaluating both the software, weighing their pros and cons to conclude which one is better for you.
Tactical Arbitrage vs. FBA Wizard: Product Features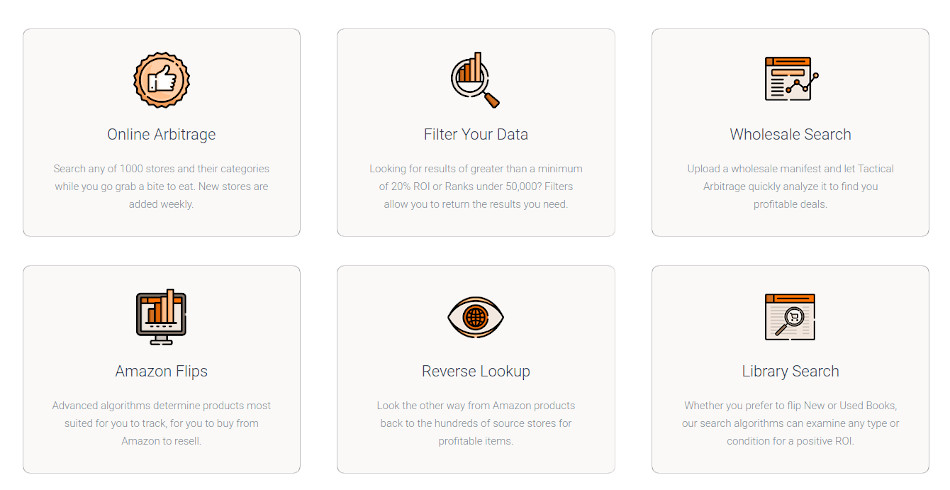 Tactical Arbitrage allows you to filter the data. For instance, you are looking results greater than a minimum of 20% ROI or ranks under 50,000, all you need to do apply the filter, and you will have just what you are looking for. They return results analysis with proper URLs and matching images to help make an informed decision and also allows you to look away from Amazon to find hundreds of source stores for profitable items. Not just that, they also have Amazon Flips that is an easy way out and allows one to sell back on Amazon and make a profit from it.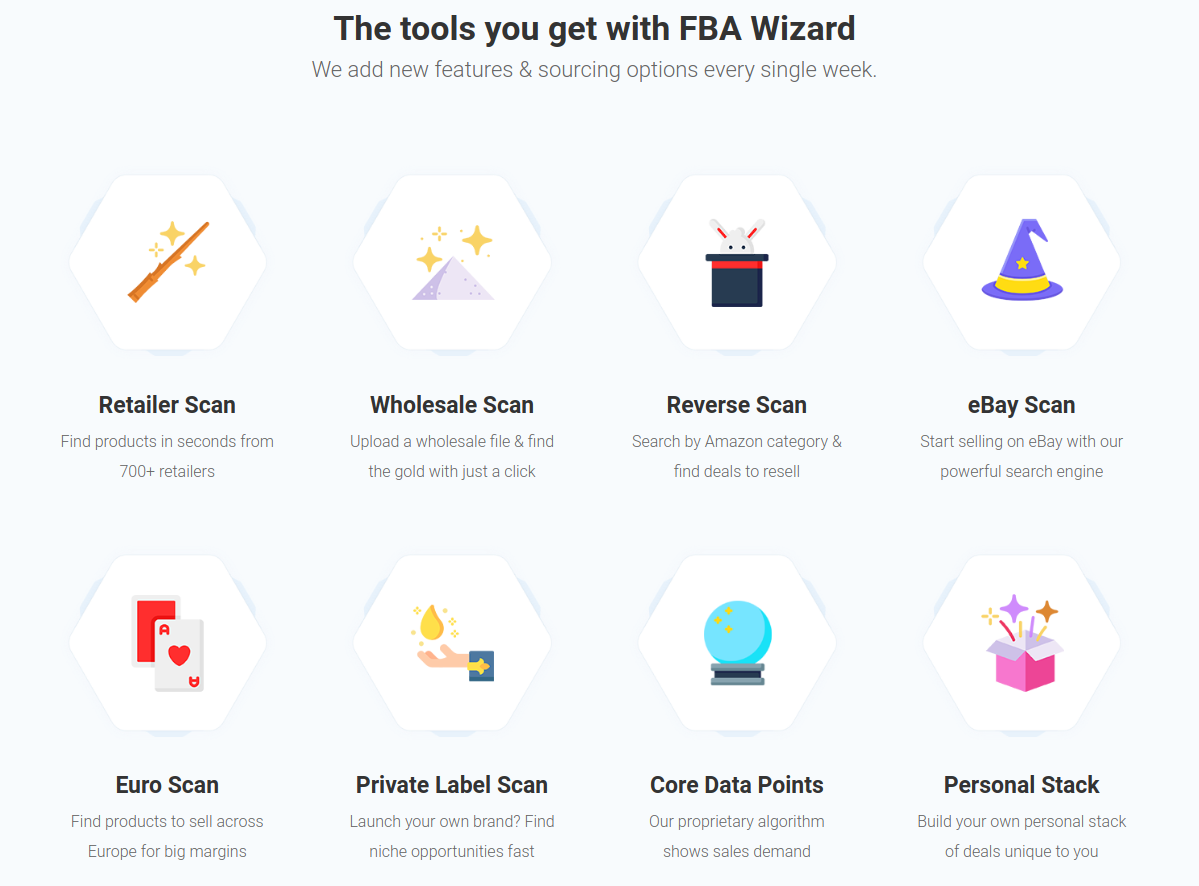 On the contrary, FBA Wizard too does not fall short of features, and the basic one is scanning; that is, it allows you to take a product selection page URL from any of the retailers available on their database and make use of a range of filters to spot products that really suits your needs. Not just that, they also allow Amazon to Amazon flips, where you can grab a product when its price is low and put it back up again when it rises. It also offers reverse search; that is, you find a URL on Amazon, and they look up the web for better prices online, uncovering any flipping opportunities. Other than that, they have Merchant flips and eBay searches to offer, where you can search for online arbitrage opportunities bought on Amazon to sell on eBay. Except for that, they have a wholesale option, where once a wholesaler sends you a product list, they scan through it to find out what products really are worth pursuing.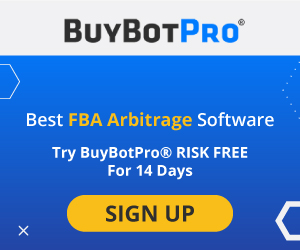 Tactical Arbitrage vs. FBA Wizard: Benefits
Tactical Arbitrage offers you a way to filter data to help find just what you are looking for and help make you money. They ensure that the products exactly match the listings on Amazon, saving you both time and money, which they do again; their built-in SMS feature will send you a text message when your scan is complete. It has a global cache that assures you that your searches run at blazing fast speeds. They allow you to run a couple of scripts at the same time to maximize the output. What is in it for you? If you ask the same for FBA Wizard, the first answer would efficiency because it will help you find high-ranking, quick selling products for a lower price. Not just that, the FBA fee calculator would calculate the potential profit that you could make.
Tactical Arbitrage vs. FBA Wizard: Pricing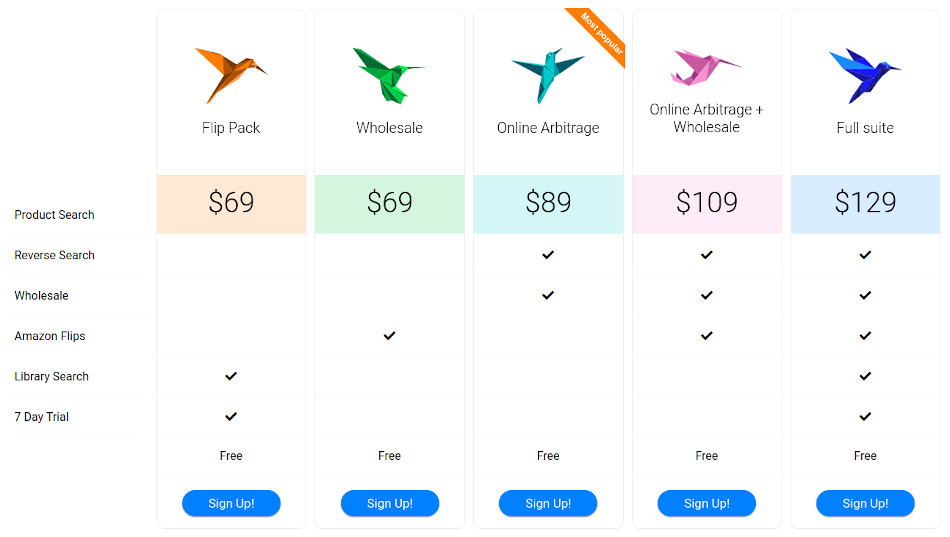 Tactical Arbitrage costs $147/month but also offers a trial at $1. Its price is comparatively higher, but the kind of service it provides makes it totally worth it.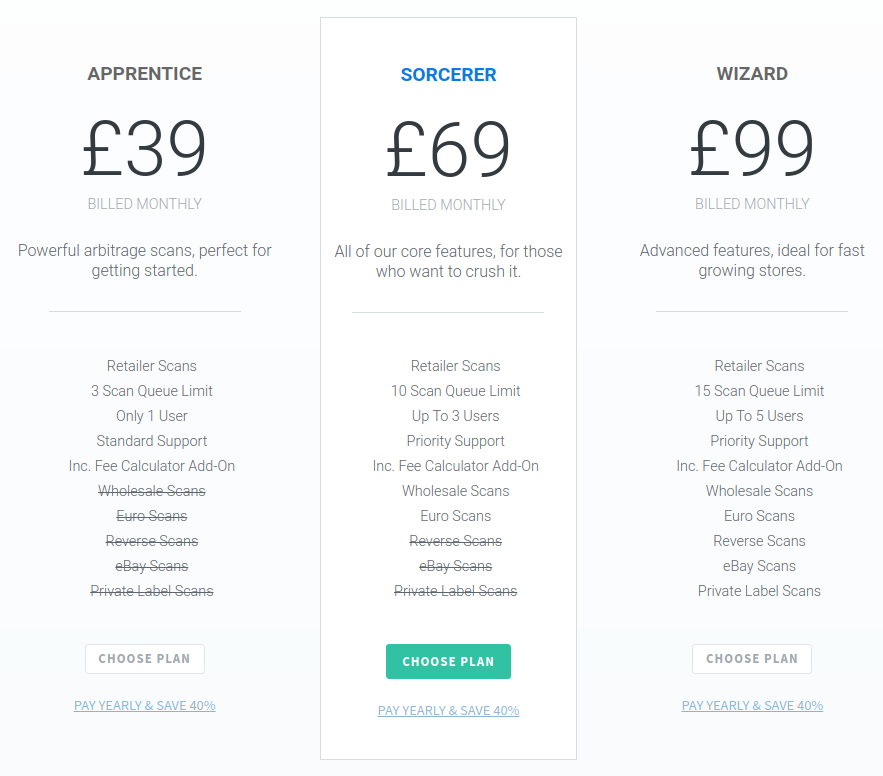 The FBA Wizard Pro cost is £67 per month, £179.01/quarter, or £670.08/year, depending on the plan you choose. The Wizardbar would cost you £97 per year, and the FBA Fee Calculator would cost you £27 as a one-time payment, and Wizard Academy is absolutely free.
Tactical Arbitrage vs. FBA Wizard: User Feedbacks
The user feedbacks for Tactical Arbitrage is mostly positive. For example, one of them said, "I have seen people have massive success with tactical arbitrage. You will not have success going after items that you can only buy small quantities on, but if you find an item that is almost restockable from it, it is a goldmine. Rare, but I have seen results from it," while one of them also said, "I think it's garbage." It has an entire stock of great feedbacks, recommending it. Users root for FBA Wizard and recommend it strongly, for we could barely find one negative feedback about them. Their feedback included "Excellent easy to use, effective sourcing software with good training included" and "What was good about this product or service overall?
Any problems were sorted straight away, and the software is the best I've used for finding deals. Could anything have been better? The only problem I've had has enough money to finance all the products it finds."
Limited Offers: On Growth Tools for Your Ecommerce Business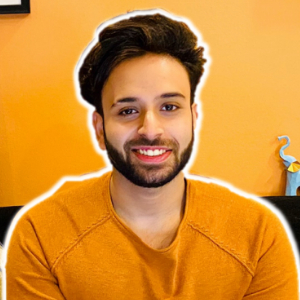 I and my team research various online verticals and can help you kickstart your Amazon business; so you could rake in more greenbacks with the best-recommended tools. Tap into the power of online retail business with me. I am just a mail away, so reach out to me if you want to scale up your niche business. mail: [email protected]