Last updated on January 18th, 2023 at 05:49 am
Ease of doing business that results in stable profit is the primary objective of any person. Dropshipping helps you get a prosperous business without having to maintain stocks in inventory. In this type of business model, the seller lists products on a particular eCommerce website. When a customer places the order for the product, the seller looks out for a prospective supplier who can dropship the same item to the customer at a lesser price (including shipping charges) than that the customer pays to the seller. In this way, the seller/drop shipper can continue to profit without any additional repository management. Dropshipping is a legitimate process applicable in some top-notch eCom sites – Amazon, eBay, AliExpress, etc.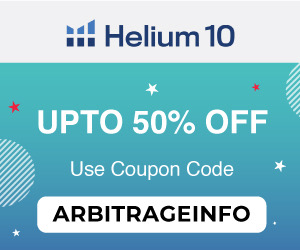 Dropshipping is a very suitable way for beginners to get a quick profit easily. So let's quickly look at the entire chain from drop shipper to customer and investment to ROI.
How eBay Dropshipping Model Work?
If you want to run the dropshipping business successfully, follow the right approaches for leveraging substantial benefits in real-time. I have listed down the effective formula included in a drop-ship model to incur a huge profit. Check them below!
In-depth Research – Try searching for the niche product by scouting through competitors' products and price lists. Know what's the best trend in the marketplace and which products have the least competition yet higher demand.
Product Listing – Product listing and price listing is the next step. Try a new product to check the customer's reaction, and if you receive a positive sales gradient, you know what to do next. And there will always be some competition, so calculate a price that's not only going to attract more customers but help you reach a targeted profit margin.
Choosing A Supplier – In eBay dropshipping model, you need to consider choosing the best supplier to enter into a business partnership. Trying reading reviews, which will assure you about their quality and on-time delivery.
Product Fulfilment – After all these detailed checkings, next is the product fulfillment process. Please don't keep the customers waiting for a confirmation after they have placed an order. Make the steps quick and relatable for the customers. Have timely communication with the supplier to provide your customers with the exact information about product delivery.
Marketing Plans – Promoting your products on different channels and platforms will help give your products the customers' needed attention. People might not know about specific products at times, so taking proper marketing decisions is likely to increase sales.
Best eBay Dropshipping Software Tools: 2023 Edition
Now that you have acknowledged how eBay dropshipping works, it is essential that you should turn your focus to the eBay dropshipping software that makes your entire process seamless and automated. eBay dropshipping tools let you drop ship almost any items available in the marketplace without executing any cumbersome manual steps. Rely on the automated or semi-automated tools that finish off your entire research, inspect, analyze, evaluate, and listing the process in real-time. All you have to do is grant permission for such steps and make changes (if the tools suggest). In short, when it comes to eBay dropshipping software, all your complicated tasks are managed in a few minutes so you can relax and watch the money roll in.
There are various types of dropshipping tools available online – it depends on what type of dropshipping business you are following. Generally, you can dropship products from other eCom websites (like Amazon, Aliexpress, Walmart, etc.) to eBay. Still, eBay also allows eBay to eBay dropshipping – in case you find a prospective deal at a low price on eBay. Let's dive deeper to know more about these eBay dropshipping software.
Best eBay to eBay Dropshipping Software Tools: 2023
Here is a list of the best eBay to eBay dropshipping software tools for you to consider.
(i) Ecomdash: Inventory Manager for eBay Dropshipping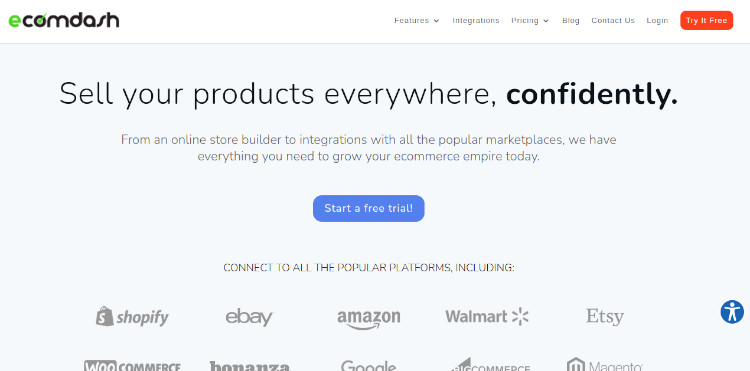 Ecomdash simplifies all eBay dropshipping methods such as channelizing product scouting to its listing, boosting sales rate, monitoring and updating inventory, etc. If you are looking for an eBay dropshipping software that will make your life easier, Ecomdash is the best way to get better ROI. Its overwhelming template designs, custom product list creation, connecting with best suppliers and managing global orders, and shipment tracking updates – everything makes it reliable.
(ii) AutoDS: Best eBay Dropshipping Software Tool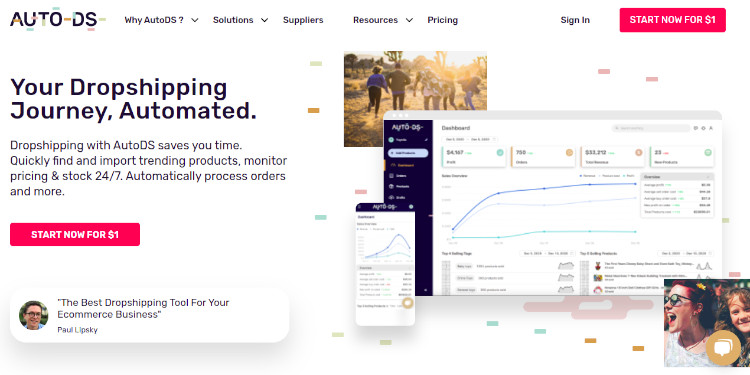 It is better to look for an all-in-one dropshipping tool if you want to save time and energy. AutoDS features a whole toolkit that helps you establish a profitable dropshipping business.
Benefits:
Bulk product monitoring
Quick price and stock management – automated alerts for new updates.
Automated order receiving – removes human intervention.
No more switching between eBay and monitoring tools – one-click swift message response delivered to your customers
Easy to find best-selling products
Stats on product performance, profit evaluation, etc.
Best Amazon to eBay Dropshipping Software Tools: 2023
Here is a list of the best Amazon to eBay dropshipping software tools for you to consider.
(iv) Zikanalytics: Best Amazon to eBay Dropshipping Software Tool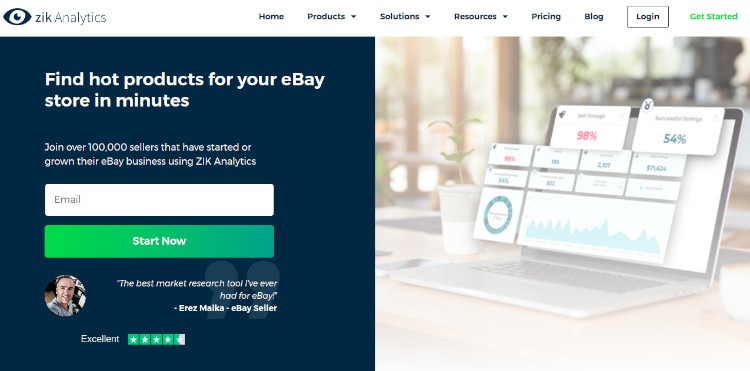 Zik Analytics helps you get the sales data you need to succeed on eBay. They help you fill your eBay store with profitable items, get eBay sales data for any item, and see which products have a huge potential to sell. You can filter by sales, feedback, and price to find exciting opportunities to make money, save the products you find, and export them to your listing software. They help you stay ahead of your competition and allow you to scan any eBay seller using the Competitor Research Tool to get inspiration for new product ideas, quickly see what's selling well, and learn the strategies that successful sellers use to dominate on eBay.
They help access the selling potential of any category with data like the total sales on eBay, average product price, sell-through rate, or selling trends from Google, and you can then dive deep into the niche to discover the top-selling items and highest-ranked listings. They show the best keywords for any eBay product, sorted by the number of competitors and sales, and then use data to build titles that rank your products high and drive sales to your listings.
(v) Profit Scraper: Best eBay Dropshipping Software Tool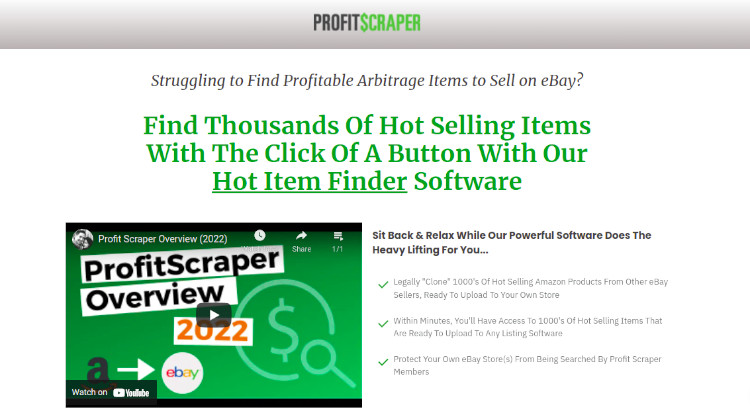 Hunt down the products from the web and competitors in real-time at a price that is easy on your budget. Easily scout 1000s of products on Amazon in minutes and upload them via Profit Scraper at the click of a button. Also, hide your Profit Scraper account so that other competitors can't check on your price and product list – it helps you gain a competitive edge and get more profit.
(vi) Profit Spy: Best eBay Dropshipping Software Tool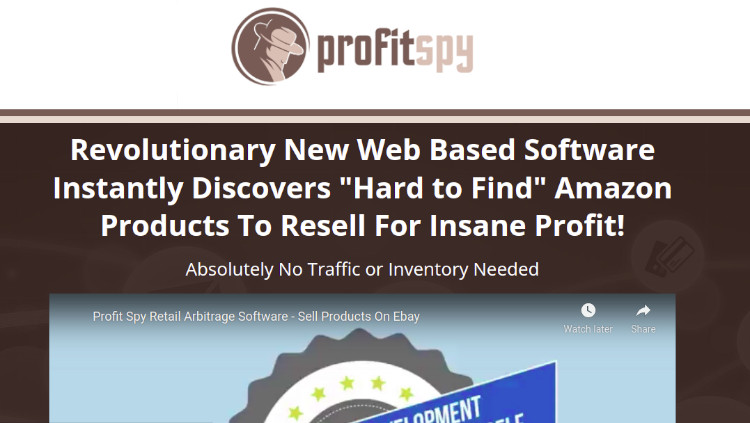 By far, it is the best eBay dropshipping software that helps you locate the best products for reselling. Its quick and accurate analysis lets you instantly list the best deal so you can incur profit easily via Amazon to eBay dropshipping.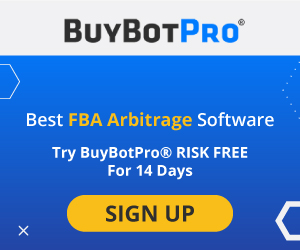 Best AliExpress to eBay Dropshipping Software Tools: 2023
Here is a list of the best Aliexpress to eBay dropshipping software tools for you to consider
(vii) WalletMonitor: Best AliExpress to eBay Dropshipping Software Tools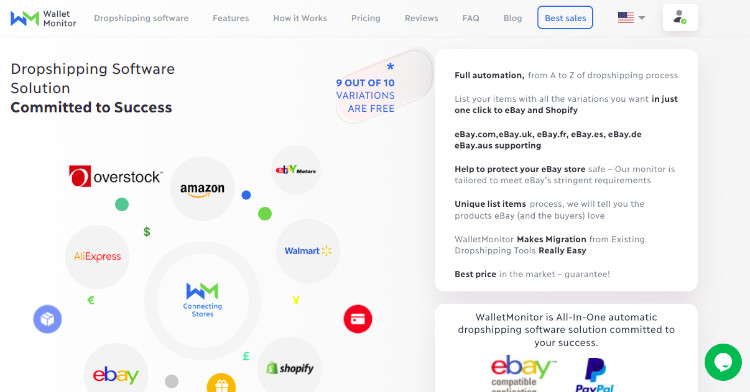 Enjoy automated dropshipping with just $1 (for a trial period) and witness all that WalletMonitor commits to you. It also helps keep your eBay store protected from any fraud activities, so you can focus more on growing your business.
Advantages:
Fully automated processes
One-tap product listing
Get more loyal customers to your eBay store
Tailored solutions for best pricing
Find the best suppliers
24*7 monitoring tool
(viii) AutoDS: Best AliExpress to eBay Dropshipping Software Tools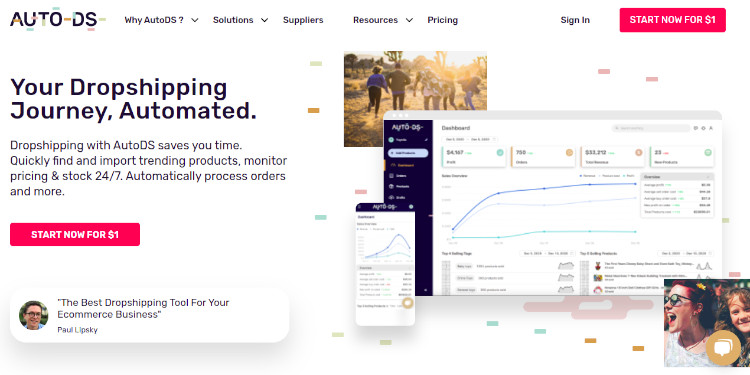 Find products with low competition, enjoy worldwide shipping, and increase your profit meter for AliExpress to eBay dropshipping with AutoDS – one-stop for an automated dropshipping solution. It supports all eBay accounts so you can easily upload appealing product lists for customers across the world. Track your product shipment and connect with your customers seamlessly with AutoDS software.
(ix) Oberlo: Best AliExpress to eBay Dropshipping Software Tools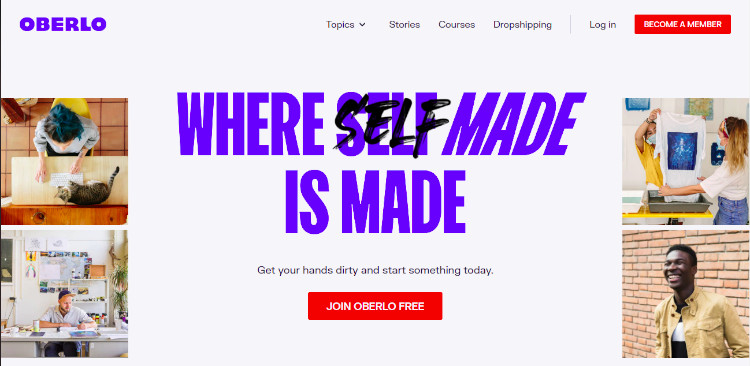 Your ultimate assistance for dropshipping products from AliExpress to eBay, Oberlo, saves your valuable time with the automated features. Avail low-cost products with Oberlo's precise marketplace analysis and resell these items to the customers and earn great profit.
Best Items to Dropship on eBay in 2023
The best things to dropship on eBay can be known by using any eBay dropshipping software. But looking at any particular time, below is the list of most searched items on eBay.
Speakers, headphones, and wireless earbuds
Fitness gadgets
Chargers
Phone holders and cases
Seasonal garments
Body products
Hair and face products
Kitchen tools
Cookware
Kid essentials
eBay Dropshipping Tips, Guide, and Best Practices in 2023
Many people will advise you about "eBay dropshipping best practices" or "eBay dropshipping tips" you need to follow to leverage more benefits. I will not do any such things. Because what's vital for getting maximum profit is you should have a clear idea about the common mistakes in dropshipping. So scroll down to learn from others' mistakes and avoid them while starting your dropshipping model.
Displaying poor quality images tends to put a bad impression on the viewers. Try putting non-blurry and zoomable images so your customers can get a clear view of how the product looks.
A very common problem is the keyword mistakes, such as not using top-rated keywords or overstuffing them without offering additional information. Creative, conversational content with proper SEO practices is the key to getting more traffic for your product.
Spelling errors often hurt your listed product. Monitor, edit, and release your final list by removing misspellings.
Bad template choice – Your page template/theme is of utmost importance. The more attractive and elegant template design, the more positive its impact on customers' minds.
Challenges of eBay Dropshipping in 2023
Dropshipping is not a completely risk-free business, and some instances might come as a shock to you. Taking the right approach is always necessary for the business, and what's more critical is analyzing the risk factors. Understand these challenges, so you can strategize counter plans to continue getting stable revenue.
Profit Rate Is Moderate – Dropshipping is convenient in several terms, but there is a very low-income rate when it comes to profit. On e-Com websites, there is a slight difference in prices of the same product – there is no huge difference which you can get from direct wholesalers.
For instance, if you are listing a product at $20, the lowest possible rate listed by a supplier on another/same website is $15, and then the total profit you get is $5. Additionally, after you cross 50 listings, eBay charges you a minimum of $0.35 (or more) per product as listing fees. So, in the end, you are left with only a $4.65 profit.
In some cases, when you invest in cheaper products, the delivered product might not be satisfactory, and it strains your relationship with the customer.
Cut-Throat Competition – Even if you choose a niche product to list on eBay, there is a very competitive landscape in dropshipping. It is so because there is not much limit to starting your dropshipping business on such eCommerce websites. There are already many dropshippers/arbitrageurs listing out their products. The list is still increasing – it means that by the time you finish creating your account and listing the product (which at the time of research has less competition) might see an increase in dropshippers.
No Say In Quality Supply – Taking off the burden of managing the inventory, packaging, and delivery chain are generally beneficial in dropshipping. However, this also poses other risks since you don't control the supply chain. You lose control of the quality getting delivered to your customers since you are not engaged in inventory monitoring.
Neither do you have to pay extra for shipping or delivering, nor can you inspect the product's quality or quantity before packaging? This blind process puts you in a negative situation, where your customers might get dissatisfied with any poor quality delivered.
A Mere Seller – You are only visible to customers as a seller, you don't have any ownership of the whole process that the supplier manages. Even though you are selling the product, it is not your brand, and customers are mainly concerned about the product and its original brand and not how you drop shipped the same to their doorsteps. If you are thinking of building a brand and getting credit for it, then dropshipping doesn't help with it – your position is similar to ghostwriters.
Dropshipping: A Complex Process – People might wonder by reading the definition of dropshipping that it only includes listing the item and selling it at a higher price than the purchasing price.
But in practice, there is a long process that works behind the screen. You have to monitor the marketplace trend and select a best-selling product to list on the eCom sites. Price calculation, profit calculation, product tracking, customer interaction are all included in this business model. But another thing that many might skip is the advertisement.
Using high-rated keywords in the ads' content, investing in publishing ads, considering SEO practices, and template designing – everything has to be updated and appealing to get customer attention.
All these need adequate time, strategy, and investment, which should be properly directed to squeeze more profit.
Inventory Stock Is A Guess Work – The first rule of the drop ship business is that you have no inventory control. It's like guesswork where you do not know the in-stock and out-of-stock items – this hampers the end relationship with your customer if you have to cancel the order just after placing the orders.
It costs you your valuable customers. To avoid this complication, you should ask the suppliers for access to their stock levels so that you don't end up annoying any customers.
The Final Verdict:
eBay is the most profitable eCom website for dropshippers (both newbies and experienced) to enjoy good profits. If you have read the entire article, you would have come to a clear conclusion about the dropshipping business model and which tools will help achieve a stable revenue. Enjoy using the best eBay dropship software and comment below if you have any queries.
Limited Offers: On Growth Tools for Your Ecommerce Business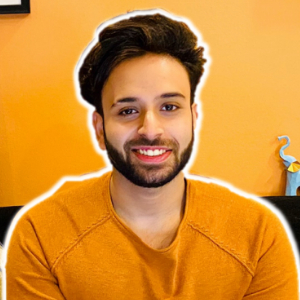 I and my team research various online verticals and can help you kickstart your Amazon business; so you could rake in more greenbacks with the best-recommended tools. Tap into the power of online retail business with me. I am just a mail away, so reach out to me if you want to scale up your niche business. mail: [email protected]