Last updated on January 18th, 2023 at 01:47 pm
In today's day and age of digitalization, one has to utilize the internet necessarily and the vast opportunities available on it. Otherwise, you would just be left behind in the rat race. Also, the digital market has expanded exponentially to create a little something for everyone. That has paved the way for brilliant business opportunities by Amazon. You can sell your products to hundreds of millions of customers on Amazon, which is absolutely hassled free. The fact that Amazon is the future of retail is unveiling right before us. They have built such a vast empire that is necessarily the one-stop shop for most of the users, from what used to be an online bookstore is commendable and exceptional. The trend of online shopping is making it work right now and has affected the traditional retail stores immensely, and you might have noticed that the malls are much emptier now. The reason for the shift is simple and obvious; that is, the former gives all the power to the consumers themselves, and it is far more convenient. All of it goes to prove that there is some serious money that one could make with Amazon, and if you ride with the Amazon wave now, you could fill your pockets too. In this post, we will compare two retail arbitrage tools named 'Helium 10' and 'Jungle Scout.' I hope this platform comparison would be helpful to you.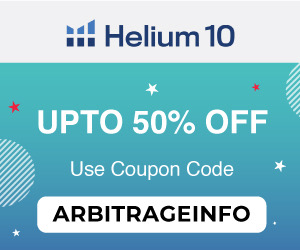 Tips on Choosing the Right Amazon Research Tool
Selecting an Amazon Research Tool simply depends on what really works for you and your business. However, as a potential trader on Amazon, there are quite a few things that you could follow up with to increase your chances of earning better. For starters, you need to know your items the best and thoroughly. The more information you gather on it and analyze it, the more it will help you. It can get very competitive on Amazon, so you have to be very careful with what products you choose and develop a strategy following it. So, essentially, you would need to have complete knowledge about your product and the market. You could look up the demographics, check how the product is trending, what the market's status is for that, and such.
Helium 10 vs Jungle Scout: Platform Overview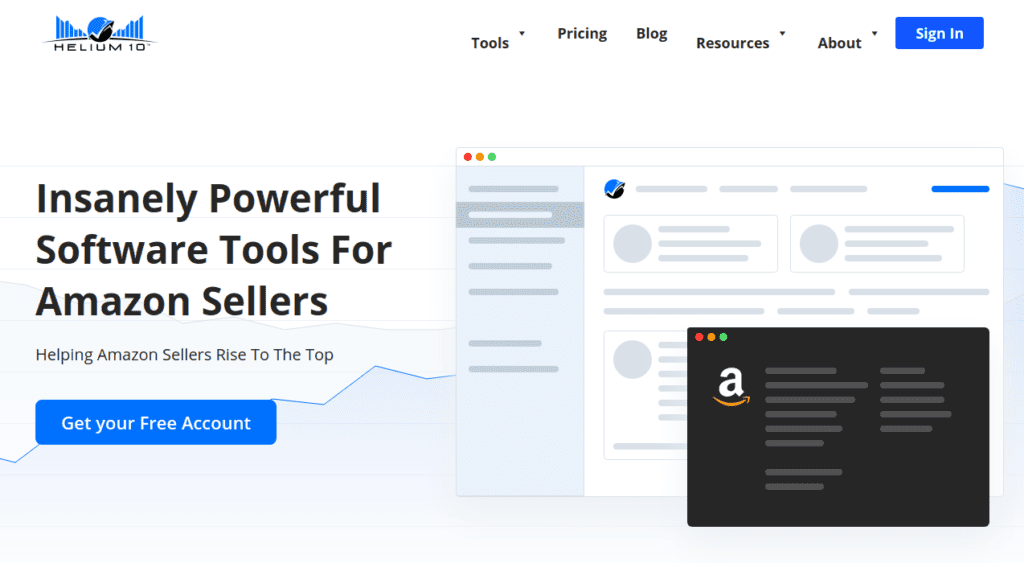 A complete SEO and product research software for Amazon sellers, Helium 10 is one of the best there is on the market and is known to have introduced Amazon sellers' software tools to a whole different level. With great design and a user-friendly interface, it primarily helps the users explore. It assures that everything that goes, all the operations that occur, is sufficiently backed with data and comparisons, irrespective of whether it is at the point where the product is being looked for or when it is being listed and advertised. They provide all the tools you need for management, analysis, and optimization purposes and have consistent results backed with a compelling database.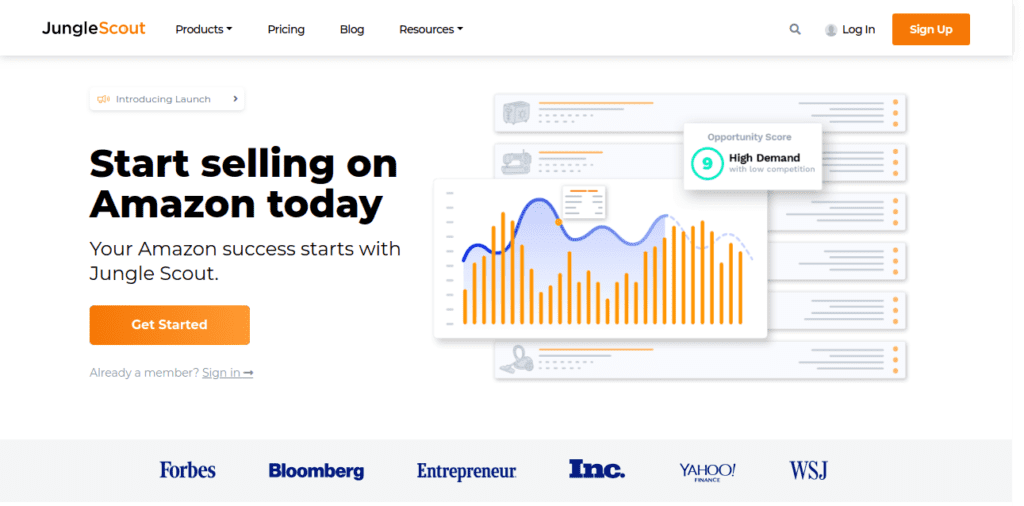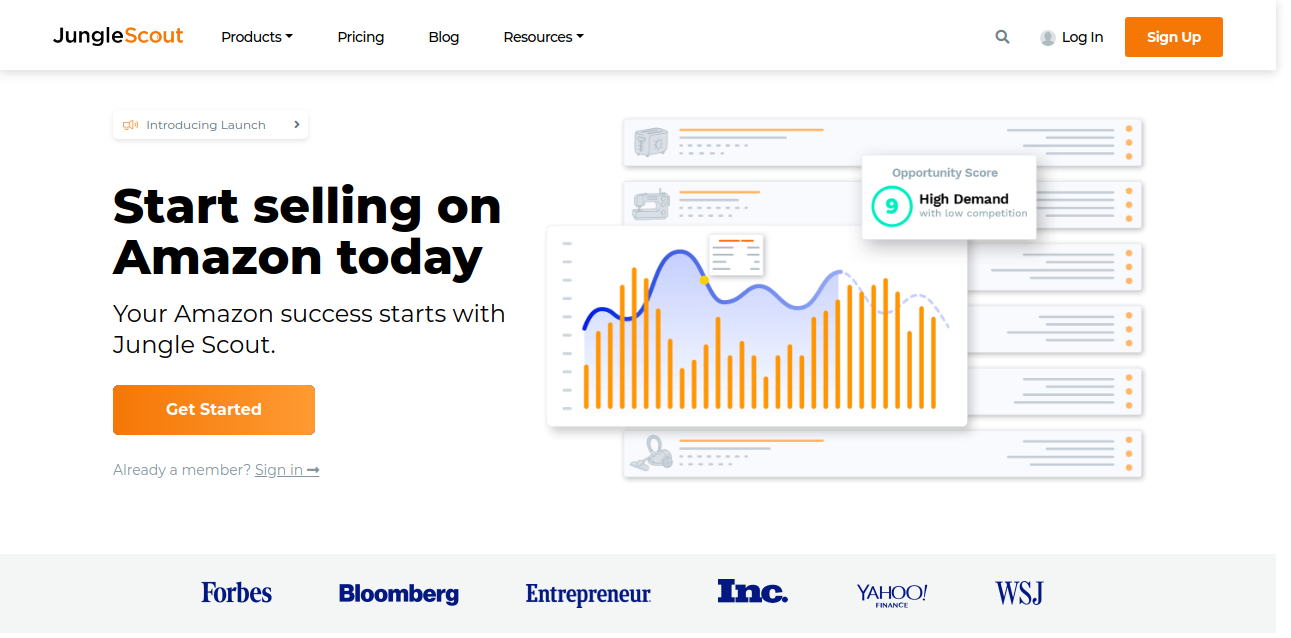 Jungle Scout has very similar uses and finds the perfect products to sell on Amazon and those that would really bring benefits. They were the first Amazon product research tool on the market in 2014, and since then, it has grown well and is now the go-to tool for novices and power-sellers alike. They have more than 99,300 customers and have made it extremely easy to access the most important information you find and validate a winning business idea.
Signup with this Jungle Scout link to avail exclusive offers (only for Arbitrageinfo readers).
Helium 10 vs Jungle Scout: Features Comparison
Helium has a variety of features to offer which include-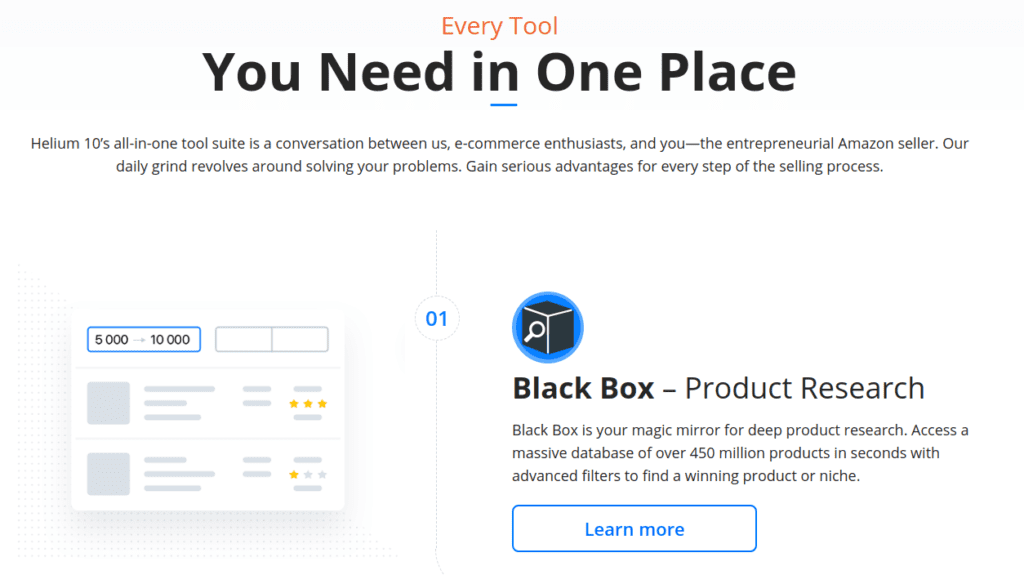 Black Box- Their product research tool helps the seller find the product they may want to sell based on the criteria set. It is the most sought-after tool, very efficient, and shows results following the seller's specifications.
X-Ray- The Helium 10 Chrome Extension provides the seller with a birds' eye view of the market and validates potential product opportunities.
Magnet- Known to be one of the most powerful keyword aggregators in the marketplace, they find the best possible keywords.
Cerebro- It helps unravel the competitors' keyword strategy. It provides access to important data like estimated search volume, the number of competing products, competitors who are advertising for particular terms, and more.
Frankenstein allows you to take thousands of keywords and, within moments, process them into keyword lists with a high potential of generating more profits.
Scribbles- To ensure that the listings are absolutely optimized, they allow you to put the best keywords to their Amazon Seller Central frontend and backend.
Keyword Tracker- This essentially helps the seller note changes in marketing and optimization efforts to show exactly how the modifications affect a change in the product listings rank.
Alerts- It assures that no one sells your products or alters your listings and actively prevents frauds.
Refund Genie- It essentially finds your lost or damaged inventory that must be reimbursed by Amazon and processes detailed reports in real-time so that you can claim what is yours.
Jungle Scout has a variety of features to offer to-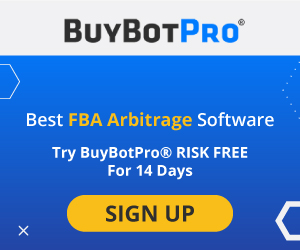 You can use their varying filters, including category, review counts, and average sales, and at the same time remove what you do not necessarily need.
They provide all the information that you will need on consumer and competitor trends using their AccuSales algorithm.
Their Product Tracker helps monitor the product and verify it.
It actively helps look for keyword trends and optimize listings that can help create better product listings, increase brand exposure, and drive extra sales.
Their newest feature finds quality, reliable suppliers from about millions of them in just a couple of seconds.
Helium 10 vs Jungle Scout: Benefits
The benefits of using Helium 10 are as follows-
It helps find winning product ideas and, with deep research, helps validate those ideas.
Drives more traffic to your listing with traffic-pulling keywords.
Help launch products and rank keywords using the CPR Formula.
Shows your competition's strategy.
Helps build and optimize product listing in real-time.
Helps get refunds for lost or damaged inventory.
The benefits of using Jungle Scout are as follows-
It breaks down into two- The Web App and The Chrome Extension.
The former helps filter through the wide variety of products on Amazon and find what they are looking for.
The latter sort the substantial data and provides access to the entire AccuSales data.
Helium 10 vs Jungle Scout: Pricing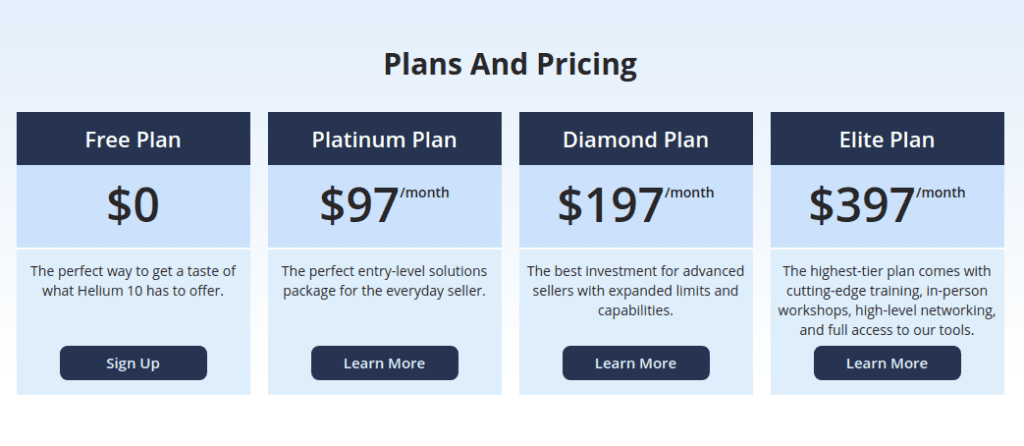 For Helium 10, 4 plans are offered. The Free Plan would cost you nothing and provide minimal potential but is great for someone who is just starting. The A La Carte Plan is the customizable one, where you can pick what you want. The Platinum plan costs $97 monthly, and the Diamond Plan would cost you $197 each month.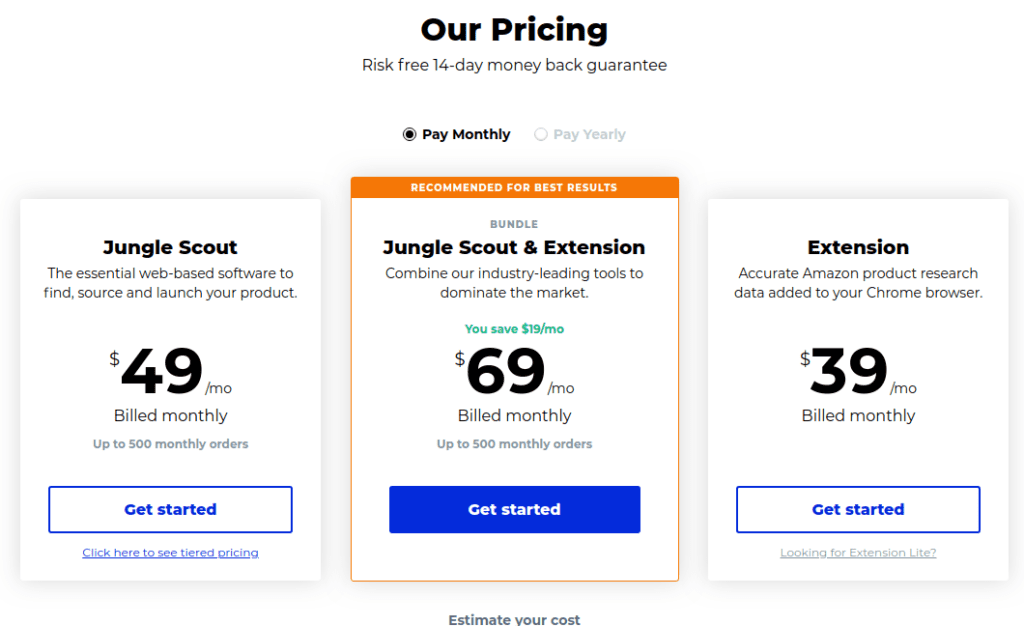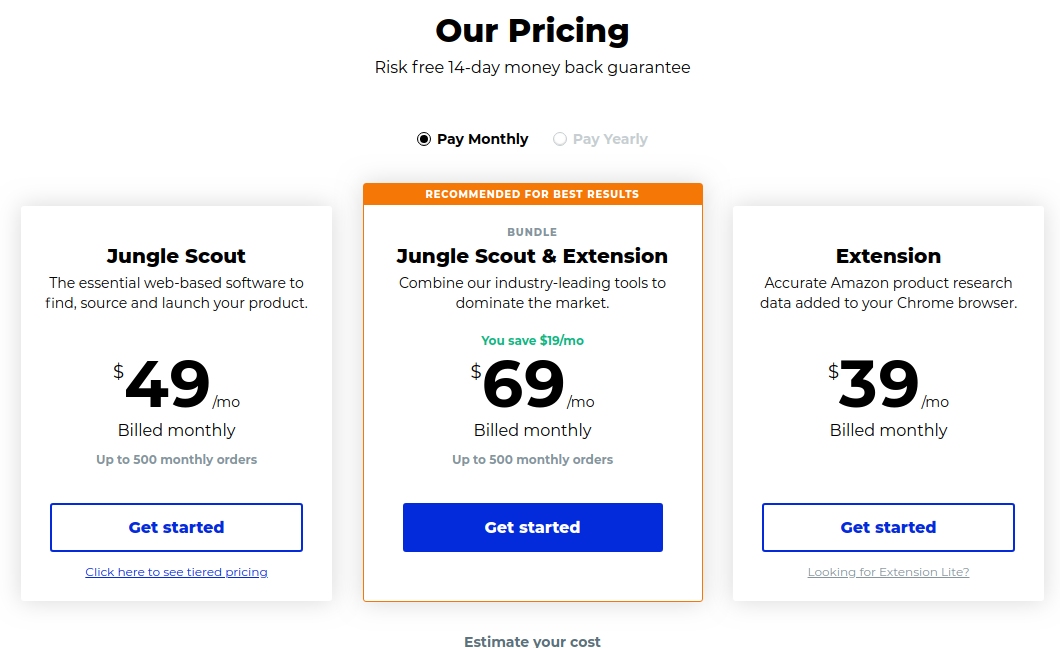 For Jungle Scout, their Business pack costs $69 a month, annually. The Standard Plan would cost you $49 a month annually, and the Start-Up plan would cost $29 a month annually.
Helium 10 vs Jungle Scout: User reviews
For a lot of people out there, Jungle Scout is the largest available software, and Helium 10 is an excellent alternative for the former.
A lot of people seem to find Jungle Scout rather expensive but at the same time, there is no platform as accurate as it is. Jungle Scout's accuracy goes as high as 95%, whereas, Helium 10's is 84%.
For quite a lot of people- "there is no doubt" about the fact that Jungle Scout is worth the money.
But at the end of the day, to each his own. You should really see what works for your business and products and what provides you with what you are looking for.
Helium 10 Promo Codes and Discount Codes
Helium 10 is one of our partners and we are proud to provide our readers with exclusive promo codes. Feel free to use any of the above mentioned promo codes for additional savings. Use the Helium 10 link here to claim your discount.
"ARBITRAGEINFO50"
50% off your first month of Helium 10
"ARBITRAGEINFO10"
10% off every month of Helium 10
ARBITRAGEINFO50 / get 50% off your first month of Helium 10.
ARBITRAGEINFO10 / get 10% off every month.
Limited Offers: On Growth Tools for Your Ecommerce Business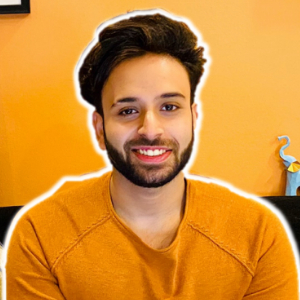 I and my team research various online verticals and can help you kickstart your Amazon business; so you could rake in more greenbacks with the best-recommended tools. Tap into the power of online retail business with me. I am just a mail away, so reach out to me if you want to scale up your niche business. mail: [email protected]