Last updated on January 18th, 2023 at 01:34 pm
As Amazon FBA resellers, we're all looking for ways to save time and money in processing our inventory. One of the most significant ways I encourage FBA sellers to save time by spending a little money is to use a third-party listing service, rather than listing your FBA inventory directly through Amazon Seller Central.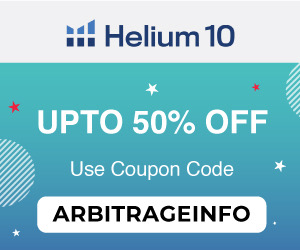 The fewer times you can touch a piece of inventory as you process it, the better. By listing through Seller Central…and then printing your labels on a sheet of 30…and then separating the items into the various fulfillment centers, you are spending a lot of time touching each inventory item over and over and over again. This doesn't include the time it takes to sort your products after you bring them back from sourcing, removing any stickers, and prepping the products with poly bags or shrink wrap.
The best way to streamline the listing process is to use a third-party listing software so that you can scan the item into the software, print and attach the individual label, and sort the item into the correct fulfilment center's box – all in one step.
For our Amazon FBA business, we use the Inventory Lab inventory management software. We love how it helps us streamline the process of listing our inventory, along with many other useful functions that we use regularly. It is well worth the monthly fee to pay for this software and save a ton of time, not to mention gain access to useful reports for our business (we'll get into that a bit more below).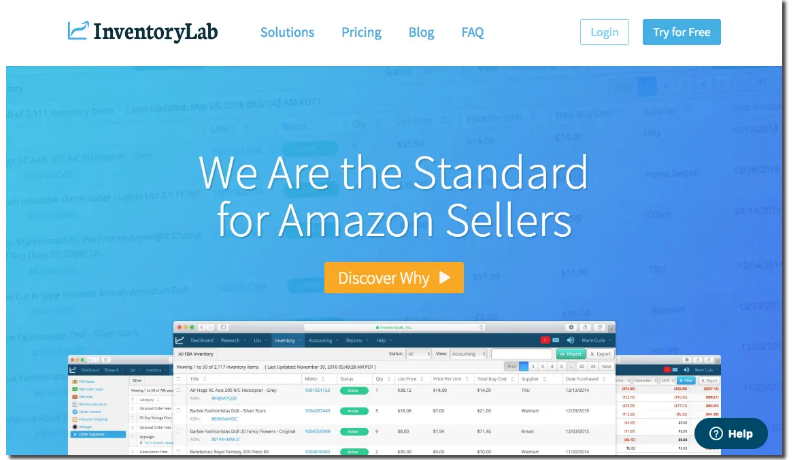 InventoryLab Review: Features
Easy to add expenses as you go – no double entry later into a spreadsheet or accounting program
You can get the net on any price you choose – merchant fulfilled as well as FBA. Takes into account your out-of-pocket cost for the item as well.
Automatically pulls P&L for you when an item sells so you can see right away if it was a good product for you.
Works with a wide range of thermal label printers
All the information you need is all on one page, and you can see it in a glance – condition, number of units, cost, pricing, printing…everything.
InventoryLab Review: Interface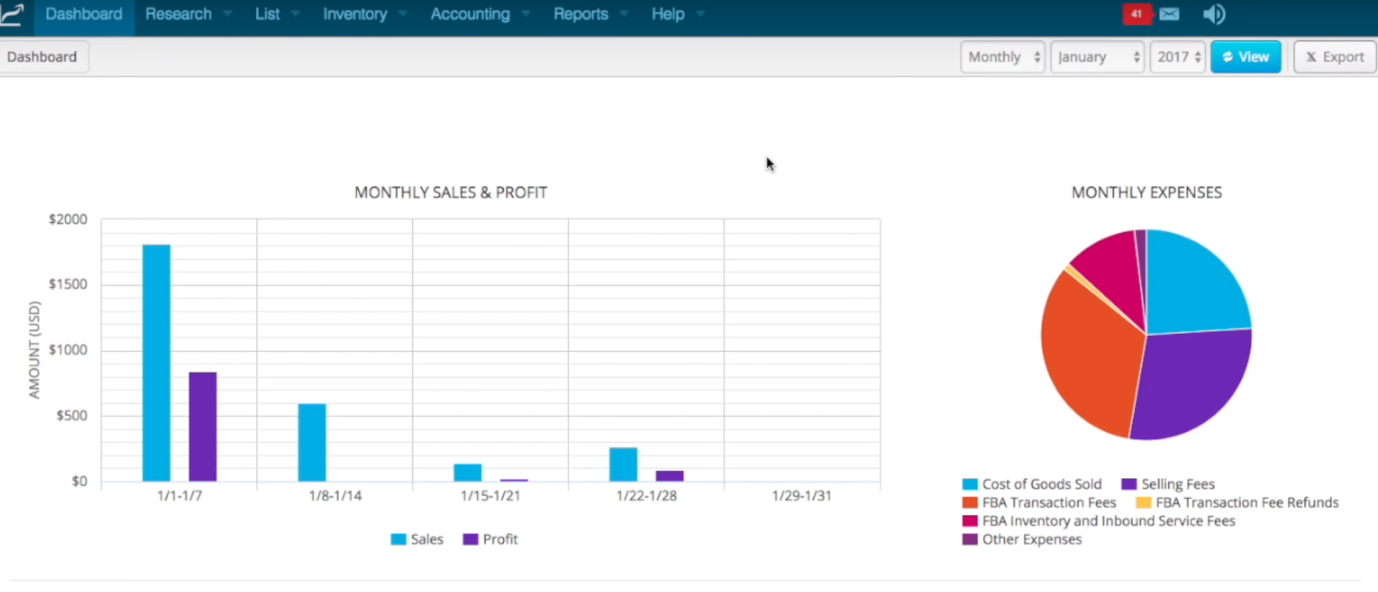 Inventory Lab's (I'll be referring to it as IL moving forward) interface is straightforward. You have notifications/messages at the top right corner, and the main menu is laid out horizontally at the top left portion of the screen. Each of the main menu items has sub-menus right underneath them, which become visible when hovering. This is a list of all the main menu and submenu items:
Research
List

Open Batches
Closed Batches
Amazon Listing Errors

Inventory
Accounting

FBA Sales
Merchant Sales
Refunds
Reimbursements
Other Income
Inbound Shipping
Mileage
Other Expenses

Reports

Supplier Profitability
Category Profitability
SKU Profitability
ASIN Profitability
Inventory Valuation
Sales Tax Report
Profit and Loss

Help

User Guide
Troubleshooting
Support Portal
It's worth noting that as you can see from how the menus are laid out, it's evident that the software focuses heavily on the accounting and reporting sections. Other than the accounting and reporting section, perhaps the most prominent other part is the "List" section. This helps you scan items, edit their listing info, and prepare them to be shipped to Amazon FBA warehouses (if you're using FBA). They also help you comply with Amazon's box content information requirement, which is an added plus.
InventoryLab Review: Dashboard
The dashboard (as per the image above) provides some vital stats in a visually appealing way without cramming too much data together. It defaults to the monthly profit and sales report, but you can easily change the date ranges in the top right corner:

There's also an easy data export functionality that is directly accessible through the "Export" button right next to the date selection dropdowns. On the left side, you have a sales vs profit chart comparing revenue to profit after subtracting expenses.
On the hand-right side, there's an interesting pie chart that lays out all your monthly expenses. We can see that FBA fees, in general, are taking the most significant portion in terms of expenses, nothing else really compares. We notice that FBA Transaction Fees are the highest expense, followed by selling fees and FBA inventory and inbound service fees.
What's beautiful about all of this is that IL pulls all their data directly from your Amazon Seller Central account. If you were to do this manually, you'd be gathering data from a bunch of different sources and pulling your hair out manually entering the data into spreadsheets, and creating formulas. This benefit becomes apparent in the accounting and reporting sections.
InventoryLab Review: Benefits
1. Inventory Lab is a feature-rich listing service.
We use a desktop barcode scanner to scan an item into the system, and Inventory Lab pulls up the item with all the information we need to price it. It shows the FBA, Merchant Fulfilled, new, and used prices, as well as whether Amazon is selling the item and who owns the buy box. It gives quick links to Keepa for the ASIN of the item, so we can check out sales rank and price history as we're pricing the item.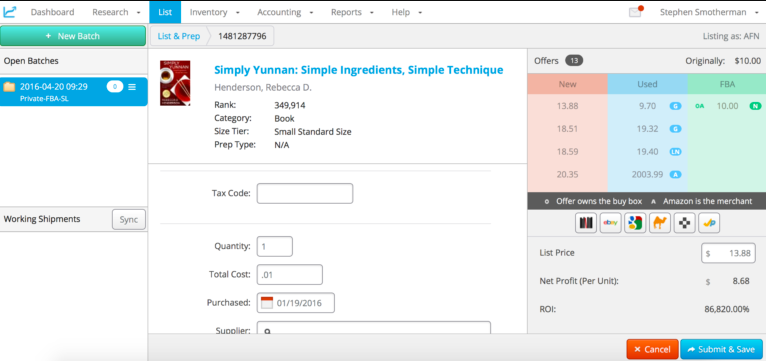 Inventory Lab also lets us know the item's current sales rank, category, size tier, and any prep needed, like poly bagging. We can also enter our buy cost, min/max price, and the supplier for each inventory item, so we can later generate reports to help us keep track of things like return on investment or the profitability of certain sources.
2. Inventory Lab can limit the number of FBA warehouses we send out inventory to.
As we start a batch in Inventory Lab, we can choose "Live" or "Private" for the "Workflow Type." When the "Private" workflow is chosen, nothing is submitted to Amazon until the batch is completed. The "Private" workflow sometimes changes the final warehouse destination of some of the inventory items (so you'll have to double-check later that the right items are going to the right warehouses). The good news is that using "Private " workflow almost always sends our inventory to fewer total fulfilment centers than if we had chosen the "Live" workflow or if we had listed our inventory directly in Seller Central. Gone are the days of sending in 45 items to 8 different warehouses. We prefer to use the "Private" workflow when processing our inventory batches for this very reason.
3. Inventory Lab comes bundled with the Scoutify sourcing app.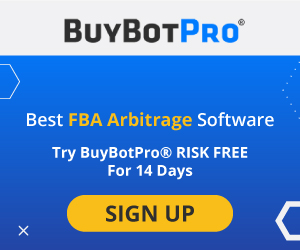 We can't image sourcing for inventory without using the Scoutify smartphone app when doing retail arbitrage. We can quickly scan the barcode of an item and have all the information we need at our fingertips to tell us if the item would be a good buy for resale.
Scoutify can quickly show you each item's competitors' prices, whether Amazon is in stock, potential profit, ROI, sales rank, sales rank percentage, if you're approved or restricted from selling the item, how many you already have in stock, how many you've already sold, plus quick links to request approval for restricted items, and (my favorite) the ASIN's Keepa graph, to name a few. With Inventory Lab, we can get both our listing service and our sourcing app at one low price.
4. Inventory Lab has amazing accounting capabilities.
Inventory Lab is capable of organizing all of your finances with their helpful bookkeeping tools. If you want to make your Amazon FBA business profitable, you have to know your numbers. You can't just assume because you're getting disbursements from Amazon that your business is making money. You have to know where your money is coming from and where it is going.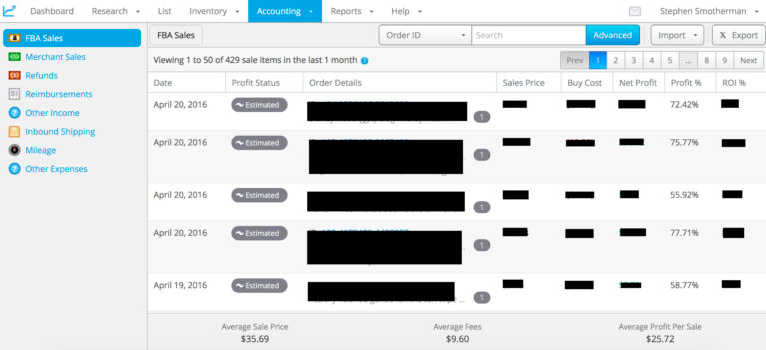 You can use Inventory Lab to keep track of your buy prices, sales prices, return on investment, inbound shipping costs, money going out for refunds, money coming in from reimbursements, and more. You can even track your mileage, cost of supplies, and anything else financially-related with your Amazon business – all within Inventory Lab! These are the types of numbers you need to know in-depth for your business so that you can make better decisions for sourcing, for repricing, and for other services you might need to purchase.
5. Inventory Lab shows us reports on profitability, profit and loss, and sales tax.
One of the really cool features of Inventory Lab is that you can generate reports about the profitability of your inventory. You can see the profitability of an entire category in your inventory, a particular ASIN, or an SKU.

If you entered a supplier during the listing process, you could generate reports on supplier profitability. You can use the supplier profitability feature in several ways:
to keep track of inventory purchased by different sources you've hired
to see if certain stores or wholesale accounts are more profitable than others
to analyze how useful an online arbitrage deal list is for your business over time
You can also generate reports about your profit and loss and your sales tax. Again, the more you know these types of numbers for your business, the more you're able to make the right decisions for your business.
6. Inventory Lab can be synced with the BQool repricer service.
We started using the BQool automatic repricer service in September of 2018. One of the reasons we started using it is because we can, at the click of a button, import all of our buy costs from Inventory Lab directly into BQool's Repricing Central. This is such a big time saver! Before you could sync your numbers, a Bqool user would have to enter their original buy cost manually. Now, Bqool imports the buy cost — a huge help when it comes to setting up your minimum and maximum prices within Repricing Central.
Side note: If you're wondering how well Bqool works, know that for the first month of using Bqool, our sales doubled. This was a game-changer for us, and we would never have even tried it before the Inventory Lab / Bqool integration.
7. Inventory Lab can be accessed by a 3rd party prep service.
One of the most important steps to finally make a full-time income selling on Amazon is to find other people to do some of the more manageable tasks for you. One of the easiest things to outsource is the inventory prepping, packing, and shipping, especially when it comes to online arbitrage or wholesale purchases that you can shave shipped directly to a prep center to help you ship it to Amazon. With Inventory Lab, you can set up multiple employee accounts to create shipments, FNSKU labels, and everything else needed to ship your inventory to an Amazon warehouse correctly. Note: the employee sub-accounts do not have access to your financial information.
Inventorylab Review: Pros & Cons
PROS
All-inclusive listing, research & accounting web application
Easy to use interface
Ability to print labels
Ability to create live batches that go right to Amazon shipment plans
Comes with a live only scanning app
CONS
Expensive ($50/mo)
Accounting reports are very confusing
Reports of accounting data not formatting correctly
Unresponsive to feature requests
No real community
Founders don't talk to their customers anymore
Inventorylab Review: Pricing
They have one plan with details given below with a 30 days trial period.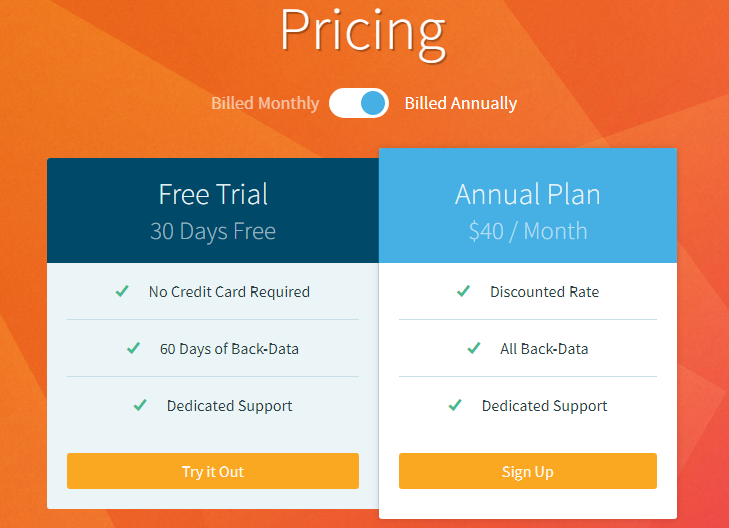 Inventorylab Review: Trial
InventoryLab is an all-in-one platform for managing all aspects of your Amazon business. With Stratify, you can research products, list and manage inventory, create shipments, analyze and track accounting, track sales & use taxes, and review any report related to your account.
It is incredibly clean and easy to use, and the support team is top-notch. They have a free 30-day trial of InventoryLab, or to learn more about it. InventoryLab also has an app called Scoutify, which allows product research and sourcing features on your mobile device.
Summing Up: Is Inventory Lab the Best Inventory Management Software for Amazon Sellers
Inventory Lab offers a one-stop-shop for managing inventory and accounting processes for your Amazon business by automatically pulling your seller data to their web application-No manual entry required. The tool allows sellers to understand real-time profitability and in-stock inventory value. You can even print labels directly from the app.
The robust accounting features help you track all of your business expenses from top to bottom. Everything from fulfilment costs to subscriptions. Co-founder and CEO Ryan Stephens created Inventory Lab as a means to solve his pain points as an Amazon seller. Once he saw the benefit of the tool, he decided to share it with the public.
In terms of pricing, we're impressed by the quality of Inventory Lab's service for the money. What's also been working well for Inventory Lab is that they've been paying attention to their end-users. The features of adding in Shipping Rate to the ROI calculator and expiration dates are recent updates based on customer feedback and rising trends. This is a good sign, since selling on Amazon is a fast-paced business, and we need our tools to keep up with us. Could Inventory Lab help you? Try a 30-day trial and see how much extra time you have for your core business.
Limited Offers: On Growth Tools for Your Ecommerce Business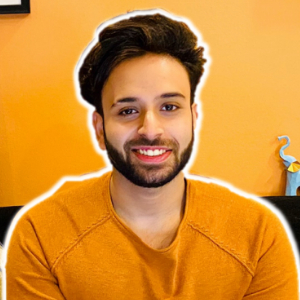 I and my team research various online verticals and can help you kickstart your Amazon business; so you could rake in more greenbacks with the best-recommended tools. Tap into the power of online retail business with me. I am just a mail away, so reach out to me if you want to scale up your niche business. mail: [email protected]