Last updated on January 18th, 2023 at 01:47 pm
Tactical Arbitrage is a specialized software service designed by and operated by Visual Magic Productions Pvt. Ltd. and is a business-to-business analysis service, comparing a significant number of data points extracted from API's and wholesale and retail sources that assists in isolating profitable purchasing options for online Amazon sellers from a tactical scientific approach.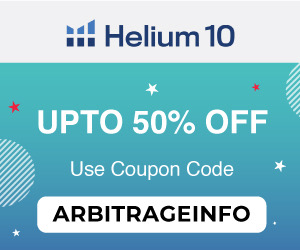 Tactical Arbitrage aims to help people escape the 9 to 5 and build an online arbitrage business from wherever they are in the world. Online arbitrage for Fulfillment By Amazon can be highly profitable when done right and armed with the proper knowledge and tools. To be successful, many things need to be taken into account so you can make decisive, confident decisions rather than a series of 'best guess' leaps of faith. This post will explore the best alternatives to Tactical Arbitrage both for free and paid versions.
How does Tactical Arbitrage Works?
Table of Contents:: Summary
hide
Using powerful databases, the app can provide rapid cached searching solutions of 100's of sources and bulk scanning of imported spreadsheets of data that can be filtered, saved online, and/or exported for further analysis and collaboration with your buying team no matter the size.
Tactical Arbitrage is used for online and retail arbitrage, encompassing sourcing products to resell using current Return on Investment (ROI) and past statistical and analytic trends. It includes resources to help sourcebooks and the analysis of wholesale manifests.
In conjunction with the Saved Folders system that auto-updates and alerts you to the latest data, saving and tracking your purchasing of products using our online folder management system are an effective means of looking at potential repeat buys. Now, let's take a look at the best tactical arbitrage alternatives.
Tactical Arbitrage Alternatives List: Free and Paid
Tactical arbitrage costs a lot, and anyone new to the arbitrage business might hesitate to invest in a high-priced app. There are not a lot of free and good functioning options for online or retail arbitrage. Thus, if you're looking for an excellent alternative to the Tactical Arbitrage app and a much lesser price, do check a couple of tools listed here, along with the free ones. A premium software will give you much more insights, and you'll end up saving a lot of time and come up with some of the best product niches to start online arbitrage. Here are some of the free Tactical arbitrage alternatives and also we have listed some of the best Tactical arbitrage alternatives with free trials; so that there is nothing for you to lose.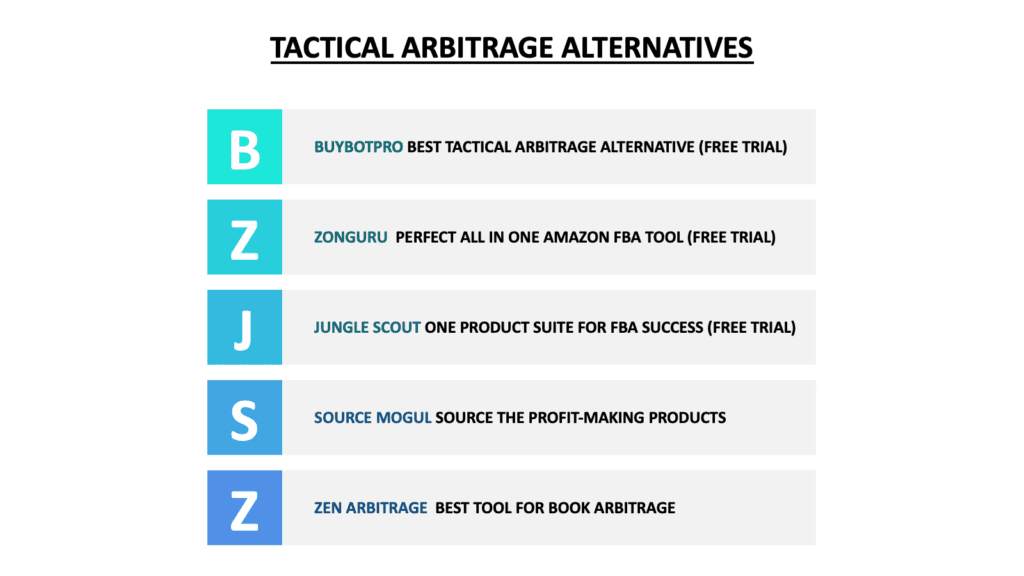 1. Buy Bot Pro: Best Tactical Arbitrage Alternative
BuyBotPro is an Amazon FBA online arbitrage virtual buying assistant with a robust chrome extension. BuyBotPro analyses thousands of data points to score deals for sellers. Being an FBA calculator and a buying assistant, it checks eligibility, Hazmat, private label status, competitor stock, and estimated sales. It also calculates VAT and exports deal information to a buying list in Google Sheets. It is the World's 1st fully automated FBA calculator, online arbitrage & wholesale analysis tool. With pricing as low as $30/month, it is one of the best bargains. You can consider taking the 14-day risk-free trial to check out the product. It is one of the best Tactical arbitrage alternatives which you can test run to source retail products for online arbitrage.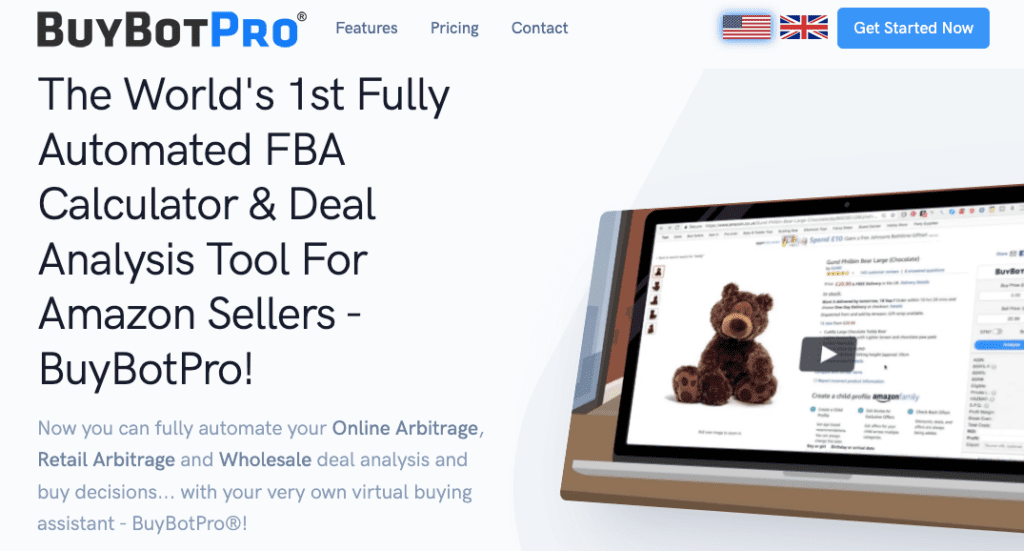 Key Advantages:
Simplifies the buying and reselling decision with automated deals scanning.

Precise evaluation of profit, expenditure, tax, and other financials

It shows you the required unit to buy and suggests whether a product is suitable for selling.

Competition analysis enables you to plan an effective business strategy. It also shows you the top 10 stocks of the competitors and their prices to gain a competitive edge.
Signup with this BuyBotPro link to avail exclusive FREE trial. (Recommended)
2. ZonGuru: Best Tactical Arbitrage Alternative for Amazon Sellers
To successfully launch an Amazon store to do retail arbitrage, you need to study the best-performing niches. The most robust and insightful tool available in the market for this is the ZonGuru niche finder. You can try the product for $1 and see if it suits your requirements using the link. It provides a complete toolkit to successfully launch your Amazon store within a few weeks. Also, you have access to some of the best quality training to help you succeed with your online business. Zonguru was founded by two successful Amazon sellers and friends, Adam Hudson and Jon Tilley. Combining 12 products in one provides the maximum value to Amazon sellers for a successful launch.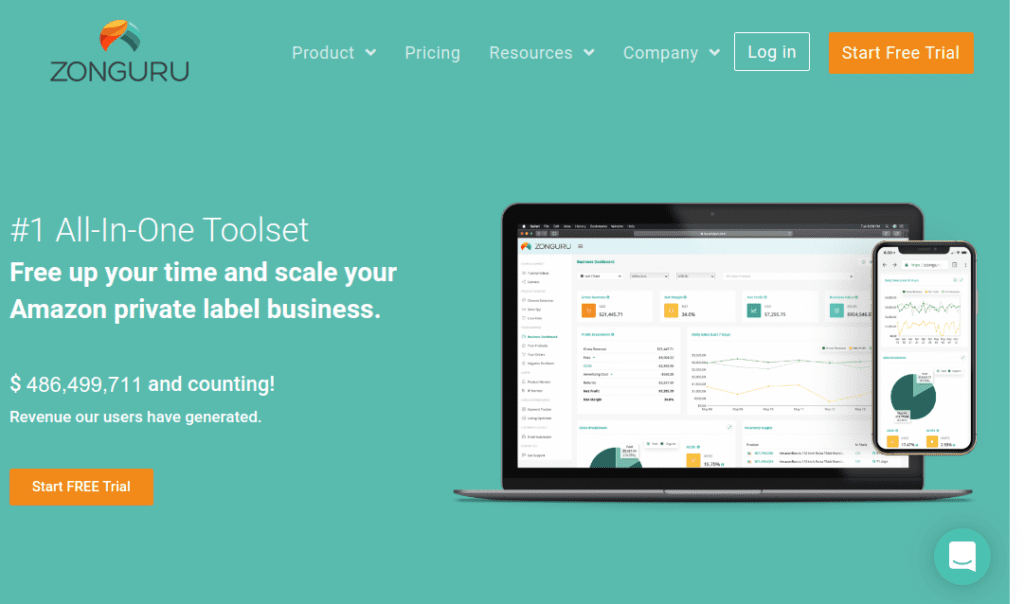 Features:
Searches the best selling products in the marketplace

It finds top-rated keywords to drive maximum sales output.

Data accuracy scales up business metrics.

Find niche product lists for better revenue potential.

Alert system for every new product review.

IP monitor checks and sends a notification when someone copies your product image.

Automated email keeps you connected with customers.
Signup with this ZonGuru link to avail exclusive offers (only for Arbitrageinfo readers). A whopping 40% discount on annual plans.
3. Jungle Scout: Tactical Arbitrage Alternative for Online Sellers
Jungle Scout has quickly become the go-to product research tool for new people to this market and the power sellers alike. With its tools that help find, launch and sell Amazon products, the software suite not only helps start a new business but also expands the one that you already own. Irrespective of your budget, they have something in store for the sellers and have plans that start as low as $39. It is pretty safe to say that it has all that you would look for. It is one of the most affordable Tactical Arbitrage alternatives and our top pick. I suggest you take the 14-day free trial and check out the tool. Also, check out our detailed Jungle Scout review here.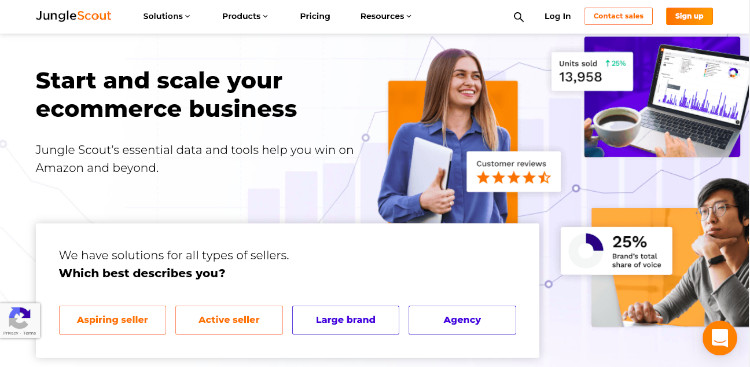 Key Advantages:
One-stop product research and launch.

Custom filters (keywords, categories, and more) while searching for products.

The Product Tracker analyzes daily data and sales records.

Stay competitive by knowing what your competitors are selling.

Keyword Scout enables using best-rated keywords to drive more traffic. You can also use it for hosting PPC campaigns to increase revenue.

Easily monitor and organize business metrics, sales data, income & expenditure, and many more.

Inventory Manager creates a list of products to order for inventory before you run out of stocks.
Signup with this Jungle Scout link to avail exclusive offers (only for Arbitrageinfo readers). Save $200 on a 1-year subscription.
4. Source Mogul: Best Tactical Arbitrage Alternative
Source Mogul is one of the best online arbitrage tools available in the market now. With the help of this tool, you can go through the database of hundreds of eCommerce platforms and automatically compare the store's database with that of Amazon's. Various search filters make product sourcing extremely easy for you. Source Mogul will also show you price history charts and the breakdown of multiple fees and expenses related to your business operations.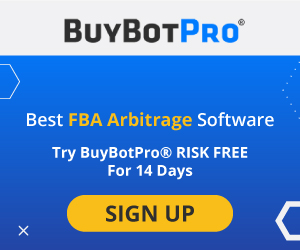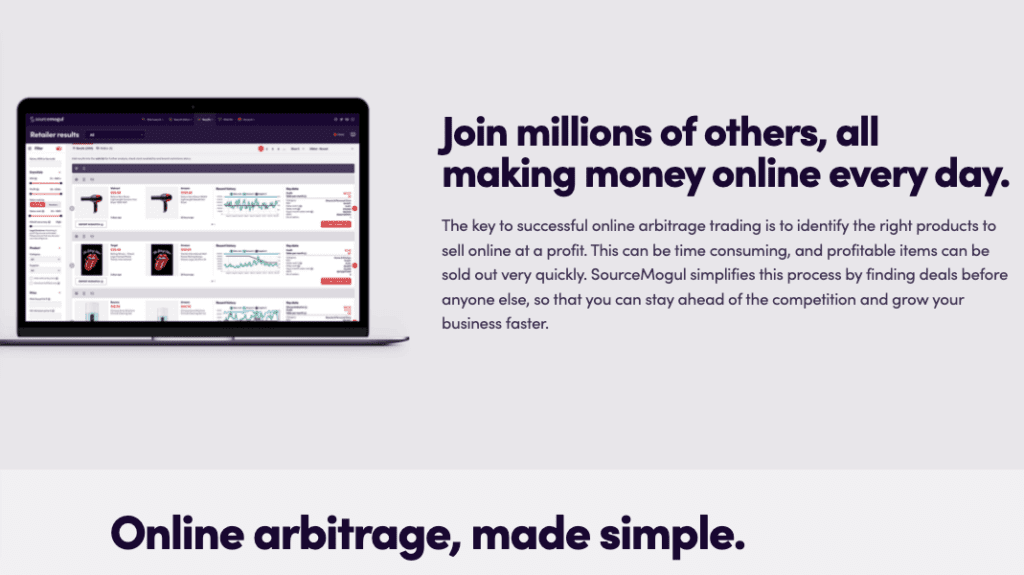 First, searching for the products, you will be able to source products across hundreds of UK and US stores.
You will be able to search by inputting in several categories, and you can put together as many searches as you want; and when the scans are complete, Search Mogul will alert you about it.
You will quickly analyze the results by applying your desired ROI, sales rank, and purchase price to get your preferred products.
This tool lets you put type-in coupon codes, shipping fees, and other expenses to get accurate profit calculations.
Sellers can add the products they wish to buy to their wishlist, and the tool will check the stock availability and the brand restrictions of the products.
After you have found the products, click once to buy them, and they will be delivered to you, and then you can add the product to your listing and wait for it to sell.
5. CamelCamelCamel and The Camelizer: Free Tactical Arbitrage Alternative
This is an Amazon price tracker that provides price drop alerts and price history charts for products sold by Amazon. This can be useful for a first-hand understanding of how price variations work. It is an excellent tactical arbitrage alternative for price comparison.
Features include:
Price Drop & Availability Alerts

Price History Charts

Amazon Product

Search

The Camelizer – Google Chrome, Firefox & Safari extensions

Amazon Locales Support

Registration Optional

Camel Price Watch Management Interface

Wish list Import
6. PriceBlink: Find Lower Price when Buying
The PriceBlink plugin pops up on your screen on product listings to show you what other price points are available and let you know what discounts are on those sites. Save time and strengthen your business strategy while PriceBlink scans through the best deals and savings so that you never have to spend more. It simplifies finding the lowest price, and often, you'll find lower prices on sites you would have never thought of checking. This is just an easy way of making sure you're always getting the best deal because the lower your buy price, the more you will profit! Thus PriceBlink comes as one of the free sourcing tools for retail arbitrage.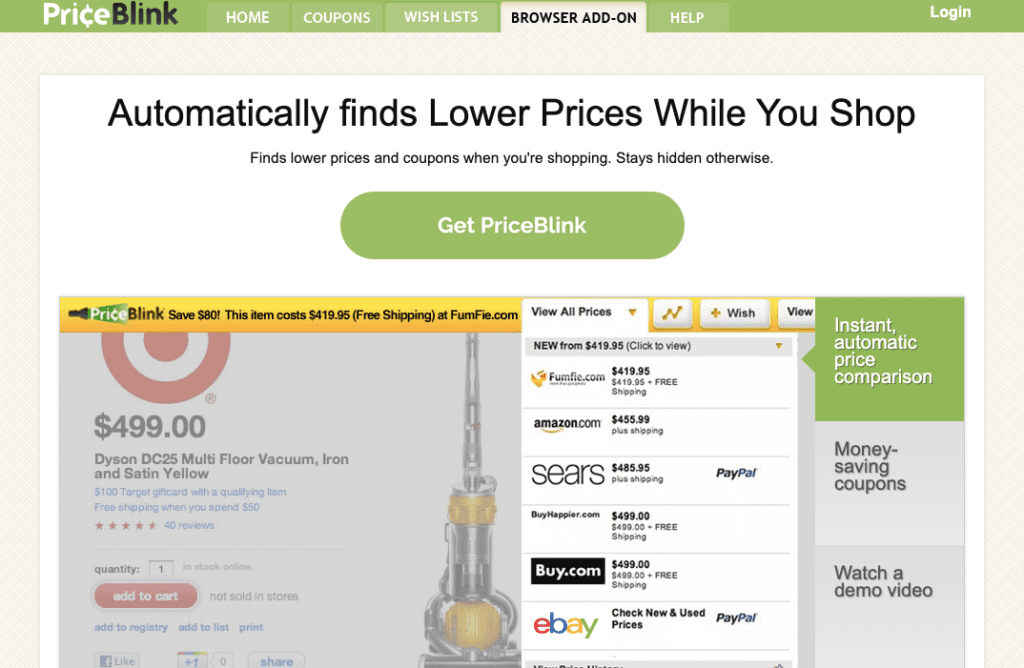 Features:
Fast and automated price comparison from over 11,000 sellers on Amazon, Walmart, eBay, etc.

Sends instant alert for coupons, exciting deals, free shipping, codes, and others on a particular site

Displays product ratings by users to understand the best-selling product.
7. Scanunlimited: Best Amazon Product Sourcing Tool
Scanunlimited helps you quickly scan wholesale product lists to find profitable, fast-selling products on Amazon. It is one of the best tactical arbitrage alternatives used by more than 20,000 Amazon sellers globally. It is one of the best product sourcing tools that perform regular IP-compliant checks, provides sales estimation, and determine if Amazon is a seller in a specific niche to avoid competing against Amazon.
The tool additionally calculates profit & ROI, including all fees, commissions, and costs. This ensures that you are investing in the right products.
Features:
ScanUnlimited's powerful data search quickly gets you the data you need to make informed buying decisions for your Amazon business. Profitability and Demand Calculations Powerful Data Filters Search by UPC, ASIN, EAN, ISBN, or Keyword 60 Data Points Intelligent UPC, EAN & ISBN Correction Multipack Adjustments
Deep dive into an Amazon listing so that you can make informed sourcing decisions. 30, 90, 180 & 365-Day Historical Data Competing Seller Information Variation Data Profit Calculator Restriction Check
Protect your seller account from brands filing malicious IP complaints with the official ScanUnlimited Chrome Extension! Alerts you if a brand is known to file IP complaints Report brands for illegitimate IP complaints.
Pricing:
Scanunlimited provides two pricing options. The free plan offers one file upload per month with a limit of 10,000 products. You don't need to have a credit card to get started.
The monthly plan lets you upload unlimited files with a limit of 100,000 products per file upload. The cost is $60 per month and $50 if billed annually.
8. AMZ Seller Browser: Free Tactical Arbitrage Alternative for Product Research
Save hours of business hours in manual marketplace research, and drive your pace to get the ultimate profit-making product list. This tool is great because it adds the sales rank to all of the products you view on Amazon. This can be an alternative entirely to The Camelizer also as it runs Camelcamelcamel information.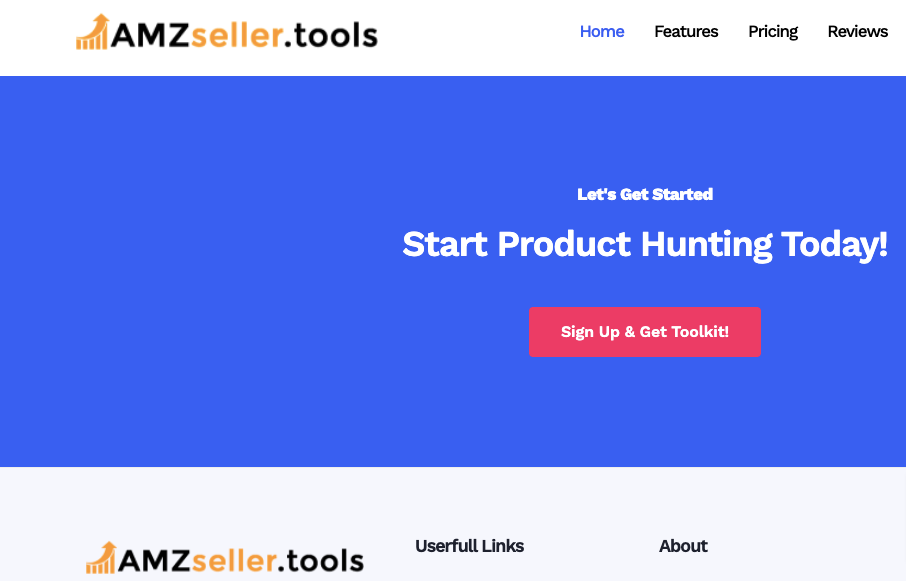 Features:
Scout new products for listing.

Quickly shows rank & product history data from CCC.

Shows items are in-stock or out-of-stock on Amazon.

Compatible with amazon.com and .co.uk
9. Zen Arbitrage: Best Tactical Arbitrage Alternative for Book Flipping
This software offers a book arbitrage tool that enables users to find cheap books on Amazon, reselling at a higher FBA price and profiting from the difference. The software also has a calculator function where you can input the cost price, and selling price on FBA, and show you your profit margin. Zen Arbitrage is one of the best Amazon FBA book arbitrage software and is recommended for those who are starting their online arbitrage business model.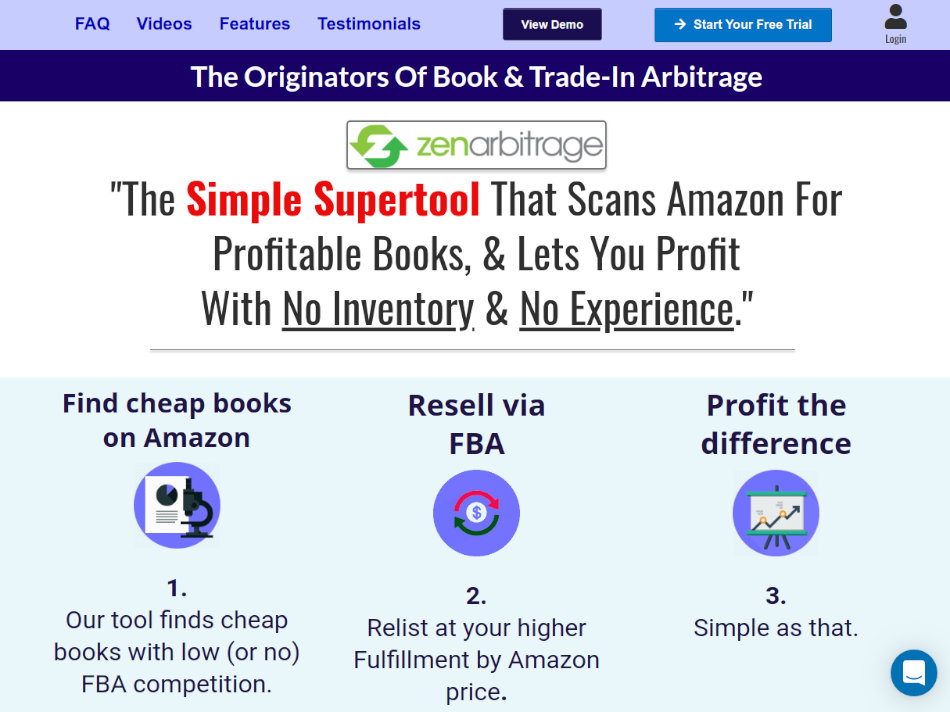 Advantages:
Scans Amazon in real-time and displays the product listing, price listing, and other data.

Checking the previous sales sheet, filtering the in-demand books list, etc., helps build a profitable strategy.

Learn from scratch without any Amazon buying/selling experience. It is ideal for newbies.
How does Zen Arbitrage work?
Login to your account.

It scouts Amazon for cheaper books.

The final item menu lists the low-cost books at a higher price.

It estimates the profit from the price difference – simple arbitrage.
These are some of the free software and plugins you can use to alternative Tactical Arbitrage. These are not automatic as Tactical Arbitrage but will for sure get your work done. Additionally, we have also listed the best Tactical Arbitrage alternatives, which get the job done and are much cheaper in comparison. Signup with this Zen Arbitrage link to avail exclusive offers (only for Arbitrageinfo readers).
Tactical Arbitrage vs Buy Bot Pro Free Trial:
Tactical arbitrage offers a 7-day free trial whereas BuyBotro offers a 14-day free trial. However, the features provided by BuyBotPro are pretty amazing compared from a price point.
Conclusion: Tactical Arbitrage or BuyBotPro?
In this article, we have covered what tactical arbitrage is and what its alternatives are. Even though the other options are not automated, they cover all the grounds required to get your business started. You can also try out the 7-day tactical arbitrage-free trial and then decide for yourself which works better for you or check out the cheaper but great alternatives.
Suppose you decide to do a free trial of Tactical Arbitrage or similar products. In that case, I highly encourage you to make sure you are prepared to spend a significant amount of time during that trial learning the software and scanning websites. You don't want to sign up right when you are going out of town on vacation or right when you have a busy week of doing some other task. Make sure you can spend several hours going through tutorial videos and practising what you are learning. If you dedicate the time to learning the software during the trial, you should find enough items to resell that you can pay for at least a month of subscription for the service. Our recommended tactical alternatives to get you started with retail arbitrage are Zonguru and BuyBotPro (both offers a free trial)
Limited Offers: On Growth Tools for Your Ecommerce Business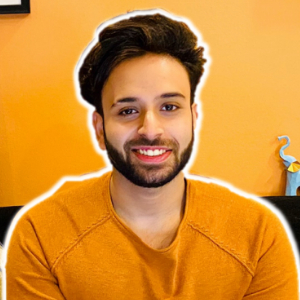 I and my team research various online verticals and can help you kickstart your Amazon business; so you could rake in more greenbacks with the best-recommended tools. Tap into the power of online retail business with me. I am just a mail away, so reach out to me if you want to scale up your niche business. mail: [email protected]