Last updated on January 18th, 2023 at 05:52 am
Researching products across eCommerce platforms have become quite familiar nowadays because shoppers are interested in getting maximum features, utility, and quality by paying a minimum price. That is why they tend to search out every product before purchasing it, and the duration of the process depends upon the money they are investing to buy it. But do you know sellers are resorting to Product research as well nowadays? Most eCommerce sellers are leasing solutions from product research platforms to conduct their business operations.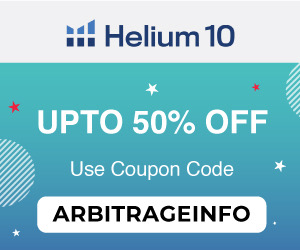 There are multiple reasons behind it, and without a tool of this kind, sellers might get overwhelmed with the complexities of various operations.
As shoppers are getting smarter with each passing day, sellers have to make every component of their business as impeccable as they can, so to win over customers. Because if customers are dissatisfied with sellers' products or their customer service, they will not hesitate to switch to another seller. And if this incident repeats itself, then you would not be able to convert your leads, and in no time you will be generating losses instead of the much-expected profits.
So what should an Amazon seller do to keep the stars in their favor? Some might tell you that you need not put in any significant efforts to become an Amazon seller. Well, guess what? They are partially right. While you can be an Amazon seller just by signing up an Amazon seller account and shipping the product to Amazon whenever someone places an order, it takes a lot to be a successful Amazon seller. As there is no shortage of competitors, even when it comes to selling online, you need to strategize your moves and conduct various research before taking any immediate and unprecedented steps. So, does that mean to become the job of a seller is strenuous? Not necessarily, if you take the help of the experts, product research tools which are specifically designed to help the sellers.
Before proceeding with Sellerapp Review, here is a brief overview of the tool.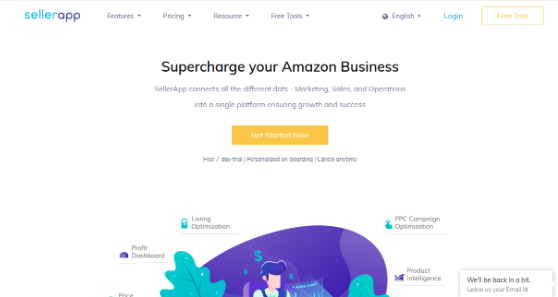 Sellerapp is an eCommerce analytics-based software that offers sellers insights derived from data which is generated by the collaborated work of numerous tools and running various reports. With these newly found insights from freshly generated data, sellers can enjoy a boost in sales. If you love to play with data and want to explore the power that data beholds, then with this tool you will be able to capitalize your data and learn from it to improve the crucial processes of your eCommerce business.
Sellerapp comes in the form of a robust data platform, where sellers can measure data at every business stage to release highly effective real-time digital marketing techniques.
As a result of using this highly customizable tool, sellers can expect an influx of new leads and conversions and a significant boost in ROI for a prolonged period.
Why Should You Do Keyword Research When Selling Online?
If you are new in the world of eCommerce, then you have most likely heard about the term 'keyword research". But if you don't have in-depth details about it, then there is nothing to worry about, because most sellers do not have any prior information about it before entering the industry. But with time, they get used to it and take the assistance of tools to help them through it. Believe it or not, keyword research or maintaining a proper SEO is one of the deciding factors for the fate of your business, because most of the traffic originates from a few words typed into the search bar of Amazon and similar other platforms.
But why keyword research is being considered to be crucial for eCommerce businesses?
Every time an internet user types in a string of words in the search bar to locate goods of his/her preferences, it is the search engine's task to decide which of the pages should be displayed, among the thousands of other possible results. Search engineers employ smart algorithms which match the search bar's content with those of websites and platforms bearing relevant information. That is why it is essential to choose those keywords to feature in your product listing, which has the highest probability of getting a good SEO rank.
So your keyword listings should be such as to display your product listings not only in the first page of the search results but also in the top positions of the first page. Because would you as a buyer care to check out the products appearing in the 2nd or 3rd pages of the search results?
In other words, the closer your product listings are to the top of the search results of Amazon and other eCommerce websites you wish to trade in, the higher chances of you getting potential leads.
Keyword research involves preparing a list of items that your customers will look for and which will be relevant to the items you sell. But even if you manage to note down a set of keywords that you think will make customers land on your product page, it will not be enough.
You will also have to look for the keywords used in the product listings of your competitors who are selling similar products, so to understand the standard keywords of the category of your items.
Although this process sounds super simple, in reality, it is impossible to find every relevant keyword associated with the products you sell as well as featured in the product listing page of other sellers. Hence, the best way is to seek the help of software like Sellerapp.
Sellerapp Review: Product Features
Here are some of the features offered by Sellerapp to benefit eCommerce sellers: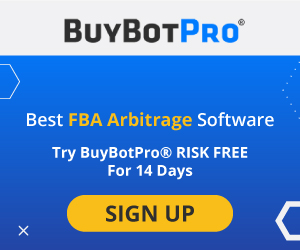 With the help of the PPC analyzer, you will be able to automatically search for those keywords which will increase conversions and flag all the negative search items.
You will be able to track sales expenses, profits and expenditure in the profit dashboard, and this will help you to determine the right opportunities to trade-in.
You can view hundreds of keyword suggestions sourced from the real Amazon search queries along with competition, seasonal trends and search volume of each keyword.
Be it your competitors' listing or your listing; the product keyword tool picks out all the search terms indexed from the listing so that you can leverage it for your benefit.
Now you will be able to know which products to sell next to make the maximum profit possible, and all this is to be owed to the product research feature which collects numerous data points every day to help you make smarter product choices.
If you spend too much time browsing through different product categories aimlessly, then take the help of Sellerapp, and it will display the list of best-selling products at that moment along with the sales volume it produces.
To trigger sales conversion, the tool optimizes the quality of the product listings and recommends changes and improvements in specific areas.
How Sellerapp Works?
Before you wonder about the USPs and the user reviews of the sellerapp keyword research, let's take a look at how the platform works in catering to your business requirements:
If you are an Amazon seller, there is nothing you would want more other than selling your products in vast quantities, and for this, you will have to work on the visibility of your products. As mentioned before, the closer you manage to get your items to the search results of Amazon, the more successful you will be. But to thrive in the highly competitive market, you should look for the best selling categories having the lowest number of competitors but featuring in the most number of search results. The reverse ASINs of product research sellerapp browses through thousands of products in hundreds of categories and then presents a report consisting of products sorted by various filters like revenue estimates, sales rank, market demand.
Product ideas
So sellerapp does not only offer sellers the right way to list their existing products on pages, but it also delivers new product ideas. This would be of great benefit to the sellers who are looking forward to expanding their current product base. Here too, the reverse ASINs feature works to source you several other products in similar or diver categories along with the various metrics so that you can make your decision wisely.
Seller watch
To be the best at your game, you need to keep track of your competitor sellers as well. So applying a seller watch will ensure that you can beat your rivals easily.
Product keyword
The reverse ASIN software will let you know the list of keywords you should mention in your product listings. After mentioning those keywords, you will see a significant increase in your search volume and profits. It is also the deciding factor of the number of units sold per day and the search rank sales of your product.
Profit dashboard
After going through the sellerapp login and filling in your credential, you will come across the profit dashboard on the Sellerapp platform. Here you will find in-depth information about your day-to-day sales, revenue and overall business performance on Amazon.
Listing quality
Sellers need to compare their listings with that of the other sellers, and therefore, they need to assess their listing quality. You need to check your listings based on two sales-driving factors, visibility and desirability of the listing. The tool is going to suggest you the listings based on the image, description, attractiveness, readability.
Sellerapp Tools and Solutions for Amazon, eBay, and Walmart Sellers
SEO and online marketing of product listings.
Excellent customer support.
Email and SMS marketing.
Alerts whenever a shopper abandons a shopping cart.
Channel management.
Easy application of discounts and coupons.
Sellerapp estimator of profits, sales rank.
Keyword research.
Product research.
Data analytics of various business processes.
Listing quality determiner.
PPC analyzer
Sellerapp Review: Advantages, Pros, and USPs
Sellerapp Review: Pricing Plans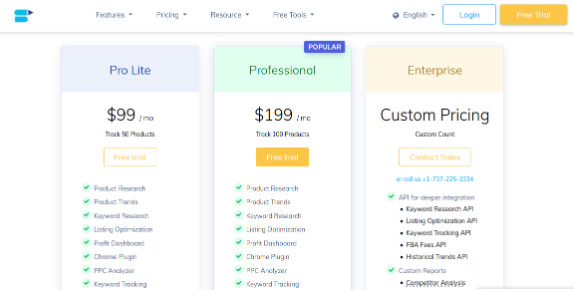 Sellerapp offers three pricing plans to fit into the budget of every eCommerce seller out there. The basic plan 'Pro Lite' is priced at $99/month, and the 'Professional' plan is worth $199/month. If you want the software to have only those features which you want, you can purchase the 'Enterprise' plan as well.
However, if you wish to pay annually, you will be able to save about 25% on every pricing plan.
Sellerapp Review: Coupon Codes
Once you subscribe to the solutions of Sellerapp, you would get discount coupon codes offering about 30-50% discount on selected products.
Sellerapp Trial Plan
Sellerapp allows a free trial plan of 7 days, and sellers can enjoy it without submitting their credit information.
Sellerapp Alternatives and Competitors List
Camelcamelcamel
Expandly
Splitly
Bindwise
Keepa
Skugrid
Trendle
Veebo
Sellics
AMZscout
PriceDrops
Conclusion
Whether you are considering making your journey as an Amazon seller or you have been in the industry for a few years, you can make the most of Amazon's platform to fulfil your aim of becoming a successful entrepreneur. If you are looking for a software or a tool to run specific crucial scans and tests on your behalf, then you will find every specification of such software mentioned in this Sellerapp Review.
With the help of such tools, you will be able to beat off your competitors and generate considerable revenue in the long run.
Limited Offers: On Growth Tools for Your Ecommerce Business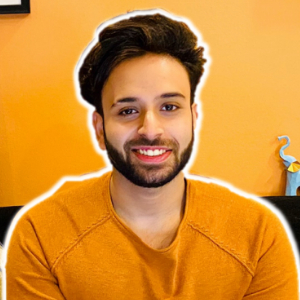 I and my team research various online verticals and can help you kickstart your Amazon business; so you could rake in more greenbacks with the best-recommended tools. Tap into the power of online retail business with me. I am just a mail away, so reach out to me if you want to scale up your niche business. mail: [email protected]